Not a lot of guys are brave enough to pull off the nearly bald look. However, there are still lots of buzz cuts for men to choose from. Any guy who feels confident in his skin can totally wear one of these hyper-masculine and daring looks.
The buzz cut is a simple hairdo. It involves cutting the hair all the way down to a grade one or two. It lets you show off your features and it also minimizes the time you have to spend working on your hair every morning. Are you interested? Let's dive into the looks.
Dazzling Buzz Cut Styles for Men
Need some inspiration for your new haircut? There are plenty of pictures below to help you find the new look that suits you best.
Line Up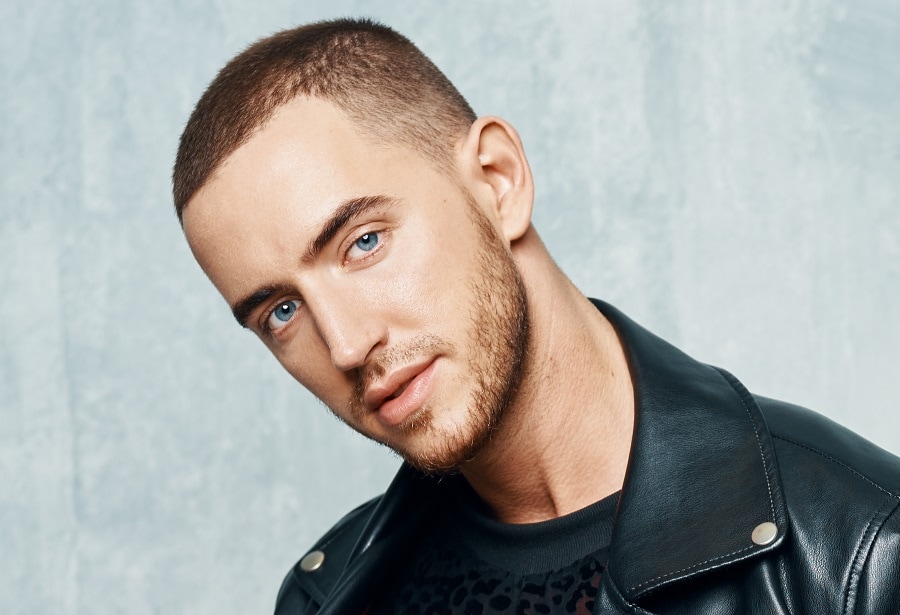 Do you want a haircut that looks cohesive and neat? A buzz cut with a line up is perfect for men who want that. It ensures the hairline is cut into a straight line.
It requires a little more maintenance than a hairdo without a line up but it's worth it.
Military Cut
Military cuts have always been a popular option for any guy who wants very short hair. There's minimal length on top and it's just one grade longer than the sides.
There's some slight texturing at the front to keep you looking handsome.
Widow's Peak
It can be difficult to style your hair around a widow's peak. You might end up looking like you have a receding hairline even though you're still young.
Shaving all your hair really short helps distract people from the shape of your hairline. Instead, they'll be thinking about how brave you are for rocking this look.
Short Mohawk
Mohawks have always been a popular choice. They usually have the sides of head shaved with just a stripe of hair left along the middle.
The section of hair left behind is usually very long. Here it's shaved down to a grade one instead.
Buzz Cut with Stubble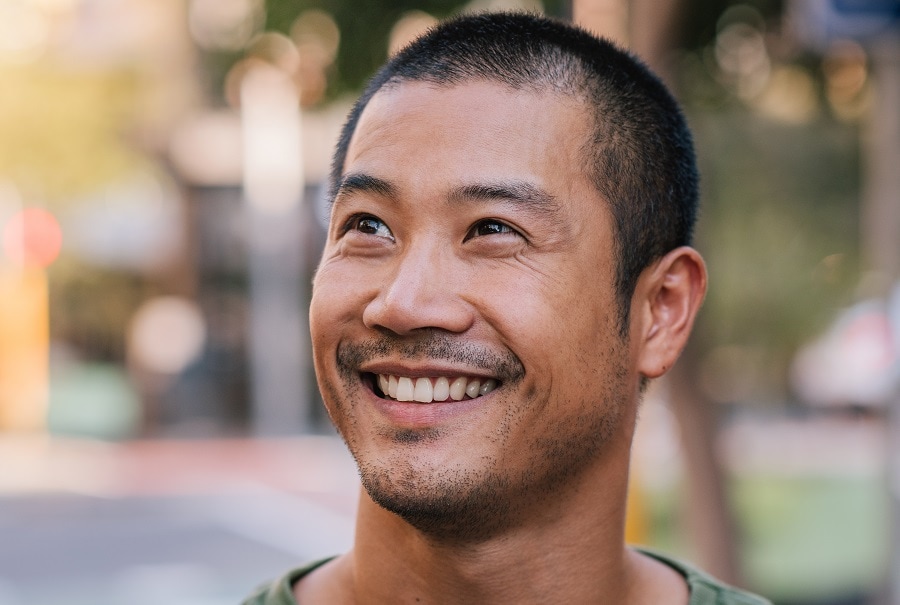 It's always a good idea to wear a little stubble when your hair is very short. It ensures you stay looking manly even though you don't have a head full of luscious locks.
The stubble is only slightly lighter than the uniform haircut on the head.
Faded Line
If you want to look a little tougher than shave a faded line into your hair. It's not incredibly noticeable but it does make quite a difference at first glance.
It's the best way to spruce up a buzz cut for men who wear their hair stubble length.
Buzz with Fade
You can't beat a fade! It's one of the most fashionable ways you can wear your hair these days.
The sides of the hair gradually fade out to the skin above the ears. The hairline is also squared so the entire look stands out more.
Thick Coverage
You can still wear a buzz cut but keep the hair somewhat thick. Thicker hair on top of your head helps distract from features such as a large forehead.
The hair on the sides is slightly shorter so the overall cut has some shaping. The hairline is kept straight to minimize drawing attention to it.
Short Look for Thin Hair
The easiest way to hide thinning hair is by keeping it short. Grow out a little on top to achieve a fluffy texture towards the hairline.
Get a high fade on the sides to add contrast and shaping to your appearance. Wear the back a little longer than the sides.
Textured Blonde
Do you have really light hair? If so, you should make sure there's some texture in your hair even if it's short. Blonde can look washed out if you don't.
Achieve this by letting the locks on top grow out longer than the sides. Add some gel and gently ruffle the front section.
Long Buzz Cut
Some men may prefer longer tresses and that's fine. There are lots of buzz cuts for men who prefer this look.
Get a grade 2 or 3 and leave the hair unstyled so it forms a bristly texture. Add a beanie to accessorize and change up your vibe if you wish.
Brush Cut
Brush cuts are often a little longer and more flattering than typical buzz cuts. They follow the contours of your head to help amplify your natural features.
Here the top is much longer and thicker than the sides. However, there's still very little length to the overall cut.
Induction Cut with Beard
Induction cuts are the shortest you can go without being totally bald. The head is covered only by light stubble.
It's a popular haircut for men who like the bald look but want something lower maintenance. The nearly hairless head is rounded out with a medium-thickness beard.
Spikes and Beard
Men who are balding early will want to make the most of the little hair they have left. Shave the sides and leave the hair on top natural.
Let it grow out minimally and give it a slightly spiked texture. Add a thick beard to help distract from the hair on your head.
Buzz Cut for Receding Hairline
If your hairline is receding then you should do everything you can to cover it. Keep the hair short and bristly then brush some over towards the hairline. This helps disguise the recession.
Long Spikes
A long, spiky haircut is good for men who want something minimal. There's still some hair you can run your fingers through but it's not too long. You won't have to spend any time styling a haircut of this length.
It's also quite low-maintenance as you can get a super short buzz cut then let it grow to this length.
Teen Buzz Cut
Many teenagers prefer to get funky hairstyles that are in keeping with the times. However, getting a short hairstyle where all the hair is the same length is also an option.
It helps bring out your natural features and it keeps you looking very youthful.
Short Hairdo with Design
Your hair needs to be very short if you want people to see the cool design you shave into it. Many teens and guys in their 20s are getting haircuts like this. There are stripes and patterns shaved into one side.
High Fade
Would you like to give some shape to a classic buzzed hairdo? Get a high fade so the sides gradually get shorter. The fade will start high on the forehead and end just around the ears.
Type 3
A type 3 buzz cut is one of the longer variations of the style that you can get. Here the length is focused mostly towards the front of the head. The sides and back are mostly the same length. There's also a slight fade.
Temple Fade
Temple fades are a stylish variation of the classic fade look. Here it's very gradual and the hair starts quite thick on top of the head. This is due to the hair texture that most black and mixed-race men have.
At the sides of the head, the fade blends in with a beard. The beard gets gradually thicker towards the jaw.
It's amazing that there are so many variations of such a short haircut! The buzz cut for men will clearly never go out of fashion.
If you think this style could suit you, then head down to the barber's now. Show him one of these pictures so he can help you pick the style that suits you best.