Every person is unique in some or the other way in the whole complex of his physical and spiritual peculiarities, but at the same point of time, he embodies the essence of the race and also specific features of his class to make the inner attractive himself to be visible to the world.
Some people would argue that the fit of your clothing or your footwear is the first thing people pay attention to, but actually, it is the Hair Cutting Styles that wields its own measure of power as a focal point.
Most of the men choose to douse their hair in oil and slick them to the side in a misguided attempt to look clean and handsome; many choose to express their personalities through their Hair Cutting Styles.
If you haven't changed your hairstyle for a long time or looking for a classic and trendy haircut that suits your personality, we have got you a collection of the trendiest Hair Cutting Styles with a clean and classy look to admire your personality.
1. Fade
A contemporary, classy faded haircut with slicked back hairstyle is an eye-catching look. The fade haircut has to drop down fades on both sides, and it looks amazing when you have thick hair which you can use for versatile styles.
Fade haircut relies on having the hair on the sides and back of your head tapered in length gradually, till there are no hairs left on the skin close to the face and the rest of the hair you can style back with a spunky and cool look.
2. Undercut
A trendy choice for guys with a long beard is the disconnected undercut haircut which is characterized by a sharp contrast between the very short sides and longer hair on the top.
Originally, the undercut hairstyle was slick back for top hair, and the short sides further exaggerated with little or no fade going on, but the modern undercut hairstyle is cut and styled in several ways and different lengths of top hair and front.
When you choose an undercut hairstyle, it shows the personality of a fashion-conscious dude who likes to have a good time with friends.
3. Pompadour
When you love to be the center of attraction, and you are unapologetically flamboyant loving the high-life-living, the pompadour is the choice of haircut you would love. It got the inspiration from the hair of Madame de Pompadour; the pompadour hairstyle is the haircut in which hair is combined into a high mound in front.
Even suites if you have silky hair and no hairstyle stays for long. If you like spending time in front of the mirror to style, the pompadour is perfect and a trendy choice for you.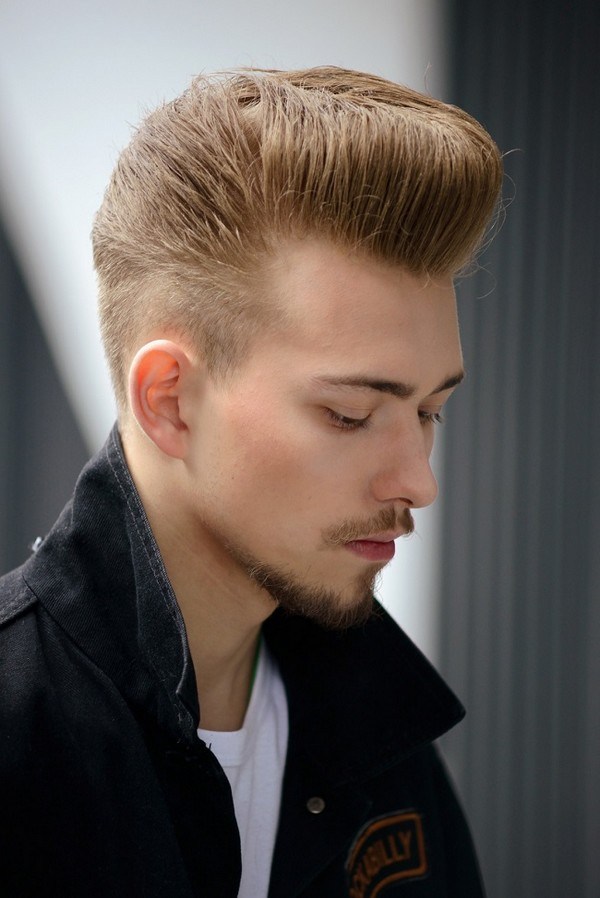 4. Quiff
Quiff is suitable for a wide range of professionals and casual situations. It is quite a popular men's hairstyle. It is the combination of undercut and pompadour at the top of the head and is versatile for any face type, hair type, and aesthetic.
The top of the hair styled upward and combed slightly back gives a textured and eye-catching look for the Quiff hairstyle. It is a medium-length hairstyle because 3 inches hair is minimum for a good quiff and 4-6 inches will give massive volume with a taller quiff.
5. Comb Over
A vintage-looking style where the hair is combed to one side and paired with a hard side part. Comb over hairstyle is a wonderful choice for a stylish hairdo that is easy to maintain and takes only 5 minutes to style, and it is ideal for straight or wavy hair.
Comb over haircut is a style that gives you volume even when the hair is only a few inches long gives the appearance of much more hair and depending on the volume you want; you can go shorter or longer for the haircut.
6. Slicked Back
Slick Back hairstyles are very classy, simple and need to be maintained for their sleek and smooth look. For this particular look, the hair on the sides should be cut short, and the remaining hair combed back, and for a clean look, you can use gel or your favorite hair product.
Slicked back hairstyle is preferred for all ages and perfect for the summer season. Try slicked back hairstyle with different variants like undercut or faded sides and with formal wear or regular casual look.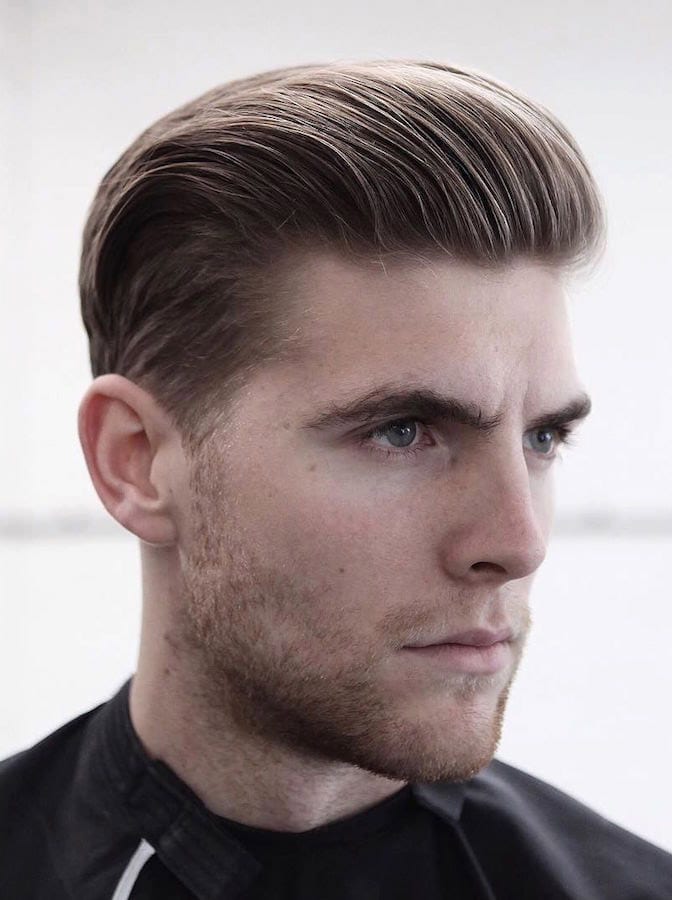 7. Side Part
The side part hairstyle is a classic gentlemen's hairdo. The side part haircut is a timeless haircut for both casual and formal looks and is very easy to maintain. It is one of the most versatile hairdos since it can be worn with long or shorter hair, comb over, or quiff.
But it is a hairstyle, that will suit your personality if you are simple, traditional, loyal, a bit risk-averse. If you choose to combine this haircut with some funky styles that may show another cool and honest kind of personality, it's a good option to go with.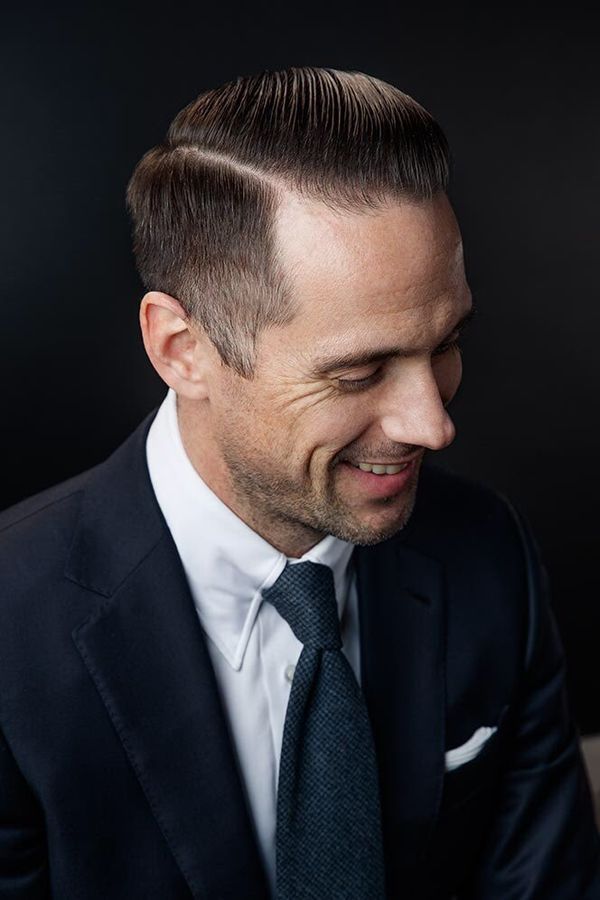 8. Widows Peak
Widow peak is a type of hairline featuring a 'V' shaped section of strands that sit around the middle of the forehead, and it is a genetic trait. Highlighting your widow's peak with many of the widow's peak hairstyles will create a unique look on your face be it fringes, spikes, undercut or pompadour.
For this particular look, cut your hair short and make some spikes for your short hair to let your widow's peak be a unique and admirable focus on your personality.
9. Hipster
Hipster haircuts are trendy and creative for any man looking out for a style update. The hipster haircut is often variations of older and classic hairstyles combined with a modern twist and most men combine a thick, full beard to complete their look.
The below image haircut is a combination of pomp and fade haircut with slicked back hairstyle and some tousled texture and height added to update the look. Hipster hairstyle looks good on silky as well as curly or wavy hair.
10. Mohawk
Mohawk is a bold and handsomely subtle hairstyle in which both the sides are shaven, having a strip of longer hair in the top-center of the head.
With longer hair, the mohawk is more generous while styling, and the stunning look below is obtained with just enough hair product and patience for styling your hair and additionally, you can get creative when designing your mohawk for the faded sides with a well-defined beard shape to make the look unforgettable.
11. Faux Hawk
Faux hawk haircut is similar to Mohawk haircut, but it offers more styling options with an eye-catching and youthful look without appearing over-the-top.
In Faux hawk hairstyle, the side hair is clipped shorter than the strip of hair on the top of the head going shorter behind the head, and you need to use your fingers and some hair product for styling the longer hair on the top.
If you want a punk look at parties or weekends and a professional look for the casual days, then you should try Faux hawk hairstyle.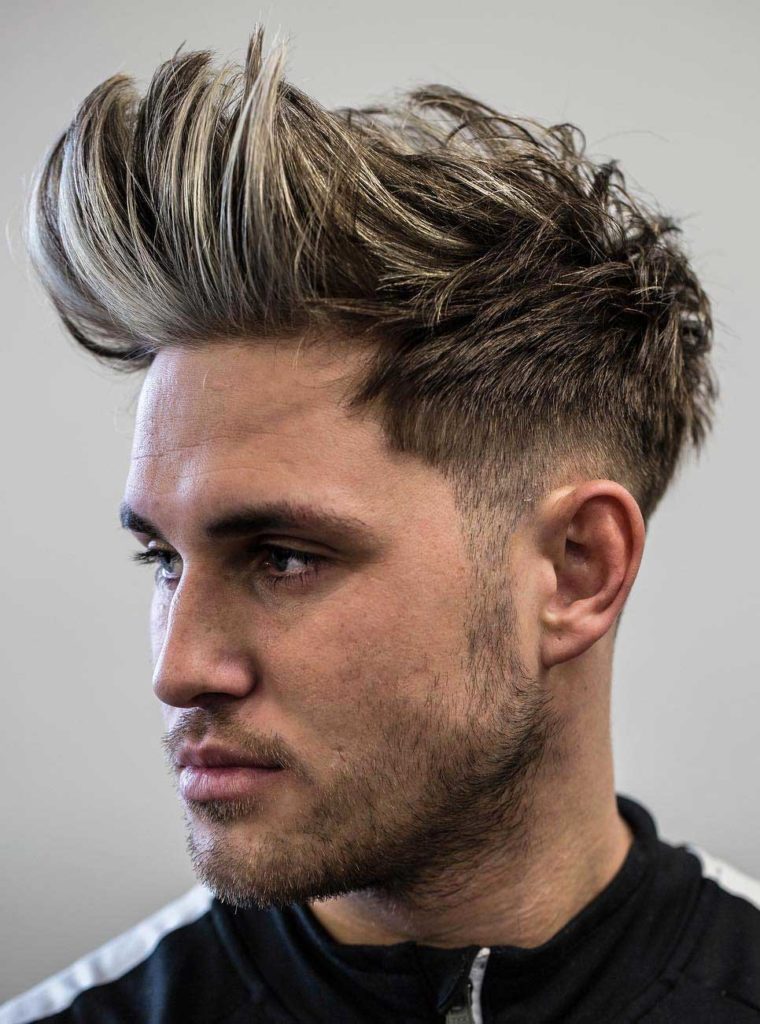 12. Top Knot
Topknot is a perfect hairstyle to manage your long hair with a confident, fashion-forward, and quirky guy personality when you are ready to set your own trends and not afraid to experiment.
For the top knot hairstyle, the hair on the back and the sides should be clipped and not cut with scissors to give a uniform look to the top knot and to make the hairdo most noticeable.
The top knot undercut hair where a high fade is used on both sides of the head is an ultra-modern look that suits men at any age for any occasion.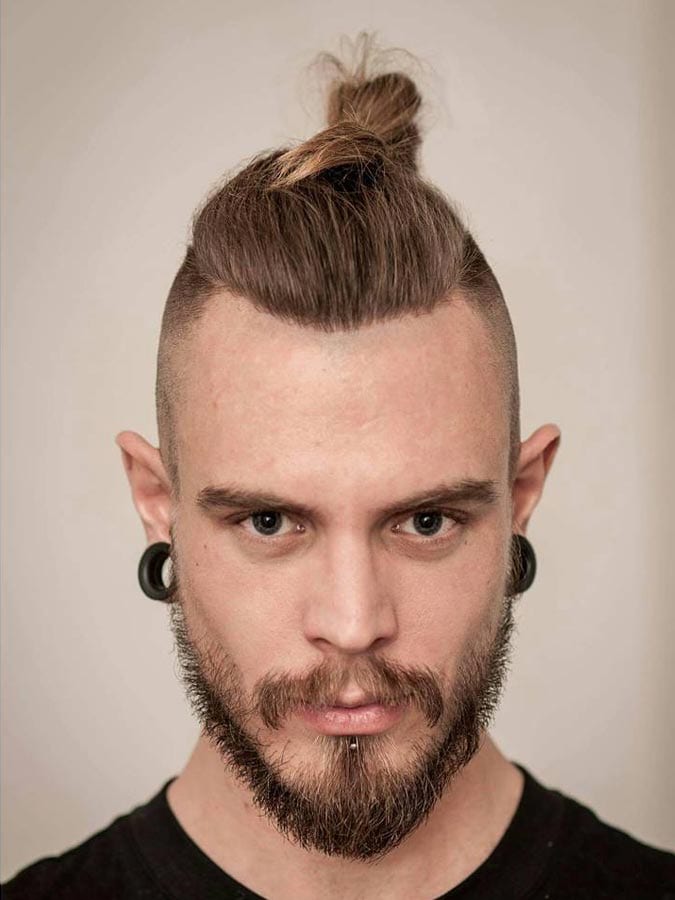 13. Bun
Man bun hairstyle is quite a simple hairstyle in which hair is pulled together to form a round shape either at the back or the top of the head and securing it with the help of a hair tie or rubber band.
The guys who don't like a haircut and are attached to the long hair they have grown using this hairstyle to rock their personality which is similar to a swishing ponytail and adds a bit of character to a chiseled face providing a committed, patient and mature look.
14. Punk
Punk hairstyle is for the guys who have rebellious nature and do not care about anarchy or like to go in their own ways, and they flaunt their hairstyles in their unique way apart from all the traditional or classic hairstyles showing the feeling of the carelessness of what people think.
For a Punk haircut keep your hair length up to the chin unless you want to try something innovative, then dye your hair with some unique colors by parting the hair into sections and brushing the dye with two or more colors, and the last part is styling your hair keeping spikes or messy punks.
15. Buzz
The easiest haircut to maintain is buzzing off your hair and give a sharp style which is now not a military trend only. It shows the personality of no-nonsense men who is very passionate, hard-working, and practical.
If you prefer less styling for your hair and need a low maintenance haircut with really short hair, then a buzz haircut is of your choice, and it enhances the attention to the facial features giving a decent and practical look usually designed with electric clippers with neat and clean cut.
16. Ponytail
Long hair is quite fashionable and popular these days, and when long hair is well looked after, a ponytail can suit any man and give an attractive look with variations like a high pony, low pony, braided ponytail, etc.
Ponytail haircut usually has trimmed or shaved sides to avoid messy hair and provides easy maintenance in summers for longer hair.
For smooth and silky to curly and wavy hair, ponytail hair suits every man and it is very easy to gather all your hair up and tie half or full hair at top or back with a rubber band.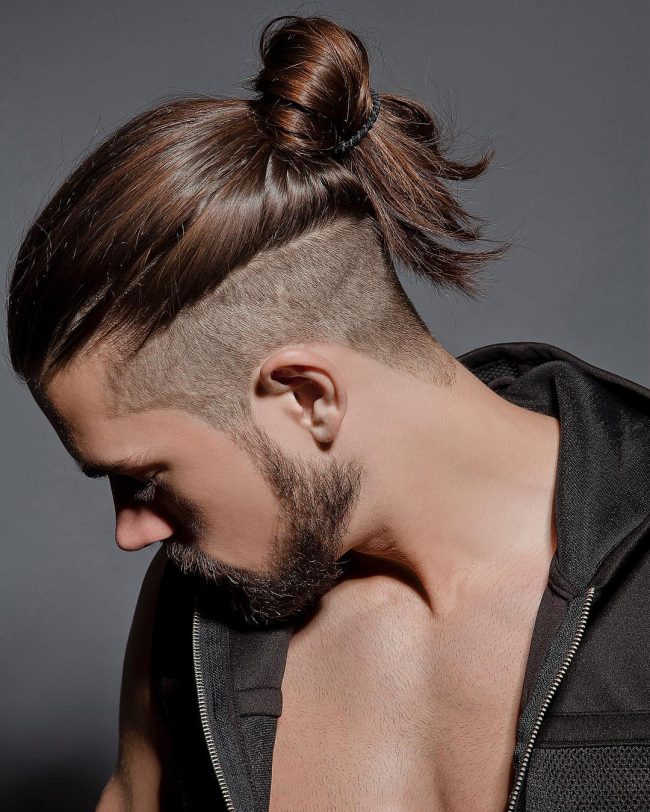 17. Hippie
For guys who love long hair, a hippie hairstyle is the best choice, and when combined with a full beard, a hippie style is bliss. A hippie haircut can be tried with a side partition, slick back or a hippie-bun.
In the image below, musician, model, and influencer Gwilym Pugh are wearing a hippie hairstyle with his long red hair and full beard with a cool look pulling his hair back instead of side-part.
Even for chin length or long locks and thick, wavy or curly hair, a hippie hairstyle is perfect with some layered cut and a bit of style with easy maintenance.
18. Edgy
If you are looking for a bad boy hairstyle without betraying your own sense of style, an edgy haircut is a choice for you.
Edgy haircut ranges from a high fade or undercuts on sides to the slick back or spiky pompadour on the top, and the idea is to try something new when you cannot try punk or mohawk hairstyle, and it has enough shapes to go nicely for any face type.
The secret of an edgy hairstyle is to keep it messy and shaggy, which will not only be easy to maintain but will give a cool look also.
19. Crew Cut
The crew cut is stylish but practical haircut worth trying if you are looking for a short haircut that gives you a short and sharp style with neat, tidy, and kind of a professional business look and goes great with a suit or formal wear.
A crew cut is a cut in which the hair at the top head is cut relatively short from the longest hair at the top. Crew cut suits all types of face shapes and is a great option if you are looking to balance practicality and your appearance.
20. Uppercut
As the name suggests, uppercut haircut is usually a layered cut for the top of the hair with the high to low fade sides. The uppercut haircut is a cool and decent look and is loved by teen guys for a casual hairstyle update.
You need not style it just comb it towards the direction of your face, and the layered upper hair will be a perfect style for your cool appearance. If you want to try a variation on some weekend or occasion, you can style it with hair products according to your choice.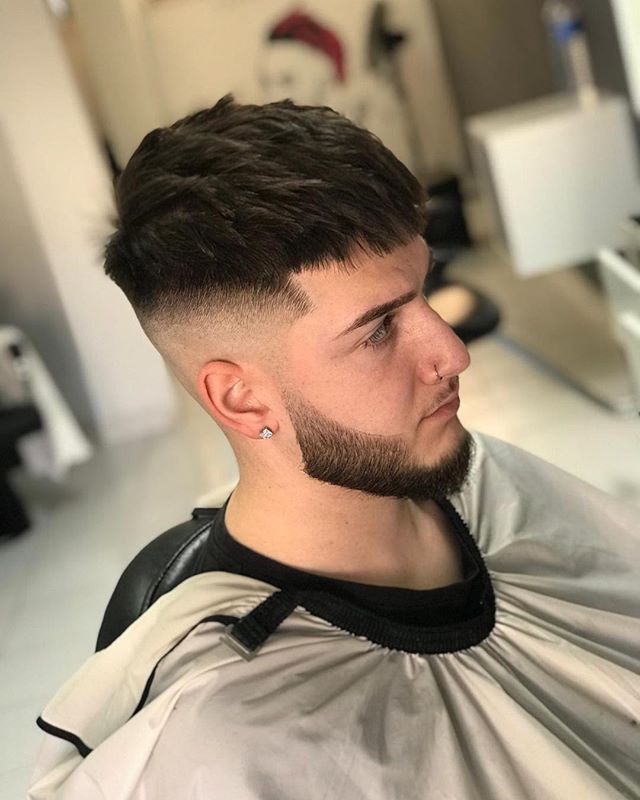 21. Spiky
Spiky haircuts are youthful and energetic, and when you are looking for a fun and carefree look with a bit of attitude, spiky haircuts are the best choice for short to medium-length hair.
The best part of the spiky haircut is you can either wear them in a spiked way or just leave it un-styled if you don't have enough time to spend on your hairstyle. For a youthful vibe, just style your spikes with a basic brush up and tousles the hair to give a tidy yet spiky look.
22. Soccer
Soccer haircuts are in trend for a few years because they are some of the best short, medium, and long hairstyles from famous soccer players, which are an inspiration to the youth.
Some soccer players choose edgy, buzz, or undercut hairstyles while others make their own unique hairstyle that suits their personality. The comb over fade is a popular hairdo that is inspired by Granit Xhaka and gives a stylish and unique look.
23. Grunge
Grunge hairstyles are funky-looking unique hairstyles that boys these days prefer to wear for medium to long length hair.
For the Grunge hairstyle, you need to clean your hair but should not look freshly washes rather it should be like bed hair, then you need to apply plenty of mousses, comb from roots to ends and squeeze excess moisture off with the tissues. You can even try sea-salt spray to get the right balance of texture and shape for a grunge hairstyle.
24. Crop
The French crop haircut is a modish and short haircut for all the guys who want to look dapper without spending much time in front of the mirror. Crop haircut is similar to the Caesar cut and usually involves an undercut, or taper fade with short hair on the top.
French crop haircut has a long fringe or more length on top of the head than the sides, and even on the top the crop can be shaped longer on one side and a little shorter on the other making it unique and attractive.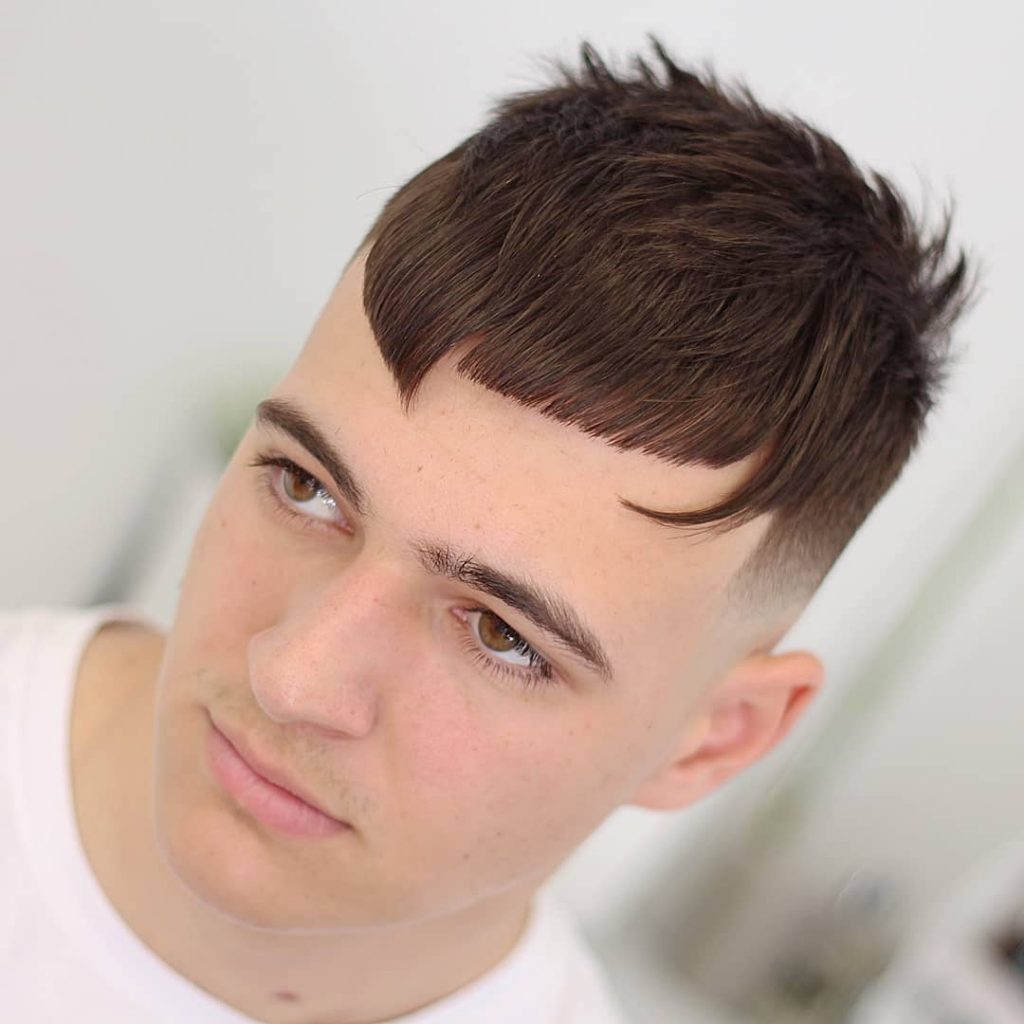 25. Dreadlock
Dreadlocks epitomize a free, independent and bohemian hairstyle usually worn by black men, but guys of all races have embraced the look when combined with high-top, fades mohawk, braids or ponytail.
For this particular hairstyle, you need a dreadlock fringe in the front, the dreadlock bun in the center and the taper at the back is required for a cool, stylish, young and modern look.
26. Afro
Afro hairstyle is one of the best glorious hairdos for black men and is all about the short sides and wild curly top with different styling options like elevated cut, crown cut, short cut or dreadlock bun, etc.
If you want a short afro-style haircut for clean-cut hairlines and soft side fades on both sides, then this hairstyle is perfect for you. A low fade afro haircut is a clean and easy-to-maintain hairstyle with your natural afro hair.
27. Emo
Emo haircut is named from word emotional, a defining aesthetic guitar-based rock music and the hairstyle features jagged bangs and layers with some strands. You can choose the emo hairstyle whether you have straight, wavy, curly or thick hair as it has many variants for all hair types and lengths.
Some strands will be longer and will cover the eye, which is a traditional emo haircut, but you can use the hair product to make the spikes for a fun and punk look.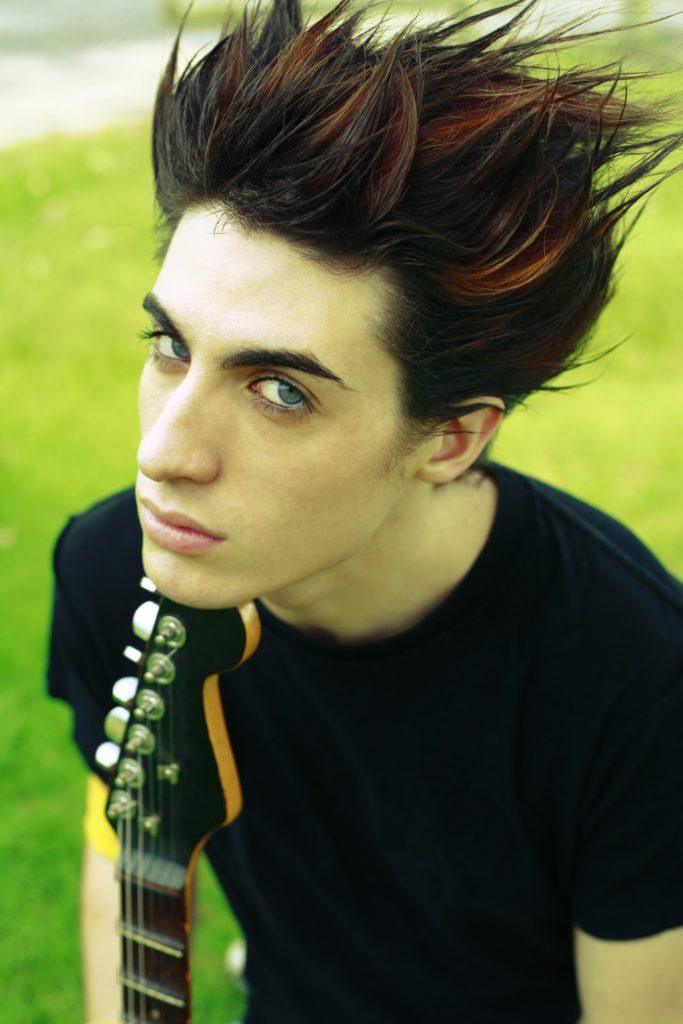 The most popular Hair Cutting Styles trend for men today is messy, textured, longer hair on top haircuts and hairstyles which suits guys of all ages and all hair lengths. The cool and trendy hairstyles can often be combined with unique styles and hair products for a more versatile look.
Most people tend to neglect their hair and instead focus on their face and physique, but they do not realize they are missing out the opportunity to enhance their personality by not selecting the appropriate hairstyle.
A person should choose a hairstyle that enhances their personality, the hairstyle should be suitable to the face cut, it should also suit the type of the hair, and finally, one should always experiment and explore new styles based on the latest fashion and trends.