Men have become utterly experimental these days and are trying on various hairstyles which are long and that doesn't take up much time. Choosing a hairstyle is a critical choice and it can either make or break the look of a particular individual. There have been recent trends in hairstyles that are unique and unusual but highly laudable. All these hairstyles are different and though long provide a manly look. One such hairstyle that suits men's long hair is Knot hairstyle which is very much in fashion this season.
Top Knot Hairstyles for Men
You will find various men trying on this hairstyle and looking a bit different than usual. But even knot hairstyles have different variation altogether. There is a variety of top knot hairstyle for men available which are not only cool but stylish as well. Here are some Top Knot Hairstyles for men which one can choose and bring up their hairstyle game. If you have long hair and are often confused about trying on a hairstyle that will look quite stylish and manly in you then the list below can be a lot of help for you.
Top Knot Long Hairstyle
This one is a simple top knot hairstyle which doesn't need much styling. Just a back brush and a tight knot at the back of the head and one are good to go. The best part of this knot style is, it goes well with both formal and casual look.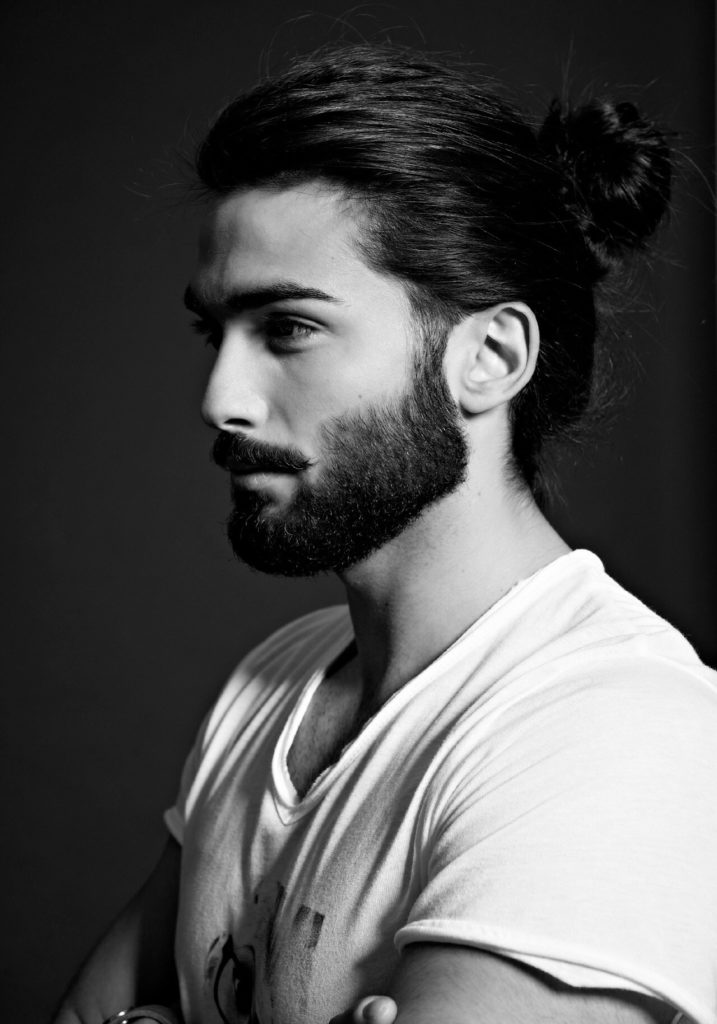 Side Shaved Top Knot Hairstyle
Another knot hairstyle that has its edges shaved and giving it an unusual touch. Not many people find this style comfortable but it is definitely and trendy one. The sides of the head are shaved on both side and the middle of the head has hair back brushed to form a tight knot. Try this hairstyle with a long beard to make it fashionable and manly at the same time.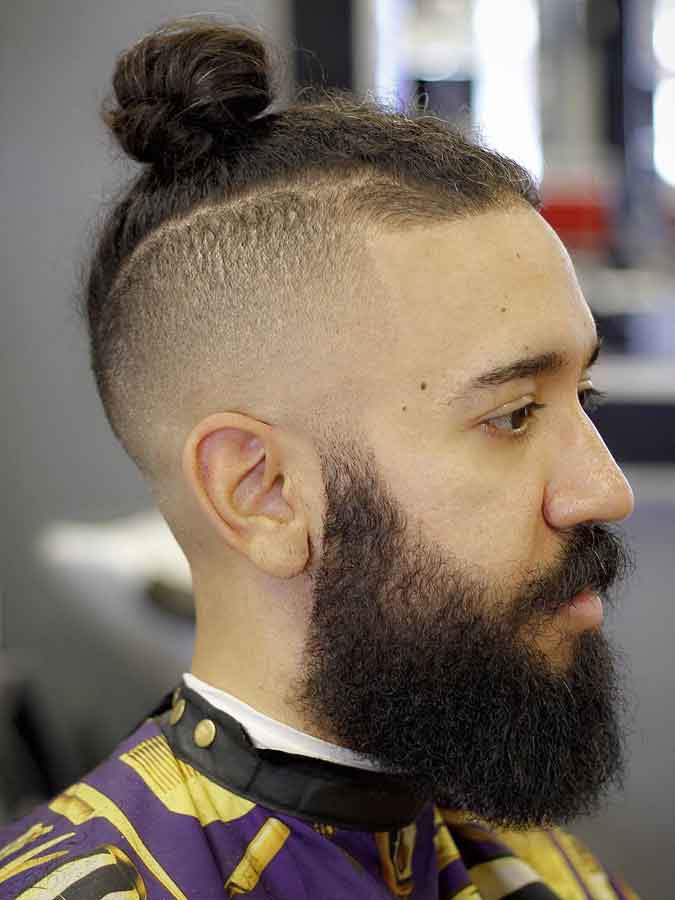 Top Knot Braided Hairstyle
Men and braids are not that common but are definitely a statement. This particular hairstyle comes in a braided style on the top that is followed by a clean knot. The braids give out a clean style to the whole look which makes it different from the other ones available.
Short Sides Top Knot Hairstyle
If stylish is your necessity when it comes to hairstyle then this top knot one is perfect for you. The hairstyle has short sides and the hair from the middle is taking up to form a clean knot. Team up this look with anything from your wardrobe and you are good to go.
Skin Fade Top Knot Hairstyle
This topknot style is perfect for men with thin hair. The side-fade cut on both the sides' amount for a different look. If you want a stylish but and a Knotted look then this one look can be a perfect one for your need.
Slick Top Knot Hairstyle with Beard
This is one of those hairstyles that need less amount of maintenance but offers ultimate style and comfort. This topknot hairstyle comes with sleek top knot style that gives an illusion of back brushed look from the front but the profile shows off the knot. Moreover, the shaved sides' offers total comfort in summer.
Pointy Blonde Top Knot
Blonde hairs look gorgeous on both men and women and this particular hairstyle is one them that is made to look a male even more gorgeous. The tied-up hair in this hairstyle is more like a pointy tie-up than a knot. The hairstyle has just a handful hair tied together on the top and remaining sides being left shaved.
Top Knot Bun with Full Beard
This is a messy style that gives dreamy look to the man showcasing it. With, full beard and a messy top knot bun it provides volume to the hair and the look at the same time.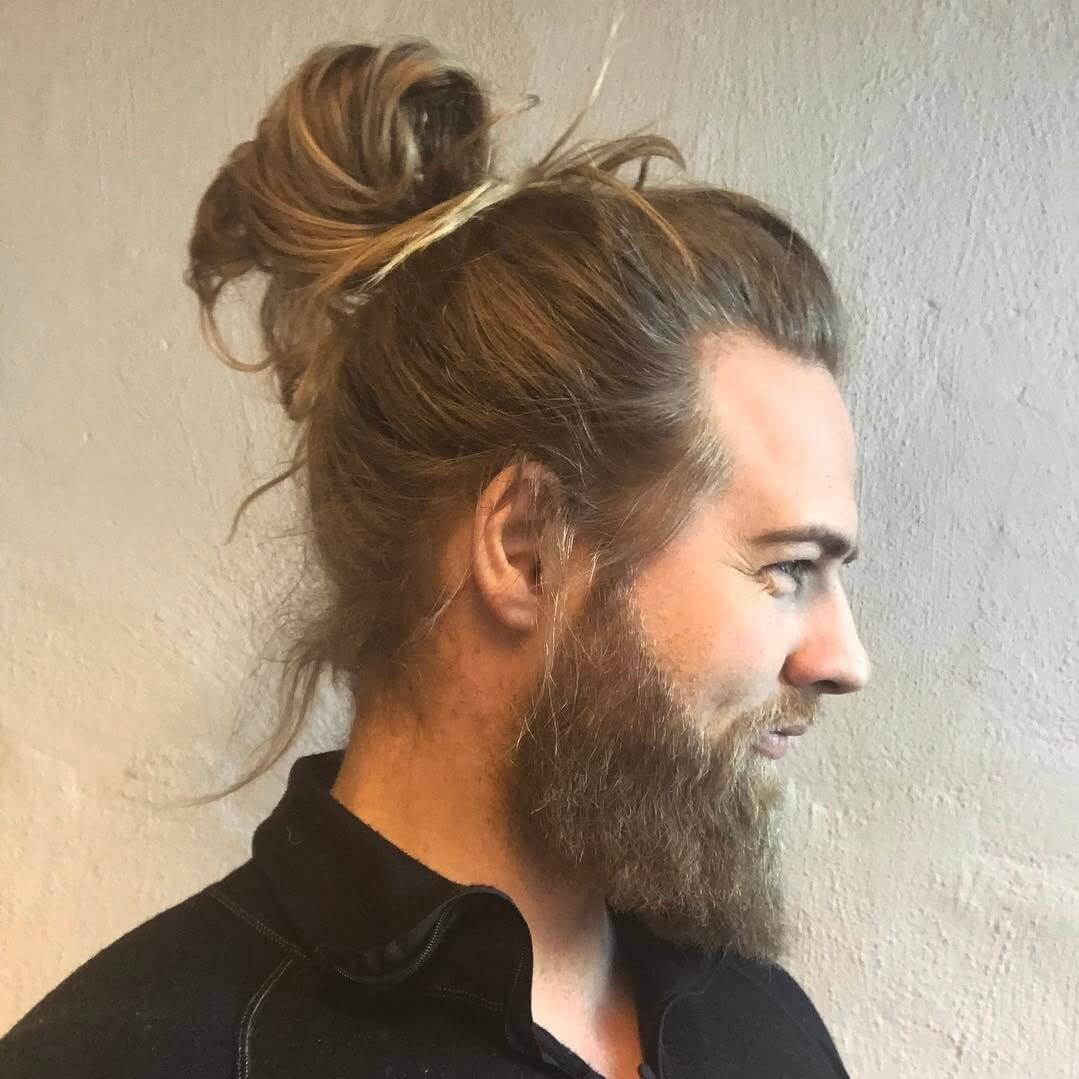 Razored Strips Top Knot Hairstyle
This is one clean top knot hairstyle that has different variation than other topknot styles that are available. With, razor strips on either side of the hairline gives a distinct style to the whole look.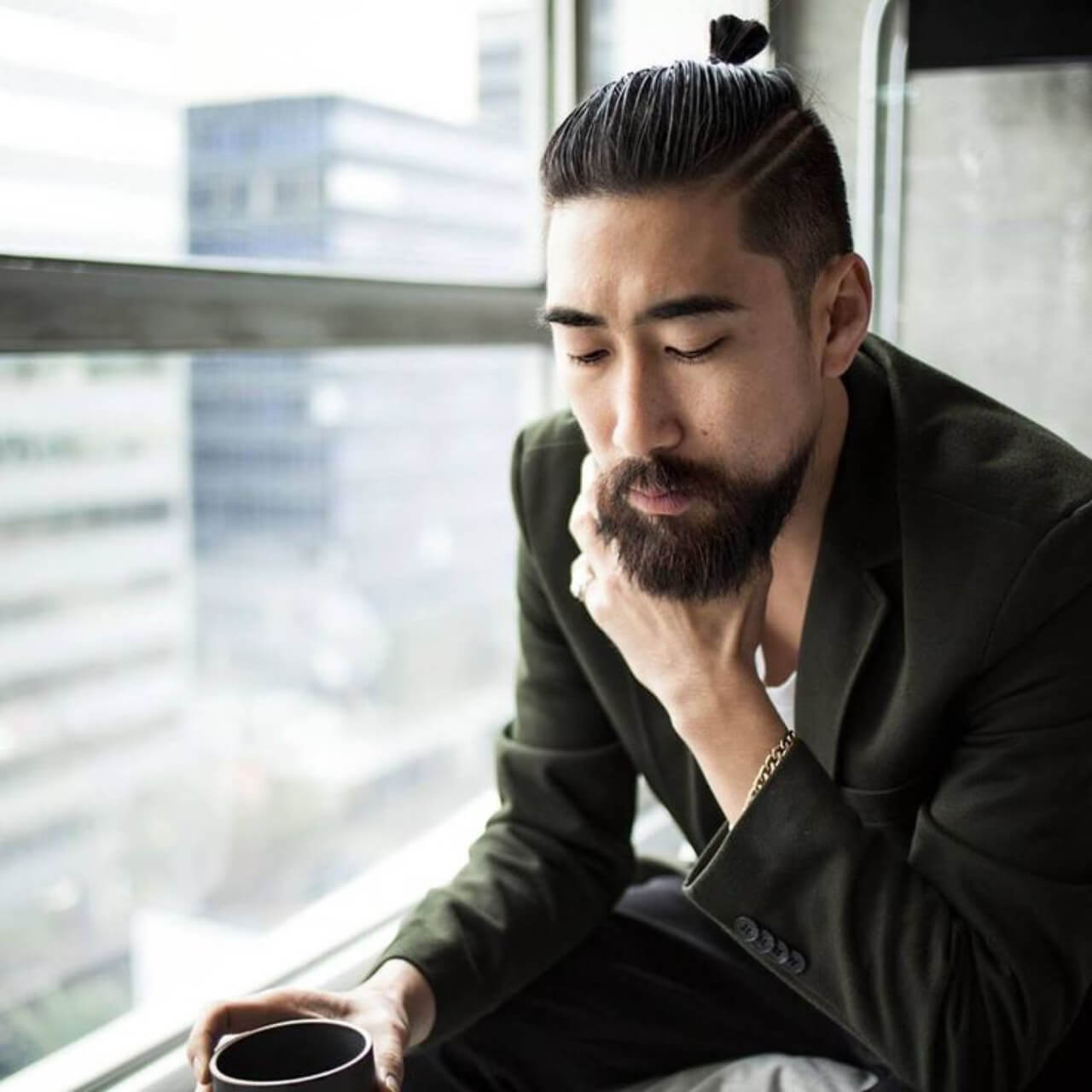 Top Knot Hairstyle With Medium Hair
If you have medium hair length and are confused about the fact that top knot might not look good on you then we are here to burst your bubble. This particular hairstyle takes the top strands of the hair to make a simple tied-up knot that might essentially give away trends providing a style that is unmatched.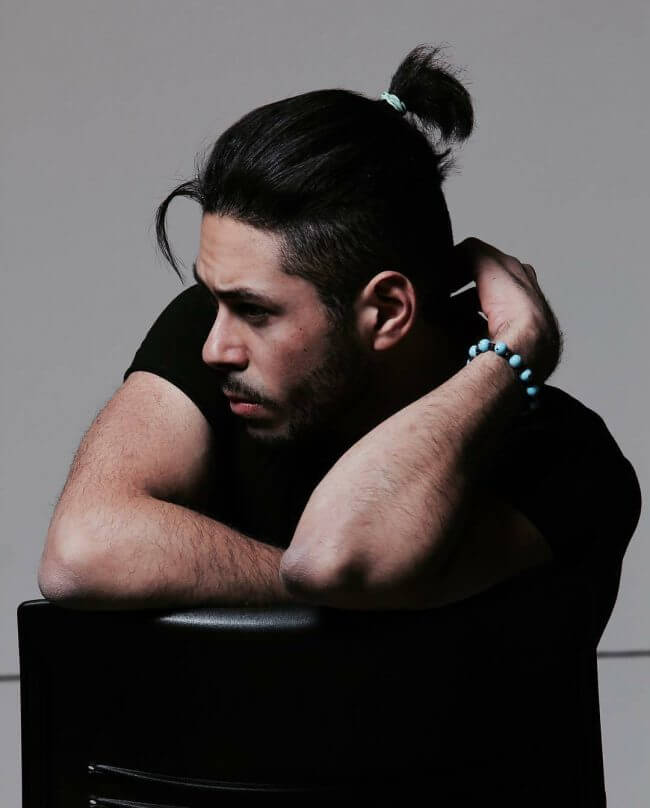 Messy Top Knot Hairstyle
Men with a curly bunch of long hair are rare species and if the hair is left open then it can give a messy look. This particular hairstyle is made up of stylish messy hair rolled up in a top knot and that make any men look equally gorgeous. A simple look and an equally simple style is the gist of this hairdo.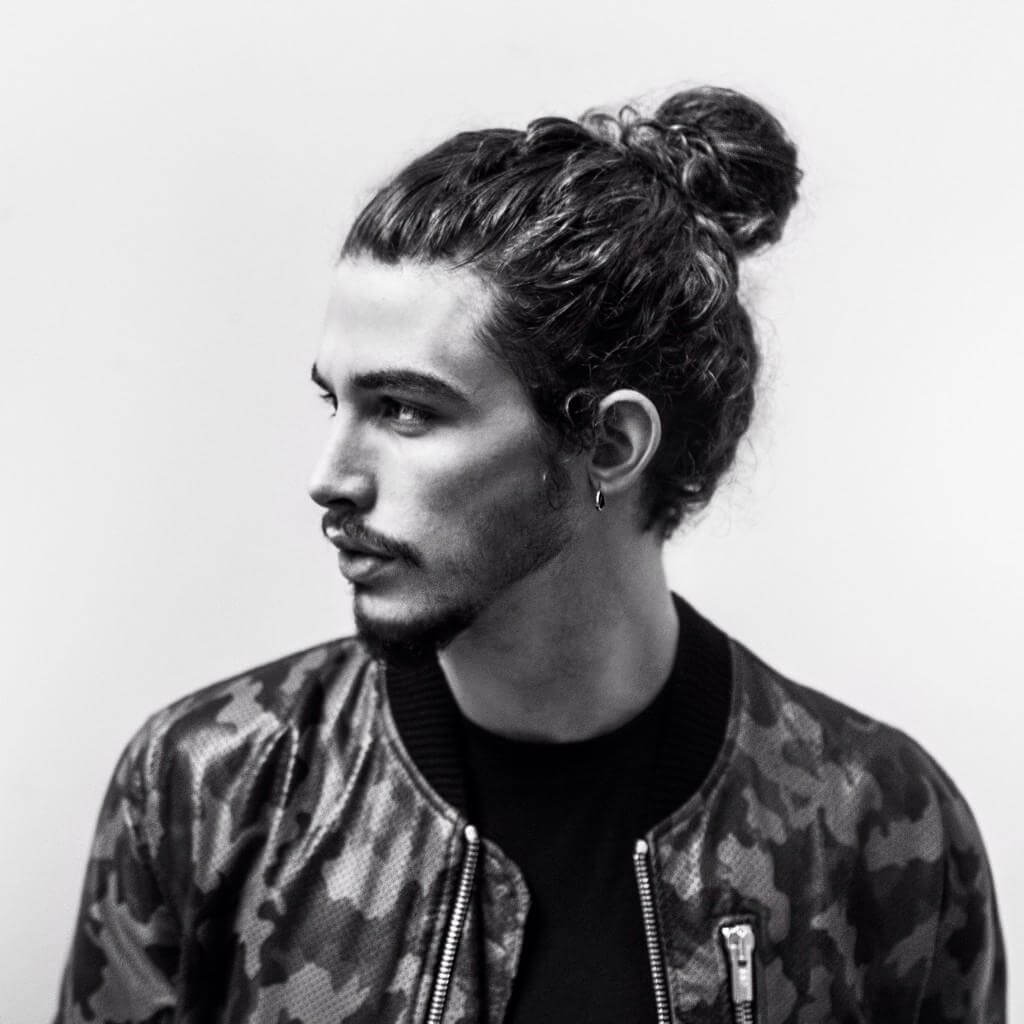 Razor Design Top Knot Hairstyle
Men love the style of defining their hair with razor strips and this particular hairstyle is a combination of razor design and top knot. With, beautiful razor designs defining the majority portion of the head the remaining hair ends up in a sleek knot. This is a totally different and uncommon look to go with.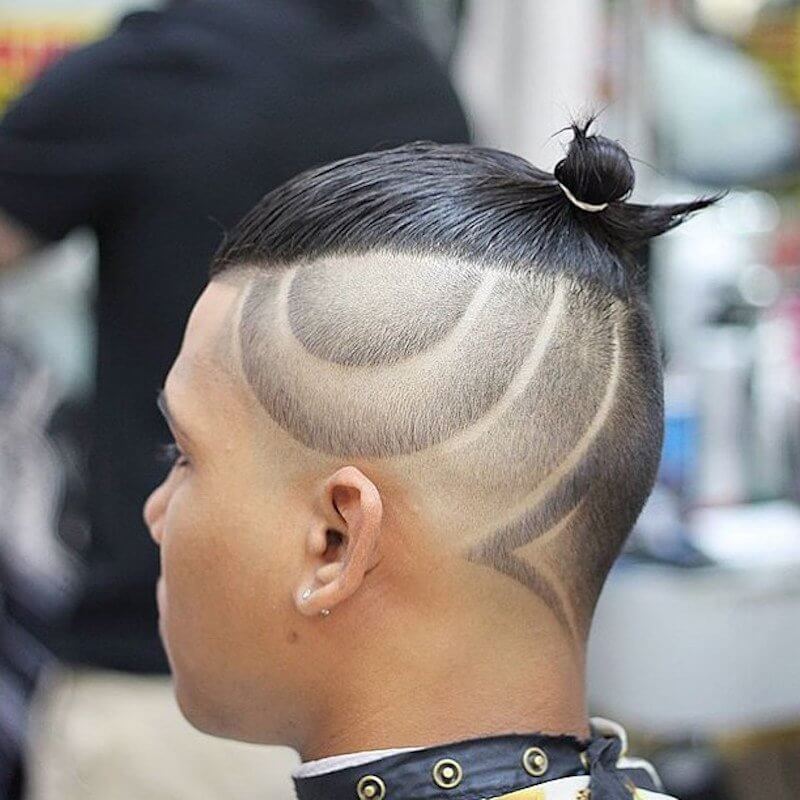 Top Knot Bun Hairstyle
If a simple top knot is your requirement then this hairstyle is the perfect one to cater to your need. The hairstyle is a simple and non-experimental top knot style that can be carried with ease with anybody who wants to opt for Top Knot styles for men.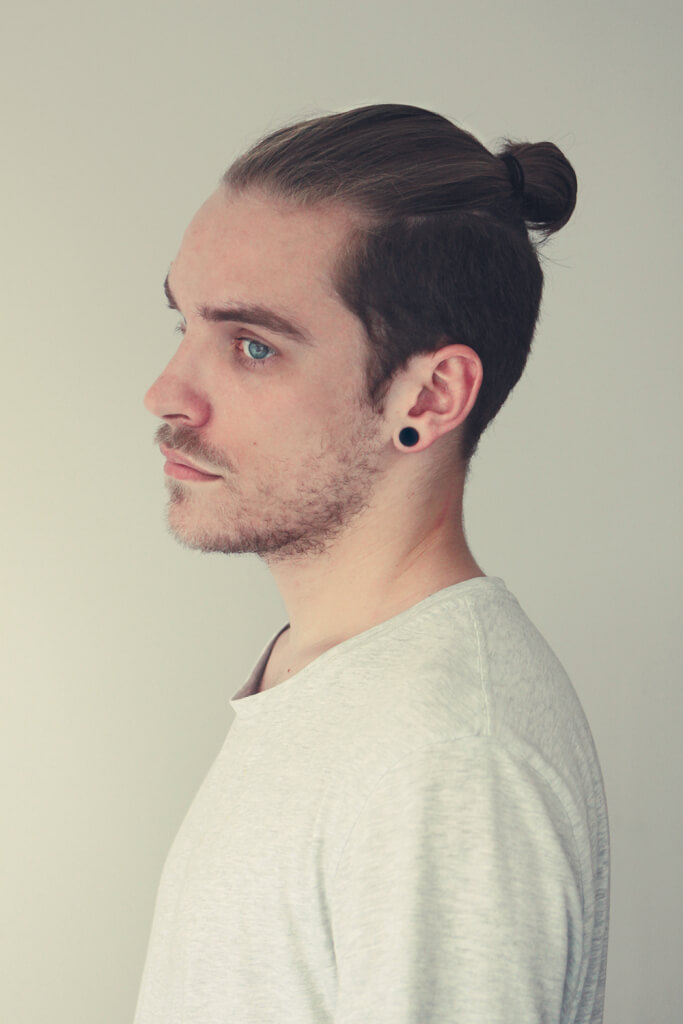 Tiny Braided Top Knot Hairstyle
Braids are not a common look when it comes to adorning them on men. This particular hairstyle has tiny braids lined up each side with a side-parting dividing the same and ends up with a top knot. Men who have long hair and are an athlete too can choose this hairstyle for an interruption free style and comfort while doing their job.
Dreadlocks Top Knot Hairstyle
Men who have dreadlocks find it difficult to manage those heavy locks. The best way to take care and control those locks is by opting for top knot hairstyle. There is no need of using any extra style with the same; just a simple top knot of the dreadlocks does the trick.
Voluminous Top Knot Hairstyle
if you are one of those people who wants to add volume to their whole look then voluminous top knot style is perfect as per your need. The hairstyle does a messy bunch of hair tied together in a top knot style but in a careless way providing a totally different kind of look. This is a low maintenance look and can be perfect for men who are on-the-go.
Two Braid Top Knot Hairstyle
Another braided top knot hairstyle that is clean and has style oozing out of it. The side shaves are accompanied with two braids parallel connecting it to the top knot. Moreover, if you want to add some oomph factor to the whole look then the best way to do so is opting for color such as white streaks on the braids can up your hairstyle game.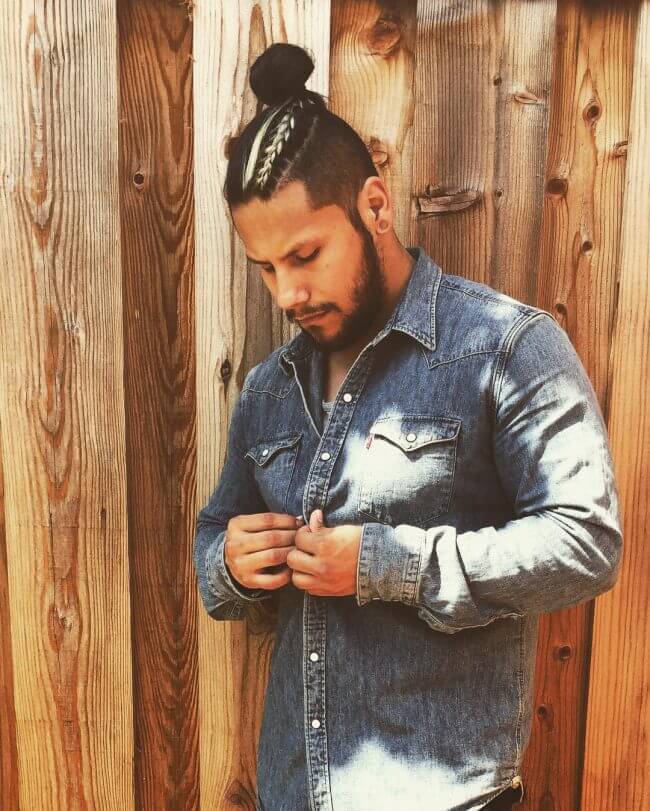 Razor Part Top Knot Hairstyle
The parted hairstyles come in a razor shaped look that defines the edge of the hair parting that makes up a knot at the top. But there is one variation that makes this top knot hair look totally different and that is the remaining hair that is left in the back. With this particular hairstyle, you can easily make a statement in the crowd.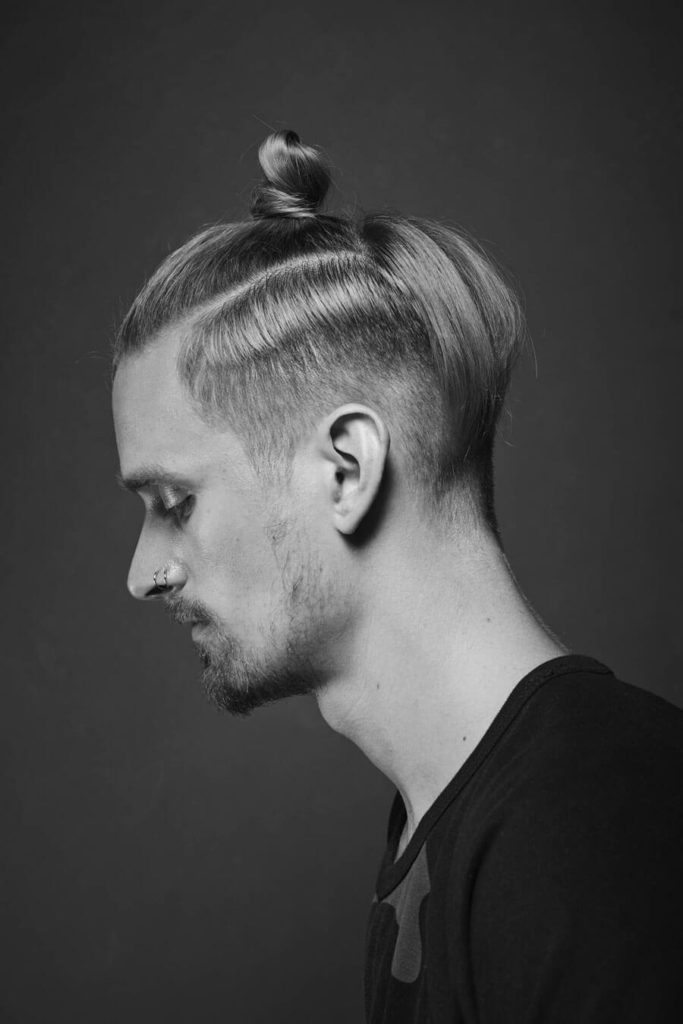 Top Knot Hairstyle with Full Beard
This is another messy hairstyle that has comes with a top knot look that gives away some loose strands here and there which makes it a bit different from other top knot hairdos available. Moreover, if this particular hairstyle is carried with a full beard then the whole look turns into something very special.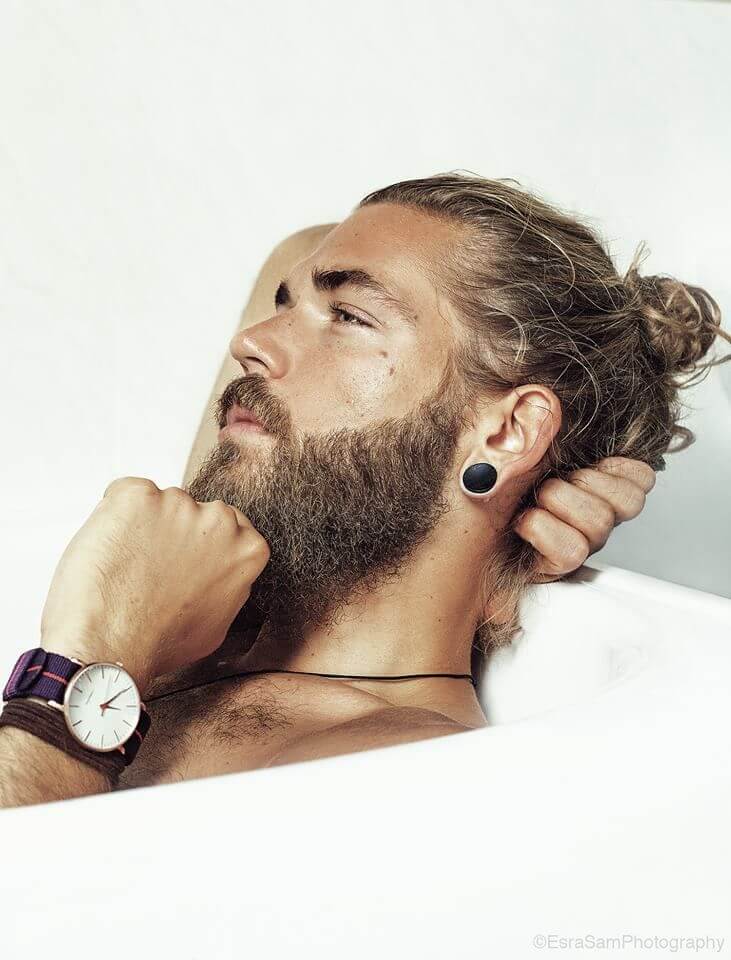 Razor Design Top Knot Hairstyle
The final look in this list of Top Knot styles for men is this second razor design top knot that is a must try for anybody who wants to a change from their usual top knot look. This particular hairstyle has different razor designs on all sides of the head and with a tiny knot summing up the remaining hair.
So, if you have been lost when it comes to doing something with your long hair then think of Top Knot Hairstyles that are highly laudable for men. Next time when you are up for a haircut don't just chop off those locks that took you so long to grow just choose any of the hairstyles in the above-mentioned list and you are good to go.