Sometimes it can be a little disheartening to find a new look when you've got finer hair. However, there are many hairstyles for men with thin hair that'll help you make the most out of what you've got.
You can stay on-trend and hide any areas you don't want the world to see. You just need to figure out the best haircuts that will work for your hair type. We want to assist you on your journey to do just that.
Popular Thin Hairstyles for Men
Do you need some inspiration before you change your whole look? Then let's have a look at a variety of styles below.
Fade with Quiff
A fade is one of the best hairstyles for men with thin hair as you can easily hide all the thinnest areas on the sides. The skin fade makes you look highly fashionable. The locks you have left on top can be pulled up into a quiff.
Slicked Back and Greased
Slicking back your hair is a great way to hide how fine it is. Adding a slightly greased look draws peoples' attention to the shine rather than the thickness. Pairing this look with a beard helps round it out very nicely.
Wavy Grey Fade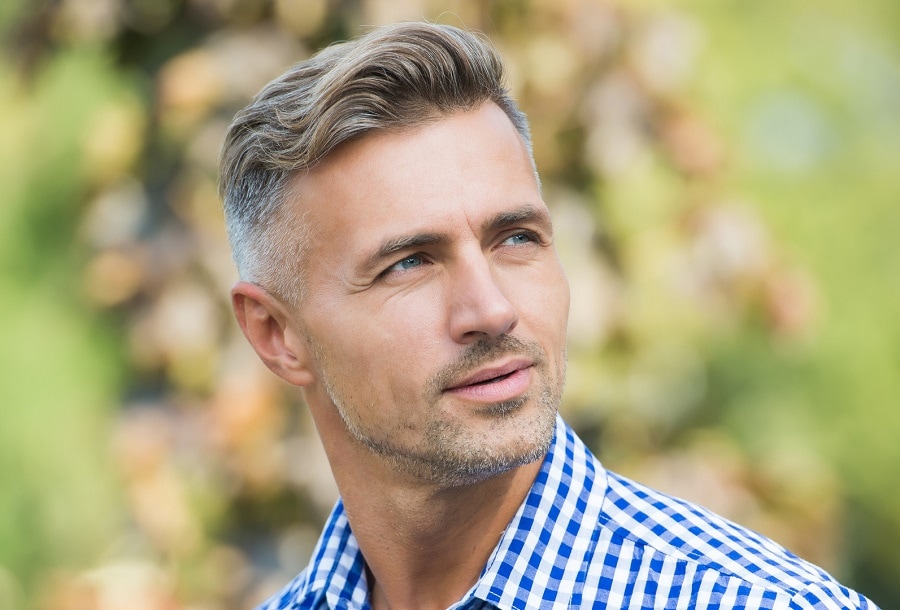 Here's a style similar to the first one we saw. However, it suits older men best as you let your natural grey show through.
There's a slight fade on the sides of this hair. The front is swept up into a voluminous quiff to create the illusion of thicker locks.
Topknot with Shaved Side
Having most of the locks shaved in your hairstyle is a good choice for guys with thin hair. The rest here is pulled back into a topknot. It's a highly fashionable look. Best of all, it's common for guys with finer hair to wear this style.
Side Swept Messy Look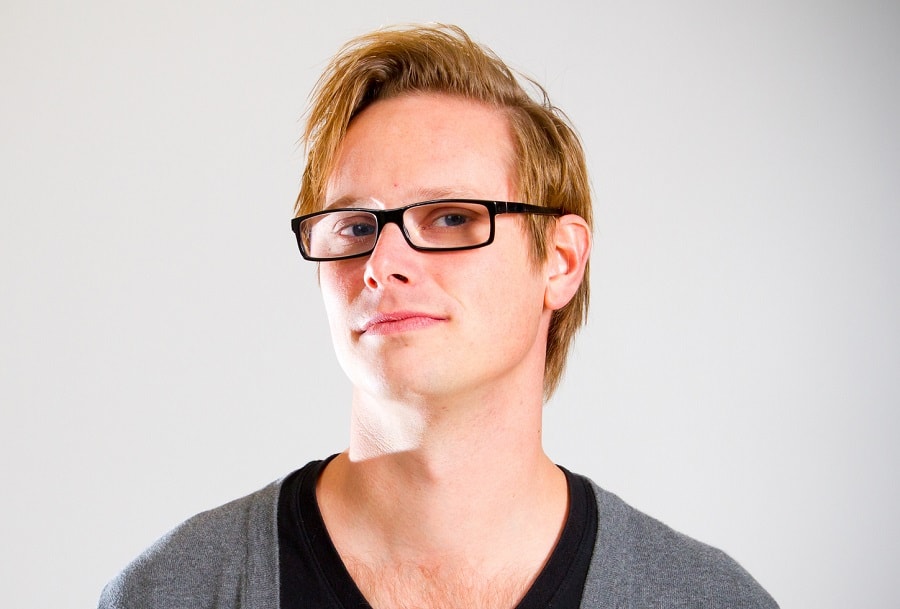 Deliberately messy looks often add volume to fine locks. This makes it great to disguise your actual hair thickness. Sweeping the front to the side like this also adds a little life and movement to otherwise limp locks.
Longer Hair with Middle Part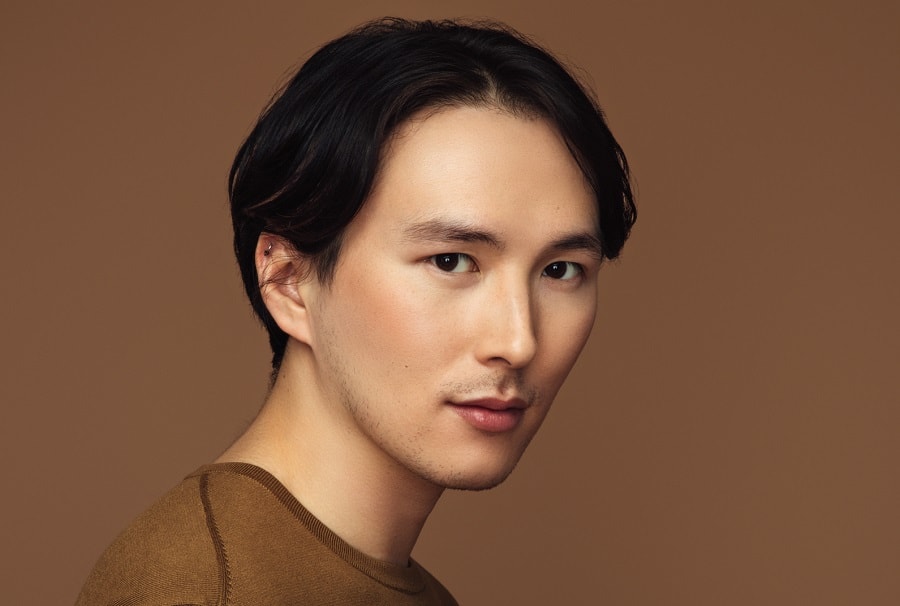 Wearing your hair long is a great way to add appeal to your look. This isn't very long, but there's some nice flow in these locks. They're parted in the middle.
Some bangs frame the face and are long enough to tuck behind the ear. It's a nice youthful look that lots of men in their 20s and early 30s will love.
Funky Icy Blue Hair
You can probably tell by now that shaved sides are incredibly trendy. Here's another variation you may like.
The sides and back are shaved down to stubble. The top has a little volume at the front. The main focus of this look is the contrast between the colored blue hair and dark beard.
Crew Cut
Beards go very well with many of the hairdos we're showcasing today. This one is nice and thick as it wraps around under the chin. The beard's thickness creates a contrast with the buzzed sides of this nice, short crew cut.
Buzzcut with Beard
Guys with fine hair may want a hairstyle that buzzes their locks right off. This makes it really easy to style yourself and appear handsome. Buzzcuts work perfectly for this. Adding a beard helps you retain a rugged appearance.
Medium Blown Back Hair
Medium-length locks lend themselves well to styles like this. You can brush your hair towards the back of your head without any loose ends. Brushing it all back gives you a rugged wind-swept look.
Blonde Curls
Blonde curls are naturally fine-looking. So, if you don't have naturally thin curly blonde hair, then it may be a good color to adopt. Curls are also a great stylistic choice as they add a lot of texture and thickness to your look.
Messy Man Bun
Pulling your locks back in the same direction helps to create thickness. Creating a nice man bun on the crown of your head makes you look trendy and highly appealing. It's such a laid-back look. It's very easy to achieve every day.
Bleach Blonde Summer Look
Adding some super light blonde to darker locks creates a summery appearance. It's reminiscent of surfers and other beach-goers in many movies from the 2000s. Having long locks on your face also adds to this vibe.
Short Quiff
Quiff helps to create volume for men with thin hair. Shave the sides very short and have the hair on top remain slightly longer. Then you can create this tiny little quiff at the hairline.
Understated Mullet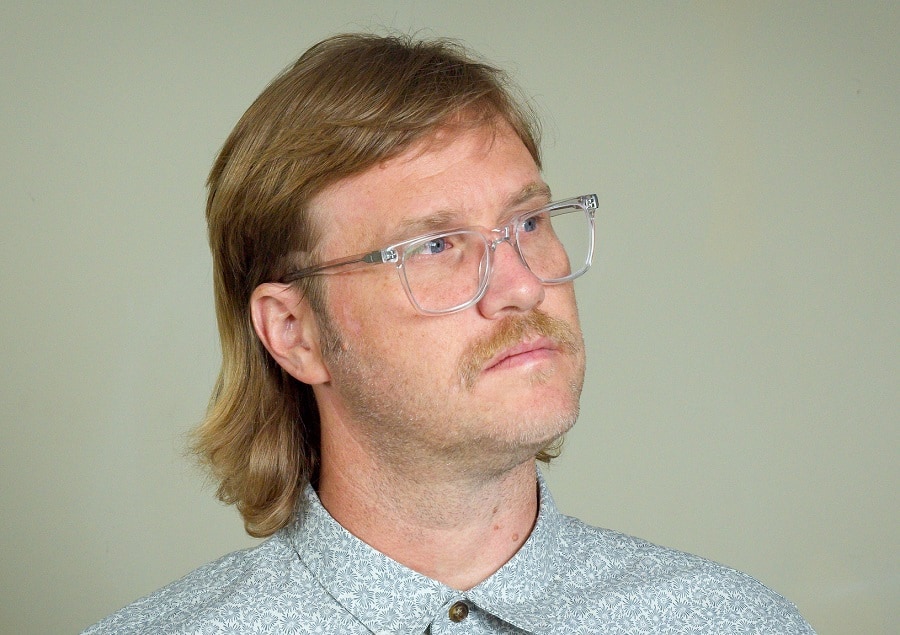 Mullets are often real attention-grabbers. With finer locks, they become more understated. At the front, there's a nice side-swept style. At the back, the locks flow freely and look thicker. It's a nice look for more mature men.
Textured Blonde Style
Putting some texture in your locks is a great way to make your look more lively. You can do this easily by adding wax or gel to your fingers and ruffling up the front.
This tactic works great for the guys with thin short blonde locks as you can see here.
Fluffy Blonde Hair
Shorter hair lends itself well to having a naturally fluffy appearance. You can see this on the sides here. They're unstyled and the locks are left to stand of their own accord. the front has been raised to match.
Fully Shaved Head
Some men suit having a shaved head extremely well. It's a good look for burlier guys with a strong jaw and lots of muscle.
It helps you show off your features. It's also perfect for men who don't have a lot of time to spend on their hair care.
Long Loose Locks
If you love having a long mane of hair, then you can do this with thinner locks. The length helps distract from how fine it is.
The middle parting makes it a very simple look to style each morning. You'll look totally laid-back and cool.
Natural Curly Hair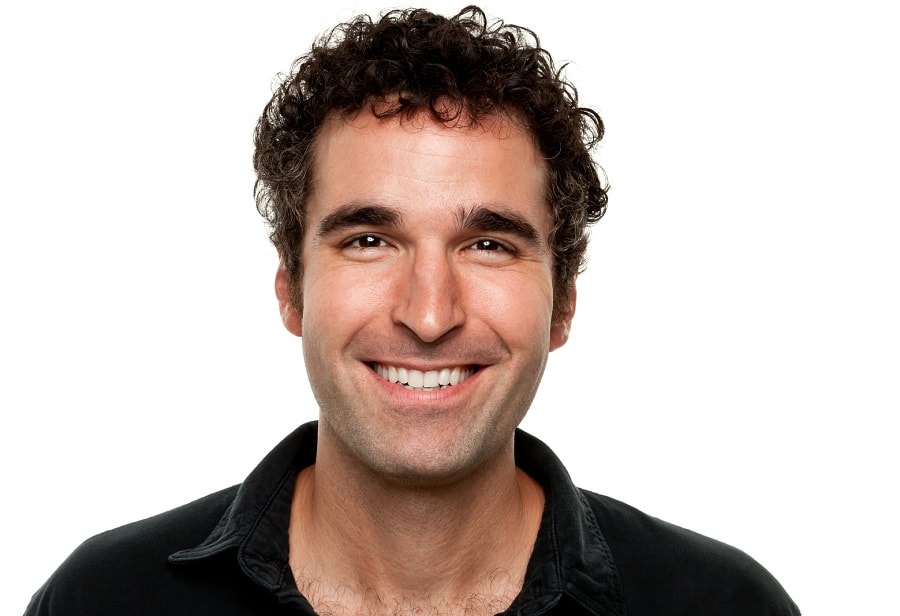 Have you got naturally curly hair? Then this is a style you can easily wear. The sides are only slightly shorter than the top.
Overall the curls are short and very controlled. It's a look that mainly suits men with tighter curls that have an indistinct curl pattern. It's very slightly messy, but it's not out of control.
Forward Swept Look
Pushing your thin hair forward is great for covering a receding hairline if you have one. It's also a nice simple style that lets your locks frame your face.
Making a thick beard the focal point of your look is wise. This is a look best done on very light blonde hair. It's easy to see texture and thickness with colors like this.
Squared Hairline
Buzzcuts look different on black men due to the different hair textures. They're very distinguished and fashionable. It's also common to square the hairline in black hairstyles.
Pairing this with a very thin beard that wraps around the chin and jaw is a great idea. It ties the whole look together. A thin stubbly mustache adds to it, too.
Mature Side Parting
Mature men with thin hair often have distinguished hairstyles like this. There's a nice side parting that creates the illusion of thickness.
Light colors make it look even better. A hint of grey is visible towards the sideburns. This helps you show off your more natural side. That's always appealing!
Medium Waves
Wavy textures are great for looking thicker than they are. You can have this naturally or get a perm. The waves are mostly focused on the top.
The top is medium-length. The sides are much shorter. However, they still have some texture to them.
Short Ginger Hair
Naturally, ginger red hair is very eye-catching and will also add a nice element. The sides are incredibly short. This leaves all the focus on the spiked section on top.
The thick beard also attracts a lot of attention. Guys with thin short red hair with a thick beard will stand out from all.
There are many hairstyles for men with thin hair that can help disguise how fine their locks are. Other styles make use of the thinness by having a slicked-back look. Both ways are very fashionable and will keep you looking your best.
It's also a great idea to add a beard to these looks. You can often grow a much thicker beard. It helps make you look more handsome, and it rounds out a lot of these sultry looks.