You might not realize this, but military men have been setting trends in men's grooming for decades now. Everything from the refined way they dress to their military haircuts is trendy.
These super short and neat cuts may be a little bold if you're used to longer hair, but they're all dashingly handsome and will transform your entire appearance.
Clean and Fresh Military Haircuts
If you want to take your fashion inspiration from the military look, then check out the 22 styles below to make sure you know all your options.
Bristly Top with Fade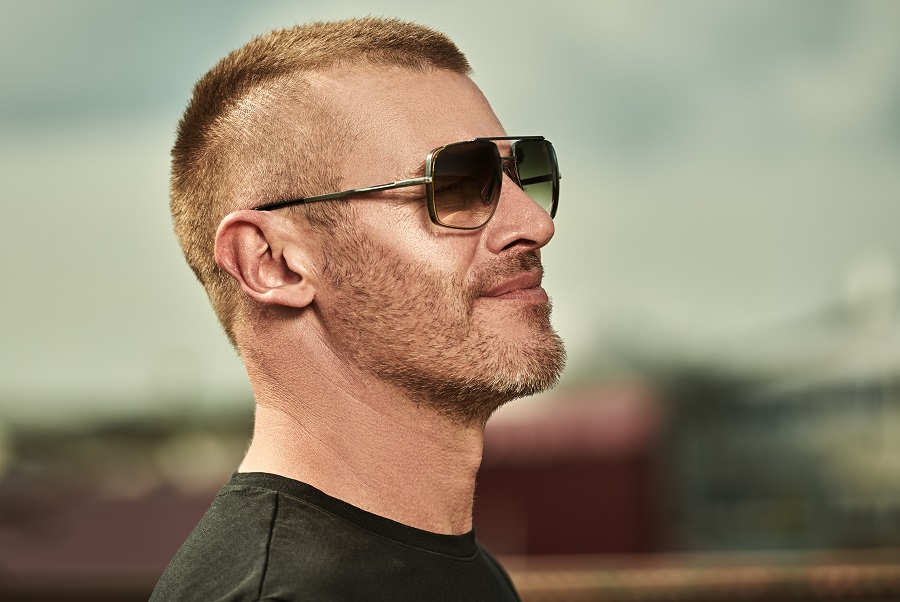 Starting off we have one of the most classic looks you'll find. The top is nice and short and bristly with barely enough hair there to style.
The sides are even shorter. However, there's a fade on the sides to help them blend into the beard and remain fashionable.
Simple Buzz Cut
You won't find a military haircut that's simpler than the buzz cut. The hair is incredibly short and at a uniform length all over the head.
This is incredibly daring for most men. The hair is the same texture as the light full beard to create a very cohesive style.
Blonde Textured Look
Even though these hairstyles are very short you can still have some nice texture in them. Here the sides are super short but on top there's just enough hair to style into a peak at the front.
Military Burr Cut
If you want to be even bolder with your look, then you may consider a burr cut so that you can see your scalp right through it.
This is just one step away from being fully bald. Men with strong and attractive face shapes can pull off this look really well.
Curly High Fade
Black men with curly, coily, or even kinky hair will pull off this look really well. The hair is incredibly short but it looks longer and fuller due to the texture.
The sides have a super subtle high skin fade that's fashionable while retaining the military-inspired vibe you're going for.
Funky Brush Cut
Brush cuts are another bold style that only the most confident men can wear.
This one deviates a little from the average cut, though, as the hair at the hairline is a little longer. A few strands at the hairline have some gel in them to make them stand out a little more than the rest of the cut.
Stylish Crew Cut
This crew cut is a little longer than average as the sides of this style are usually shaved or stubbly. Here, however, there's a little more length.
The top is longer and styled to the side so it retains that classic crew cut shape that you may be used to seeing.
Thick Ginger Hair
Men with ginger hair can pull off military haircuts really well because their hair stands out so much.
Here you can see it's a pretty uniform cut with most of the hair the same length. On top the tresses are a little longer and thicker than you'd expect of this haircut, but it still works really well.
Brushed Forward Hairstyle with Beard
You won't often see these haircuts paired with beards, but they look really good with them!
The beard steals the show and is much thicker and lusher than the hair on the head. Up top, the hair is brushed forward over the hairline and has a slight fade at the temple.
Cropped Look for Round Face
Short hair often accentuates a guy with a round face shape. You can help offset that by adding a beard.
The beard is mostly the same thickness as the ultra-short hair. There are two thicker patches in the beard to add some variance and dimension to the whole look.
Greasy Military Look
Just because you have a military haircut doesn't mean you can't also be stylish. Oily and greasy hairstyles are seen as slick and cool when worn with the right attitude. Apply gel to your hair generously, spike it up, and let your hairstyle shine.
Uniform Cut with Receding Hairline
Men with receding hairlines may not wish to prominent the shape. This makes longer hairstyles a bad call as it'll just highlight where there's hair missing.
A super short and soft haircut all over the head is a great way to understate your look. Adding a beard the same thickness as your head hair creates a lot of cohesion.
Soft Spikes
Hair this short often forms bristles naturally and you can easily form these into spikes. It creates an eye-catching look while keeping its integrity.
If you have dense hair that naturally forms spikes then it's a really easy cut for men with limited time to spend styling their hair.
Military Cut for Thin Hair
It's best to keep hair as short as possible to avoid drawing attention to the fact that it's thin. Understated looks where the tresses are brushed down and appear soft are great for this.
Curly Buzz Cut with Design
Check out this twist on the classic clean-cut and neat style. It's been made modern and trendy thanks to the fade on the sides, squared hairline, and design. A striped design is shaved into one side to really make this look stand out.
Bristly Look for Teenage Guys
Younger men and teenagers can rock the military haircut too. It gives them a well-presented and clean appearance that works really well for many people.
The hair is all the same length and very bristly to help keep your attention on your features instead of your haircut.
Military Induction Cut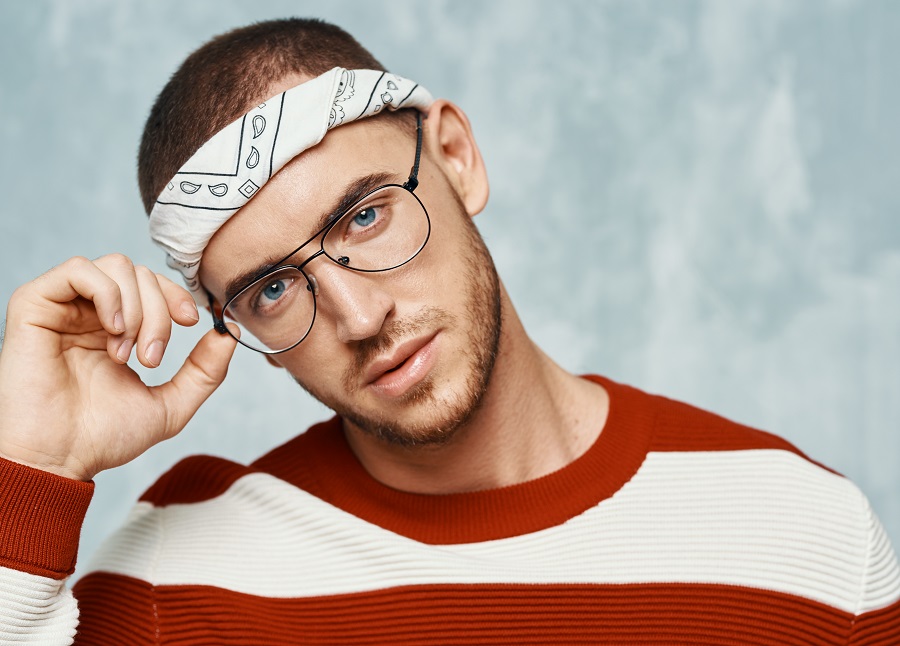 If you like the bald look but still want some hair, then consider an induction cut. It's incredibly short and very simple to achieve and wear.
You can accessorize this look with a headband or bandana wrapped around your forehead to make it a little more fashionable.
Long Crew Cut
Crew cuts typically keep the hair very short, but some guys want a little extra length on top and that's fine. The sides are soft and tight while the top has enough hair to sweep back a little.
Long Top with Skin Fade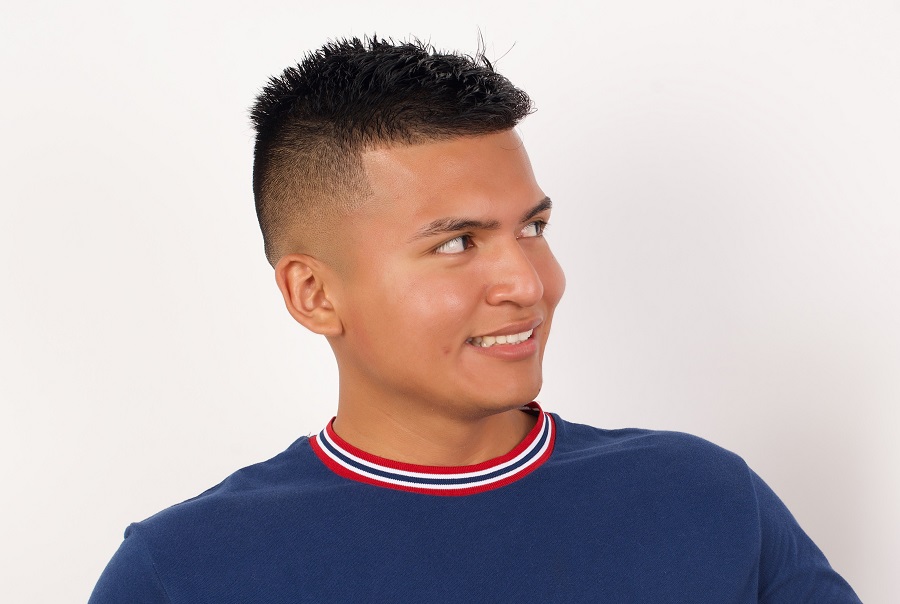 Yet again we see an example of a long military haircut to please guys who don't want to go super short.
The skin fade on the sides is very indicative of the inspiration behind the style. On top, there's some longer, textured hair you can run your fingers through.
High and Tight Hairstyle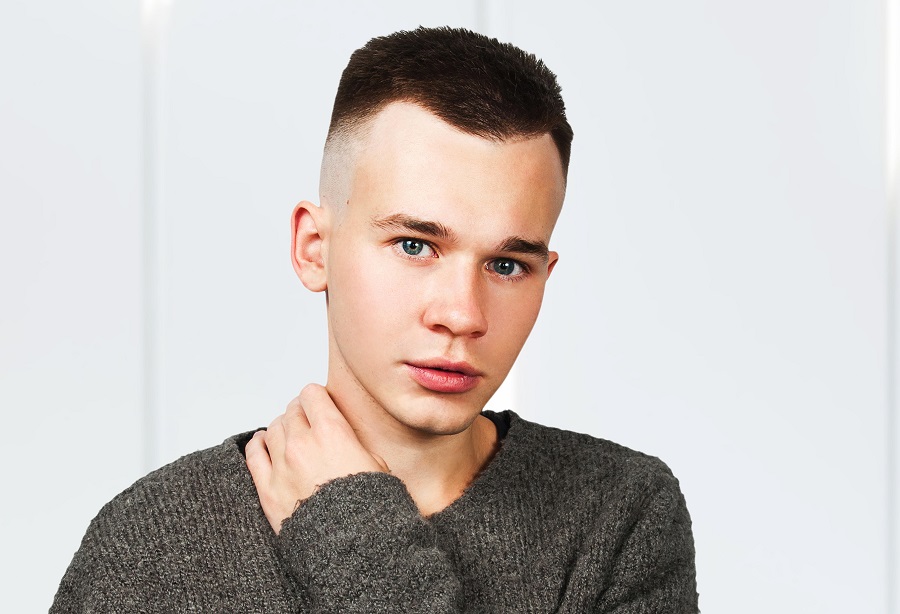 The high and tight is a variation of the crew cut with completely bald sides. The back of the hair is also shaved. In this version, there's a very subtle high fade to help blend the long top in with the bald sides.
Ivy League with Hard Part
Ivy league cuts are typically a little longer and are for men who want to look more handsome and stylish. There's a hard part to make this a little trendy, and the fade also helps with that.
Messy Textured Locks
Messy hair always has such an "I woke up like this" vibe to it that's appealing if you want to look like you're effortlessly attractive.
The texture of this military haircut is eye-catching, especially with blonde hair. The added length of the messy strands makes this a nice and alluring look for guys who aren't bold enough to go super short.
You can go totally classic with a military haircut or you can find a way to modernize it and even make it trendy. Play with your look and see what feels best for you!
At the end of the day, it takes a guy who knows himself and is incredibly confident to truly pull off these looks well. If that's you, then maybe one of these could be your next haircut.