Army haircuts are easy to style, short and simple to maintain. An army cut requires a short length of hair but there are many variations in these hairstyles that allow people to pick one best among various short and long styles that flatter their hair type and face shape.
If you find the right cut and hairstyle for your look then an army haircut can look cool and can give you a flattering look. You can choose between the low and high fade or undercut on the side if you want to keep it simple and classy.
Popular Variations of Army Haircuts
If you want a nearly bald look but do not want to cut the hair to the skin then Burr Cut is an ideal cut for you.
In addition to this, the Crew Cut gives a nice look if you have a simple personality as this cut involve trimming the hair to at least two inches but the front part of the head has little extra length hair that can be brushed for styling.
The Regulation cut is considered one of the oldest army haircuts and can be done easily with long hair.
In this haircut, the hair left on the top part is parted on the side which reveals a sharp line from the front to the back of the head. The Induction cut is given on the first day of the boot camp as it is a very simple or nearly bald cut.
Among various army haircuts, the high and tight army haircut is a specific cut in which a low guard clipper is used around the sides of the head and almost one inch of hair is left on the top. This haircut will look great on the right person and it is a risky choice as it can ruin your image if it is not cut in the right manner.
Best Army Haircuts to Try This Season
High Top Recon Cut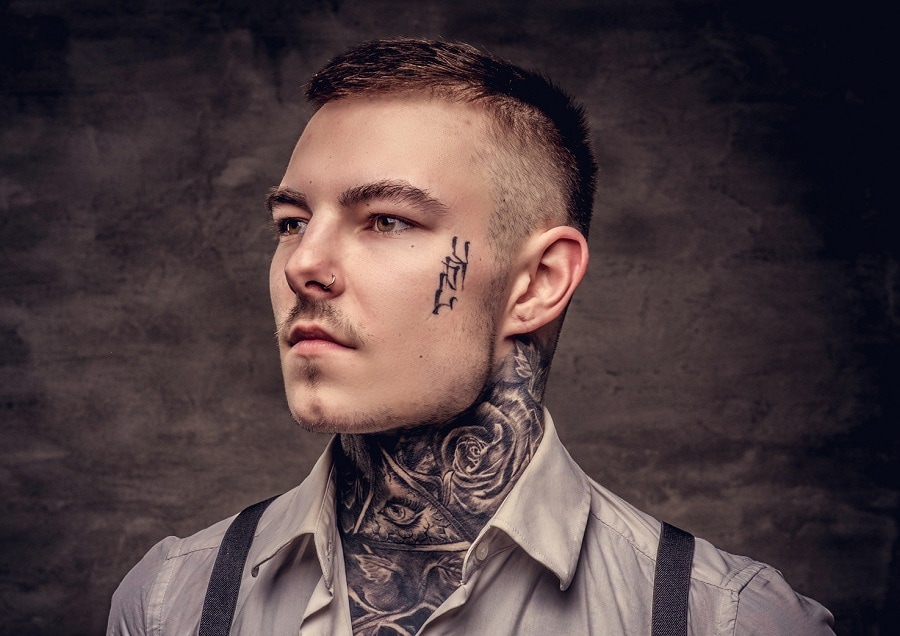 This high-top hair might be a little longer to be an official military haircut, but the masculinity and the force are still the same.
A close-to-skin trim on the sides and a buzz cut at the top is best for a masculine, tough look. Have a proper groom every time to have the perfect appearance.
Military Buzz Cut
Someone looking for a longer, buzz-cut option can go with this style here. The top cut is widely spread, which makes it look lengthier.
In case you are looking for soft and high-ranked-looking haircuts, then add this variation of buzz cut to your list.
Flat Top Military Style
For someone who is into sports or heavy jobs can check this style. A low clipper trimmed hair that is left around on the top with no graduation.
However, this style needs perfection to look good on every face shape. The straight tapered hairline, which is made into a straight line, will balance the look.
Long Fringe Style
Although many other fringe styles exist, this will always have a special appearance. The four-inch long fringe will have good results if done by a professional.
You can adjust the fringe length; the sides are faded to give a trendy look. Fringe styles may not be professional army hairstyles but trendy ones.
The High Top Look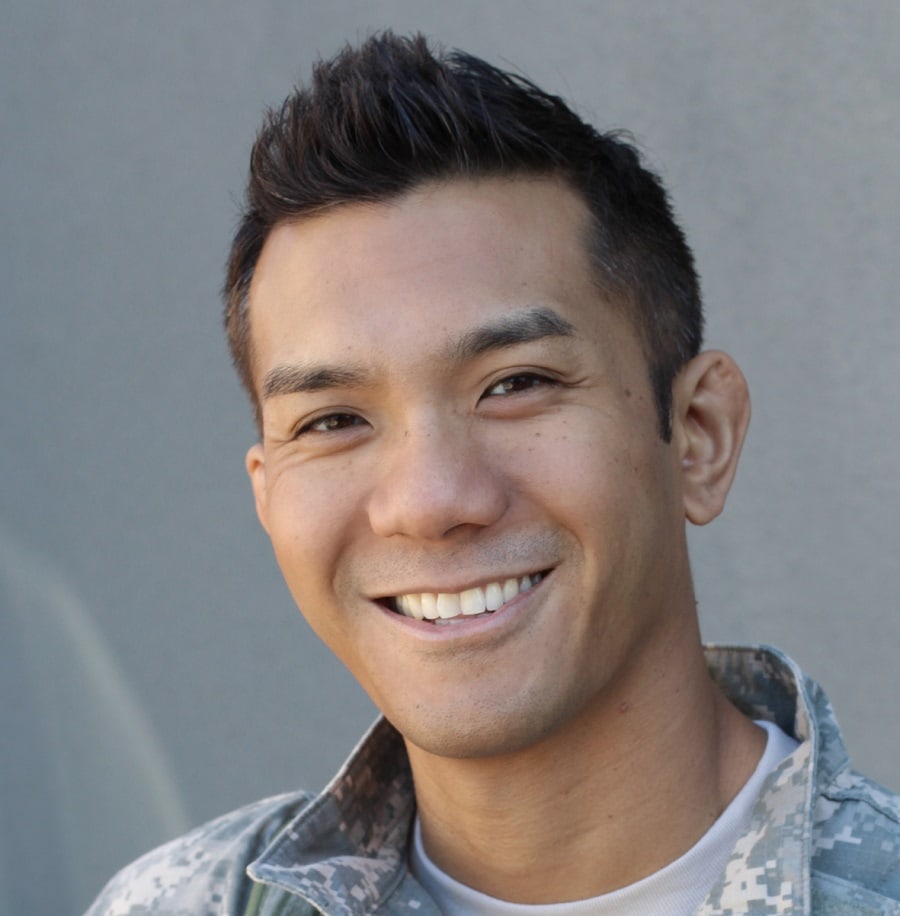 This high-top military look haircut is one of the oldest hairstyles. The neat and high styling will give you a sharp and clean look.
If you have long hair and switch to a high-top look, get slim trims on the sides to give a sleek finish. A youthful and simple style that looks minimal too!
Modern Butch Cut
This could be a modern variation of the old-school butch cut. The hair is longer on the top and widespread too.
The v-line hairline looks finer as the top has some length and volume. Add some gel to your fingers and run them through the hair to add some gloss to the style.
The Tight Top
Another eternal hairstyle from our classic army haircuts collection. Men looking for classic to match uniforms to formal suits can find this style quite appealing.
Easy to maintain and works well on every hair texture and face shape. So what are you waiting for?? Try this eternal classic now!
Colton Haynes Military style
Colton Haynes was seen with crew cuts and many other military hairstyles, but this is one of the styles he had for a longer time.
Top has disconnected trimmed hair with a minimal degree of fade on the sides and the back. The hairline is made into a pointed end to create an edgy look.
Tapered Cut with Skin Fade
Skin fades elevate and brighten any haircut, so why not try it this time? They work surprisingly well on army hairstyles, too, as you see in the image.
Only the top has hair, and the remaining sides and back got a shave and skin fade which is perfectly made to blend in. let the hairline be pointy, so it will not look blunt.
Sectioned Pompadour
If you have fine hair and need a military styling option, go with the old-school classic. Perfect for official events on the campus and grounds.
The top is swept into a fine texture and parted through a deep grooved part. The side is given a skin fade to add a spotlight to the look.
Textured Medium Fade
Love having a trimmed beard but could not match it perfectly with your hair texture?? Check this here; the textured hair is made into little spikes, which are actually so hot looking.
The sides are given medium fade to blend in with the beard and the hair near the ears to create a neat look.
Extended Fade with Beard
For men who love beard look, here is one. Beared is ultimately considered the key to looking masculine, so many men prefer to have it.
But many could not style them right; this extended fade that meets almost half of the beard will make the job easier for you. It is not too bold and works well with any apparel style.
Chiseled Military Haircut
The choppy edges will get the best blend in for the layers of your hair to get a proper tuck-in. These will be properly arranged to have a sleek military-style-inspired haircut.
It could even be an everyday style because it is not so boldly styled to only match official outfits. Minimal styling does the job sleekly.
Structured Low Fade
This structured short haircut has an extremely heavy fade on the back and follows to the sides too.
The prominently pointed hairline makes it much more evident and gathers the limelight easily. The hair near the base of the neck is shaved to match the low fade above.
Simple Crew Cut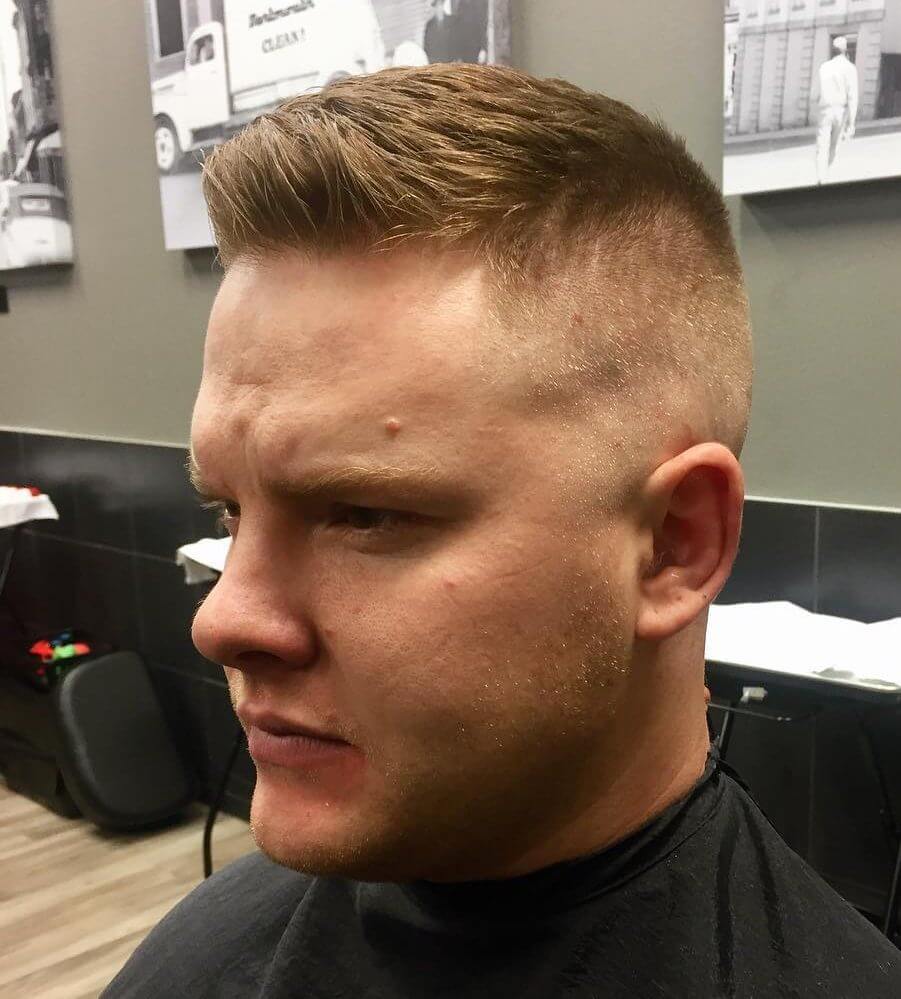 This simple and appealing crew cut has a medium fade and texture chopped hair on the top. The top hair is chopped with irregular lengths to make a disconnected look.
The front hair at the top might get a little messier if it is not groomed. Although, this is a low-maintenance style, which may need fading in a few days.
Brushed Up Cut
A regulation cut or a brushed-up cut is a modulated style of army haircuts, which has longer proportions on the hair on the top. It is usually side parted and given a customizable fade. Add gel for the strong fix.
Sleek Backward Look
These cuts are the best-adapted versions of the original gangsters. A high top with a glossy finish is new to the military styling edition. Using gel or serum will make a high-grade difference in how your hair looks.
Deep Grooved Style
Deeply grooved hair sections have something more to them. Something which is not only used to section the hair but also to create a trendy and stylish look.
Having short hair and getting a deeply grooved hair partition will be highly appreciated.
Short Mohawk
If you are looking for an extremely low-maintenance style, go with this style.
All the sides and the back are either shaved or given a trim to reduce the hair volume. Even the hair on the top is short-chopped, making it easy to maintain.
John Cena Military Cut
John Cena was always a fan of the crew and buzz cuts; this style is also something that needs attention. Hair is chopped in even length to create a neat finish, and the back and sides are kept clean too.