The decision to dye your hair could come to you in the blink of an eye. But choosing the proper hue takes time. Plum is a rich shade of purple with undertones of other dark colors. In addition, this color has several different shades. You can therefore choose this hair color that exactly complements your skin tone,
Here are a few plum hair color options for you to consider. Let's now glance at the fashionable ways that purple hair is currently styled. Scroll ahead.
Distinct Ways to Wear Plum Hair Color
With this unique, stylish, gorgeous hair shade, you'll grab attention wherever you go.
Mulberry Bob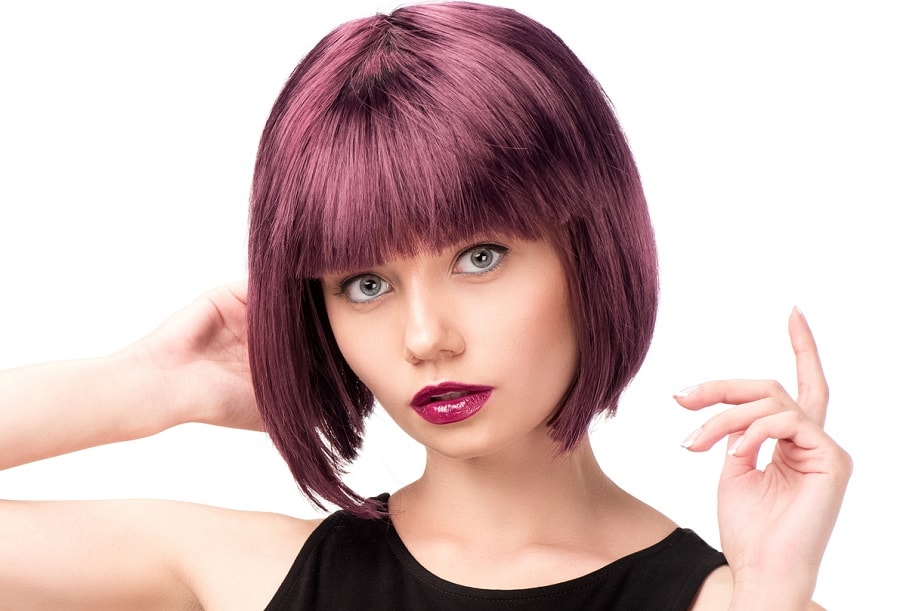 This vibrant bob with bangs haircut complements the plum hair color beautifully. People with blue or hazel eyes typically look best in this hairstyle.
Add vibrant purple to your brunette hair for a new look. Try this sparkling coloring bob for a striking effect. You won't get overlooked.
Grapevine Tresses
Every lady in the world craves more about this deep grape hue. So keep your roots intense, and use this rich plum hair color on your brunette locks.
Prepare to turn some major heads. It offers a gorgeous, supple finish that mixes seamlessly.
Raisin Mini-Braids
This box braid hairstyle is ideal if you want something cool but understated. The cool deep raisin looks fantastic with black hair.
This tint of purple will undoubtedly look like it was meant for you if you have dark skin. To help the colors merge, keep your roots darker.
Magenta Mane
Highlight your rich brown hair with a striking plum color. This will highlight your natural hair while also giving it additional structure.
Choose a balayage style to combine your highlights with your natural tresses smoothly.
Sangria Lob
Your roots should be darkish. All over your hair, add some bright and darker sangria highlights. Your wavy bob will be lengthened and softened by the dark roots.
The contrasting accents will highlight your eye color. To get the most out of the highlights, keep a balance as per your skin tone.
Burgundy Hues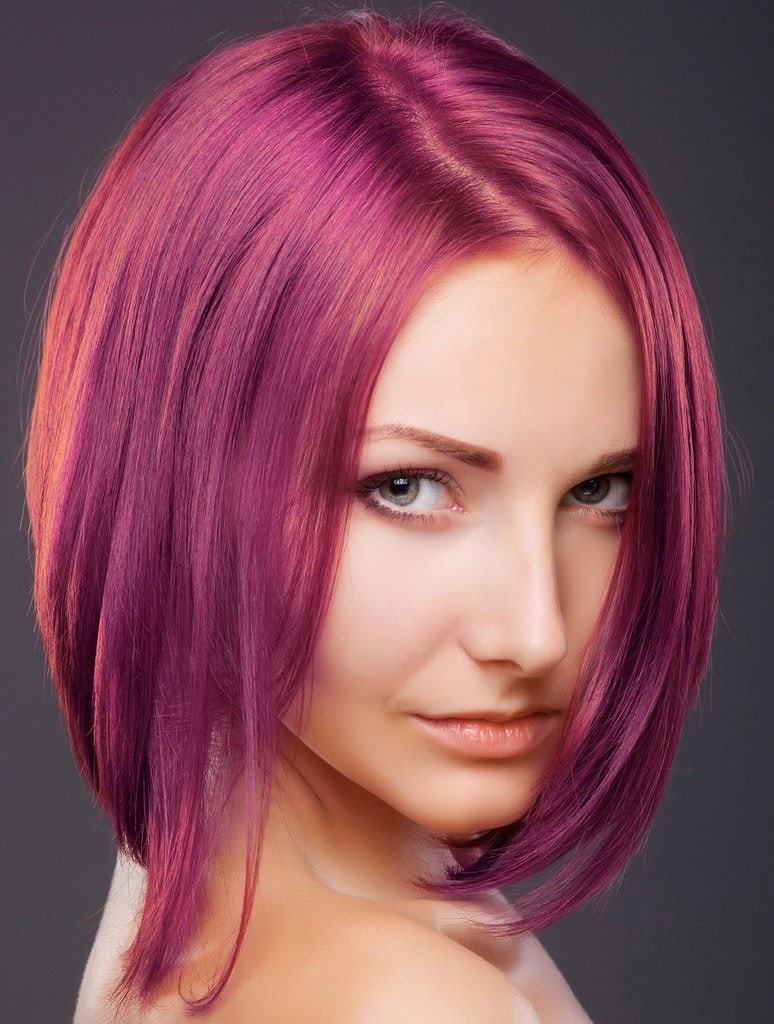 This is the best blend of teenage rebellion a lady could find. Deep brown and vivid burgundy combine to produce a candy-like feel.
It appears fantastic in the sunlight. It is the ideal hairstyle for your expected summer vacation. To give it a shiny vibe, choose cool hues.
Balayage Waves
Cool undertones complement the plum hair color scheme beautifully. First, color it burgundy to give this rich balayage more depth. Then soften it as you get to the end.
This color combination helps soften your face's severe facial contours. Especially if you have a square face and oval face shape.
Money-piece Highlights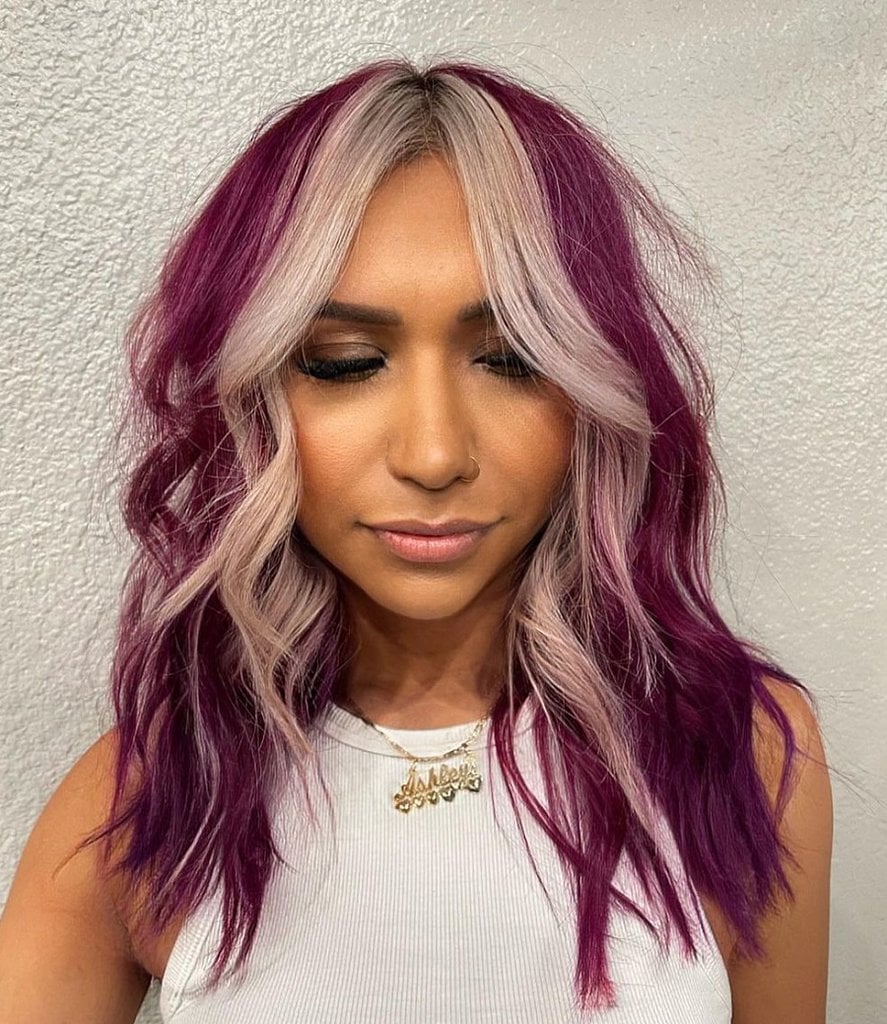 Blonde and plum make a deadly combination. If you desire a lovely light purple hue for your hair. Here is one option to spice it up.
To highlight the purple, add a few bright blonde coins at the front. Avoid using a bright hue because it may come out as dull. Choose a softer blending.
Red Violet Shag
Bright purple is frequently used to signify a rebel and represents excitement. So take that excess to your hair, please.
This gorgeous shag with vivid purple highlights will make you shine. Curly hair can be styled to complete the effect.
Raspberry Curls
It is quite adaptable because of the use of both warm and cool hues. It can be used with any skin tone and eye color.
While this design complements cool skin tones well. Therefore, skin with a warm undertone complements the flare of shades best.
Brunette Blunts
This mixture of hair colors is exquisite. The balance of dark brown and plum hair color is just right. The color combinations are so organically blended. It's ideal.
This rich shiny shade has brunettes screaming with excitement. This looks fantastic with wavy hair.
Dip Dye Ends
The dip dyeing method has become incredibly popular. This ombre looks fantastic in the summer and fall and complements many skin accents.
The thin tips assist in framing and emphasizing your face's attributes. They also make your face look softer. For blonde women with cool undertones, this style is ideal.
Mauve Braids
This deep lilac shade is ideal for winter because it looks mixed and real. This gorgeous color scheme combines purple with undertones of pink and lavender.
The black roots will lengthen and slim your face if you have a chubby face. Brown and hazel eyes will stand out in these hues.
Orchid Bob
Nothing is more beautiful than this plum hair color. This color is exactly midway between soft and nice hues.
Additionally, it looks stunning on women with fair skin tones. Brown eyes match best with it, but it also complements all other eye colors well.
A-line Lob
If your hair is charcoal black. A little purple can completely change the shade of your hair. Given that this plum hair color appears utterly vibrant.
Make sure you carefully combine the pigment when dying your hair. The hair transformation will appear more natural as a result.
Feathered Hair
It is a pinkish-reddish mixture with a purple undertone. Pair these highlights with pale brown hues to give your brown hair some volume and structure.
Make waves in your hair to give it a flowing appearance. Try this plum hair color to spice up your ordinary brown hair. It won't let you down.
Red-Violet Pixie
Heavy yet understated purple highlights can give your pixie cut a ton of texture. They might make your hair appear fuller than it actually is.
This one is the ideal hairstyle for fall and winter. This hue will effectively portray the sun's rays, resulting in numerous pictures for you.
You are now aware of several fantastic purple hair styling options. Plum hair color is always classy. To elegantly freshen up your appearance, experiment with several hues of this hair tint. These hair dyes will dramatically change your appearance and make you appear youthful.
Moreover, consider your skin complexion and attire when selecting your hair shade. Finally, pick the hairstyle suggestion from this post that best fits your era, fashion sense, and personality.