Classic braids are one of the oldest hairdos which are known and liked by all, till date. The history of braids goes back to the generation but over time, the three-strand simple braids are modified and created into all new versions.
Throughout all this time braids are done in different styles. In this article, we are going all about boxer braids. Boxer braids aka Box braids are types of braiding hairstyles that are predominantly famous to the African-Americans.
Boxer braids are commonly done and created by using synthetic hair to add more thickness and length. They were mostly known for their protective styling to the hair. They protect, and style is hair. Here we bring you 40 African texture boxer braid hairdos, which are unique and versatile hairstyles. Just keep scrolling…
Also you can learn here How To Do Boxer Braid?
1. Blond Touch To My Braid
Highlights in your always give a great impression to your hairdos. Adding some color to the hair is always a plus point for hairstyles. As the too pop all the hairdo in a different style.
Here we have to bring your box braid which is made too much gorgeous by here blond color in the hair. To add more style, she has focused more color on the braids. Box braid on the top had done loosely to make it unique. You are always free to choose the color and accessories.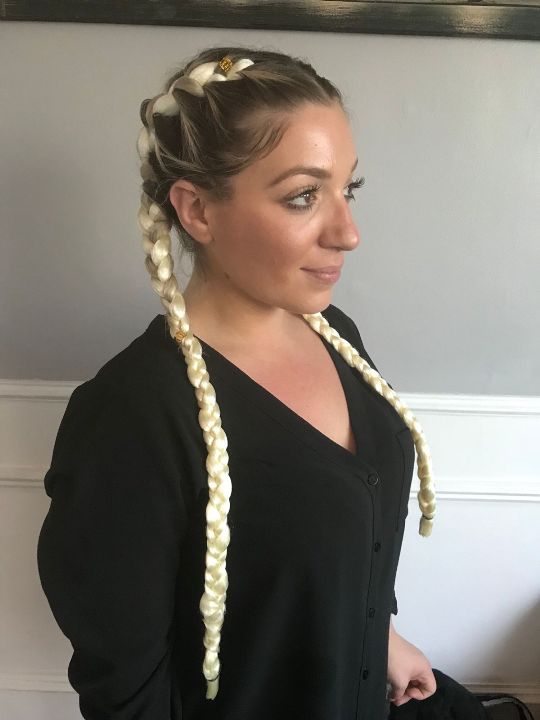 2. Shining Box Braids
Box braids and color are so much into the trend that their combination had brought the box braid as an all-time favorite hairstyle. Now box braids are not done in summers only but all around the year.
Here you can see that the girl has gone with a global hair color that is blond and silver. The braids are done in the same manner, but the color in her hair is making in more adorable and fun for the day.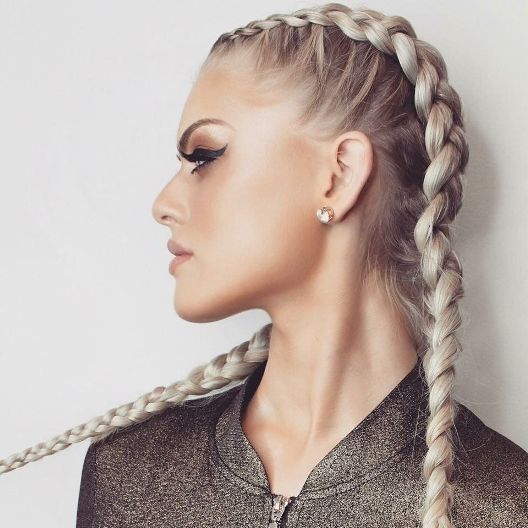 3. Five Braids
Why go for one or two box braids when you can go for four and five at the same time. Yes, you read it right in this hairstyle you can do up to five bo braids.
You can see in the picture how the young lady as created five box braids starting with a larger one in the center and with thinner ones at the sides.
This hairdo is perfect for gym and workout days. If you are all into games, an athlete then the hairstyle is perfect for you. It will make you look ready for the challenge plus a lot more attractive in your sweats.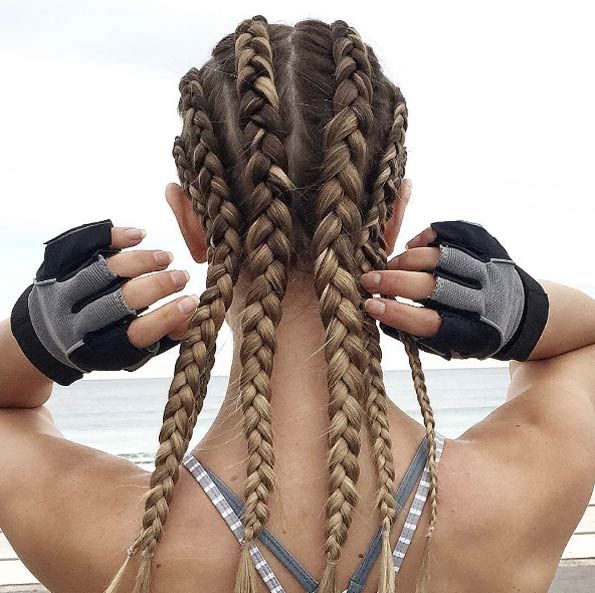 4. Caramel-Brown Tails
We have already said that how the color pops up the whole hairdo in a different way. Here in this hairdo also the hair is highlighted with a very unique color that is caramel brown.
The style is a versatile color combination. The braids are done loosely to bring attention to all the attention oh that beautiful color.
5. Blond and More Braids
We have already disclosed that you can create more than one braid at the same time. Here is one more hairstyle, which includes more box braiding. The unique part is the addition of blond colors.
The black natural hair is combined with blond highlights. You can see in the picture how the braids are form tie and firm. This hairstyle is for not so lengthy hair.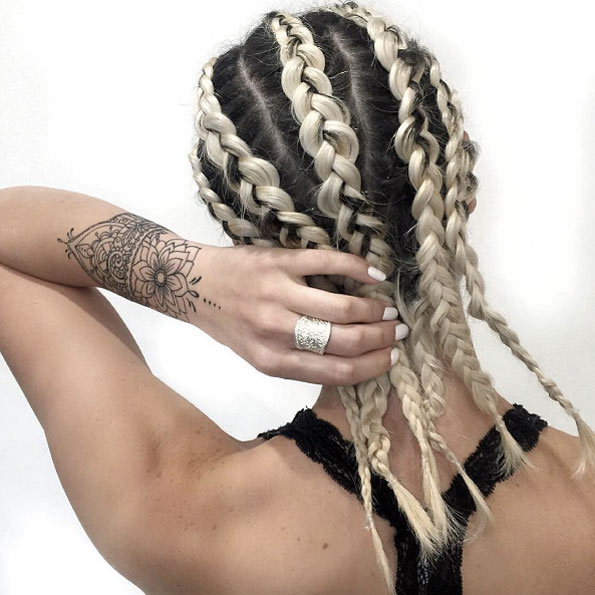 6. Chocolate Brown with Thin Braiding
The chocolate brown color is too common these days that it will soon be out of trend, but here we are planning to bring it back with the box braid style.
Here the image provided shows how the hair which is not much strong or thick also can go for braids. The braids are made thin, which made the whole hairstyle unique and versatile.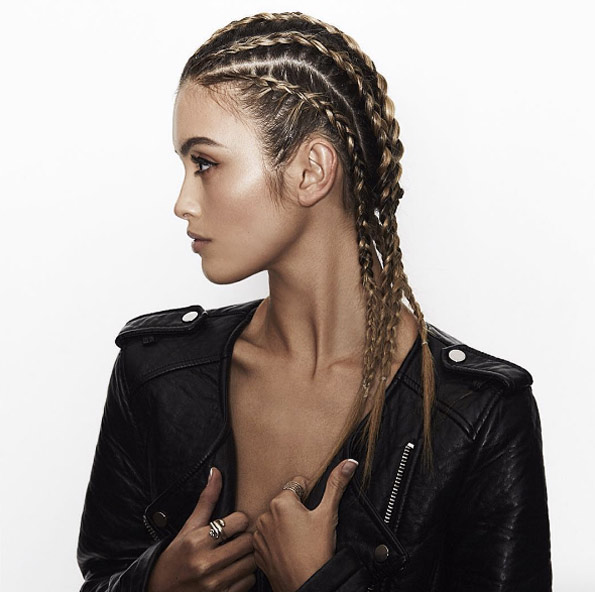 7. Tradition Box Braids
Tradition box braids are those which are done with the traditional method, or you can say in a classic form.
This hairdo also includes the classic braids, which are two on each side. And the braids are done tigth and firm. To make it more trendy, you can always go for global or igniting colors.
8. Messy and French Box Braiding
Messy buns, messy tails, messy hair all the messy styles are so much in demand. Here we bring you messy box braids.
You can see in the provided image that the girl has done box braids, but they are a mess as the baby hair is flowing with the air. That is only possible when you don't use any jells in creating the hairstyle.
The box braids are then continued by French braiding at the end, which is making it unique and different from another braiding.
9. Thin Braiding
Having thin hair makes it difficult for the styling, but box braiding is one of the hairstyles which can be done on both thin and thick.
It is best suited for thin as it will also protect the hair and promote its growth. She did the styling on thin hair as we see in the image. Again the blond hair color is added to give it more dimension.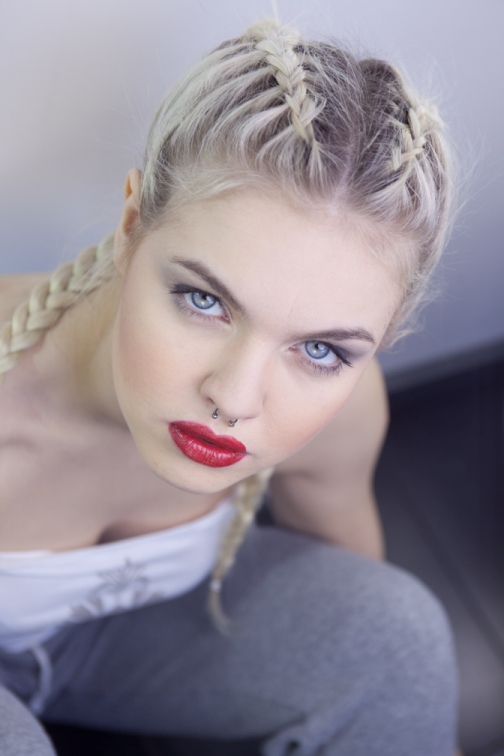 10. Classic Pigtails
In more fancy words, the box tails are also said pigtails, but here the pigtails are referred to ponytails done in this hairdo at the ends.
The classy French braids or box braids are done. The braids are not continued till the end. Instead, ponytails are created with wrapping the strands of hair around them.
11. Long Classic French Braid
Box braids are the only type of braids that look good in both long and short lengths of hair. Here we bring you a long French braid.
The classic braid is done at the crown part, and the classic French braid follows it till the bottom. The whole hairstyle is classic, as there is no color or accessories added.
12. Thinner Brown Braids
In this particular hairdo, the braids are in thinner form. The color of her hair is adding all the beauty and grace to the hairdo.
This global color is the natural hair color of the girl, but you can always go to your hairdresser to achieve that same color.
13. Double Braiding Pigtails
It is a unique and versatile form of boxer braids, just for you. Here the simple box braids are done with the twist. The twist we can see from the picture above.
The French braids are not done alone, but simple braids are added alongside the French braids. The braids are not continued till the end but left in the middle and continued by ponytails.
14. Golden Side Box Braids
The braids are created in this hairstyle sideways. The classic center partition is not involved, but instead, the side partition is done. And then followed by classic box braids or French braids.
The golden hair color is adding a lot more style to the hairstyle. But you can always go for artificial colors too, just contact your hairdressers.
15. Loose Long Golden Tails
The box braids are usually done tight and up straight at the crown part, but in here, the braids are done loosely and near the ears that are at the side.
The braids are not at the crown part but the sides. It is done on long hair, but you can always go with extensions. Here also, the golden locks are added, but you can choose the hair color differently.
16. Dutch Braid Hairstyle
A Dutch braid is also called as inside-out braid. Dutch braid looks mesmerizing on every woman. For every hair length, this hairstyle is a perfect option. In this hairstyle firstly, from front section three strands of hair separated into three equal parts.
Secondly, from these three strands front strand pass it under the middle section, so the front becomes the middle and middle becomes first.
Dutch braid looks too cute on little girls. Add some flowers to the braid or beaded pins for a wedding look. You can also style this braid with casual suits, gowns, short dresses, etc.
17. Double French Plaits Hairstyle
French braids are very popular these days. It comes with different designs, techniques, etc. Double French plaits hairstyle is comfortable for workouts, sports, etc. French plaits are not for short hair.
To do this hairstyle firstly center partition of hair is important after that creates two separate braids and combines the braids to the bottom to make one braid. After some practicing, it takes a few minutes to do.
18. Festival Boxer Braids
Festival boxer braids are very unique and glittery hairstyle. Glitter braids look very pretty. In this hairstyle, two to three boxer braids are made, then with the stick gel golden or colorful glitters sprinkle on the center of the braids.
By some dramatic glittery makeup, it will become more dramatic. This hairstyle is not for casual look or office, school, conferences, etc. According to your hair length, you can also add some hair extensions instead of glitter.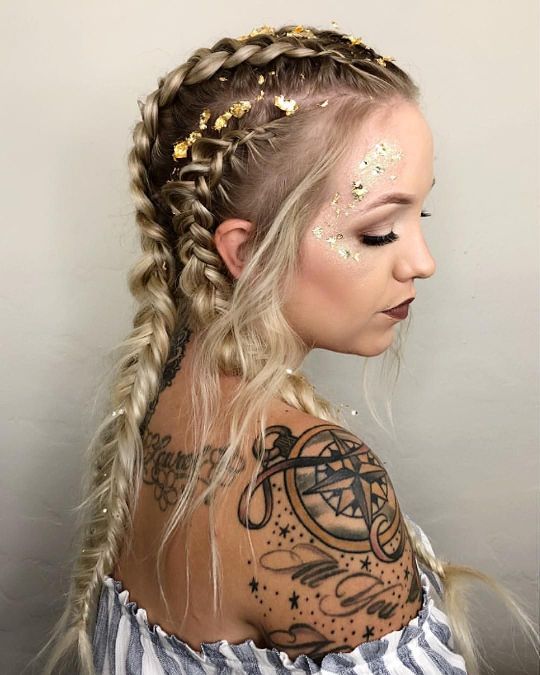 19. Tight-To-The-Head Double Braid
Braids are always easy to maintain and look stylish. While exercising, playing, or any other activity, you need a hairstyle that binds your all hair together. This hairstyle looks exceptionally well on blonde hair.
To make this hairstyle, you need to divide your hairstyle into two equal parts then take three strands from the front part.
After sectioning front, three strands braided in a criss-cross way. This hairstyle is perfect for summers. If your hair is curly or messy, then you can also use a hairspray for better results.
20. Messy Quadric-Braids
Standard braids are normal, but quadric braids are fun. Messy quadric braids are the mixture to four to five boxer braids. It is an ideal hairstyle for girls with medium hair length.
To make this hairstyle, hair is divided into four sections. From each section, take three hair strands and make boxer braids.
This hairstyle looks tricky, but it is very simple and easy to do. Messy quadric-hairstyle is perfect for those girls who like piercings, tattoos, etc.
21. Glam Headband Braids
Long hair is not easy to maintain. Glam headband braids hairstyle is created in a way that looks like you wear a band on your head. This hairstyle is best for little or teenage girls also. This hairstyle is perfect for those girls who have long hair.
To make this hairstyle, first, divide your hair from the middle, then from the middle part, make a braid, and continues towards the end.
Both braids look like a headband when you see from the front. You can wear ear accessories with bold eye makeup to look more unique and stylish.
22. Airy Boxer, Color Match Hairstyle
Color is always looking refreshing and beautiful. Color combination plays important role in this hairstyle. To try different color shades, you can use hair chalk also.
A natural silver tone teemed with the blue and slight green tint on the bottom looks so vibrant. Keep in mind while choosing the color combination, your face color, outfits, hair strength, etc.
You can divide your hair into two parts and make knotted messy braids from the top of the head. Braids are chosen according to which hair color you are likely to highlight.
23. Boxer Cornrow with Rope Braids Hairstyle
Many hairstylists mostly like cornrows. Boxer cornrow with rope braids is the combination of two to three hairstyles. If you have long fine hair, then this cornrow hairstyle is for you.
Rope braids are the technique of three-stranded braid, which looks like a rope. To make this hairstyle divide your hair into two parts.
Cornrows are started from the top front of the head and continue with rope braids to the end. This hairstyle is perfect for photo-shoots, red carpets, etc.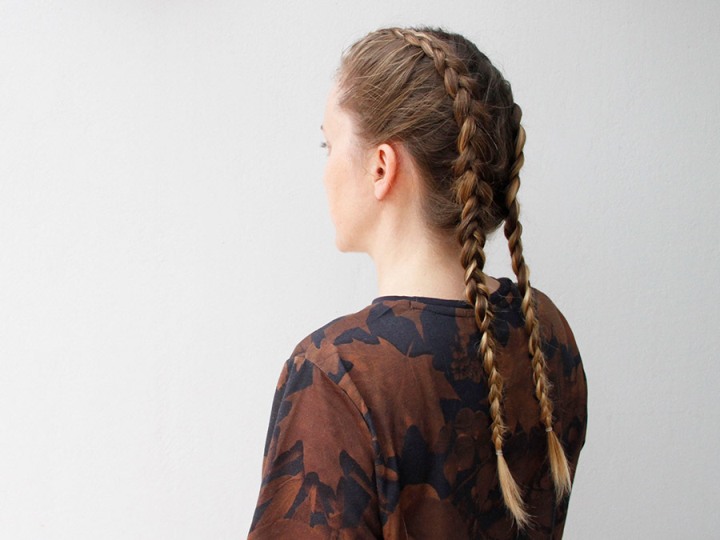 24. Boxer Braid Fishtail Combo
Boxer braid with fishtail is a pretty unique concept. In this hairstyle, hair is divided into three to four sections. From each section, take three hair strands and make boxer braids and continue fishtail towards the end and secure them.
This hairstyle is for every hair length, strength, etc. Boxer braid fishtail combo is perfect for exercise, workouts, colleges, etc. It consumes time but looks very stylish and classy. Bold eye makeup fits perfectly with this hairstyle.
25. Lush Blonde Braids Hairstyle
Braids come with comfort. There are so many hairstyles like messy, waterfall braids, etc. But you just want some clean and perfect braids. Lush blonde braids are merging two to three braids in one.
In this hairstyle, hair is divided from the middle section after this, each section divided into two braids. Each section has two braids which merged in one braid.
This hairstyle is perfect for face-framing. It looks very simple from the back. You can add some colorful highlights according to your natural hair color.
26. Romantic Double Dutch Braids
Everyone has unique and different hair. Some girls have thicker and curly hair then this hairstyle is for you. You can create larger braids if you have curly hair. In these romantic double Dutch braids, a few strands loose at the front of the face, and the rest are braided.
Dutch braids are simple but unique. In this hairstyle, each braid is doubled in size, which provides a natural texture to your hair.
This hairstyle is very easy to do. You can add some flowers if you want in between the braids. This hairstyle is perfect for little as well as young girls.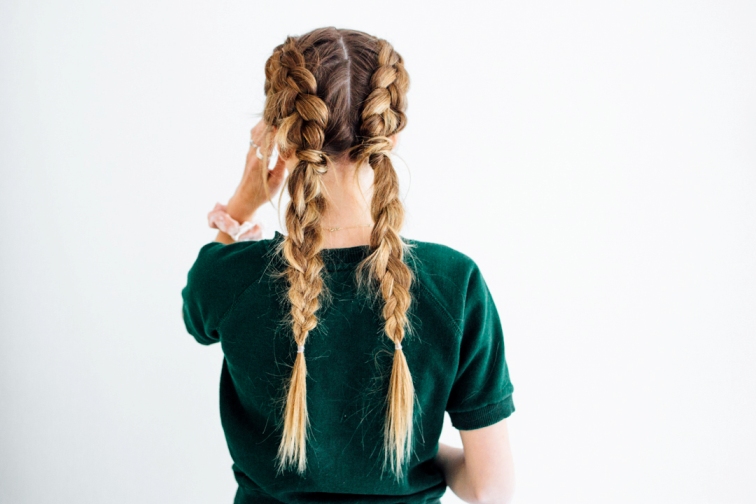 27. Dutch Crown Braid Hairstyle
Dutch crown braid hairstyle is a very simple yet cute hairstyle. Girls who have medium hair are looking for some creative hairstyle, then this is the one.
To make this hairstyle, simple Dutch braids are made, and at the back of the head, both of these braids come parallel to each other. This hairstyle makes all the hair strands locked in a particular place, so the overall hairstyle doesn't look messy.
28. Mermaid Luxury Boxer Braids
Mermaids are every girl's favorite. In this hairstyle, hair is divided into two parts from the front boxer braids are made.
The technique to make boxer braid is very important for this hairstyle. Make sure your braids are close to each other from the back. Pull some hair strands from your braids to make a little messier look.
This hairstyle is inspired by fairy-tale mermaids. Your outfit will be coordinated with this mermaid hairstyle to look like a real mermaid.
29. Jumbo Boxer Braids
This jumbo hairstyle is perfect for shoulder-length hair. Boxer braids are perfect for face-framing. This hairstyle is similar to some hairstyles, but its sides look jumbo. You can add some hair extensions to look more vibrant.
This hairstyle is perfect for the winter season. In winters, individuals tend to wear warmers or sweaters, but these do not provide any style statement; this jumbo braided hairstyle can make an individual look more stylish in the winter season. This hairstyle consumes time.
30. Side French Braids Hairstyle
French braids look drop-dead gorgeous. To make this hairstyle, take a section above the forehead. This section again divides into three thin strands of hair and start tiny braiding. Secure it with a pin.
This side-French hairstyle looks very fashionable with every outfit. You can also wear accessories to look better. Its easy to make this style. Side French braids are also styled in many ways like ponytail side bun etc.
31. Boxer Braid with Pink Length
Middle partition the hair and highlight the length. Start braiding the hair from very close to the scalp right till the end. Once one section is done, carry out the same process for the next section.
32. Straight Brown Highlights
This is a simple boxer braid hairstyle. In this, you middle partition the hair and simply tie them in boxer braids from the scalp. Have the brown highlights naturally come in the braid.
33. Funky Purple and Green Boxer Braid
This boxer braid hairstyle looks pretty funky with the purple and green color. Middle partition the hair. Color a few strands green, just near the scalp. Have one strand from the scalp and the entire remaining length from the neckline colored purple. Braid them.
34. Blonde with Baby Pink Highlights
Want to try a subtle color? For this hairstyle, you middle partition the hair and start boxer braiding right from the scalp. Have only a few strands near the scalp, and the entire length is colored pink.
35. Multi-Colored Boxer Braid Bun
Color the hair near the forehead baby pink, purple near the ear, a few shades of blue with purple and magenta at the back. Do three boxer braids starting from the scalp and tie them in a bun.
36. Boxer Braid Light and Dark Blue Highlights
Middle partition the hair. Highlight a few strands near the scalp blue. Color the length in a blend of dark and light blue and braid till the end. You will see a few strands of blue with natural hair color, while the bottom part in two blue shades.
37. Red Short Braids
Another simplest and the most frequently seen hairstyle, you color the hair red with strong red strands. Middle partition the hair. Braid them separately from the scalp and tie them at the end with a rubber band.
38. Boxer Braid with Brown Highlights
Middle partition the hair. Loosely braid the hair from a little near the ear. Get a unique look by tying the end of the braids with the hair instead of a rubber band.
39. Multi-braid White Highlights
This is a unique hairstyle in which you divide the hair into thin and wide sections to have thin and wide braids. Leaving some portion of the crown, color the length in ash white. Start braiding them right from the forehead through the length.
40. Blended Braids with Golden Blonde Highlights
Section the hair in four parts with small sections near the ears. Highlight them in light golden blonde.
Braid the small section of hair and blend them in the large sections. This will let you have more braids on the crown, but only two braids falling over the shoulder.
There are many hairstyles in the hairstyling industry, and boxer braids are one of them. Boxer braids are perfect for face-framing. These braids are available in many different hairstyles.
Every girl has different hair types according to their biological factors, so the boxer braids hairstyle suits every kind of hair.
Besides, boxer braids can be combined with other hairstyles so that every woman can personalize it according to their preferences or tastes like Dutch braid, fishtail braid, cornrows, etc. If a woman practices this hairstyle on a daily basis, she can eliminate the need to go to hair salons.