Hazel eyes are a unique gift, so finding the right hair color for hazel eyes is vital. You'll want to find the right hair color for hazel eyes so you can make the most of this unique gift.
Natural colors suit hazel eyes well, but some funkier colors also make this excellent eye color pop. You're pretty much set if you can find a color that goes well with both green and brown.
Of course, you also need to find a style that goes well with the hair and the eye color. Otherwise, your efforts are wasted.
Hair Color for Hazel Eyes to Wow Your Admirers
The colors below all go well with hazel eyes, accentuating different tones within them. Let's see what these delightful shades can do for you and your look.
1. Natural Auburn Curls
Auburn is a fantastic color to go with hazel eyes, as red pairs well with green and brown. This hair color for hazel eyes can serve you very well, especially if you style it nicely.
Here there are bangs that brush the forehead and help draw attention to the eyes, and the rest of the hair is in a nice and curly style.
2. Reddish Curly Bob
This is another reddish tone that pairs well with the green in hazel eyes. The cut also helps keep all the focus on the face, as the bob frames the face very well. Some nice curls give the hair a texture that makes it appear lively.
3. Light Short Blonde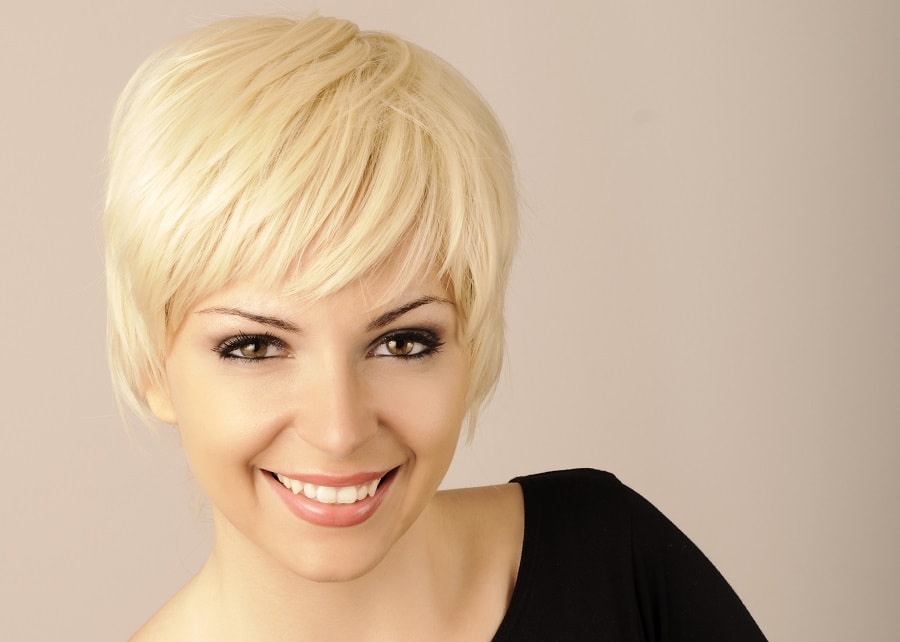 If you'd rather show off the brown aspect of your eyes, blonde is a great hair color for hazel eyes.
The extreme light blonde contrasts with the brown of the eyes, making both look great. The hair being so short helps draw you to the face.
4. Thick Auburn Locks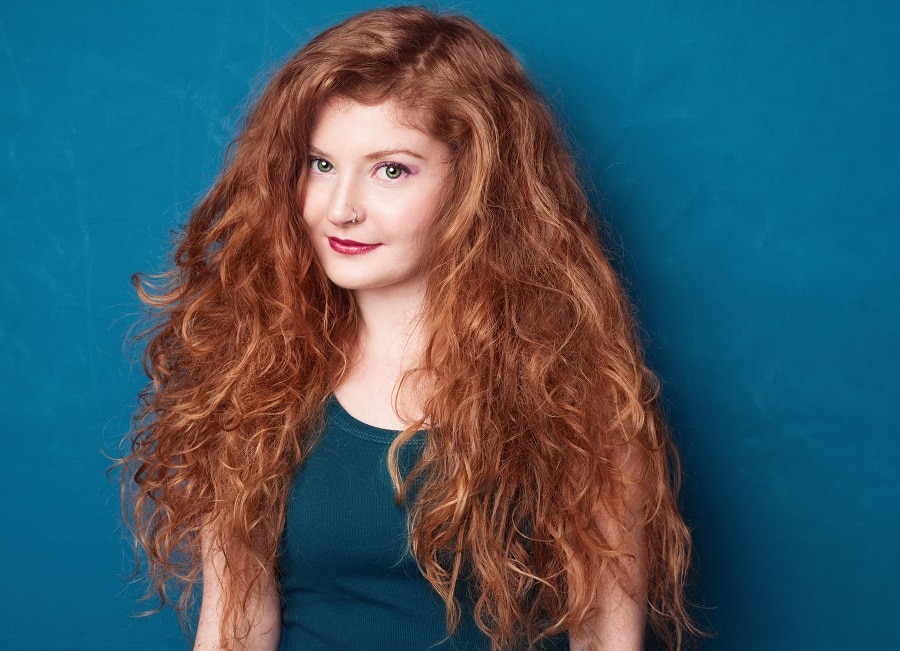 Thick styles help accentuate the hair color that compliments your hazel eyes well.
As you've seen above, auburn is a great hair color for hazel eyes, and this style has a whole lot of it. It's thick and in wild curls that draw a lot of attention.
5. Classic Brown Bob
Brown is a great hair color for hazel eyes if you want to bring out the darker tones. A nice medium brown shade does the trick excellently.
The bob again helps keep the focus on the face, and this is a classic style that curls under the chin.
6. Longer Brown Locks
Brown helps make your dark eyes shine, but this hair is longer so it's not all focused around the face. That lets the green hue in the hazel peek through very well.
As for this style, this is a very easy one with bangs and flowing straight hair.
7. Blonde and Pink
Like hazel is a combination of two shades, so is this hairstyle. It's light, helping show off the green.
Most of the hair is blonde, but there's light pink running through it very nicely. The hair is curly and very free, making it a stunning everyday look.
8. Dark Gentle Waves
A dark hair color for hazel eyes truly brings out the light brown of them by serving as a matching hue that also contrasts the shade.
This is a subtle and wavy style that looks wonderful, and it's easy to create every day for a casual-glam look.
9. Beautiful Blonde Updo with Dark Strands
Here's a glamorous look that can work well for weddings and other fancy events. Most of the hair is pulled back, and blonde bangs help accentuate the light hazel eyes.
Some curls hang by the face, and darker hair comes from underneath the hair to cause contrast.
10. Glamorous Light Brown and Blonde
This brown shade almost matches the brown in these hazel eyes exactly. However, there's some lighter strands in the bangs that give it a blonde hue.
This type of hair color for hazel eyes works well to accentuate them, especially when the hair is so thick and fabulous.
11. Blonde with Dark Roots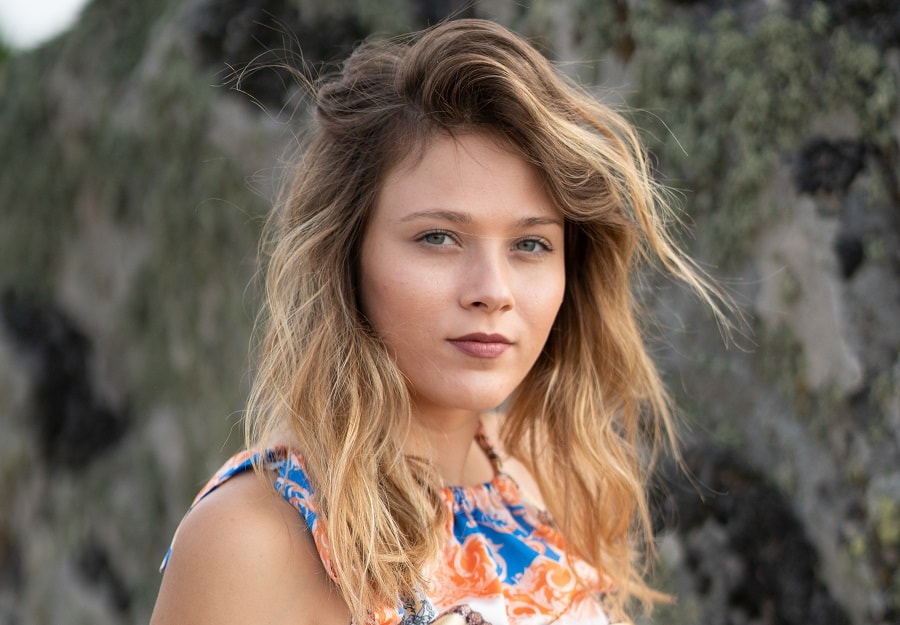 Hazel eyes often have a very earthy look to them, and so does hair like this.
The hair starts off incredibly natural with medium brown roots growing in thickly, but the rest of the hair is a sandy golden blonde that looks lovely.
12. Straight Purple Locks
A solid purple look is fabulous. It's so vivid, and purple always goes well with the green present in hazel eyes.
However, the hues also bring out some of the brown. Meanwhile, the style itself is simple and easy and doesn't distract from the face.
13. Nice Muted Medium Brown
This is an interesting medium brown shade, because it's slightly too muted and natural to be considered an incredibly dark brown.
The tone makes it unique and good at drawing the color out of hazel eyes. The bangs near the eyes also help with this.
One of the hair color for hazel eyes options above is bound to have dazzled you. There are so many to choose from, so it's impossible not to fall in love with one of them, right?
Once you find the color for you, you can learn to style, care for it, and make it work to your advantage to create the best look you've ever had. You'll wow everyone you meet and be shocked by how much your confidence grows.