Regardless of whether you are a fan of football, the name Lionel Messi is one thing that needs no introduction. Lionel Messi, the famous forward for Spanish club Barcelona, has made the fashion news for his hairstyles and soccer skills. From keeping long hair to going platinum blonde, Messi has tried a wide range of men's hair.
While the footballer's skills on the field make him one of the finest and most renowned soccer players the world has ever noticed, Lionel Messi Hairstyles seem to be a point of curiosity among all of his fans.
As a man who has never represented himself as a style icon, Messi's short and long hairdos can now and again be quite fashionable and cool. Fresh and classic cuts look wonderful on Messi and are an amazing selection for football players and active men.
These haircuts and styles are stress-free to wear and look perfect in the midst of sweat, heat, and dynamic activity. Shorter hairstyles grip their form in any situation. Longer hair looks want some good hair products like gels and pomades that it can also stand up to wide-ranging physical activities. Here are a few ideas that you can give a try.
Spiky Blonde Hair
This look feels almost like a riot of colors. His hair has two tones namely, black and platinum blonde. The hair is black at the roots while the ends are platinum blonde in color. To add further contrast, his beard has been given a striking auburn shade.
The hair has been gelled and spiked upwards to complete the look. You can even go for some hair-setting spray if you do not like the wet look of the hair gel. No prominent parting has been made.
Low Fade Side Swept
The fade haircut is really trending now when it comes to hairstyles for men. If you are someone who does not feel too comfortable with a daring skin fade, you can try this look. It features a low fade which means it is not a very stark look.
Here, it has been tried on platinum blonde hair, and the hair color really makes the haircut look totally amazing. You can try it on any hair color that you like. Lastly, make a parting on one side.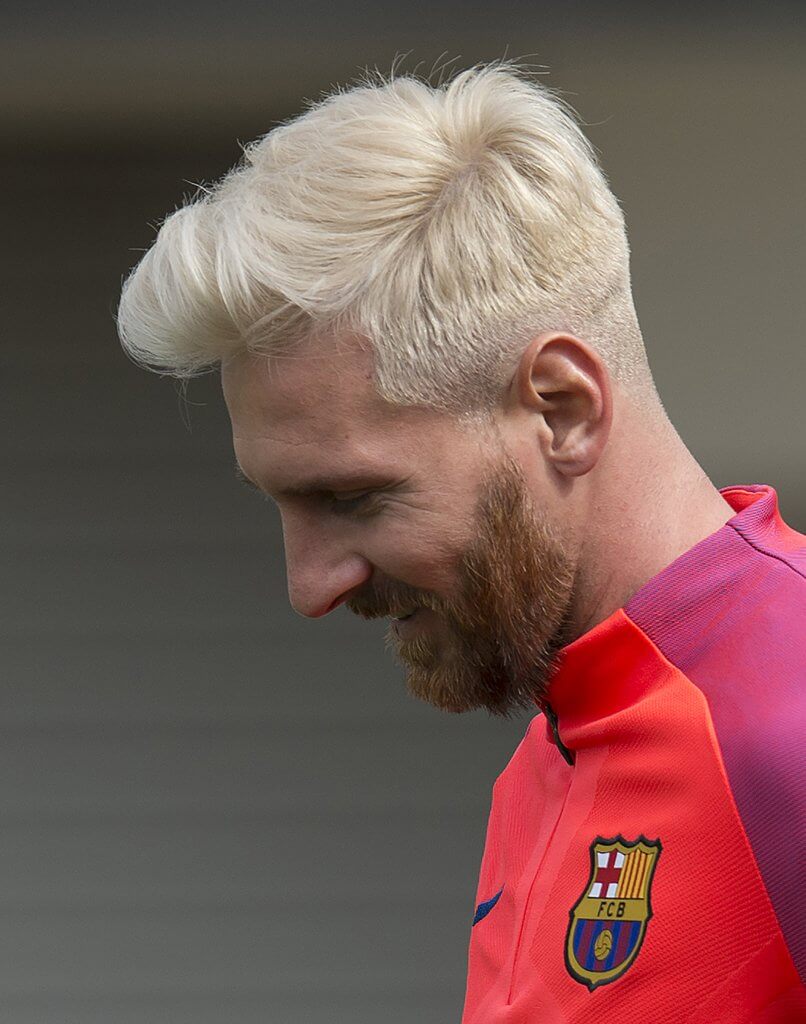 This hairstyle has a formal look to it. That makes it perfect to be tried by those who shy away from hairstyling due to office restrictions. The hair is of medium length, and it has been given oodles of hair gel.
After this, use a fine-toothed comb and give it a comb-over. It should have a puffed-up look while you are brushing it back. It is a great hairstyle for men who suffer from the issues of fine hair or thinning of hair.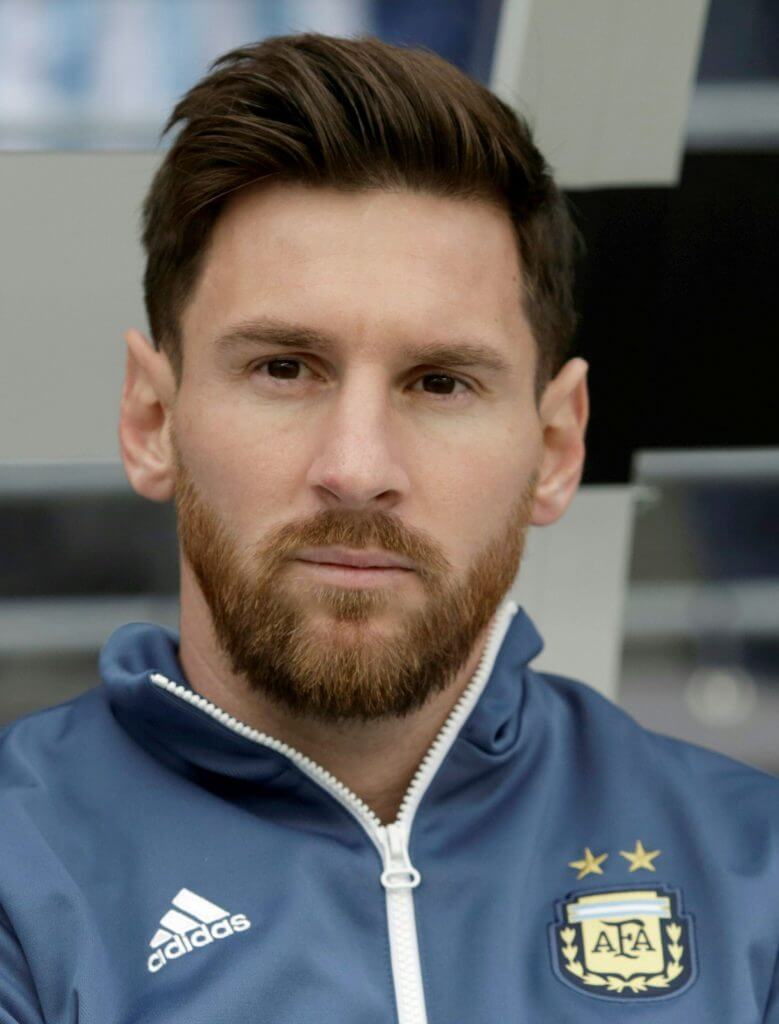 Swept Back Short Hair
Short hair does not have to limit your hairstyling options. The football legend shows you how you can jazz up your simple short hair by going for the right colors and cut. This one also features a nice low fade on the sides.
The ends of the hair have been given a light blonde color to make it stand out against the naturally dark-colored roots. Sweep it backward, and you are all set to rock the look. A parting is not needed for this.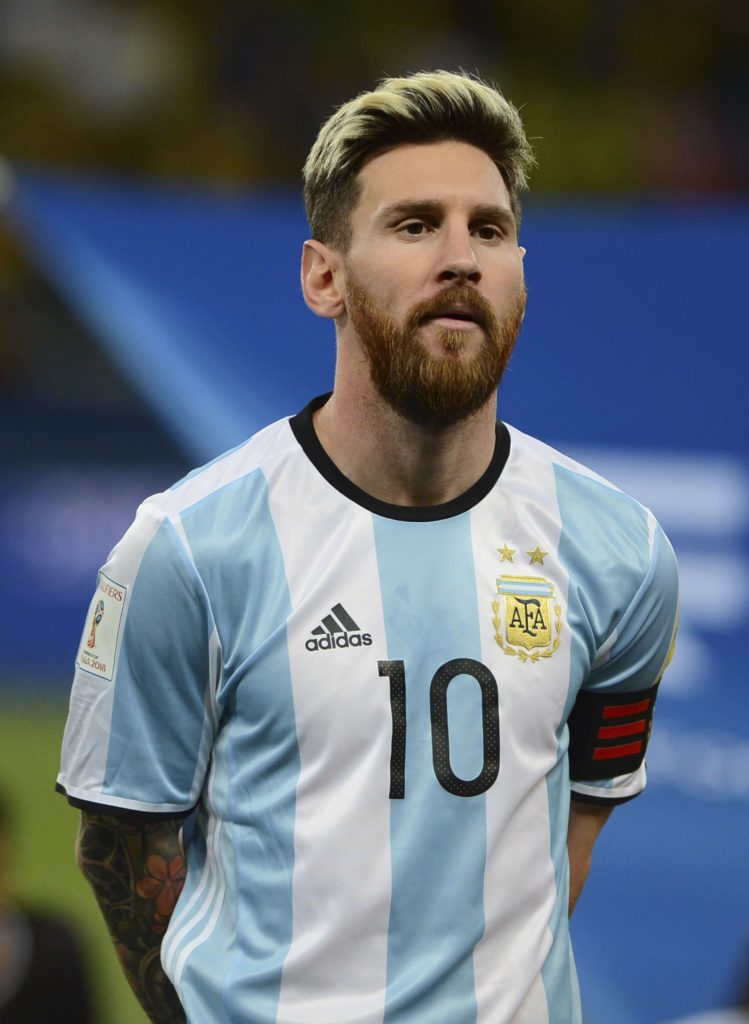 Side Part Hair
Though this hairstyle has a very professional look to it, a bit of messiness on the sides keeps it looking interesting. This is the look that has been carefully put together but looks totally effortless. The haircut is kept simple, and there is not a hint of fade or undercut noticed here.
Create a parting on any one side as you deem fit according to your face. Mess up the ends of the hair on the side of the parting that has more hair.
Faux Hawk
Does a Mohawk seem too funky for you? Or does it feel too dated? If the answer to any one of those questions is a big yes, then this is the hairstyle for you. It is like a more mature version of the Mohawk, and it is really fashionable right now.
It has been called a faux hawk as the sides are trimmed to keep them short, but there are not completely shaved off. The hair at the center is spiked upwards by using hair pomade.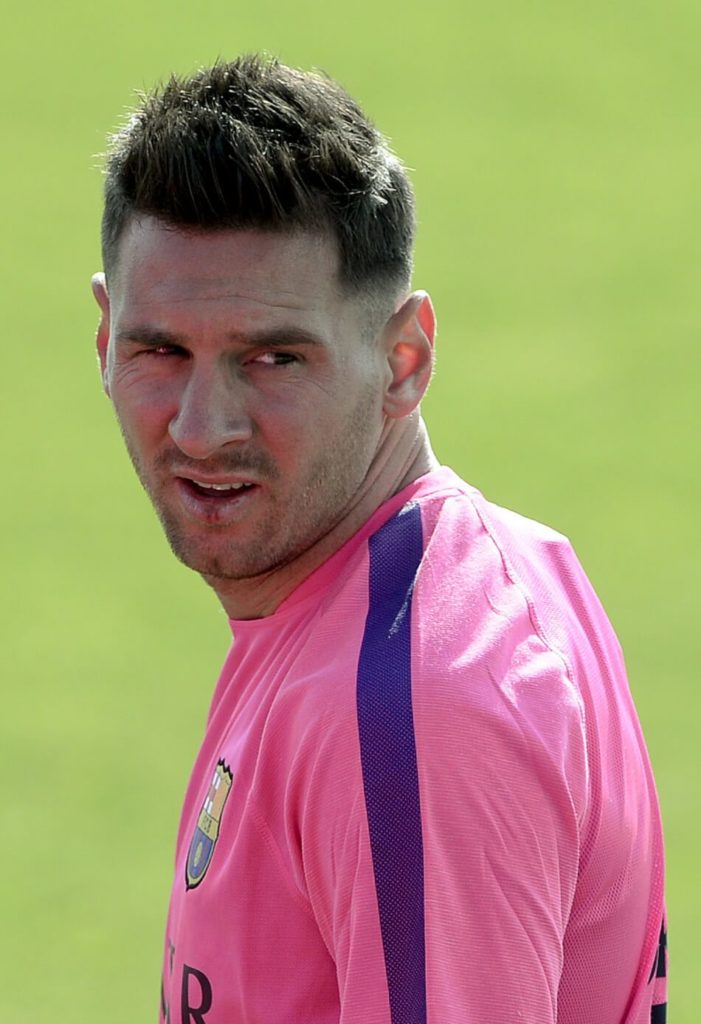 Long Wavy Fringe
This is the hairstyle that Messi kept for the longest time. It is also one of the favorite hairstyles of his fans around the world. Since the fringe is back in style, it is time for you to give this hairstyle a try.
The hair is kept long enough to reach the shoulders. It is cut in multiple layers to bring in a messy look to it. The long fringes cut in the front cover the entire forehead and reach up to the eyebrows.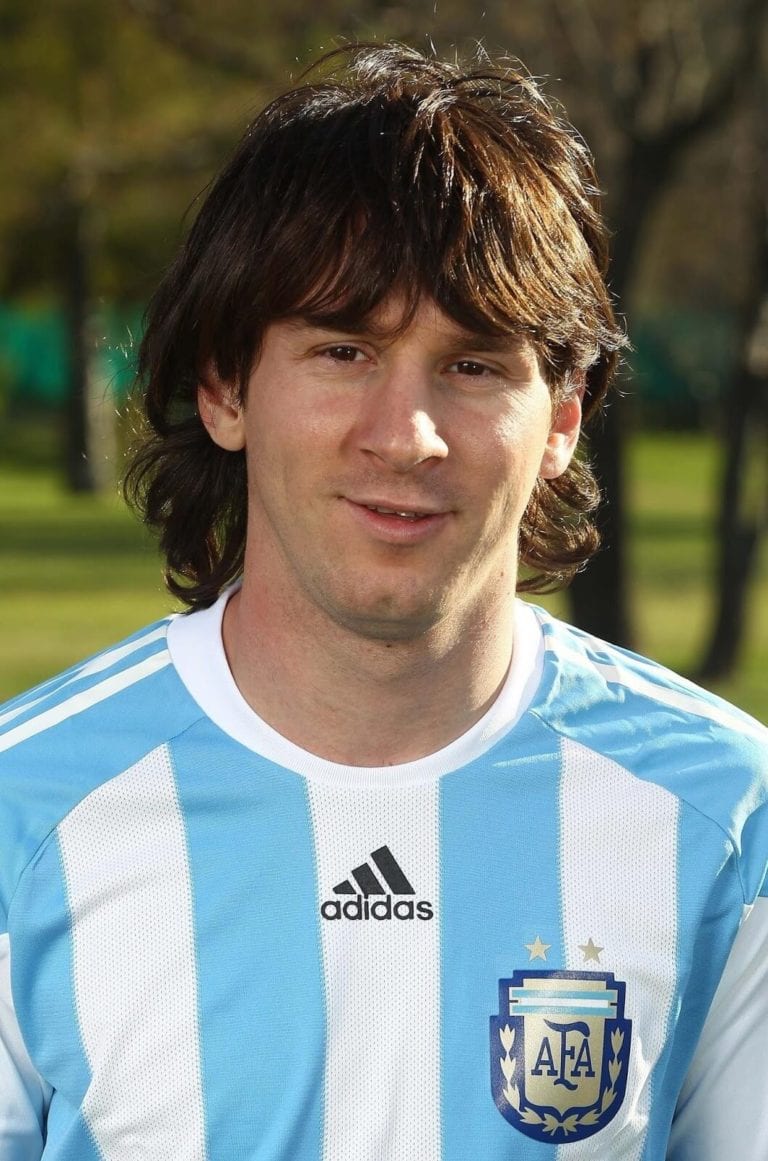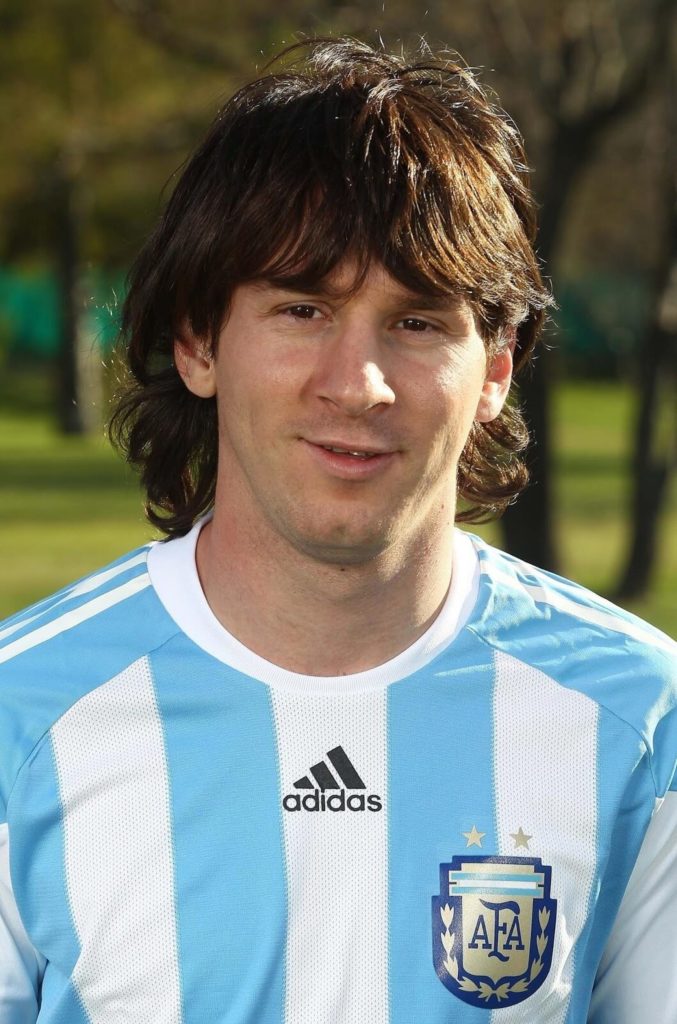 Side Part Short Hair
Do you want to style really short hair perfectly? Take help from the lookbook of football stars to know how you can do it with élan. Messi has cut his hair really short in here, but it does not make them look boring or regular.
This is because the way his hair has been cut keeps things interesting and stylish to look at. A side parting has been made, but since the hair is too short, the parting does not look too prominent.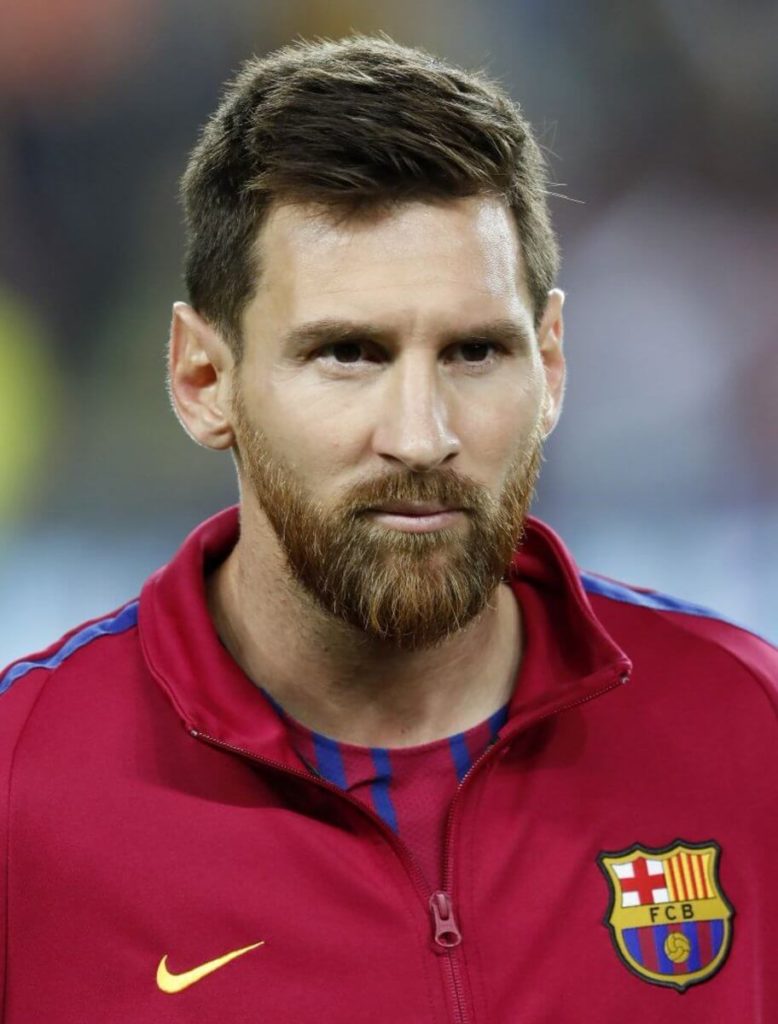 Low Skin Fade
This is one hairstyle that looks cool without trying too hard. Messi carries it off brilliantly, and you can do the same too. If you are planning to rock your look for the next party, you must give this look a try.
Just sweep off the long hair at the center of your head frontwards and leave the rest of the haircut to fade naturally into buzz cuts. Accessorize it right, and it can be the ideal look to try out to garner compliments from all quarters.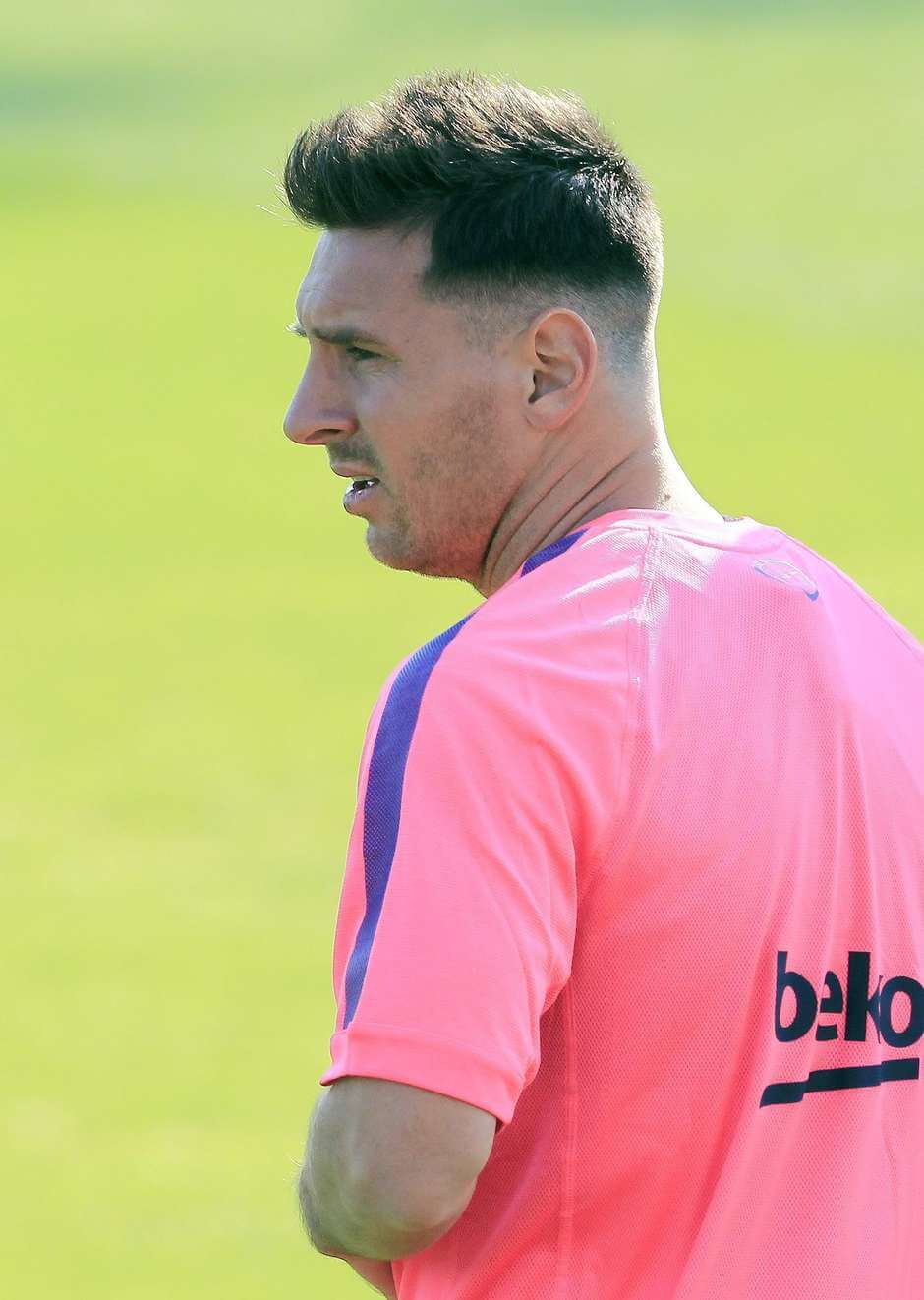 Swept Back Long Hairstyle
It is one of those hairstyles that he tried when he was really young and new to the football scene. His fans still remember and love the hairstyle. You can go for this hairstyle if you love to keep long hair and are looking for ideas on how to style it right.
Oodles of hair gel has been put in the hair to bring the wet look and also to set the hair in the right manner. Go for a middle parting and tuck the hair behind the ears.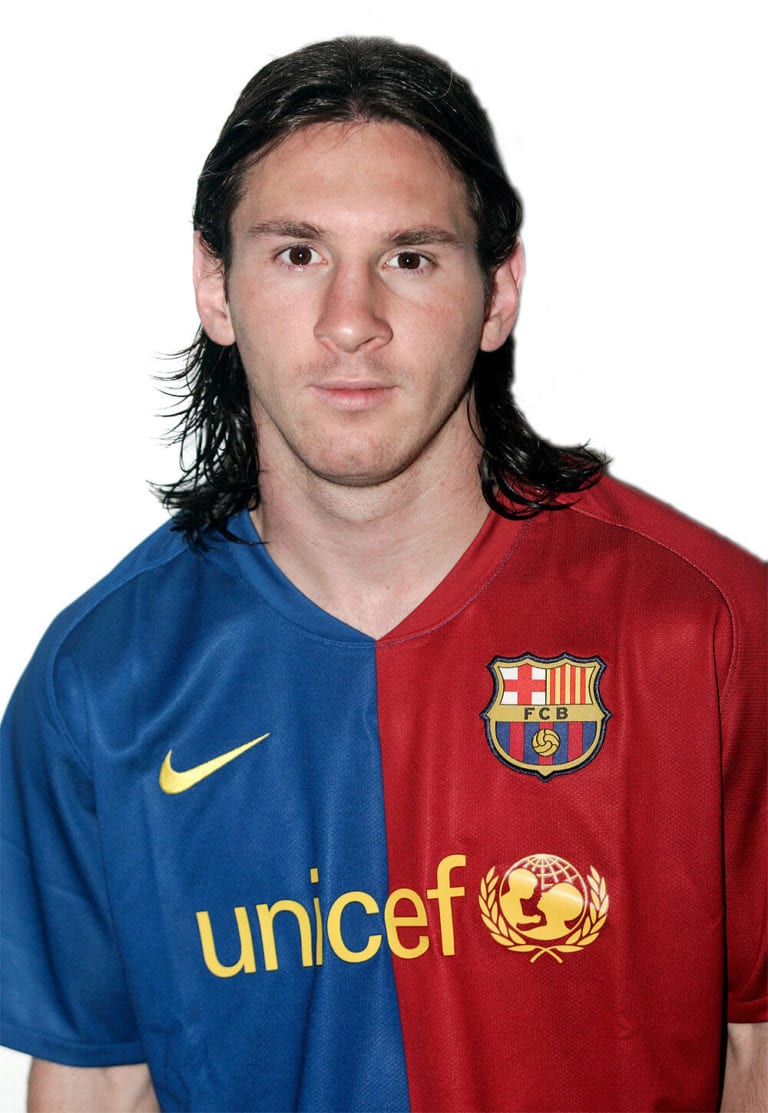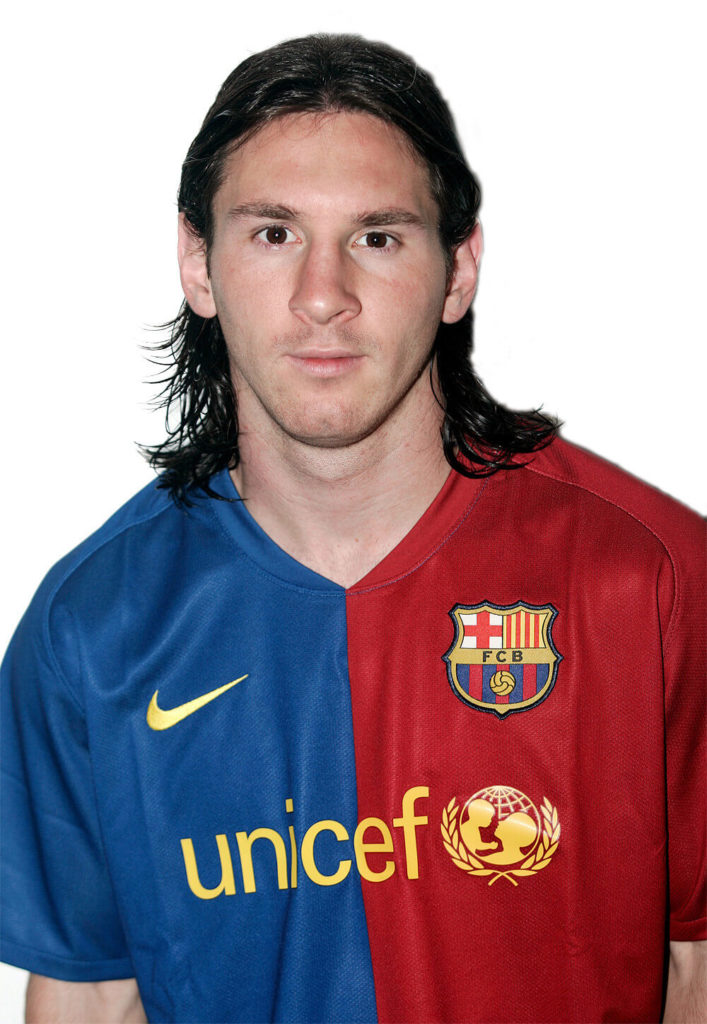 Slick Back Short Hair
This one will make sure that all heads turn towards you in admiration of your sense of style.It looks great on dark hair but the blondes and brunettes can give it a try as well, and they will look equally great.
Add some hair pomade and brush the hair with a fine-toothed comb to slick it back. It looks the best on short hair. You will love this hairstyle because it is completely hassle-free but looks simply amazing on any man.
Funky Blonde Hairstyle
Blonde seems to be his favorite hair color as it is what he falls back on whenever he is in need of a hair makeover. The hair has been made very cleverly blonde in here. The natural dark color has been retained at the roots but not for all the hair.
Thus, the dark color plays peekaboo from behind the mass of blonde colors on top. Let a few locks of hair fall on your forehead to bring a casual vibe to this awesome look.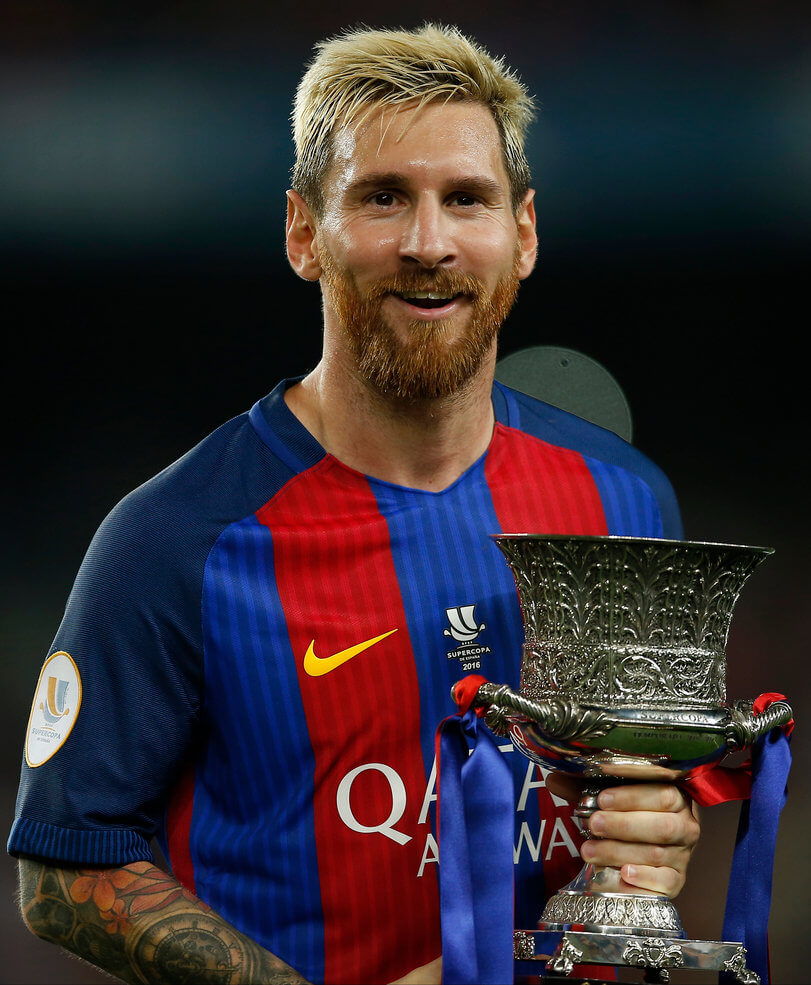 There is a young and innocent vibe to the look which is simply adorable to look at. You will love this hairstyle if you are on the conventional side when it comes to your hairstyle choices. The length of the hair is kept at medium as too short hair will not be able to do justice to the look.
Make a middle parting and spread the hair on all sides from the parting. But make sure that you hide the parting well using hair combed forward.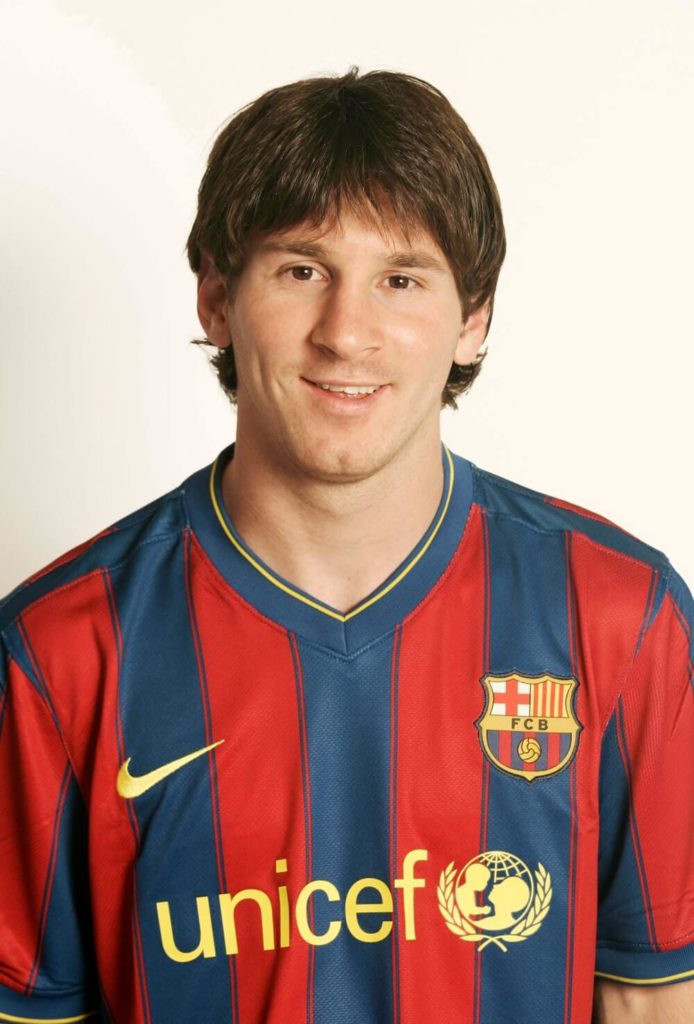 Side Part with Thin Hair
This side part hairstyle will also work if you are someone who is not too fond of keeping long hair. You can add the extra oomph to this look by having trying the clean-shaven look to go with it.
Sweep the hair on the front of your head sideward to complete this fashionable look. It looks amazing with button-down suits and formal shirts. Try this one for your next office party to make sure all eyes are on you.
Side Comb Formal Hairstyle
This is the style that will make you look really suave and handsome. Make a parting on any one side of your hair and neatly brush the hair on both sides. This look has found favors in men for a long time as it creates a really dapper style that has always been well appreciated.
You can carry this one off with all your suits and coats, and it will look just amazing. It is the hairstyle to go for if you have thin hair and are looking for a style that is safe for the office.
Short Spiky Haircut
Messi looks great in a casual yet neat hairstyle. In this style, the hair is cut in the short length and parted from one side. You need to comb the hair well in this style and cut it up to the shoulder length to get this style accurately.
This style suits well on the clean shaved fair complexion face. This hairstyle can give your face a good shape and a gentle look.
Bowl Cut Fringe
This is another hairstyle for people who like to arrange their natural wavy and smooth hair in a unique way. In this style, you need to cut the hair up to your shoulder and curl the bottom part of the backside hair.
The hair of the front side should be combed well and set on your forehead to get a good shape of the face. In this style, you will get a thicker volume of hair.
Side Comb Faded Hairstyle
You can cut your hair in an outstanding manner by following this particular style. In this style, you need to keep the hair longer on one side and shorter on another side.
You need to comb the hair in a sideward manner. The puffy hair looks thicker in volume when combed well. You can carry this style with trimmed beards and a fair complexion.
Short Quiff
If you have a middle-length beard with a mustache, then you can cut your hair in short length. The hair should have sharp ends and stiff spikes in this style. The hair should be kept longer in the middle part of the scalp and shorter on both sides.
This haircut suits well to straight hair and looks thicker in volume. The sharp ends of the hair can give you a messy look as well.
Side Fringe
The round shape face and straight hair is a good combination. You can arrange the hair inside the fringes manner to hide the wideness of your forehead and look smart at the same time. This casual yet smart hair arrangement can help you to get a gentle and young look.
The length of the hair on the backside remains up to your shoulder in this style. You need to comb well the hair and use a light hair gel to hold this style intact for a long day.
Medium Messy Hair
The medium-length hair can be cut in a little messy way by keeping the hair longer on the front side and shorter on the backside. The messy curls on the front side longer length can help you to get a smart and young look.
This haircut can help you to get a good shape of the face. Don't forget to use some good-quality hair gel to create the perfect style and hold it for a long day as well.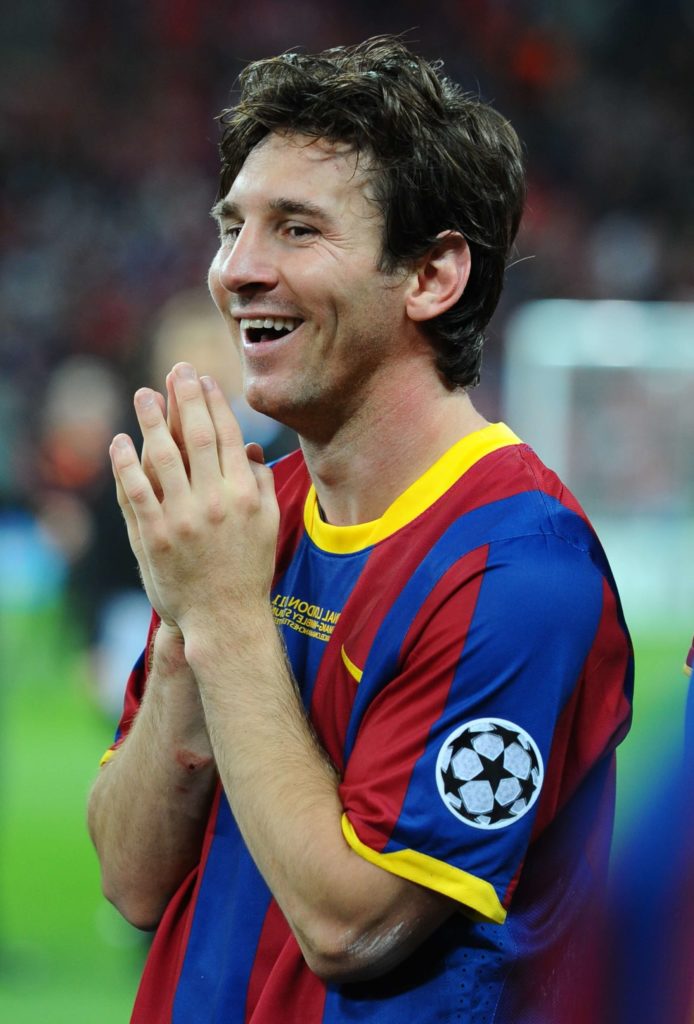 These above-mentioned hairstyles are easy to follow and get the look of Lionel Messi. These Lionel Messi Hairstyles can add a new attraction to your look when you are going out.
But you should keep in mind which hairstyle suits you well and is perfect for your purpose as well.