There are some hairstyles that work for everyone, no matter what their hair texture type is. The fringe hairstyle is one of those. Men's Fringe Hairstyles cover the widest range of looks.
All you need to get is the front hair, cut to make it look like a fringe. There is no need to make it too stark as you can always keep a subtle fringe and still make a strong style statement.
Men's Fringe Haircuts
The only thing about fringes is that though it looks great, it really needs you to work on it. The upkeep, however, is really worth it as it is one of the coolest hairstyles of the present times. A fringe can look equally nice on short and medium length hair.
You can combine other popular styles like fade hairstyle, skin fade, buzz cut and so on with fringe to make it look like a perfect style statement. So, go ahead and choose your ideal fringe hairstyle from among the following fifteen unique and trendy looks.
Heavy Angular Fringe
If effortlessly sexy is what you want, through this hairstyle that is what you get. The fringe is cut in an angular manner, and the hair falls on the forehead in a messy kind of way. The young vibe of this look is what draws men towards trying it.
Wear a nice, white V-neck tee-shirt with this look, and you will be ready to take on the world. Thanks to this hairstyle, one thing is for sure that all eyes will be on you.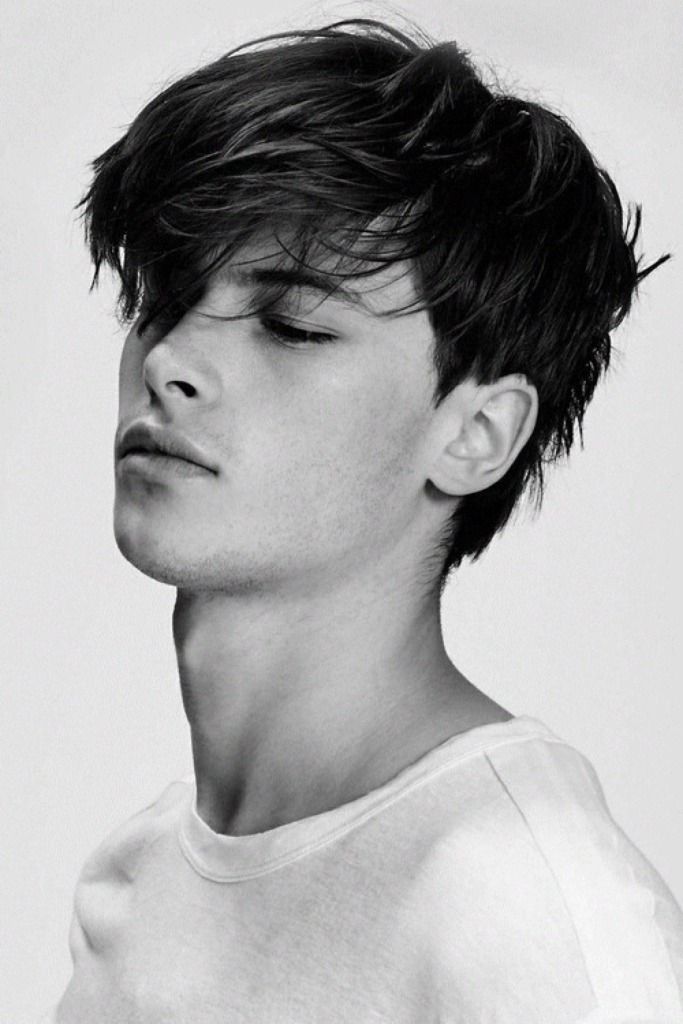 Tousled Fringe Hairstyle
Sweep the hair to the front and keep it a bit carefully messy with your hair and your look of the day is ready. This one is a great hairstyle to try out if you have really fine hair and want to make it look thicker and more voluminous.
The hairstyle is also perfectly suited for the men who are the proud owners of a sharp jawline. The hairstyle draws all the attention to your wonderfully chiseled features making it stand out even more.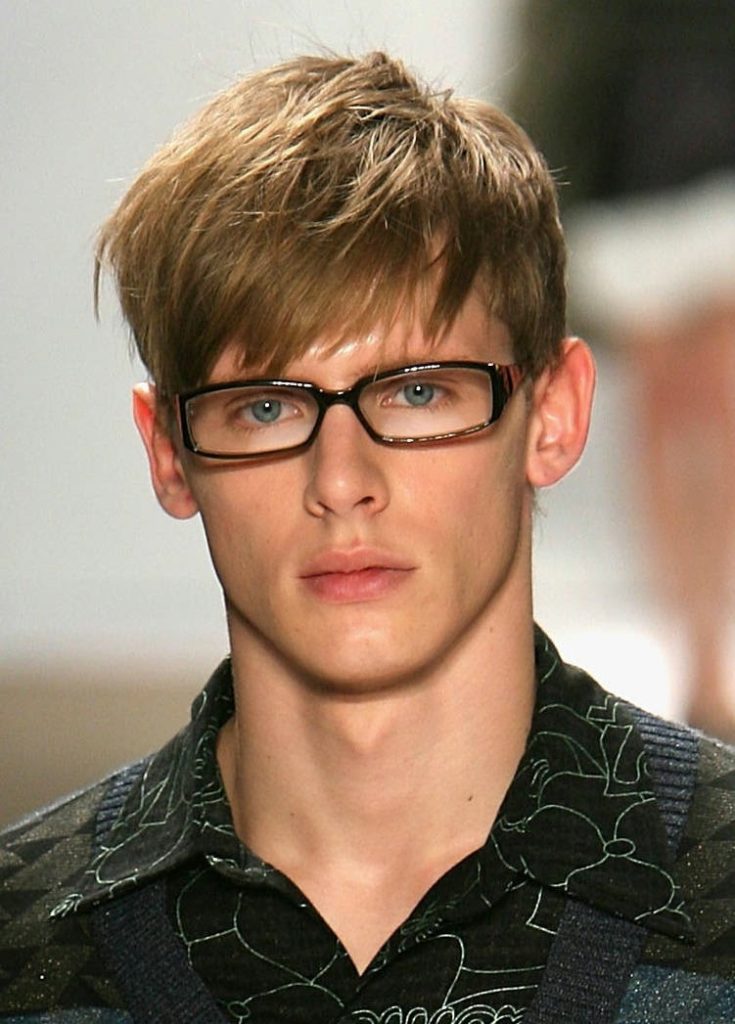 Full Fringe
Think again if you feel that fringe hairstyles are only for the men who keep their hair long. You can keep your style game stronger than all others by cutting fringes on your short hair. The fringes of this look are not messy or disheveled like the looks described before this.
The fringe is cut perfectly across the forehead and covers only half of it. It is the ideal hairstyle for both blondes and brunette guys out there. You make such a bold style statement by trying out this simple hairstyle.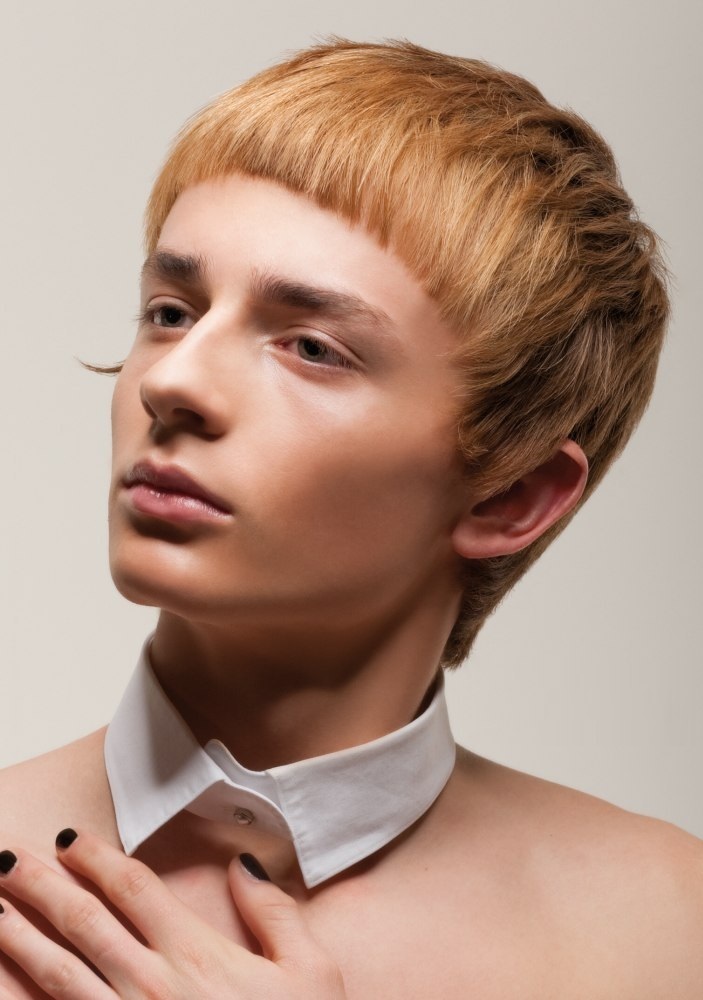 Short Hair with Medium Fringe
Go for this hairstyle if you want to try the fringe look but are not yet ready to go too daring with it. Make your hairstylist cut your hair into really short layers to add texture to it. Now make a short and messy fringe to lie over your forehead.
The rest of the hair must be kept tousled too. You do not need perfectly combed hair for this particular look. It is the hairstyle to go for while flaunting that newly bought leather jacket.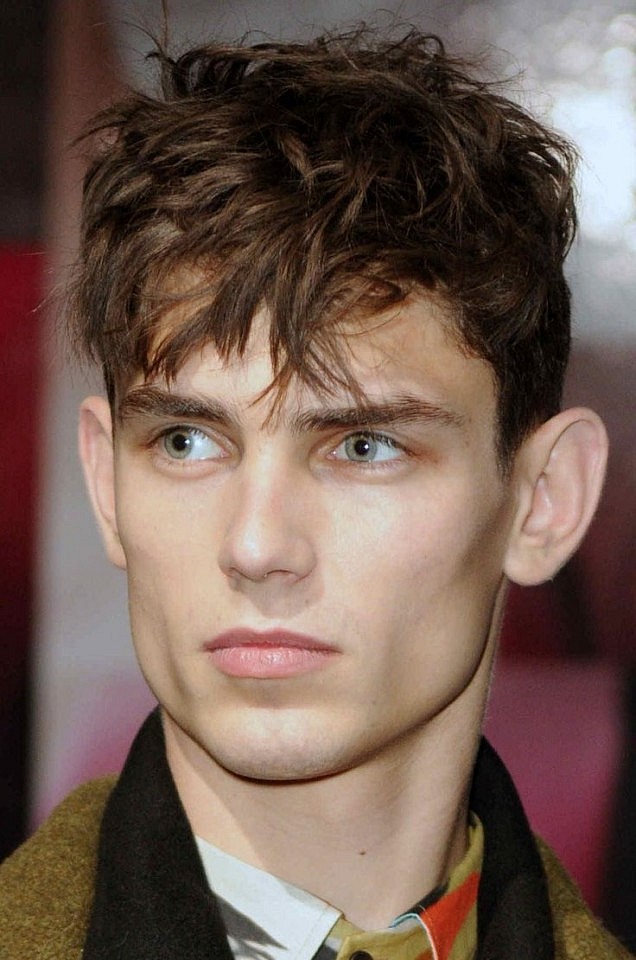 Skin Fade with Cropped Fringe
This hairstyle is for adding that edgy factor to the regular fringe hairstyles. There is skin fading done on both the sides and the back of the head. It is called skin fade as the hair starts to decrease in length from the center to the back and both sides.
Now, the fringe is cut on the long hair kept in the center. It will only look good if you have a slightly wavy texture of hair. It is not for the lads with poker-straight hair.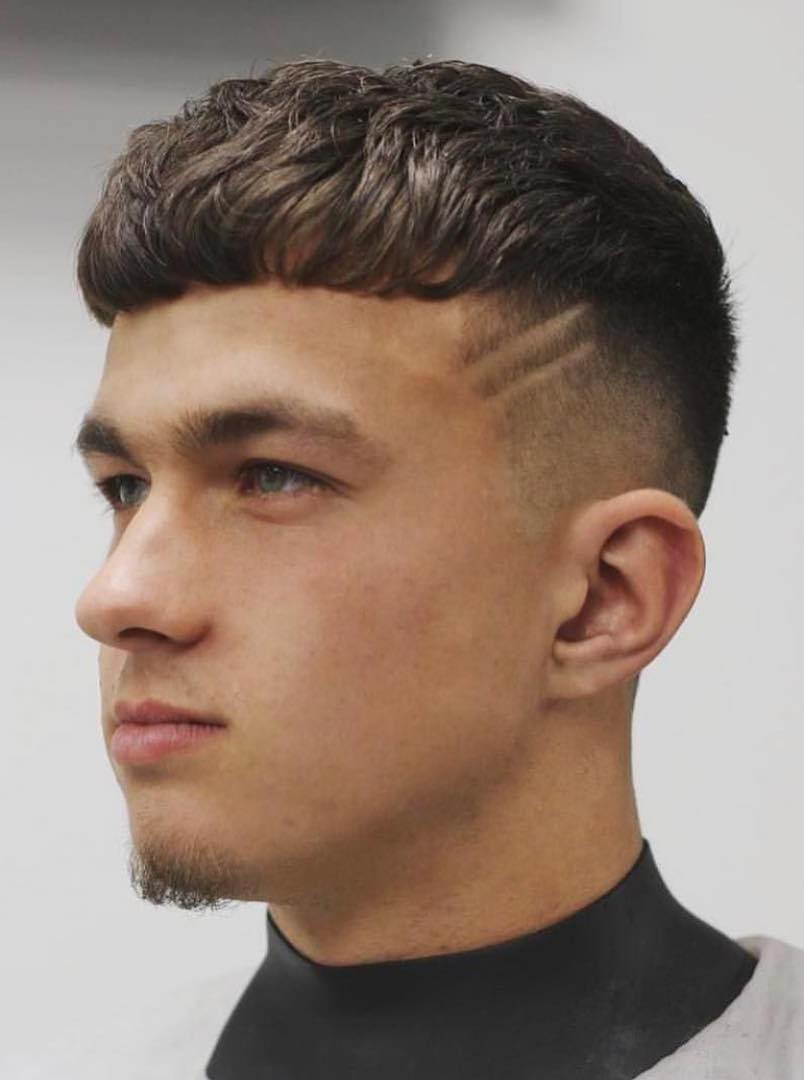 Long Fringe with Short Sides
The sides and the back of the hair are cropped really short to ensure that the long fringe in the front stands out in contrast. The long fringe is swept to the right side of the face to complete the look.
The men with round faces can try this hairstyle as it will take away the overt roundness of the face and give it a more defined look. As far as occasions are concerned, it will look great for relaxed holidays and hang out with friends.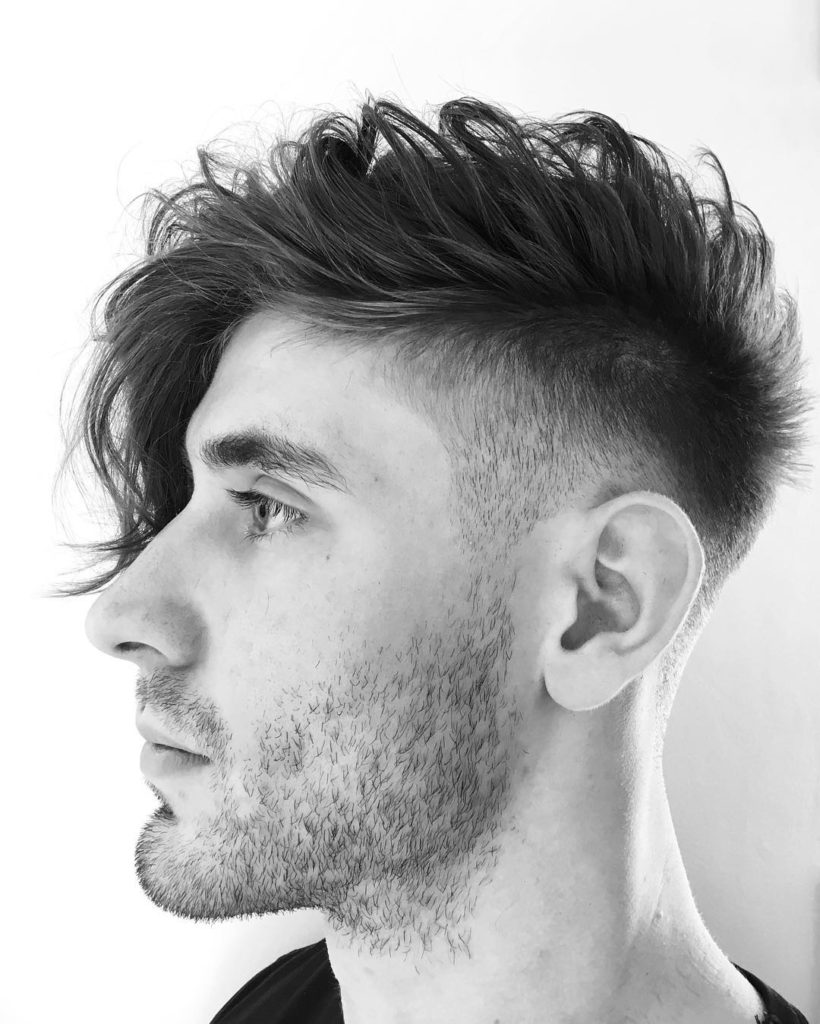 Faded Tousled Fringe with Beard
Some hairstyles look even better when you pair them up with a nicely trimmed, full beard. This is one of those hairstyles. The faded hairstyle look is continued in this one also just like the previous styles.
If you are planning to dye your hair black, then give this hairstyle a try. It looks better on dark hair than it does on blonde or brunette hair. The faded hair gently blends into your full beard by the sideburns. It gives you the perfect combination of funk and style.
Messy Fringe
The fringes of any kind of men have been the trendiest. The present hairstyle actually requires you the ultimate requirement to place any kind of fringe hairstyles, permitting hair to just lie over the forehead. To create this messy hairstyle, you have to comb up your hair in a side part.
The front layer of the hairstyle looks absolutely gorgeous as well. This particular hairstyle with bangs owns its position within the bleak contrast to frequent of contemporary styles. You can sport this style in any event and occasion.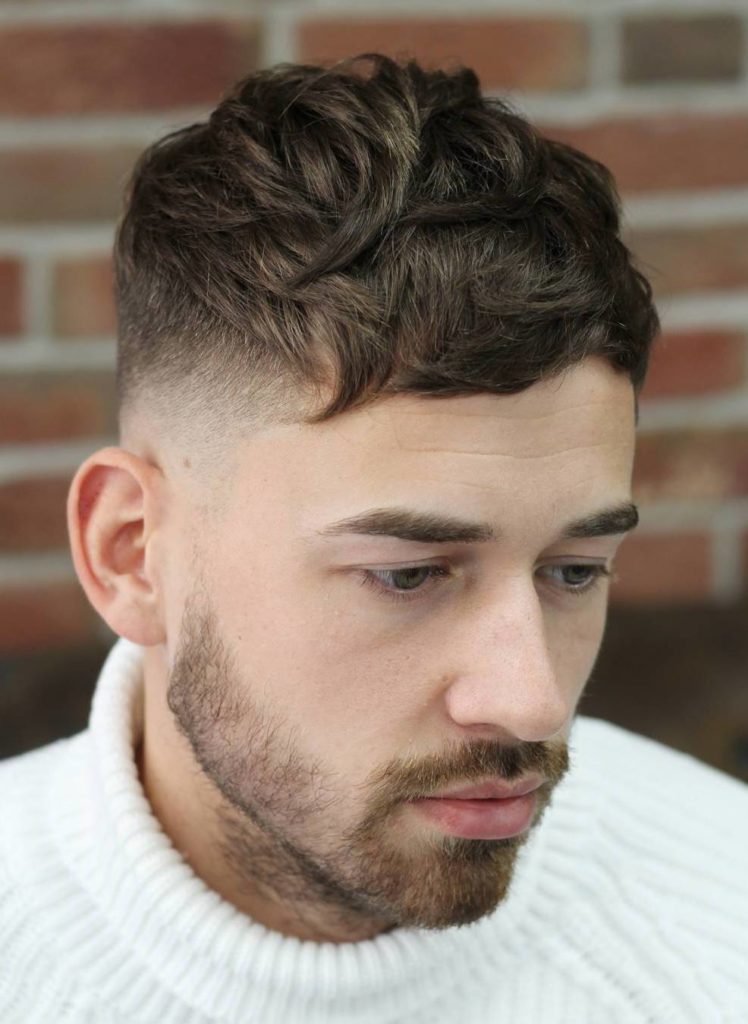 Side Swept Fringe
The Side swept bangs-based hairstyle is usually seen as simple to just take care of. It does not use numerous sticky hair products. Besides that, it does not require a lot of smelly hairsprays. In this particular hairstyle, if the hair is too wavy or curly, you should make it straight.
To create this particular hairstyle, you have combed your hair from the side, and it is quite simple to do that. It accurately takes only a few minutes, and your entire look would last the entire day.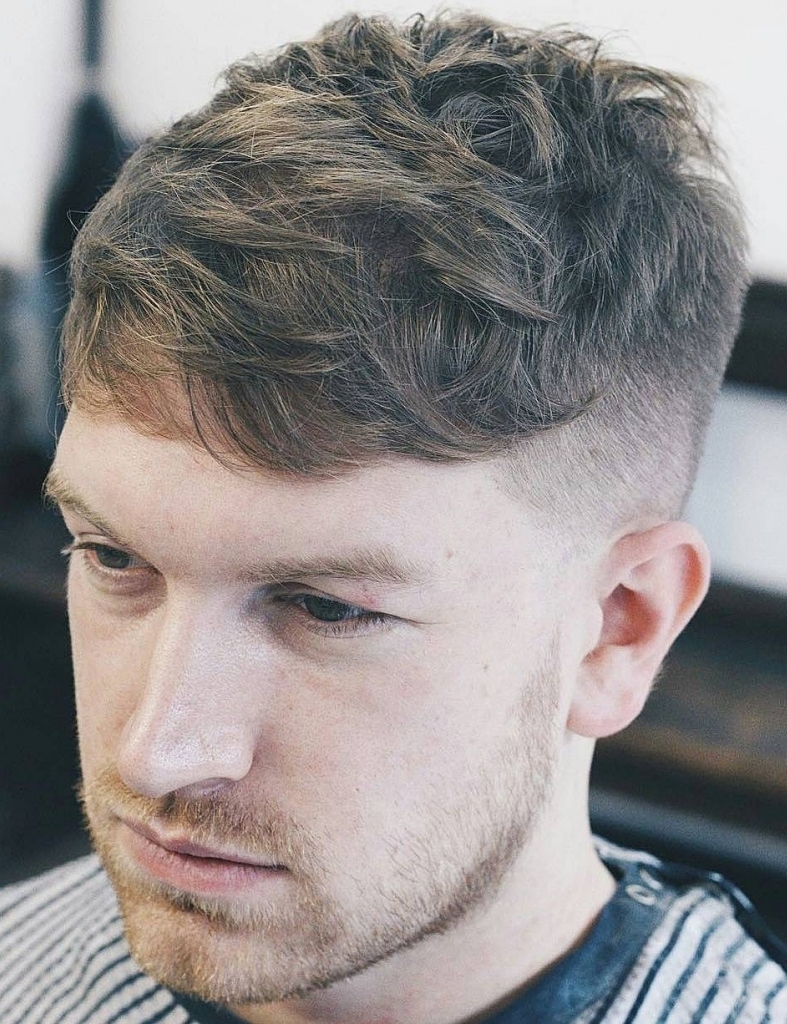 Sporty Long Fringe
If a man has attained curly hair, then this particular style would be perfect for them as well. For the curls, the difficult thing is to only dispute into submission on the steroids.
Furthermore, you can easily make this absolutely bolder, higher richly textured based appearance than the person having poker-straight hair. This specific aspect is making the strands by adopting a unique style, appropriate for you. To create this party look, all you just need is to brush your hair on the front side.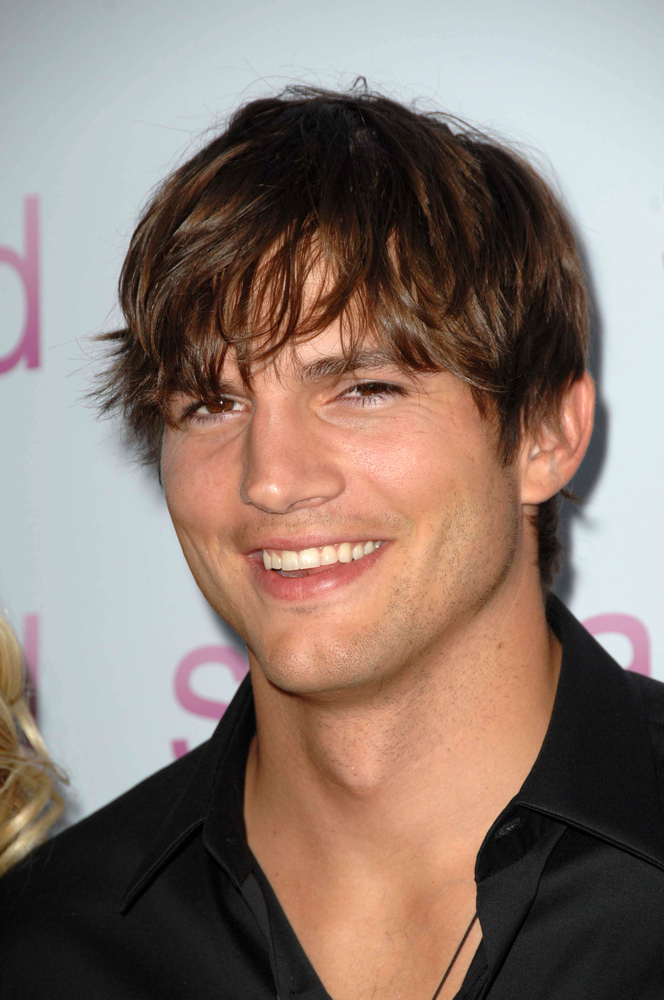 Angular Long Fringe
This contemporary Angular Long Fringe haircut easily highlights the taper made across the sides as well as the back part of the hair. It is absolutely identical to an undercut. Though, the point is that this hairstyle keeps the top belong. Also, this works to cut at one angle.
To get the stunning look, try to brush your hair smoothly and then keep the front strand as it is. Besides, it functions beautifully on all face shape.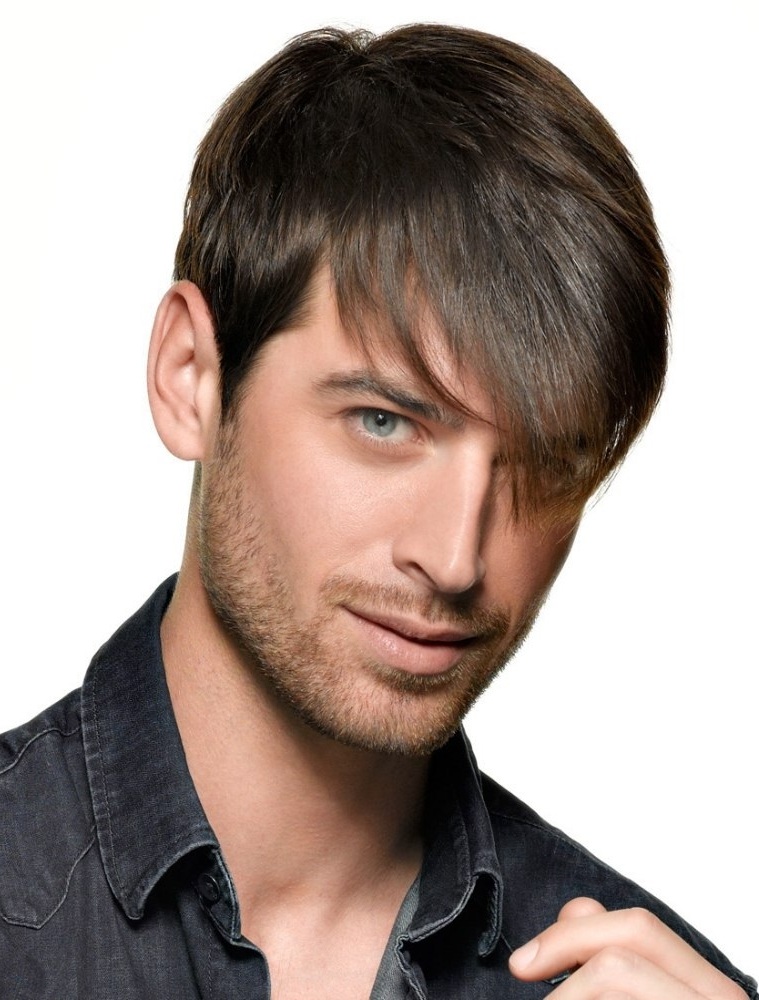 Justin Bieber's Fringe
The fringe of any man, otherwise conventional as men's bangs, is considered as the short and trendy haircut. This present hairstyle actually demands you the requirement to place fringe hairstyles, allowing hair to lie over the forehead.
If you want to sport the hairstyle, you have to brush your hair in a messy way and keep the front strands uneven. This particular hairstyle with bangs owns the ultimate position within bleak contrast to frequent contemporary styles. If you want to look charming and cute at the same time, try this one out.
Medium Hairstyle with Fringe
If you are on the lookout to acquire a rough and tough and attractive look, then this hairstyle can be your ideal option. Numerous Celebes are well-known for this specific hairstyle. If you have short but thick hair, then trying out the Medium Hairstyle with Fringe, you will look absolutely bold.
To create this charming look, you have to make a middle partition of the hair and then leave the strands as it is. And you can also sport this hairstyle with any kind of outfit as well.
Soft Angular Fringe
The square face or even the round for men is lengthily regarded as the utmost masculine face shape. Also, this appears excellent through the extensive range of styles. This specific hairstyle is categorized by the high-flying jawline, square forehead, as well as straight sides.
If you want to get the look, you have to comb your hair in a side part, and you can also use the hair gel for a smooth and sharp look too. You can wear it at events or occasions as well.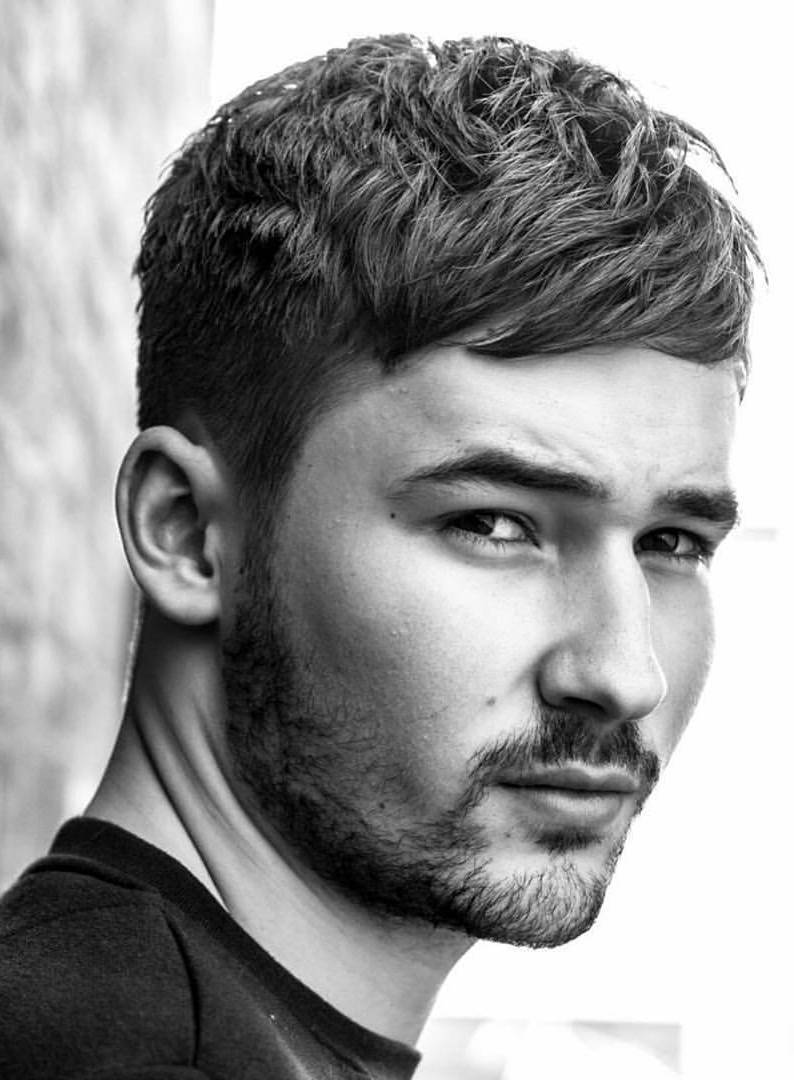 Undercut Long Fringe
As far as men's long hairstyles are concerned, this one is the look, which amplifies the ultimate charm and offers a little touch of maturity to the otherwise carefree vibe. It also requires the indistinct deep side parting along with some large section of the stand spike over to the crown area.
If you have blonde and medium hair, then trying this undercut Long Fringe will be the choice. To create the style, you have to make a side part and keep the strands as it is the side of your head.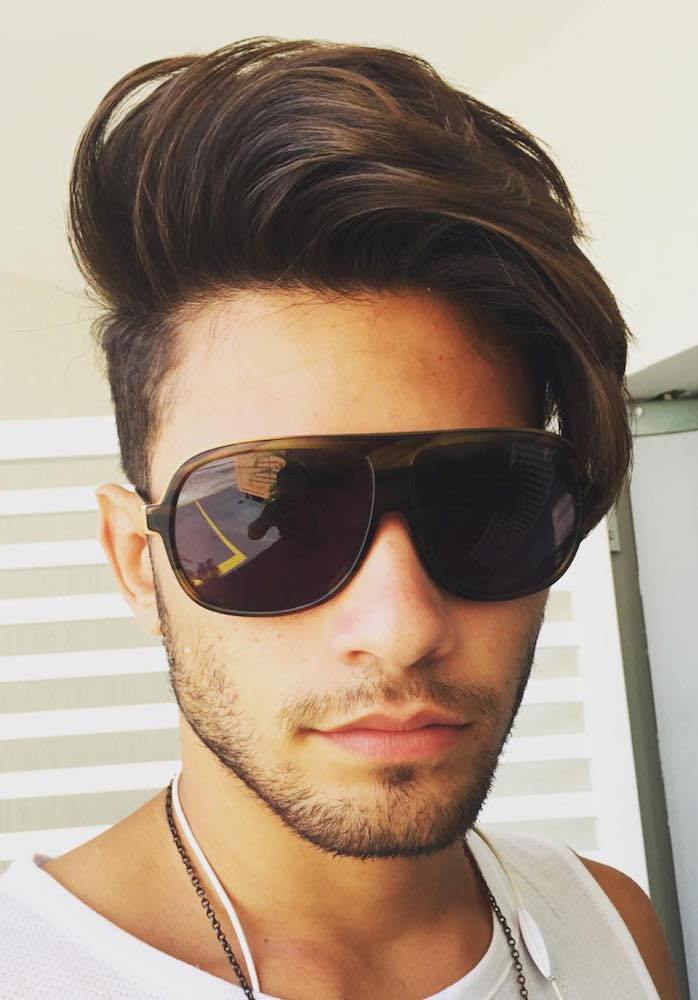 You need to get regular trimmings, and there should also be good styling products at your disposal to set the hair in place every day.