No-part hairstyles are against the trend while increasingly becoming popular as they are easy to maintain. While these days the argument is over the trendiest ways to part hair, the hairstyle with no part remains an underappreciated chic look. Thick and textured hair is great for achieving this look. You can also do it really well with updos and half updos.
No-Part Hairstyle Ideas
If you're hunting for styles with no visible parting, then come take a look. You'll find lots of ideas in this list.
Half Up Braided Bun
As we said above, half-up hairstyles are great for having no part. Here the black and white box braids are very thin.
Some are pulled back from the sides and front. They form a large bun on the crown of the head. The rest of the locks sweep down over the chest and fall to the waist.
Curly Ponytail with Hairband
Lots of curls help obscure a parting in the hair. There's so much texture that the eye is immediately drawn. Many of these curls are pulled back into a ponytail. There's also a small section of side bangs. A nice hairband tied around the head helps decorate the hair.
Large Afro Hairstyle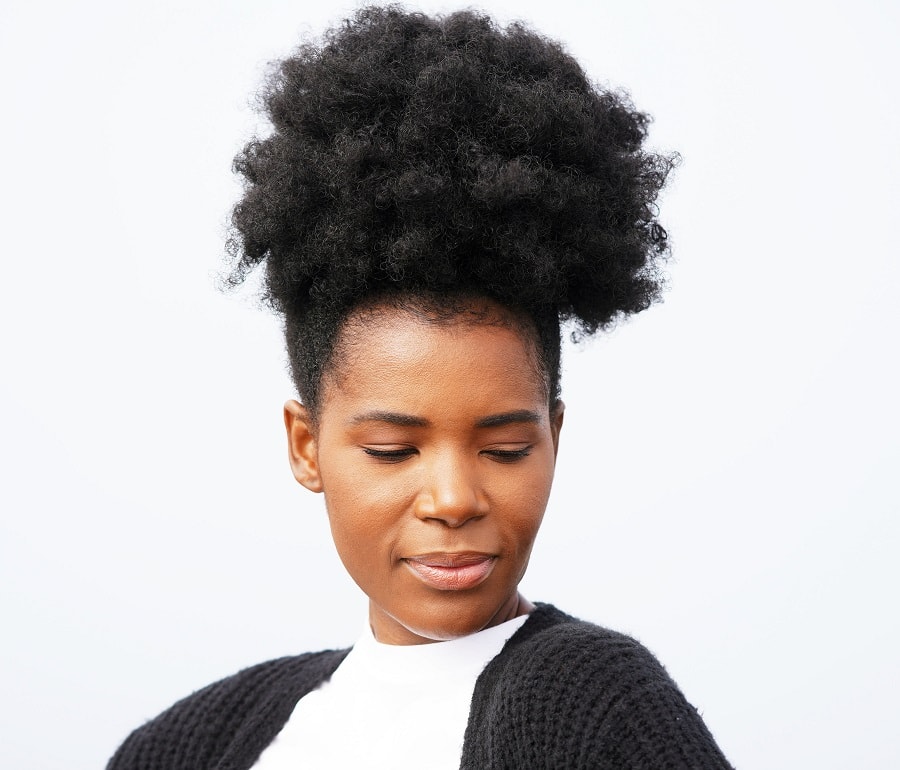 There's so much hair in afros that they entirely obscure any split in the hair. This one is tall with lots of volumes. The sides are gathered up into it. That creates a hairstyle with a very interesting shape.
Half Up Ombre Dreadlocks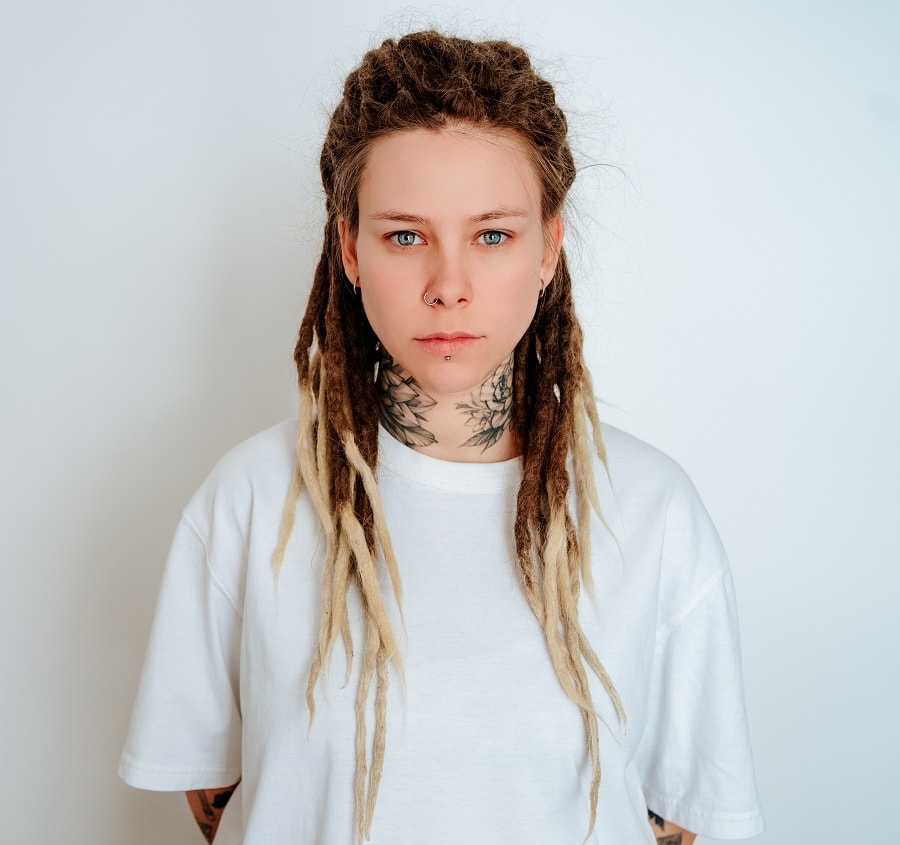 Dreadlocks are an edgy and timeless style that suits everyone. These locks are drawn from the sides of the head and secured at the back. They then fall over the shoulders. A nice brown to blonde ombre is visible. It adds some depth.
Crown Braid
A pretty crown braid that circles the head is always a very sweet look. It's impossible to see any parting in this hairstyle. All the locks are drawn into the braid. This creates a very sleek and cohesive look.
Half-Up Ponytail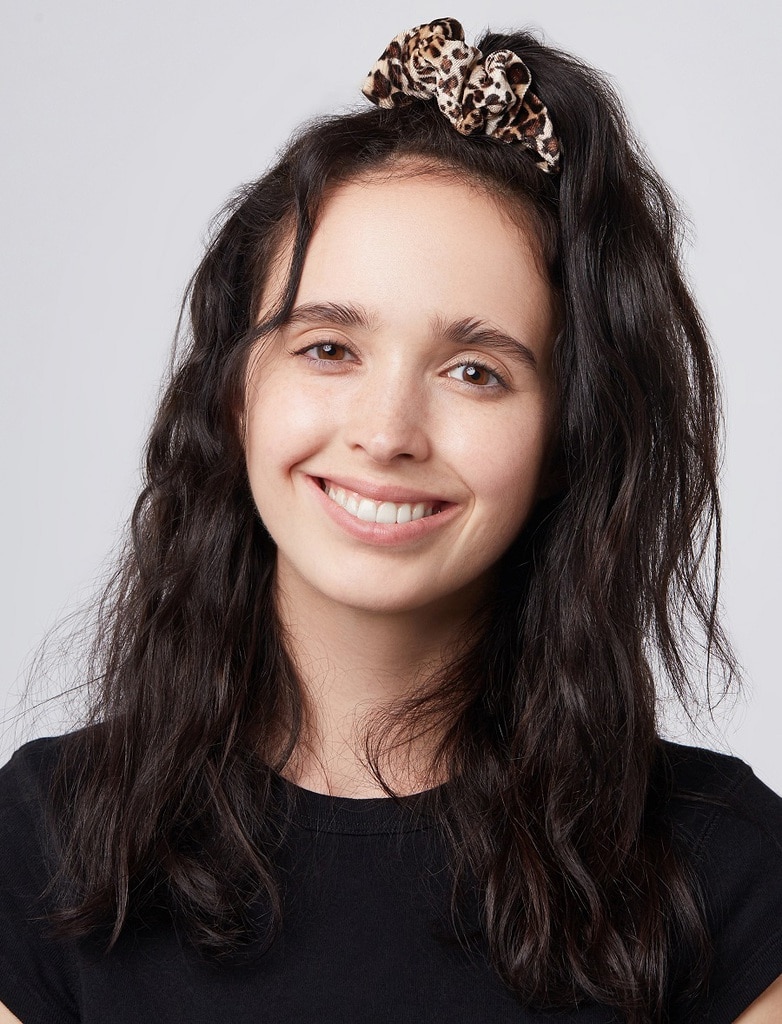 Ponytails on top of the head are very sweet. They're also a great everyday look. This one is secured with a scrunchie just behind the hairline. The locks have a wonderful wavy texture that looks fabulous.
Bow Hairstyle with Bangs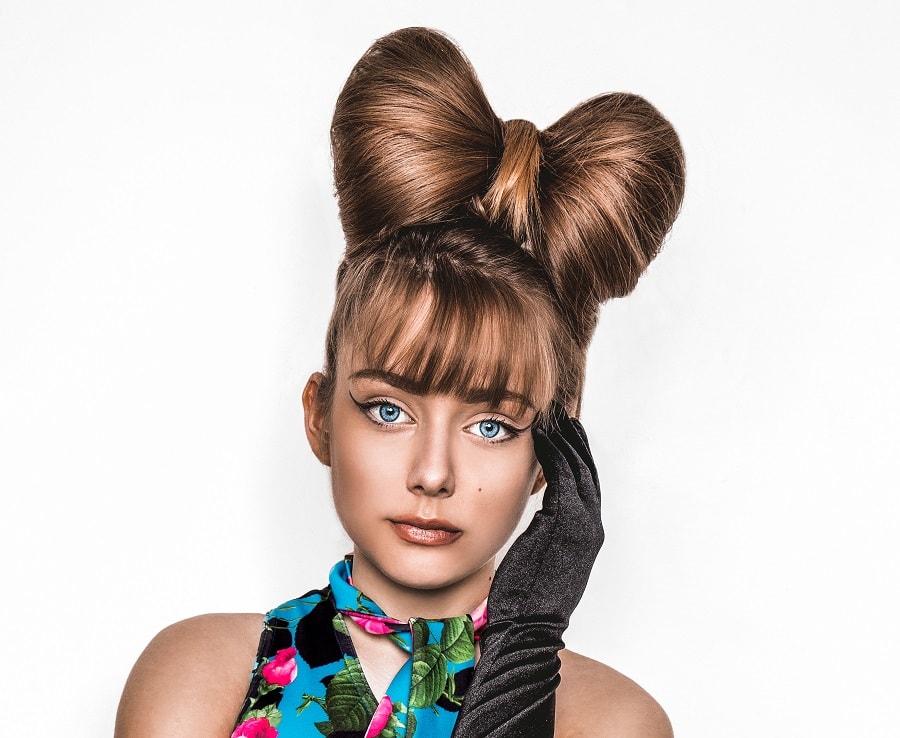 Unique no-part hairstyles like this are incredible. They work for all kinds of events. The hair forms a big bow on top of the head. Some light, full bangs sit on the forehead and add depth. You'll truly stand out when you wear this look.
Voluminous Fishtail Braid with Tiara
Brushing your hair back across your head is a great way to avoid having a part. There's a lot of volumes here to create an elegant look. A fishtail braid falls over one shoulder. It's a nice wedding hairstyle. The tiara makes it perfect for a bride.
Voluminous Curls
There are so many curls here that no part is visible. The tresses are bob-length when styled into curls. The look is achievable naturally or with a perm. There's no distinct curl pattern to the look. It's utterly glamorous.
Sectioned Wedding Bun
Wedding hairstyles frequently have no part. The locks are all brushed back from the hairline here. They tuck neatly into a large, rounded updo with plenty of little sections that add a lot of texture.
You can also wear this as an everyday style if you wish. However, it'll take a lot of effort to put your lovely locks into this style every morning.
Slicked Back Short Hair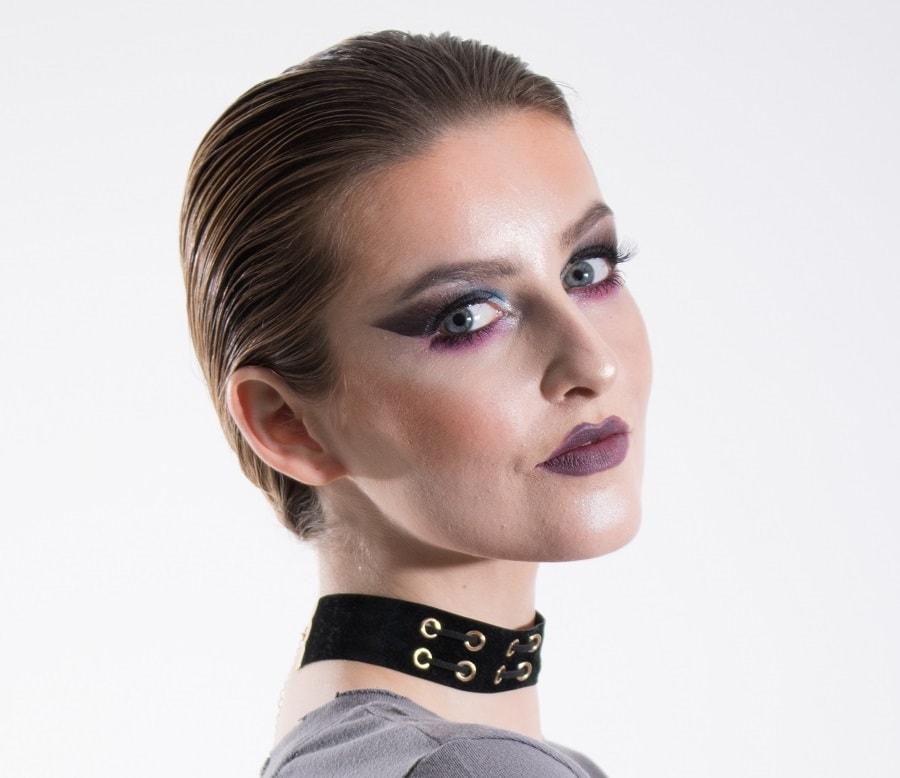 Very short haircuts are easy to style with no part. You simply slick all of the hair towards the back of the head.
This looks very edgy and pairs well with punkish and dark makeup looks. It's a delightful low-effort hairstyle for someone who doesn't have a lot of time for their hair each day.
Messy Bright Red Undercut
Undercuts are very popular styles where part of the head is shaved. Here the shaved section is on the sides. There are lots of long locks that are very floppy, messy, and spiky. Bright red will help you stand out.
Corkscrew Curls with Hairband
Corkscrew curls are among the prettiest hair type you'll find. They form a very nice pattern with a lot of volumes. These are pushed back from the hairline to keep them out of the face. A nice hairband keeps them in place.
Curly Half Up Bun Hairstyle
If you have very naturally curly hair that forms these tight spiral shapes, then here's a look that you'll love.
The spiral twists are drawn back from the front and sides of the head to form a huge bun on the crown. The rest of the locks flow down the shoulders and back.
Bubble Ponytail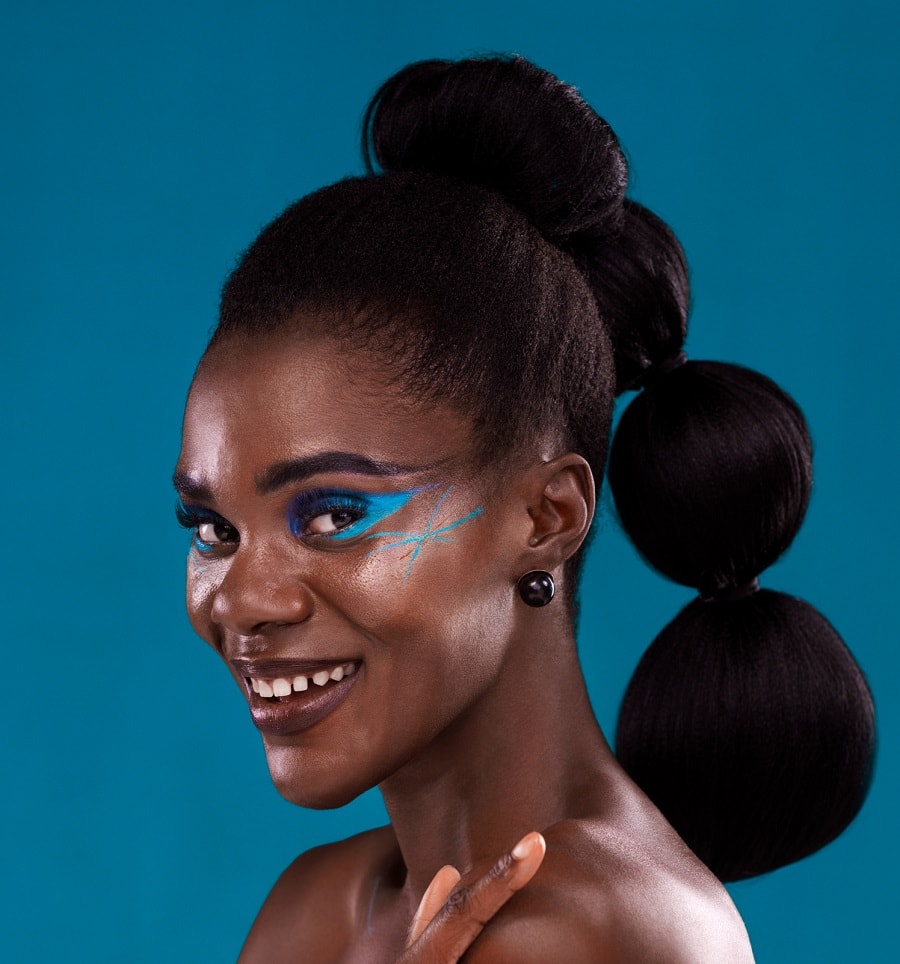 Bubble-braided ponytails are incredibly interesting. They make a simple style look elegant. Here the tresses are scraped up into a ponytail on the crown of the head. The sections of the ponytail are made to look like large rounded baubles.
Short Curly Look
Women with extremely curly hair will enjoy this hairstyle. It's naturally voluminous. It's all pulled over to one side of the head. A large section obscures one eye. It makes an incredibly dynamic no part style that you'll love wearing.
Short Choppy Pixie Cut
You can't go wrong with a sweet pixie cut. This one has very short sides. The hair on top is very textured. This texture makes it appear as though there's no part. It's a fun hairstyle that suits mature women very well.
Forward Brushed Pixie Cut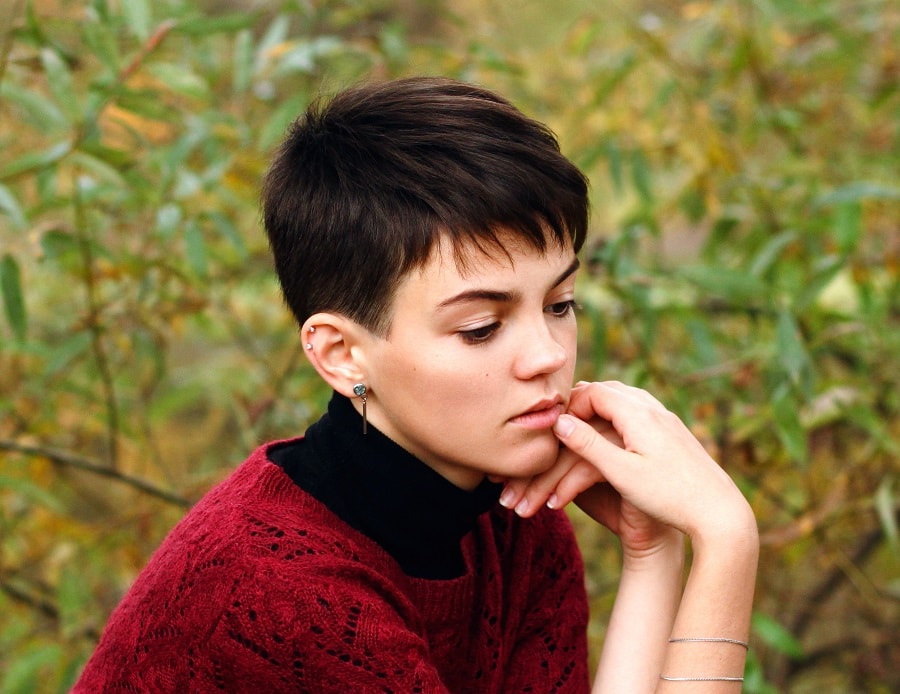 If the pixie cut above didn't appeal to you, then perhaps this one will. It's all brushed forward from the crown of the head. There's a lot of emphasis on the front section of the hair. The sides are kept very short.
It can be worn as a boyish hairstyle or as a very sweet look for a woman who dislikes long hair with no part. It has both sweet and edgy vibes depending on how you dress and act.
Half Dreadlocked Ponytail
Here all the hair is drawn back from the front and sides of the head to create a huge voluminous ponytail.
It's half made up of dreadlocks and half made up of loose curls. Pairing dreads with your natural hair together create a highly interesting and unique style.
Cotton Candy Pink Mohawk
Mohawks are traditionally spiky. This one is fluffy instead. It's a huge, voluminous section of cotton candy pink hair that goes from the hairline almost to the nape of the neck. The rest of the locks are shaved short and bleached very light.
Straight Slicked Back Tresses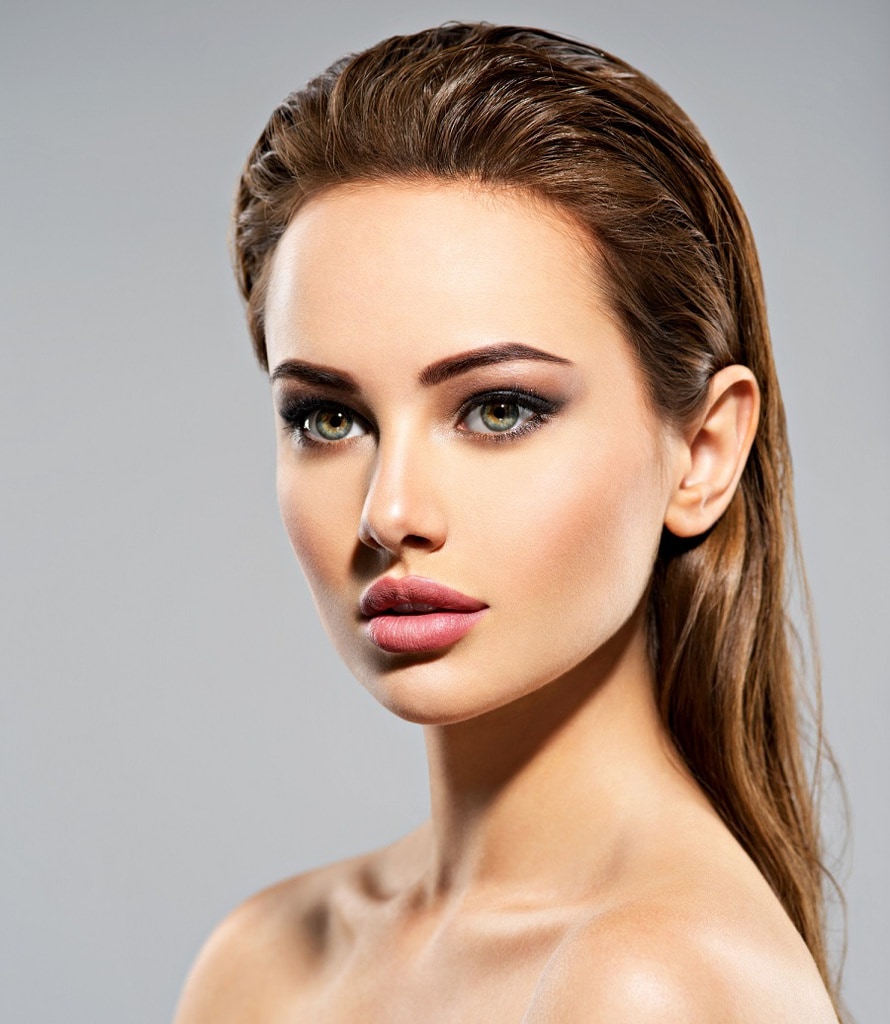 Slicking back your straight hair is a great way to have no part. All the tresses fall directly down the back and appear very natural.
The top has a slightly wet look, which has been trending recently. It's a very easy look if you want to look glamorous and pretty without taking too much time in the morning. It suits any occasion.
Colorful Twisted Updo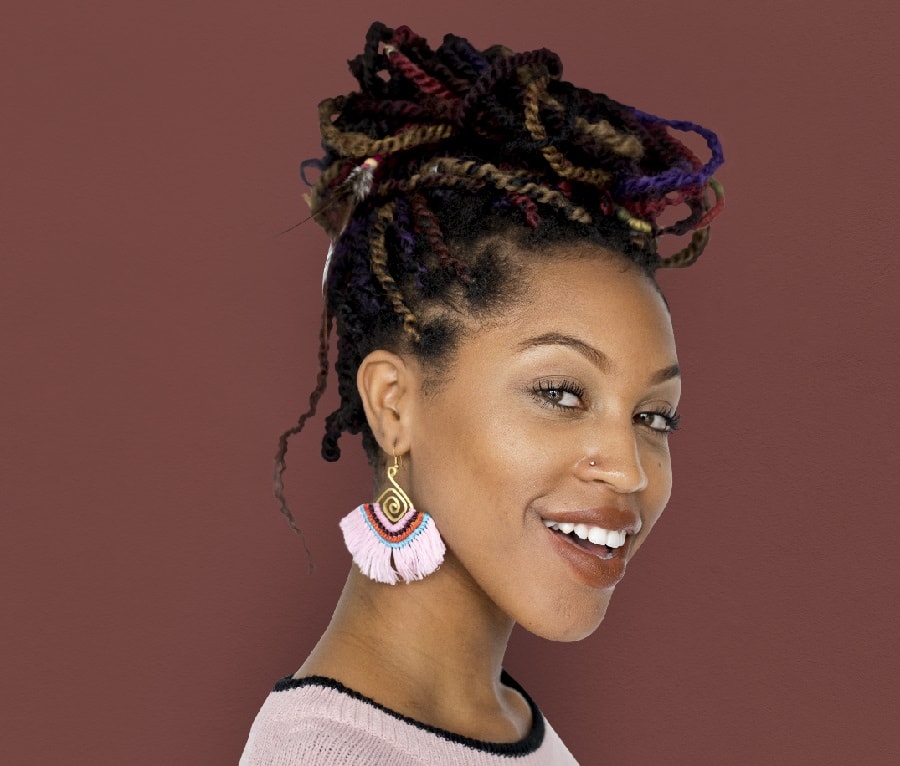 Are you looking for a very fun hairstyle? Adding lots of different colors to twists is a fantastic way to achieve that. The twists are then piled on top of the head in a carefully arranged updo.
You can show off a lot of your personality with looks like this. It's very fun and can be matched with brightly colored earrings if you'd like.
Messy Bun
Messy buns are a totally classic way to style your hair with no part every day. You gather all your locks up onto the crown of your head securely. This look suits absolutely anyone and any type of hair. It's the perfect style to put your hair into when you don't have time to do anything fancier.
If you'd rather have no part in your hair, then one of the styles above will definitely help you achieve it. As you can see, this look works on short and long hair alike. It's also perfect for hair that's down or up. You can mix and match different hairstyles depending on the day. All of them will make you look utterly fabulous.