One braid or two braids are quite common, as well as most liked hairstyles for kids, especially the toddlers, but it may look too banal these days. To make your little one's braided style more interesting, try to experiment with the braiding method with different types of braids and braided designs.
Our selection of these gorgeous braided hairstyles for girls will be your inspiration. In all their hairdos, we have experimented with different types of braids and decorated them with colorful beads to add a little more fun to their hair this holiday season.
These types of braids flatter not only girls but their moms as well. With a bit of patience, along with practice, you will braid your toddler's hair effortlessly.
Our ideas present in the below article about braiding and beading hairstyles will help your daughter/sister/niece look amazing, fun, and different every day. One of the effortless and easy ways to make them have a fun and fascinating little girl hairdo is by accessorizing with colorful beads.
Your little girl's braids hairstyles with beads will be a glam and attractive look for any occasion. They can go great for both formal and informal occasions along with it; they are a perfect fit for everyday wear as the braids work as a protective shield for your little one's hair and the beads and more playfulness and cooler to your little one's personality.
Creating them is easy; you just need a little bit of practice and patience.
Lovely Braids with Beads Hairstyle for Kids
We created a list of the best 20 kid's hairstyles with beads that we are sure you and your little princess will fell in love with. Check them out!
1. Bun Cornrows with Funky Accessories
We all are aware of the fact that braiding is one of the most protective styles for everyone, whether you are old age or a young lady, or the matter is about your children the fact doest change.
Along with the braiding hairstyle being the protective one, we have another hairdo that is known for its styling as well as its protective nature – that is, Buns.
Yeah, you must be thinking that children like braids but they are not always a fan of the bun so here to make a fun, cool hairdo which we assure you that your little ones will like to that is bun cornrows.
The first step would be to form tiny cornrows then taking the braids and forming a cute little bun at the top same as in the above image.
More styling is added by leaving tiny braids hanging at the front and for accessorizing here, we have gone from little heavy beading but you can go with much litter beading as per your choice.
2. Half Pony Cornrow Braiding With Colorful Beads
Our toddlers are impressed with ponytail styling. Most of the time, I myself have seen little girls begging their mothers to do an open hair styling or a ponytail.
And in some ways, the mothers also saw it as an easy way to style their kid's hair but there is not a perfect fit at their age.
Here we bring a half ponytail style including cornrows which is protective and easy to go for the rest of the week. At first, it can consume you're a lot of time but think as an advantage that you are free for the rest of the week.
The half ponytail formed with cornrow braids is the fun cool hairdo for your little one. Begin with cornrows here because of thick volumes of hair; the braids are thick and big and also best suitable for Africa curly hair girls.
After the cornrows are done, you have to divide the upper and lower portion that is the crown area and the rest of the part. Scooping all the braids together from the upper to form a ponytail here it's a little tilted to the side but you can also do it at the center.
One of the reasons to do a side pony is to make visible the heart-shaped cornrows done at the bottom. The colorful beads are added to make it funkier.
3. Check Style African Braiding With Transparent Beads
If you are tired of simple and traditional cornrows, then this one's for you. This hairstyle does involve cornrows but is done in a very unique and versatile way to style up your little one's game.
The cornrows, especially for this hairstyle, is done in check style; yes you read that right. Look at the image provided and see the lines or boxes formed by cornrows.
To achieve this hairstyle, you just have to create line braids some starting from the templates and some from the area near the ear. The all the braids are then intermingled to create the perfect squares.
The rest of the hairs are simple braids. This hairstyle may look a little more complicated but once you figure out the way to place the braids you are good to go.
The transparent simple beads are perfect to make it party wear as well as a usual hairdo for your little ones.
4. Simple African Style Braiding Decorated By Colorful Beads
If you are in search of the traditional afro hairstyle for your little princess, which is protective, easy to manage and easy to achieve, then you have landed on a perfect hairstyle for her.
The hairstyle is ideal as it is a traditional braiding hairdo that is easy to manage and easy to achieve as well as protective. The hairstyle just involves the classic style of cornrows which is perfect for her African curly bouncy hairs.
Different colorful beads decorated the braids at the end. This hairstyle is easy to manage for you as a mother and for her at the same time. Being a simple hairstyle, it allows her to play and enjoy every activity and does not worry about her hairstyle.
5. Everyday Cornrows For Little Princess with Tiny Beading
The African braiding style cornrows are often seen as their traditional hairdo and also believed that this traditional hairstyle is only for African or afro-textured hair. With this hairdo, we are going to break those myths about cornrows.
This hairdo is all about braids that are done on non-African textured hair. Look closely at the above-provided image and you will see what I am talking about. The girl's hairs are turned into cornrows that are asymmetrically placed on her head.
The tiny colorful beads in between the braids and at the bottom are making the hairdo more stylish and cute. This is perfect for your toddler for an everyday casual look for her school days.
6. Swipe Braiding Party Wear Hairdo with the Touch of Gold and Silver
We have seen a lot of swiping hair to one side techniques of styling as well as braid swiping techniques over the internet. This is one of them.
The hairstyle includes three swipes of cornrows that are the uppermost braids that braid at the crown area are swiped totally to one side and the middle part braids are the opposite side whereas the lower braids are swiped in a similar direction as the crown area braids.
All included they form a zig zac motion on her head. This hairstyle is not for an everyday look as we see it as a heavy gorgeous hairdo for special occasions and events.
The golden and silver touch by adding the beads at the bottom defiantly makes them perfect for a party hairdo.
7. Cornrows with Beads
Braids are an easy style to secure and accessorized children's hair. Kids are the powerhouse of energy so always choose hairstyles that are comfortable for them. Cornrows are related to traditional hairstyles for African people.
You can easily make cornrows in different patterns, and beaded braids are a colorful option for little ones. Instead of beads, you can colorful bow ties, rings, etc.
This hairstyle lasts up to 5-6 days which is quite helpful for morning routines. Make sure you know how to maintain your child's hair after removing cornrows.
8. Creative Cornrow with Bun
Bun hairstyles look so cute on little girls. This creative updo is in a triangle pattern with two side beaded braids. Front and top braids are wrapped into a bun.
It is a fun-loving and comfortable hairstyle for medium thick hairs. It can be made for 8-10 years old because girls are usually calm. The main technique is to make cornrows neat and clean.
Colorful thin silver and gold threads look amazing on dark black hairs. It looks outstanding at birthday parties or school functions.
9. Beaded Braided Pigtails
Every hair type is different; some are curly, fine, afro, etc. This pigtail hairstyle is for curly afro hairs. Curly hairs are not easy to maintain especially when children are notorious.
Beads add colors and due to their colorful nature, a lot of kids are attracted to them. To make this hairstyle start making cornrows in a curvy direction to the ends of the head.
To secure the ends of braids with pink rounded beads. It requires a lot of practice to look perfect.
10. Spreading Cornrows with Twists
Simple ponytails and braids are boring for kids. Kids do not like the neat look of the ponytails, and they always mess up with their hands.
Parents make sure that everything they provide is comfortable for their children. This hairstyle is for those girls who have thin hair.
To make this hairstyle, you need to divide your strands into three sections so front cornrows are in a rounded shape and then they join together to make a small bun on which a beautiful ribbon bowtie is placed.
On the bottom part, all cornrows are semi-circle-shaped. It looks so stunning and clean.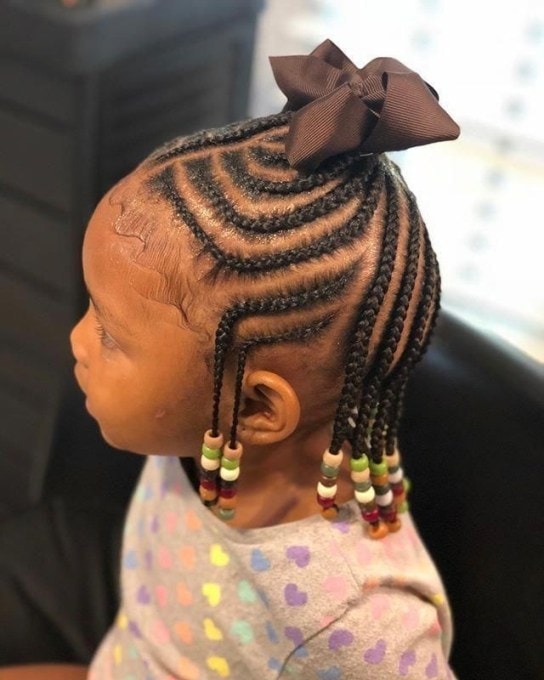 11. Centre Parted Skinny Braids
This amazing simple skinny braided hairstyle looks so cool. It consists of two braided ponytails and at the end of each braid, there are white beads. Only the front two braids are hanging freely.
Ponytails are easy to make, and they always represent a cute look. It is a versatile hairstyle because these are quite comfy in fields like schools, playgrounds, beaches, etc.
Skinny braids last up to 4-5 days which saves you extra time. Make sure you put regular oil on the hairs of children to strengthen the hair, better growth, and relaxation after con rows.
12. Chunky Crown Braids
There are many different ways to make braided hairstyles. Crown hairstyles are loaded with Thin to thick braids. This accessorized style looks so charming.
The hairs will be a tie in two wrapped around the bun and it will reduce any distortions which are usually created by other hairstyles.
Front two thick braids are decorated with silver rings and other braids are decorated with threads and multi-colored rubber bands.
Silver rings were traditionally used by afro Americans so it is a combination of modern and traditional hairstyles.
13. Long Inside Out Cornrows
Some hairstyles are simple and easy to do by yourself. This hairstyle is perfect for fine, straight hair. Long hairs are not easy to maintain especially in schools, playgrounds, etc.
Regular hairstyles are boring so one should try something to look unique than others. Start by dividing your hair into two parts each part is further divided into parts.
If you don't like its regular look then you can turn it into a ponytail. It is a versatile hairstyle comfortable in any season.
14. Double Braided Buns
This beautiful hairstyle with a beautiful braid pattern and two top buns has a regal quality for sure. The fact is that only An expert braider will be able to braid curvy cornrows like this.
They have been made in a specific centric pattern that ends up in buns. The patterns of the cornrows are gorgeous. This one creates a fun style for little girls when paired up with beautiful beads.
The braids left down other than Adorable buns are ended with different colored beads. This leads to a lovely outcome for those braided curves. This hairstyle looks gorgeous on chubby girls.
15. Topknot With Two Open Braids
We love kids' braids, not only box or cornrows, but other types of braids also, that provide a chance to have fun with hair accessories like balls and beads. And give us the ability to create new hairstyles combining all these.
This hairstyle was done to perfection and is very much suitable for kids. Be sure to keep the hair conditioned to make this hairstyle well polished. Always encourage your daughters to sleep with a headscarf so the hair stays smooth and healthy as long as possible.
The braids are clipped with beads and ended up in a top knot. The curly hair is kept in a natural texture which forms an open bun. Two braids are left on the face, which frames the face. Golden beads style these.
16. Criss-Cross Braids With Fluffy Buns
The cornrow braids could be done in a huge number of patterns. This one is one of them and probably very beautiful among them. The best part is that this will suit the kids very much.
Especially the fun two braids which are crisscrossed and left open on the face looks so much fun. The braids are done only on the scalpy. The rest of the hair is used to form fluffy hair on both sides of the head.
The buns give you a variation from braided buns and make this a unique hairstyle. The beads used to style the front braids make this hairstyle more fun for kids.
17. Big Heart With All Things Pink
The fanciest and chunky hairstyle of all time for your kids is here. This one will be perfect for their birthday parties or fun special days at school. Fancy braided hairstyle with an abundance of hair accessories is entirely the hairstyling territory of little girls.
And this hairstyle is doing justice to all this. Lovely braids like these, which are done in a beautiful heart pattern along with an abundance of pink small and big beads make up for such a unique hairstyle.
The overall way with which this hairstyle is styled is just amazing. This is the hairstyle that will like even more than you!
18. Side-Swept Cornrows With Beads
Cornrows or box braids make up for perfect hairstyles for kids. As they require the least maintenance and keeps the hair of your kids protected and safe. You can go for different patterns.
The side-swept cornrows look very beautiful on kids. Try to keep the braids short. As long braids are hard for kids to maintain. Also, long and thick braids could affect the soft scalp of kids.
You can style these braids by using different types of beads. The combination of white and transparent beads looks very beautiful on the braids of kids. You can go for other colors and types of beads also.
19. Short Box Braids
Tiny braids for your tiny ones. Isn't it a great idea? These tiny braids will definitely look the cutest on your tiny ones. These short box braids are just made for your kids. Easy to maintain and style.
Wake your kid up, and they are ready to go. You can keep these braids simple or can spice things up by changing their braids every day.
You can give them matching beads with their clothes or go for the classic beads. These ones are the classic white and transparent beads which will go with everything and will be perfect daily.
20. Colorful Beaded Braids
The most important thing when it comes to hairstyles for black girls is to switch things up, especially when they get bored of braid hairstyles. Braid hairstyles may be perfect for them in terms and maintenance and protection for their hair.
But keeping them the same could make things boring at many times. To switch things up, beads and other accessories are the foremost options. You can also go for changing types of braids and even by bringing a change in the pattern of braids.
The fun always keeps trying something new. This beaded and braided look lets her add all her favorite colors to her hair. This colorful collection of beads, when added to box braids, makes a very fun and beautiful hairstyle.
21. Tightly Coiled Beaded Braids
This look is dynamic and fun. The braids are numerous and braided into a coil shape, and white beads decorate the ends and middles of them. It's a stunning look for short hair.
22. Small and Simple Braids
This style doesn't have the braids covering the whole head. Instead, the braids are tight to the scalp and the rest of the hair falls loosely. Each braid is finished with a decorative brightly colored band.
23. Curving Braids with Colorful Beads
A curving part in the hair makes these thin braids stand out. The braids are decorated with large, colorful beads. They're shiny and stunning.
24. Heart-Shaped Beaded Braids
Here's a look perfect for a girl who loves everything pink and girly. The braids are thin with some thicker braids on top that add dimension.
All of the braids are decorated liberally with silver and pink beads, and many of the beads are beautifully heart-shaped.
25. Clear but Colorful Beaded Braids
If your child has very long hair then perhaps she'd like this style. The braids aren't tight to the scalp like with many other styles here.
Instead, they're large and thick. A lot of the ends of the braids are decorated by mid-size slightly transparent beds in bright colors.
26. Large White Beads
This hair has an intricate pattern where the braids form a zig-zag on the scalp. The front braid starts more on the left, the second on the right, the third on the left, and so on.
The chin-length braids are decorated with large white beads that cover almost half of the braid. The beads and pattern are truly the centerpieces of this style.
27. Curled End Braids with Beads and Bands
This is one of the most playful braids and beads hairstyles for kids. The beads are large and bright pink, purple and green.
They're at the base of a high ponytail. The ends of the braids are curled in ringlets, and some of the braids are decorated with brightly colored bands.
28. Silver and Pink Thick Braids
Thicker braids look excellent on long hair. Here the braids are in a simple style. They start at the front and go towards the back of the head. The ends are decorated by large, round pink, clear and silver beads.
29. Bubble Beads
The hair here is thinly braided with one side pulled back and the other falling across the face in a side part.
It's elegant, cute and stylish, and the braids are made more interesting and unique by the large, clear beads on them that resemble bubbles.
30. Clear Beaded Braids
This is one of the sweetest braids and beads hairstyles for kids. The beads at the top of the braids look like bubblegum bubbles holding the braids in their place.
The beads at the bottom of the braids are clear, but there are a few colorful ones there too to make the style really pop. The braids themselves are long and thin and pulled into a high side ponytail.
FAQs
Are braids with beads cultural appropriation?
Most of these styles are indeed culturally significant to their original cultures, but education on the type of style you are getting is key here. It is crucial to go to a hairstylist who works with these styles and that you use the appropriate terminology when talking with the stylist.
Be aware that these styles are very rooted in specific cultures. If you decide to wear them without being a part of that culture, be ready for conversations about cultural appropriation.
Will beads damage a kid's hair?
Beads can damage a kid's hair depending on the type of bead and the weight they have. The strain of the tight braids, along with the weight of the beads, can cause tension and breakage in their hair at an early age.
Are braids with beads painful for kids?
The process of adding braids is painful because of the tight pulling of the hair and the tension on the scalp. Once the styling session is over, the pain should subside, and it should not be an issue for kids.
We need to keep in mind that young girls are little women who also strive to be beautiful because after all, they are women. They also love to express themselves through beautiful hairstyles and dresses.
They love choosing and doing different hairstyles as much as they love selecting their own dresses. And Choosing fun hairstyles for your baby that are also safe and easy to maintain, is your duty.
It may look like a big task, but here, we have tried to ease it up for you. We hope you and your kids loved these beautiful hairstyles and will try them out.
Chose your pick and also listen carefully to what your kid wants. We hope to bring you many smiles and successful experiments with these hairstyles.