Daughters are the apple of our eyes and we are sure you'll love to pamper her up with some gorgeous toddler girl hairstyles. Be it for a dance event or a mother-daughter play date, you can always style her up with unique and attractive hairdos that will suit her young, innocent face.
Our gallery of hairdos for toddler girls features every unique hair type and style – from late to class 5 minute hairstyles to elaborate updo that can last for days – we've got you covered!
Adorable Hairstyles for Toddler Girls
Get creative with our selection of 21 stunning hairstyles and do not let a single day go by without beautifying your daughter with some masterpiece. So, let's jump right into it!
1. Single Fountain Ponytail
Easy ponytails with a little twist are the staple of any household with a toddler girl and we get why – it's easy, stylish, and gets the job done.
To achieve a fountain ponytail, gather all the hair at the top, and make an open ponytail. Leave the little hairs be to give the hairstyle a fuller look.
2. Side Part With a Hairband
If you're in a rush to get into a wedding, then make this flower girl hairstyle your cute toddler. Simply side part her hair and adorn it with her favorite hairband or tie.
You can certainly try it with longer hair, but toddlers are fussy and will definitely get some food stuck in open hair. So, base the hairstyle on how calm your daughter is!
3. Two French Braid
If you're planning to go away for a long trip and do not want your toddler girl messing with her hair again and again, then a French braid can be your savior.
The hairstyle will ensure that all her hair stays collected in one place without messing it up. And it looks stylish!
4. Free Curly Hair
Sometimes it's best to let the hair be free and flowy! If your black toddler girl has small, curly hair, then brush them to remove any tangles and organize them to look more like a sophisticated mess.
5. Messy Three Ponytails
This is the cutest yet simple hairstyle for baby girls. Part your daughter's hair into three parts, leaving the greatest part for the top.
Make two open ponytails on the side. For the top part, gather all the hair into a ponytail but leave the end stuck inside the band to make a cute bow.
6. Puff with Front Braid
Black toddlers are gifted with natural curls that look stunning with practically every hairstyle.
If you want to show off her hair while adding a stylish twist then make a tight braid on the front with some hair. With the remaining hair, you can either tie a ponytail or a braid – the choice is yours!
7. High Twisted Bun
Running late for an event? Just throw your daughter's hair into a quick-twisted bun on the top. It'll hold the little girl's hair in one place without being messy.
If you wish, you can even cut some bangs, to make the simple bun more beautiful!
8. Keep It Messy
This is a classic kindergarten hairstyle for small girls. To achieve the hairstyle, simply segment your little girl's hair into two parts and make two ponytails on the sides. Use a bow that matches her uniform for a complete look!
9. Cornrow Braid With Beads
Cornrow braids are the best hairstyle for all children regardless of hair type. It secures the hair tightly for quite a while and keeps away distracting hair from the child's face.
After making the twists, add some cute hair weights at the end of each twist.
10. Short Open Hairstyle
If your toddler girl has fine hair, which cannot be braided or put in a ponytail, then go for a messy open hairdo. Make it more stylish by slightly curling it at the edges and adding some sparkly clips or bandanas.
11. Simple Front Pony
Front pony is yet another simple hairdo loved by both mothers and fathers – for all good reasons!
For one, it is extremely simple to make. Just comb the front part of the hair and make a ponytail. Ensure that you leave the hair on the sides free, as shown in the picture. You can also get creative by experimenting with different colored beads, bows, and clips – the choice is yours!
12. Open Bangs
This is the hairstyle for your short-haired toddler girl.
Segment the hair from the sides and take the front part of the hair. Clip it on the back using her favorite clips and you're done! Let the side partitions hang over the ears for a better look.
13. Half Done Pigtails
How about two parts pigtails with both half done? That is exactly what we're going for!
Simply part your daughter's hair into two sides and make two tight ponytails. However, instead of pulling it out all the way, leave some part be, so that it resembles a bun!
14. Short Dreads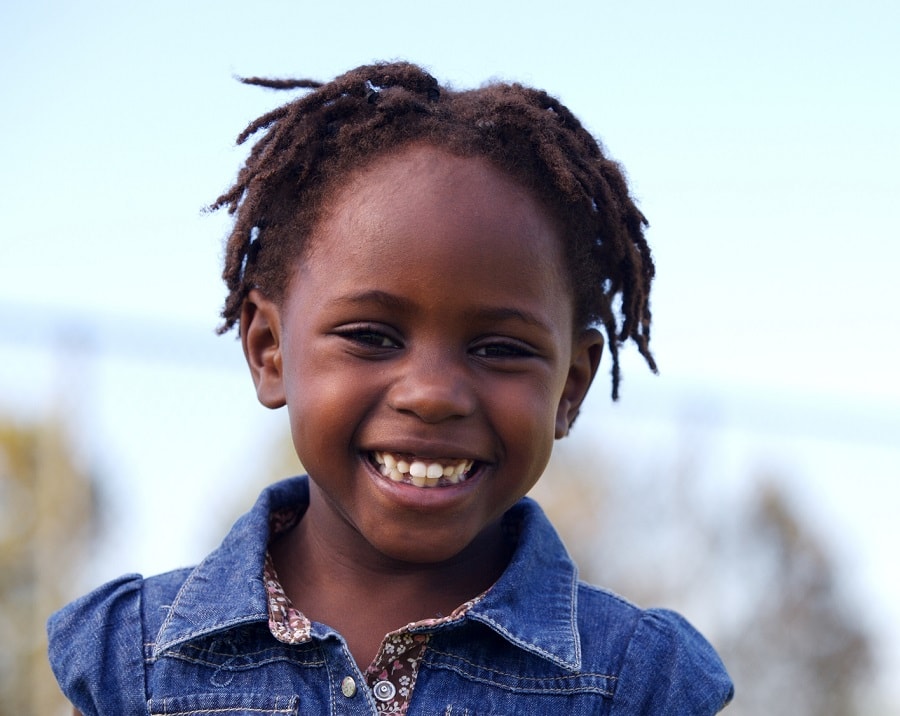 While mostly used by black parents for their children, dreads are an amazing hairstyle for every toddler girl. Simply, part the hair in sections according to your preference and style them into dreads.
The longer the dreads stay on the head, the better they get! This makes the updo popular amongst parents with fussy children, who do not like sitting still for long periods.
15. Cute Bantu Knots
Remember how we made several partitions to make cornrow braids? Make the partitions again but instead of twisting them, make small, tight knots and secure them with colorful hair bands.
16. Straight Long Bob
For Asian toddler girl with straight hair, bangs might be a great updo! Cut the front part of her tresses in either long or short lengths, depending on her forehead.
17. Box Braids
Instead of twisting hair on the head, you can make a flowing one this time! Let the braids individually frame around the face instead of tying it close to the head.
Top the tresses off with some transparent hair weights!
18. Short Afro
While adorning your toddler's hair with small, cheerful clips is fun, you can always tone it down with simple hairdos. Afterall, there's beauty in simplicity!
For your curly-haired daughter, just part her hair from the middle and watch it curl around her face beautifully!
19. Triple Side Ponies
Triple ponies are everything to keep your little girl sated – keeps hair out, looks cute, and will survive the naptime.
Start by taking some part of the hair from the front and making one right underneath it. Add the pigtail end to the new ponytail until the top part is pigtailed out.
20. Curly Open Hair
Let the gorgeous, black, curly hair of your little angel flow while also adding a stylish twist to it.
Segment her hair and let one part of it free. For the other, comb it tightly till it is flat and secure it with a large clip.
21. Braided Hairdo
Is your toddler girl attending a casual party? Then you've to set the mood right with a valentine-Esque hairstyle.
Make a loose braid from the sides and twist the hair at the back to resemble the heart. At the tip of the heart, secure it with clips and add a cute bow.
Your little girl is already cute with her innocent smile and bright eyes. Add more charm to her personality with a gorgeous toddler girl hairstyle.
With our selection of the best hairdos for toddler girls, you can turn her into a princess about to unleash her pretty self. Whether you're in a rush for a party or getting ready for a school day, these hairstyles will suit all your moods.