We know how frustrating it can be to find the perfect hairstyle you always desire for your hair, but because of your hair texture, you couldn't find it. Being multiracial is nothing to be embarrassed about, but it's about embracing your true self and being confident while flaunting your real beauty.
Let's start with finding the most suitable styles for mixed girls with curly hair. First, find out the type of curls you have, whether it's coily, wavy, loose, or tight curls. Even the curl size or the pattern can be different so identify that as well.
Mixed Girls with Curly Hair Ideas
No need to feel frustrated while managing your hair. With these curly hairstyles for mixed girls, you can easily have a perfect hair day and embrace your natural curls.
1. Afro Curls With Blonde Highlights
Mixed girls with curly hair can opt for this hairdo and add a lot of texture to their hair. With such locks, you will have multiple hairstyling options to choose from. Going with blonde highlights, you can show off your curls, build height and give your hair a funky vibe.
2. Light Brown Curly Hair
Dye your locks light brown to get a subtle look that'll go well with almost every skin tone. This is a great look that is simple and easy to maintain. But, make sure to avoid salty water as it can make your color fade off quickly.
3. Magenta Curls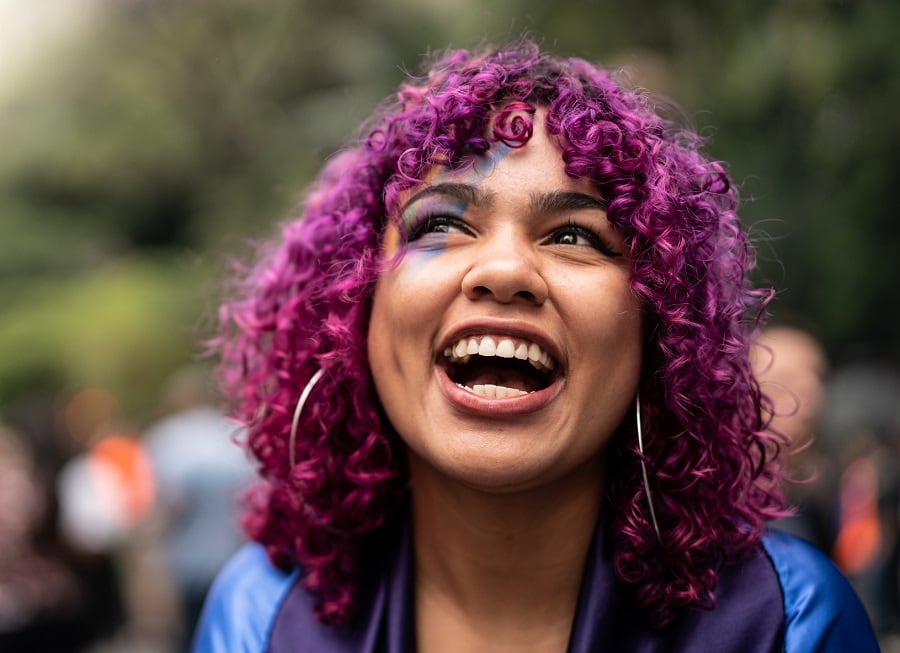 You must be very careful while opting for this shade, as it might not suit every skin tone. However, mixed girls with curly hair can surely opt for this look.
It maintains the afro hair and defines each ringlet. Moreover, you can transform your boring style into a cool one with this look.
4. Black Curls With Bangs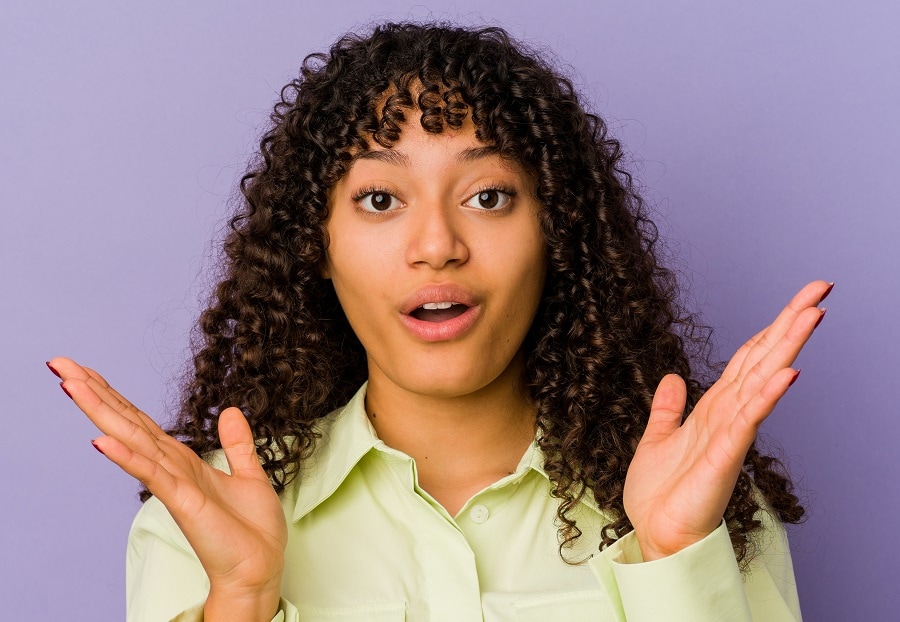 Go for these medium-length curls that will make your locks fall beautifully. This look suits triangle-shaped faces as the open locks and bangs frame them perfectly. You can also apply a bit of serum to add shine to your hair.
5. Copper Brown Permed Curls
The copper brown curls will likely give you a sun-kissed effect and highlight your ringlets very well. You can wear this style to any special event. You just have to put on a classy maroon dress, add some makeup with a dark lip shade, and you're all set for the event.
6. Ultra Curly Bob
If you want to make your ringlets tighter with a cool appearance, opt for this look. This style is excellent for getting a beachy look. You can either leave your locks as they are or even apply gel to make them look more defined.
7. Curls With Copper Highlights
In order to get a unique, pretty look, go ahead with this curly copper hairstyle. The copper highlights at the ends will save you from getting regular touch-ups and elevate your look by popping up the curls.
8. 3A Highlighted Curls
These highlighted curls are easy to do and likely look good on everyone. Since they are not defined, they will be easy to style and maintain. With darker roots, you will not have to bear the burden of getting regular touch-ups.
9. Ombre Curly Top Knot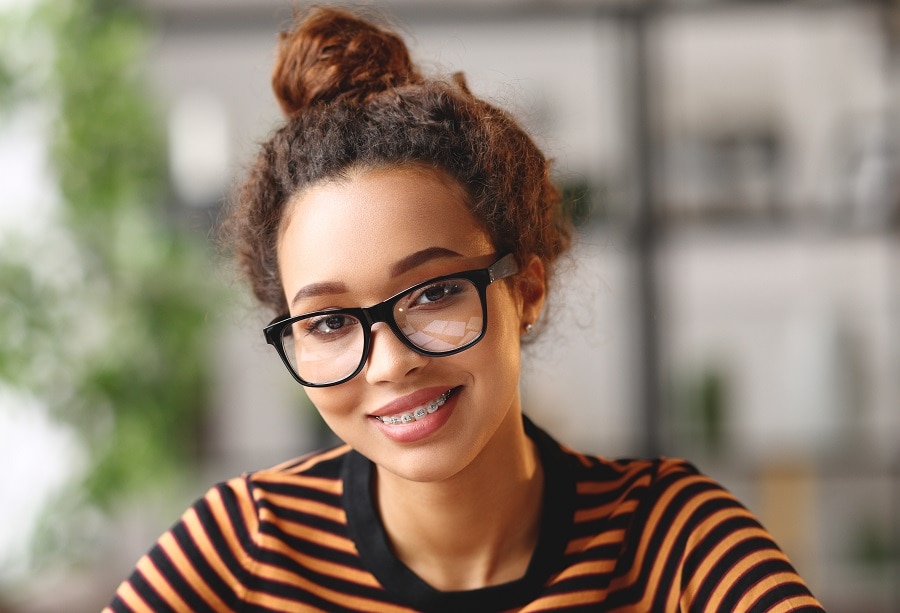 Another simple hairdo that you can make when sitting at home is this simple bun. If you want to take your hair off the face, just pull up all of it and wrap them in a bun. Moreover, the ombre shade will be clearly visible in the form of a bun.
10. Long 3C Curls
The long black curly hairstyle might take a bit more time for mixed girls to style perfectly. It might take hours to wash, style, and apply all the products to keep them healthy. However, they look great and add a shine to your face.
11. 3C Blonde Pixie Curls
You don't need long, luscious locks to flaunt your style. Mixed girls with curly hair can get a gorgeous texture and definition with this look.
By dyeing your ringlets in a honey blonde shade, you can create a contrast between your hair and skin. Make use of a good hair conditioner to soften your curls.
12. Mesy Curly Ponytail
If you're looking for a comfortable, easy-to-do hairdo, then this is the perfect option. Here, you just have to pull up your hair in a ponytail and let the rest of your curls rest on the top. In this way, you can even highlight your ombre hair color.
13. Corkscrew Curls Updo
Although curly hair can be difficult to deal with, certain hairstyles are easy to style and make you look cool and cute. Such a hairdo can be this top ponytail. You can leave two strands from the front and let them fall on your forehead to show off your texture.
14. Thick Curly Hair
Another amazing way to rock your natural locks is this hairdo. Since this hairstyle does not require any coloring, it will not damage your locks and, at the same time, give you a sleek, stylish look.
15. Short Red Curls
A great way to spice up a short curly hairstyle is to color hair locks with this red shade. This will give you a natural look while adding a little twist. It is recommended that you use a non-toxic hair dye to avoid hair damage.
16. Curls Updo With Headband
If you take proper care of your locks, you can surely get amazing mane. To get this look, you just have to tie up your locks, leave some strands from the front and wear a headband that'll add some funky and youthful look.
17. Double Bun Hairdo
The space buns are a great and cute way to style curly locks for mixed girls. To make it, you just have to middle part your hair and tie them in two buns. Push your hair a bit more to make them appear more prominent.
18. 4A Curls With Highlights

To enhance your ringlets, highlights can be a great option. By adding a few brighter pieces, you can make your curls pop up without providing much damage to your hair.
19. Caramel Blonde Curls
Another way to add a little twist to your locks is to dye them caramel blonde. Although it will look cool, you need to hydrate them to bring back life to your hair. The global blonde might bring a lot of damage, so take proper care of your hair to keep them healthy.
20. Dark Purple Curls
The dark shades can be challenging to maintain, but don't worry, as you'll find a way to manage them. If you're looking for a vibrant or bright shade, go for this purple look. You can use a special shampoo or go for nourishing treatments to maintain your colored curly locks.
These were curly hairstyles that could be easily styled by mixed girls if done correctly. With curly hair, you can pull out any hairstyle. All you need to do is take proper care of your locks before and after making any hairstyle and constantly moisturize and hydrate to keep them healthy.