Just like every gal pal dreams of becoming a bridesmaid to her beautiful bride friend, every little girl dreams of becoming the flower girl at a wedding. So we've got some beautiful flower girl hairstyles for the big day as well as for any other day.
It's an important responsibility because she'll be the one announcing the bride's entry while showering flowers on her way. Now a flower girl can't compromise with her dress and hairstyle because she is the center of attraction at one point.
Gorgeous Hairstyles for Flower Girls
Easy to make hairstyles that will not hurt a little girl's scalp and look gorgeous on her.
Braided Pigtails With Bangs
Little flower girls are already cute, and when you make little pigtails on their small hair, it makes them look even cuter. Arched bangs would be a plus point here.
Also, braided pigtails would look beautiful on her beautiful little dress. Everyone's eyes would be on her when she entered with this gorgeous hairstyle.
Pearl Headband
Applying heat on a kid's hair is usually not advised, but you can make an exception for one day.
Center part of the girl's hair and make tight curls. Then, you can use a pearl headband to give a finishing touch to her look. Use the headband color according to the color of her dress.
Cute Long Waves
As we said, bangs look cute on little flower girls; long hair does the same thing. You can keep her thick long hair open in its natural texture and get a wispy bangs haircut along with that.
You can use hair accessories like a simple hairband with a big and beautiful ribbon. Don't forget to click her pictures.
Double Braids
The best thing about this hairstyle is that it looks good in every hair texture.
For instance, thin dutch braids look great on every hair length. So if your flower girl is wearing a blue dress, you can use blue hair extensions to make the braids.
Medium Curls
Long hair can be difficult to manage, especially when the little girl's hands are busy showering flowers. So a medium haircut with blunt bangs would be the perfect option here.
This way, she will not have to worry about managing her hair and keeping her cool during the summer season.
Messy Updo
One way to style long hair is by tying it into a big curly bun. This will make the flower girl look so beautiful that no one will take their eyes off her.
This is a more than simple look, so keep the makeup and dress heavy. A bright color like an apple or dark red will suit well with this style.
Side Parted Curls
If the wedding is taking place in winter, we've got hairstyles for the winter season. Winter lets you keep your hair open without any sweat.
Side parted curly hair with a full-sleeved floral dress would work wonders at the wedding. This look is suggested for a girl of about 9-11 years old.
Braided Updo + Side Bangs
Do something creative with the flower girl's hair and tie all her hair in a side French braid. This hairstyle would look beautiful on short hair.
Leave the short side hair in a small ponytail and attach a big flower. You can also give her short side bangs for a complete look.
Two Messy Buns
Some flower girl hairstyles look messy but beautiful. Try two messy buns if the little girl has long hair. You can leave some small hair on both sides.
Adding small white flowers to both the buns and around the hair will make her look really beautiful. Keep her face natural without doing any makeup.
Two French Braids
French braids look as beautiful on short hair as they do on long hair.
If the little girl likes to keep her look simple without overdoing anything, then you should make two french braids on her short hair. You can attach one artificial and big flower on both the rubber ties.
Center Parted with Roses
Everyone is familiar with center-parted hair, but it's a little different here as the girl is a flower girl.
So it would not be a bad idea to add some roses to her hair apart from carrying flowers in her basket. If the girl is wearing a white dress, you can use two white roses on one side of her hair to match with the dress.
Tight High Bun
No matter how beautiful hairstyle you make on a little girl's hair, she will convert it into a mess after a few minutes.
So to solve this problem of ruining her hairstyle, you can tie her hair into a high bun. Then use a floral bun cover for the final touch.
Dutch Braids
What's more beautiful than a small girl having a hair color combination of brown and maroon?
You can make two beautiful dutch braids on her hair and make her wear a gorgeous floral pink gown. Keep the look natural by not doing any makeup or making her wear unnecessary accessories.
Pink Bow Band
The more simple you keep the look of a flower girl, the more beautiful she's going to look. Let the girl keep her curly hair open without making any tight hairstyles.
Just take a little portion of hair from the middle so that it's easy for you to attach a big pink ribbon in the end on her hair.
Long Side Bangs
Girls around 9 to 12 years of age can easily handle long hair. Plus, girls at this age get suddenly interested in bangs.
Don't let her get bangs by herself (we all did that when we were small), and get her beautiful side bangs for her flower girl look. A plain white dress with very light makeup should be the last touch for her look.
Peachy Blonde Hair
If you want a hairstyle for blonde hair, we advise you to keep a simple look this time. Simply center part her hair and leave them open.
If you want to add some accessories, one big white flower would be perfect. Keep her dress simple and look at how everyone at the wedding complements her.
Back Side Tucked Ponytail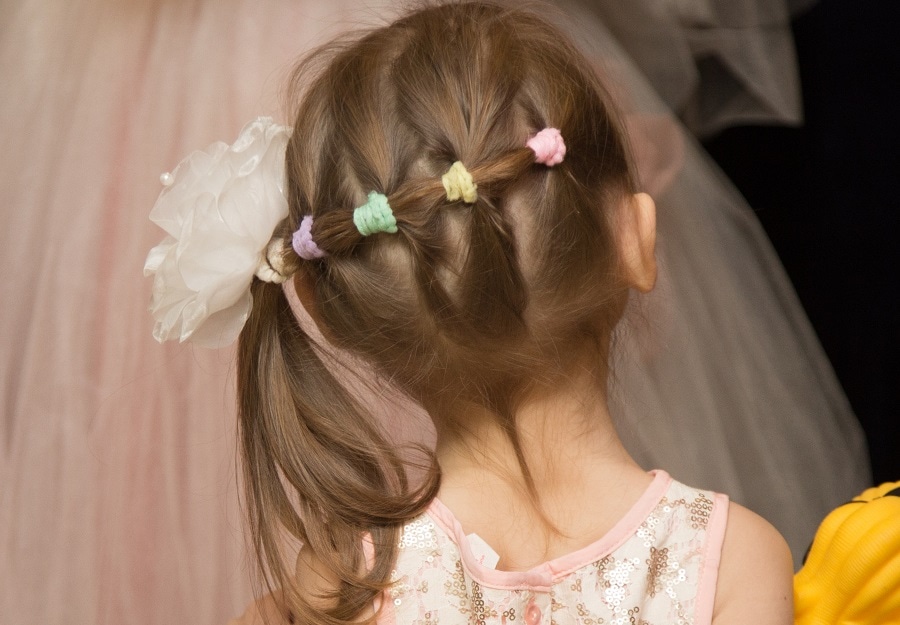 We all can agree on how cute little girls look when you make a small side ponytail with their hair. However, a side ponytail is a common look, so to separate it from the common category, you can start by tying thin ponytails starting from the back of her right ear.
Then continue making several thin ponytails simultaneously until you reach the end of her left ear.
Space Buns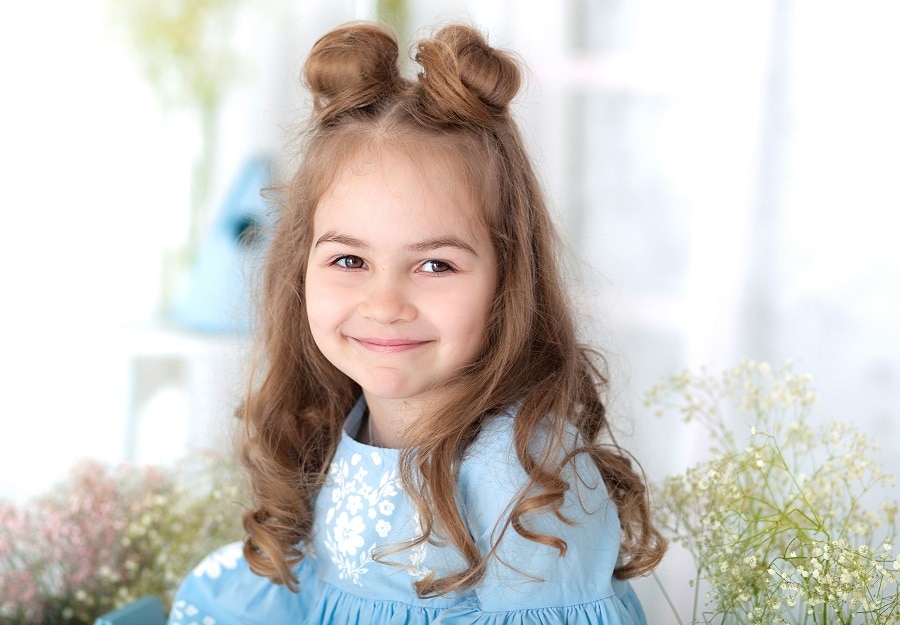 Have you ever noticed how cute kid's hairbands are with two fur balls on the sides? Well, you can get that for your flower girl, too, without using any hairband.
Just make space buns, and she is good to go. Of course, it works best only on a thick volume of hair. You can tie strands of hair around the rubber band too.
Keep It Natural
Simple but beautiful hairstyles include straight hair. This works best when you're in a hurry and don't have time to make any complicated hairstyles.
Just center-part the girl's naturally straight hair, and that's it. A plain frock or gown will look beautiful on her.
Tiara Look
Did you know that tiaras were actually made for little girls? It's just that elders started wearing them too.
So get your sweet little flower girl a beautiful tiara and look at how her face shines with joy. Click tons of pictures of her as soon as she gets into the wedding function.
Side Bun
If you don't know what to do with short and thin hair, make side buns. It's simple, beautiful, and very easy to make. All you need is some hairpins and hairspray.
Start rolling each side at a time and hold using a maximum of two hairpins only. You can blush her cheeks pink if you want to do makeup.
Floral Headband
Okay, this flower girl hairstyle is strictly for cute toddler girls.
Because if you make any complicated hairstyles on girls this small, they will not be able to manage it and ruin it as soon as you make it. So to save your efforts, you can get hear a cute floral hairband with pearls.
Bun And Pearl Tiara
Not all little girls can handle a hairstyle of this level. So if you're sure that your flower girl will not make your efforts go to waste, you should make a twisted bun on her thick and long hair.
You can also braid one side of her hair and then use a pearl tiara to complete the look.
Back Twisted
This hairstyle is for teenage girls who have long or middle-length hair. It only looks complicated but is quite easy to make.
First, take all the hair back after leaving some layers from the front. Half-wist the back hair like you twist a wet cloth and then use a banana clip to hold it. Leave the remaining hair open.
Fishtail Braids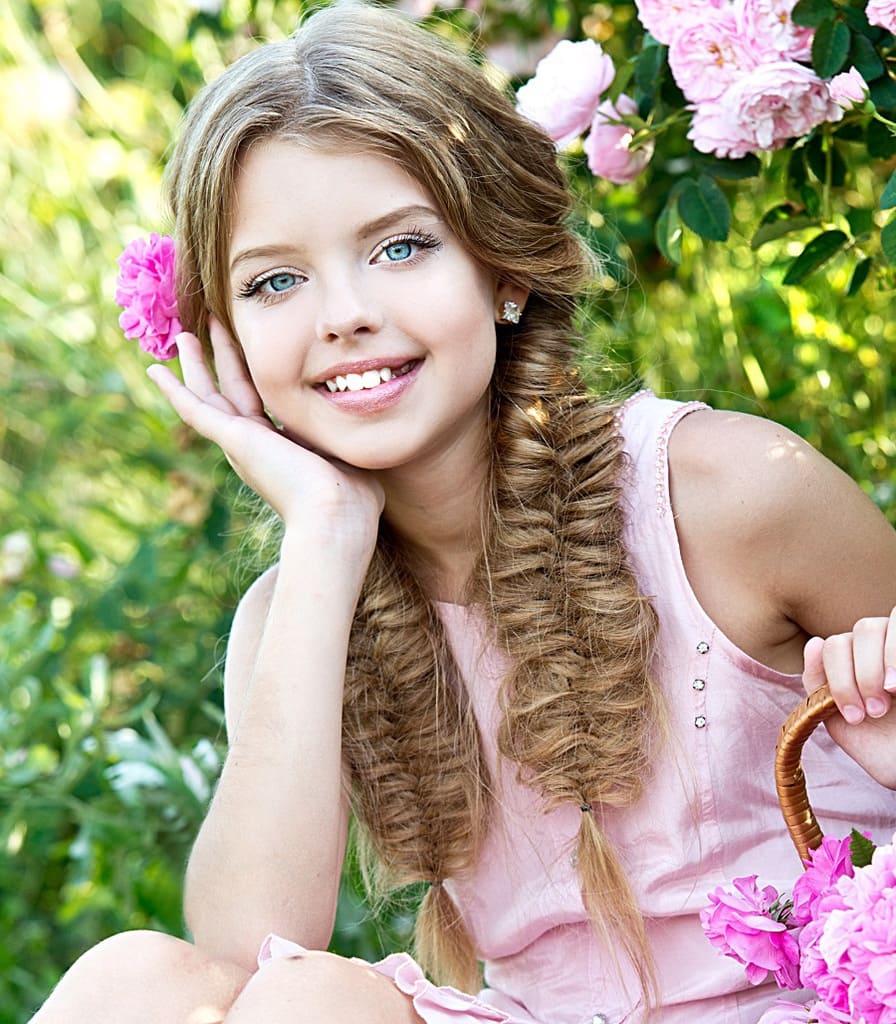 Another flower girl hairstyle for teenage girls is fishtail braids. Remember, fishtail braids are possible to make on long hair only.
Firstly, tie the hair in two low ponytails and wrap the rubber band with a layer of her hair. Then make a loose fishtail braid on each ponytail until the end.
We have chosen each and every style carefully, keeping in mind all sorts of hair textures, face shapes, and how easily they can be made. All these flower girl hairstyles look lovely with any dress and will surely let others give a compliment not only to the bride but to the little ones…