Kid's hairstyles may seem like a task to mommies out there especially if their little ones have really long hair. To ease that task, we present you with some braids hairstyles that will ensure that the hair is protected, but in style.
Braids are one of the most simplest and fashionable hairstyles, but yet a single or even a double braid may seem too basic sometimes, given its wide popularity. That is why we have made this unique list of unique braids hairstyles that look very versatile.
So, it's time to get creative with your child's hair and start exploring the different braids hairstyles we have listed below.
1. Braided Ponytail
A very common hairstyle, these pigtail braids save you a lot of time as you wouldn't need more than 6-8 minutes to style your girl's hair in this manner instantly. The hair has been done in a sectioned style and the upper-middle section has been done in the style of normal fishtail braids.
The rest of the hair on both sides of this section is then pulled back along with the middle section to be tied up into a high ponytail.
2. Crochet Braids Style
An amazing hairstyle that will make your little girl look like a princess. While the upper middle section of the hair has been styled as large, thick, and chunky braids, the hair on either side of it is further done in tiny crochet braids style.
The crochet braids are then bought together to be tied into a single thicker braid. And the hair below the chunky section is simply done into a low-lying ponytail. What an elegant hairstyle, we have to say.
3. Minimal Inverted Braids
For a quick fix to the hair, try out this simple hairstyle where the braids have been done in an inverted manner and then tied up at the ends. While it may be a basic style, the braids help to ensure that the hair stays in place.
So your kid can go about playing as much as they want and having the most fun, all while you don't have to be worried about their hair getting damaged. A different version of this hairstyle may also be easily tried out by dividing the hair into two sections and then similarly braiding the hair to create a double effect.
4. Sectioned Braids
The hair is divided into three large sections. And the hair in each of these sections is braided up starting from the base itself. After braiding at least a few strands of hair to make almost a dozen braided strands, all the hair has then been tied up together into a really high ponytail.
A cute little bow accessory is placed and it will do a great job of making your princess look absolutely adorable. The strands taken to braid the hair are thin enough so they create more space for hair in such a wide section to be neatly braided up.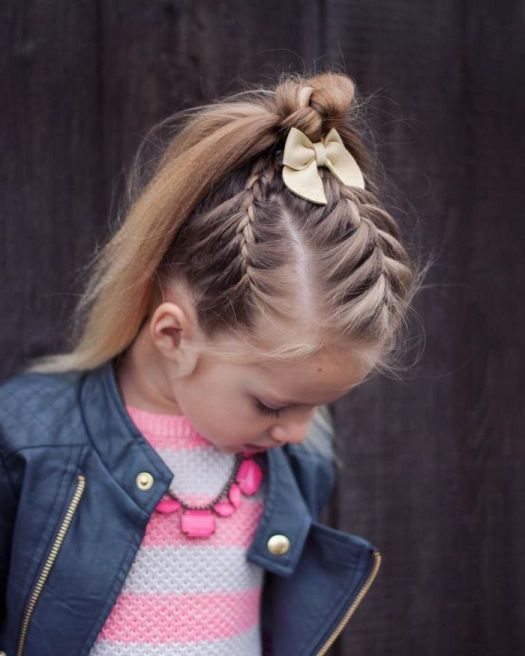 5. Two-Sided French Braids
What's better than a french braid? And that would be a double french braid. While the french braid may be a simple and minimal hairstyle, it surely still manages to look just as gorgeous and classy.
Not just ideal to be worn every day to school, this can also be tried out for different occasions simply by adding in some hair accessories to spice up the look. This hairstyle can be tried out for hair of all lengths and we are sure that it will look amazing.
6. Crisscross Braids
A simple way to take the double braided style to the next level is by giving it a fun twist. You can do it in many different ways and as shown in this picture here, a quick and simple way to do this is by placing both these braids in a criss-cross style.
The braid on one section is joined together to the opposite section and then further tied up until the ends to complete this style. Try it out for a variety of hairstyles in no time.
7. Sleek Ponytail with a Braid
With the way that even kid's hairstyles are evolving into more intricate and beautiful styles, it is a must that we try out these creative hairstyles at least once. Here is one such beautifully carved style. First of all, the hair has been loosely but firmly pulled to the back to make a sleek and straight ponytail.
On one side of this ponytail, a strand of hair is pulled out and then braided along the sides. Do this hairdo all the way down and simply tuck it in firmly at the bottom of the ponytail.
8. Colorful Braids Style
For a fun yet simple way to add some glam to a braided look, there are many styles that you can try out, such as coloring your hair, adding in floral accessories, putting some beads in between the braids, etc. Here is a much simpler way to do that, and all you need are few rubber bands in any color of your choice.
Braid a tiny section of hair, put in a rubber band to secure it and then just repeat this process till you reach the back middle portion. After that, you can just take all of the hair and tie it into a high ponytail style.
9. Simple Wavy Braided Style
For those days when you are in a huge rush, and you don't have any time at all to create a good hairdo, this hairstyle is perfect. The hair is simply tied up in a layered braided style by taking in a thin strand of hair from one side of the hair and using it as a base to tie the rest of the hair into braids in this flowy and wavy style.
Along with looking great and minimal, it also saves you a lot of time. It can be tried out with multicolored beads, colorful rubber bands, etc.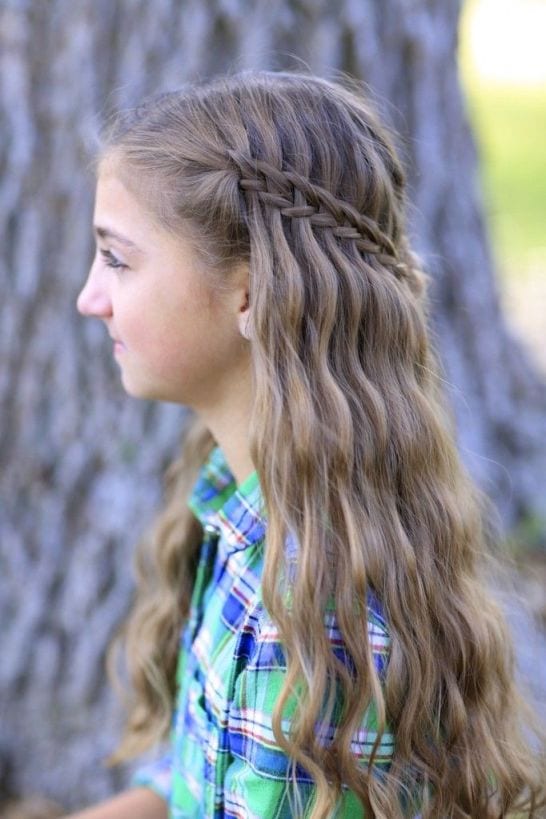 10. Front Ponytail
We are all familiar with a back ponytail style. In fact, it is one of the most common ponytail hairstyles. But who would have thought of trying a reverse of this style and creating a braided ponytail on the front instead?
Well, somebody definitely came up with that style and also in a fun and creative manner that you'll definitely wanna try out this hairstyle as soon as you get a glimpse of it.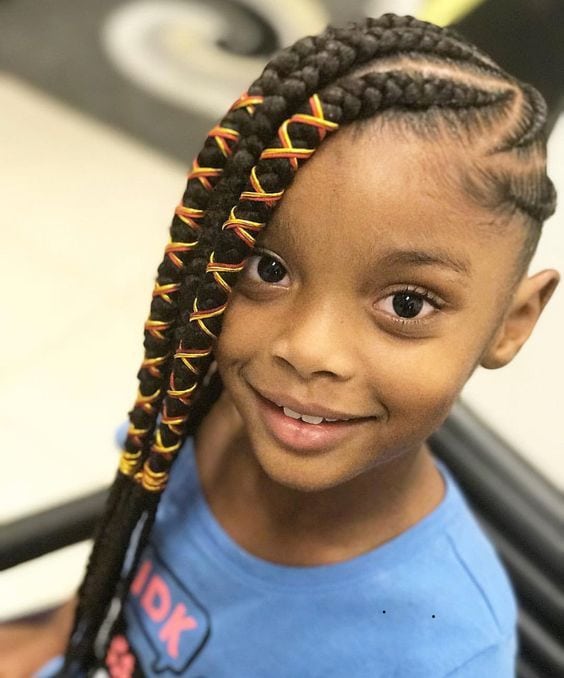 11. Braids and Buns
Fashion is a craze among girls and women of all ages and everyone wants to pull off different looks in the most glamorous manner. And this could be the reason why even if these hairstyles are made for little girls, they look as classy and elegant as the ones made for adults too. And there is no better proof for that than this.
In this double braided bun hairstyle, the hair has first been parted in the middle to create two equal sections. The hair in each of these sections is then braided in a French braid style only along the sides till the tip of the hair. After that, the hair is combined from both sides and tucked into a cute little bun.
12. Braided High Bun
Here is another bun style, but a very interesting and quite a dramatic one too. The hair has first been parted onto both sides and then as you can see, the hair on only one side of both these sections is thinly braided. It is then combined with the rest of the hair to make a high and round bun on the top.
The hair on the other side is completely used to tie up into a bun. Add a bow to complete this cute look.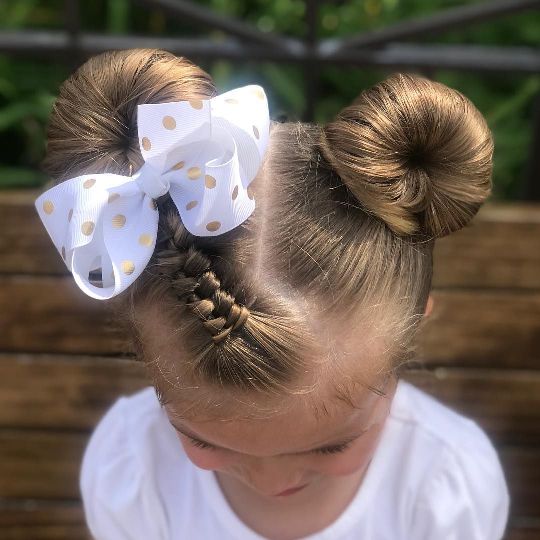 13. French Braided Bun
Leave a few strands of hair onto both sides and then pull back the rest of the hair. Now, braid the hair that has been left out on the front, in a loose and messy kinda way. Make sure you braid along the sides. This helps to make this hairstyle look very effortlessly classy.
After the braiding is done, once again, pull back all of the hair softly and then create a low lying up-do. That's all and this cute and classy look is ready. It looks very casual and neat too.
14. Thinly Braided Strands
We are all aware of the braided headband style, where the hair is braided from one ear to the other through the top so that it resembles a headband. Well, this is not exactly a headband style, but it definitely has a close resemblance. It's a very easy and quick style that you can do in less than 5 minutes.
Comb the hair straight and leave it flowing down. Take out two separate strands of hair that are a little away from each other. Braid them thinly, but firmly and tuck them in the back with a hairpin. This look is complete and children will surely love this style since it helps to keep the hair from falling to the front of the face.
15. Crochet Braided Style
What a beautiful look that will look just as gorgeous on adults ad they do on kids. Well, the braiding may take quite some time since many strands and layers need to be braided. But other than that, it's a very convenient hairstyle and will ensure that your child's hair is protected well enough.
Divide the hair into two sections along the sides. Softly sweep the hair on the larger side and then start doing the hair strands on the shorter side in this intricate and lovely crochet braids style.
16. Large Braids for Short Hair
Short hair and short braids may not always look attractive. But when you do large and chunky braids on a short bob, it is sure to catch everyone's eye. This hairstyle can be done very easily since the hair is already short, and braiding is also not a task.
Part the hair into two equal sections through the middle and then start braiding the hair in an inverted style. Increase the thickness of the braids as you go further back and when you reach the length of the nape, put a rubber band on the braids to get a low ponytail style.
17. Multiple Layered Bun
Buns are always a versatile look and here is yet another gorgeous combination of buns and braids. First, the entire hair has been parted into three large sections and the hair strands are thinly braided starting from the base of each of these sections.
Keep going till you reach the middle of the head and from there onwards, combine the braid with the rest of the hair on the back. Slightly increase the thickness of the braids when you reach the back and then do the braids till the tip of the hair.
After that, bring the 3 braided sections together and make it into a multi-layered bun. The hair stays in place while also looking absolutely stunning.
18. Sectioned Braids In A Bow Style
Well, it may seem like there is more to this look than what meets the eye, but trust us when we say that it isn't as hard as it looks to try this style. Follow the steps and the look will be ready in less than 10 minutes.
First, divide the hair into three large sections, the middle section and two sections on either side of it. Tie the hair in each of these sections using a thin rubber band.
After this, the hair below the rubber band should be further divided into two sections and then each of these sections needs to be completely braided. Bring the braids together and tie them up high into a knotted bow style.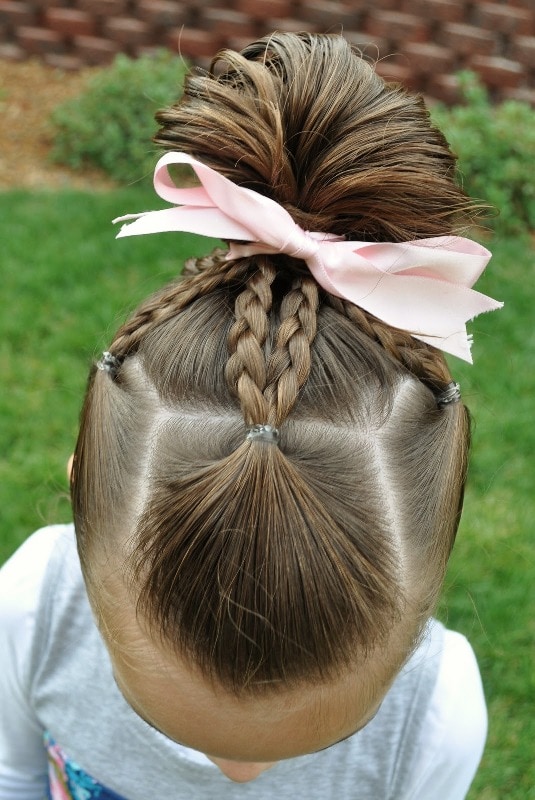 19. Twisted Ponytail Braids
After all the drama in the above style, here comes a simple but cool and edgy look. All you need to do is tie up the hair into a sleek ponytail without using any rubber band. Use the hair itself.
Start twisting your hair in medium-sized twists and pull out a thin strand of hair from this ponytail. This should be done in very small twists and once it is completely twisted, blend it in with the medium-sized twists, and the look is ready.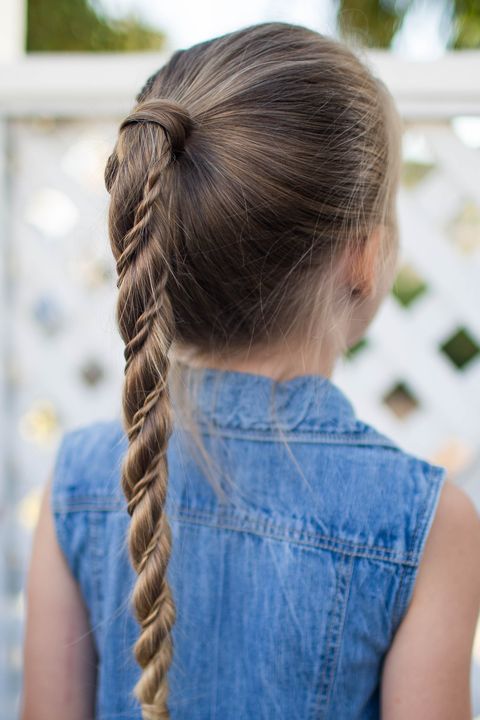 20. Butterfly Braids for Curly Hair
If your little girl has wavy or curly hair, then this hairstyle might seem good. It is done in a style where a few strands of hair are tied into a rubber band, then the hair is again twisted and again tied, and these steps are repeated till you reach the back middle portion of the head.
After that, the hair is slightly lifted and the rest of the hair below these braids are let down hanging loosely.
And that is the end of this list full of adorable and fun hairstyles. Not only do they look great, but styling them up also is a fun process so mothers can enjoy themselves while trying out these hairstyles without ending up getting bored.
With so much going on in a mother's mind from preparing breakfast to sending their kids to school and several other kid-related things, trying out different hairstyles may seem like a Herculean task. Still, with this list, we hope that process is simplified for you.