Does your little boy want to express himself through his hair? Then you're in the right place. There are lots of different ways you can style a mohawk for your kids. Your son is sure to be thrilled with his new look.
Mohawks are more traditionally worn on straight hair textures, but you'll also find some for curly and kinky hair. This super edgy style suits kids of all ages, so you'll definitely find what you're looking for here.
Fun Mohawk Hairstyles for Kids
If you need help with hair ideas for your kid, check out the ones below.
Thick Hawk with Long Sides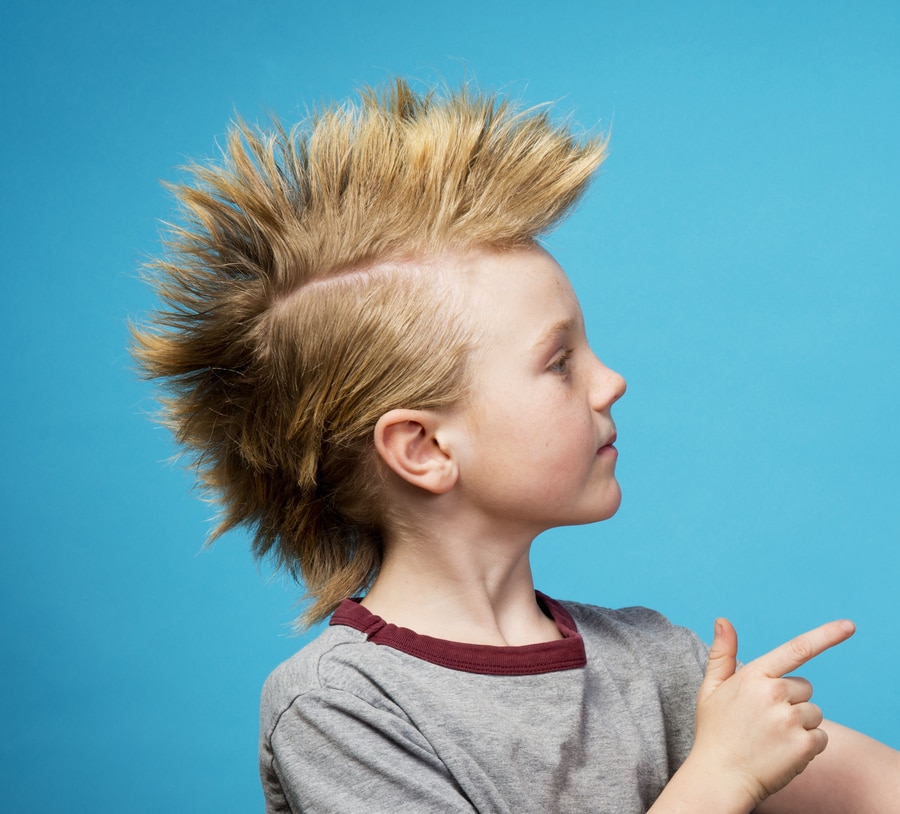 Many mohawk haircuts become popular among young kids. However, your little boy might not like that. You can still totally have this style with longer locks on the sides.
That just means you'll have to make sure the top is very thick and extremely spiky to help show off the look.
Short Hair with Shaved Sides
Even toddlers can wear this adorable style. Here's a more classic hairstyle where most of the hair is shaved. There's a short section of hair running from the hairline to the nape of the neck.
Super Spiky Punk Look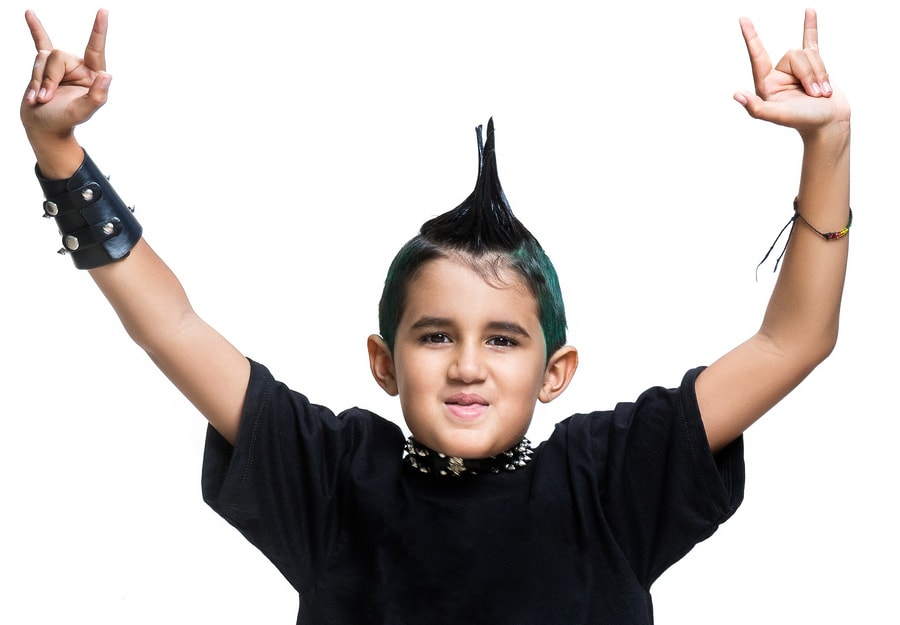 Little boys want to be punk rock stars sometimes. Give them a mohawk hairstyle that let your kids live out their dream.
The top section is very tall and has been styled with a very strong gel. One side is a natural color, and there's a unique tone on the other.
Spiky Blonde Hair for Babies
Little babies can wear this mohawk look too! Simply gather the onto the top of their heads. Use a strong gel to keep it standing up. Smooth down the sides, and you're done.
Fluffy Style with Cool Designs
Not all versions of the style have to be spiky. This one is very fluffy and is blown back toward the neck.
The sides of the style are the real masterpiece. You'll need a very skilled barber. There's a unique, sharp-edged swirling design shaved in.
Red Feathery Hawk
Bright red hair is a shock to the system, especially when worn by kids with mohawks. Your little one will be the center of attention when he walks into the room looking like this.
The middle section of the hair is very tall and feathery. Some at the very back are curled, some falls onto the forehead. The sides are very short and in their natural color.
Funky Green Dreadlocks
Here we see the perfect combination of two styles. The center section of hair forms dreadlocks that are dyed bright green.
This is a totally unique mohawk for kids. Most of the locks are brushed forwards, but some fall towards the back of the head.
Curly Mohawk with Fade
It's good to create contrast in a haircut. The curls of this mohawk are starkly different from the straight sides with a fade. It makes for a dynamic and lively look that suits adventurous little boys.
Tall Style with Curving Patterns
One of the defining features of a kid's mohawk is height. This one is extremely tall. There's an unbroken section of hair right by the hairline.
Then there are some more gaps towards the back as the locks start curving downwards. The sides are the main feature here, though. Two curving lines are shaved into them.
Dense Curls with Red Highlights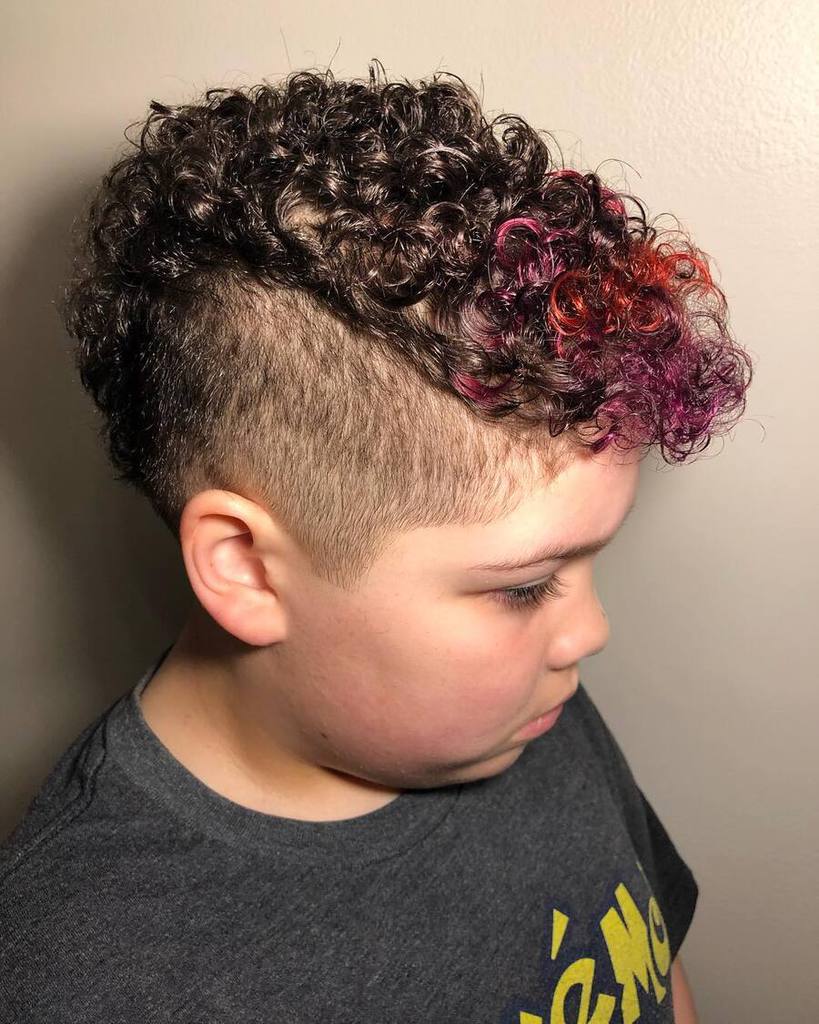 Sometimes you only need a little bit of a unique shade to make your hair pop. Here you can see red and purple highlighting the front.
This is another look with a lot of contrast, as the hair is very curly. The sides are shaved down and left with a very light covering of hair.
Bold Blue with Shaved Sides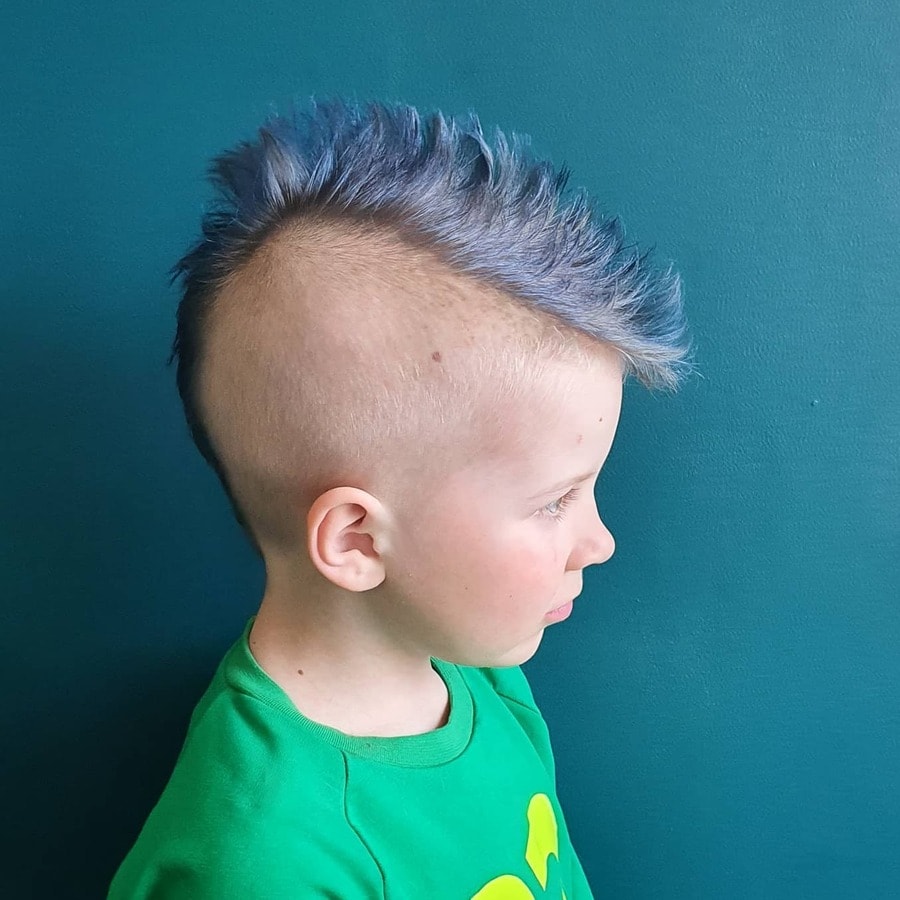 Blue is one of the edgiest and boldest colors to wear with this hairstyle. Baby boys will enjoy this mohawk as it helps them stand out.
The sides of this are totally shaved. This leaves a nice plumage of hair to stand tall, thick, fluffy, and spiky.
Orange Textured Hairdo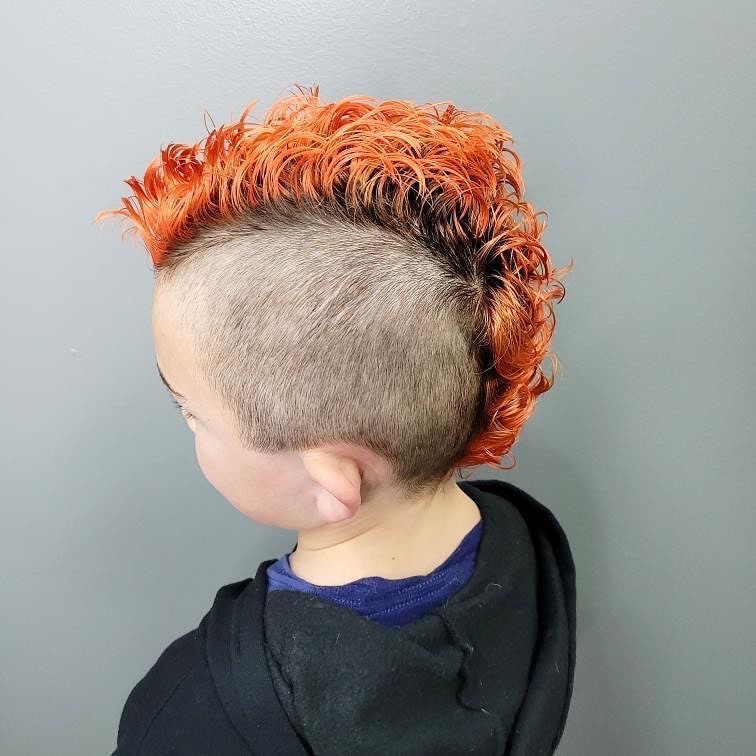 Orange is a bold color that can sometimes look natural. However, it looks very unique when paired with the more natural color as we see here.
In this kid's mohawk haircut, the middle section is very thick and has a lot of texture. Most of it curves towards the back of the head. Some small sections at the front curve to the side.
Multicolored Style with X Design
Green, yellow, and orange are a combination that always looks wonderful together. It's very eye-catching with them piled high on top of the head here.
Unlike most mohawks, that isn't at all a spiked section going down the back of your kid's head. Instead, the hair is cropped short. There are several lines shaved into the sides that form an X pattern.
Thick Brown Spikes
Natural shades look wonderful with this hairstyle. The sides are shaved completely bald until there's nothing but a shadow of regrowth.
The top is spiked very tall. The hair towards the front is quite thick. The hairstyle isn't as prevalent at the back of the head as it is at the front.
Short Mohawk for Black Kid
Only little black kids with a kinky hair texture will be able to wear this mohawk style. The hair is gently pulled up along the center of the head. The sides are much shorter and the hairline is squared.
There's a fun pattern shaved into the sides. This is another one that will take a very skilled barber to get right.
Bright Lightning Bolt Hairstyle
Some vivid blue locks are spiked up like plumage and have blunt ends. It's longer on top than it is at the back. The sides have the natural hair color with a thick lightning bolt shaved in
Tall Punk Hawk
If your little boy would like a variation of the classic kids' mohawk, consider this. There are three extremely tall spikes on the front and two at the back. The surrounding area is also spiked.
Green Undercut Style
Sometimes a fluffier style is more desirable than a spiky one. It's a more tame variation of mohawk that some little kids might prefer.
However, that doesn't stop it from being unique and standing out. The vivid emerald green shade will ensure your son is the center of attention.
Curly Twists and Highlights
Black and mixed-race kids have hair that's sometimes hard to control. Forming it into twists like this makes it much easier. It's also very stylish.
The twists form from the center of the hairline to the nape of the neck. The sides are shaved with a fade. The ends of the twists are highlighted with blonde.
Textured Hair with Squared Sides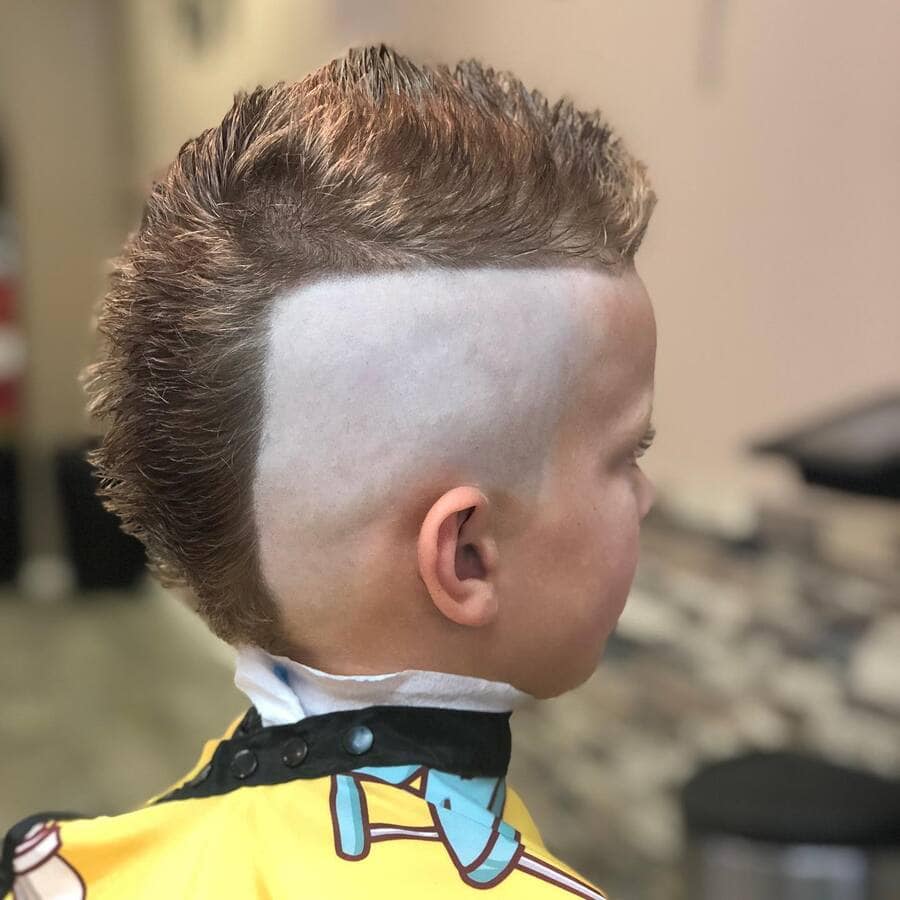 Here's a very dapper variation of the look. The sides are completely shaved. They also have squared, sharp edges. All the attention will be on the hair that's left. It has a lot of texture and is very slick.
Your kid can feel free to express himself with these many mohawk styles. Some are tall, some are short, and they come in all different colors.
Hope you find the best hairstyle for your boy from this list of kids mohawk that will suit him best. You'll have a lot of fun picking his new look together.