Short hair is a blessing. Not only is it very easy to style, but its also super easy in maintenance and protection. And when it comes to little kids, most moms do not prefer burdening them with long hair that may be difficult for kids even to manage. And so the solution obviously is short hair. Thanks to the many different styles available these days, nobody really worries about the length and is all set to just go for the big chop. Well, if you have been looking for a good short hairstyle, then this list will surely help you in choosing one from 20 most stylish short hairstyles for kids.
1. Simple Braids Style
A cute and simple hairstyle to make sure that the hair stays in place without causing any fuss. With little children, it's important to choose a hairstyle like this one since children are always active and tend to be playing at almost all times. In such a situation, tying their hair up properly is much required so that it does not become a distraction to them as well as not to cause damage to the hair exposing it to all other things. In this style, a few strands of hair have been braided and then the rest of the hair is brought together to be tied up.
2. Long Bangs And Bun Style
How adorable does this style look? We have to say that it's one of the cutest styles that we came across. Just can't take our eyes off this lovely style. The hair has been cut into long bangs that start from the middle of the forehead itself. This helps to make the face look much more bigger since it covers the entire forehead. And then the rest of the hair strands are tied up into a cute and tiny bun at the top. It's a very convenient style because you can style the back of the hair as ponytail, buns, braids or however you want and the bangs on the front will remain intact anyway—a quick style to do when you have no time for hairdressing.
3. Side Parted French Braids
It does not matter if you have long hair or short hair, give this hairstyle a try. It can be done very easily and is also a convenient hairstyle for mothers out there who are trying to find out a good hairstyle for their little girls. First, just part your hair onto both the sides neatly, and then take the hair along the longer side to be tied into a French braid. When you have completed braiding more than 3/4 Th. of the length of the hair strands, you can tie it up using a rubber band.
4. Side Swept Bangs
The style is all about Bangs, but with a playful twist. While most bangs are used to cover the entire forehead, take a look at this partly covered forehead. Well, thanks to the style of side-swept bangs, this style can be easily achieved. Just make sure to cut the bangs in a step cut style because the side sweeping will not work when all strands are of equal length. It will only end up in the hair falling to the eyes. Once the bangs are done, you can either leave it as it is or even just add in a little headband. The rest of the hair can be styled in any way you want without having to worry about the hair falling onto the face and becoming a huge distraction.
5. Short Bob With Side Bangs
Similar to the above-mentioned hairstyle, this one also is a side bang style but with a little difference. Along with the bangs, the rest of the hair has also been side-parted so that the bangs fall in sync with the rest of the hair. The hair has also been chopped short till it reaches the length of the ears so that the hair falling onto the face will not become much of a problem. It's a simple and basic style and if you want to spice up this look, you can just go for adding colorful hairpins or headbands that will make it look more beautiful.
6. Short Layered Bob
A simple and basic hairstyle that can be tried out on short hair. Instead of maintaining all of the hair at a single length, a good alternative would be to try out cutting the hair in many layers so that it has enough definition and volume. And to keep the hair from covering your eyes, add a cute little hairpin, and this look is all ready for action. This is a very quick style too since all you need to do is to comb your little girl's hair and then just add in a hairpin.
7. Multi Braided Style
Well, a truly classy look that has a vintage charm to it. At the front, you can notice that the hair has been done with bangs that cover the entire forehead. And behind these bangs, all of the hair is divided into various sections and the hair in each of these sections is braided very thinly and neatly. Enough hair is left out so that you have some hair that is tied up into a high ponytail and then accessorized with a cute bow.
8. Simple Side-Parted Style
A single length bob has been featured in this blonde hairstyle. The hair has simply been divided into two sections and has been parted with two sides, a longer one and a shorter one. We'll have to admit that this is one of the most convenient hairstyles available out there for young mothers to style their little girls in. With this being a very basic hairstyle, there are a lot of different things that you can try out on it, such as tying it up with colorful beads, adding in floral accessories, etc.
9. Simple Curly Hairstyle
For those kids with curly or wavy hair, a layered hairstyle would be the best. It will bring out the required definition to the hair and also help to improve its overall texture. This one is quite easy in maintenance also since all that needs to be done is properly brush or comb it, and the shorter layers on the front will not cause the trouble of falling to the face every now and then.
10. Angles Bob With Fringes Style
Well, angular bobs like these are mostly seen in older women only since such hairstyles alter the appearance of your face shape and help to make it look much better. But in any case, this bob hairstyle with fringes looks absolutely adorable on this little girl here. The fringes are short and layered and they do not cover the entire forehead. The length of the bob is maintained only up to the length of the chin and it is done in a perfect layered cut as visible from this picture.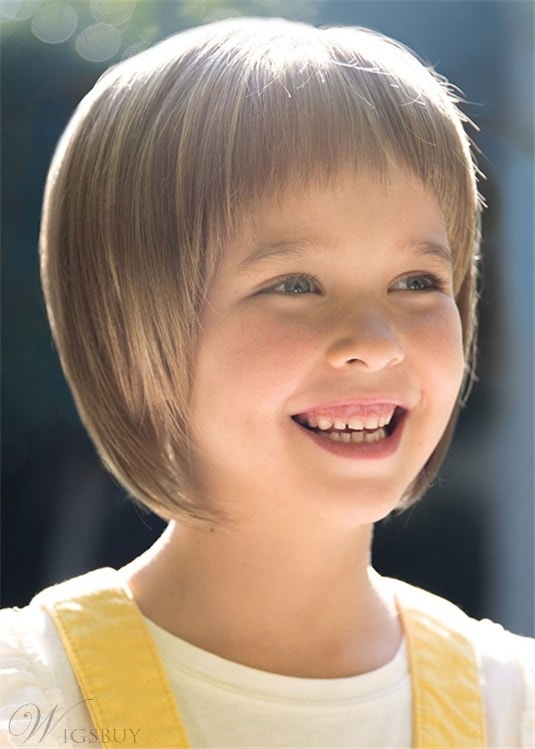 11. Braided Ponytail Style
Here's a refreshing look which is a far cry from the normal braids hairstyle, and as a result, we're sure that you would absolutely love this simple braided hairstyle which also has a unique touch to it. The upper portion, as you can see, is divided into two sections and the hair strands in these sections are braided from one ear to the other very thinly. The rest of the hair behind is lifted and tied up in a hairband ponytail style.
12. Short Bob With Minimal Braiding
A very short bob that has been cropped to the length of the nape. The hair is maintained just as it is without any layering given. This makes this an untouched and natural hairstyle that looks beautiful in its own way. The hair is also parted to both sides and to create this look, take a few strands of the hair from both sides. Then, create 4-5 small braids on both sides and simply tuck it in with the rest of the hair. And voila, a simple yet adorable look is all-ready.
13. Half Up Half Down French Braid Style
In this half up half down hairdo, the hair is maintained at the length of the shoulders itself, making it look very adorable, especially so on little kids with shiny and straight hair. While the upper portion of the hair has been neatly done in French braids, the rest of the hair is let down normally. The french braid is finished off by tying all of it into a low lying ponytail. This is a very classy style and will go really well with all types of children's outfits, be it cute frocks and dresses to even jeans or trousers with tops.
14. Twirls Style
To add a little fun to an otherwise basic bob haircut, here is a little idea for you. In this style, the hair is simply maintained as a short bob that falls at a length that is little below the ears. And after this, a section of the hair on the front is twirled and done in a lifted style. You can place it neatly on the head with a small hairpin that won't be too visible. And the look is good to go. Try this hairstyle in similar versions by twisting, braiding etc.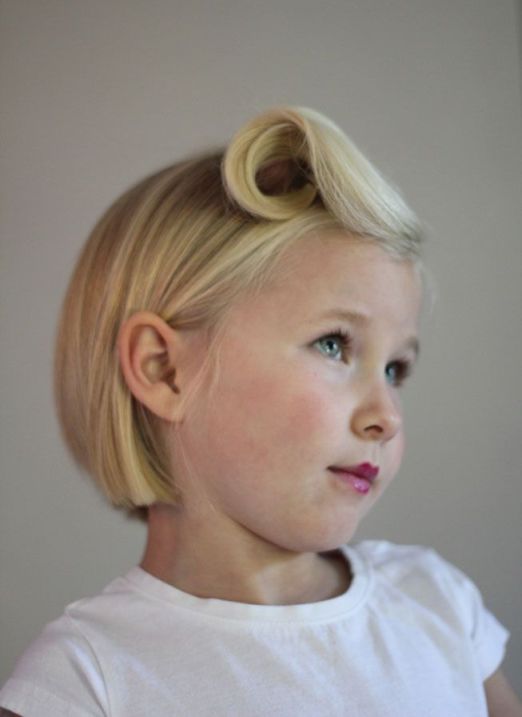 15. Wavy Layered Hair
Beautiful golden blonde hair needs to be shown off in the best way possible. And what better way to do it than with a lovely layered hairstyle? Layered hairstyles look great on all types of hair. Doesn't matter if it is curly, wavy or straight hair, they bring in a new dimension to the hair and has the ability to make it look times attractive. This hairstyle though, features only minimal and subtle layering and the long layers of hair on the front are worn in the style of side-swept bangs.
16. Braided Headband Style
Why go for expensive headbands filled with loads of accessories when you can get one naturally, and that too free of cost? Well, to get such a headband style, all you need to do is take a section of hair out. After this, start braiding these strands starting from one ear, all the way up till the opposite ear. Tuck it in with a hairpin and voila, this natural braided headband is all set to be flaunted. The rest of the hair can be done in your choice as you can just let it be, or tie it into a ponytail, bun or whatever is convenient and best suited for the style.
17. Classic Bangs Hairstyle
Bangs, the latest trend in hairstyles these days is well making its way into kids' hairstyles also. And this one featured here is a very adorable look that will look absolutely lovely on kids. On the forehead, the bangs are quite short whereas on the other sides, they are very long, making it a much unique hairstyle. The rest of the hair on the back is then neatly tied into a ponytail.
18. Twists And Braids
A shortly cropped bob, some braids, and a few twists make for a lovely combination that looks great on little kids. It manages the hair while looking as stylish as possible. This hairstyle is perfect to be worn for birthday parties, casual outings and even to schools. The hair stays in place very neatly without causing any disturbance by falling onto the front. The braids are done similar to a braided headband style and then they have been placed in with the rest of the with a simple and fun twisted up-do.
19. Simple Side-Parted Hairstyle
All of the hair is let down beautifully, and a casual and subtle side part in the front ensures that this style remains a classic. Since the hair is quite short too, the problem of it falling all over the face can also be avoided. If you are looking to take this style beyond its basic look, then you can go for colorful hair accessories that will make little girls look adorable.
20. Deeply Layered Bob Hairstyle
And the last hairstyle that we've got in this list is a layered bob haircut. A simple haircut has been transitioned into something much lovelier, and all it took was to cut the hair in several step-like layers. Due to the layering, the long strands of hair on the front fall across the chin and frame the face perfectly. Much styling is also not required so if you go for this style, minimal maintenance is also a bonus.
21. Curly Side-Parted Hairstyle
A neat side-parted hairstyle is ideal for a place that has a certain dress code. If your girl goes to a school that requires her hair to be a certain way, this hairstyle will do well. The natural curls add a playful touch to this simple hairstyle. Use a hair serum to keep the hair off her face.
22. Shaggy Tomboy Cut
Short hair is always comfortable, and a youthful flowy pixie as such is textured to move with her. The side bangs wispy fringes allow your girl to wear your hair a little undone. A very wash and go hairstyle that requires minimum styling. The tomboyish look makes her look strong and sporty.
23. Space Buns
Playful and trendy, your girl will be ready for any occasion with this cute hairstyle. Space buns require medium hair length. Part her hair and tie two pigtails at both sides of her head and secure them. Twist the pigtails and coil them around. You can also tease the pigtails for volume. It is a versatile style, and you can experiment with the shape of the buns.
24. Bantu Knots
Bantu knots resemble mini twisted braids crowning your head. It is a protective hairstyle and keeps your child's hair from getting messy. Detangle her hair well before making the knots. Take a section of her hair and apply oil or mousse to get rid of frizz. Tight wrap the hair around and secure it in place with hairpins. You can choose to make different patterns with Bantu knots.
25. Pigtails With Bangs
Bangs look cuter on little girls than on adults. His hairstyle looks more beautiful if your girl has fine, smooth hair. Just tie two pigtails at the sides with heavy bangs in front. Keep the bangs long enough to cover her forehead but do not fall on her eyes. This Short hairstyle for kids is popular in Asian countries.
26. Very Short Pixie
Pixie cuts are low-maintenance and hassle-free. A short pixie will let your girl do whatever she wants without worrying about hair. It's an out-of-the-bed hairstyle that requires no styling. A short pixie as such will also require fewer visits to a salon. With all the hair away from her face, her cheeks will be prominent, and it will make her look adorable.
27. Curly Hair With A Hairband
Let your little girl embrace her stunning natural and thick curls. Curly hair is filled with texture and movement. A short curly hairstyle is perfect for summer. Add micro bangs instead of long bangs, or else the curls will give a messy appearance. Hairbands are loved by all little girls.
28. Classic Rounded Bob Cut
A bob cut suits anyone despite their age. A rounded bob on little girls looks beautiful and classy. Pair heavy fringes with it. It gives her a light and airy feel and allows her to keep her thick dark hair open. You can use a hair mousse for a more sleek finish.
29. Half Up Hair With Space Buns
Similar to standard space buns but sassier. Middle-part the hair and create two pigtails but leave out half of your hair on both sides. Twist and coil the ponytail on both sides in space buns and secure with bobby pins or a hair tie. This Short hairstyle for kids gives a vintage 90's look.
30. Afro Bob
Curls are more fun when sported by little kids. Let her natural curls do all the styling for her. Filled with texture and shape, it oozes a lot of confidence and will help your girl make her statement. Add layers to the bob to make it more flowy and bouncy.
We're sure that you've fallen in love with the above hairstyles. Apart from all the qualities listed above, one more advantage of the above hairstyles is that they can be done very quickly too. In no time, you'll have gotten a lovely hairstyle. So what are you waiting for? Choose the hairstyle that you liked the most for your little one and get going to the salon as soon as possible.