Underneath hair colors refer to dying the underlying bottom layers of the hair keeping the top ones in a natural shade like black, brown, or blonde.
While the color contrasts you can consider when getting an underdye hairstyle are countless, blonde and purple is the most unique and versatile combination you can ever get. Both these nuances have further several tones to turn your mane into a piece of art.
What can be better than spicing up your boring light tresses with some dark magic? So, let's get started with our list of 17 blonde hair with purple underneath ideas.
Blonde Hair with Purple Underneath Ideas
Here are some bedazzling blonde tresses with purple underneath looks that'll turn you into a modern-day fashionista with just a little effort!
1. Deep Damson Surprise
The best thing about adding purple underneath your blonde hair is that you can hide it or flaunt it whenever you want. Take out two chunks from under both of your ears and apply temporary hair chalk before going for permanent dye.
A deep damson nuance will look stunning beyond words!
2. Split-Dye Pixie with Undercut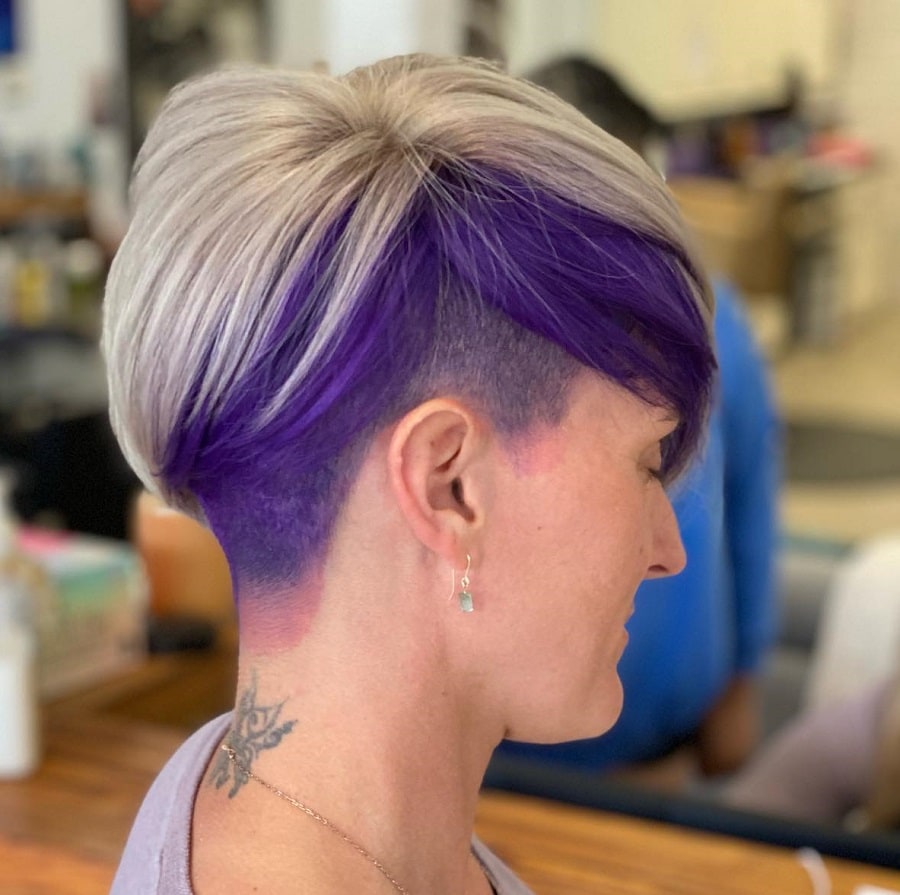 Although split-dye refers to dying both halves of the head in contrasting tones, you can opt for a vertical division for a change.
Get a long pixie with a disconnected undercut. Keep the crown region ash blonde with bright purple underneath and get ready to pop some eyes!
3. Purple Earloop Highlights
Earloop purple highlights feature colored strands around the ears only creating a peekaboo effect with minimal exposure to chemical dyes.
Set your milky blonde tresses on fire with a few stripes of deep plum purple. The higher you apply the color above the ears, the more visible it will be.
4. Just A Hint
Here's a low-key version of underneath highlights that'll still turn around many heads.
In the case of a short haircut, like a choppy bob, take out two tufts of hair near the sideburns and paint them dark violet. Don't stop here as coloring your eyebrows is a must!
5. Platinum and Plum Magic
All color contrasts aren't necessarily magical but this one surely is!
Get an ultra-modern appeal with a platinum blonde base shade with the deepest tone of plum cascading from underneath. Some delicate money pieces will take your look to the next level.
6. Underdye Bob with Bangs
Ladies getting blonde hair with purple underneath can try it with blunt bangs to give off some attractive e-girl vibes.
The trick is simple, as you get earloop highlights or an underlayer, paint the bottom layer of your fringes too, and there you go!
7. Highlighted Peekaboo Hair
Who said you can rock only one shade of purple or blonde when getting underneath hair color?
Make sure your hairstyle is unique by adding a usual layer of any shade of purple above the nape. Coming towards the blonde top layers, highlight them with any lighter ashy tone of your liking!
8. Sandy Blonde Over Electric Violet
Sandy blonde is a dreamy cool to warm beige toned blonde that is a must-try if you are thinking of going light on your tresses.
Add a groovy touch to your elegant mane with some electric violet hidden underneath. This simple look is easy to recreate at home.
9. Color-Blocked Mullet Shag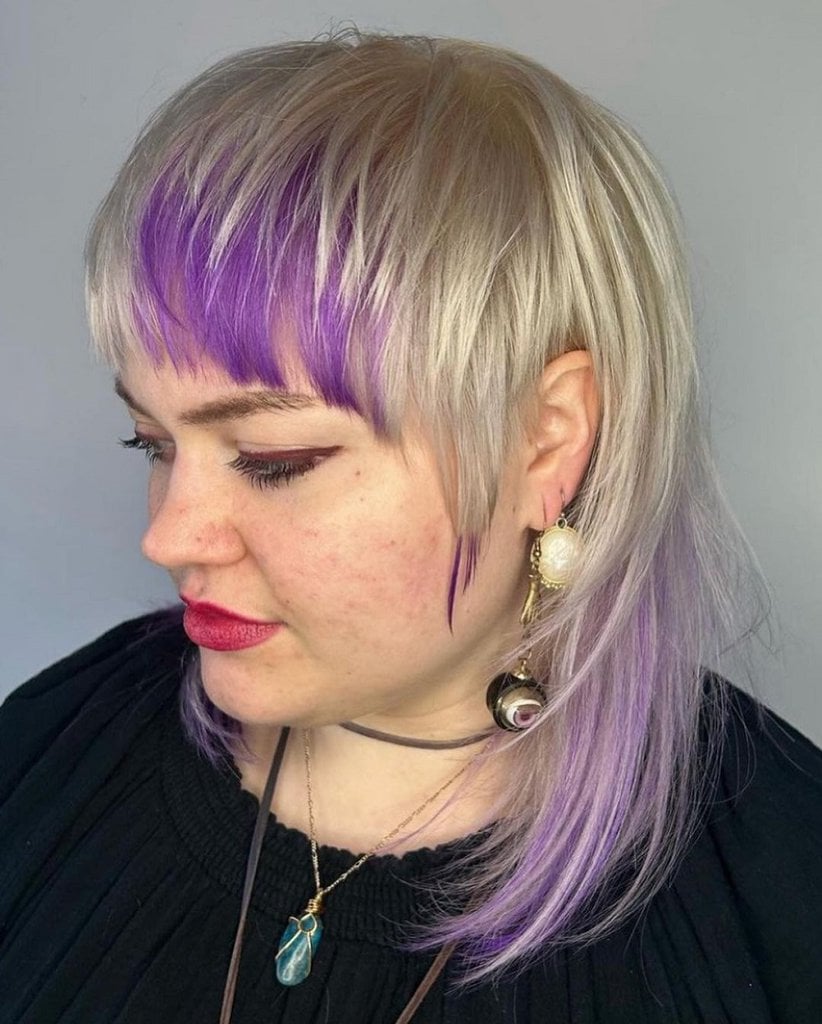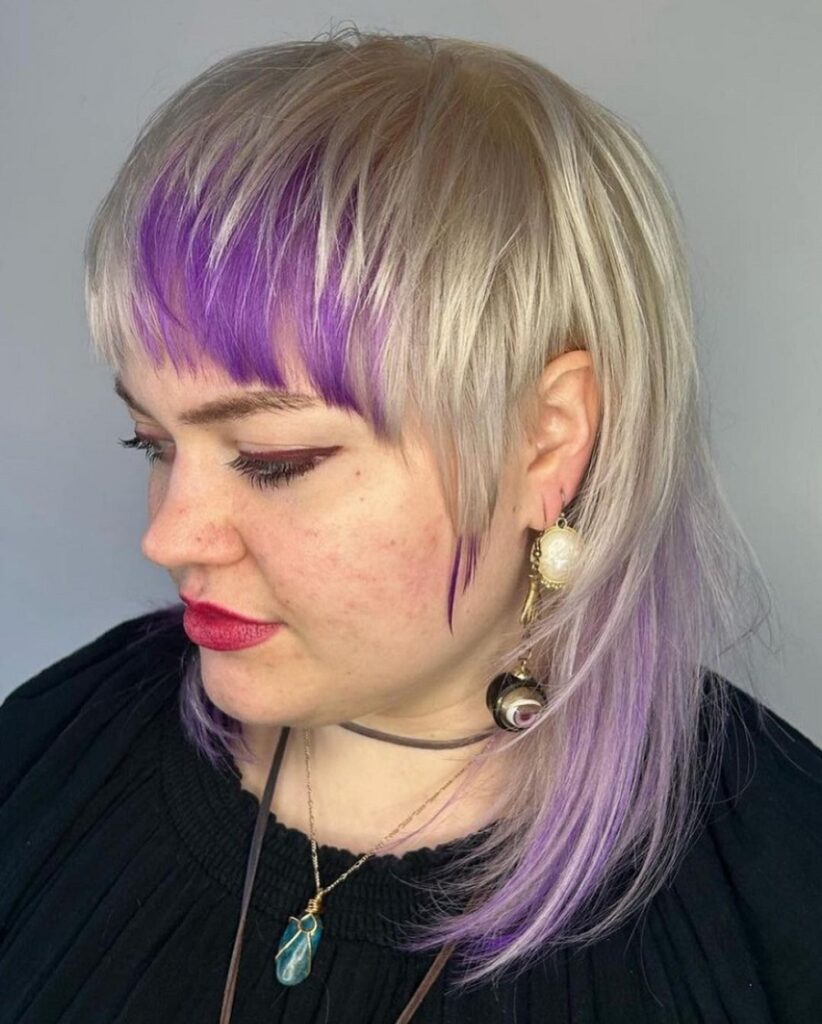 Getting a mullet shag with lots of choppy layers, bangs, and a flared tail isn't enough now.
Spice it up with a pearl blonde base while hiding some dark lavender at the back and adding few stripes at the front too to frame the face like nothing else.
10. Two-Toned Underlayer
Subtle changes go a long way when it comes to hair. Let your fresh white blonde color stand out with a vibrant purple layer underneath.
Seems usual right? How about adding light metallic lavender streaks on your underlayer only? You won't see something like this every day.
11. Aubergine Drama
Aubergine is a deep brownish tone of purple ideal for women who wish to hide a dark mystic color beneath their light creamy blonde locks
Keep in mind that the closer your underlayer is to the crown, the more noticeable it will be, and vice versa.
Indigo is yet another dramatic nuance featuring a rich mix of blue and purple. Couple it with the lightest shade of blonde for an outstanding result.
Your underdye may remain mostly hidden in the case of long tresses so a half-up hairstyle is ideal to show off your new hairdo.
13. Lavender against Dark Blonde
Although the list mostly includes light shades of blonde, ladies who wish for a softer contrast can consider getting a darker tone of blonde.
Try honey, caramel, or any other blonde nuance that lies closer to brown, and place a dewberry surprise beneath.
14. Peek-Through Amethyst Streaks
One big continuous layer of purple might be a little too much for some ladies. Don't be troubled as you can play around with peekaboo streaks that become visible only when the wind blows through your tresses.
Add several stripes of amethyst purple at mid-height and you'll definitely love them!
15. Disconnected Ombre
A disconnected ombre look is a must-try when getting blonde hair with purple underneath. Experiment with layered hair to achieve a sharp color transition rather than a seamless one.
Spare only the crown area while going purple on all of the remaining hair. Loose curls will further enhance your new hairdo.
16. Perfect Light and Dark Interplay
Underneath hair dyes are all about creating the most amazing light and dark color contrasts.
A dusty ash blonde tone concealing a deep purple surprise beneath is sure to receive a lot of praise. That knotted half-updo is just everything!
17. Tempting Braid with Purple Undercolor
Even your usual hairstyles will become super quirky once you add some purple to those blonde locks.
Limit the neon violet tinge around the ears only and flaunt it with a classic French braid. Prepare to be stupefied as you entwine your tresses. No further explanation needed!
If you are looking for an edgy, cool, and unusual underdye shade, purple will be your best shot as it is ideal to freshen up your mane, whether dark or light, with just a few strokes. Hence, the above-mentioned blonde hairstyles with purple underneath will surely make you stand out from the crowd.