There are very few times you get to go to prom in your life. Everything needs to be perfect. Your proposal, your outfit, and yes, your hairdo. You'll feel like a princess if everything goes perfectly and you look great from head to toe.
A nice side hairstyle will be great for prom as it's casual yet elegant. You'll feel free enough to dance but beautiful enough to get your picture taken over and over again as the night goes on.
Gorgeous Side Hairstyles for Prom
If you need some inspiration for your hairdo, then read on. There are 25 looks below that you'll adore.
Side Braided Ponytail
Side braids are a very simple hairstyle that always looks regal. This makes them perfect for prom. This large braid starts at your side parting and covers the top of your head. It then falls over one shoulder elegantly.
Pinned Half Updo
Pinning some of your hair up and letting some cascade down your back is a classic way to look elegant and formal. Curls make it an even more beautiful style.
The top and sides of the hair are drawn back and pinned into place. A mass of carefully styled curls sits on the back of your head. A long, curly ponytail extends from it and falls over one shoulder.
Braid with Side Bun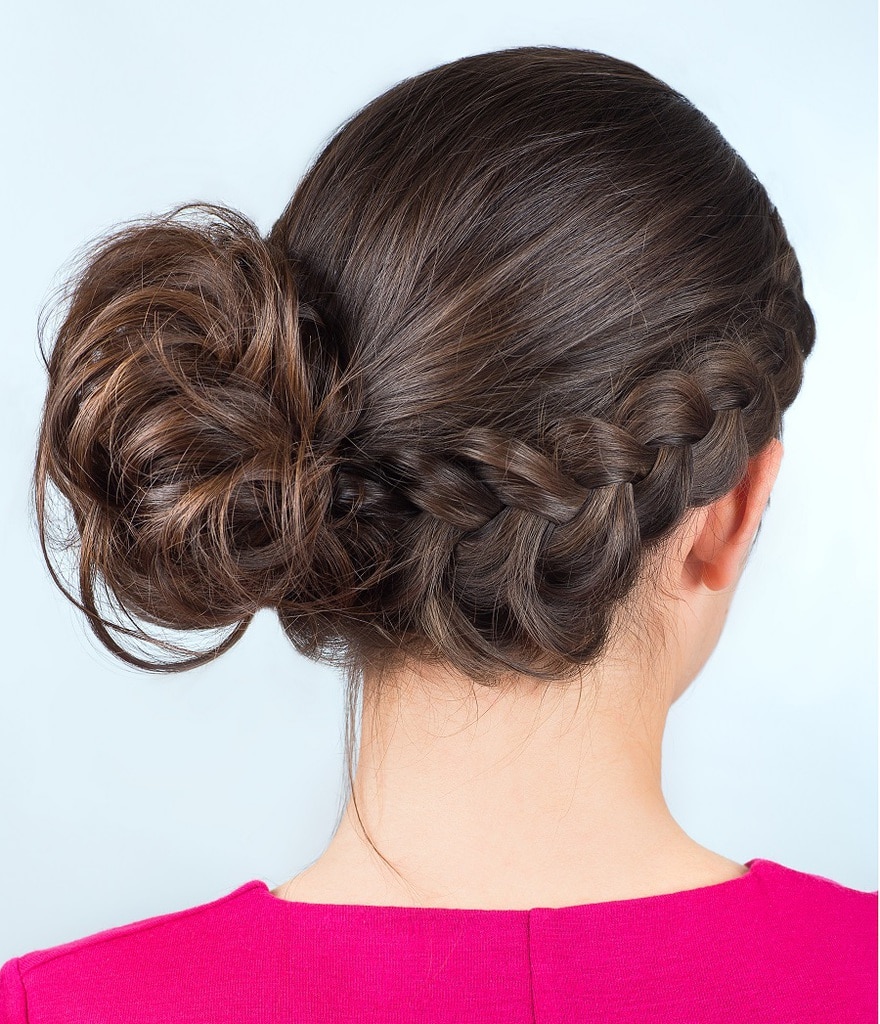 A large bun looks utterly divine when styled correctly like this. This is a great side hairstyle for prom and goes well with lots of different types of dresses.
A braid going from one side of your head to the other makes you appear even prettier. It adds a formal touch to the sleek hairdo.
Sleek Long Ponytail
You don't have to go super extravagant for your long prom hairstyle. A nice sleek ponytail is always elegant.
There's a strand of hair wrapped around the area the hair tie would usually be visible. This makes it look a little sleeker and better for formal events.
Half up Curls with Flowers
You'll look totally glamorous with a half-up, half-down hairdo. The front and sides are pulled towards the back. Some wispy strands fall by the face.
Large, elegant curls then cascade over one shoulder. The hair is decorated with leaves and roses.
Curly Side Updo
Here's a beautiful updo for you to play with. The hair forms a large mass of curls pinned to the side of the head. It's quite extravagant and unique. If you like asymmetrical and voluminous styles, then you should definitely consider this one.
Loose Wavy Ponytail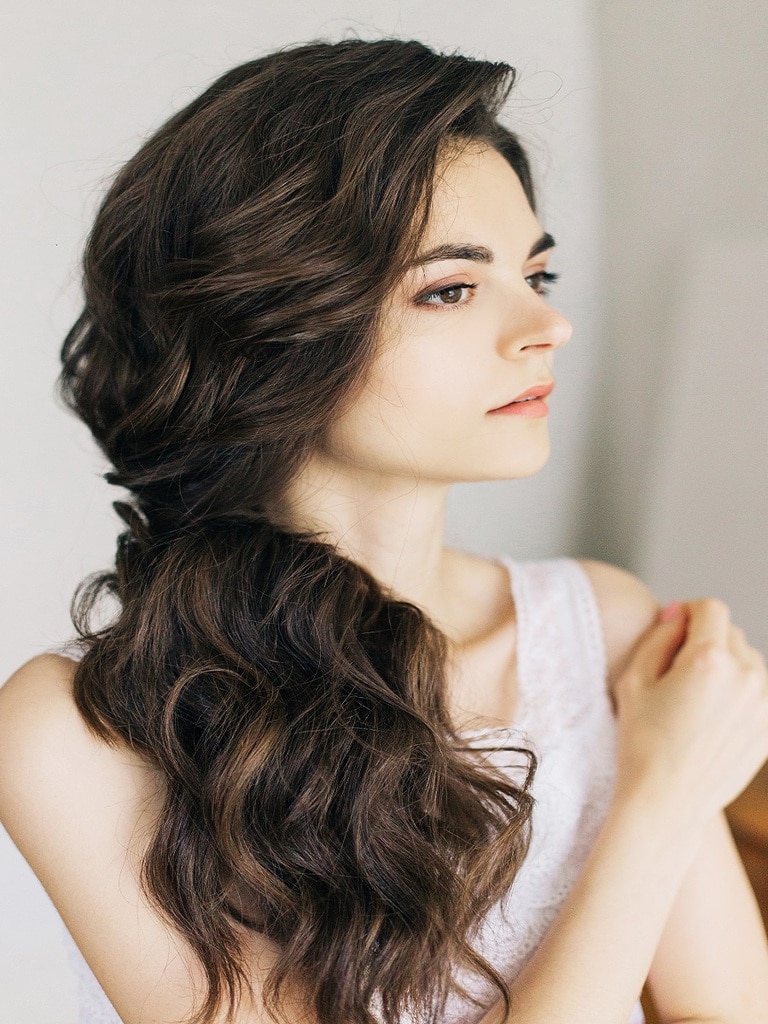 If you want a simple style that still looks very elegant, then a wavy, voluminous ponytail is an excellent choice. It's a very gentle side prom hairstyle that will suit someone going for a soft aesthetic.
Side Braid for Medium Length Hair
If your hair is short, you can still try a short side part hairstyle! A nice side braid sits tight against the scalp in this hairstyle. It then tucks into a section of hair that's pulled across the back of the head. Most of the locks fall over one shoulder. They're nice and straight. This creates a simplistic hairstyle.
Side Braid with Flowers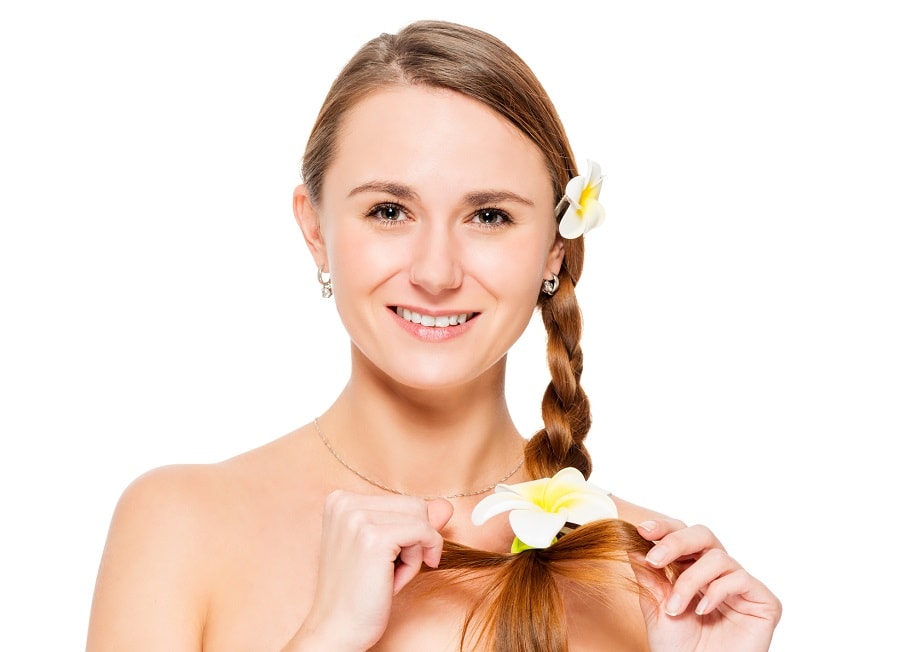 Yet again, we see quite a simple look here. The long tresses are pulled over to one side and braided just behind the ear. A beautiful flower decorates the end of the braid. There's also a flower pushed behind the ear.
Side Low Bun
There's something so rich and glamorous about a low bun. All the hair here is slicked back from the top and sides of the head. There's a lot of volume in it.
The bun then forms a large voluminous shape near the base of the skull. It sits just to the side and behind one ear.
Half Up Fishtail Braid
Fishtail braids are one of the fanciest-looking types of plait you can form. This one is very neat on one side but loose and messy on the other. Most of the hair here is down and falls over one shoulder.
Long Elegant Braids
Black and mixed-race women will enjoy wearing side box braids at prom. They can look so sleek and elegant.
Here there are a lot of them to create the illusion of very thick hair. They're pulled over to one side of the head. The ends are decorated with little silver beads.
Braid with Flower and Loose Strand
A plait that encircles your head is great for keeping your hair neat and looking fancy. This braid stops rather abruptly and has a loose strand of hair falling over the shoulder. The end of it is decorated with a nice flower to help add a formal touch.
Voluminous Curl
Voluminous side hairstyles are quite popular at prom. All the hair is blown back here and forms highly specific curls that are placed very neatly.
The tresses fall over one shoulder with large sections of curls wrapped around some smaller ones. This is the perfect style for somebody who wants to look very, very fancy.
Sectioned Ponytail
A sectioned ponytail creates an interesting look with far more texture than a normal ponytail. Here the sections start near the hairline.
The locks are drawn back to the nape of the neck and then pulled over one shoulder. Five different strands of tresses have multiple sections in them. It creates a hairstyle with a lot of visual appeals.
Braided Side Bun
Are you looking for a very unique style? This one will work perfectly. A large braid sits on one side of the head right at the top.
The other side of the hair is sleekly drawn into a bun with various sections. A fishtail braid wraps around it. Some wispy waves fall against the face to add depth.
Loose Side Swept Look
If you like your hair nice and loose on one side, then this wavy look will be great for you. All of the locks are pulled over to one side. Some small twists are drawn tight against the skull to help achieve this style.
Twists for Kinky Hair
It's sometimes difficult to style kinky hair the way you want it. Twists are a wonderful protective hairstyle for this. These twists are dyed a delightful deep blue-green shade. They hang by one side of the face and have a lot of texture in them.
Purple and White Cornrows
Side cornrows look absolutely divine at prom parties. These ones are all styled to one side. They end in purple and white braids that fall over the shoulder. Some sparse baby hairs are gelled down in a nice pattern.
Loose Waves with Headpiece
You can make a simple hairstyle look very fancy by pairing it with an extravagant hairpiece. The style itself is half up with an array of curls pulled to one side. Side bangs help add depth to the look.
Voluminous Curly Side Bangs
Side bangs are the perfect way to add depth to the hairstyle. They blend in perfectly with these voluminous curls that are pulled over one shoulder. It's very loose and casual, but it still suits prom very well. It's great if you're going for a sweet look.
Half Dreadlock
Dreadlocks are a wonderful hairstyle and are increasingly popular. You can make your hairdo more unique by pairing dreads with naturally straight locks. The dreads start at one side and are pulled over the opposite shoulder. The straight locks cascade on top of them.
Braided Hairdo with Curly Ponytail
The sides of this prom hairstyle form several braids that meet on one side of the head. The ends of all these braids then cascade in a very curly ponytail pulled over the shoulder. It's a sweet and youthful style that will look wonderful at prom.
Side Cornrow Ombre Hairstyle
Undercuts are very popular, but not everybody wants one permanently. You can mimic an undercut by putting cornrows on one side of your hair.
You then pull the ends of the strands over your head to blend in with the rest of your locks. The rest of these locks form loose and elegant curls. The brown to blonde ombre adds dimension.
Classic Curls with Bump
Adding a little bump just behind your bangs has always been a popular hairstyle for prom, weddings, and other formal events.
The sides of the hair are drawn back and some curls fall loosely over one shoulder. It's an elegant and sleek side hairstyle that lots of people will enjoy wearing at prom.
Both casual and regal side hairstyles work well for prom. You can try out lots of these different styles before you settle on the one you're going to wear on your big night.
Curls are definitely one of the most popular features seen in these elegant hairdos. However, the straight looks work just as well if that's what you prefer.