You have finalized everything for your prom night, from your dress to your partner, but what about your hairstyle? Relax, we've got this covered with our braided prom hairstyles. Every high school student waits for this night, especially girls.
Well, your hairstyle needs to match your dress too so that you get ready perfectly. We have recommended some of the most alluring braided prom hairstyles which will go with any outfit and add more charm to your overall appearance.
Gorgeous Braided Prom Hairstyles
Look your best this prom night with our hair styling ideas
Waterfall Braided Bun
The half-waterfall braids effect can be made with the French braid technique. For this, you just need to take sections of hair from only one side, as you can notice in the image.
This braided prom hairstyle will be perfectly made only when you have long hair. Pair a big blue flower with your blue or white-colored dress.
Messy Bun with Twisted Hair
Chill out coz you're going to make one big fashion statement this prom night. Make a center part, and twist your hair from both sides loosely.
Make a small fishtail braid loosely in the middle. Tie all of your hair in a messy bun leaving curly tendrils. Use hair spray to fix the style.
Front French Braid
Center part your hair and make half a French braid on each side. You should try this hairstyle if you have middle-length hair with a thin volume.
Then, when your curly hair ends fall on your shoulders, you'll look so beautiful and wearing a sleeveless dress will be perfect.
Red Braided Bun
With braided prom hairstyles, we want you to look the best. This one is for those who have red-colored hair with a rough texture.
Make a deep side part and start making a braid from behind your ear. Make a big twisted bun, including this braid too.
Blunt Bangs with A Fishtail Braid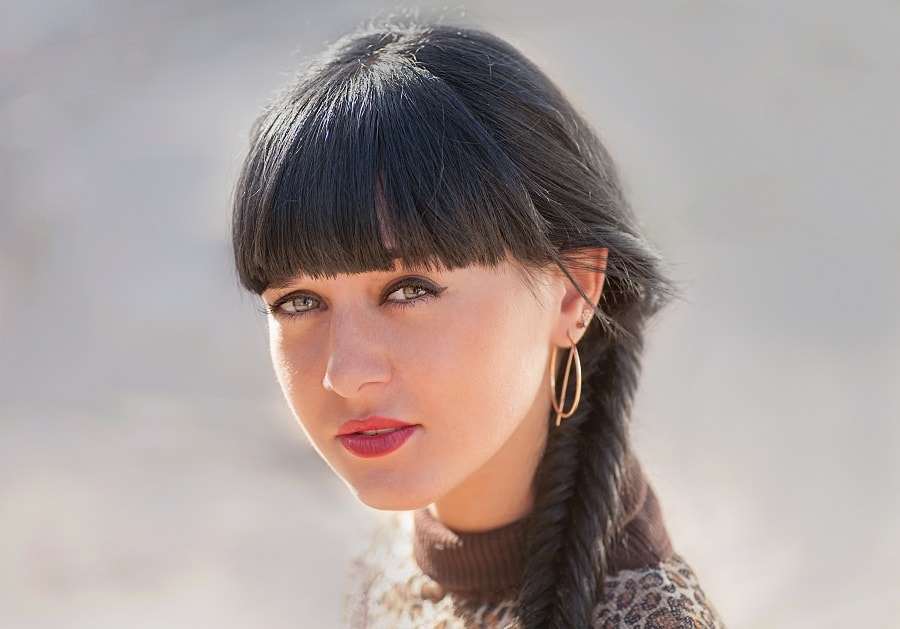 You can get a blunt bangs haircut if you're worried about having a tall forehead. A fishtail braid will be perfect for straight and long hair.
This style is for those girls who have round faces with small eyes. Full sleeves or a high-neck dress will go with this look.
Braided Ponytail
Your search ends here for braided prom hairstyles for long hair. Make two thin french braids in the middle while tying the rest of your hair in a sleek high French braided ponytail.
This is a beautiful look that'll go with soft-colored dresses like peach color. Keep your makeup bold.
Half Braided Updo
Make a side dutch braid for your light brown hair. It will suit your fair skin tone and a light-colored dress. You can use some colorful hair accessories like those shown above.
You can keep the ends of your hair wavy or curly. Keep your makeup light, as this look is supposed to be subtle.
Blonde Curls with Braids
Take your short hair from your crown area and hold it for a while with a hair clip. Next, make a thin french braid from each side, then one from the back, from bottom to top.
Now the hair that you hold curl it, and make it stay using hair spray. This style will go with backless dresses.
Twisted Ombre Hair with Flowers
Make a half-small ponytail, then start twisting your hair from one side to the opposite and keep repeating until you reach the back of your hair.
With curly tendrils on the front and flowers attached in between, the twist will be a beautiful look. Having blonde highlights will be a plus point.
Braided Bun with Tiara
Make very long braids in layers and then turn them in the shape of a bun. When you finish turning the last, you will have a braided bun looking like the above.
A small crown will look so cute with one of the best-braided prom hairstyles. Use tons of hairpins for the bun to stay.
Crown Braid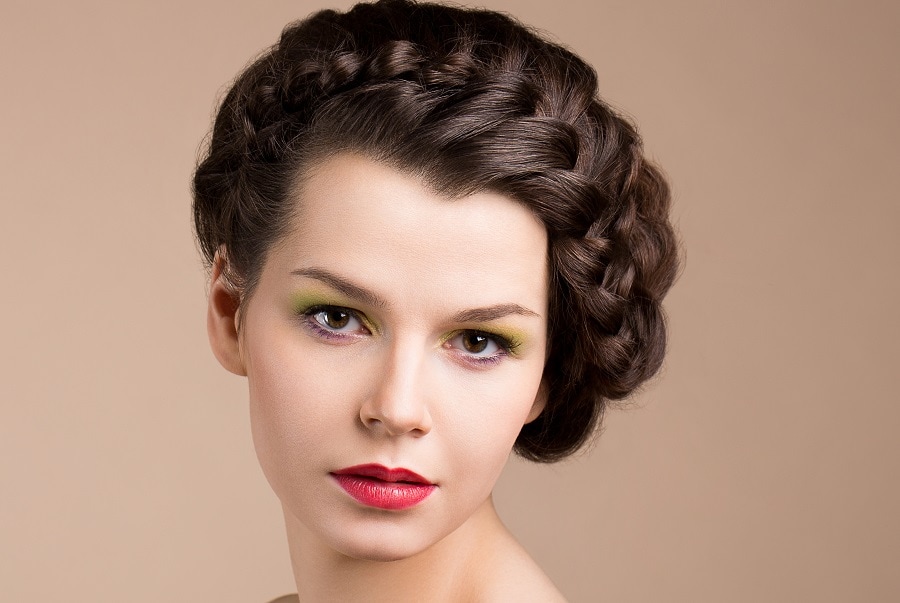 Make a french braid from the left side to the right side, so it looks like the french braid is resting on your head. The Crown braid looks beautiful with a loose bun.
A strapless dress will go with this hair updo. Limit your accessories as this hairdo is going to be the center of attraction.
Fluffy Side Dutch Braid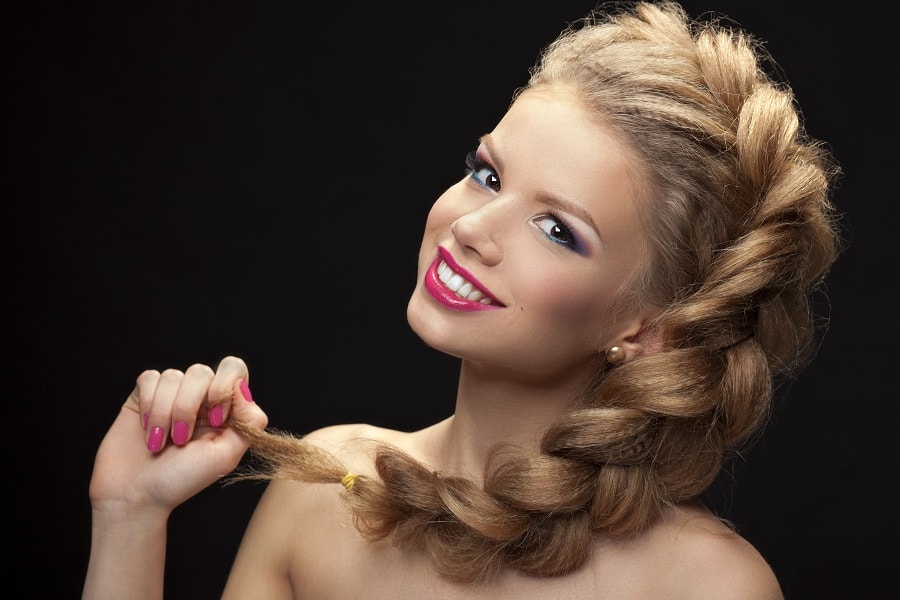 This is one of the prom hairstyles with braids where your hair needs to be voluminous with a rough texture.
Make a horizontal dutch braid starting from one side and ending on another side. Keep making the braid until you reach the end. Loosen the straps of hair, then spray on it.
Inverted French Braid with Hair Clip
Don't worry, we've got braided prom hairstyles for thin hair too. First, make the classic french braid but when you reach the end, fold the rest of the hair and hold it with hairpins.
Then cover the folded section using a full coverage hair clip just like the image.
Braided Updo with Side Bangs
It's time to get side bangs if you haven't already. It goes beautifully with a braided updo, and when you make a loose french braid with a bun, it's the perfect look.
The bun is going to be tucked in instead of popping outside. It's a subtle look for a subtle dress.
Waterfall Braid with Waves
If you have blonde hair, we've got something for you. Make a thin waterfall braid hairstyle and keep your hair very wavy. You can wear a tiara or just add some flowers on the front.
A beautiful creamy or white dress will be the perfect dress for this look.
Fishtail Pigtails
Apart from making pigtails for your high school, you can rock this classic braided prom hairstyle with a little twist.
Make fishtail along with pigtails and some baby hair on the front is exactly what you need. Also, a full-sleeved turtle neck dress will look beautiful with it.
Loose Braid
If you're planning to wear something casual to your prom to keep the look simple, we have a style for you. A loose French braid with some curly tendrils will be perfect for keeping your look low-key.
Half Twisted
You should try this short prom hairstyle if you have straight silky hair. First, make a middle part, and then start twisting your hair in layers from each side. Now tuck the layers on the back with some hairpins.
Long Loose Hair
You can keep your hair open but in braids too, how? First, side-part your hair and leave it open. Then make a very loose braid near your ear and start taking sections of hair from one side with each passing strand. Next, do the same with another side.
Fishtail Voluminous Bun
Fot this braided prom updo, make a long fishtail starting from the front and then twist it. You need to do it carefully as the braid layers can get loose so maybe ask your friend to do that for you. Use a bunch of hairpins so that it stays when you dance.
We're sure you must have picked which style you're going to make from our list of braided prom hairstyles. Whether you're going with a partner or your friends to this dance night, they will surely get shocked when they see you. Even everyone at the party will be complimented on how good you look with this hairstyle.
We just want you to have the best experience of this high school dance night. There will be photographers for the school magazine, so make sure you're giving the best hair shot.