For teens, prom is the most awaited day, and they do a lot of preparation for it in advance. Everything they want, from selecting the outfits to makeup, hairstyles, and shoes, is perfect. To ease their burden and confusion, we have listed mesmerizing prom hairstyles that can be made on short hair.
So for those worried that short hair wouldn't look good on the day, these styles will change their minds. It will surely inspire you to choose the best fit to look like a graciousness queen. Be ready to woe and impress with your short prom hairstyle and leave everyone completely enchanted by your look.
Mesmerizing Prom Hairstyles for Short Hair
Try these prom styles to awe everyone since it goes well with all face types, skin tones, and attires.
Prom is your day to channel the gracious lady inside you, and the short braided hairstyle can be an apt choice for it.
You have to make several braids and tie them all up into a neat little bun using pins and clips to keep the short hair together. It works for all kinds of hair. For extra effect, leave a few loose strands hanging.
Side Braids
If you have been a rebel throughout your school days and want to bring the best of it on this special day, then we say, go ahead.
Be true to yourself and celebrate the rebellious side of yours for which side braids can be the perfect option. It is in sync with the side hairstyle for prom to get an edgy look.
Curly Updo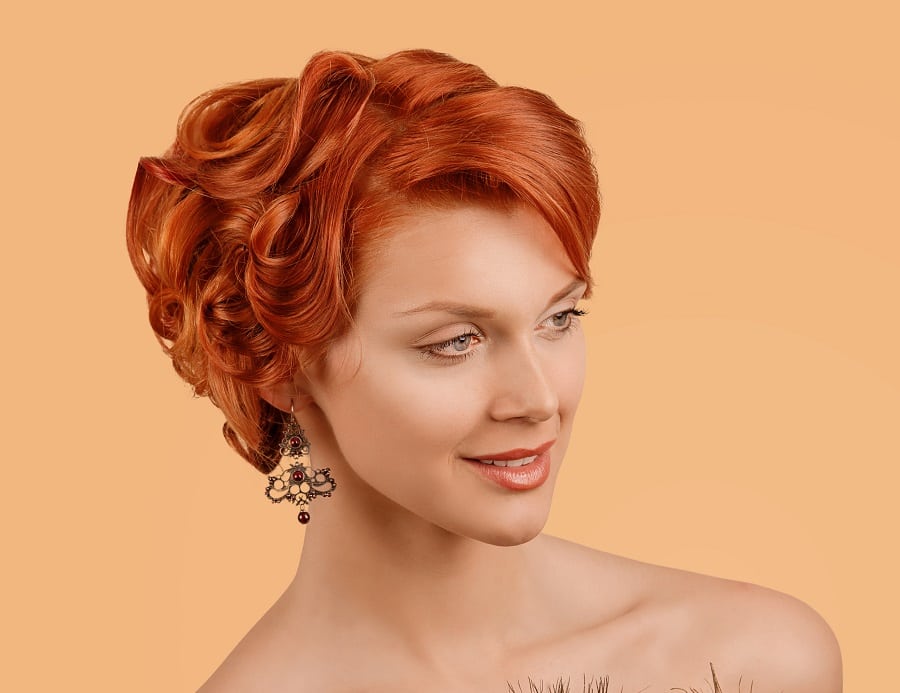 A retro touch to any look, especially for such an event, can add more class and panache, of which the curly updo is the perfect example. It is one of the most elegant prom hairstyles for short curly hair.
Blonde Layered Curly Bob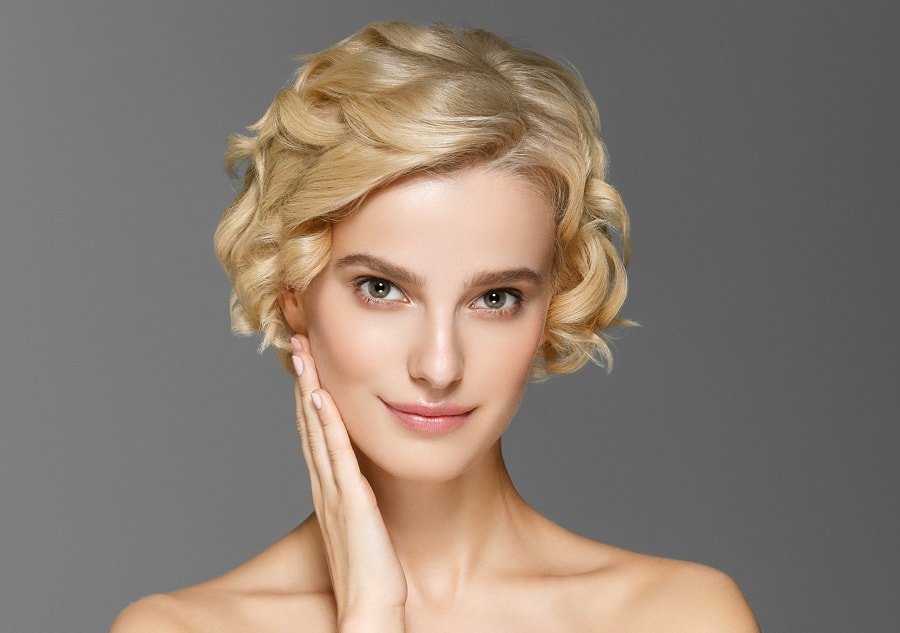 Bob haircuts are here to stay, and you cannot deny it. The sheer class and sophistication that the hairstyle brings to the table, with the added comfort and style, is unparalleled. So blow off some steam with this beautiful short haircut for prom.
Buzz Cut for Black Beauties
Black beauties have this unique ability to carry hairstyles that cannot be pulled off by anyone else.
The buzz cut style requires a lot of guts and extreme boldness as well as sensuousness to be carried with such grace. However, it is undeniably one of the most remarkable short prom hairstyles.
One-Sided Razor Cut
If you think a pixie cannot be appropriate for an event like a prom, you cannot be more wrong.
Adding a little twist of blonde highlights on the length and natural color at the roots, the pixie cut can create a fusion of modern elements and classical themes.
Short Updo With Bangs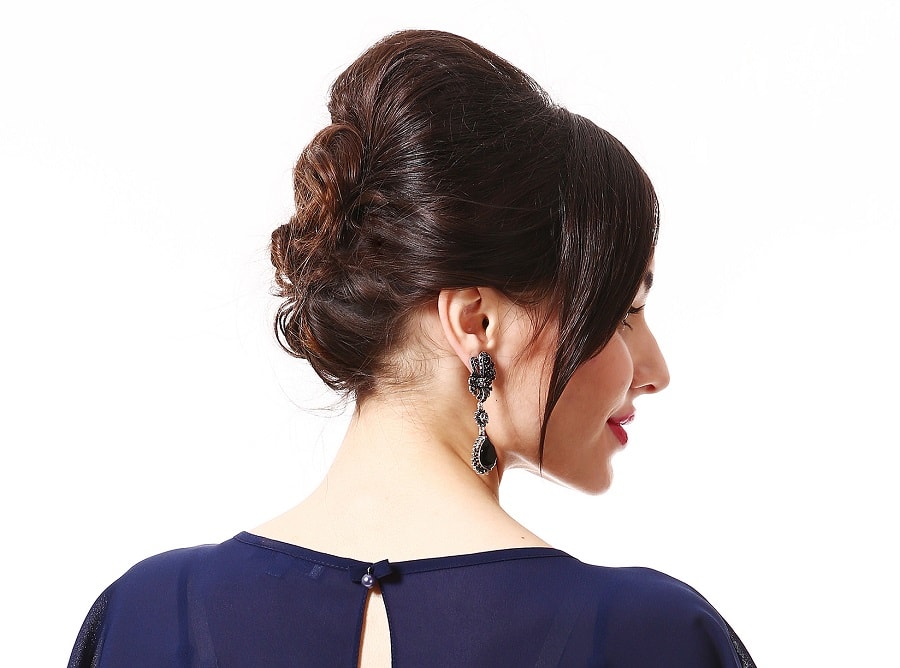 It gets tricky to tie your hair into a bun when you have short hair, but with many pins and clips, it is undoubtedly worth the effort.
You can even create an illusion of length with this style. To add a little more oomph, you can keep your bangs to the side, falling on one side of the face.
Crown Braid
This is the ideal braided prom hairstyle for short hair. You can look like a princess straight out of a fairytale with this hairstyle.
It simply requires you to make your own crown with a braid circling the head.
Vivacious Vintage
Adding vintage elements to your prom look can make it look ten times more classy and elegant. So travel back in time and enjoy the graceful styles of the past with this remarkable hairstyle.
Pretty Ponytails
No matter the length of your hair, women have an obsession with ponytails, and this particular hairstyle testifies to it.
It is quite surprising how such a clean little short bob ponytail can look so comfortable and fashionable for a prom party.
Flowers on Wavy Hair
If you want to take an extra step with your look and want to add a little more glam to it but quite subtly so, then we would suggest you go for this short hair prom updo.
Choose the prettiest flowers that complement your dress and make-up, and live your fairytale on this magical day. Add slight waves to your hair for an extra effect.
Headbands with Bangs
Feel like a maiden of the Elizabethan era with such a hairstyle. It requires less time and effort, for all you have to do is tie a wide headband and leave your bangs loose.
Set the dance floor on fire without caring about your hair.
Front Braided Updo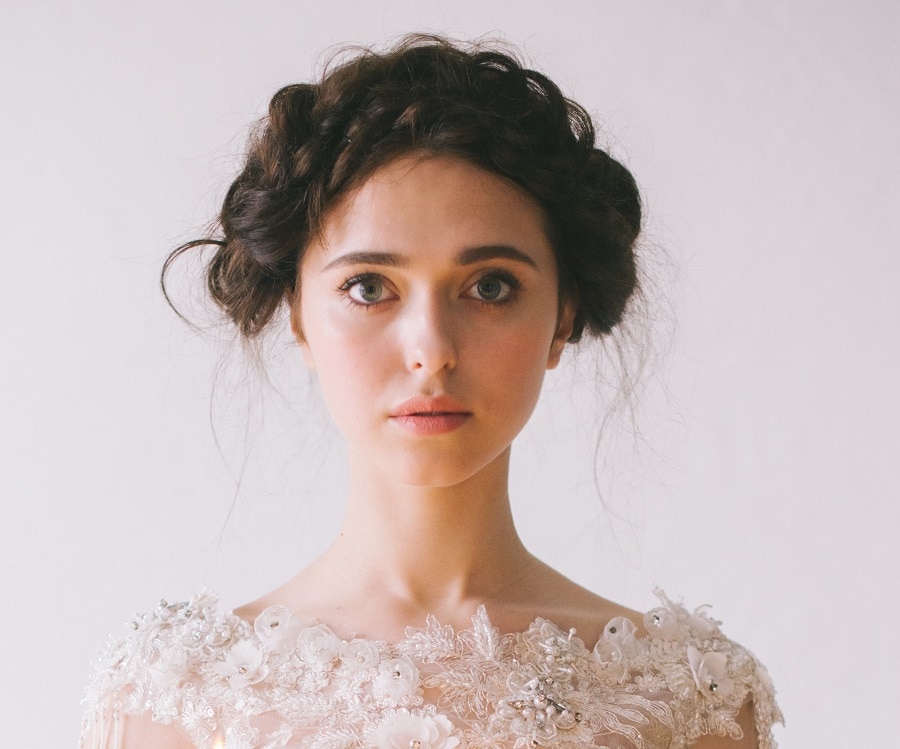 Your prom night is the time; you can create an everlasting impression on your fellow mates and show them how you can ace even the simplest looks.
Just add a fun new element, such as opting for the front braided hairstyle instead of the basic braids and buns. Then, wear it like a crown on a queen's head. A lovely short hair updo for prom, one can try.
Half Up Half Down
You cannot deny that the half-up half-down hairstyle is one of the most adorable styles. So cater to the girl inside you while embracing or stepping into womanhood with this beautiful hairstyle.
Blonde Buzz
Now, this is a haircut that can most definitely make you the talk of the town. It is as bold as it is gutsy and dapper. So be the cool, casual girl you are with this hairstyle.
Charismatic Curls
Prom is the time to have the most fun and have the time of your life, a time that you'll remember forever.
So bring out the party girl in you and opt for curls that look exciting as well as a lot of playfulness to the whole look.
Straight Hair With Bangs
If you have thick and short hair, you must opt for a straight hairstyle, making the hair easy to manage and look elegant. You can even add asymmetrical bangs to it that fall just above your eyebrows to add the x-factor.
A Clip Fiesta
Take a look back into the 2000s and take inspiration from some of the most amazing hairstyles that are quite a trend these days.
To start with, you can choose this short bob for prom that needs you to clip up your front hair with a middle part. It is simple, neat, convenient, unusual, but elegant.
Braid With A Twist
It is one of the classiest hairstyles that you can go for. First, you have to make a normal braid and then pin it on the top of your scalp, taking the braid from the side.
You can even leave a few loose strands to make it look more sophisticated. It can even create the illusion of volume for thin hair.
Razor Cut Bob
The asymmetrical bob is the ideal choice if you want to go for a modern look as it's quite visually appealing. Added with hues of mint green and white, it can make all heads turn in amazement.
Rolled Up Bun
Get quite a clean and neat look with this short prom hairstyle. First, you have to roll hair strands and tie them up into a small bun using pins and clips. It works for thin as well as thick hair.
Claw Clips Hairstyle
If you are worried about your hair intervening with your fun at the prom, then go for this look and relax.
All you have to do is take strands of hair and clip them up in an organized manner to create the perfect look for prom.
Pixie with Faded Sides
Let's not let prom stop you from being you and doing what you like with your short hair. Today's time and age are all about expressing yourselves.
We have just the perfect short pixie cut for all your rebellious, bold, brave, and edgy women. So wear it and dance the night away in style.
You only get a single chance to ace your look at the prom, and we do not want you to miss it. So you can choose any of these short hairstyles for your prom without thinking twice. Let your girl pals know about these, and have a gala night.