Your shiny hair must have been bored of getting in the same style every day, that is, a ponytail or a bun! Why not try something different with these modern pin up hairstyles?
Just like you experiment with your clothes daily, it's time to be creative and do something unique with your hair too. Since there are a lot of pin up hairstyles, you can't just stick to one. So style and choose a different one every day.
Best Pin Up Hairstyles for Women of All Ages
With these amazing yet classy hairstyles, you can add more charm and fun to your hairstyles.
1. 1950s Updo
This 1950 pin up hairstyle is perfect for every girl who wishes to create a vintage updo with her long hair.
Just take some pins and fold the back of your hair inwards and stick them with pins. Now curl your front hair, roll it in a circular motion, and hold it with pins.
2. Retro Look
One of the pin up hairstyles for older women creates a finger wave hairstyle impression.
Take a thick layer of hair from the front, bend it like you're going to tuck it behind your hair, hold it with a pin, and you're done. Tie the remaining hair in a neat tight bun and complete the look with a tiara.
3. Side Rolls
Add side rolls to your simple tight bun. Leave a thick layer of hair on either side before making a bun. Tie the rest of the hair in a bun.
Now roll that layer of hair inwards like you roll paper. Use pins to hold this roll, and you're all set. You can make this hairstyle if you have short hair.
4.
Finger Waves Updo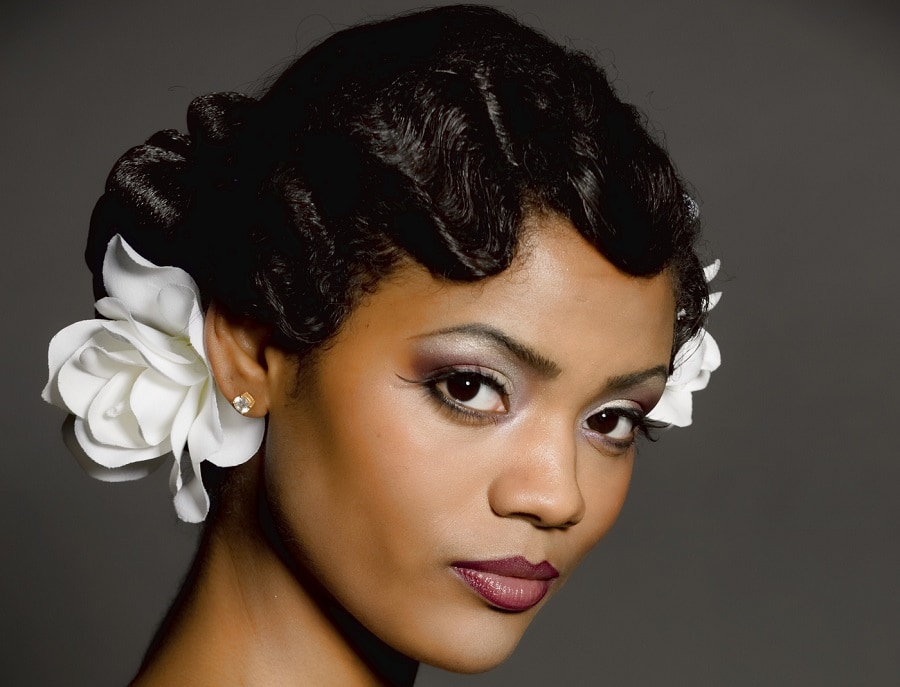 Shiny thick hair looks great in all styles. For example, if you have afro hair, you can make this finger waves hairstyle and pin it up into an updo.
Finish your hairstyle by pinning up one beautiful daisy on each side. This hairstyle is perfect for events like a wedding.
5. Curls With Headband
If you have thick hair, then this long pin up hairstyle is for you.
First, make a center part and curl your hair. Now use a cute hairband to complete the look. It looks great when you're going to hang out with your friends or family.
6.
Puffy Crown With Bun
This hairstyle requires rolling up your crown hair in a giant victory roll. Make a big loose bun in the back and secure it with a headscarf.
Leave little strands of hair and curl them. This hairstyle is perfect for girls who have long and thick hair. You can make this hairstyle if you go to a 90s theme party.
7. Neat Wavy Pinned Bob
Try one of these pin up hairstyles for short hair if you don't know how to maintain your hair.
First, curl your hair a little, and then secure the ends of your hair with a pin. This will create a neat look and give an impression of a bob hairstyle.
8. Vintage Victory Rolls
If you like to keep your hair in a pouf hairstyle, you should try vintage victory rolls. First, side part your hair and then start rolling each side of hair one by one and secure it with pins. Then, leave the remaining hair loose.
9. Hat Pin Up
Style your hair with this hairdo with curly brown hair. Loosely curl your hair and pin up a hat so that it doesn't fall off.
Bold makeup and dark clothes will match this hairstyle. Then, use hairspray to secure the hairstyle.
Create the impression of bangs without actually cutting your hair. Take hair from the front, roll it inside, and secure it with a pin.
Curl your remaining hair and tie them in pigtails with a ribbon. Wear a funky outfit to match the hairstyle.
11. Blonde Front Streaks
Do something unique by trying blonde hair streaks. Curl all your hair and start pinning them up from the front.
Do not pin up all of your hair, just from the front and both sides. Instead, wear quirky jewelry and hair accessories to add fun to the look.
12. Half Pin Up
One of the long pin up hairstyles is similar to side rolls; this time, you have to pin it up only half. Roll the sides of your and tuck them in the middle. Tie the rest of your hair in a curly ponytail with a big ribbon band.
A pin up hairstyle is not that difficult to make if you know the right technique. However, with patience and practice, you can master the art of making these hairstyles.
We have given you pin up hairstyles for a range of outfits so that you don't have to get confused when you make these hairstyles the next time. Do not be afraid to make changes, especially when it comes to fashion. Change your complete look with these hairstyles.