Who says short hair can't be fun and charming? Why just have straight or curls for your short hair? Well, the good news is that your options have just increased.
Now you can even roll, pin or curl your hair make these stunning pin up hairstyles for short hair, and fall in love with your changed look. You can easily make wavy curls, get a vintage look, have a braided bun, or do anything you want with your short hair.
So if you ever wanted to cut your locks and choose short hair over long ones, but remain hesitant, now is the time to do it and choose any of the listed styles to get a confident, bold yet gorgeous look.
Retro Chic Pin Up Short Hairstyles
Vintage lovers, it is time to pin up your short hair in style with these amazing hairstyles for short hair.
1. Vintage Waves
Get in the vintage feel with these beautiful vintage waves. Going to a theme party? Style your short hair in vintage waves to get perfectly ready for the theme.
Of course, this short pin up hairstyle is incomplete without winged eyeliner and bold lipstick.
2. Vintage Double Buns
Talking about vintage, try double buns for short hair. To make sure your hair stays this way for a long time, use hair spray. Complete this look with a cute polka dots dress, cherry red lipstick, and small, winged eyeliner.
3. Pin Up with A Bow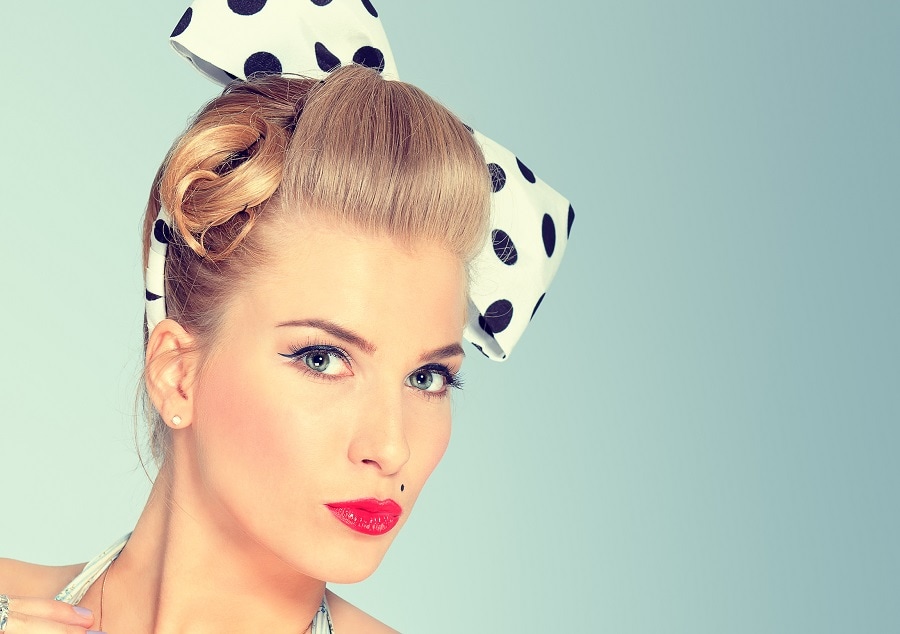 Want to go back to the era when movies were black and white? It is time to style your hair with a bow. An Arabic eyeliner and a cute little mole just above the right side of your lips will complete the whole look.
4. Vintage Curls
Ever wondered how women went shopping back in the '90s? They styled their short hair in beautiful vintage curls, and it is time for you to try these pin up hairstyles.
Finally, put up a classic bar eyeliner and a small bow on your hair to finalize your look.
It is time to get intimidating by styling your short hair in wet finger waves. Make your whole look bolder by pairing big bold earrings with dark lipstick. It is time for you to feel what power feels like in a cruel world.
6. Neat Victory Roll With A Bow
Wonder what romance felt like in the vintage era? Try this look next time you go on a date and ask your partner to dress accordingly, too. This look works best with a casual outfit like a long shirt and jeans.
7. Pin Up Outside Curls
Get the retro feel with one of the cutest short pin up hairstyles. Pin up outside curls will work best if you're going to a wedding or on a date.
Keep your makeup light as the whole look is supposed to be cute. We are sure your date will fall in love with your look and keep looking at you the whole time. Thank us later!
8. Color Pop
Thinking about what to wear this Halloween? Why not try this color pop pin up hairstyle this time.
You and your friends can dress up as movie stars and spread those vintage vibes with everyone. You can even color your eyebrows with the same color eyeliner. You can give this whole look a name like a scary laughing witch.
9. Romantic Curls
Show people your innocence but not by your face; it is by your hair this time. These outwards curls give a decent look to your face.
When you apply a basic eyeliner and a nude shade lipstick, even your friends will believe your innocence. This pin up hairstyle is perfect for your short hair.
10. Victory Rolls
It is time to fulfill your fantasy of being in a 90's movie with these victory rolls. This whole look will make you feel like you're a famous movie star. You can wear an apple-red dress with high heels and do not forget to apply red lipstick too.
We always hear retro music and get in the vintage feel. How about you style your hair and get in a vintage mood? We advise you to try these pin up hairstyles for short hair at least once. These do not require cutting your hair in a certain way so you can try them all.
We have an even better idea, why not call your gal pals and encourage them to try these hairstyles with you? Can you even organize a theme party based on a '90s theme? With these styles, you can surely do.