Nothing can ever beat pin up hairstyles when it comes to exuding femininity, glamor, and chicness. But do you want to make these hairstyles look eye-catching and stunning? We suggest adding bangs to them!
Don't have any idea which bangs will go with your pin up hairstyle? Then, we present some of the best vintage hairstyles you can try!
Best Pin Up Hairstyle with Bangs Ideas for Vintage Lovers
So are you ready to explore the world of pin up hairstyles with bangs? Here are some ideas to get you started:
1. Wavy Blonde Bob
If you're just exploring the pinup hairstyles, we suggest that you style with the easiest one—the wavy short pin up hairstyle with Victorian Roll bangs.
This stunning short hairstyle can be easily achieved using a curling iron with a big barrel, a few hairpins, and lots of hairsprays.
2. Chic Red Updo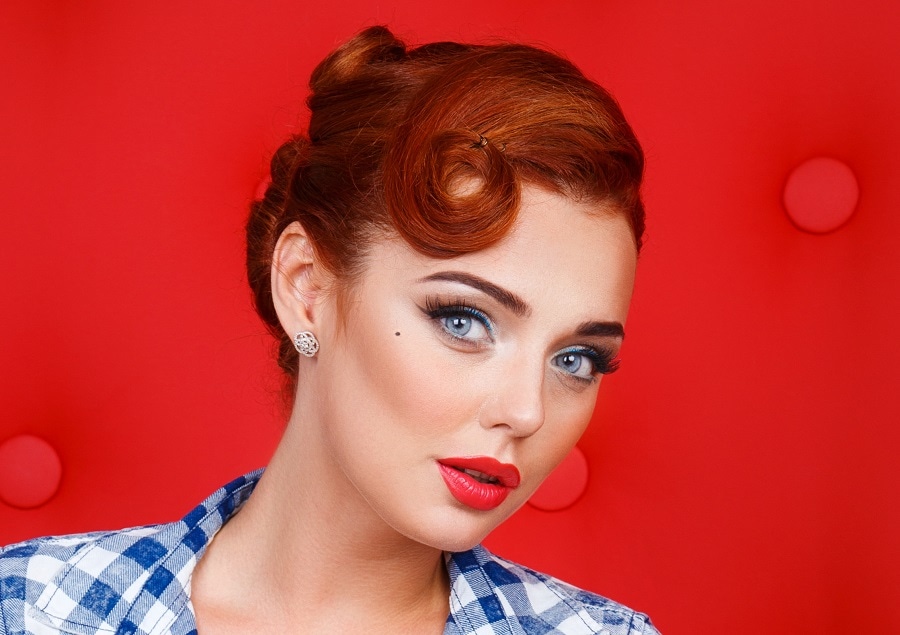 But if you don't have the time to create gorgeous waves on your hair, you can simply pull your hair into a gorgeous updo like this one.
You can add a vintage touch to it by donning on Victory roll bangs which is one of the trademarks of vintage hairstyles.
3. Elegant Curly Hair
Just a heads up, victory rolls are the essence of retro hairstyles, so you'll see lots of pin up hairstyles with bangs like this one.
To create this, you need to use your hands to form the rolls, spritz on some hair spray for better hold and secure it into position using bobby pins.
4. Red Pin-Up Bangs
Victory rolls are not just for bangs—it's an entire hairstyle too! You can place the rolls either on top of your hair or at the sides of your head like this one.
It's often paired with Bettie Bangs, a round-shape bangs named after Bettie Page, a famous actress during the 50s.
5. Retro Look with Headband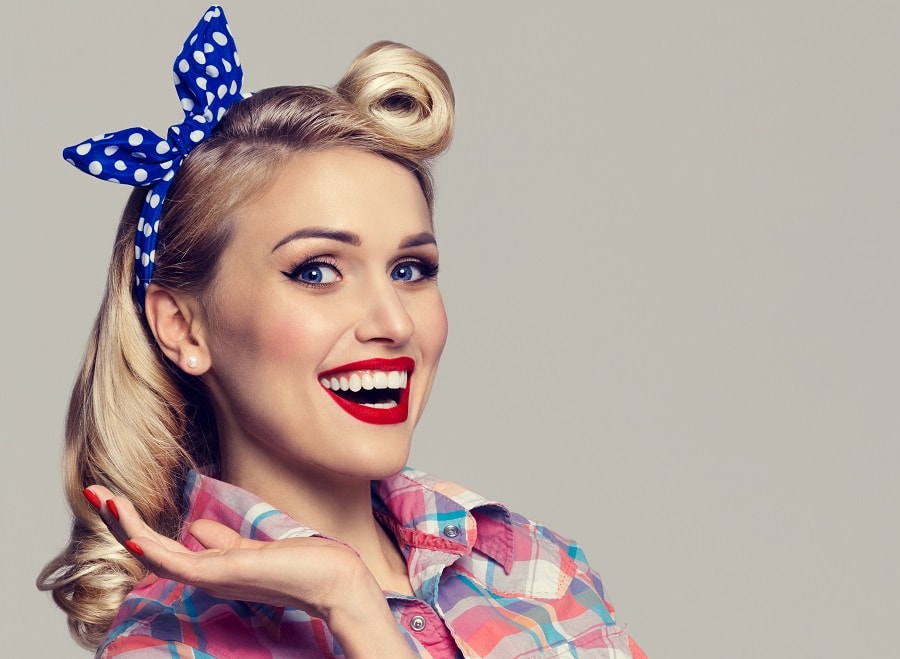 To be honest, you don't have to go all out when creating pin up hairstyles. You can simply create normal curls using a flatiron or curling iron and add a vintage touch to it in the form of victory roll bangs which you can also create using the same tool.
6. Thick Faux Bangs
Here's another excellent hairstyle that proves that adding vintage-style bangs can turn a regular wavy hair into a retro-glam pin up hairstyle.
This time, try bumper bangs instead of the popular retro bangs. Bumper bangs is another term for the famous Bettie bangs.
7. 80s Half Updo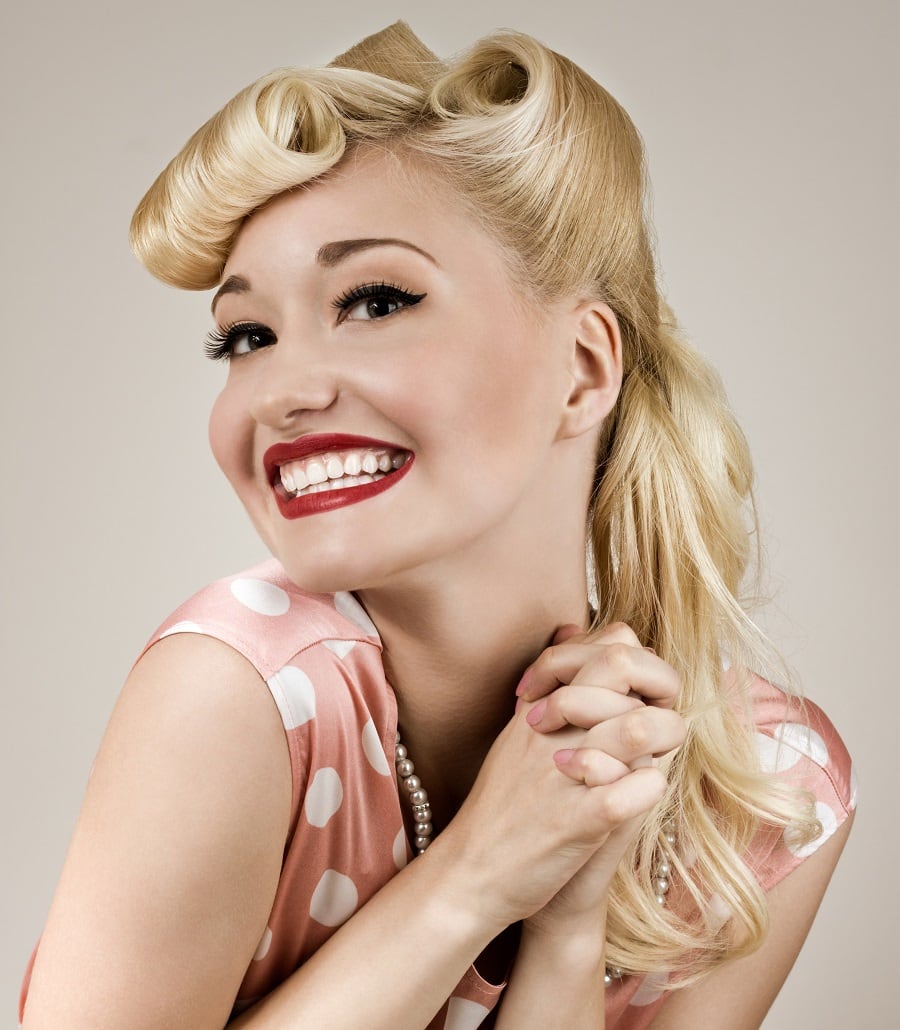 Do you want to try updos but are not fond of them? Well, this half up hairstyle is precisely what you need. Just create vintage rolls at the sides of your head and forehead, and just curl the ends of your hair for the ultimate pinup hairstyle with bangs look.
8. Bouffant Half Up
Have you always wanted to go big and loud with your hairstyle? You may want to check out the bouffant hairstyle.
It is a puffy and rounded hairstyle that will make the hair at the top of your head look voluminous and eye-catching. Then, pair it with faux bangs for the ultimate vintage pin up hairstyle.
FAQs
But before we give you the pin up hairstyle with bangs ideas that we've come across, let us first answer some of the questions you may have about this hairstyle:
What tools do you need to create a pin up hairstyle?
To be honest, the pinup hairstyle is one of the most intricate hairstyles to make. But with the right tools, creating it will become a bit easier. Some of the hair tools you need for this are a smoothing brush, round brush, bobby pins, sectioning clips, hot rollers, hair spray, hot bun rat, pin curl clips, and curling iron.
How to maintain pin up hairstyle?
At first look, it may seem like this hairstyle is challenging to maintain but the truth is, doing so is quite easy. For one, you can apply a refresher spray to your hair to secure its hold.
And here's the best part: you can sleep with it too. Since it's similar to the pineapple protective style, all you need to do is wrap your hair in a scarf.
Pin up hairstyles may look tricky to create, but with the right tools, you can certainly pull it off! Try any of these pinup hairstyles with bangs ideas and revive the old glam charm in your looks.