Not all guys want a haircut that's super fancy or out there. Sometimes classic French crop haircuts are just the way to go to look your best. All barbers know how to create them, the upkeep is easy, and they -require minimal styling on a day-to-day basis.
But if you do want to get experimental, there are several different ways you can wear this French crop hairstyle. Taking a look at a range of options before you dive in is always a good idea so you know what you'll be working with when you go in for the chop.
15 Low Maintenence French Crop Haircuts for Men
Look below to find a vast range of haircuts that you could wear. Any one of them will look great on most guys.
Crop and Beard
Sometimes French crop haircuts for men are a little too simple for people's liking, so you can add a beard to spruce it up.
Wear your beard fall and leave a little gap between the beard and the short sides of the hair.
Afro Hair
Black men with natural hair textures can still get the French crop. The only difference is that you won't be able to brush it forward onto your forehead.
Keep the top relatively short but long enough for your hair texture to shine through. Make sure the sides are almost fully shaved.
Long Crop
Men who like long hair can opt to grow out the middle section long enough to fall onto the forehead. Keep the sides thinned out but relatively short.
Consider pairing it with a beard. The sides can blend seamlessly into the sideburns and cheek sections of your full facial hair.
Blunt Cut
Keeping the blonde hair across your forehead pretty blunt will add a modern edge to your look. This is particularly good for mature men who want to retain a youthful appearance.
Wear the top a little messy and keep the sides totally shaved for a clean-cut appearance.
Hard Part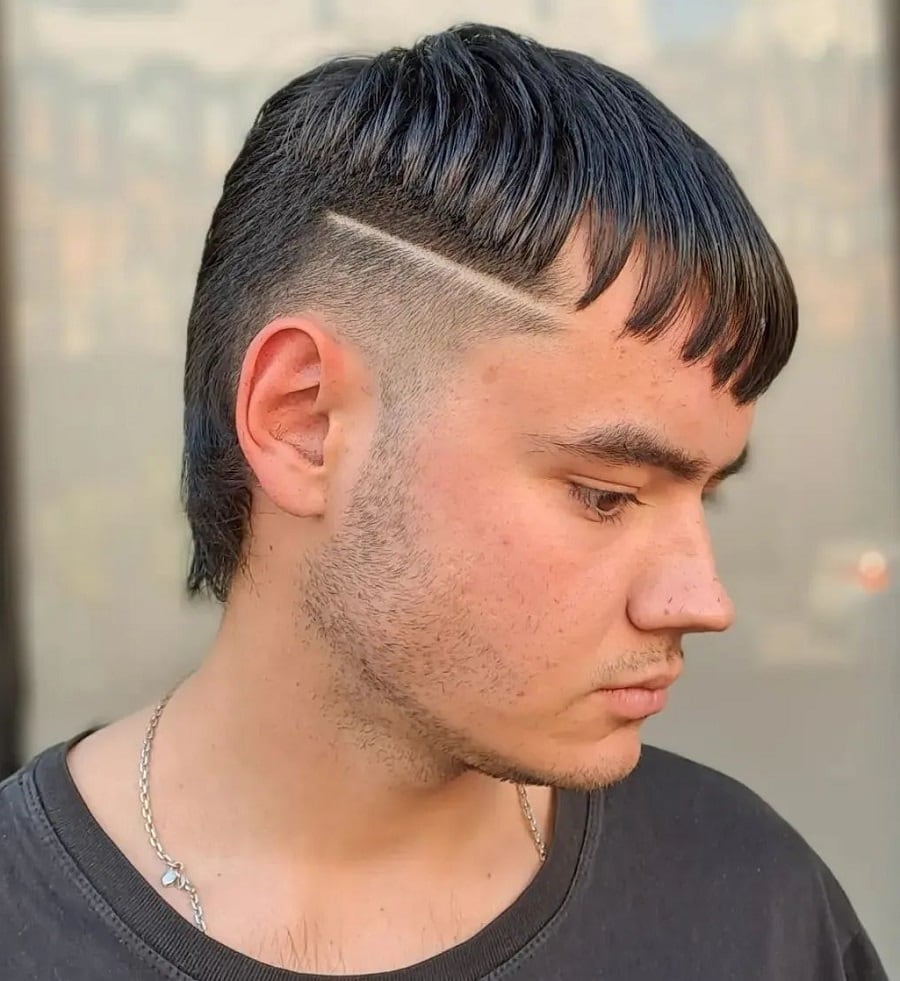 Many younger men are opting to shave hard parts into their hair. Pair yours with a fade if you want to create a look that's very on-trend.
Keep the back and bangs of your hair pretty long so you have some room to style them if you want to.
Low Skin Fade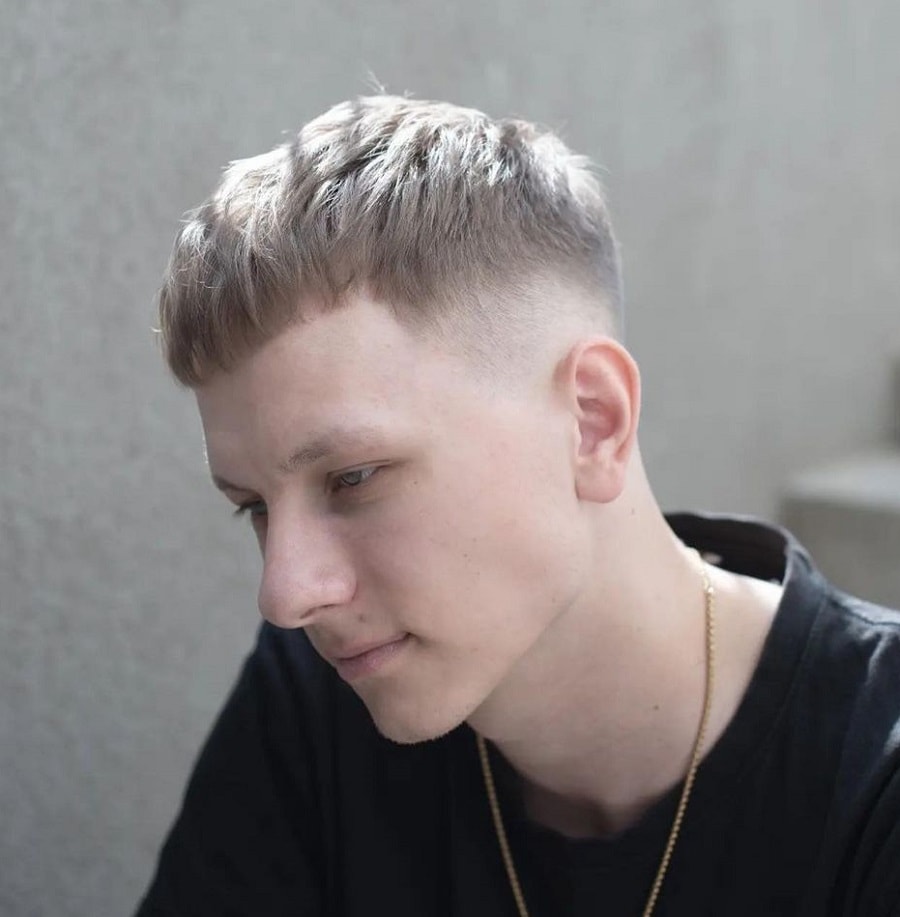 Styles like this can get boring if everyone looks the same. Stand out by getting a low skin fade on the sides of your head.
Leave the hair on top thick and style it with some texture so you can look your best.
High Skin Fade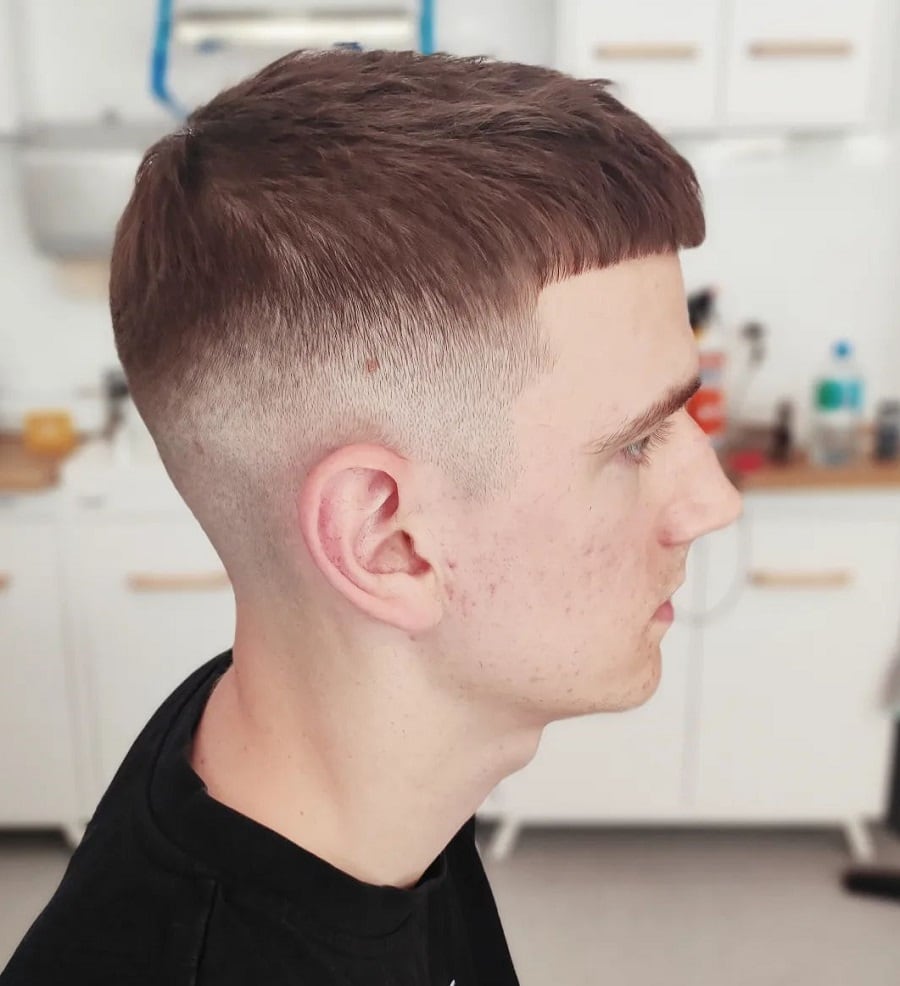 Is low skin fade not your thing? Check out this version where the fade starts much higher instead. The bangs of the hair stop where the fade starts.
Overall it creates a put-together look. Make sure to ruffle up the top of your hair a little to keep some depth in the haircut.
Textured Highlights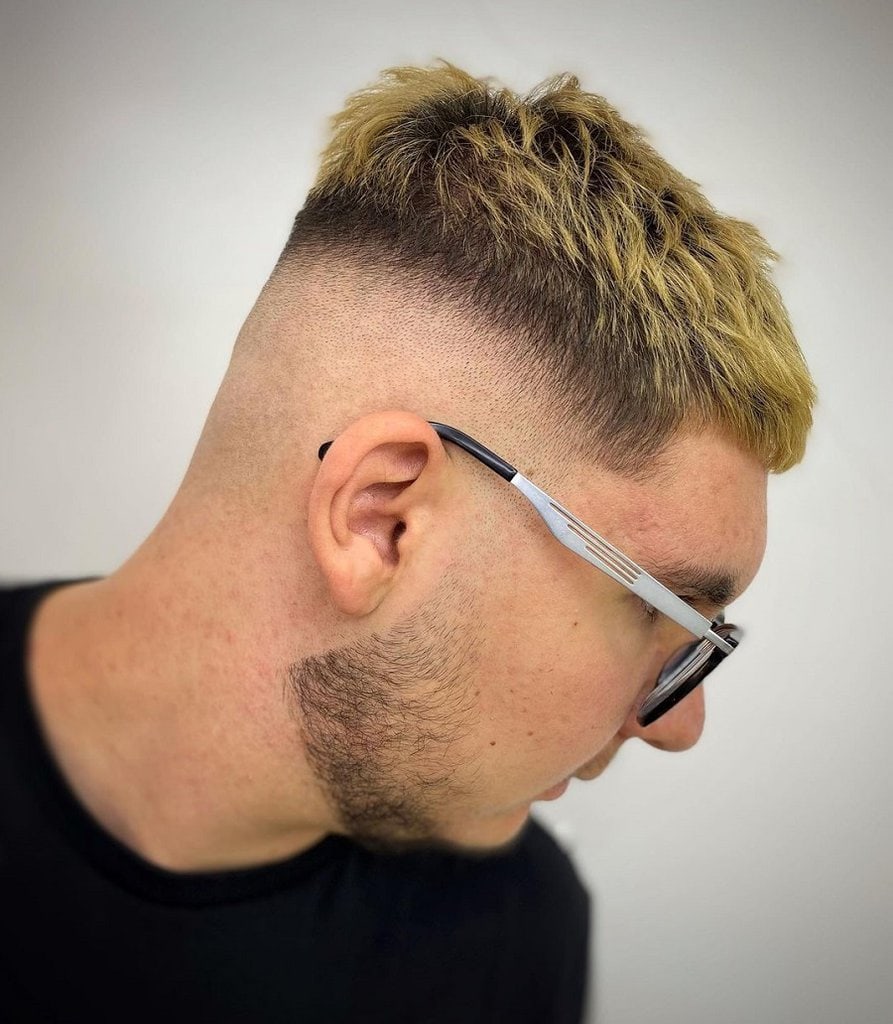 Some French crop haircuts are a little more out there like this one. There's a bald fade that comes on suddenly rather than gradually. Plus, the dark hair paired well with golden blonde highlights.
Shaved Sides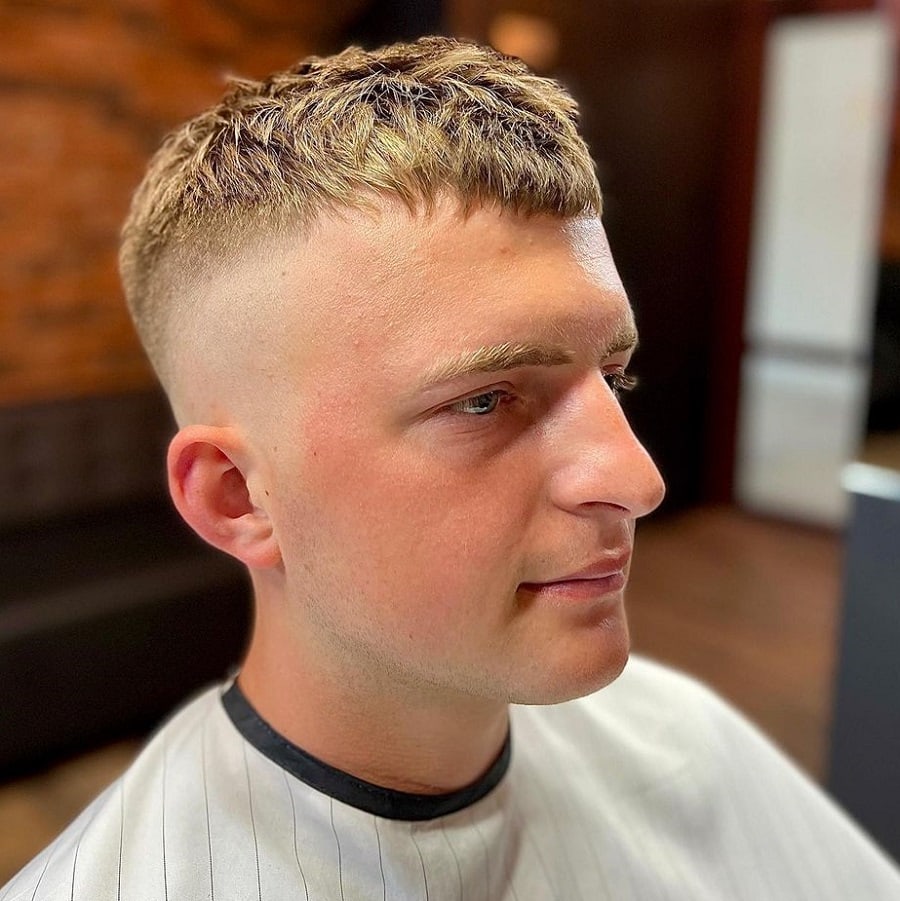 Instead of having a fade or something similar, why not shave the sides completely? This will make the hair on top of your head stand out all the more.
Mess up the top with your fingers a little, but keep styling to a minimum.
Thick Tresses
Many guys find it hard to deal with thick hair, so they get styles such as this French crop with a lineup.
However, it would be a good idea to keep the hair on the top front section of your head pretty thick. Create some interesting textures and brush it forward onto your forehead.
Gradual Fade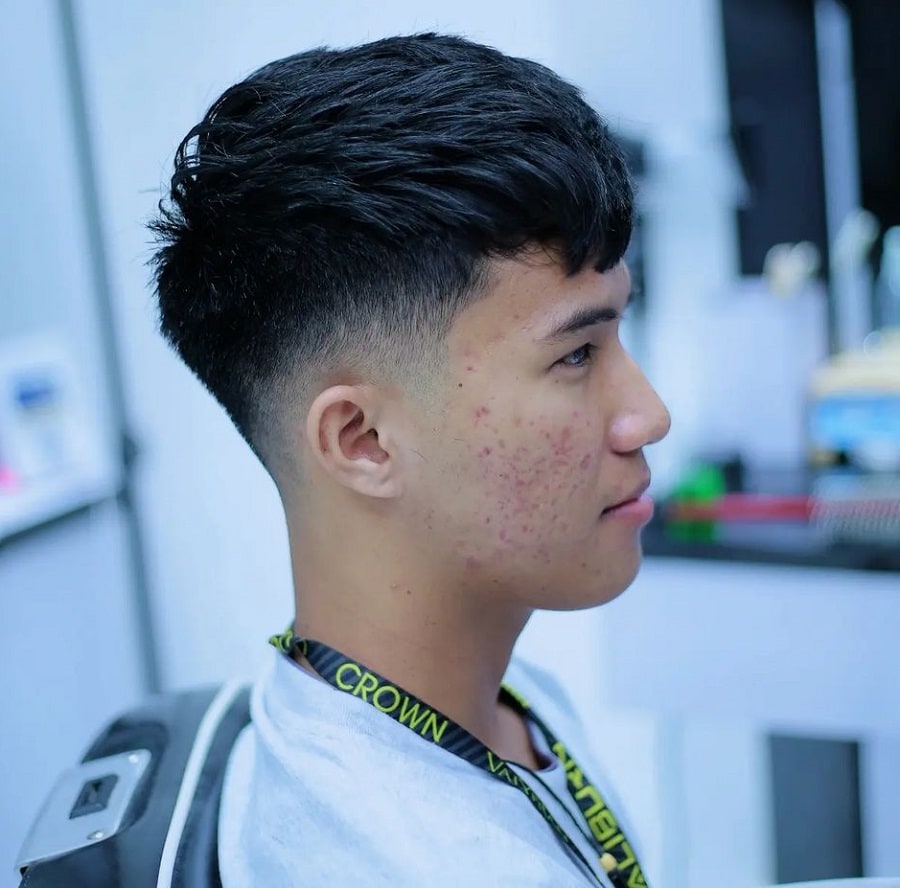 Many guys get fade but they switch drastically between thick to thin hair. Here the fade is incredibly gradual and gets thinner until it's just stubble.
The short sides serve as a contrast to the top which has a lot of volumes created by thick hair and texture.
Soft Spikes
Most guys who opt for this look keep the hair flat to the forehead. They occasionally add a little texture towards the front.
Here you see all the hair has been spiked up instead. If you like an edgier or spiky look, then perhaps this is the way you should be wearing your hairstyle.
Colorful Crop
Guys who wear classic haircuts don't usually go bold and either her unique colors. So, if you choose to wear your hair green or another unique shade, then you'll definitely stand out more.
Style your hair carefully to create a lot of texture so your naturally dark hair is visible underneath the dye.
Cropped Mullet
Almost every haircut these days can be made into a mullet. All you have to do with this one is growing out the back a pretty long then ruffle up the ends so it's more visible.
Curly Crop
It's easier for men with French crop haircuts to keep their hair straight. However, if you have curly hair, then embrace them.
The short sides will minimize the efforts needed to maintain good curls. You'll only need to put some styling product into the sections of hair that fall onto your forehead.
Every guy deserves to look his best, and these French crop haircuts will make that really easy for you. Check out our selection and decide whether or not you want something classic or something a little more unique.
Adding a fade will make your haircut modern, but getting a mullet or dying your hair will definitely make you stand out. Which look would you prefer?