Adapting to every hair trend for once is an interesting way to transform your look. One of the most classy and popular ones is the under dye hair trend. This lovely, dramatic technique highlights the bottom strands of the hair.
It makes it tempting to anyone who wishes to experiment with new colors and styles.
Under-dye Hair Color Ideas
Read the rest and discover the several highlights suitable for you. Take a look below to learn more about the under dye craze.
1. Cherry Underneath
This is a cool version of the underdye hair color. First, on the lower levels, cherry red melts into a lovely, deeper tone.
Then, a rich chestnut brown color is placed on top to make a great accent. This style's intensity comes from the shadowing effect.
2. Punk Undercut
If you want to take big chances and are flamboyant in your hairdo selections. You should go for this edgier appearance.
A back undercut with a high edge and trimmed styles. Under gorgeous platinum blonde, it is given life with bright blue and lavender tones.
3. Yellow Underneath Bob
Why not give your existing brown hair some bright yellow accents to give it freshness?
Straight-haired women may pull off this appearance and color with ease. This short underdye hair is perfect for spring, and you will enjoy it.
4. Icy Fishtail
It is a great plan to draw attention to a striking, vivid hair color like blue.
However, the look is only fully achieved when the tresses are braided. Be the Oceanic Princess the entire year to command all the interest.
5. Peachy Brunettes
A rich, hearty peachy pink hue shows through on the bottom. Better contrast tones work well as highlights for brown tresses.
For example, this orange hue. Your underdye hair gains some edge with this mix. We adore how well this unique color combination fits.
6. Sorbet Blondes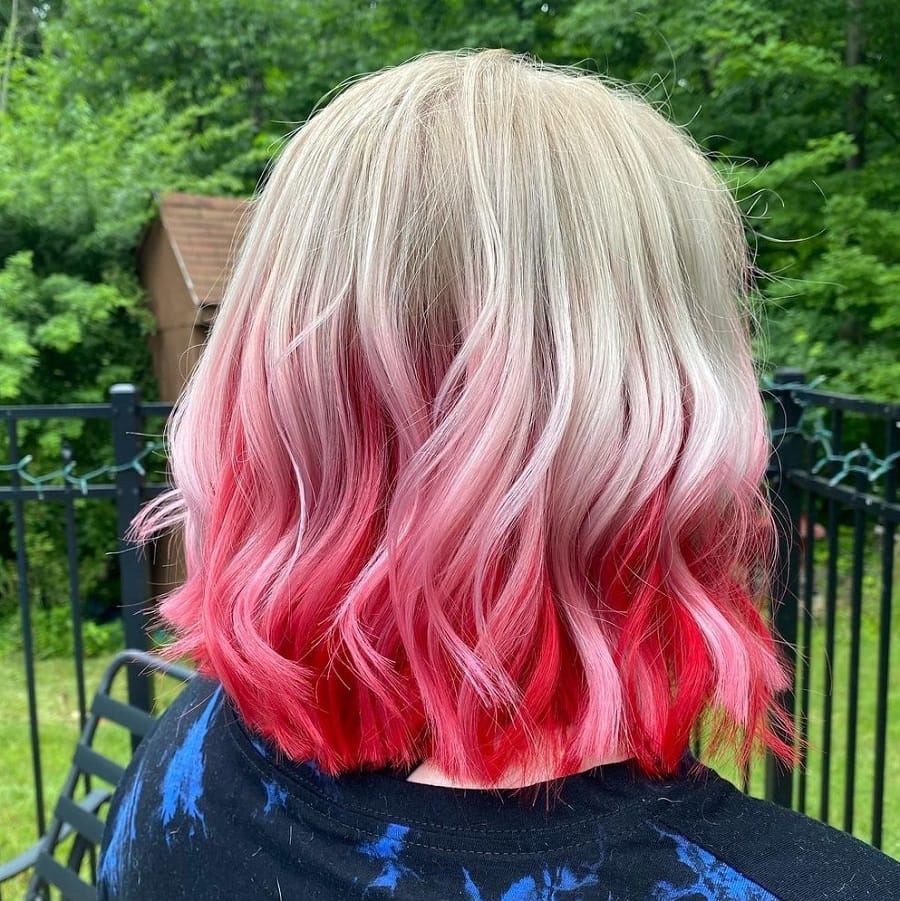 Use your imagination and combine your natural hue with pink peekaboo hair. Then, make a strong trendy look by combining it with a multilayer hairstyle.
Complete the style by adding modest texture to your blonde hair and some curls.
7. Peek A Boo!
Need to maintain a formal or suited underdye hair trend? Select a shade that is veiled underneath. The shaded region extends from the collar behind.
The mane has been beautifully bleached. For an appealing contrast that only becomes visible when the mane is lifted.
8. Forest Tresses
This peekaboo color will only be visible if you want it to, as the hair has grown pretty long.
It has dark teal hair in tones of silver underneath. You can style this hairstyle by creating extra curls to make the hair strands stand out.
9. Platinum Violets
Choose this lovely combo of platinum blonde and super rich colors for yourself. Shades like pink and purple give the surface liveliness.
Additionally, you may clip up or flip back the top platinum part. Finally, for a lovely final layer, straighten your hair.
10. Bright Orange Underdye
kevinhairsalon/Instagram
The darker foundation improves this wavy hairdo, giving it an edgier vibe. The peculiar highlights add a mysterious element.
This hairdo is ideal for females who want to wear their hair up in an updo. First, you can wear your hair in its natural hue. Then, add zesty orange underdye color to make it stand out more.
11. Honey Blonde + Black Underneath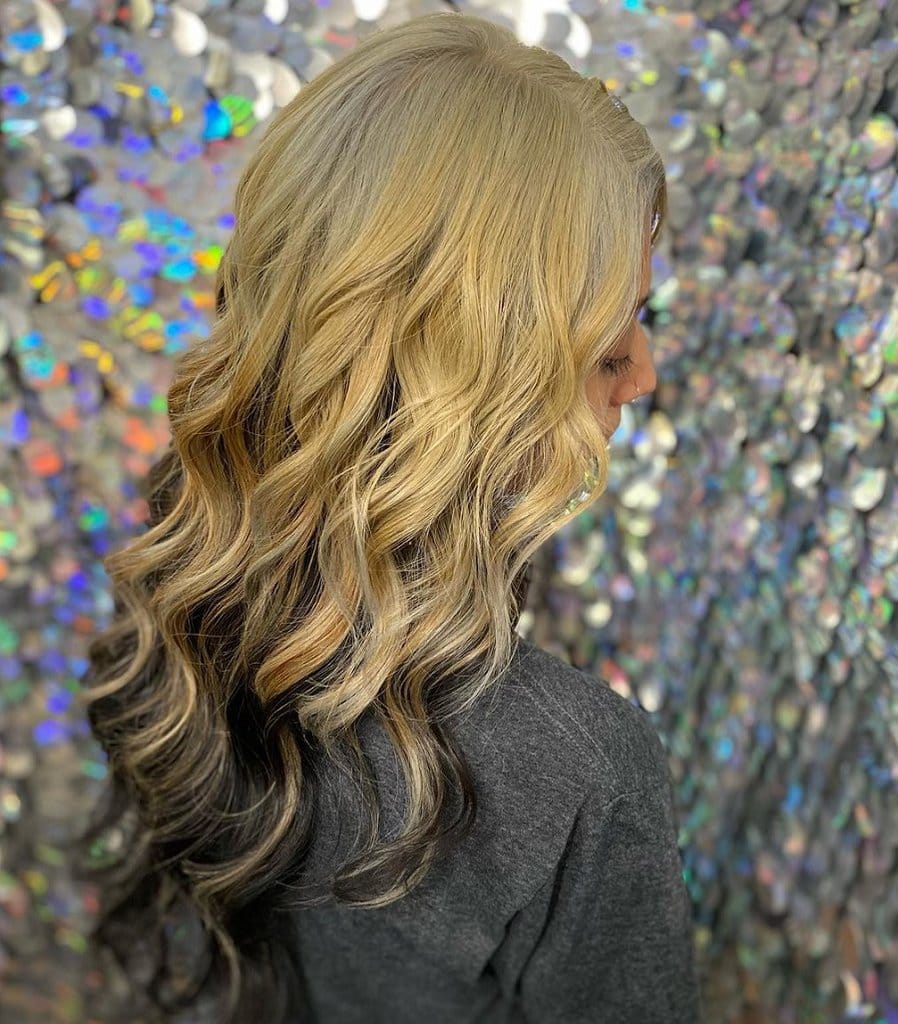 A chic contrast is made when dramatic black and honey blonde are worn together. Your hairstyle will undoubtedly catch everyone's attention.
This hairstyle features bleached blonde curls that frame the cheeks. It creates a stunning contrast that stands out the most.
12. Neonic Affairs
A wonderful way to look cool is by adding various highlight colors to shorter hair. This is a fantastic concept for women.
Especially for individuals who want to be noticed among the crowd, the appearance will already be fashionable and striking.
13. Rainbow Delight
The peek-a-boo rainbow color is fascinating and unique. In addition, we adore the base of a soft blonde as this underdye hair color doesn't interfere with anything.
Below, the rich spectrum of hues is shining through. Include each color in the rainbow.
14. Lilac Updo
Try adding this vibrant shade to your brunette's hair to make it interesting. Lilac instantly provides a splash of color and makes people stare at you.
Experiment with your brown tresses and make a half updo. This technique for highlighting requires little upkeep.
15. Dewy Tales
With this hairstyle, make a chic and unique impression. Simply stunning is the mid-length hairstyle with thick fringes.
The neon green underdye color gives the hair a seductive, understated look. It will undoubtedly draw attention to you.
16. Magenta Fusion
The base of the undereye hair is a deep purple and magenta color that radiates wonderful energy.
Use adorable scrunchies or ribbons and make a half-up hairstyle to give your style a boost.
Underdye hair trends are apparent somewhere under the base of your mane and are harder to see when your hair is worn down. However, these highlights will be very noticeable after you wrap them in a pigtail.
If you choose a wavy hairdo, identifying them will also be simple. This is why most women favor getting peekaboo highlights in vibrant shades. The color pop will make them seem fantastic.