Bobs are super fashionable, but some women don't love how basic the classic cut can be. Long inverted bob hairstyles, on the other hand, breathe new life into the look.
They're long in the front and tapered short with stacked layers to add lots of volume. If you like the sound of that, then this is definitely a style you should consider wearing.
Chic Long Inverted Bob Hairstyles
There are so many different styles you can wear with a cut like this. Look below for some inspiration on which one to get!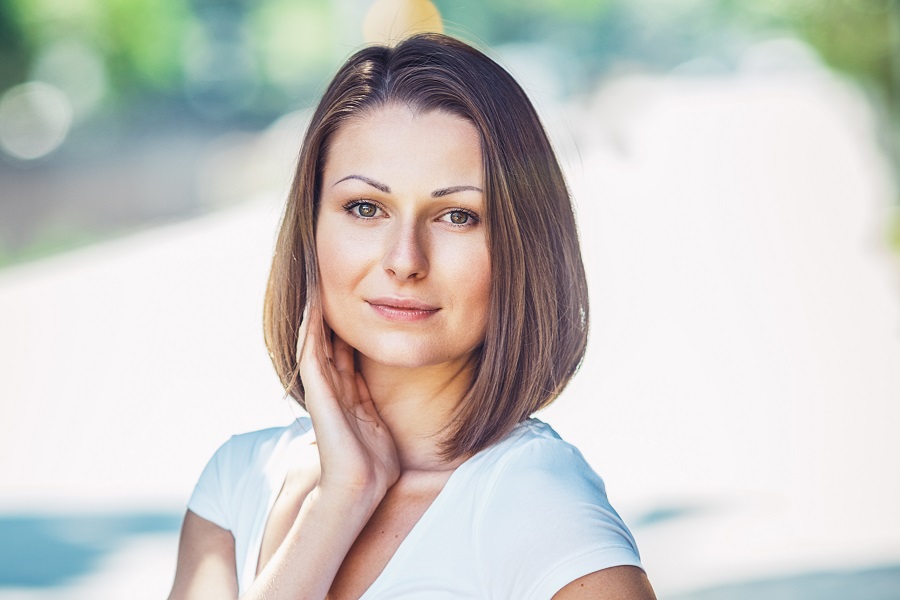 Do you have a hard jawline and a square face you'd like to soften? A long inverted bob is the perfect hairstyle to help you do that. It curves in under the jawline to de-emphasize its shape of it.
The side parting ensures your look remains beautiful and effortlessly chic.
Summer Bob
It's so hot in summer that you probably don't want a cut that frames your face. It could stick to your makeup or perspiration or anything! So for summer days, go for a look like this.
The cut is very loose and it frames the face while not curling towards it. It's side parted to help keep as much hair out of your face as possible.
Grey Waves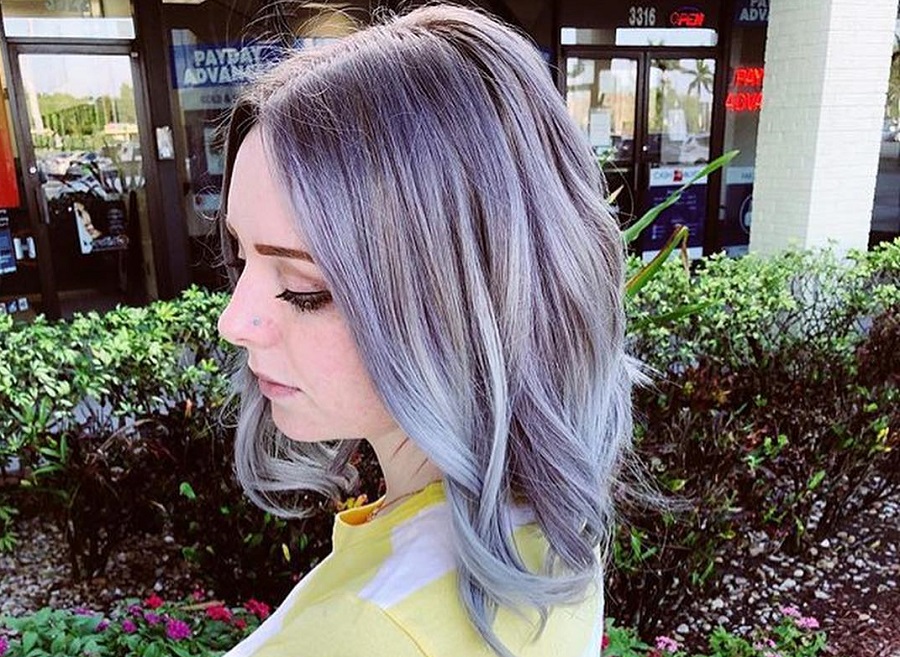 Grey is one of the chicest colors you can wear. Pairing this shade with a cut as simple as this makes it even more eye-catching. The color starts darker and gets lighter towards the bottom for a nice effect.
Waves at the end of the tresses breathe some life into the look.
Thick Messy 'Do
You won't find anything as effortlessly chic as a long inverted messy bob with razor cut ends. There's just so much life and liveliness in this cut! The waves make the hair appear very thick which is great for light colored hair.
Straight Ombre
Ombre looks are still very trendy and can brighten up dark hair considerably. Getting one on your simple and straight bob is the perfect way to make all everyday hairstyles more glamorous.
The cut itself is simple and uses your natural hair texture to create an easy daily look.
Two Tone Red with Braids
It's impossible not to turn heads with a cut like this. It's perfect for someone who wants to show off their fun and quirky side. The vivid red tone bleeds perfectly into one with a more orange hue.
A simple braid decorates the side of the cut with star hoops hanging from it to add a more unique touch.
Waves with Face Framing Highlights
Wavy haircuts add a lot of volume and glamor to your long inverted bob. It's so chic and the shape of the tresses complements their copper blonde color very well. Adding face-framing highlights will help your features pop.
Straight Bob with Wispy Ends
Fine hair looks so nice when it's straight as it always creates a highly chic appearance. Having the ends wispy creates an illusion of your hair simply tapering off and disappearing into light clothing.
Inverted Hairdo with Bangs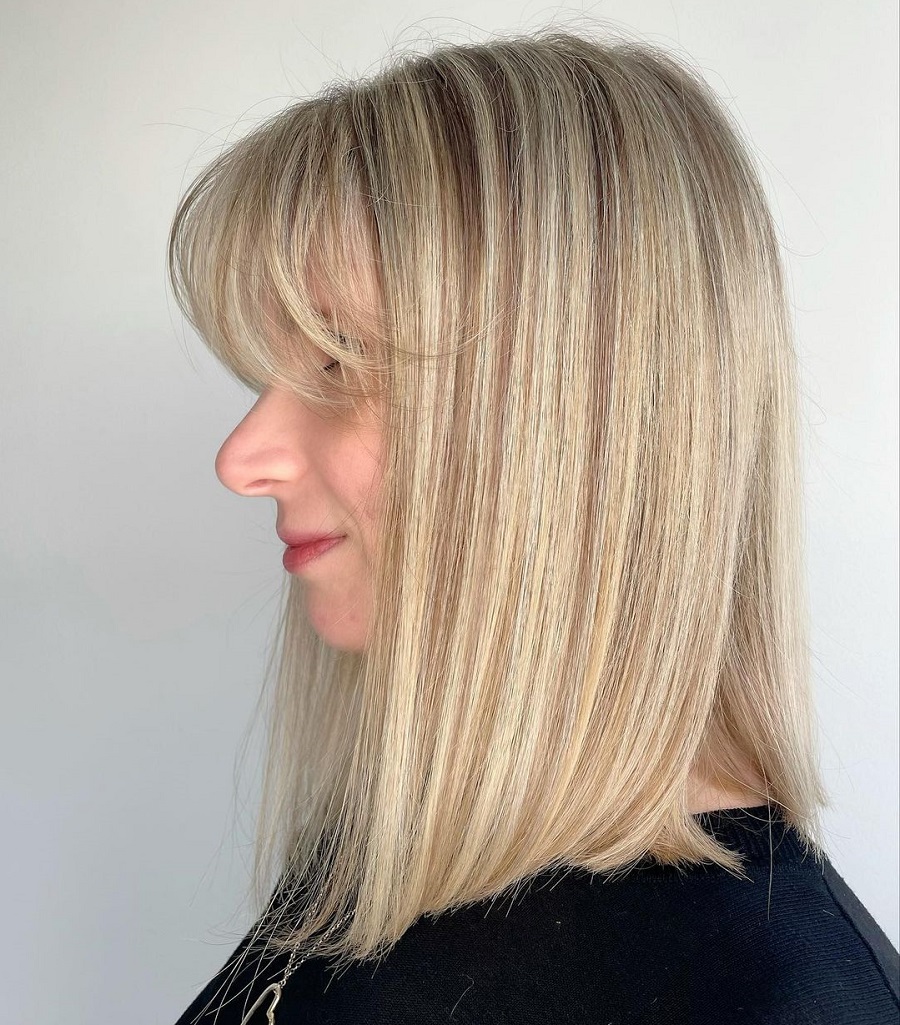 Bangs and bobs go hand in hand when it comes to fashionable styles. However, these bangs have a lot of volume that makes them stand out more than average.
The voluminous bangs go really well with the flat and simple long cut.
Wavy Blue Lob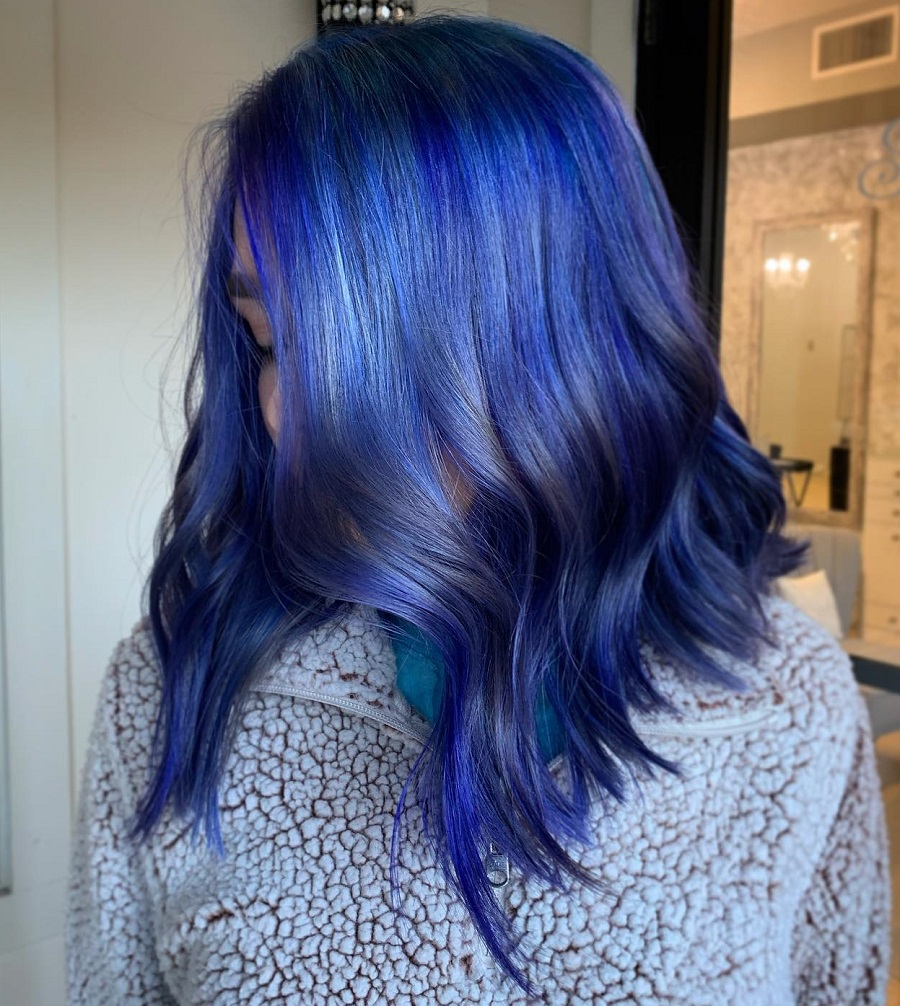 You can't get much better than vivid blue locks if you're curating a dark and mysterious look. The various shades of blue in these wavy tresses ensure there's no way for anyone to take their eyes off you.
The thick cut is highly glamorous for this excellent style.
Curly Blonde Balayage
When you wear an inverted lob your hair is pretty short so you have to use different color techniques if you want to stand out. The various hues of blonde in this balayage are an excellent way to do that.
Curling the bob tight towards the back with looser waves towards the front is another wonderful way to look your best.
Choppy Brunette Waves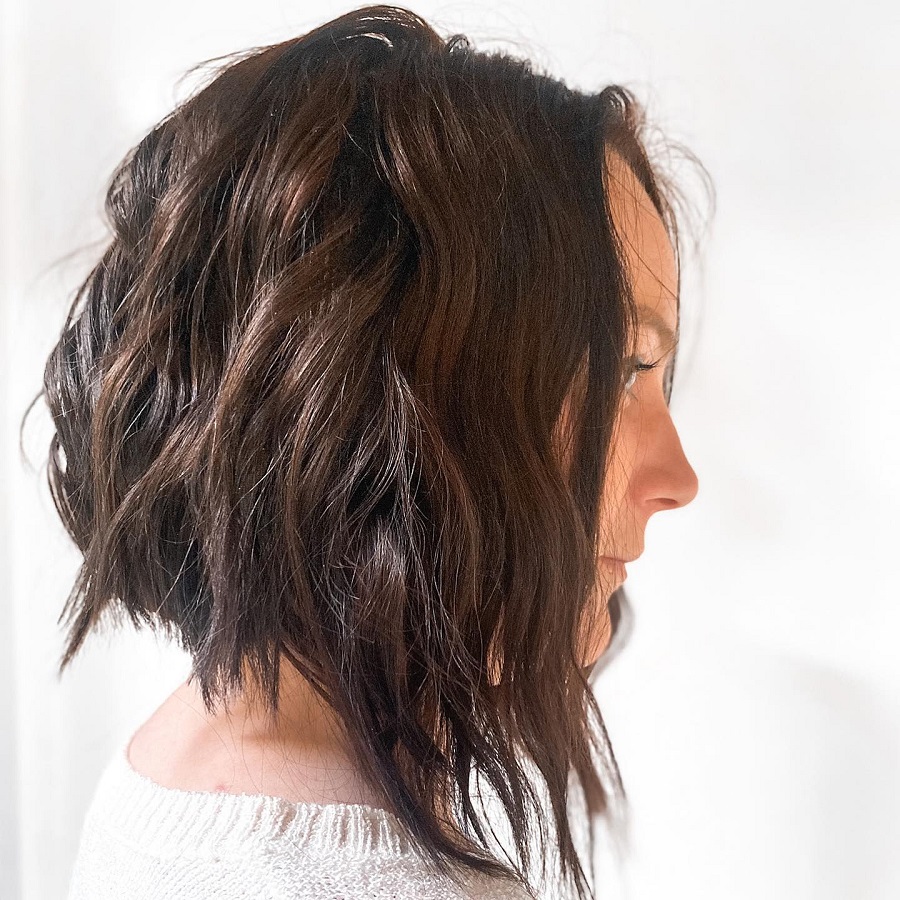 Wavy lob with a choppy texture is a great way to bring out the color in your long inverted bob.
Brunette can sometimes look flat if not styled right, but the texture ensures the rich colors are very visible here.
Black and Purple Dip Dye
Two colors that always go well together are black and purple. They're a nice choice for anyone who wants a hairdo that's on the edgier side.
The cut is simple with gentle waves that ensure there's some dynamic movement to the look.
Highlighted Subtle Waves
Some people don't have a lot of time to spend perfecting their hair every day. Here's a simpler look that won't take too long to style. There's a very subtle waviness to the ends of the locks.
The blonde highlights create some depth that'll make you look fabulous despite the simplicity of the look.
Black with Green Highlights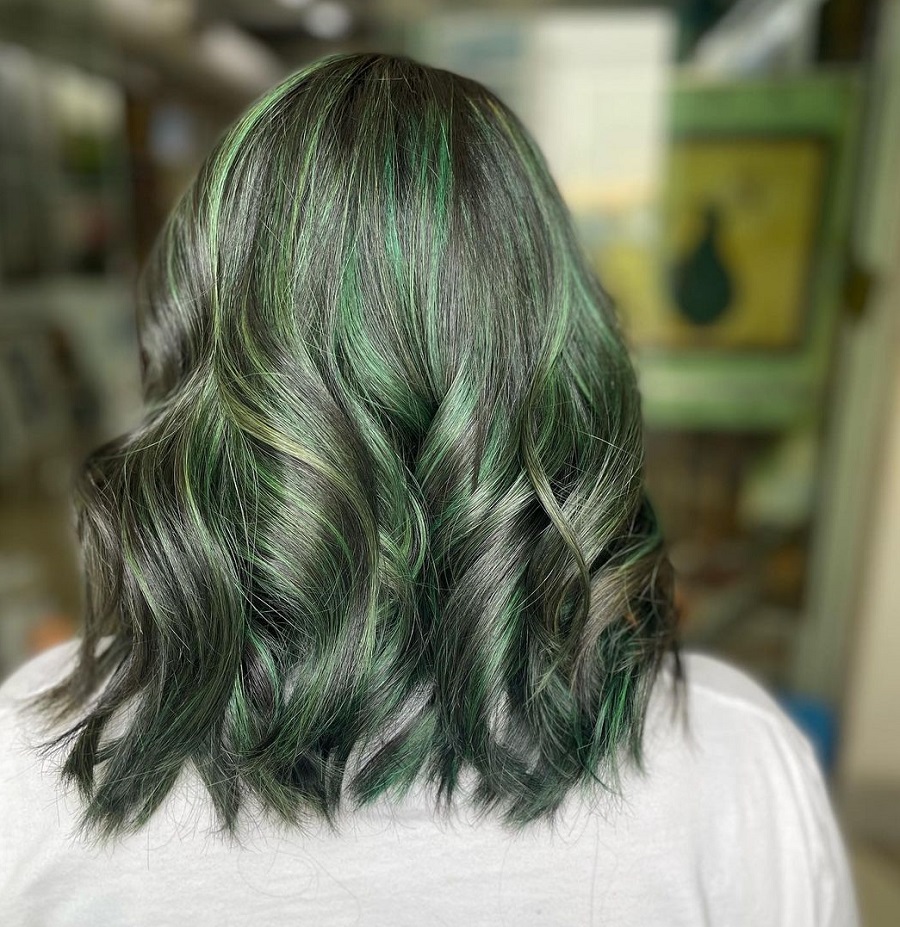 Want something that lets you have a unique color without having to dye all of your hair that color? Try getting green highlights on top of dark hair.
It's so subtle and striking, and the wavy texture helps the color stand out.
Purple and Silver Waves
Fun-loving people who want to stand out will adore this cut. The inverted long bob style is overshadowed by the amazing purple and silvery-white colors of the hairstyle.
Gentle waves help those colors really pop a ton.
Vivid Purple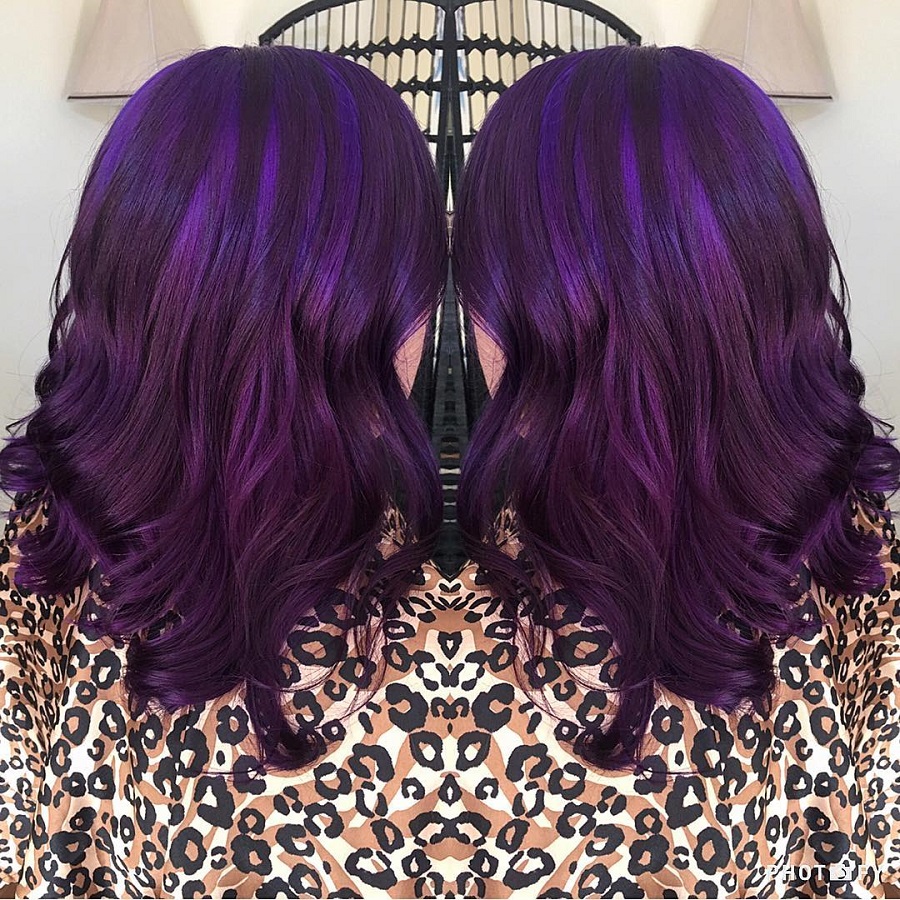 If you want to be unique but love dark colors, then consider this deep purple cut. The bob itself is very long and the graduated effect is incredibly subtle.
The wavy texture makes it hard to see the inverted shape. However, it still looks fabulous.
Highlighted Messy Curls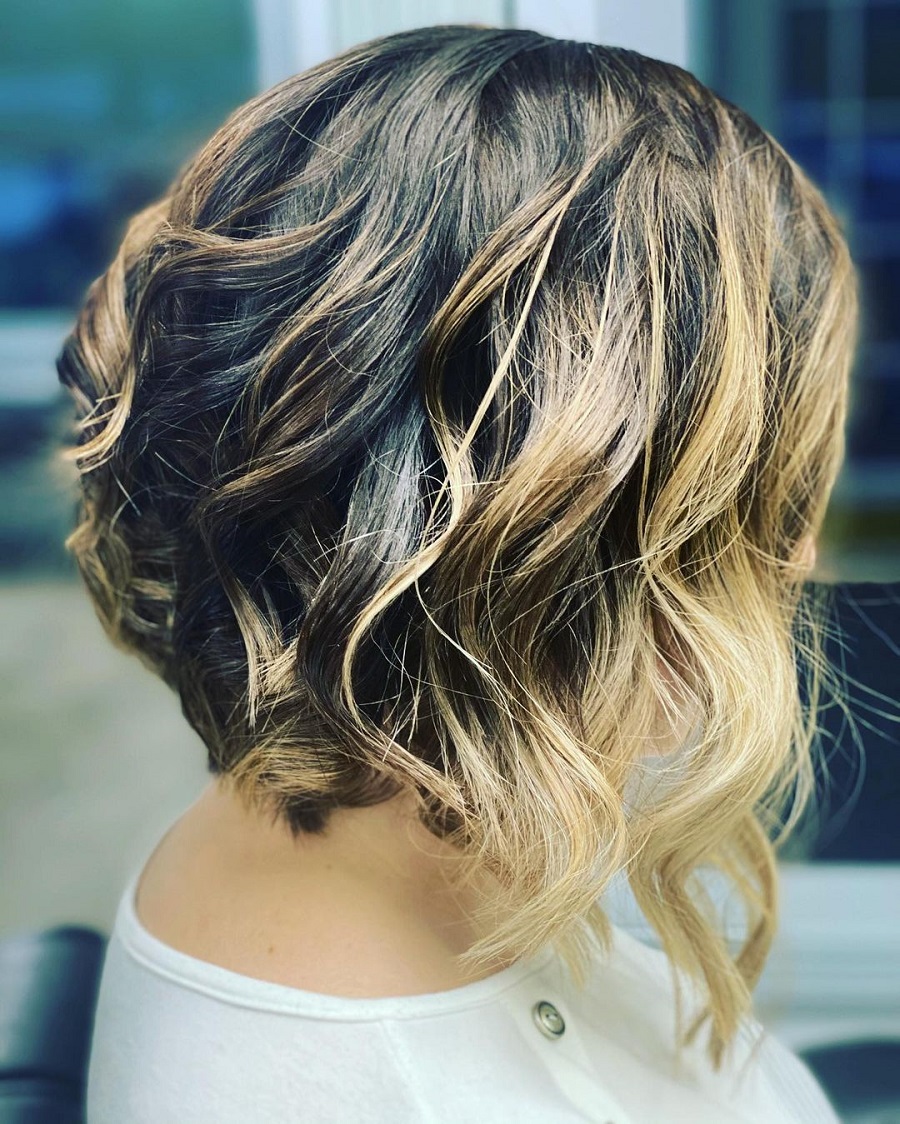 Here's a look that greatly contrasts the one above it as the graduated effect is very pronounced. The curls are very loose as they fall by the face. It creates a framing effect that will make your features look amazing.
At the back, you'll find the cut is much tighter and the curls are a little messy. There's a lot of movement and dimension added by the texture and the blonde highlights.
Pink with Bangs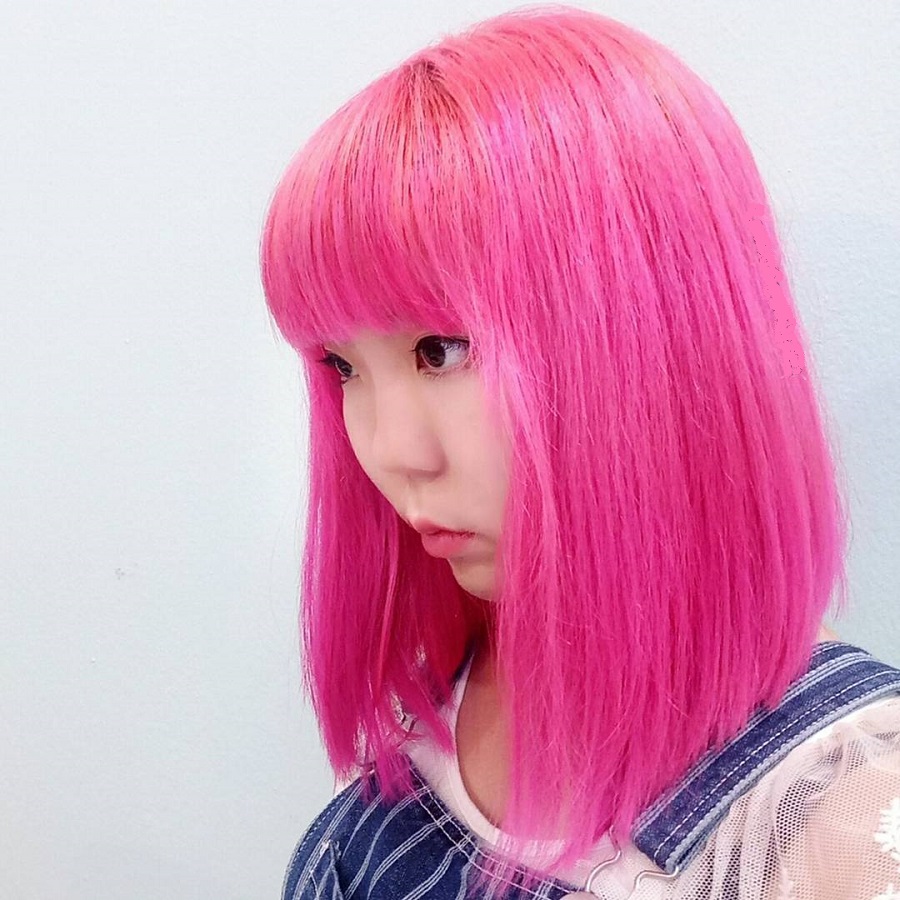 Super sweet and simple styles like this are often wonderful to wear. They require minimal styling, but the unique, bright pink color makes it impossible to look away.
Bangs add a lot of depth that's missing from the simple straight tresses. Bangs are very common for simple and straight bobs like this as they flatter the face so delightfully.
Creamy Blonde Loose Curls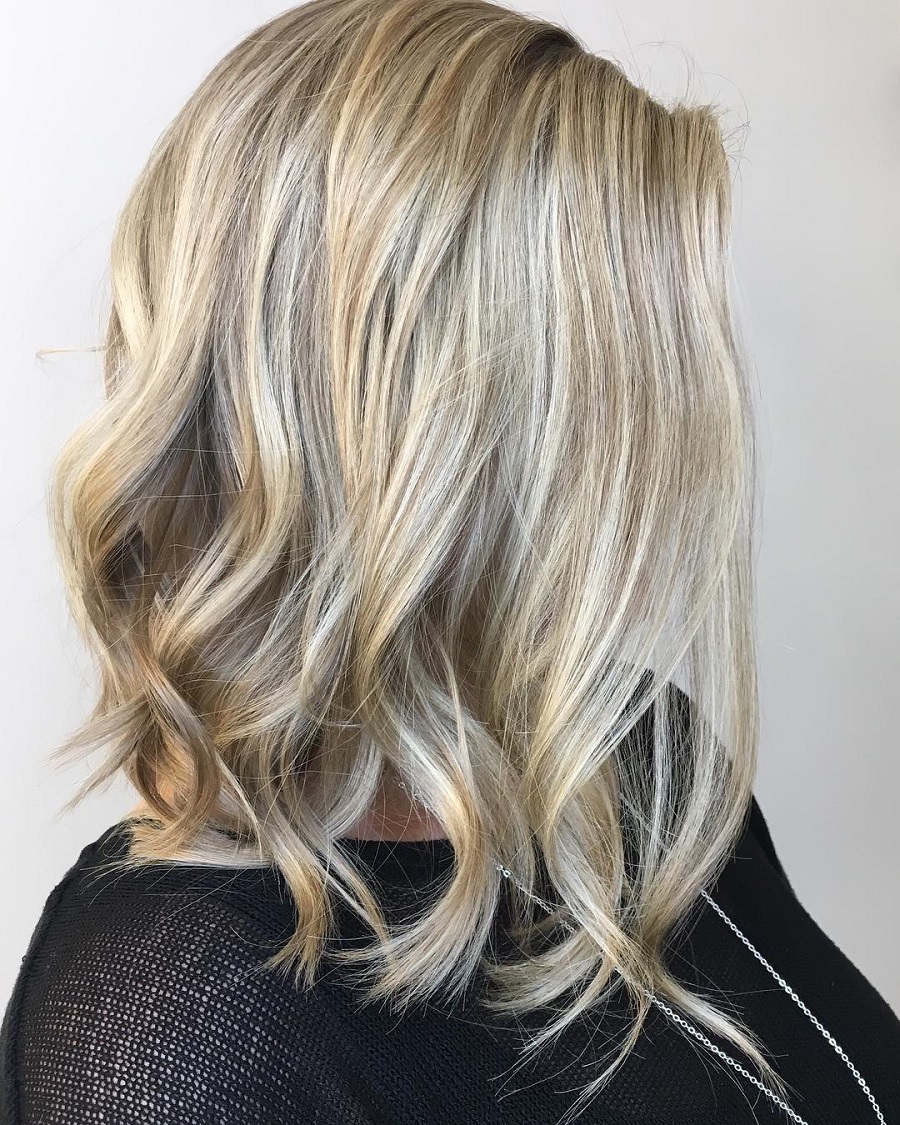 Sometimes all you want is a normal and pleasant tone like this creamy blonde.
The cut is relatively thick as it frames the face and the beautiful texture ensures people's eyes will definitely be drawn to your locks.
You can style a haircut like this in so many ways. It's all about finding the right texture and color combination that suits your personality best.
No matter what way you wear your long inverted bob hairstyle, you're going to look your best. It's such a flattering cut almost anyone can wear it and find they gain tons of confidence and self-esteem.