Lisa Deanna Rinna is a talk show host and actress from the US. Her hair is among her most recognizable attributes. However, her hairstyle has adapted to her profession, private life, and lifestyle. Kindly check a list of Lisa Rinna hairstyles before considering how to style your hair.
After viewing them all, you'll be able to determine which of her hairstyles works best for you. So, let's look at the actress's favorite looks and how she looks absolutely different every time she wears the same hairstyle.
Best Lisa Rinna Hairstyles of All Time
Let us find out which one of her trendiest hairstyle options best suits your overall look-
Feathered Shag
Her eye-catching feathery hair looks amazing. Nude makeup with warm honey hair color reflects her appearance. She looks like the prettiest star in the heavens.
The spiky roots towards the crown and the side swept look a nice fluffy texture while heightening her face shape.
Caramel Brown Ponytail
This elegant ponytail with blunt bangs is one of the best looks of Lisa Rinna's hairstyles. This hairdo extended toward the edges, which she decided to wear to one of the parties.
The hair texture distinguishes itself with unique flicks and extra gloss. Her flawless hairdo brightens and reflects the angles of her cheeks.
Slicked Back Updo
Lisa Rinna has maintained her classic haircut with smokey eyes and glossy lips. But, overall, she prefers to experiment with trends.
This iconic hair idea looks great on both short and lengthy hair. Wear it with the proper makeup, such as Rinna's outfit, and you're ready to impress.
High Blooming Bun
This high bun has sophisticated loose curls and coils over the crown. It undoubtedly looks both elegant as well as remarkable.
Rinna's fresh style tends to make her look creative and fashionable. She paired this hairdo with minimal jewels.
Balayage Shag
This is the best Lisa Rinna Hairstyles on our ranking list. A shag with a fantastic brown tousled bob looks stunning.
She chose this layered haircut because it complements her statement appearance. Balayage highlights over dark brown bases work miracles for the celebrity.
Honey-Brown Chops
Hairstyles with short tousled bangs stand out freely. They add a goofy charm to her look. You can quickly style your mane and improve its appearance.
Softer roots with highlighted edges bring out her skin complexion and intensify her intense eyes.
Messy Waves
She has chosen a slick back style to show off her graceful accessories. These hairstyles look best on people with long or square heads. The two flairs in the front add extra glamor to the look.
This hairstyle has an A-line cutout effect that broadens at the ends. This is especially effective on oval-shaped face types.
Rock & Roll Look
Rinna looks great with this unique haircut with playful golden curls. With her hair pulled back from her head, all eyes are devoted to her facial structure.
The neckline and earrings add flair to the look. This extra shimmery makeup elevates her personality yet again.
Smokey Pixie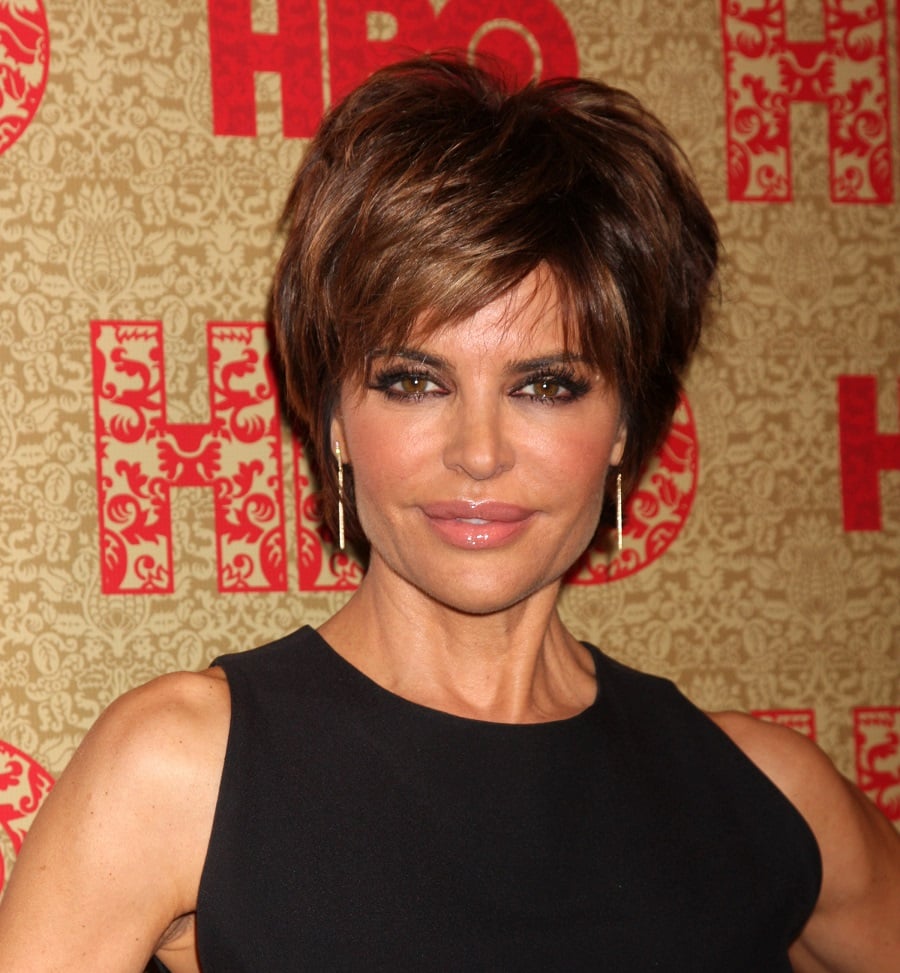 This sparkly layered bob with shining highlights looks great on Lisa and complements her bronzed skin complexion.
Her top hair is elevated by a darker shade, creating a textured surface. It enhances the hair color and will undoubtedly draw attention to you.
Caramel Feathers
Lisa's bronzed skin looks great with all those flipped-up spikes. Her caramel highlights over dark brown bases look sophisticated.
Furthermore, the rough top crown adds texture to her styling and creates a fascinating appearance. This is one of the messiest Hairstyles by Lisa Rinna.
Chic-Sleek Updo
The actress looks like a princess with her slick back styling. The bun is nicely twisted at the back of her head. This style has great movement and is very easy to recreate.
This brings light to her facial structure. Also, it provides an excellent chance to put on massive and cute jewelry.
Teakwood Bob
Rinna picked this haircut to highlight her collar bones. This super duper styling with chic curtain bangs is polite and sophisticated.
The trendy highlighted hair brings charm to this simple bob haircut. The curtain bangs also work beautifully on her outfit and face shape.
Candyfloss Layers
Play with this bubblegum color, or select from a wide range of pinks. Since this length isn't too dissimilar from her natural hair, this style appears very authentic on her. The wig's stylistic wave and color are our favorites.
Highlighted Ponytail
Rinna is sporting a ponytail and bangs on her thick locks, which are worn over her shoulders. Whereas the ponytail itself appears luxurious, it did not photograph well on screen.
The pony on her crown complements and defines the length of the look.
Shiny Blunt Bob
The side ones are indeed long enough to cover her earlobes and lighten her appearance. With regular haircuts, this styling is simple to maintain.
This shape is perfect for framing a huge forehead and is suitable for a special day or evening celebration.
Mid-Parted Mane
Lisa appears to look super stylish. As she put it together with her natural hair gelled back. Her favorite aspect is wearing gold hoop earrings to compliment her makeup and hair styling.
She appears tanned and bronzed, and the metallic green dress only emphasizes her stunning appearance.
Golden Waves
Rinna's stylish look with beachy waves is elegant and pretty. It is great if you like being motivated by the public figure.
But this style is for those who never want to trim their hair short. It is ideally suited to long hair with lots of texture.
Twisted Ponytail
This is the lengthiest hairstyle Lisa Rinna ever had. Not to highlight the color and elegance of her braid, but it complements her outfit flawlessly. The ponytail serves as jewelry with such a simple costume styling.
Lisa Rinna Hairstyles are a source of motivation for all women since her incredible and glitzy hairdos are trending everywhere. Lisa mostly favors haircuts that have an extra volume. She enjoys wearing these hairdos for special occasions as they appear sleek and elegant.
Meanwhile, if your hair is very thick, you can expect the exact same outcome because she has very dense hair. So, if you really want to replicate her hairstyles, give your hairdresser a picture you like of her.
Recommended Topics