Yarn braids are a fashionable and cool way to spice up your look and have a whole new attitude about yourself. Basically, yarn braids are just hair extensions that can be tucked in with your natural hair.
They come in a wide variety of colors, shapes and sizes, so you have the freedom to choose the right type of yarn braid style that will suit you. These extensions are quite affordable and eliminated the need to go to a salon and spend a lot of money to look special for any event.
With these braids, you can try out different styles in the comfort of your home itself. We have listed 30 different yarn braids styles for you to explore from.
1. Thick ark Green Yarn Braids
It is only justified that we start this list of yarn braids hairstyles with a very fashionable and bold hairstyle. And this is one such style that you can try if you are someone who has an eccentric personality and would love to try out and experiment with new things with your hair.
The yarn braids are in a beautiful shade of dark green which suits the skin tone of this model very well. In the middle, the hair has been neatly parted to both sides making this hairstyle look very girly. The brilliant shade of dark green is one that goes with many colors so you need to worry about your outfit matching your hair.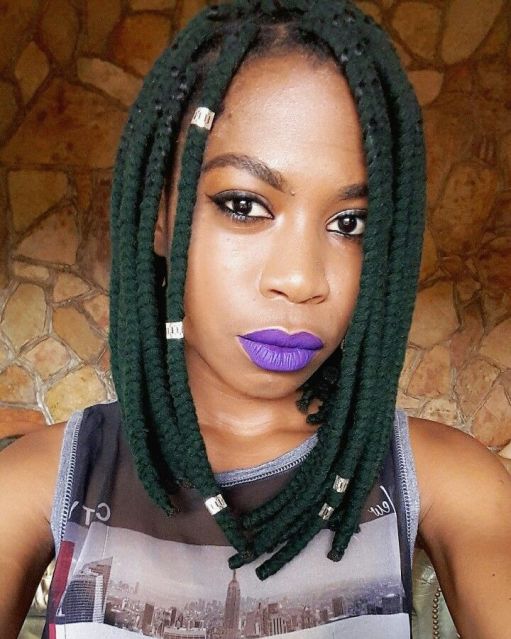 2. Colorful Yarn Braided Hair
Just take a look at this very amazing hairstyle, and we're sure you will be in awe of it. But seriously, could any hairstyle be more colorful than this? We bet there isn't.
The hair is just a brilliant combination of yarn braids that are of different contrasting colors but all of these colors blend together beautifully to create a vibrant look.
While the yarn braids are of varying lengths and thicknesses, most parts of them are in a medium-thick hairstyle. This look surely pops out and will make you stand out wherever you go.
3. Long and Thick Black Yarn Braid
And as people say sometimes, there is perhaps no other style or color which beats the natural beauty of someone. And that is just the case of this hairstyle, where the yarn braids are in a black color that simply looks authentic enough and makes you look beautiful.
The hair is at a long length due to the extension of the yarn braids and the braids have been carefully highlighted in vibrant and varying shades that go from dark green to light green just within a few strands.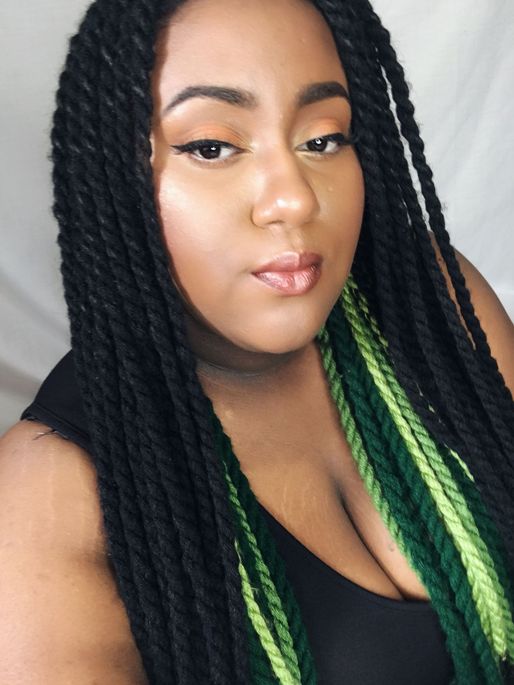 4. Black and White Thin Yarn Braids
While many people may argue that white or grey hair is only used by older people and only shows signs of aging, we have to disagree strongly.
While we accept the fact that older people mostly use white and grey hair, it is only because the beauty of this color or even younger people's hair hasn't just been emphasized enough.
You can simply take a look at this amazing black and white hairstyle, or the salt and pepper hairstyle, as they are known these days, and be sure of how great they look. This style here features long and thin yarn braids dyed in a brilliant black and white color combination.
5. Short Bob with Purple Yarn Braids
Here's another hairstyle that will surely make your eyes pop out just because of its sheer beauty. How greater could this hairstyle possibly be? The yarns have been styled as very thin twisted braids and have been tucked in with your natural hair, as you can see on the upper section of the head.
The yarn braids are a brilliant lavender shade that simply looks so vogue and trendy. It really does create a very hipster look and makes you like times cooler and attractive in just an instant. The length of the yarns is quite short so it looks like a short bob that has been maintained at shoulder length.
6. Thin and Long Yellow Braids
Just go through the above hairstyles, and you will surely understand that more than anything, yarn braids are all about having a fun, vibrant and colorful look and this hairstyle featured here is no exception to that fact.
The yarn braids style in this look is in a bright shade of yellow and we have to say that it does give out major spring season vibes to your whole personality and looks. The braids are very long and have been divided into extremely thin sections to create this look beautifully.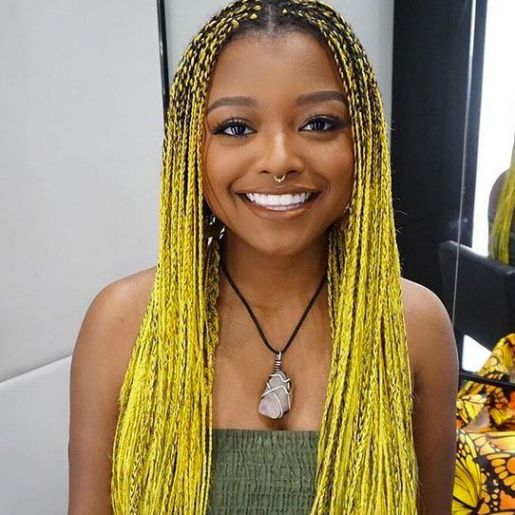 7. Neon Pink and Purple Beauty
If you have short or medium length hair, then you can just use these neon pink and purple yarn braids to add some fire and drama to your look, simply. And we're sure you know that by fire, we're only talking about increasing your hotness factor with just a simple hairstyle like this one.
The colors have been blended well together and are giving out major unicorn vibes. The unicorn trend is all the rage these days among teenagers and elderly people alike, so you can definitely stay ahead in your fashion game with this look.
8. Dark Blue Braided Bun
The bun is an essential part of any type of hairstyle and is no exception here, even in this list of yarn braids hairstyles. Buns are simply adorable no matter how you wear them or with what type of outfit, but they will surely make you look very cute.
In this style here, the hair has been maintained at a very long length and has been tied up in the normal braids hairstyle. Add in some blue yarn braids extensions and blend them together with the rest of your hair to create a pleasant look.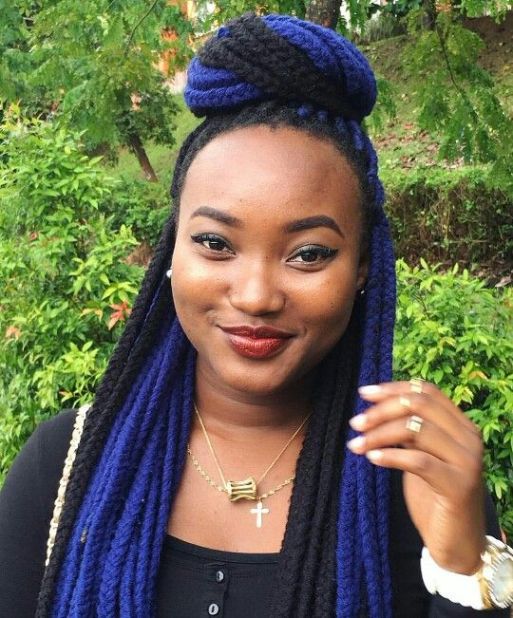 9. Very Yellow Thick Yarn Braids
We simply have no words to say about this hairstyle, given how amazing it looks. The yarn braids are in a beautiful shade of very bright yellow color and it simply makes everything else stand out due to the sheer brightness of this color.
A very striking hairstyle and although you can wear it in a wide variety of ways, we definitely recommend wearing it as shown in the picture since there is quite some beauty in simplicity. Now well, the color isn't too simple but the overall style is very minimal and neat.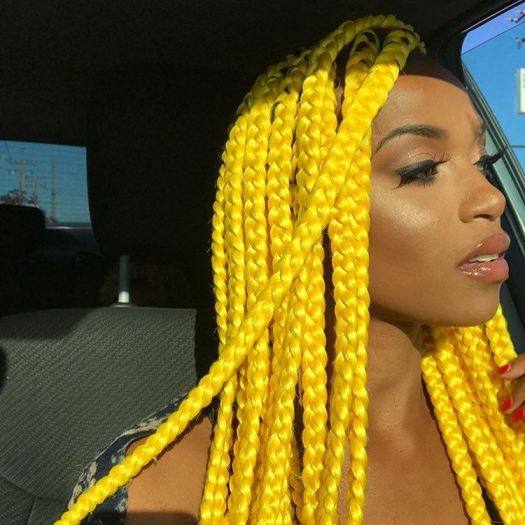 10. Twisted Hair
How lovely does this twisted hairstyle look? We have to say it looks amazing and gives a feminine and elegant charm to the person who is wearing this. The yarns are in the style of twisted braids, such as the ones that are found in kinky twists braids hairstyle.
Best suited hairstyle for those who want to project an image of having really thick hair which also projects some serious volume. The shade is also a beautiful hue of dark green camo. The highlight of this look is totally the yarn twists and of course, the beautiful green shade.
11. Long Thick Blue Yarn Braids
While there are many different ways in which you can try out a style for your long and luscious locks of hair, we would suggest you try out this adorable hairstyle. The yarn braids are very long and very thick and just that itself is only required to create some serious dimension and volume for your look.
The blue color of the yarn braids simply looks so cool and with this style, we can surely establish the fact that blue is a very feminine color that will surely bring out the beauty of any woman. This is a chic and new hairstyle that you should really give a try.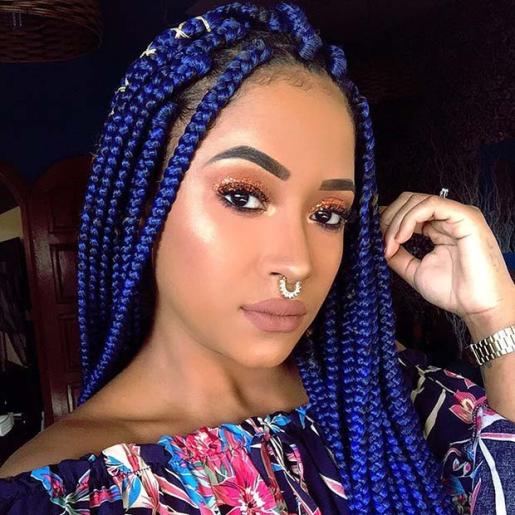 12. Yarn Braided Bob
And here is another hairstyle which is in a beautiful shade of blue. The hair has been styled in the looks of a short and thick bob. Bob hairstyles are great at framing your face and make it look much more defined and structured, thus making you look very attractive.
A yarn braids style that is combined with a bob is a great choice for when you want a chic hairstyle that also makes you look very cute. It is not only elegant but one that will suit different types of hair too.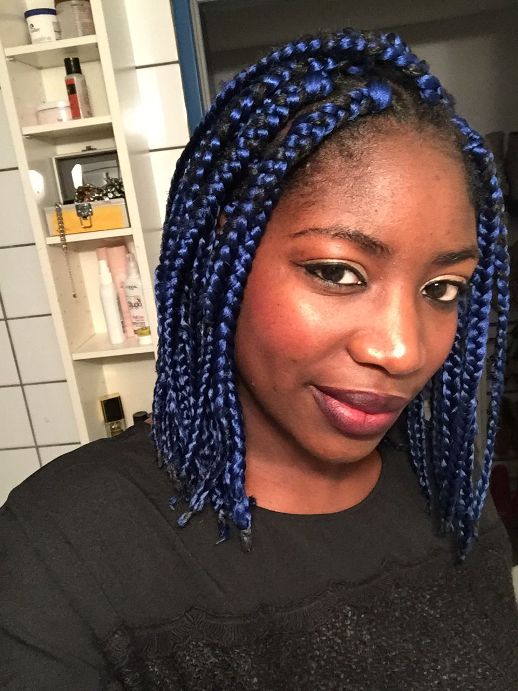 13. Brown and Beige Twisted Yarn
While blonde may be prevalent hair color, a much lighter version of the blonde color such as a beige or cream shade, might be a rare and great look that you should definitely go for if you want to be versatile and different from the rest of the people.
The hair is in the style of twisted yarn braids and has been maintained at a long length itself. Creating such yarn twists on your hair is very refreshing, especially when you are blending together different colors to create a gorgeous hairstyle.
14. Tied Up Yarn Braids
Now, this is one complex hairstyle and one that is very rarely seen too. As you can see, the hairstyle isn't a very common one so you can go for it without having a fear of having the same hairstyle as someone else.
This is a very interesting take on the normal yarn braids hairstyle considering how fresh and new it looks and the effort that has been put in to create a hairstyle like this one. On the upper front section, the hair has been tied up in the style of box braids style.
The hair has been divided into various sections too and placed on the upper crown section along with shorter yarn braids which come in a blue and greenish color combo.
15. Chunky Blue-Green Yarn Braids
Speaking of yarn braids that come in brilliant color combinations like blue and green, here's another such style that is in the same color combo itself. The hair has been very neatly and slickly parted to both the sides in the middle and then tied up in the style of yarn braids.
The braids are very chunky and thick too thus creating a very voluminous look. You don't need any mega-event to rock this hairstyle; you can wear it to work, casual events, and any type of events because while this look is surely dramatic, it is very cool too.
16. Short and Thick Bob
Oh, what a glamorous hairstyle that is all about feminity and grace. Whoever said that you need to have long hair if you want to look feminine is surely in for a shock because just take a look at this elegant hairstyle and you will change your opinion.
The hair has been very neatly and perfectly styled and is in the natural black color itself which makes it look very authentic. The braids are chunky and thick and the entire hairdo has been styled like a short bob.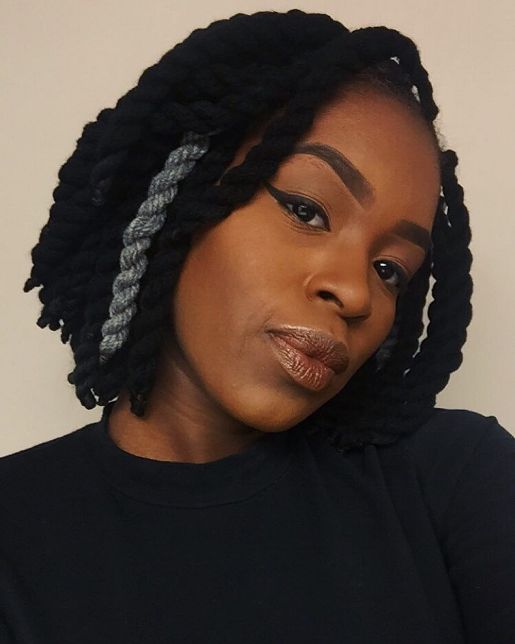 17. Brown and Pink Twisted Yarn
Here is another hairstyle that you can definitely say is all shades of dramatic. The yarn braids simply take the whole look to the next level and are surely a great hairstyle for when you need to make a bold style statement about your personality as well as your fashion choices.
The colors are bright and contrasting and are surely a good sight to the sore eyes. Be crazy, be unique, be cool, whatever you want to be, we can assure you that you can be all of these things simply with this hairstyle alone.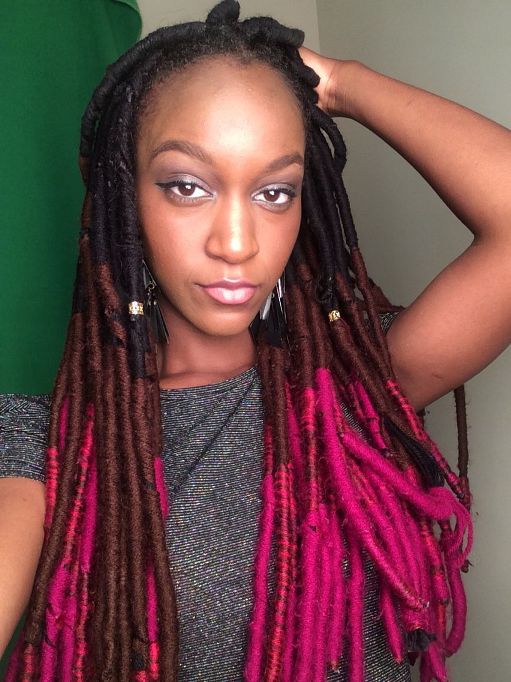 18. Thick and Chunky Blue Braided Hairstyle
The beauty of the brilliant blue color is so visible in this amazing hairstyle. The hair has been styled in long and chunky braids that look very dramatic and are simply serving looks.
The chunky braids that have been maintained at a long length really do help to add some volume and structure to the look. Blue is one of the most trending hair colors these days so go and try this lookout before it becomes too popular that everyone starts wearing this hairstyle.
19. Blue and Green Braids with Beads
Here's a look that is all about drama and creating a very effortless vibe. The yarn braids are very long and very thick in fact thus helps to create a dramatic look.
The look is also created as a result of the dramatic transition of colors that happens between the different layers of the hair as the hair colors range from dark blue to light blue and even to a dark and faded green color.
You can create a gorgeous look with this side-parted yarn braids hairstyle and one that has also been accessorized with cute little silver beads on different parts of the hair.
20. Thick and Black Yarn Braids
Yarn braids are one of the most stylish hairstyles, which are also quite cheap, and this hairstyle only makes that fact quite true. You can create an even more stylish look with the yarn braids style and that too at a very cheap price.
The hair has been maintained in medium length chunky braids in the natural black color itself but what makes this look stand apart is the beautiful and affordable way in which it has been accessorized. Various beads, as well as elastics of different colors, have been used here to create this adorable look.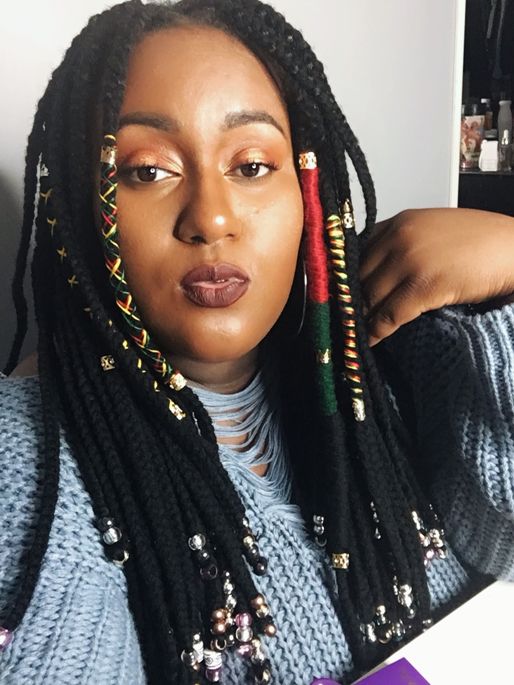 21. Electric Blue Yarn Braids
When we have used the word electric to describe this hairstyle, we surely do mean it, and if you take a look at this hairstyle, you can surely understand why this term has been used.
The brilliant blue shade that reeks from this hairstyle looks both very elegant as well as dope at the same time and now that is a rare thing because rarely does the dope factor and elegentness go together so well in the beauty industry. People are surely going to take a second look at you and you can steal the spotlight no matter where you are.
22. Short Bob
We would definitely like to use the word amazing again and not just in the title just simply to emphasize how amazing this hairstyle looks. It is a very creative hairstyle and a very unique one too. The hair has been maintained at a short length as a bob and has been very gracefully parted to both sides.
The yarn braids are in different shades of dark red, brown and copper blonde and these shades blend together so beautifully and perfectly to create a stunning effect on this look. The braids have been tied up as it nears the ends and thus making a short and cute triangular ponytail.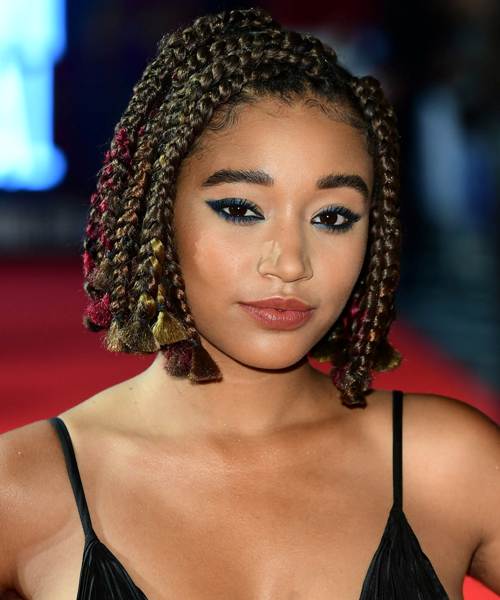 23. Salt and Pepper Hair with Huge Bun
The white yarn braids hairstyle surely seems to be trending these days, as is obvious from this look. The hair has been maintained at a really long length and the yarns braids are in a beautiful shade of platinum blonde that looks quite amazing.
The upper section of the hair has been tied up into a very huge bun on the top and that definitely makes this style stand apart from the rest of the yarn braids hairstyles. Pairing your braids with a silver or grey color like this one surely prepares you to look flawless.
24. Medium Length Violet Hair
Violet is one beautiful color and while it has been seen sported as gradient or classic highlights in most women's hairstyles, a completely dyed violet hair is a rare and beautiful sight. You can easily achieve this look with the help of simple yarn braids and not worry about spending so much money.
Even at a low cost, you are guaranteed to look like a billion dollars with this style. The color is just amazing in itself and naturally styling the hair is surely a beautiful treat.
25. Chunky Dark Green Braids
Dark green is another trending hair color and if you have thick hair with enough volume and texture, as well as length, then you should definitely give this hairstyle a try. It is a simple hairstyle at that but looks far from basic only due to the richness of the dark green-colored yarn braids.
The braids are chunky and thick at the top but get shorter and thinner as they progressively reach the tips of the hair, starting from the roots.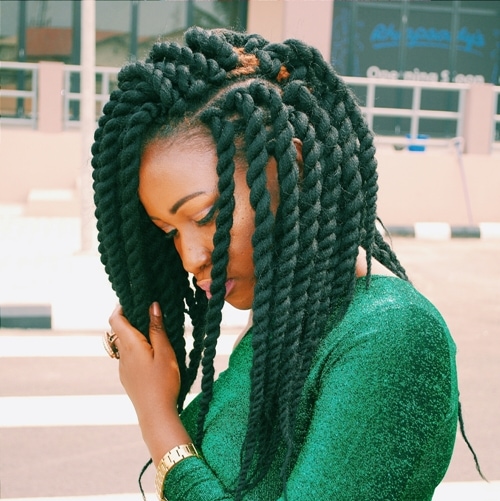 26. Thick and Chunky Brown Braids
Brown braids are an unusual hairstyle and maybe that is the reason why they look so endearing. This is a great way to stylishly do your hair making it a creative and different one from your basic everyday hairstyle.
And while it isn't too bold of a hairstyle, it's quite a simple one too and is perfect if you are looking to create a low-key look for yourself. The brown hue makes the overall style look very natural.
27. Multiple Designs and Shades
The yarn twisted hairstyle trend is amazing and it looks really good with this medium length hairstyle.
A perfect hairstyle for those who don't want to go overboard with their style as the colors in this hairdo is neutral and pastel shades which look great. These styles are not always seen, so you can be sure about having a unique look if you go for it.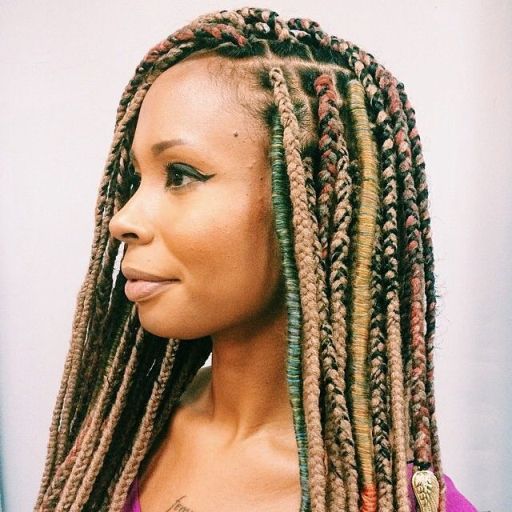 28. Violet Crown-Like Updo
This crown-like updo is a perfect hairstyle for when you need to look like a princess and that you are here to slay and rock like a true queen no matter what.
Usually, such crown-like hairstyles have been popular from olden times itself, but now even in this century, they look like they're only getting popular with different versions of such hairstyles being presented by hairstylists.
29. Shades of Blue Short Bobbed Hair
This bob hairstyle features yarn braids that are in many different colors, but they all look very ethereal since all the colors are different and varying shades of blue all of them coming together to create a stunning effect.
The bob style is very adorable and suits the facial structure well. the length of the bob has been maintained at shoulder length and the braids are thick and chunky creating significant volume.
30. Colorful Yarn Braided Bun
The best way to end this list is with a dashing and fun look, the colorful yarn braids hairstyle that is very beautiful in its own peculiar manner. There's nothing like being unique in your own style and this style will surely help you to achieve that.
The hair has been styled in yarns of medium length and they come in a wide variety of colors that are pleasing to the eye. The upper part has been tied up in a cute and high bun and the look is complete.
Yarn braids have many advantages. Apart from being stylish and cheap, they are also protective hairstyles especially suited for black people who have hair that needs some serious protection. These braids help to retain the moisture in your hair and not damage your hair by making it dry and brittle.
So with all these merits combined, it should all be reasons good enough for you to try out any of these hairstyles listed above. They are versatile, vibrant, colorful; and would totally match your happy personality.