It's not only a new year but also a whole new decade too. So if you have been waiting to try out a new hairstyle for a long time now, then there is no better opportunity than this. After all, the saying clearly goes 'new year, new me'.
So go ahead and be the newest and best version of yourself by trying out these cool hairstyles. And the best thing is that you don't need to spend any money on these kinky twist braid hairstyles. Most of these are DIY hairstyles that you can try out at your own home.
1. Curled Hair With Medium Length Twisted Braids
This is a cute version of the original kinky twist hairstyle. It's a simpler and more fun version with those curly locks of hair looking extremely drool-worthy. This hairstyle is best suitable for those who have medium-length and textured thick hair.
The hair has been maintained at the length of the shoulder. The hair has been divided into sections of equal thickness and then styled into small twists that help to create the look of bob when styled at shoulder length.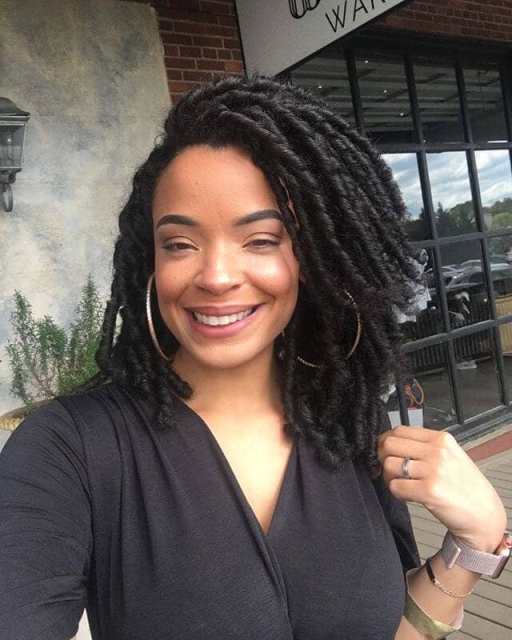 2. Naturally Curly Bob With Kinky Braids
Are you someone who would like to take a different route from the commonly seen long hairstyles and would like to try something shorter instead? Then we recommend that you should definitely try out this hairstyle.
This is a very short bob hairstyle with the kinky twists being much smaller than the normal size. But these small twists make the curly hair look very voluminous and creates the appearance of having a good dimension.
3. Side-Swept Bangs and Bun
If you want to make your twists look even cuter and in general, if you want to have a very adorable look, then look no further than buns to add a dose of cuteness to your basic hairstyle. On the front, the hair has been styled in long bangs that have been swept to the side.
To make sure that the bangs don't look too boring, it's always best to style your twists very small. In this style, the hair has also been highlighted in a beautiful shade of honey blonde, which makes the overall hairstyle look quite amazing.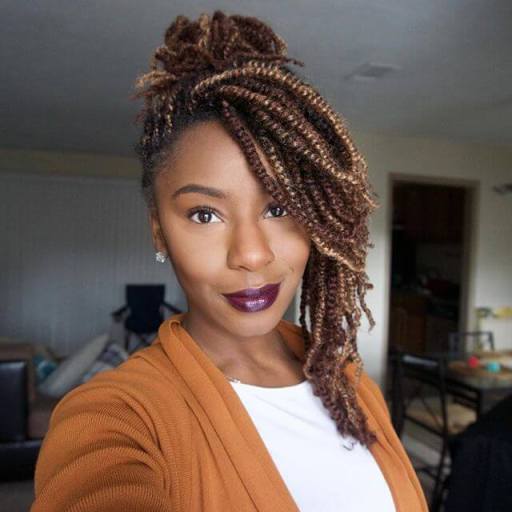 4. Short Curly Twists with Blonde Highlights
This is another cute hairstyle for those who would like to keep their hair short and manageable. Your hair obviously becomes quite manageable and can be protected well when you tie it up in braids like this.
Braids with kinky twists only help in adding some more style and glam elements to your look. The bob has been maintained at the shoulder-length itself, and the braids have been styled in short and curly twists which give a very natural look. The blonde highlights in only some parts of the hair are also pretty.
5. Side Swept Hair With Crochet Twists
A kinky bob is a great way to add some spice to your look. And when you combine it with exquisite and intricate crochet style braids like the one shown in the picture, it becomes spicier. You'll definitely be serving looks no matter where you go.
The crochet braids although they may look quite complex, it's beauty simply cannot be denied. The entire style has been styled in a side-swept manner thus taking away the basic style of the look.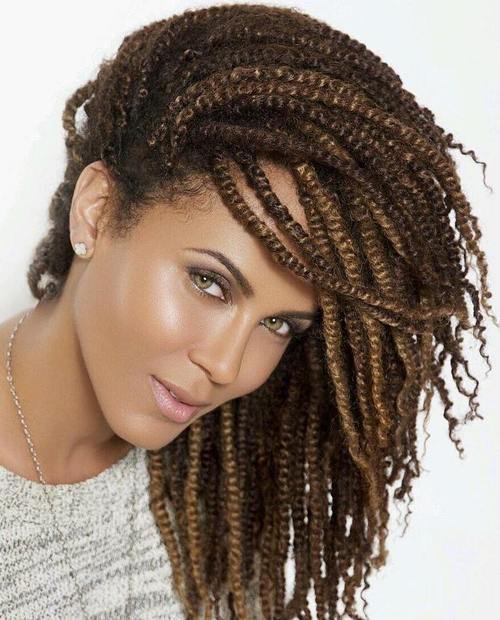 6. Short Layered Side-Swept Bob
Layers are great at taking any basic look to a completely next level. Now with kinky twist braids like this, no one would have thought about adding in layers since there are quite slim chances of it being clearly visible.
But as seen in this look here, the layering is done on the hair is quite beautifully visible. The hair has been side swept and tucked in gently on both sides. The hair has been maintained as a very short bob and has been highlighted in various sections making it look glam.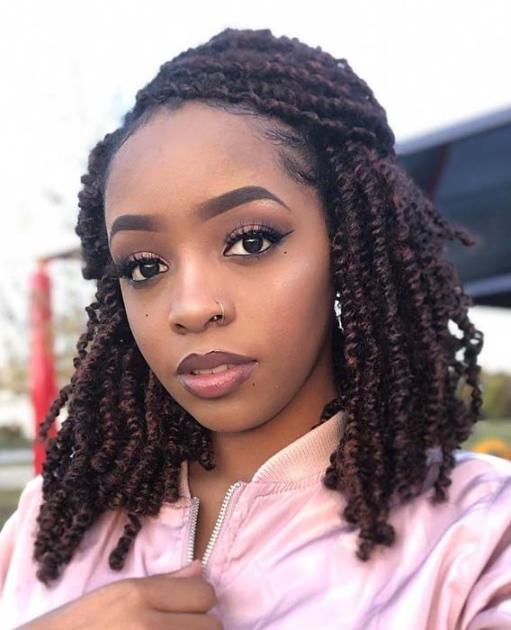 7. Short Kinky Braids With Copper Highlights
The kinky twist braids on this hairstyle sure do look amazing but what looks, even more, better is the copper reddish highlights that have been painted just on the ends of the hair.
The hair has been styled in a short shoulder-length bob which also features small coil-like kinky twist braids that look too adorable. The hair has been swept to the sides which makes a face look much more defined and structured.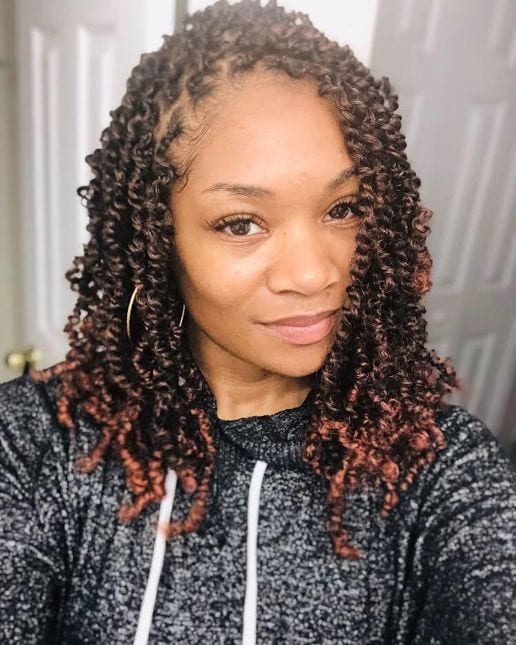 8. Thick Bun Braids
We have already discussed how buns are an adorable way of styling your hair. They simply make you look extra cuter and much livelier in fact. It's maybe the cuteness factor that gives a young and lively vibe. This hairstyle features very thick hair that has been divided into equal sections and braided.
The upper middle section of the hair has been taken together and tied up into a cute high bun while the rest of the hair on the sides has simply been let down and styled with small golden bead-like accessories.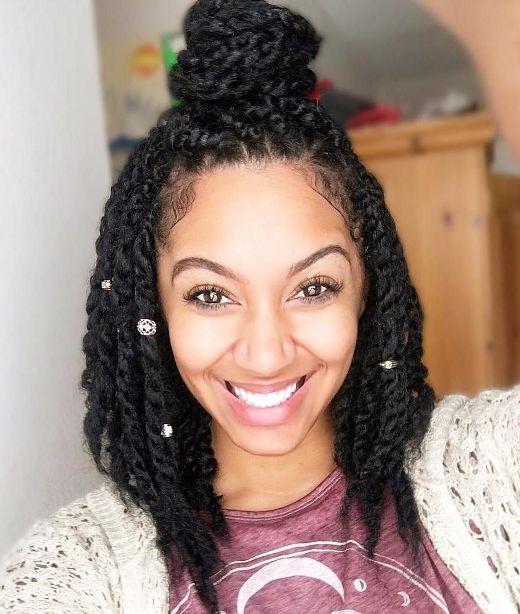 9. Long Chunky Braids
This is the best hairstyle for those who have long and curly thick braids and are looking for a cool and hipster way to style it. This is a very refreshing and breezy look that is simply unique from the rest of the kinky braids.
The braids have been styled in a side-swept manner. And they have also been styled with golden simple bead accessories on the hair. If you want to create a more bouncy look to add some volume to your hair, then you can style your hair in very short curls.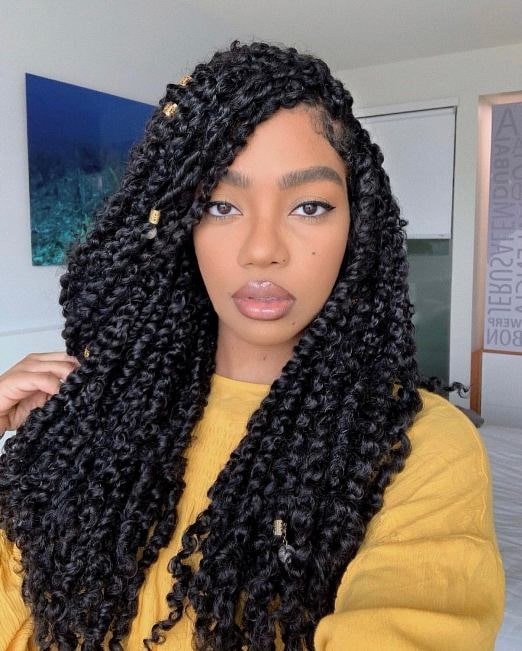 10. African Twisted Braids
How amazing does this twisted braids hairstyle look? We have to say that it looks quite ravishing. The hair has been styled in very short twisted braids. The twists are all of the same length and thickness and are simply perfection. To achieve this look in all its perfection, it may take quite some time.
But once you've completed it, the look is surely going to blow everyone's mind with its beautiful perfection. This is quite a popular look for a black hairstyle since not only does it protect your hair but also makes it look glam.
11. Thin, Sleek Braids
if you like thin sections of hair, then this look is surely just the one for you. the hair on the upper part is a little bit thick though, but as it comes down from the roots of the hair towards the tips, then the sections of hair get progressively thinner, thus making this kinky twist hairstyle quite beautiful.
The hair has been dyed all over in a warm shade of ash and copper mixed blonde color. it may look heavy and voluminous but it surely feels easy on your head so you can be comfortable at all times.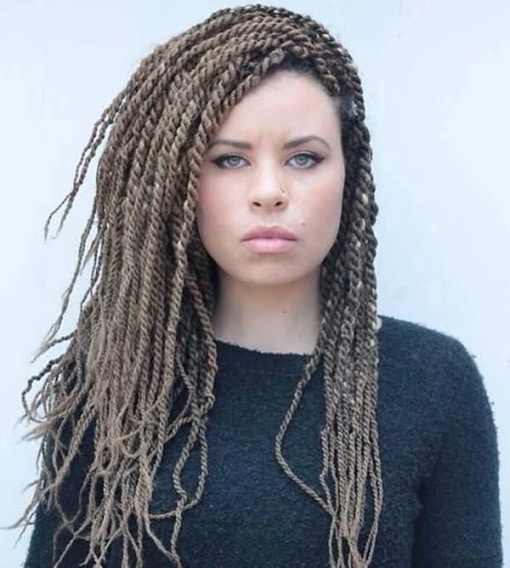 12. Chunky Twisted Bob Hairstyle
This short bob hairstyle is surely going to take you places just with your looks and attitude. The short coil-like kinky twisted hair simply looks amazing and is sure to perfectly frame any type of face and make it look more defined and beautiful.
It is also a very easily doable look that you can try out at the comfort of your home itself without having to spend any money. Or if you have no time at all to get ready, then you just try out a different version of this look with braid extensions.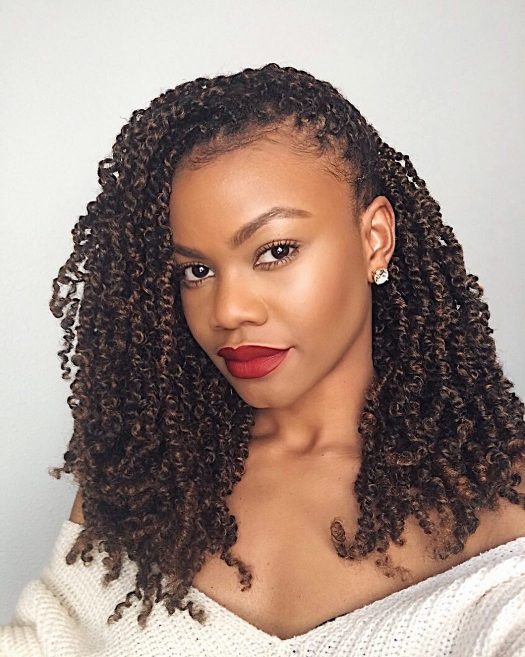 13. Short Layered Kinky Bob With Highlights
Are you someone who is simply in love with small curly twists like the one shown in this picture? Then we definitely recommend that you try out this short hairstyle.
The highlight of this look is obviously the layered bob that has hair of different lengths dangling elegantly at different parts of the face and head. The highlights also really pop out and add a beautiful glow to this short bobbed hairstyle. You can get this look simply by twisting your own hair in the kinky twists hairstyle.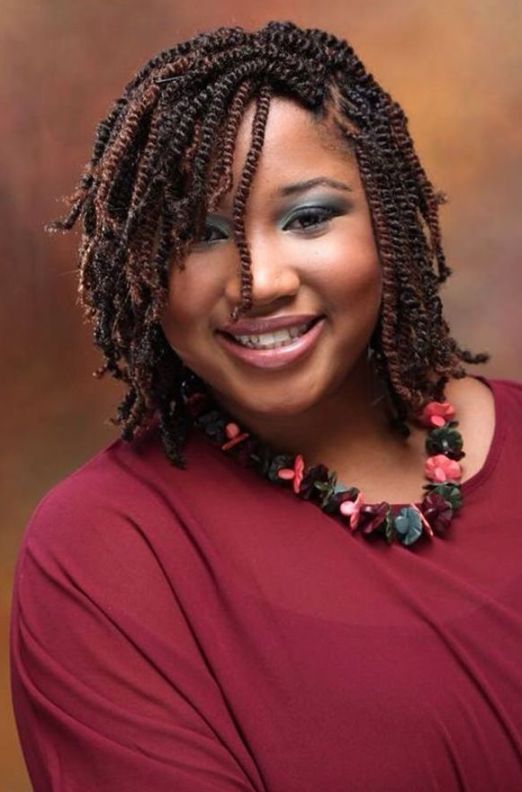 14. Normal Black African Braids Style
This is a very gorgeous hairstyle that you can try out if you're not too much into styling and stuff and simply want to keep your hair in a low-key fashion instead. The hair has not been dyed or highlighted and is its black color itself.
The look is as natural as it can get thus making it a pretty hairstyle that is also authentic at the same time. The hair has been maintained at the length of the shoulder and is tied up in the normal kinky twists hairstyle itself.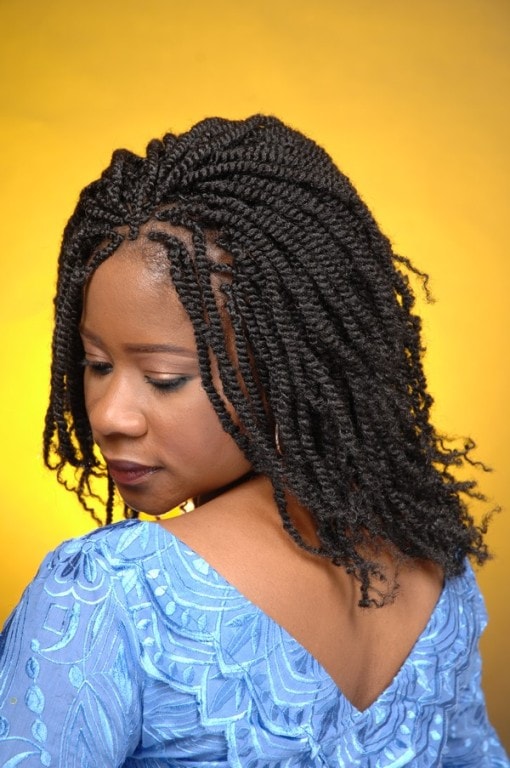 15. Long Box Braided Hair
The braids are a complex and intricate hairstyle, which not only takes a little time and effort but also is very uptight so if you like to braid your hair but you want to keep it casual and cool without all the drama, then you should definitely check this lookout.
It's all about simplicity and the hair on the upper section has been tied up in a box braids hairstyle. The long hair has then been styled in loose braids thus giving a very relaxed and effortless vibe about the whole look.
16. Medium Length Kinky Twists
This is an adorable hairstyle for those who would like to show off their braids by flaunting them in their medium-length hairstyle. The hair on the upper section has been highlighted in a beautiful shade of warm honey blonde while the rest of the hair on the bottom section has been styled in its natural black roots itself.
To effortlessly rock this hairstyle, you need to have some serious volume on your hair and it's clearly visible in this hairstyle. The kinky twists are thicker on the top while it gets thinner to the bottom, thus effectively combining both styles gracefully.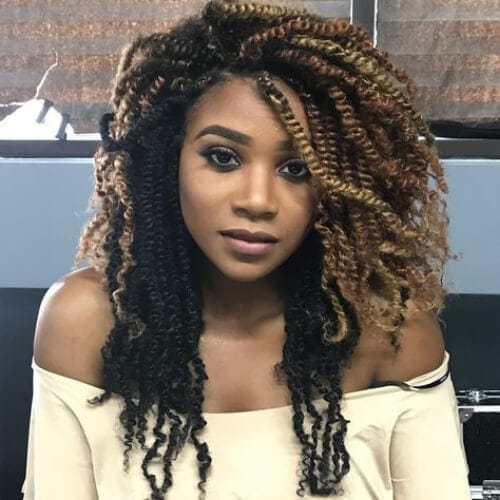 17. Natural Bobbed Hairstyle
Seriously. There is something about bob haircuts that makes them look better each time you see them. Maybe it's the definition it brings to the face, or simply the gorgeousness of the bob style. This bob hairstyle shown here looks all the more amazing and voluminous thanks to the kinky twists braids style that is featured here.
The hair has been subtly highlighted in brown color and it gives a soft glow to the look. The flow of the hair on both sides looks very natural and while the bob isn't very short, it's both long or of medium length either.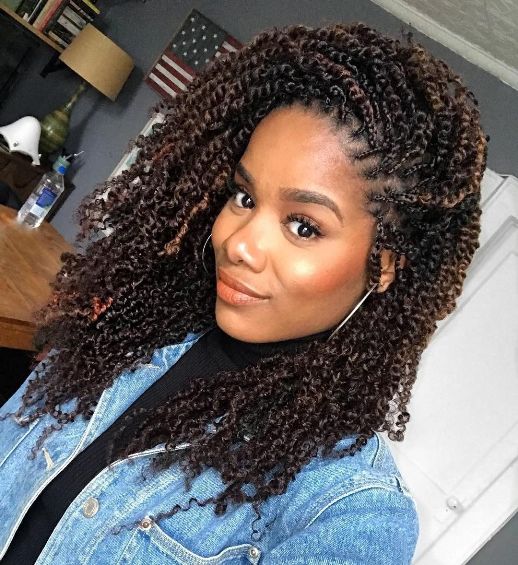 18. Short Bob With Thin Twists
Are you someone who would like to try out a neat and minimal hairstyle instead of the bold and dramatic ones? Then this hairstyle would suit you well. It features thin kinky twisted braids on all sections of the hair. The hair has also been styled in a short shoulder-length bob.
The twists are small and quite curly. The thin factor about this look definitely helps to tone down any excessive volume of the look and make it look natural enough. Pair with few hair accessories and you've got a cool and casual look.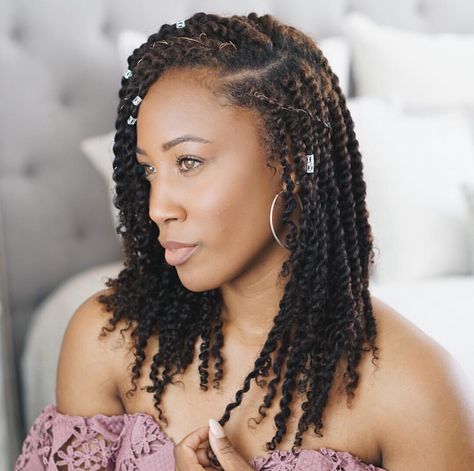 19. Long And Chunky Havana Twisted Hair
While the hair has been divided and braided in thick and chunky sections, each of these sections here has been tied up in a small kinky twists style. This helps to create some much-needed texture to the hair, which is essential when you are wearing a style like this.
In the end, the smaller twists finish off with flowing and wavy hair which gives a very cool and hip look to the person wearing this style. This is a simple and go-to look that can be worn for any occasion without any hassle.
20. Crochet Twisted Braids
If you want to instantly level up your style quotient and look your best at any time, then you also need to put in some effort. But worry not because we're talking about one hell of a task here. Instead, what we're talking about is to try your hairstyle in the style of the crochet kinky twist braids.
It's an elaborate and elegant hairstyle with intricate patterning that simply makes you look gorgeous. It is a great hairstyle for when you need to make a style statement about yourself.
This is a popular hairstyle among women and you can also add in some highlights in a bright and contrasting color to make your look really stand apart.
21. Blonde Kinky Twisted Hair
A great kinky twists hairstyle that you should definitely try if you are thinking about going blonde. To get the perfect look with this hairstyle, you can choose to get your hair done in the Marley style which is great with blonde hairstyles.
The Marley's hair is the best and right shade of blonde. You can also try out this style simply by beaching your hair in a golden blonde color but the Marley hair would be the perfect fit.
22. Short Bob With Kinky Twists
A totally adorable hairstyle thanks to the very shortly cropped bob. The bob has been maintained at the length of the ears and has been neatly cut along the nape of the neck thus making it look cute.
It perfectly frames the face and helps to make the face look more round and brighter. The hair has been middle-parted and divided into various sections of hair which have then been tied up in a very thin kinky twists braided hairstyle.
The ends of the hair have been left flowing loosely thus creating a wavy effect with the look. This hairstyle is a cool and casual one that can be worn for many types of events.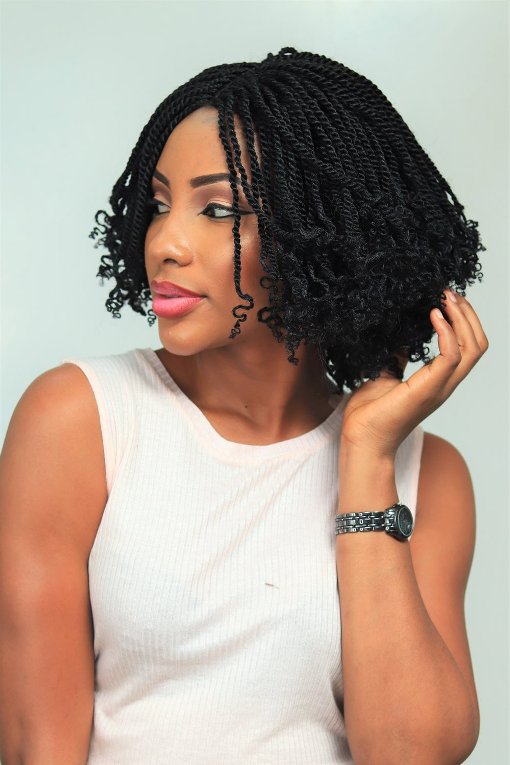 23. Short And Cute Bob Hairstyle
Short hairstyles are all the trend these days, and this style is also another one in the ever-growing list of popular short hairstyles. The hair has been cropped at the length of the shoulder and has been tied up very neatly so if you're aiming for a good and professional look, then this style will definitely suit you.
On the upper portion, the hair has been done in style similar to the side-swept bangs hairstyle. The hair has also been tied in short and neat kinky twist braids and the ends of the hair have been let down loose.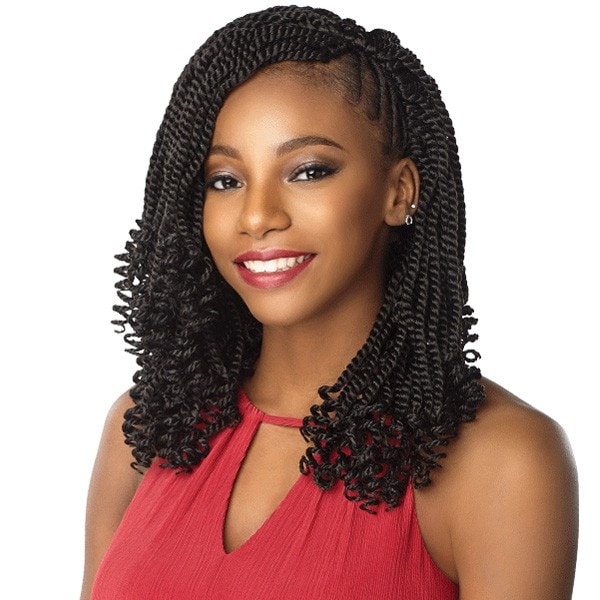 24. Short Bob With Blonde Highlights
Another style inspiration from the list of the short bob hairstyles. The length of the hair has been maintained in level with the shoulders. The hair is quite textured and thus creates a wavy feeling when tied up in these kinky twists braided styles.
The thin sections of hair have been tied up in small and coil-like twists and then accessorized with few silver beads. The ends of the hair have also been highlighted in a toned-down shade of golden blonde.
25. Medium Length Kinky Twists Hairstyle
This is a cuter version of the original kinky twists hairstyle with the hair being maintained at a medium length itself. It makes use of Marley's hair to create short and curly twists, which simply look beautiful in a very relaxed and natural way.
The hair has been highlighted in a chocolate brown shade in the gradient style with the highlights being visible at different places but looking amazing when you look at it as an overall picture. If you want a longer style similarly, you can also just buy some longer kinky hair and blend it together with your hair.
26. Curly Spring
The beautiful braids on hitting chin-length are transformed into loose curls. The ends of the braids are curled by ironing, giving a fuller look. This hairstyle is chic and easy to wear and is suitable for every occasion.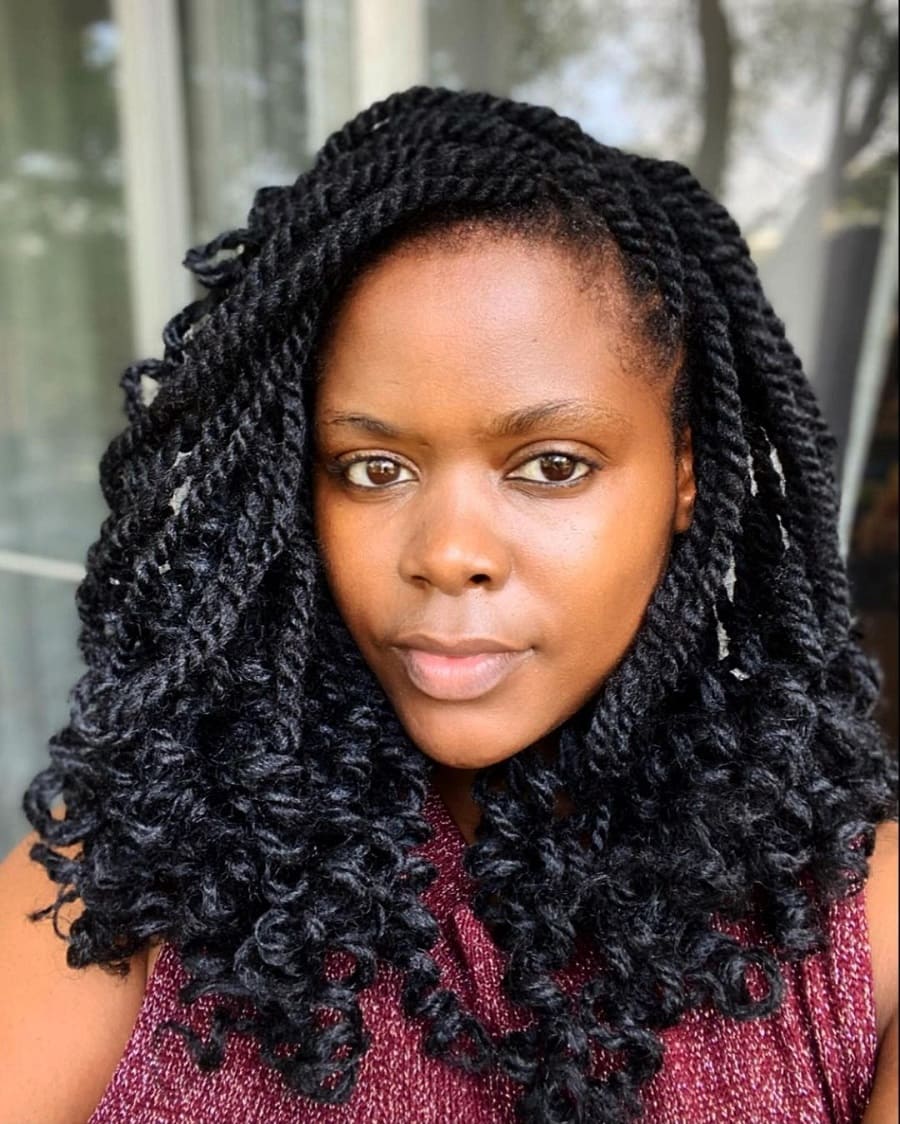 27. Side-Swept Twisted
The hair is tied into thin braids and neatly swept to one side with the ends let loose on the forehead and over the ear.
The light brown hue is perfectly teamed with black to give a bold look. It's one of the best kinky twist braids hairstyles for Afro hair.
28. Chunky Twist Braids
This chick bob braid is textured, elegant which falls loosely on both sides. This style is easy and low maintenance, thus liked by all women. The cool breezy look is effortless and perfect for an everyday style.
29. Skinny Twists
The hair is tied into thin tight twists, and the front is tied back as if clutched together to give the appearance of a waterfall. This style is very convenient for a mature look.
30. Half Pony Twist Braids
Tightly braided hair is pulled back and tied into two ponytails giving a cute and girly look and is popular amongst young athletes as it keeps the hair away from the face.
31. Half up Half down
The dreads are tied in a high ponytail and let flow down, giving a crown shape. Amongst kinky twist braids hairstyle, this style can be experimented with color to get a more appealing look.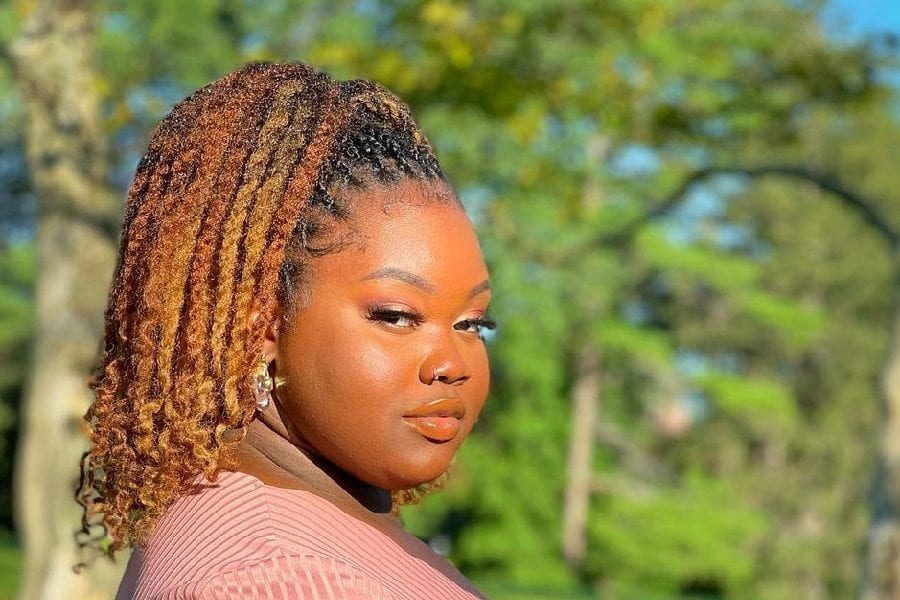 32. Kinky Side Swept Twists
A powerful pixie that blow the center hair over one side, giving a one-sided frame look. The sides are tied into thin braids which look stylish and trendy. Easy to maintain for short to medium hair, suitable for all face types.
33. Two-Strand Twist
Two-strand twists are the easiest form of hairstyle as it does not require a lot of hair tools and products. Fingers and twisting cream are enough to style them in the desired way. Blunt ends and asymmetrical locks give it a peppy, funky look.
34. Passion Twist
These thick twists are gorgeous, and if you love the jumbo twist, this is the style for you. The hair is neatly braided on the top and twisted.
Short to medium hair gives it a fluffy look. Try out this kinky twist braid for a new yet professional look.
35. Twist Braids
It's perfect for curly and medium-length hair. This style proves that braids and buns can go as well with a kinky pixie cut. One side is neatly braided while the other is curled on the top with all the volume in the center, making it look lovely.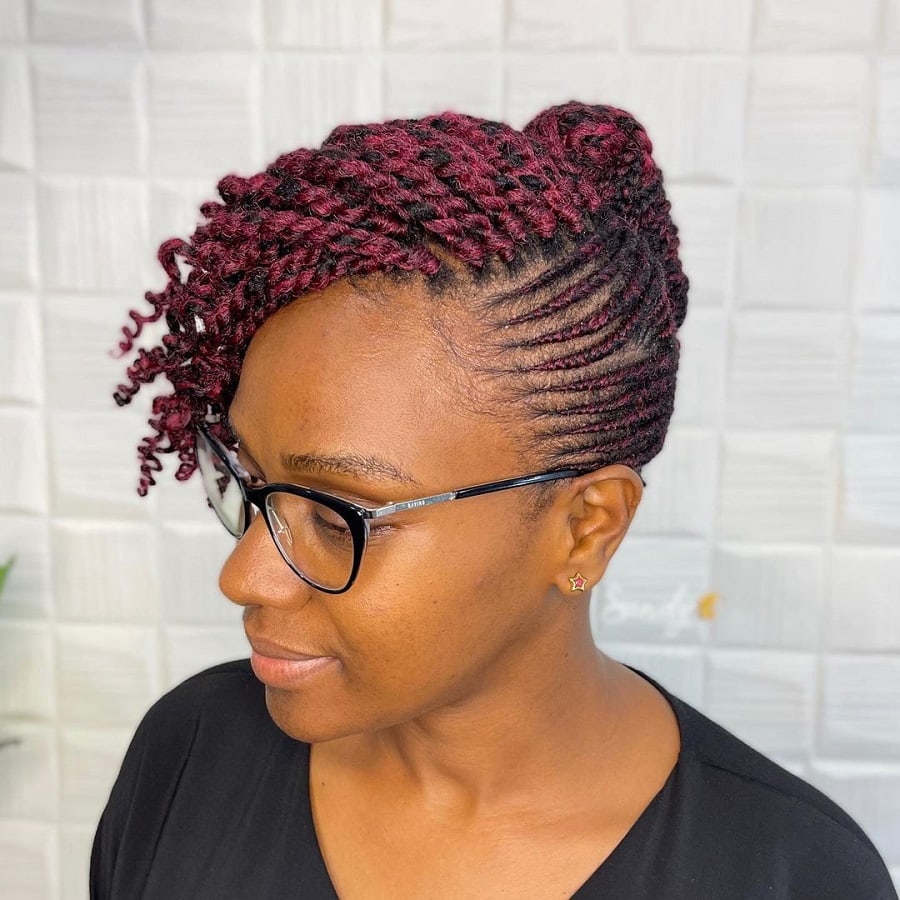 FAQs
Is a kinky twist good for natural hair?
Yes! Kinky twists work great on natural hair. Moreover, twists of any kind work best on completely natural hair that hasn't been treated or dyed, and kinky twists are no exception.
How long do kinky twists take?
Kinky twists are a time-consuming hairstyle. For novice braiders, kinky twists can take over half a day. Some people report even up to 16 hours of total installation time! However, if you go to a professional, it will take half that time. Professional hairstyling is costly, so keep that in mind.
Can kinky twists be washed?
Do not try to wash hair styled with kinky twists like normal. Traditional washing will ruin the style. Instead, only wash your scalp with shampoo and use a spray bottle to wet the hair near the scalp and your scalp itself.
This way, you will not risk damaging the twists, and you can easily rinse build-up off of your scalp.
Do kinky twists damage hair?
Twists can damage hair if they are improperly installed. However, if you have professionally installed kinky twists, you likely will not suffer any hair damage. If you keep the twists in for too long, you can cause damage to your hairline. Ask your stylist for the best recommendation on how long to keep them in.
Can I dye my kinky twist hair?
Yes, you can dye kinky twisted hair. The best way to do it is with fabric dye and boiling water as long as the synthetic part of the twist is heat resistant. And if it is not, the best way to dye it is with cream color dye. Avoid natural hair dye because it won't work as well on synthetics.
What do kinky twists cost?
Pricing depends largely on the estimated installation time and the number of materials you need for your desired length and hair type. On average, 12-inch kinky twists can cost about $160. Twists that are 14-16 inches can cost over $200.
What's the difference between a kinky twist and a spring twist?
The difference between kinky twists and spring twists is the type of hair used to create the style. Kinky twists are made with kinky hair. Spring twists are made with wavy hair that has to be separated before it is installed. The point of spring twists is to give your hair a bouncy look.
For kinky twists, the hair extensions are braided at the root for about an inch. Then you twist them the rest of the way. Kinky twists are often shorter than spring twists as well.
The list comes to an end here. We're sure you have fallen in love with these adorable hairstyles. And as we stated earlier, the best part about each of these hairstyles is that you can try it yourself since all of these are DIY.
Try these styles on your natural hair or with per-braided hair extensions, such as the ones used to create the crochet twisted hairstyles. These styles are sure to increase your confidence up a notch and also make you look glamorous at the same time.