The pageboy haircut is a modern-day rendition of the pudding-basin haircut of the medieval pageboy, thus the name. The hairstyle consists of hair that comes down to the ears and is curled inwards, paired with fringes in the front.
There are many ways to modernize the traditional hairstyle according to your style, and that's exactly what this article is all about. The short boyish hairstyle can be updated with a lot of fun cutting techniques and styling options, and we're here to show you how.
Pageboy Haircuts for Chic Women
Here's a list of 20 ways to spice up the traditional haircut.
Asymmetrical Pageboy Cut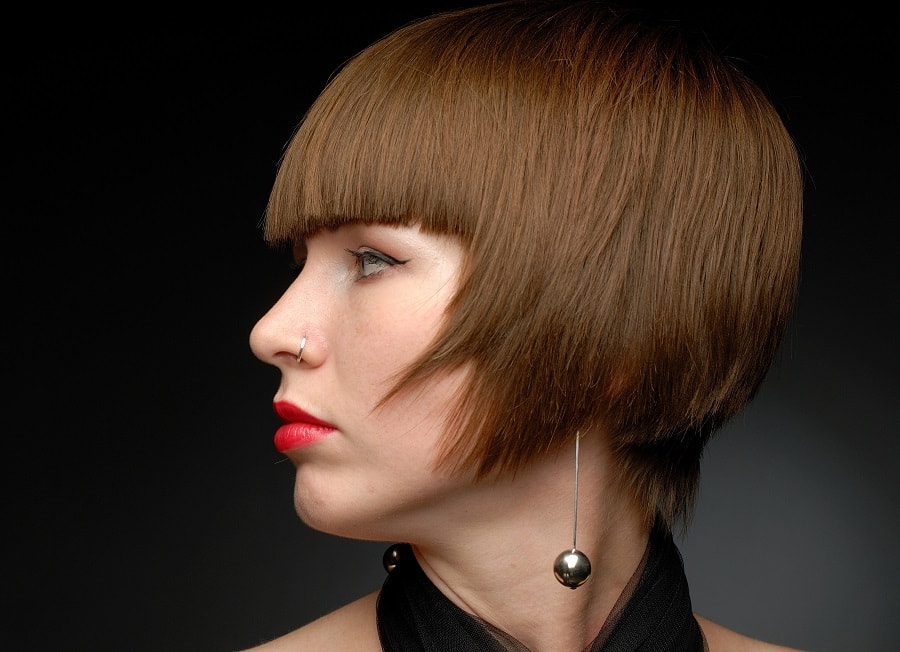 If you're the kind of girl who loves experimenting and doing things that are out of the box, then this pageboy haircut should interest you. This look includes experimenting with every aspect of your haircut.
From different lengths to different textures, this haircut has it all. The hair is roughly chopped in varying lengths to look at side whiskers.
Sleek A-line Cut
The pageboy hairstyle can be too vintage for some people, but there are countless ways to modernize the traditional look. One such way is adding a trendy color to the look.
Another way to modernize this haircut is by cutting the hair in an a-line fashion. The sleek look is the perfect update to a traditional look.
Elegant French Bob
Who doesn't fantasize about being a Parisian girl walking down the streets of Paris? While that fantasy may be far-fetched for some, looking like a French girl isn't as hard as it may seem.
This hairstyle will make you look and feel like a French girl. The front tresses will frame your face while the fringes that hang just above the brows bring all the attention to your beautiful face.
Blunt Cut
This modern and stylish hairstyle consists of a straight blunt cut below the ears and with straight bangs. This look is neat and chic and would work well for younger girls. The hairstyle is fuss-free and easy to maintain as well.
Bright and Bold Haircut
Who doesn't need a splash of color in their life? A pageboy haircut isn't something that you'd see on people walking down the street. It's a pretty special hairstyle that only a few can muster the courage to get.
However, if you want your hairstyle to have a bit of individuality, we recommend you to get your hair colored in a bright, bold color like this one.
Wispy Layered Hair
A few strategic layers can define your fine hair. This haircut consists of wispy side layers that add texture to very fine hair. Try this messy bob for a unique look.
Chic Pageboy with Short Bangs
These hairstyles don't suit everyone because of their different face shapes and features. Not everyone can pull off bangs that are the same size as their cut.
So, you can customize the length of your bangs according to your liking. This haircut can give you iration on how to tweak the traditional cut according to what suits you more.
Avant-Garde Haircut
Look no further if you're looking for a signature hair look that represents your style. This is the perfect avant-garde haircut that could leave a mark on everyone around you.
Dare to be different by trying this avant-garde cut that consists of Straight bangs with inward curled and tousled sides.
Stylish Pageboy with Baby Bangs
Celebrities have been gatekeeping your gorgeous baby bangs for far too long but not anymore.
They're the perfect way to freshen up your face and look brighter and more youthful. Paired with this cut, the baby bangs form a stunning look.
Straight and Sharp Bangs
This haircut looks like it's straight out of a movie scene. The slightly wavy bob cut with straight bangs looks ethereal, to say the least. The hairstyle is another simple and safe option you could try out every day.
Curly Bedhead
This hairstyle has to be one of our favorites. The look is a very unique take on the traditional pageboy haircut.
To achieve this look, you need to cut your hair into choppy layers and curl them in different directions. The result will turn out to be the hairstyle in the picture.
Orange Pageboy Bob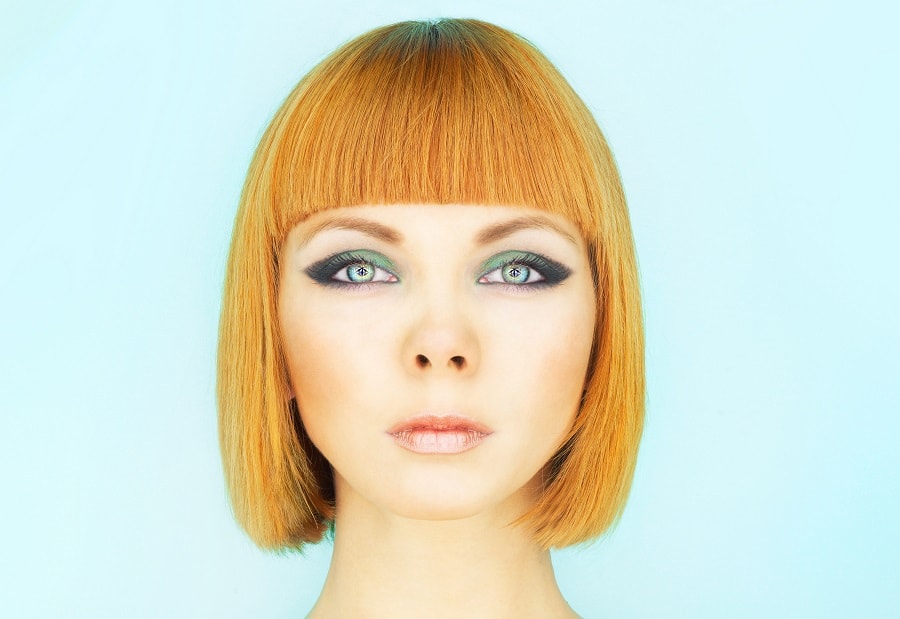 This haircut is modern, edgy, and very stylish. The blunt and straight bangs neatly frame the face, and the beautiful color will enhance your natural beauty.
Side Swept Bangs with Bob
Here's another example to style your hairstyle in a unique way. The side-swept bangs open up your face and give a fresh twist to the classic haircut. And, of course, it goes without saying that such bangs can give a nice framing touch.
The side swept bangs, and the choppy layers scream emo to us. This look has been created by taking inspiration from emo and pageboy haircuts.
It blends the features of the two seamlessly to create a unique yet edgy look for you to try out.
Mannequin Inspired Hair
Here's a very futuristic spin on a traditional hairstyle. This hairstyle is inspired by mannequins and is quite out of the box.
The subtle baby pink color just adds to the whole drama. The bangs are kept long and straight while the sides are curled inwards for a face-framing look.
Retro Blonde Bob
Remember Daisy Buchanan from the movie The Great Gatsby? This hairstyle reminds us of her.
Here's the hairstyle we imagine women in the 1920s would wear to grand casino parties. If you wanted to look like the rich of 1920s or 1930s new york, here's your option.
Wavy Short Dark Hair
What a perfect throwback to the vintage times this haircut is. When you add a few waves to a pageboy, it looks like those popular finger waves.
The unraveled texture gives the entire look more dimension and depth. This haircut is perfect for you if you want to subtract some years from your age and look more youthful.
Edgy and Colorful Hair
Here's a haircut that's vintage yet modern. The structure of the haircut preserves the original style while the color is funky according to the trends of the modern day and age. You get the best of both worlds while making a bold statement.
Electric Green Highlights
If you want to recreate a retro haircut but in your modern way, you might need a hint of color.
The pageboy is originally a vintage look, but color takes the style quotient up a notch. This green color looks like it's come straight out of a fashion magazine.
Short Bowl Cut
A bowl cut is essentially a pageboy haircut; you are wrong if you think the haircut is only for men.
The entire hair is cut according to the size of the front bangs, as shown in the picture. The undercut at the back of the head adds to the overall character and drama of the look.
In this article, we've given you ideas on how to style pageboy hairstyles for women to look feminine, fun, and beautiful. It's a bold choice, but it's just as rewarding as well.