The famous English footballer David Beckham is no doubt the coolest football player in this world. He has won a number of hearts of his fan for years. He is still the center of attraction of any party or media, wherever he goes. All of these are not just because of his talent playing but also for his looks and stunning hairstyles.
If there is a person in this world who has slayed every hair looks perfectly, he is of course the Beckham. This football superstar of England has tried almost every haircut imaginable and without any doubt, he always deals with the entire look incredibly awesome.
For a long time, he has been always in the front of the celebrity fashion statement. Most of us have never seen him compromise with his look. Not only his own, but he has also set a lot of people's hairdo fashions over the years. Most of the men refer to all his hairstyles as David Beckham Hairstyle Ideas. And really these all hair cuts suit most of them.
In this article, you will get to know about some classy haircuts with a lot of varieties. And these styles will be based on any length hair cut properly. If you are interested to get the finest and sleek look, then yes, here you go. This piece will showcase his all-time best hairdos to help you to look a little better.
David Beckham Short Hairstyle
The famous hairstyle pompadour was named after a woman, Madame de Pompadour. She was a mistress of King Louis XV. Though there are a lot of variations in this style for men, women and children. In this style, the hair brushed up from the face and worn out on the forehead part.
Sometimes it is also upswept around the back and sides also. This hairstyle is mostly perfect for long hair. But Beckham the slayer made it possible to brush it up in the shortest hair also.
And for years this hairstyle is in high demand for men. If you want to spend a little time on your hairdo go for this short and neat cut.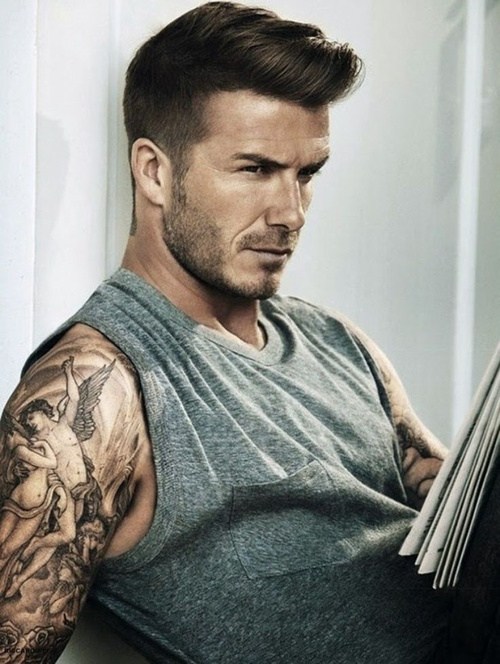 David Beckham Haircut with Beard
David Beckham always rocks all of his looks perfectly. This man never fails to impress anyone with his outstanding hairstyles and fashion. This particular hairstyle suits the men till the age of 45. This style can be made even in short hair. By parting both sides you just have to brush up the hair towards the backs.
This look will go better if you have a beard. The combination of beardy look and this hairstyle can make you the center of attraction of any party and social gathering.
David Beckham Messy Hairstyle
Are you ready for a casual date or partying with friends? Then yes! This hairstyle is absolutely perfect for you. But keep in mind, that this is not apt for any professional or formal look.
This messy and not so neat look will blow the mind of girls. Yes yes, you have heard right. This is truly applicable for short to medium length of hair. And it will give you a stylish and trendy look without failing.
It does not matter whether you have straight or wavy hair, this style will go with both of these. If you have completely straight hair just like David Beckham, then you can use any hair spray to get a crunched look.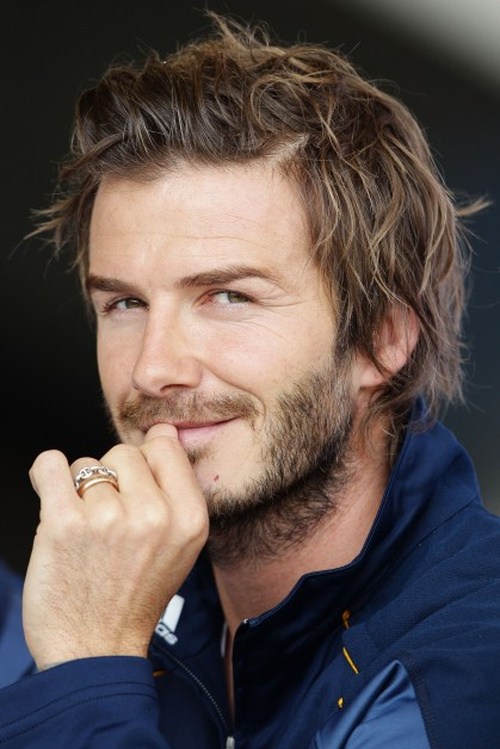 David Beckham Loose Quiff Haircut
Beckham has always played the role of the most fashionable footballer on the earth. He always rocks on both short and long hairstyles. When he fluffs up with this loose quiff haircut everyone gets the reminder that he is absolutely not so predictable.
He is just not like the other mid-aged persons of any field. This hairstyle is a contemporary twist on the short side and back quiff. By using any fine-toothed comb, you have to create a straight side parting.
Then you have to comb your hair against the natural grain. Using spray will have some texture at the time of styling. You can also blow dryer to add some extra volume to your hair.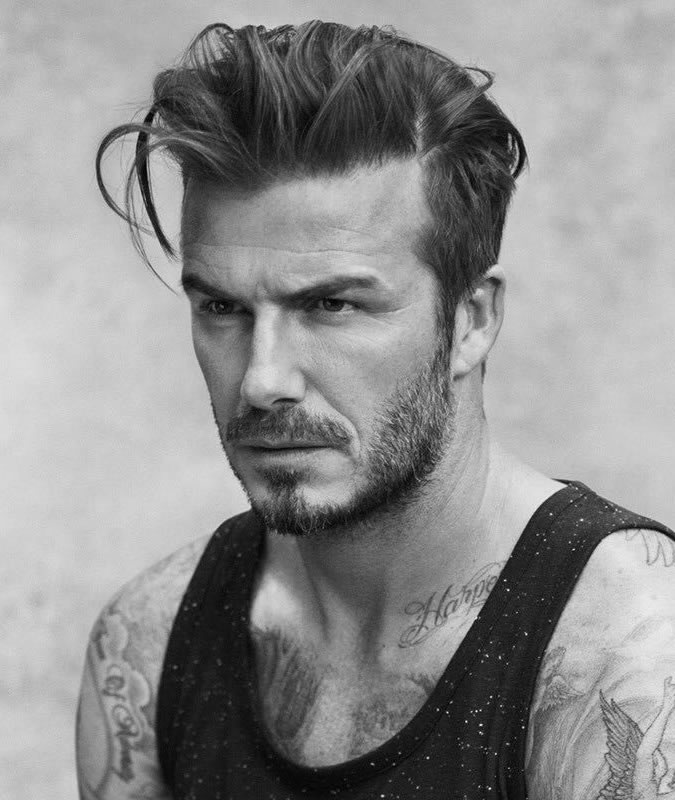 David Beckham Faux Hawk Haircut
In the year 2002, Beckham's faux hawk hairstyle became so popular, that a lot of imitations were launched at that time. The appealing part of the hairstyle is the contrast between the short lengths around the edges along the almost exposed scalp.
But an ample length through the middle part is a must. The haircut and the texture are the key things for this hairstyle.
If you want to get this proper haircut then ask your barber to cut a low fade back and sides and the front side should be detached for an extra length when the top portion must be a pointcut for the best texture. To complete the look, you can use any good hairspray or any matte paste.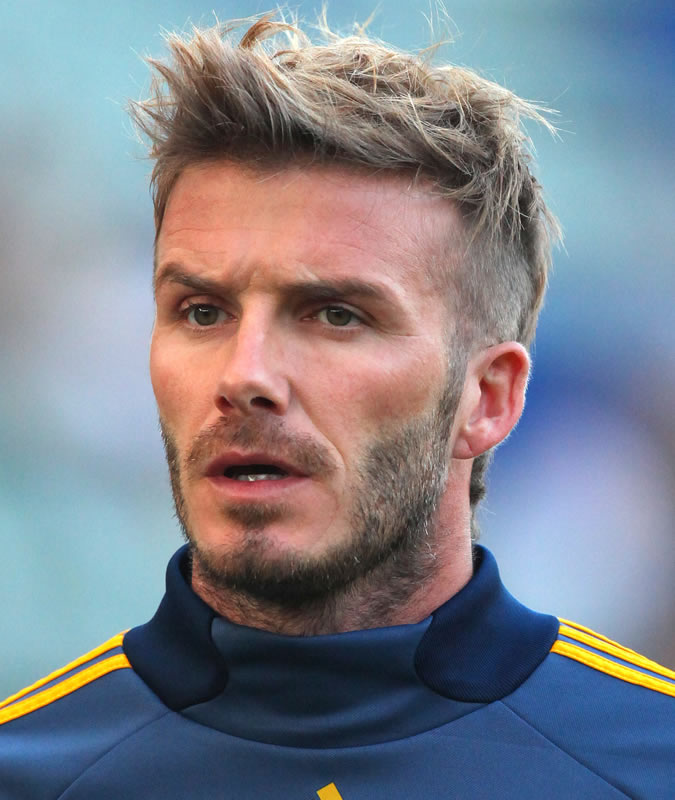 David Beckham Side Parting Haircuts
This cool hairstyle of David Beckham will just blow your mind. This can go well with any formal look. By using any sleek toothed comb at first you have to part your hair in 2 sides. Then, the side which has a plentiful amount of hair has to back brush towards the upside.
To get a perfect and complete look you can use any hair spray for setting it. You can create this hairstyle for any business party also. A little amount of beard will make a very good combination with it.
David Beckham Slick Back Hairstyle
This short side hairstyle refers that you don't need to do any side part for this stunning hairstyle. This hairdo demands a slick look with high volume in your hair. The length can be short or long. But one can easily add more length at the backs and the sides.
To get the real look one can use any cream or hair spray. But a beard will add more density to make you look more handsome. It is not very time taking. Moreover, to maintain this shape of the beard, you just have to groom it in the same length all over your face.
David Beckham Funky Haircut
These days most people are ok with the style of hair bleaching. If you have outgrown hair then dyeing hair will give you the most ravishing look. But the main thing is, this is not only based on the fact whether you have outgrown hair not, but you must have the accurateness of edges and extremely trimmed ends.
This David Beckham's bleached hair looks very cute. People of any age and hair of any length can have this hairstyle to rock a casual party or meet.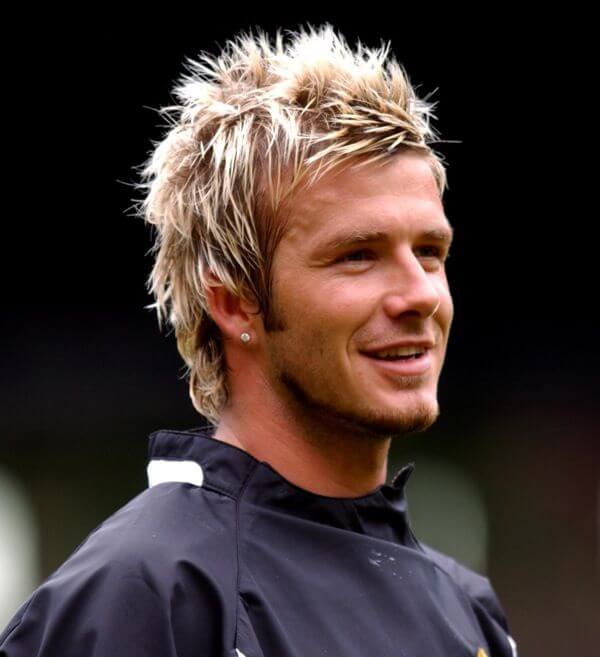 David Beckham Short Haircut with Shaved Temples
if you are extremely dedicated to the extra short haircuts and a fan of getting something cooler than any plain crewcut hairstyle, then you must have this edgy style hairdo.
This has not only the shaved temples but it also gives a look of a properly shaved triangle above your forehead. This extremely attractive hairstyle will provide you a bold and creative look for sure.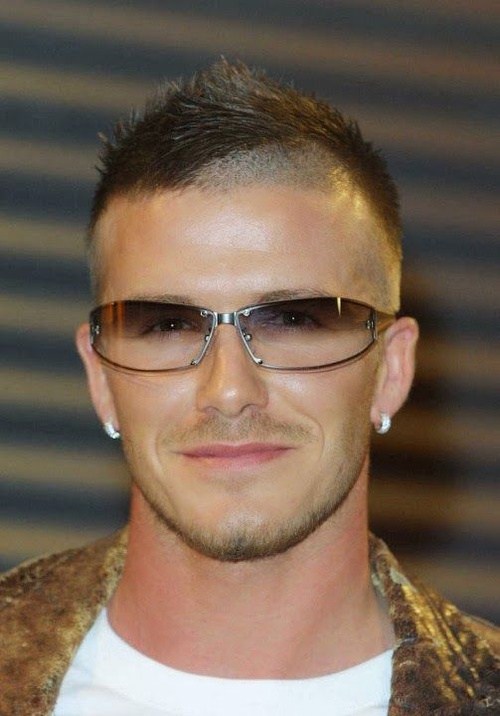 David Beckham Crewcut Hairstyle
If you are very classy about choosing your hairstyle, then you must know a lot of styles regarding hair. And then you are absolutely known about the hairstyle named crewcut. Mostly the crewcut is suggested for those people who have thick hair.
But, as we know, the slayer David Beckham always rocks every possible looks of him. He also looks stunning in the crewcut even with his shortest hair. But if you choose this haircut then you must have a proper oval-faced shape. A little amount of beard on your face will make this look complete.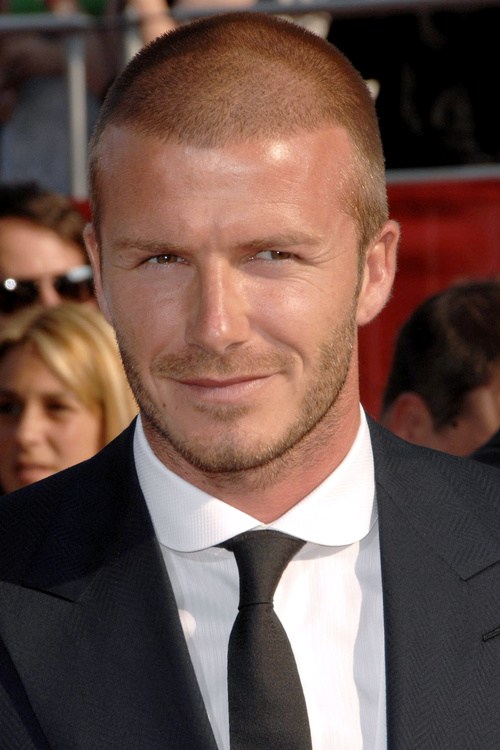 Slick Back Undercut Hairstyle
If you are planning to have this look then at the very first you have to keep some beard and mustache on your face. The hairstyle recommends having a little hair at the backside and plenty of hair on the top of your head.
You are suggested to back brush your top portion of hair properly. You can also use any hair-setting spray to get the proper look.
Short Straight Formal Hairstyle
By creating this hairstyle, you can increase the impression of yourself in the fashion world. This hairstyle mostly suits the square-shaped face.
The hairline mostly looks horizontal but the backswept look will provide a pretty impressive look.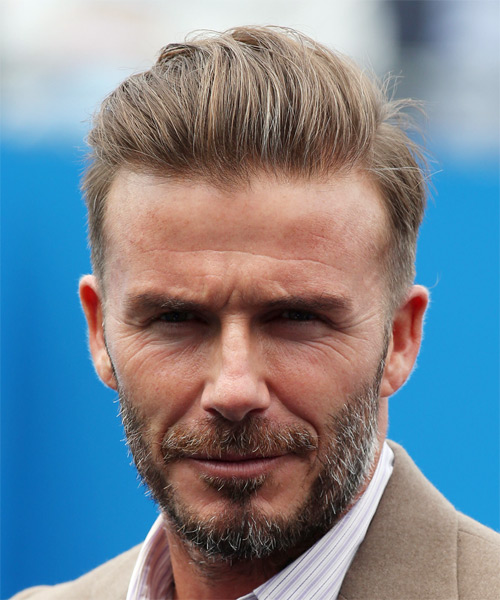 David Beckham Taper Cut Hair
This taper-cut hairstyle will always make you look hotter than any other. By back brushing the hair of your middle portion will help you slay totally. Mid-length or short, both of them are perfect for this outstanding hairstyle.
David Beckham Faded Haircut
Most of the hairstyles which we have seen here are unconventional and this is not also an exception.
You can show the level best of your style when you will get this outstanding look. By using any spray or matte cream you can increase the volume of your hair and get this classy look.
Medium Short Scruffy Hair
This hairstyle is another outstanding solution for a little bit longer hair. The edges must be neatly trimmed with a wrinkly upper side.
To get this look properly use a compact hairbrush with any hair setting spray. It can help you to look smart and stylish in the crowd and it is easy to carry as well.