Hairstyles are one of those ways with which one can change their look completely. Different hairstyles mean one has to employ various kinds of haircuts and styles but one way in which you can change the hairstyle without any cutting is by opting for dyeing your hair. Color is a unique way of making sure that hair not only looks good but at the same time different. But there are people who are not that firm believer in opting for various colors.
Hair Color and Hair Dye Ideas for Men
Especially men, who don't like experimenting with different color, safe ones such as dark brown, black, salt and pepper or sometimes blonde are sometimes opted for but not other ones. There are a variety of hair colors available for men which can look equally good on them. But before you come to any conclusion that it might not look good on you then here are some options of Hair Dye Ideas for Men that are perfect to adorn.
Gray Hairstyle for Men
Gray hairstyles are those kinds of hair dye options which are safe in terms of experimenting and at the same time can provide a different style to your overall look. Men who are not into experimenting with hair color can definitely opt for the gray hair look. The hair color has a slight hue of the blue tint that is minimal but is fascinating at the same time.
Pink and Blond Hair Color
If you are a young man who wants a different look when it comes to your hair and at the same time isn't scared of experimenting then this pink and blond hair color can be a perfect one for you. The hair color is a beautiful combination of blond and pink with the blond surfacing the pink. The peek-a-boo of the pink color provides for an edge to the whole look.
Silver Hair Color
One of the most interesting and safe color options for men is this silver hair color look. The beautiful silvery treatment done to the hair strands are made to stand out among others. This is a safe option because of the subtlety that this hair color offers. Anybody of any age-group can adorn this look if they want something different for their selves.
Platinum Hair Color
Who doesn't like the combination of silky stands with a brunette beard? Well, this particular look is a sum of this combination. The hair strands are decorated with platinum color that gives away the feel of silky texture and at the same time enhances the whole look. The black beard, on the other hand, helps in providing a look that can turn heads.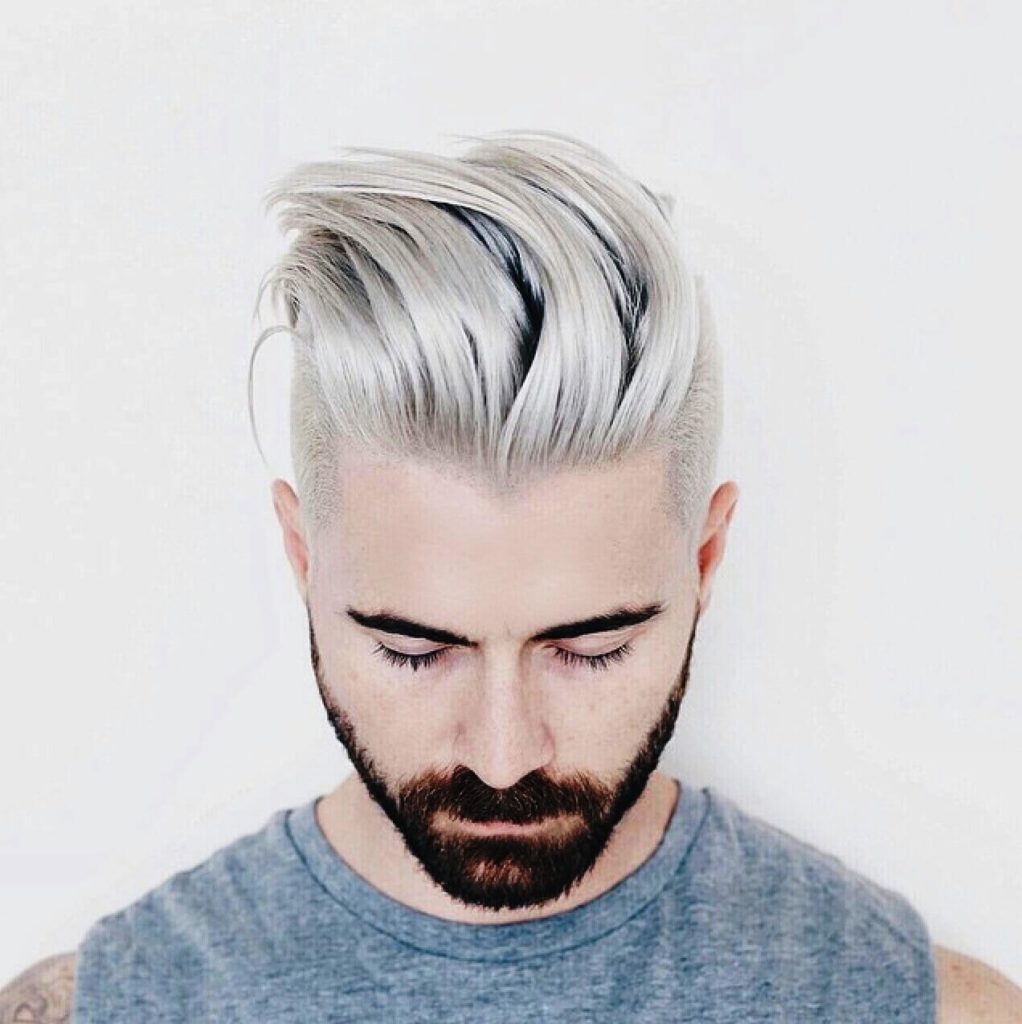 Green And Purple Hair Color
This is one look that is made for men who love setting trends rather than following them blindly. The combination of the hair color is made of green and purple hues. If you just couple the hairstyle with a Mohawk haircut than it is sure to make everybody love the look. This hair color combination is perfect for young men for a vibrant and enthusiastic look.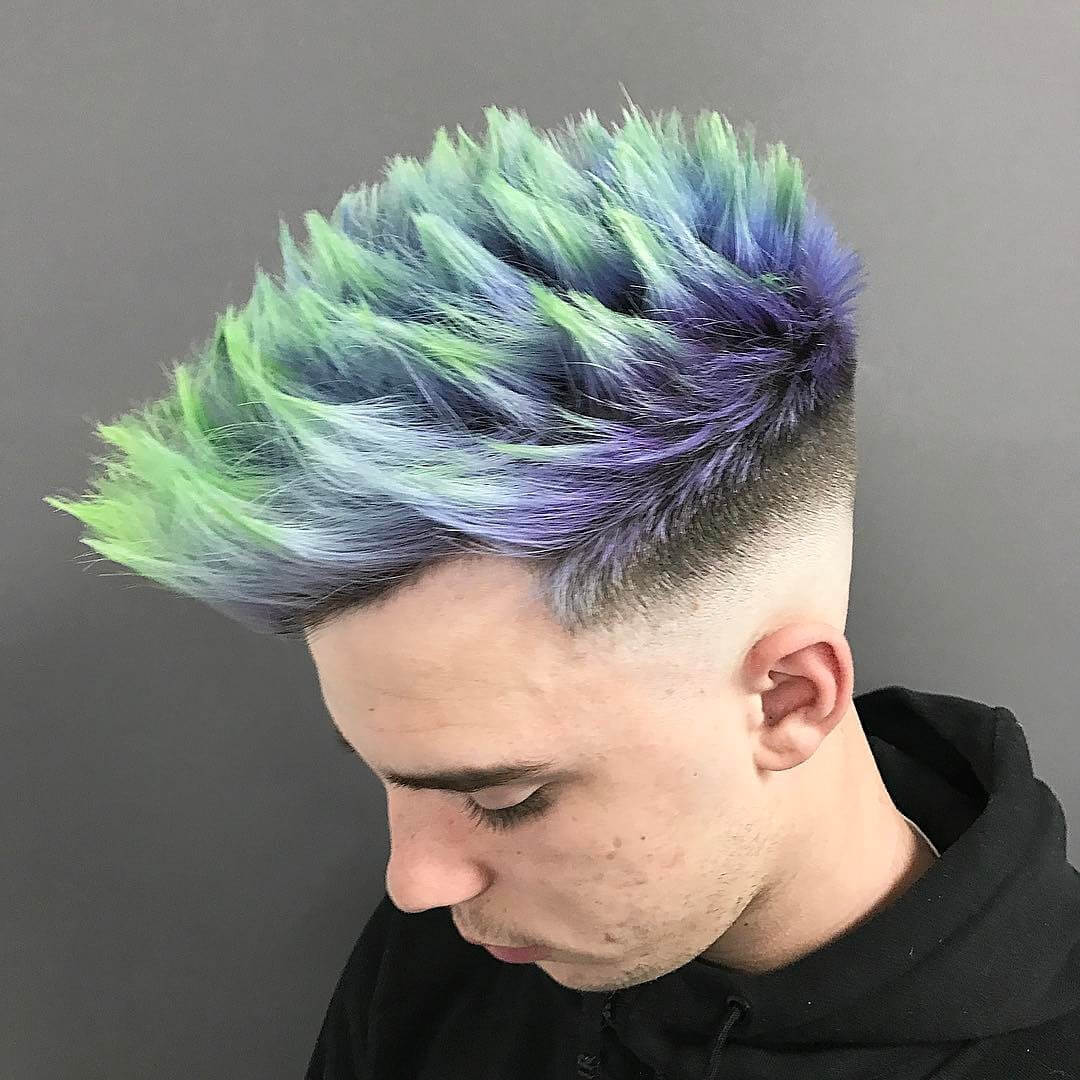 Dark Green Hair Color
This back-combed side-parted hair which comes with dark green hues can be a perfect style for people who like a bit of experimental color on their hair. Light silvery tinted green gives an edge to the style and can be a perfect one to carry. This is a trend-setting hairstyle that is so in this season among the hair dye Ideas for males.
Balayage Hair Color
If you want to give a natural tone to your hair with the help of hair color then the best way to do so is by opting for Balayage hair color. This hair color provides a dimension to the hair but giving it sun-kissed highlights to the hair and that, in turn, will give a more natural look to your hair. So, color and natural hue all mixed in one can be your next stop for hair color in this look.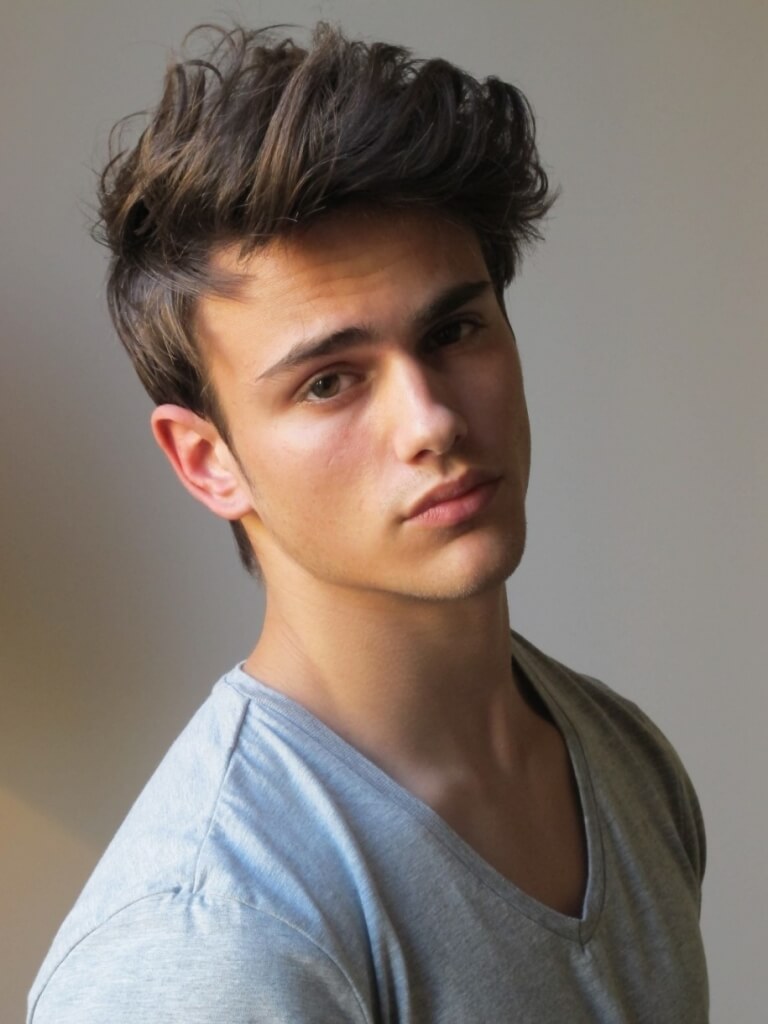 Pink and Black Hair Color
Funky hair colors are so much in this season with a variety of the styles highly laudable one can easily find this particular combination of pink and black hair color to be perfect for your need. The hair color has a shiny finish of dominant pink mixed with a bit of blue but provided with an edge with sides being black.
Ombre Hair Highlight
The trend this season is totally dedicated to ombre hairs where the light orangish tone dictates the look. Some portion of the tip of the hair has a fiery highlight followed by the rest of the hair being black.
Rose Gold Hair Color
The rose gold color is not only beautiful but versatile at the same time. The look that it gives away is wonderful and at the same time can give different variation to the whole look. The back-combed hair gets an edge when the rose gold color is applied. If you are somebody who wants to add a bit of red in their then this is the right one to go for.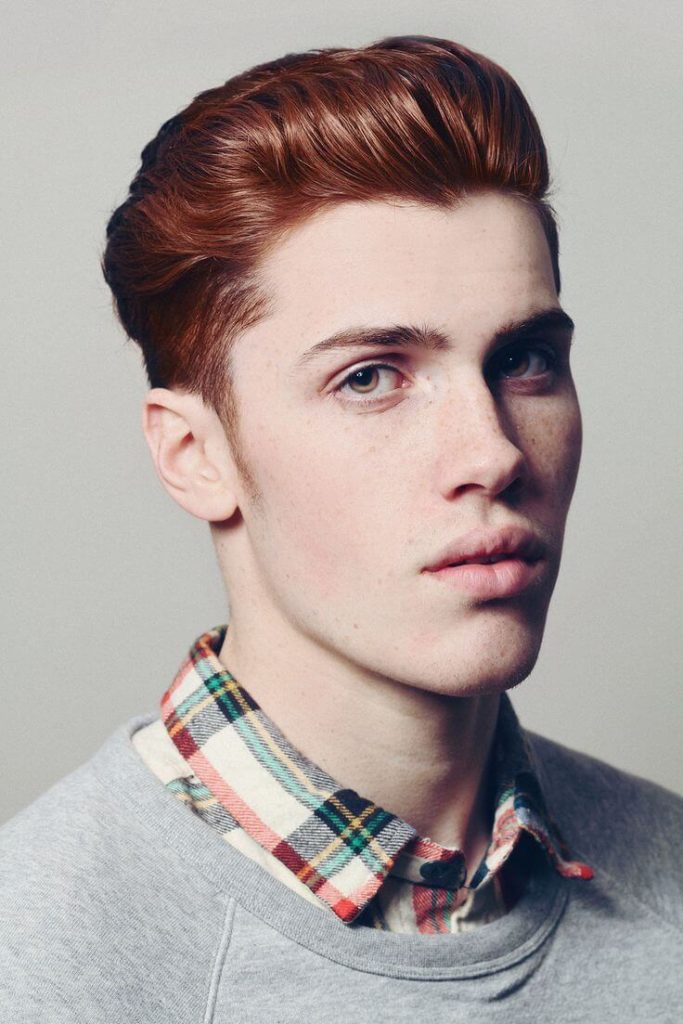 Side Shaved with Silver Hair Color
This is definitely an experimental look where not only the hair color but at the same time haircut is also a bit bold. The hairdo comes with a side-shaved look thus providing a bold look. Moreover, the hair color, on the other hand, is bold silver highlights with an equally heavy amount of hair left on the top. Perfect for coming of age boys and young men who are youthful and love boldness.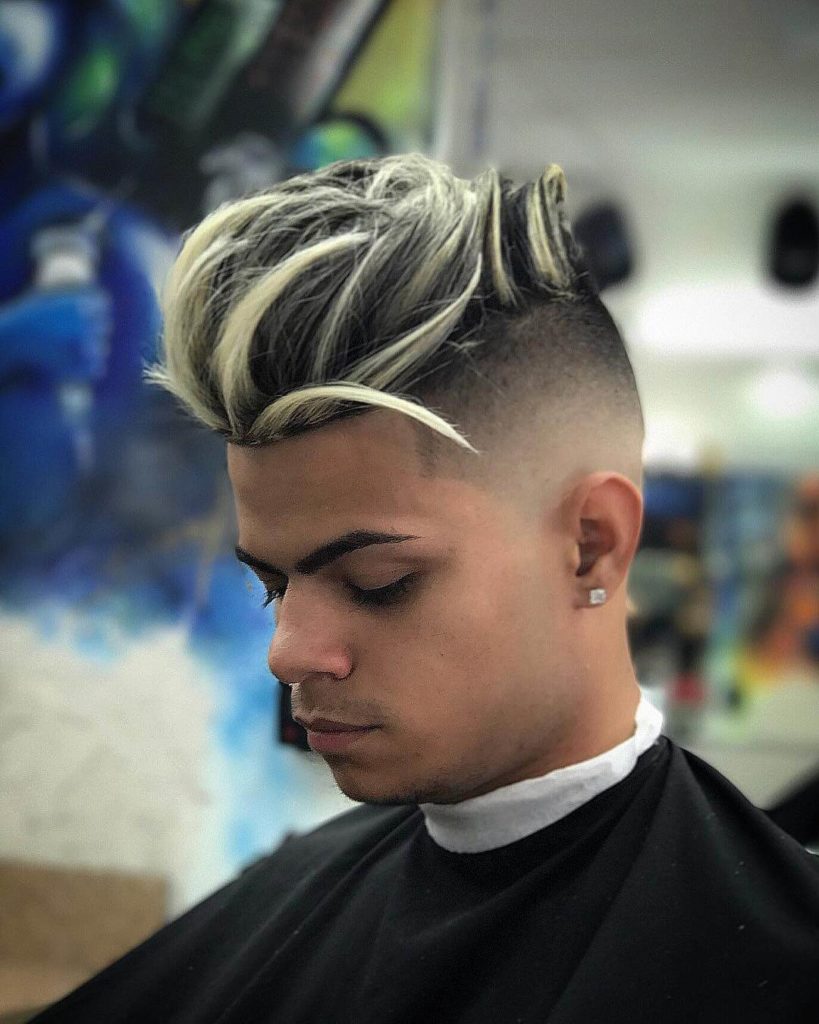 Beach Blonde Hair Color
The name of the hair color speaks for itself. The ruffled hair comes with a blonde shade and at times with a subtle highlight. This hair color is perfect for those men who have short to messy hair and want to add some drama to their look. The hair color is not overboard and thus providing a soothing but stylish look to a person.
This hair color though blonde but has a minimal amount or say hue of pink which makes it different from the normal blonde ones. If you are somebody who loves blond but want it to be a bit different then do give this hair color a try.
Sunkissed Blonde Hair Color
Sun-kissed hair colors are not only beautiful but at the same time are trendy. This particular hair color has a back-combed look with the sides being shaved. The hair color tends to give the hair a dimension irrespective of it being blonde in color. It is a casual color and choosing this will be a bit tricky for people.
Brown Hair Color
When it comes to brown color it looks very good on any kind of hairdo. But this particular hairstyle is funky in nature with a fringe falling from one side to another and at the same time leaving a side-part. The hair color is soothing and can be carried with any hairstyle.
Copper Hair Color
A perfect hair color for men who are experimental and want to go for a hair color that is not only stylish but at the same time looks gorgeous. The copper-tinted hair color looks scorching in every strand and pumps up the whole look. But if you adorn this particular hairstyle which has slight Mohawk style with ruffles in the top of the head then it is sure to up your hairstyle gain.
Light Brown Hair Color
Men and messy hair is a deadly combination and each and every man looks good in the same. But if you couple this messy look with light brown texture then the whole look not only turns out to be gorgeous but dreamy too.
Chocolate Hair Color
Men who are comfortable with black locks can take a cue from this look with a different color such as chocolate brown which is neither light nor black. The color gives away and brownish hue in the length of the hair which is not common with brown hair.
White Hair Color
Not many would love to go with this complete white hair look. The hair is milky-white but has a very little hint of blue but that doesn't look overdone on the hair. If you want to experiment with hair color then try this one.
Golden Blonde Hair Color
Windswept hair needs hair color that is not only dreamy but gives out a frame to the whole hairdo. The golden blonde hair color can be carried by anybody with any length of hair and that too without worrying it of being overdone.
So, if for a long time you have been worried about applying a hair color then the above ones in the list of Hair Dye Ideas for Men can be a great help for you.