If you love wearing your hair tied back or partially tied back, then you need to take a look at the many under braids hairstyles that look wonderful on most women. There are lots of different types of under braids. This will give you a lot of variety and room to play with your appearance.
Black women will especially benefit from some of the styles, as braiding is a way to protect your hair. It also makes sure your everyday look is easy to maintain, as women with natural hair textures can leave some of the styles in for a couple of weeks.
Protective Under Braids Hairstyles
So, what are you waiting for? Let's check out some of the styles below and see which ones suit you best.
Under Braids with Extensions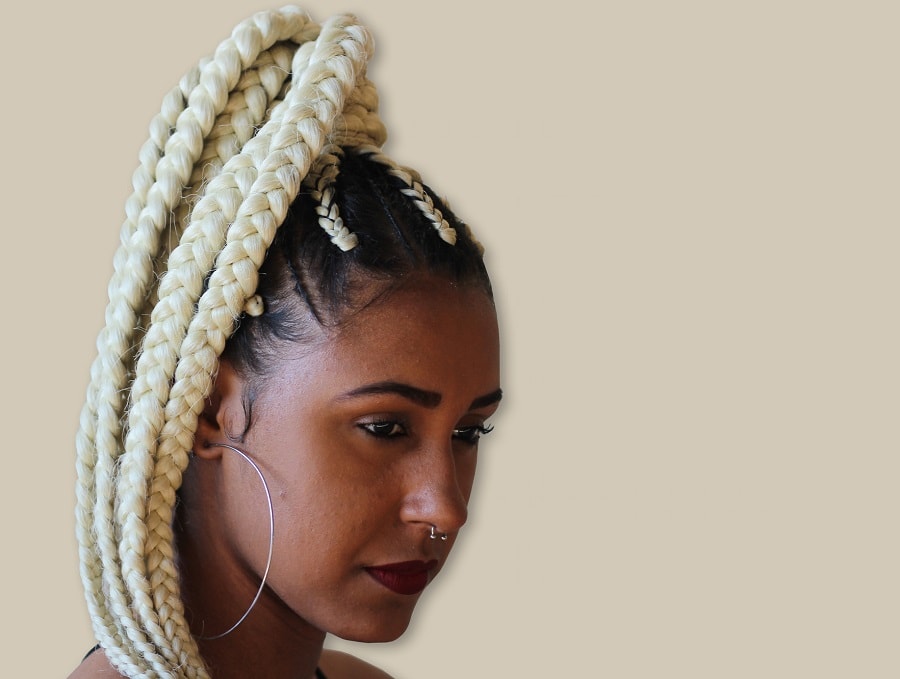 It's easy to play with extensions when you have plaits in your hair. Start by creating a series of thin under braids as your main hairstyle.
Weave blonde extensions in and let the extensions become thicker as you move toward the crown of your head.
Front Under Braid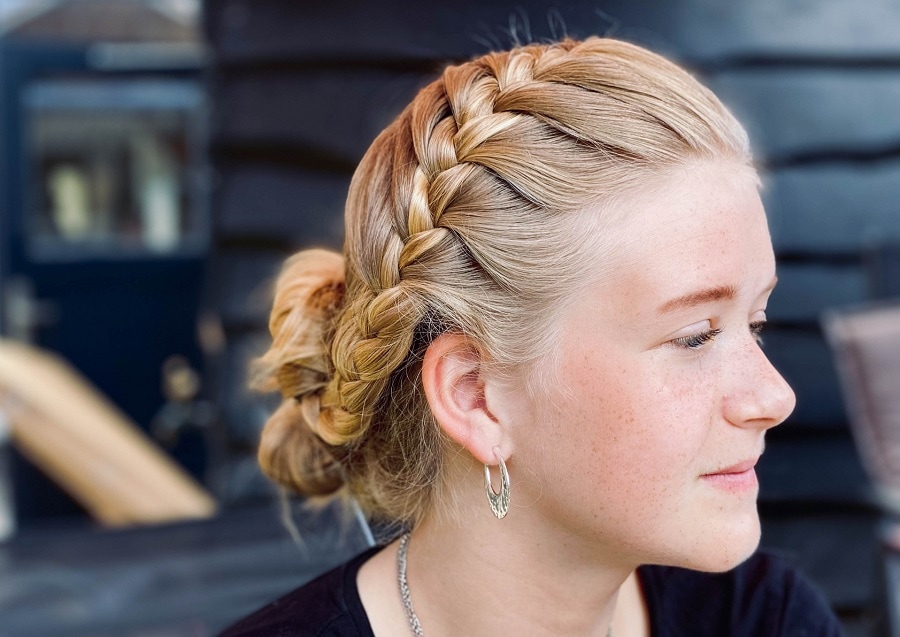 Begin by forming a plait towards the front of your head. Start it at the very top and bring it down to one side.
Weave sections under each other above your ear then braid the rest normally. Combine it with an updo low on the back of your head.
Half Up Mini Braids
You can add a few skinny plaited sections into any hairstyle. Wear yours right on top of your head then form a ponytail on the crown.
Only use the top sections of your hair to create this ponytail so some of your tresses must remain loose.
Low Bun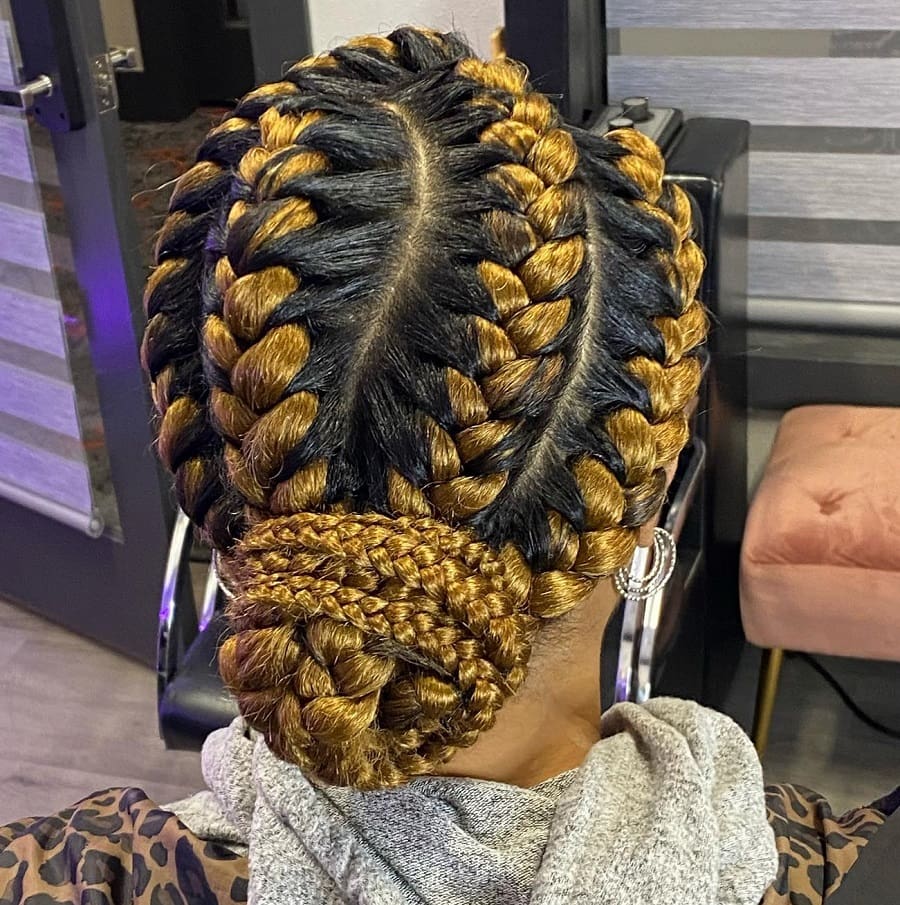 Black women should create some jumbo braids tight to their scalp. Draw them back into a braided bun at the nape of the neck, then wrap some skinny plaits around it.
Doing this with two-tone hair will make you stand out a little more.
Braided Pigtals
French braids are a very common form of wearing under braid hairstyles. Create a French plait on either side of your head and let them cascade down your back.
Short Half Up Braids
Women with shorter hair won't be able to wear overly extravagant looks without extensions.
So, just create the style using the side sections of your hair and form a crown shape. Wear the rest of your tresses loose and wavy.
Space Buns
Space buns look adorable on every girl, especially younger women! Create very neat buns with some hair wrapped around the base.
Create two plaits that run from the nape of your neck up to the buns.
Pink and Orange
Do you just love colorful looks? Dye the top sections of your hair pink and dye the rest orange. Then create an updo with various under braids forming peaks on top of your head.
This braided hairstyle works best on women with natural hair. The thickness of natural hair makes it easy to create lots of volume.
Extravagant Braids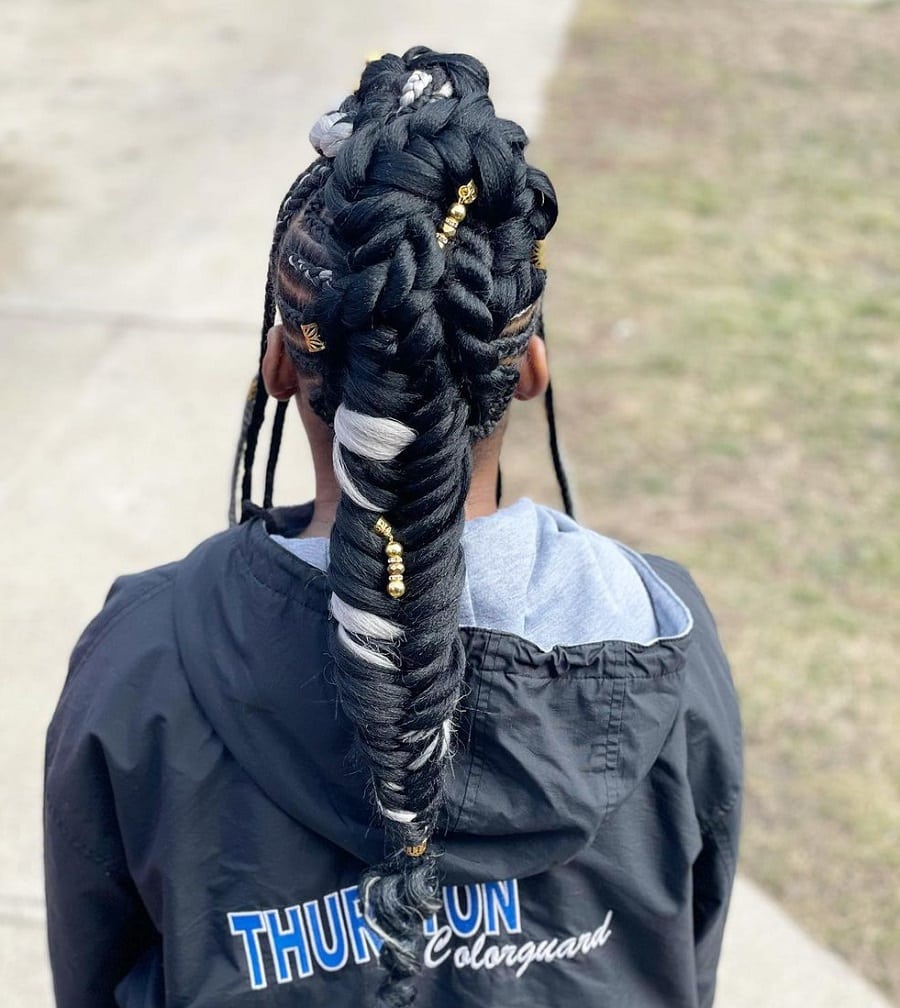 Are you a modern black or mixed-race woman who wants to show off her tresses? Head to the hairstylist and show them this picture. You'll need help to create it.
There are lots of elements to create. You can see side under braids, face-framing plaits, and the main section of the look with beads and twists.
Crown Braids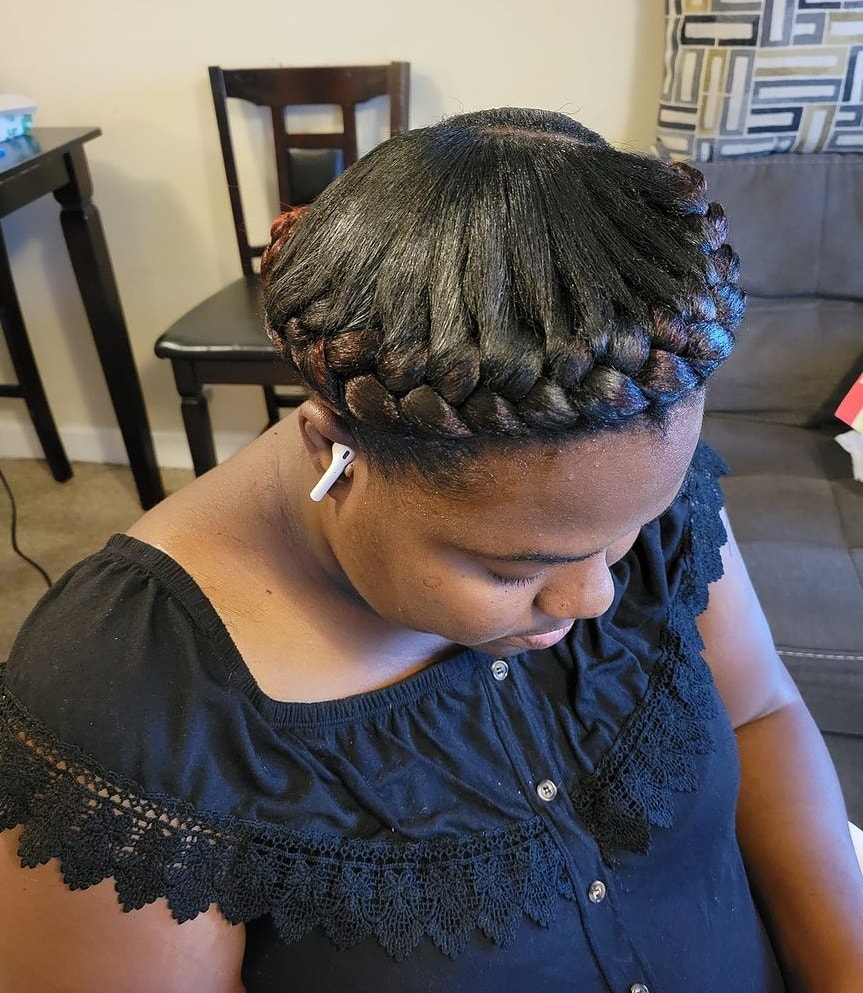 There are lots of ways to form a crown braid, but this is the true definition of the style's name. The plaits form a full circle around the whole head. The top of the hair is sleek.
Patterned Plaits
Most people plait their hair in straight lines or in a gentle curving shape. Here the styled sections form a jagged or zig-zag shape instead.
The side sections pull back into a larger half bun with some loose locks that fall down the back.
Single French Under Braid
When it comes to under braids hairstyles you can't beat a single, elegant French plait. It starts on top of the head and is styled widely to the nape of the neck.
A small twist of hair wraps around the end so you can't see any hair tie securing it. Doing so makes it appear slightly more elegant than a typical everyday style.
Under Braid Dreadlocks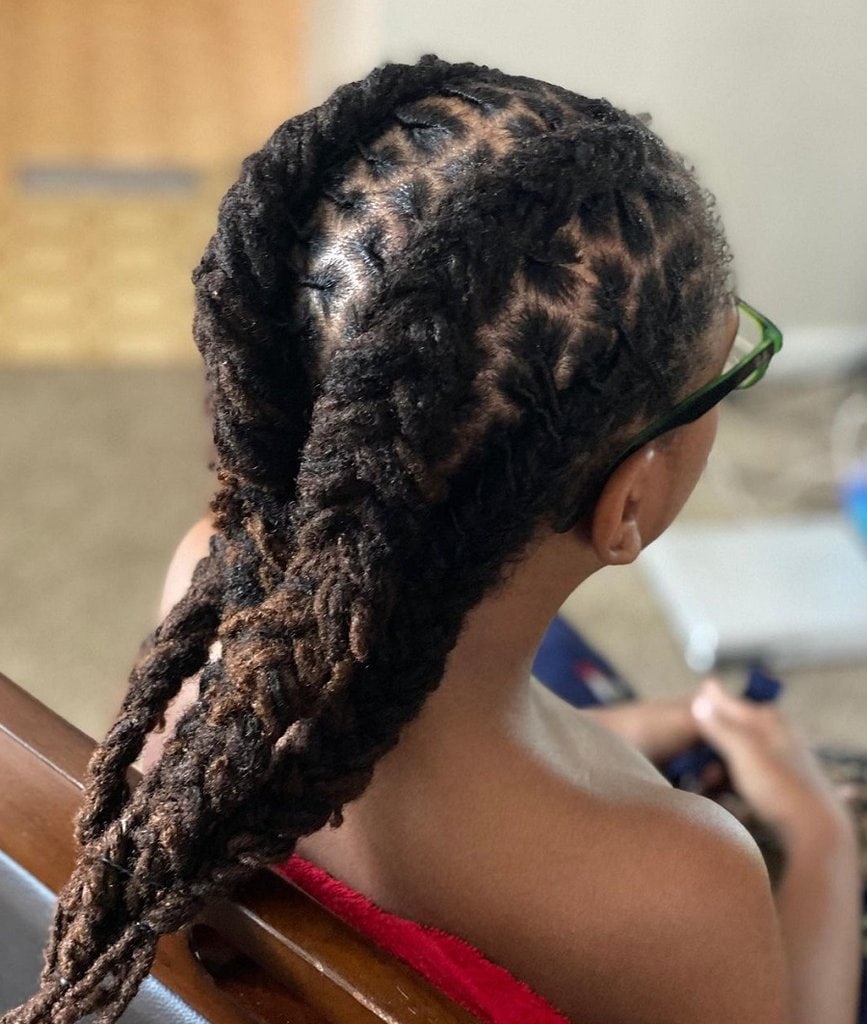 Here we see a combination of two protective styles for black hair. Small twisted sections form braids high on the head. Then, the style transitions into thick dreadlocks at the back of the head.
High Bun
Once more we see a protective style formed using medium cornrow braids. They stretch up along the scalp and form a huge bun on the crown.
The hair has been dyed a dark brown tone with some highlights added in. There are also a few golden beads placed throughout the look to help give it some personality.
Sleek Updo
Updos are always beautiful even when they're simple. Here there's a bun on the crown of the head and the hair is sleek and shiny.
However, under braids hairstyles are always a little more intriguing. Here three plaits run from the nape of the neck to the updo.
Double Braided Ponytail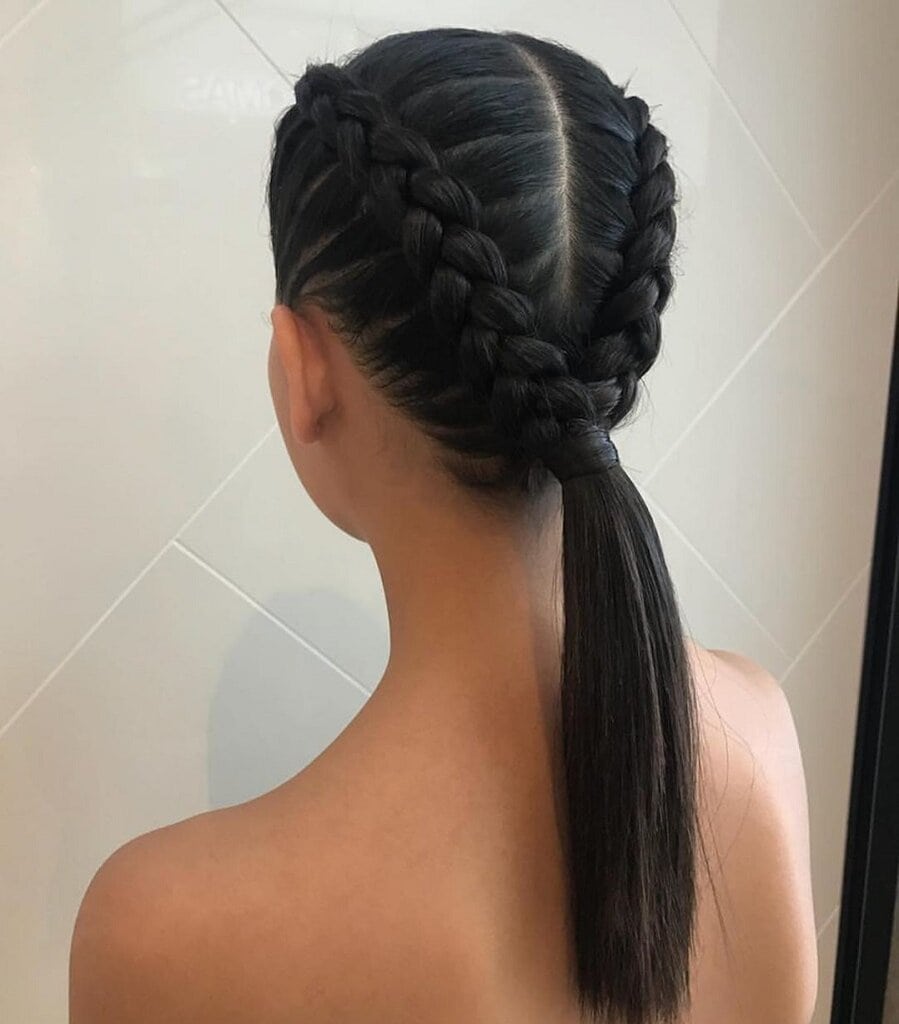 Would you like to spice up your tried and true low ponytail? Create two under braided sections from the hairline to the nape of the neck. Secure them and create your straight ponytail.
It looks complicated, but it's actually an easy look to style once you've practiced it a few times.
Updo with Red Highlights
Women with dark hair may wish to create some depth and definition using red highlights. It's really eye-catching when paired with a traditional protective hairdo as seen above.
The updo starts with a thick plait at the hairline. It circles around the side of the head to join in a larger section of large plaits low on the back of the head.
Curly Ponytail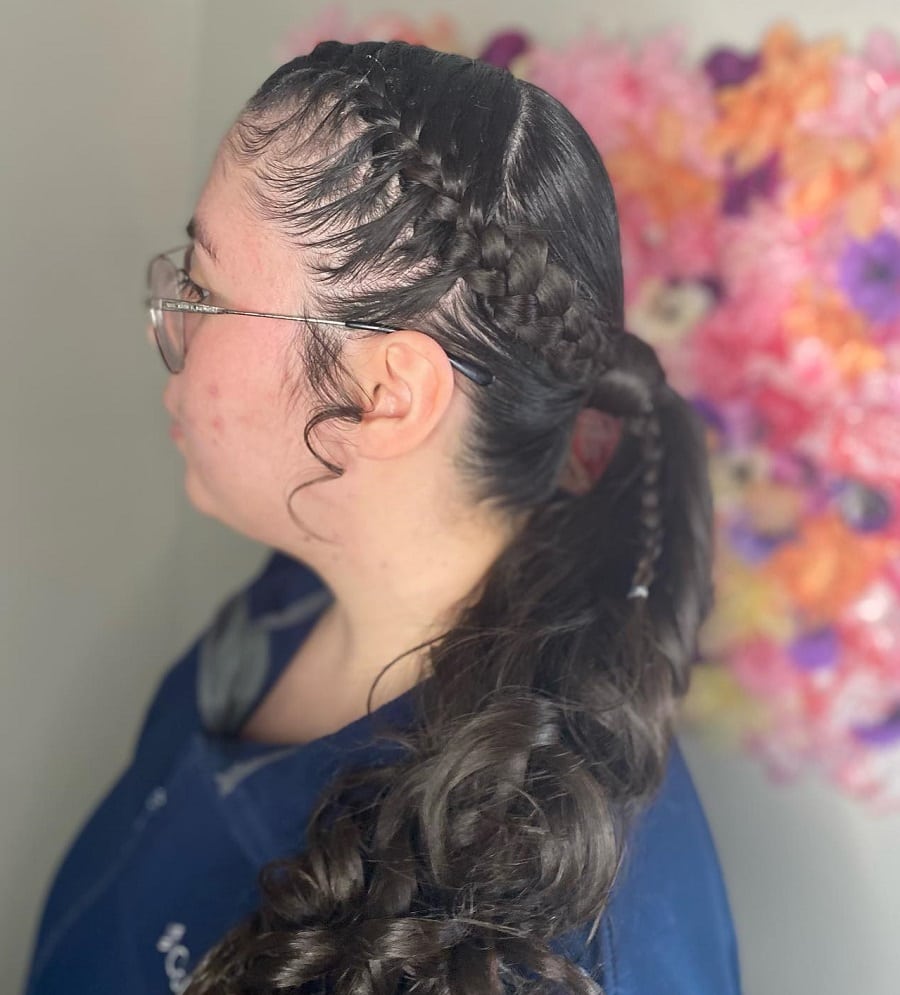 Here's another way to breathe new life into your usual ponytail. Create an under plait on one side of your head. Ensure it extends from the hairline all the way down to your low ponytail.
Secure the end of the styled section in your ponytail and curl the ends of the pony.
Which one of these under braids hairstyles was your favorite? Grab your mirror and styling products and put your hair in the style immediately! You'll feel super fulfilled when you're wearing a new look you love.
The more complex styles will require the help of a stylist to achieve. This is totally okay. Show your stylist a picture of the look you want, and they'll surely be able to help you recreate the look.