Ladies have made the hairstyle clear; they will keep experimenting with new hairstyles. Straights are no longer their style; they have focused on passion twists braids. Making this style is time-consuming, and one needs to prepare her hair well before starting the process.
The best part of this style is, the hairstyle remains for a long period. You can maintain the hairstyle for a week or so. There are many self-help videos available online to guide you about the hairstyle's basics.
Steps To Create Passion Twist Braids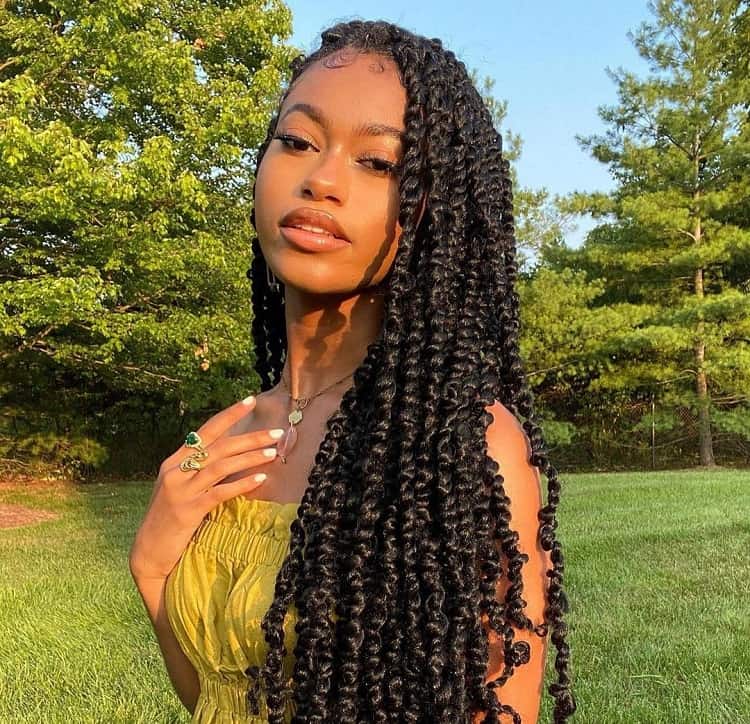 Start sectioning the hair from the neck side to the top.
Create a pattern of dividing them into different rows with two columns each.
Take one section aka column and start applying the hair cream to make it smooth.
Now take the artificial hairs and start knotting them into braids.
Repeat it for the whole hair.
In the end, you can style them as per the styles are given below.
1. Three Colors Passion Twists
Hair coloring is an art and more the color, more artistic the hairstyle. This hairstyle is for brave women who love to experiment with colors.
To get this style, divide your hair into three different hair colors of your choice, and then passion twists are made by twisting the hair strands one over another or by adding artificial hair.
It requires patience to get the whole look, but once completed, it looks amazing. The style is quite feminine and looks beautiful on women with a round or oval face shapes.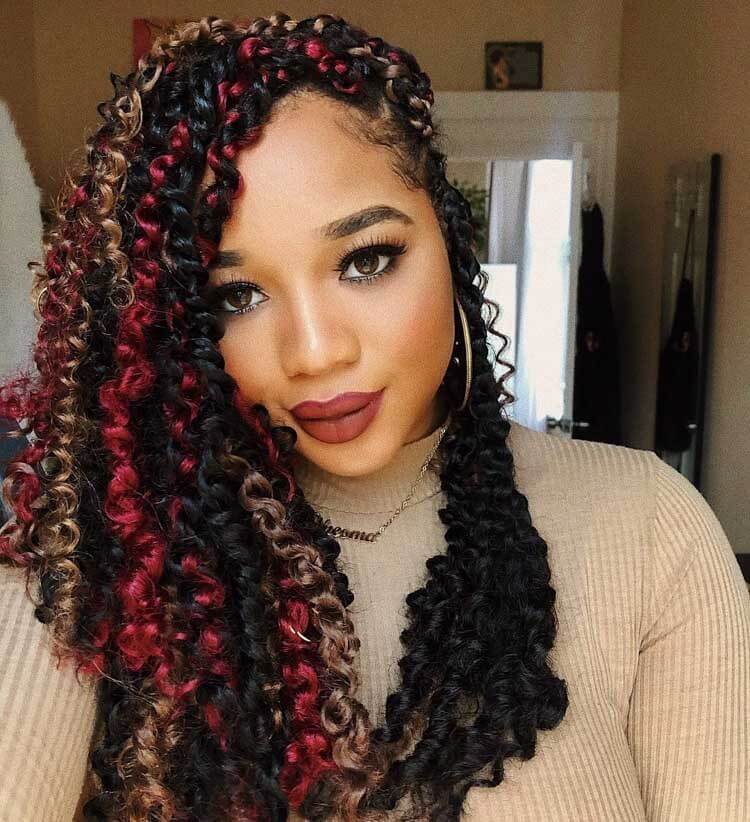 2. Long Passion Twists Braids
Divide your hair into three small sections, and then each section is made into three thick strands and then twisted over each other. Prior to this, one should apply hair gel or cream to keep the hair intact.
Women with medium hair can also achieve this hairstyle by using artificial hair. Use hair styling products to get shiny hair along with the hairstyle. Those neat curls and the long length look cool with any attire. The best part is that the artificial hair can be easily removed.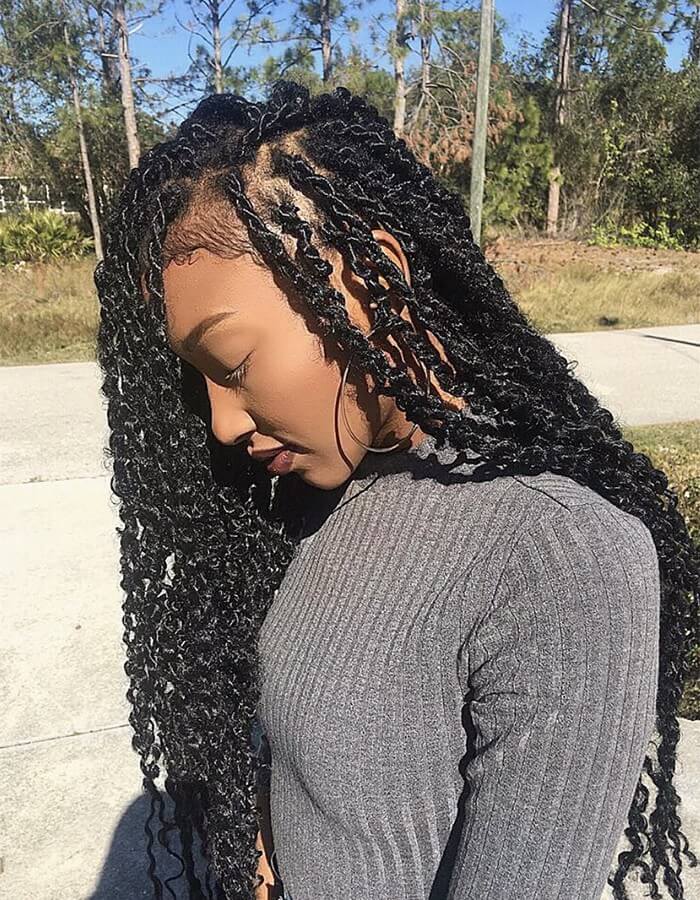 3. Reddish Passion Twist Braids
To achieve this hairstyle, you need to dye your hair into a shade of red, be it burgundy or brown-red. Side part your hair and then section your hair into small parts and make passion twists in each section up to the ends, leaving the ends untied.
Allow some part of the braids to fall over your shoulder while letting some fall over your back. The hairstyle is ideal for every woman, irrespective of their face cut. Make sure you wash your hair regularly once a week to get rid of the dirt and dust.
4. Short Brown Passion Twists
In this hairstyle, the passion twists are made tightly and are usually styled in medium hair length. Girls with shinny brown hair can easily carry this hairstyle. You may also choose to dye your hair with a brown shade dye.
The hairstyle creates a bouncy look and makes it look like the volume of hair has suddenly enhanced. Get good care of your hair by washing and trimming regularly.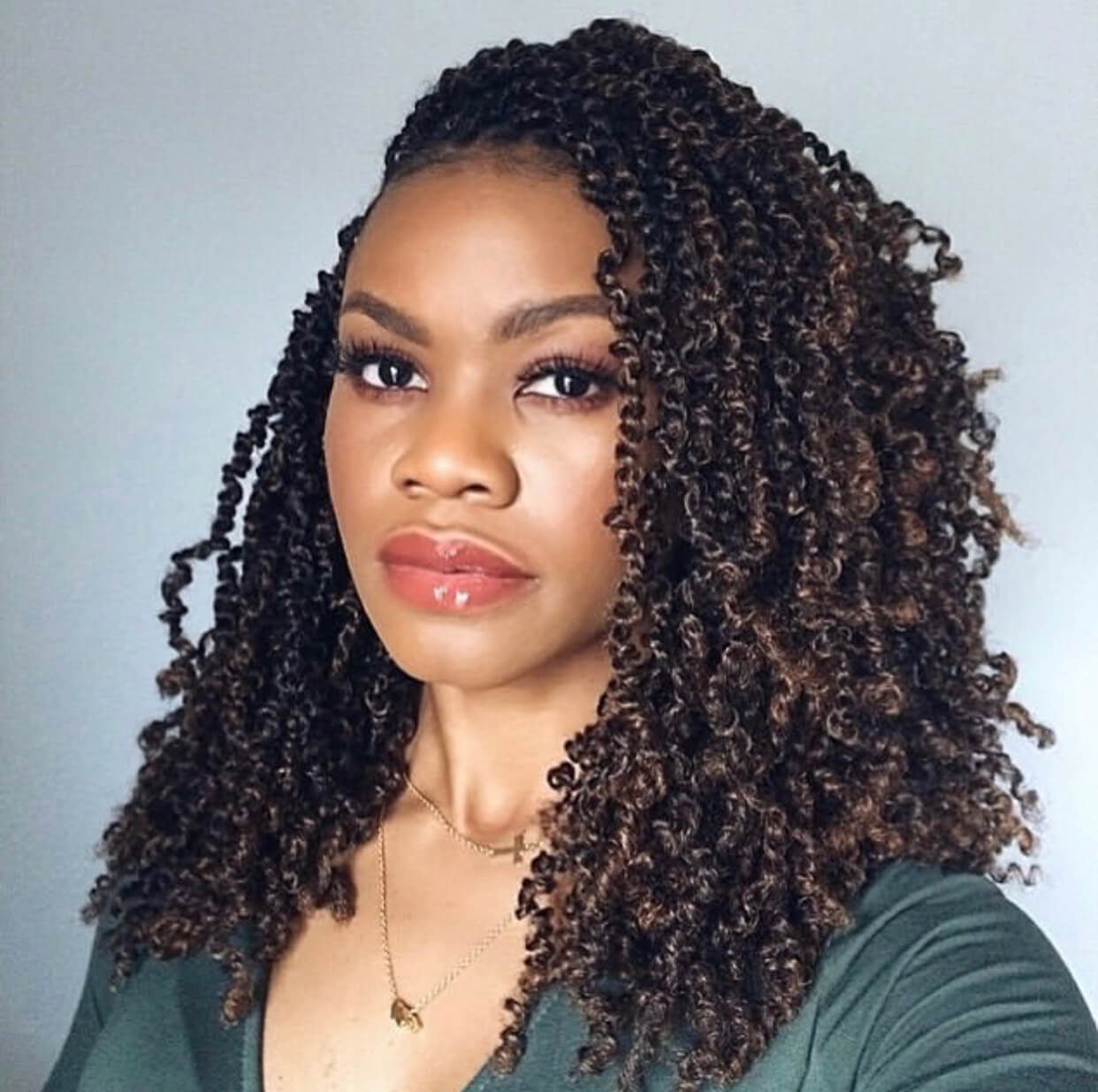 5. Blonde Passion Twists
This passion twist braids look cool with blonde hair. For this style, section your hair and twists the strands tightly in long hair, or by adding artificial twisted braids.
The hairstyle looks best on women with big oblong or oval face shapes. This style can enhance your overall appearance. Highlights on blonde hair make this hairstyle look more fashionable.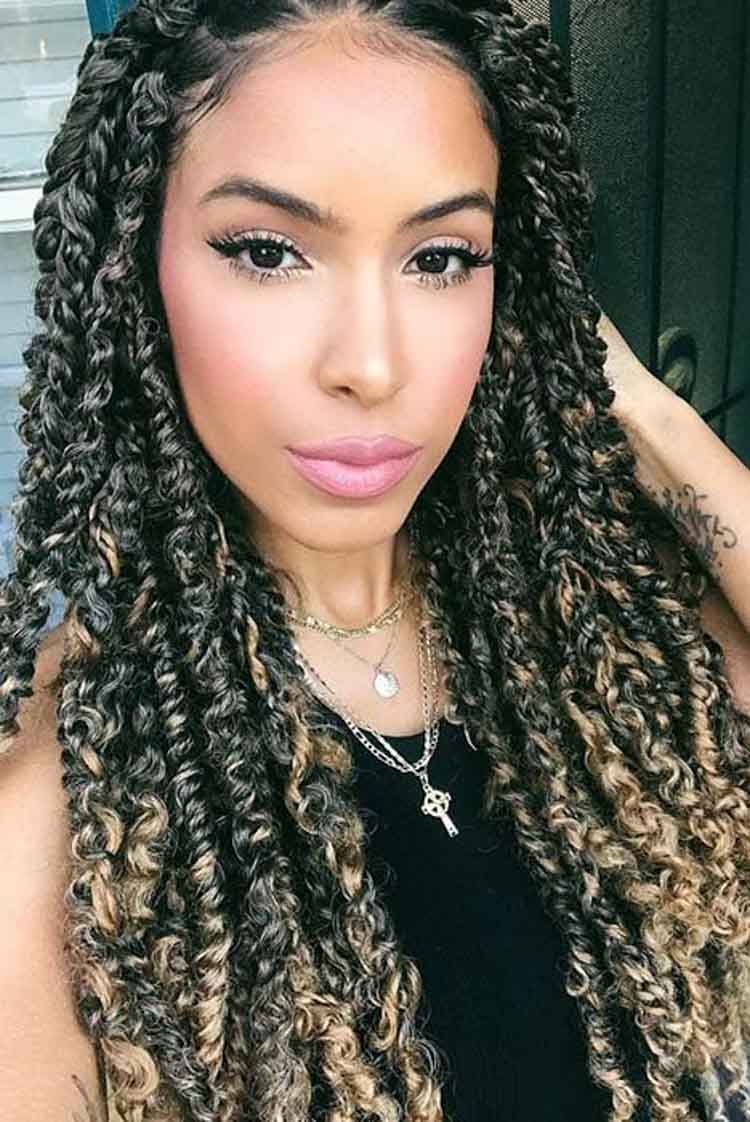 6. Passion Twists with Top Knot Bun
To achieve this hairstyle, make three sections of the hair. Then make passion twist braids on each hair strand and then take the middle section of braids and make it a top knot bun. Allow the twisted braids to fall on the sides.
This hairstyle gives a neat look. You may use hair creams and gel to smooth and set your hair. Wash your hair regularly to keep them clean with the help of good quality shampoo and conditioner.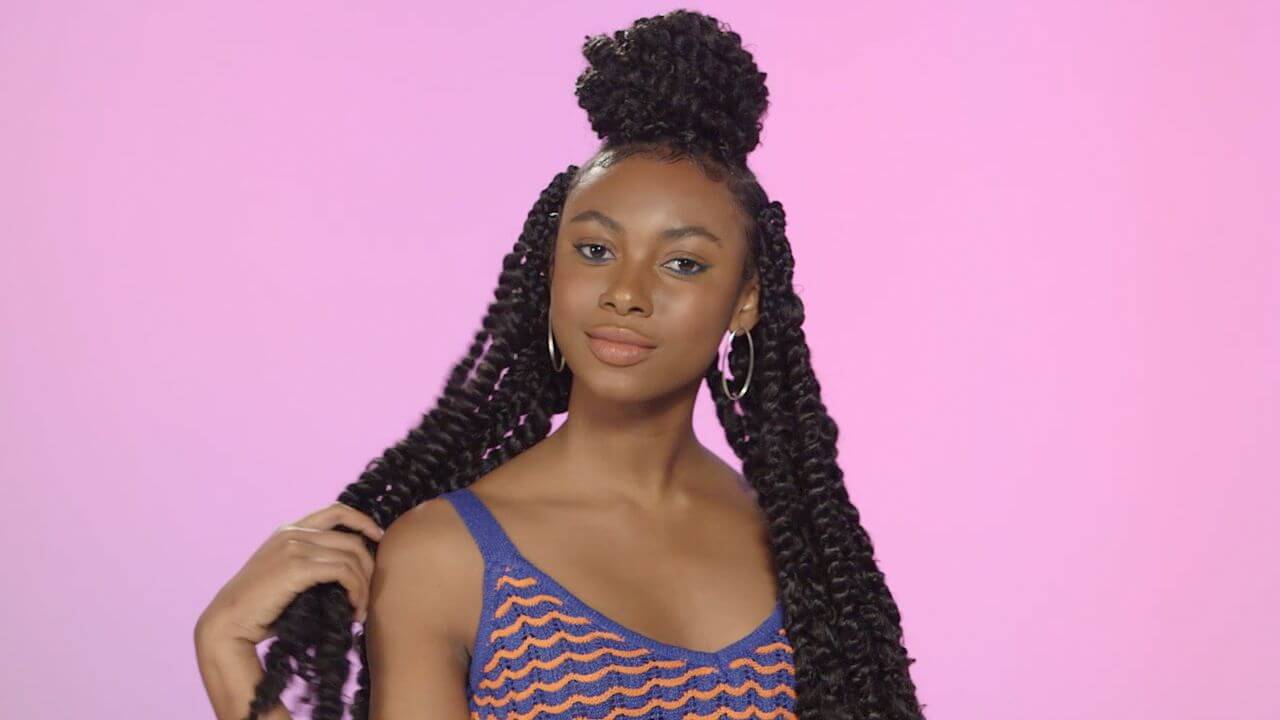 7. Passion Twists Color Highlights
This particular hairstyle will look apt on the ones who just can't do without highlights. You can try new colors like purple, pink, blue or even grey. All the braids can be kept on the backside of the head. The focus will be on the face, and the hairstyle will make people turn around to check it out.
This hairstyle is cool for the spring season as open hair is easy during that particular time of the year. This style is funky, as well as stylish. It suits women with all types of face shapes.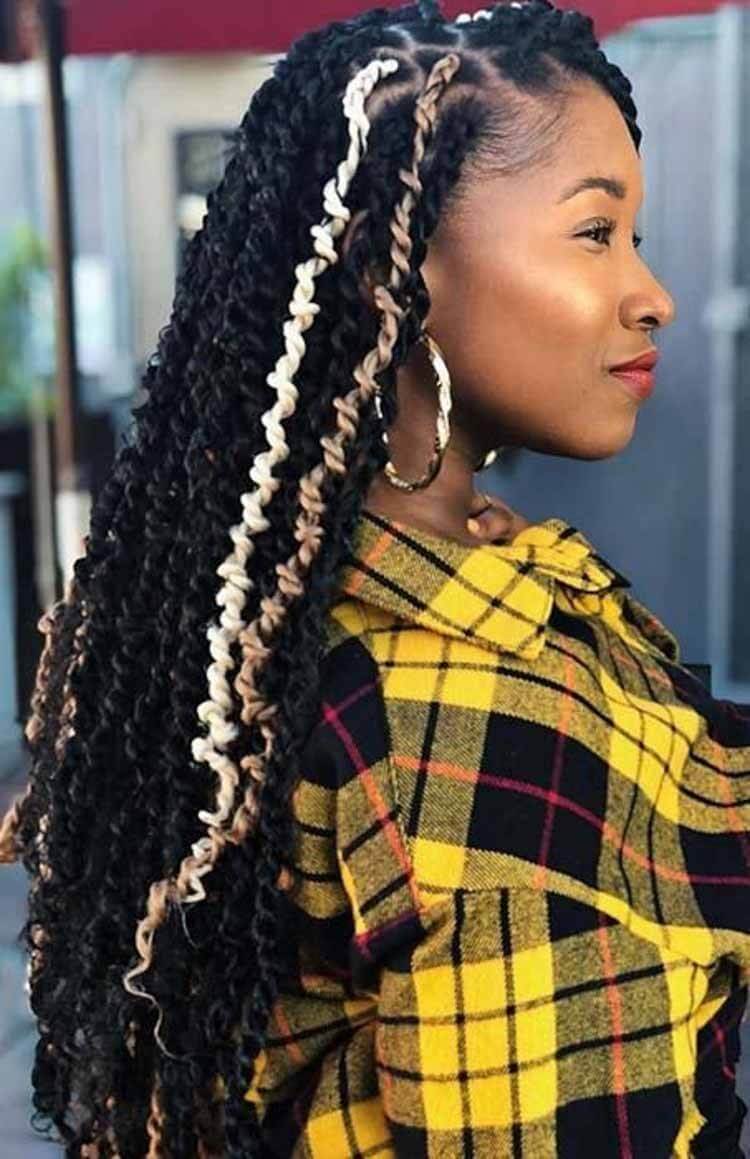 8. Swept Back Passion Twists Braids
This one is an illusionary style. The hairstyle looks like perfectly knotted one and needs an expert to do it for the perfect neatness. It gives you a refreshing look and goes with all kinds of outfits. So, maintaining a moderate hold will be better for keeping the style for a long period.
The hairstyle looks good on women with medium hair length and looks attractive on jet black hair. Although the hairstyle can look a bit weird on girls with a very deep forehead, still suits women with almost all types of face shapes.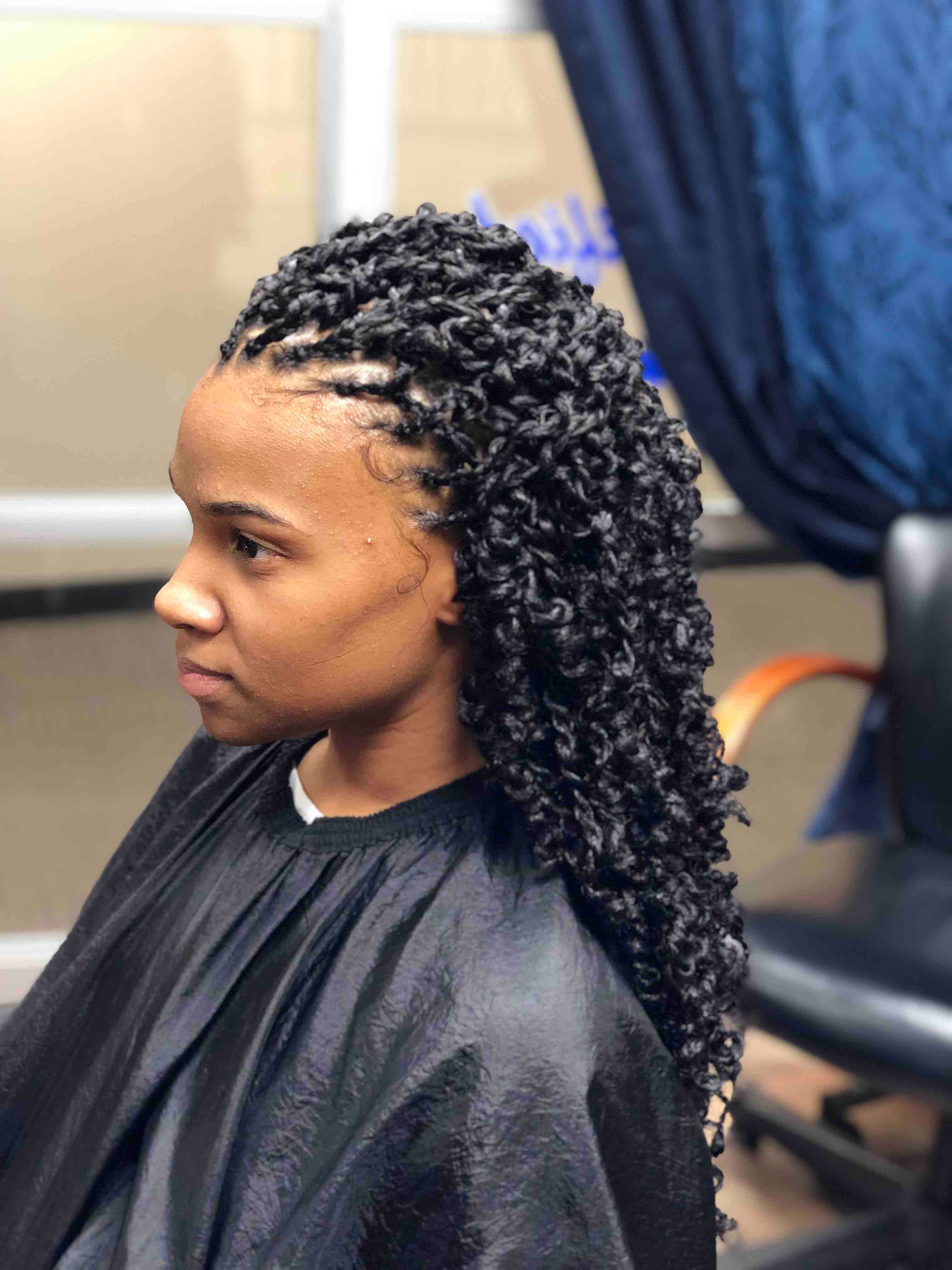 9. Side Swept Passion Twists Braids
To achieve this hairstyle, make a deep side part and make passion twist braids on both sides. The side with a larger part should have more hair to give an illusion of aide swept hairstyle. Side-swept passion twist looks amazing on women with long hair. It changes the overall look of a girl in minutes.
The hairstyle will suit every face type; round, oval, diamond, or, square. The hairstyle enhances the hair volume and texture as the products being used bring a never-ending shine to the hair while they are styled.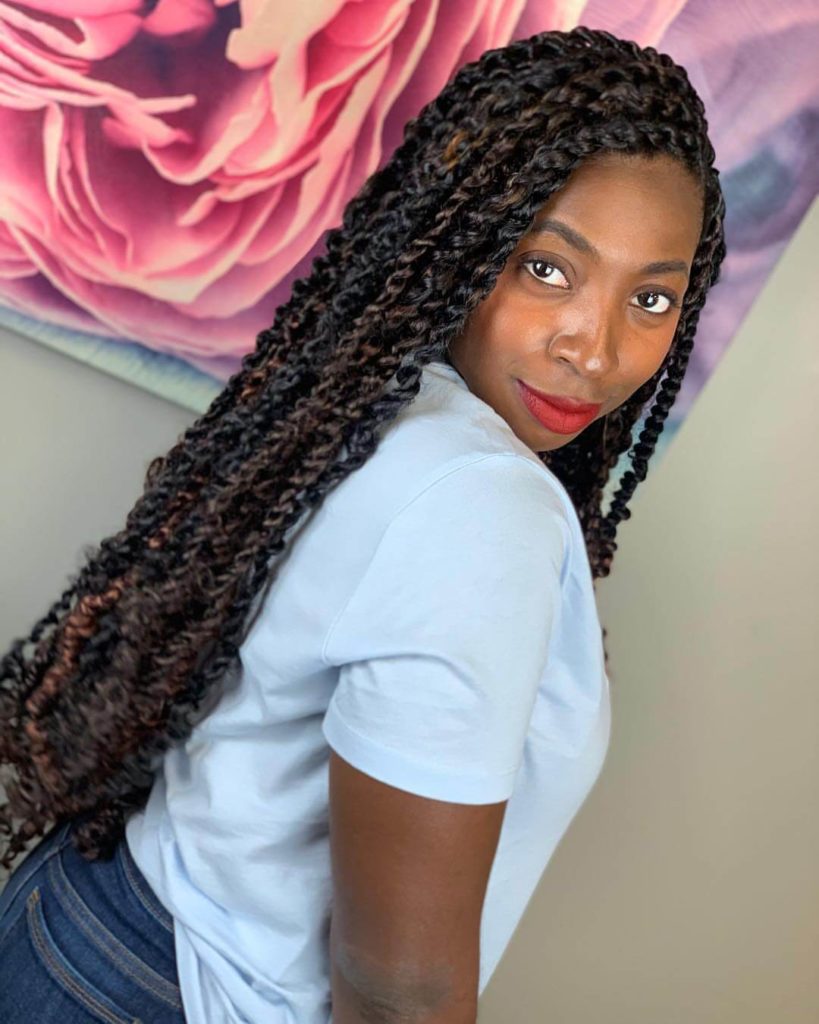 10. Side Part Passion Twist Braids
The is a side-parted hairstyle that looks good on women with oval, or long face shapes. The hairstyle goes well with black hair having highlights. The hairstyle creates an impact of being partially bald since the part contains tight cornrows with passion twist braids and gives a clean and bold look.
Use some good hair products to get shiny and voluminous hair. This one needs to be done neatly for an overall result. The hairstyle gives you a smart look if carried out confidently with jeans and tops.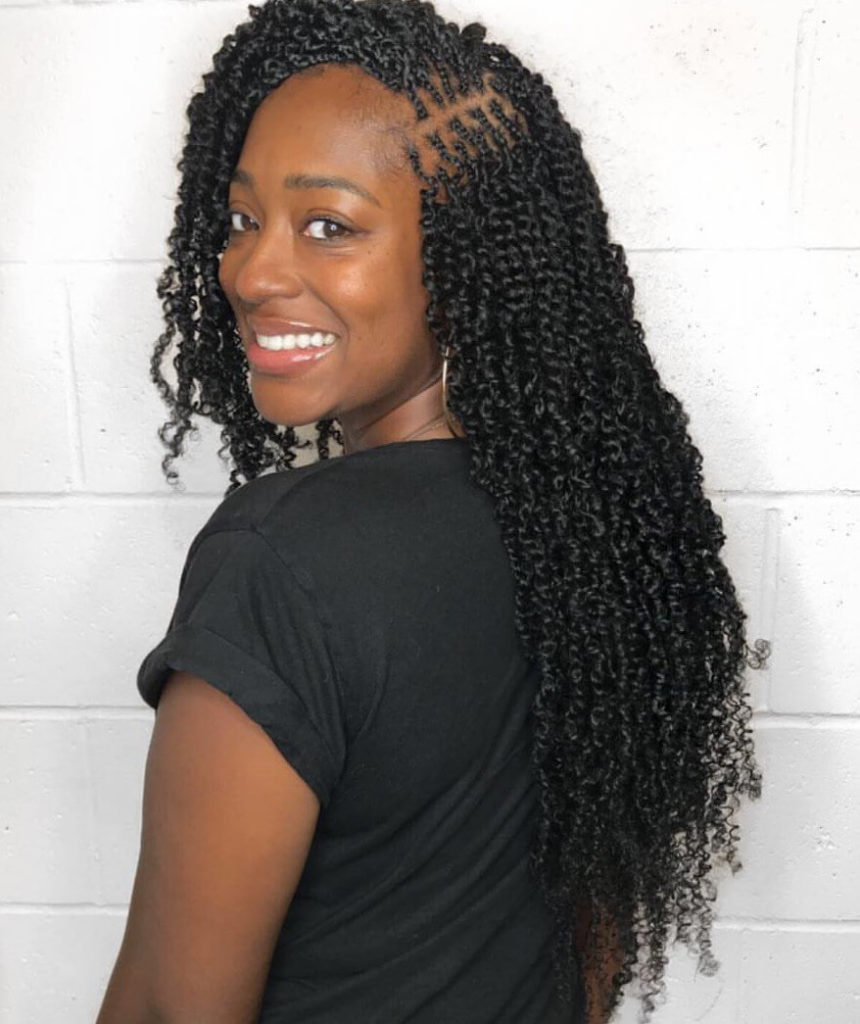 11. Dark Black Passion Twist Braids
Start making the passion twist braid by sectioning the hair equally in thick sections. The hair is middle parted, and then the hair from one side is swept back, and the hair from other parts if allowed to fall over the sides of the face. This gives a nice frame to the face.
The hairstyle is stylish and gives you a sporty and also a cute look. Maintain this hairstyle by using good quality shampoo and conditioner, and also trim the hair regularly to keep off split ends.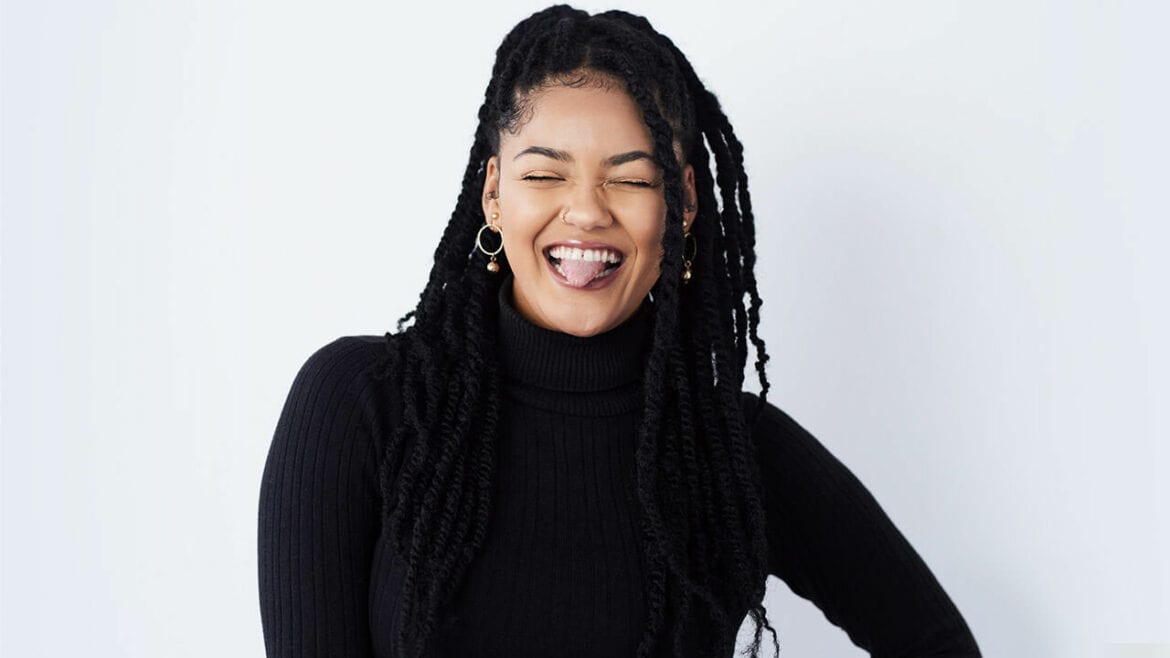 12. Side Swept Long Passion Twist Braids
To achieve this hairstyle, part your layered hair and then make neat passion twists braids that give a voluminous look. Bring the most part of the hair to one side of the larger part, and allow it to fall over your shoulders. Make sure you give a sweep away effect.
This hairstyle suits women with all types of face shapes. And it can be carried with all types of outfits. It gives a feminine and great look. Wash your hair regularly to keep them clean.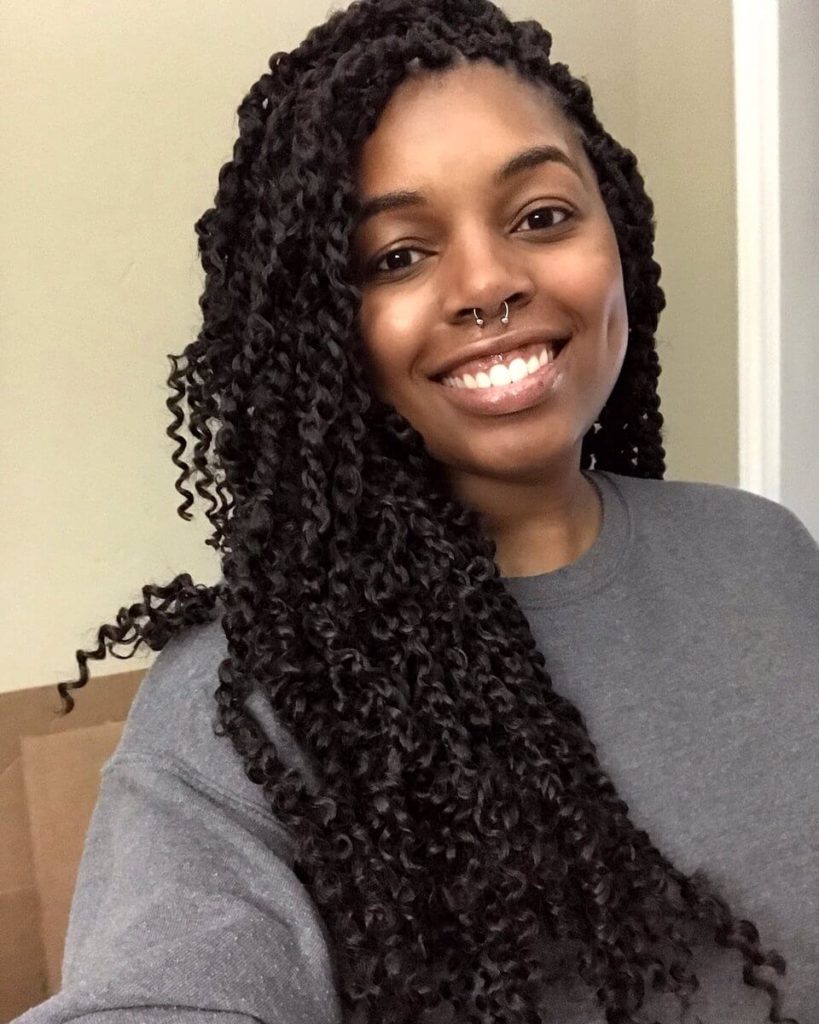 13. Two-Color Passion Twist Braids
This style is meant for those who have long hair. Make small sections in which dense passion twist braids are made. One striking feature of this hairstyle is that the hair is dyed in a two-toned ombre style, from black to brown. This gives a stylish and smooth look to women.
It suits women with big round, oval or heart-shaped faces. Use good quality products to keep your hair clean and dandruff-free.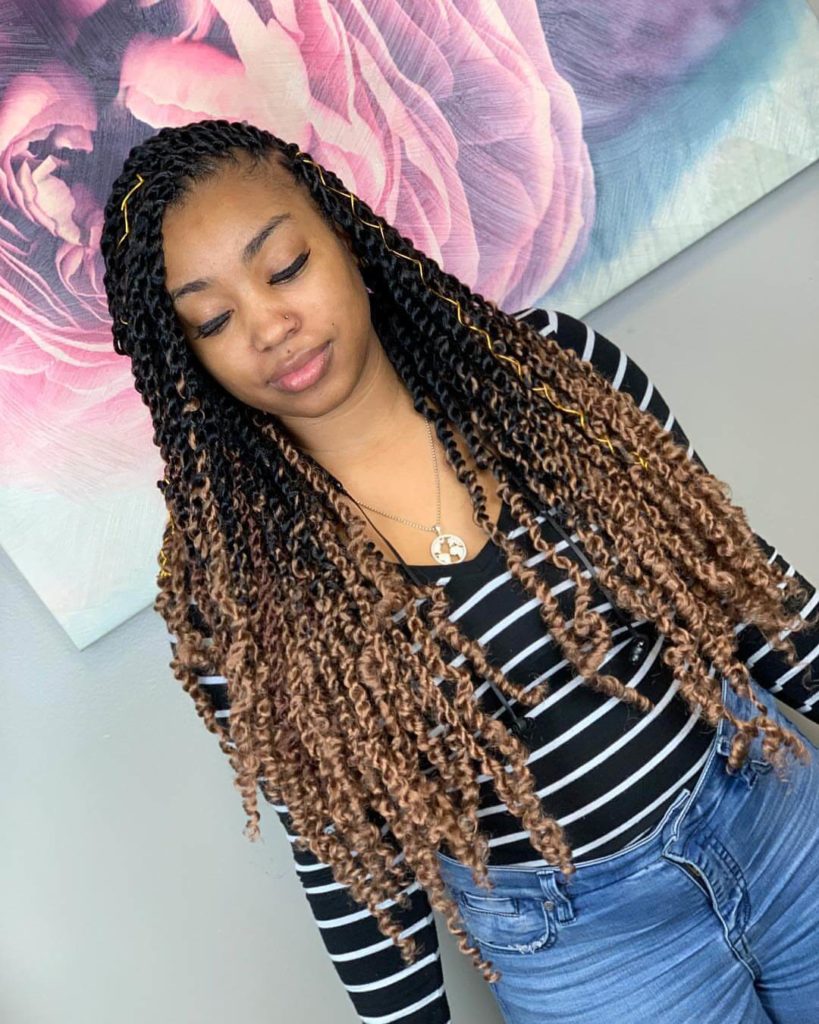 14. Black and Brown Passion Twist Braids
In this hairstyle, the hair is dyed with black-brown two-tone color. Then, the hair is made into small boxed sections, and each section is made into tight passion twist braids. It gives a neat and geometric look on the scalp, while the rest of the hair is laid back. You may use hairspray to set this hairstyle.
This classic hairstyle suits women with all types of face shapes. Make sure you don't pull the hair roots hard and wash it regularly to prevent dandruff.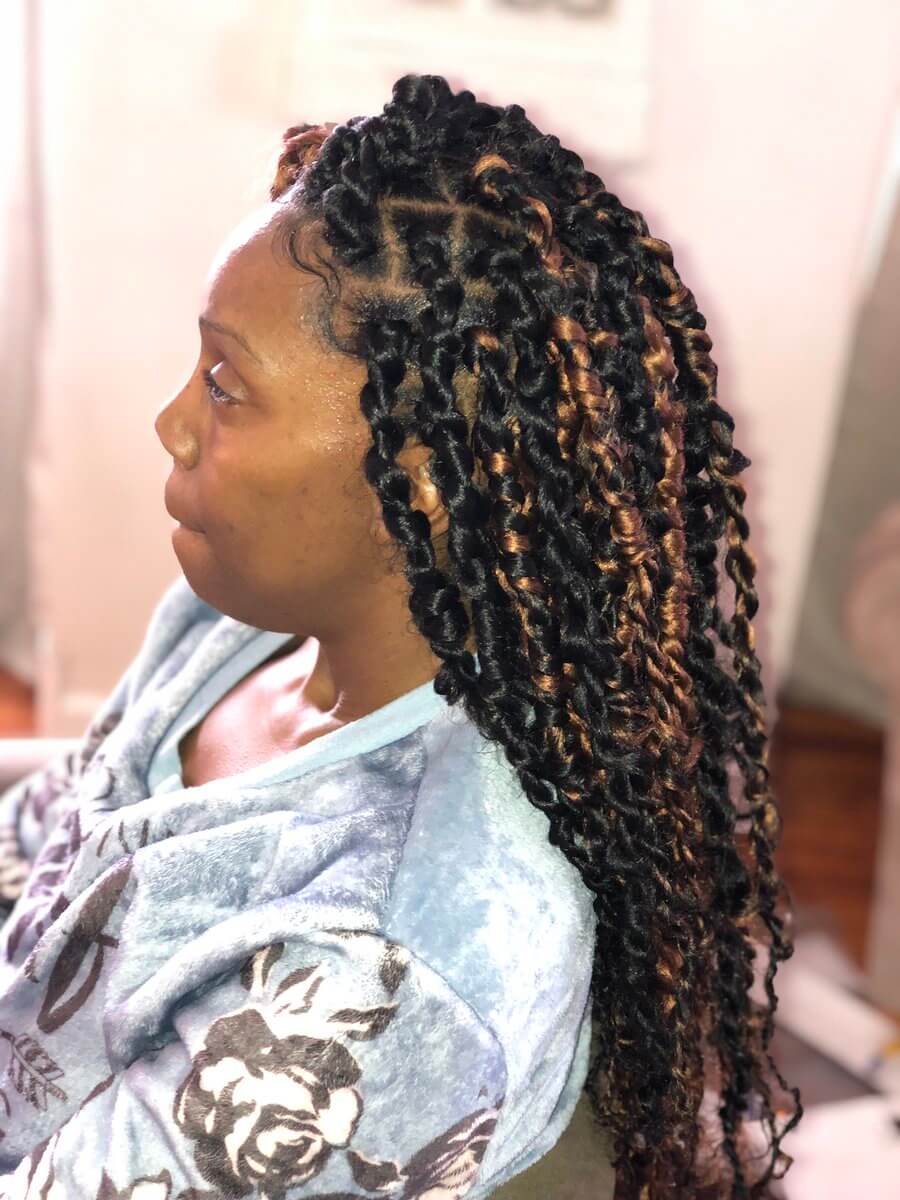 15. Medium Passion Twist Braids
In this hairstyle, the hair is side prayed, and each section of hair is braided neatly into nice twists. A major part of the hair is allowed to fall over the shoulder, adding volume to the whole look.
A hairstyle like this can be done while being on vacation, or can also be carried off to a party. It can last for more than a week if handled properly. Wash your hair once a week to get rid of dirt, dust, and dandruff.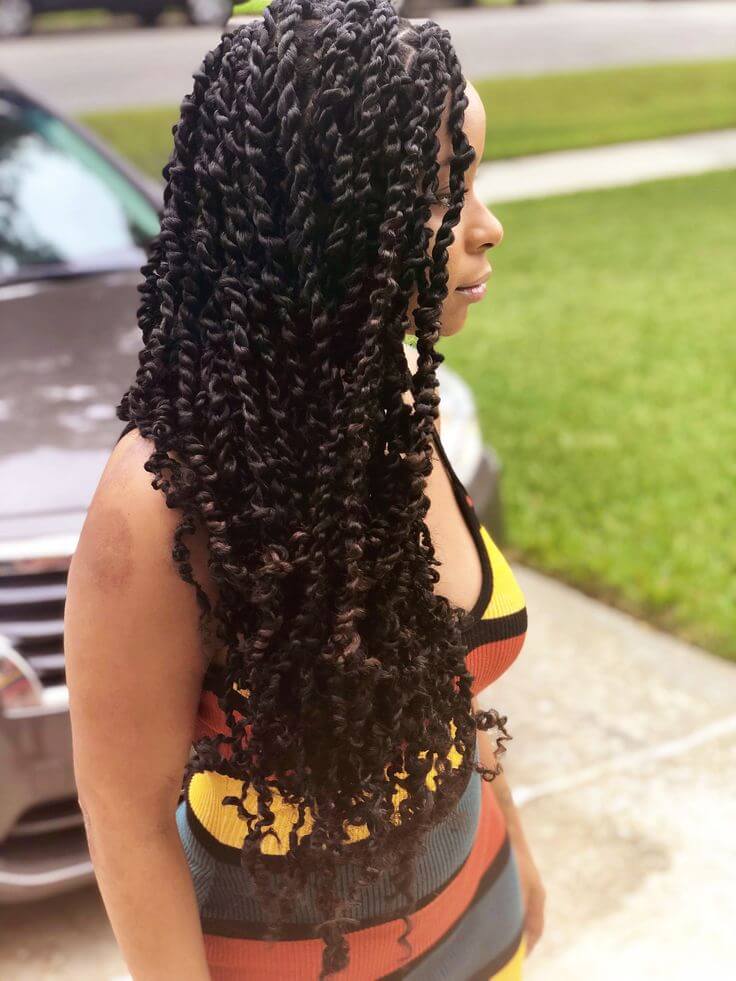 16. Long Passion Twist Braids with Beads
Accessorized hairstyles look fresh, neat and authentic at the same time. Here, the long hair is braided into nice passionate twists, and then the strands are accessorized with colorful beads.
Long passion twist braids with beads are way better than any deadlocks. It gives you a fresh and vibrant look to your hair and suits women with all types of face shapes. The hairstyle will focus on the facial features and enhances eye color as well as the lip color.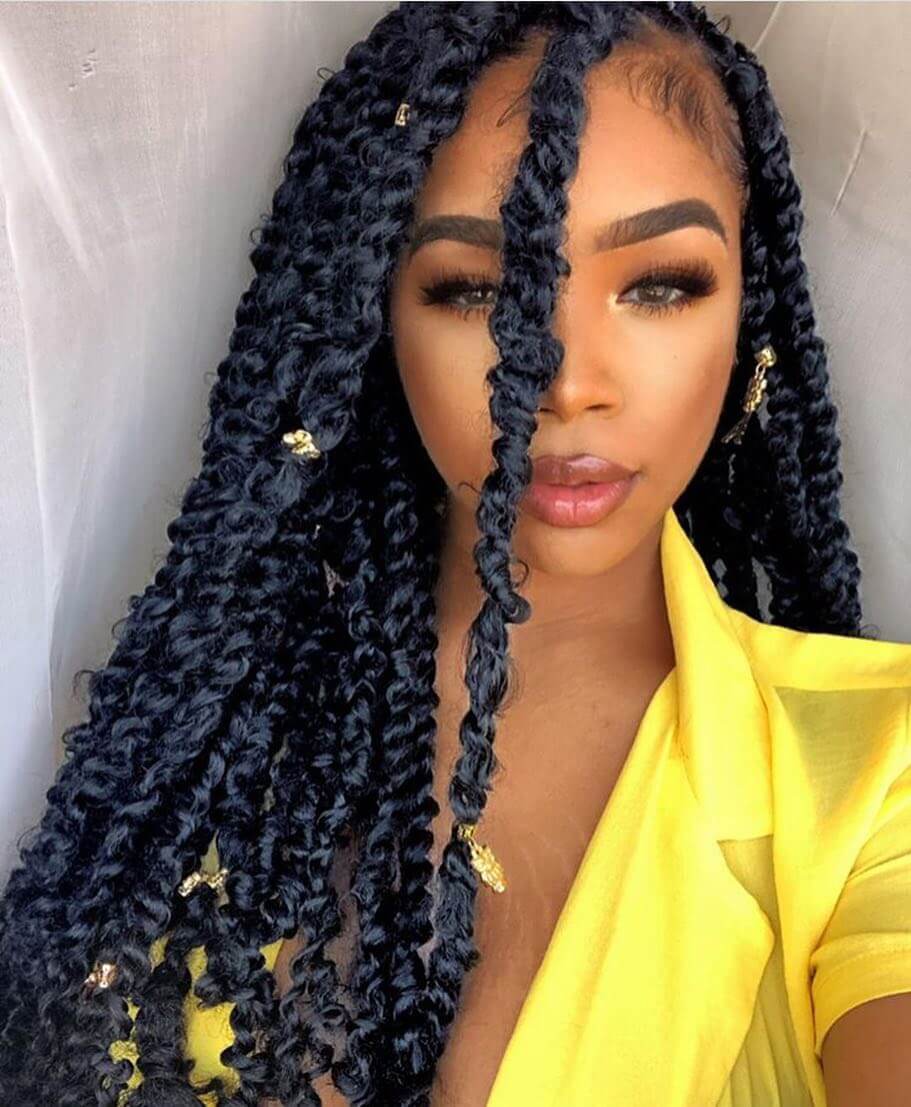 17. Shoulder Length Blonde Passion Twist Hair
This hairstyle is for women with medium hair. Those who have natural blonde or even red blonde hair can try this hairstyle and get a stylish look. The hair is parted and given charismatic passion twist braids, which enhance the texture of the hair.
There is no age bar to have this hairstyle, which means even an elderly person can carry this hairstyle comfortably. The hair texture gets highlighted due to the layering of hair in this style. Make sure you keep your hair clean and dandruff-free.
18. Shoulder Length Passion Twist Braids
To achieve this hairstyle, make a deep side part and bring all the hair to one side. Braid them into passionate twists and allow them to fall over the shoulders. This hairstyle looks great on blonde hair.
It gives a voluminous and fluffy look to the hair. Use good hair products for better hair quality. This style is a fashion statement, which is loved by everyone.
19. Two Shades Passion Twist Braids
This one is a hip-hop hairstyle, best suited for funky girls. In this hairstyle, the hair is middle parted and then is divided into small sections, with each section braided into neat passion twists. Here, the hair is two tones, with black and shades of brown dye on hair.
The hair is brought to the front, allowing it to fall gorgeously over the shoulders, giving you a voluminous look. It suits most women with heart-shaped or oval faces.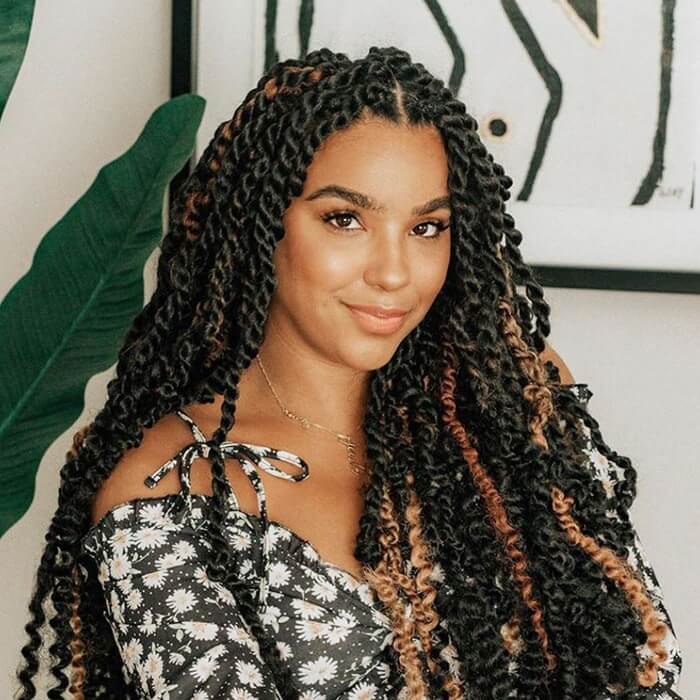 20. Center Part Passion Twist Braids
Before starting with the steps, just check hair is divided from the middle, having a central parting. The two-division should be treated individually for creating the braids. The hairstyle is simple yet stylish.
The hair is given nice passion twist braids, which give a flowy and gorgeous look. Women with thin hair can also carry this hairstyle with ease. The center part is defining the look. The hairstyle is easy when you want to sleep and repeat the look the next day.
It suits women with all types of face shapes. The black hair is added with brown highlights, which gives a dual-tone to the hair while it's twisted braided.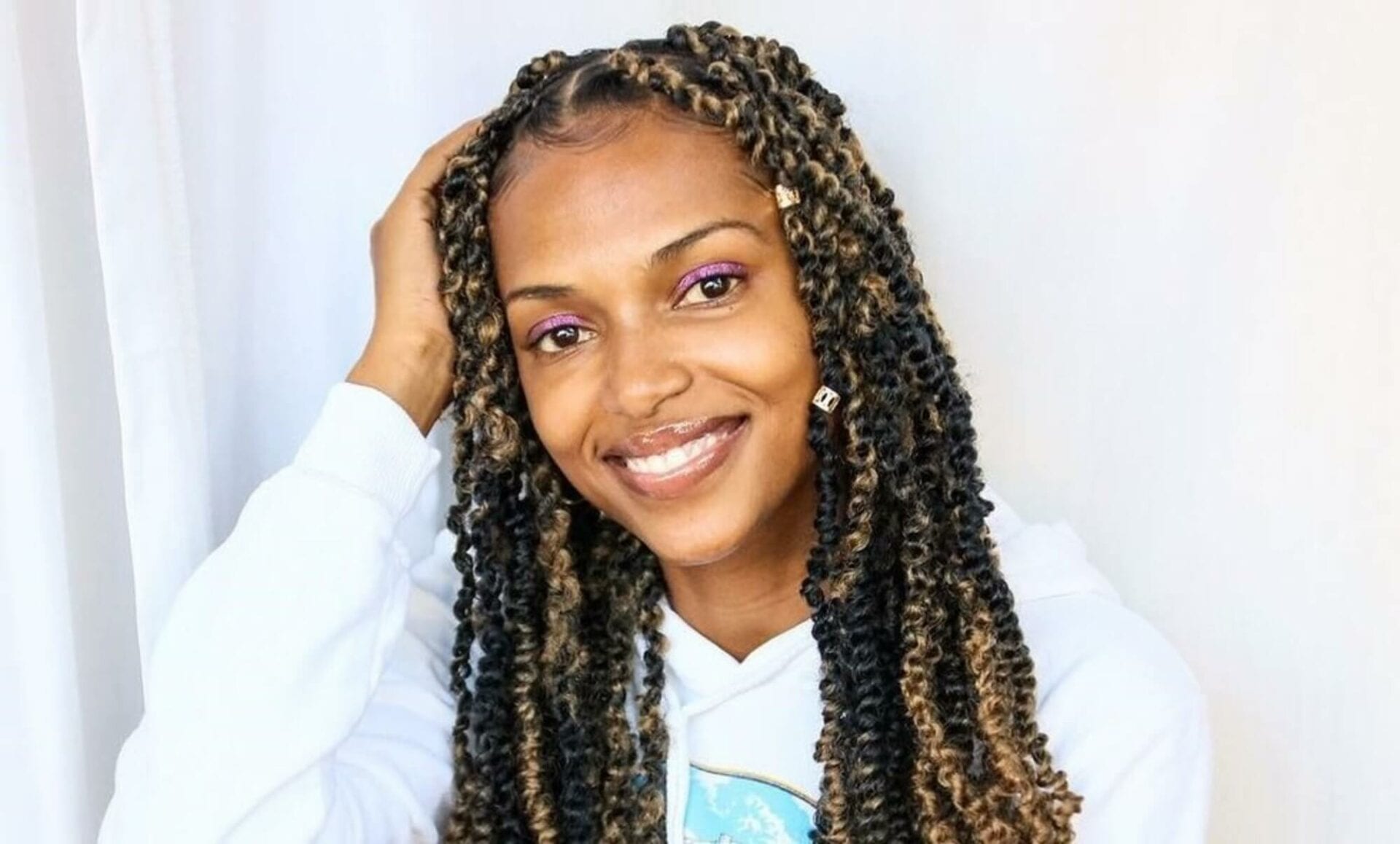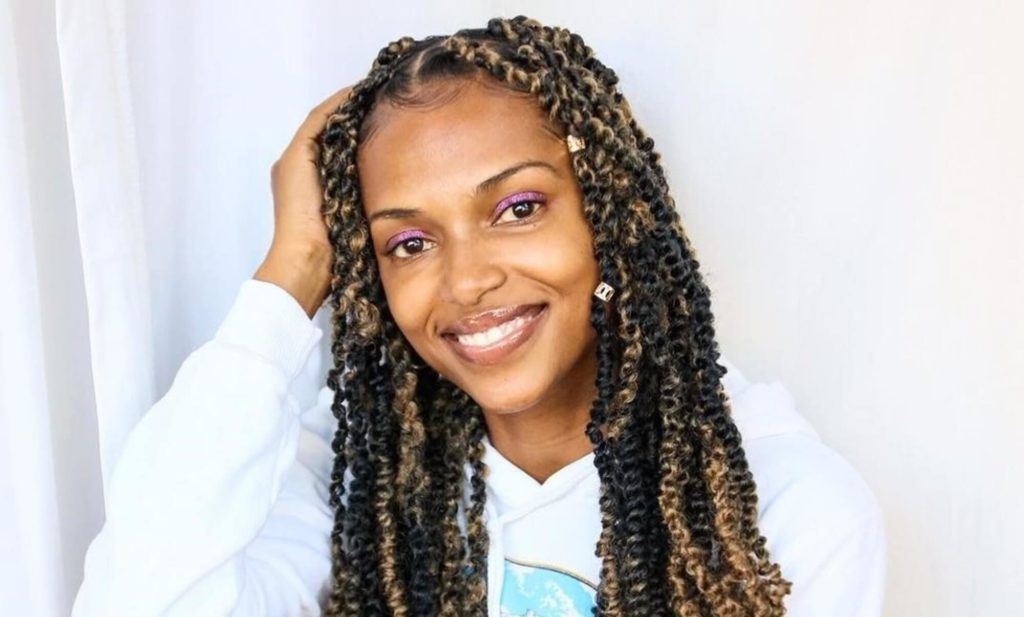 21. Half Up Half Down
Passion twist braids are already enough of a statement on their own, but styling them into a half-up half-down hairstyle will change up your look instantly.
This little makeover can make a huge difference in your hairdo and make your braided hair look even chicer.
22. Side Swept Ombre
These side-swept passion twists are a perfect way to always show off your good side, as well as your distinctive hairstyle at the same time.
The soft ombre of black into light brown will not only add more intensity to your look but it will help blend the extensions into your natural hair more discreetly.
23. Jet Black Passion Twist Braids
Jet black hair is a perfect way to make any hairstyle look thicker and more voluminous. The dark shade gives an illusion of fuller hair and it gets even better when your hair is styled uniquely into these passion twist braids.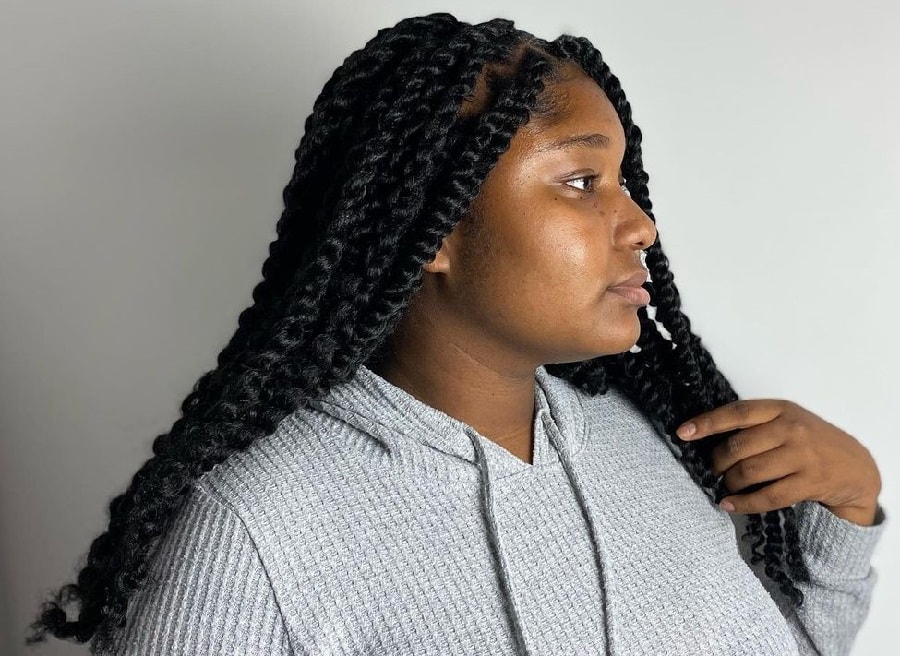 24. Side Part with Brown Highlights
Other than parting your passion twist braids to show off your good sides, another way to transform your hair game is by adding brown highlights.
This will help show off the texture and shine of your eye-catching braids and make them appear more voluminous.
25. Passion Twist Braided Ponytail
Passion twist braids just might be the chicest way to keep your natural hair protected and make a hair statement but trust us when we say you can make it chicer.
All you have to do is tie up your gorgeous braids into a ponytail for an instantly dressier and more youthful look.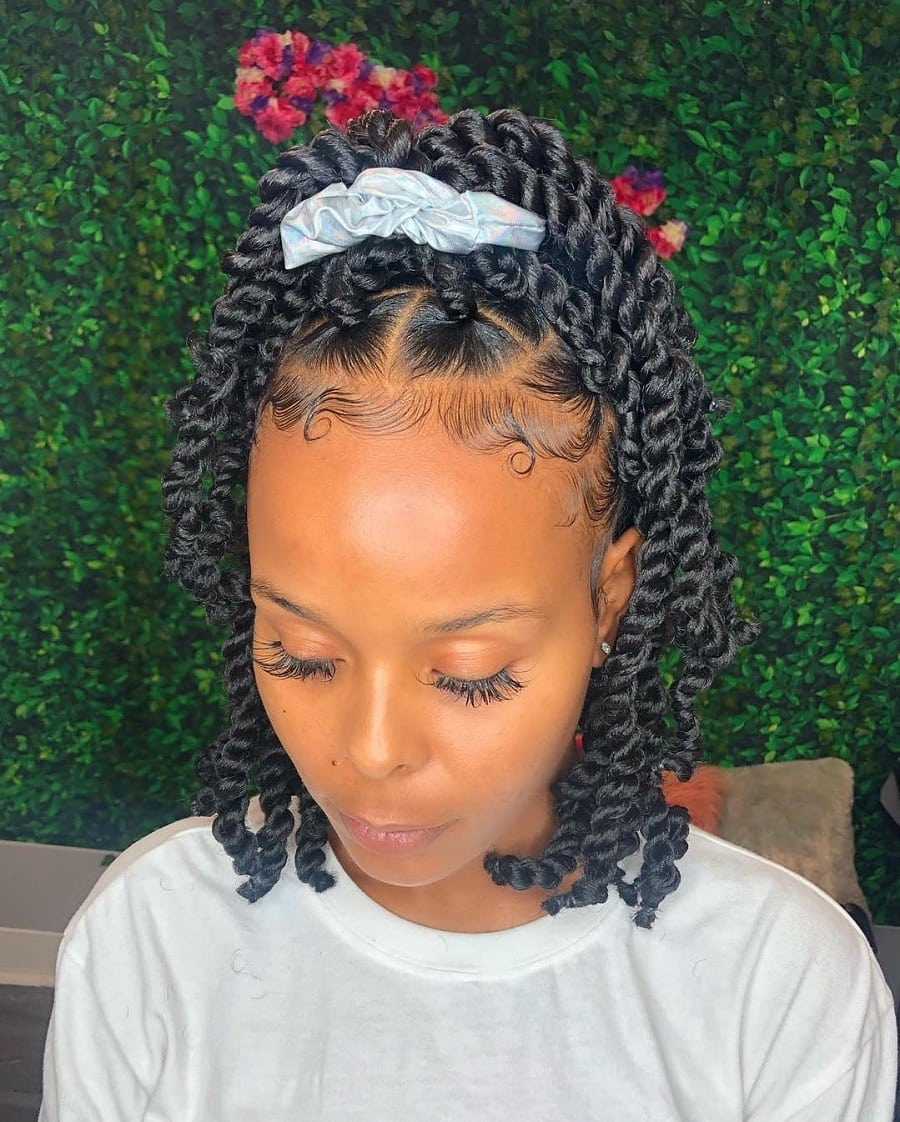 26. Box Braids and Passion Twist Braids Combo
If you simply can't decide between box braids and passion twist braids, why not get both? This gorgeous braid combo is the perfect pick for the indecisive woman looking for a straightforward and luscious hairstyle to keep her hair pulled back.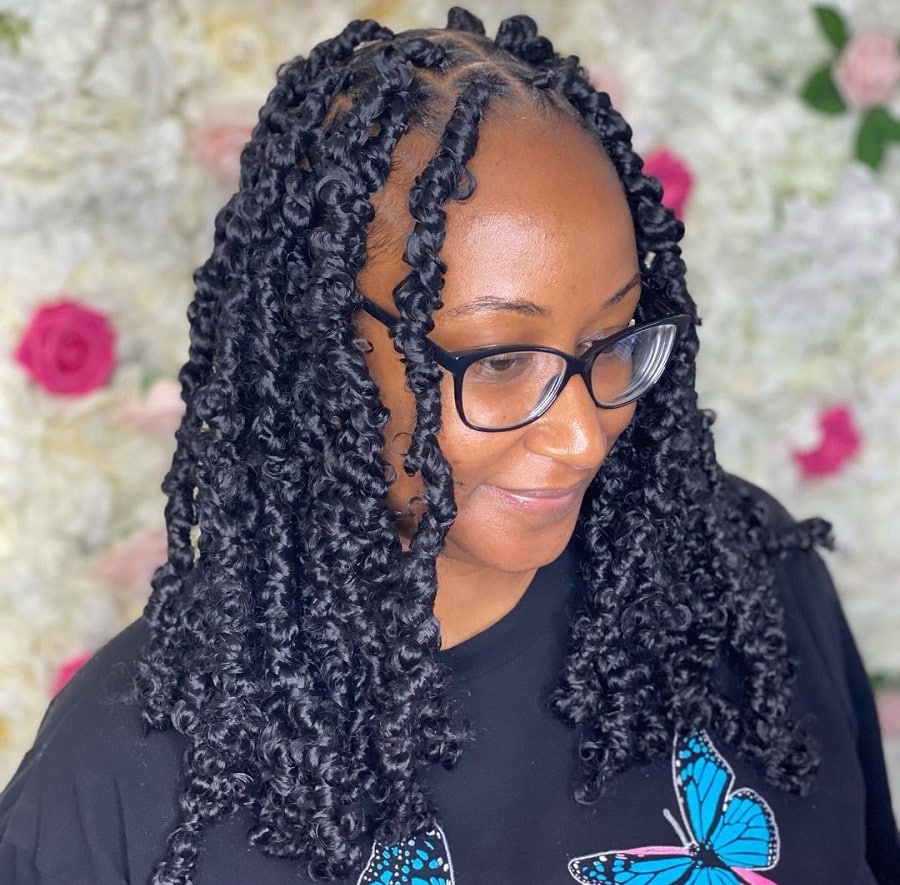 27. Voluminous Passion Twist Braids
If you have naturally long hair and you're thinking of experimenting with a new hairstyle, passion twist braids are a chic and feminine option. It looks beautiful on every hair type and gives your hair a subtle and chaste look in the simplest way.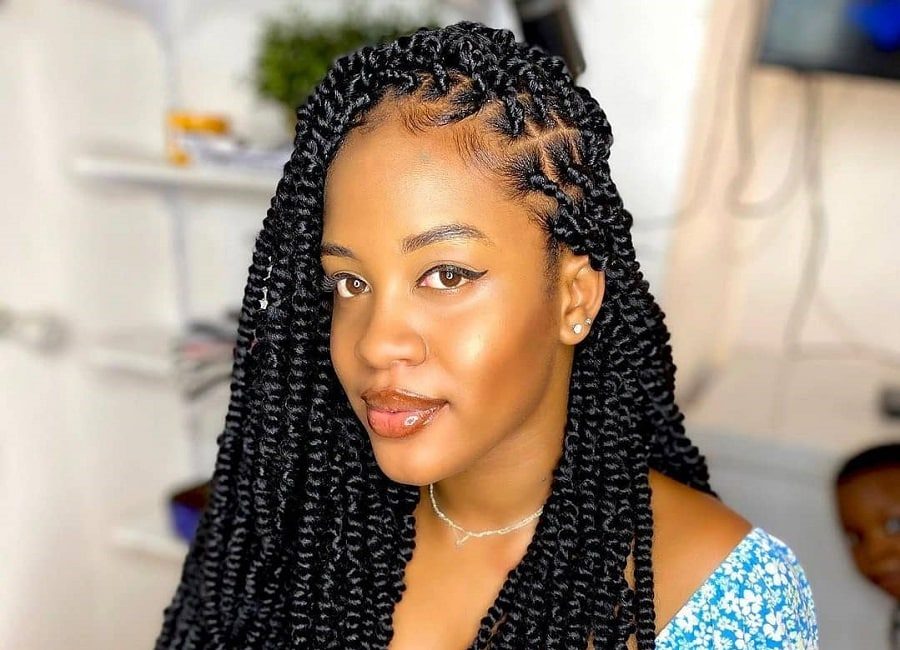 28. Messy and Laid Back
If you're looking for a more casual look that is comfortable and manageable, yet alluring at the same time, these messy twists are a great option for you.
It is the simplest way to give your thin hair an eye-catching makeover and achieve a sassy look all at once.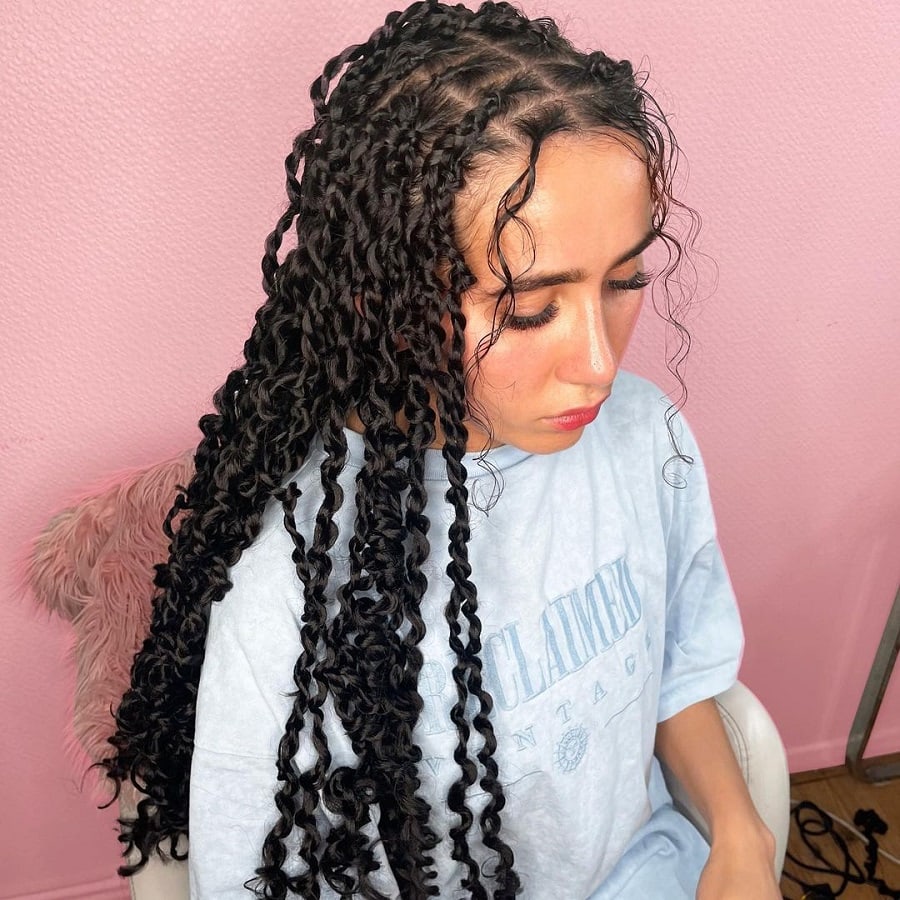 29. Traditional Passion Twist Braids
While it's fun to experiment with unique combos and distinctive designs, you can never go wrong with the classic passion twist braids.
These traditional, nearly waist-length twists are a great way to add thickness, length, volume, and shine to your hair without going overboard.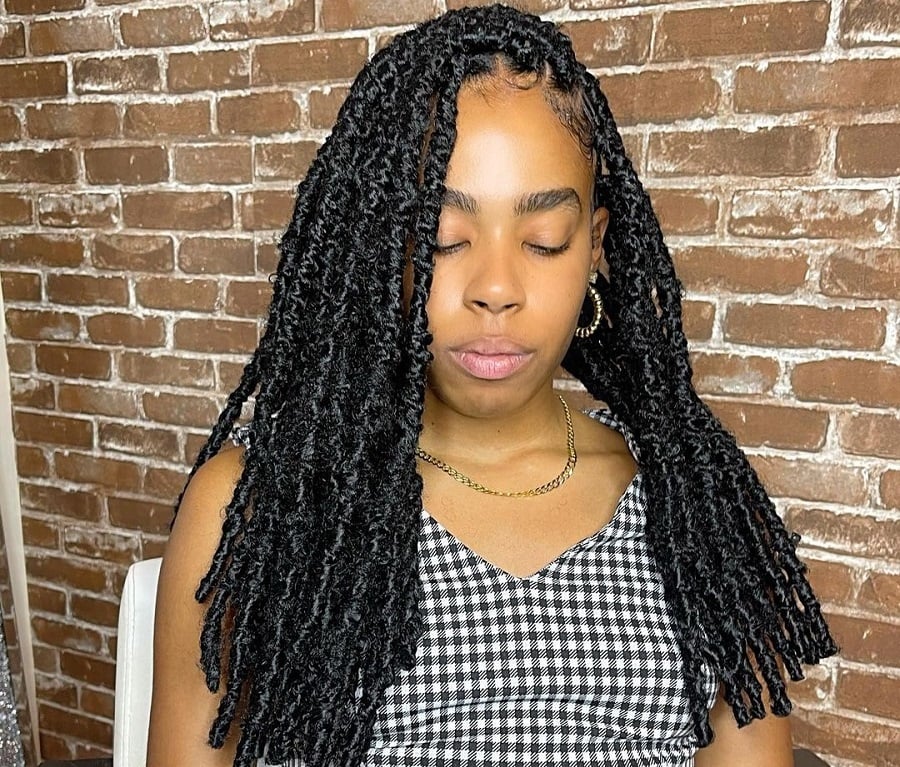 30. Cornrows and Passion Twist Braids Combo
There's nothing better than experimenting with two different types of braids and achieving a unique, bossy hairstyle.
Fulani braids have been the trendiest, while the passion twists are the most distinctive type of braids that is sure to catch every eye on the street.
All the aforementioned hairstyles are pretty bold as well as gorgeous to carry out with a confident smile. It is time-consuming, but for once, and it can last up to a week if taken well care of.
It keeps the hair tangle-free and healthy. Experiment with the color and sections and enjoy looking at zing with these passion twist braids.