The choice between K18 hair vs. Olaplex is one you must make when on the market for science-backed hair treatments to restore your damaged hair.
Both products have risen in popularity due to their effectiveness. But which one should you choose? Let's explore what each treatment does and the key differences between them.
What Is Olaplex Treatment?
Olaplex hair treatment is a three-step hair repair process achieved using one or more Olaplex products. Olaplex products carry the patented ingredient, Bis-aminopropyl Diglycol Dimaleate, which rebuilds the disulfide bonds in your hair.
These bonds are often damaged by thermal (heat styling), chemical (bleaching or relaxers), mechanical, environmental (UV rays, humidity), and pollution.
Olaplex penetrates the hair shaft from roots to ends, fixing weak or broken bonds throughout the strand. Hair stylists that use Olaplex treatments incorporate it as part of the bleaching and coloring process to strengthen your hair and protect it from additional damage.
Pros of Olaplex
Strengthen and repair damaged hair
It makes hair shiny and smooth
Works for all hair types
Protects hair from further damage
Reduces split ends
Cons of Olaplex
Requires time and more than one product to see good results
Can get costly
It could irritate your scalp
What Is K18 Hair Treatment?
K18 hair treatment is another science-backed bond-building product. It works at a molecular level to repair your hair's polypeptide chains and disulfide bonds by mimicking the biochemical process of forming these bonds.
K18 is made with oligopeptide, a patented ingredient that deposits amino acids into the hair's inner structure to restore polypeptide chains and disulfide bonds.
K18 is available as a shampoo and hair mask. However, you can still go to a certified hairstylist to receive K18 treatment with salon-specific K18 products.
Pros of K18 Hair Treatment
Repairs damaged hair
Works for all hair types
Results are visible in a single use
Protects hair from damage
Color-safe
Vegan and cruelty-free
Cons of K18 Hair Treatment
Major Differences Between Olaplex and K18 Treatment
Both K18 and Olaplex hair treatments rebuild the hair from the inside out. However, there are key differences to be aware of when choosing between the two treatments.
Ingredients
Olaplex 3, the recommended formulation for home use, contains Bis-Aminopropyl Diglycol Dimaleate as the primary ingredient. The hair treatment formula is infused with pH-balanced, vegan, nut-free, cruelty-free, and gluten-free ingredients. Olaplex products don't have paraben, phthalates, phosphates, and sulfate.
K18 hair repair mask contains sh-oligopeptide-78 (K18 PEPTIDE ™) as the active ingredient. The hair treatment contains wheat protein and wheat starch, which you should be aware of if you have gluten sensitivity. The ingredients used are vegan and cruelty-free.
When comparing the action of the two active ingredients, K18 works deeper as it repairs disulfide and peptide bonds in the hair. Olaplex, in contrast, works only on fixing the disulfide bonds.
Application
K-18 has a simpler application process as you use it as a deep conditioner. Olaplex, however, requires a few more steps. Due to the simpler application process, K-18 is more convenient to incorporate into your hair routine.
Olaplex treatment involves a three-step process, the first two of which must be done by a professional stylist. The first and second (No 1 & 2) use the Olaplex Bond Multipliers and the Olaplex Bond perfector, respectively.
Olaplex No. 1 Bond Multiplier has a higher concentration of the active ingredient. Your hairstylist will mix the Bond multipliers with the lightener or the chemical treatment you're using. When added to the product, the bond multiplier minimizes the damage and repairs your hair as they apply the color or bleach.
The second step involves using the Olaplex No. 2 Bond Perfector. The product tracks and repairs any broken bonds after using Olaplex No. 1. The third step is an at-home routine involving using the Olaplex No. 3 Hair Perfector to provide ongoing bond repair and protection.
When using Olaplex at home, you start by damping your hair. You can do a light shampoo if you have silicon or other products on your hair. Towel dry the hair, then apply a generous amount of Olaplex No. 3 in your hair for 20-90 minutes. Rinse off the product. Shampoo and condition your hair as usual.
While you can apply Olaplex on dry hair, you will use more product to saturate it. Olaplex recommends using their shampoo and conditioner (No. 4 and No. 5) after using Olaplex No. 3.
You can use Olaplex at home once every week for healthy hair and up to three times for damaged hair.
K18 hair treatment works as a leave-in conditioner. You shampoo your hair as usual, but instead of applying your regular conditioner, you use K18 after towel-drying your hair. Apply enough product to your hair depending on its length and thickness. Leave for four minutes, then style as desired.
Hair Type
K18 hair and Olaplex treatments are designed to work on all hair types, including natural, curly, straight, and fine hair. They also work with virgin hair, color-treated hair, curly, textured, and even hair extensions.
However, if you have curly hair, you should moisturize it when using K18 as it has ethanol, which could dry out your hair.
Price
Olaplex is significantly cheaper than K18.
Time It Takes
Olaplex hair treatment at home (with Olaplex No. 3) takes at least 10 minutes. However, it is best to leave the treatment for 30-90 minutes for the best results, especially with heavily damaged hair.
Leaving the treatment longer than 90 minutes will not have additional benefits to your hair and could start to irritate your scalp.
K18 hair, in contrast, is a single-action formula that takes four minutes and continues to work on the hair over several days. Unlike Olaplex, you leave the formula in your hair until the next wash.
End Results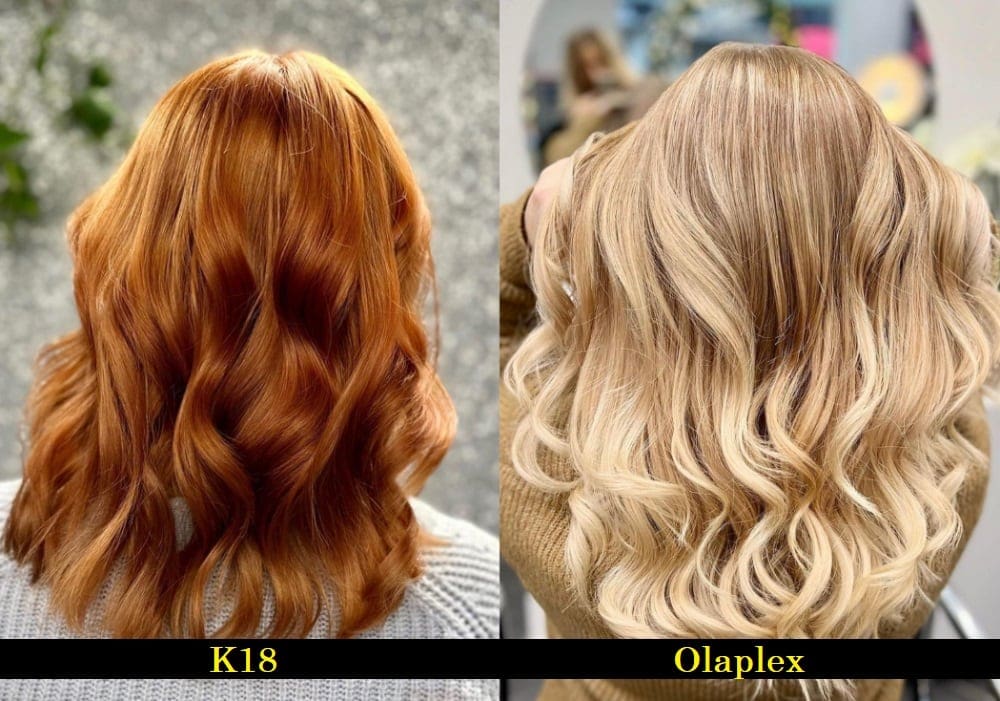 K18 hair vs. Olaplex, which is better? Both Olaplex and K18 are effective at restoring damaged hair. How soon you start to see results will depend on how damaged your hair was when you started.
If you use Olaplex, your hair will feel stronger and retain moisture for longer, regardless of the weather conditions. If you use it on curly hair, your hair will hold curls better.
The K18 hair treatment formula results in smoother, shinier hair that is also stronger and more resilient. Your hair becomes softer within the first few days of using K18.
When To Use?
Use Olaplex once every week for mildly damaged hair or 2-3 times for severely damaged hair. You can use the K18 hair mask after every wash.
K18 vs. Olaplex: The Comparison Table
| | | |
| --- | --- | --- |
| | K18 | Olaplex |
| Active Ingredient | Sh-oligopeptide-78 (K18 PEPTIDE™) | Bis-Aminopropyl Diglycol Dimaleate |
| Hair Types | All (Could dry out curly hair) | All |
| Availability | Available in certain stores and salons | Readily available in multiple stores |
| Ease of Use | Easy to use | Requires several steps |
| Application method | Leave-in formula | Rinse-off formula |
| Price | Costly | Cheaper than K18 |
| Results | Almost instant | Best results may take time and several products |
FAQs
Below are some frequently asked questions about K18 hair vs. Olaplex.
Can you use both Olaplex and K18 together?
You can combine Olaplex and K18. Adding K18 and Olaplex to your hair care routine can help, especially if you have damaged hair.
What'll happen if you use Olaplex before K18?
Your hair will get more repair benefits. You can use Olaplex during the bleaching and coloring process, then use the K18 hair mask as a leave-in conditioner.
Can K18 and Olaplex be used on Extensions too?
You can use Olaplex and K18 hair to keep your hair extensions healthy and shiny. However, limit their use in hair extensions to prevent damage.
So, K18 Hair vs. Olaplex: Which Should You Choose?
Both K18 and Olaplex are popular hair treatments because they live up to their claims. They will repair and strengthen your hair when used. However, since you must choose between K18 and Olaplex, K18 stands out for its ease of application and faster results.