The History of Andis started with producing clippers initially and then evolved into the company today, designing vibrant styling tools for women.
Andis produces salon-quality hair and beauty tools that you can use easily at home, from hair dryers to different size trimmers by satisfying their customers. It also provides home haircutting equipment and other small electric appliances for consumers and resorts to treat their consumers well. This leading designer group offers animal care products that address the needs of grooming horses or cattle.
The idea of developing an electric-powered hair clipper bought the company to be in today's place. Earlier, the clippers were bulky in size and powered by a cable.
However, Andis implemented a compact clipper and powered by an electromagnetic motor leading to immense popularity. Thus, the ease of use attracted many happy customers across the globe. They strived in continuous improvement of the technology used for every succession model launching in the market.
The company has also started designing a variety of styling tools like Curling Irons, Heat styling brushes, and many more on the list. In this article, the below-mentioned Hair styling tools description is explained in detail:
Hair Dryer
Flat Iron
High Heat Styling Brush
Ceramic Curling Iron
Choose the best styling tool from Andis and glam up the look for the next occasion!
1. Andis Hair Dryer
With the addition of tourmaline crystals in hairdryers, Andis excelled in improving moisture retention in the hair follicles. This tool emits negative ions, and the use of tourmaline crystals helps in retaining hair and maintaining them.
The main benefit of ceramic hair dryers is the ceramic or coating inside that makes the heat consistent and distributes heat evenly during styling. So, Andis hair dryers are a good choice for all hair types that dehydrate easily.
However, Andis also produces a titanium dryer that distributes heat evenly and keeps the temperature steady, tending not to get very hot, though. You should opt for a titanium dryer when you have more thick hair to reduce your drying time.
Motor
When a dryer is equipped with a high wattage motor, the wind's power dries the hair quickly without demanding too much heat that may harm the delicate hair strands.
However, with low wattage, motors tend to rely on heat slightly than airpower to dry the hair. Andis produces both types of hairdryers with the powerful DC motor to quickly provide the best performance within minutes and fatigue-free dryers. There are also long life AC motors with 1875 watts power and noise-free.
Size
This hair dryer is a lightweight model to hold in comfortable while drying your hair. It makes your blowout easier, and styling your hair needs less time. Long, thick hair can take more minutes to blow-dry, and Andis hair dryers do not have a bulk size to ensure any pain during the process.
Far-Infrared Heat Technology
The infrared heat technology maintains moisture and creates a healthy glow and shiny texture. It is also responsible for not burning your hair during the drying process.
Material
The brand uses tourmaline crystals to help seal the cuticle layer and reduce the frizz in hair while giving soft and smoothening results. Tourmaline technology also produces and discharges more negative ions into your hair, and both technologies reduce static and frizz to deliver sleek and smooth hair.
Temperature Settings
Adjustable temperature settings are essential as it varies differently as per the user needs depending on the hair type. Andis hair dryers come with heat and air settings for styling control with an automatic shut off button.
2. Andis Flat Iron
Andis Flat Iron is one of the most elegant products from the brand that is easily portable and allows the users to enjoy the most vivid experience ever.
They have produced ceramic and flat irons in the market and gained a popular name in the glamour and fashion business. This is the product for great bouncy curls while making your hair look gorgeous easily.
You just need to wrap the hair amidst the plates and style in any desired way. The ceramic coating adds shine and gloss to your hair, offering a 2-year warranty for the tool's durability.
Material
The ceramic plates allow you to curl or flip your hair easily and straighten your hair pain-free with an intense heating system. There is no risk of dents or hot spots because of the specifications of this material.
Plates
The plates are the most important factor to consider while choosing a flat iron. This part of the brush is responsible for heating up, and that comes in contact with your hair. Andis flat irons Most use advanced technologies such as ceramic plates or tourmaline plates to overcome heat damage and save your hair from minor burns.
Temperature
This straightener has a broad range of temperatures enabling you to adjust the temperature up to 450 degrees with 20 variable heat settings depending on your hair type. It provides the option of heating up in just 30 seconds to its highest temperature without causing any burns during the styling process.
Additional Features
Andis hair straightener has a swivel cord that can maneuver very easily and is also tangle-free, which helps you save time during an important meeting. The titanium flat iron also comes with a no-heat LED light that illustrates the hair's straightening to see whether you missed out on any portion.
3. Andis High Heat Styling Brush
Andis Professional High Heat Styling Brush gives your hair volume without flattening instantly. It performs gently on hair and comes with a complete one-year warranty giving the best results. This styling brush allows easy sectioning off hair and parts with the long handle with smoothing benefits because of the fine teeth.
They also add massive volume to thin hair during the entire styling and are perfectly fine for thin hair giving the best results quickly. It is also ideal for tucking sections and bounces back into place to present the overall styling you desire from the Andis tool.
If you are in the mood to rock the party tonight, Andis high heat styling brush can earn some credits for hairstyling, at least!
Material
The existing Ceramic barrel creates frizz-free volume without smoothing the hair. This is the secret behind styling your natural hair, extensions, and wigs without causing any damage while giving a salon-finish.
Bristles
The tips of the nylon bristles do not hurt your sensitive scalp and help your hair deliver soft and smooth results. If your hair gets tangled easily, Andis has got ball-tipped bristles for you. This would limit tangling and do not snag on your hair when you are drying or straightening it.
Temperature Settings
There are two heat settings available with a maximum of 425 degrees to use for the styling process. It might take several runs through the hair as per the set temperature to achieve the proper straightening look. This styling brush worked well for styling even the end of tresses.
Additional Features
Andis Professional Heat Styling brush contains a 360-degree swivel cord for easy styling and tangle-free, giving extra comfort to the users. It is also easily portable and can be handy to travelers as it comes with an auto-shutoff feature after 30minutes irrespective of missing turning off the device.
4. Andis Ceramic Curling Iron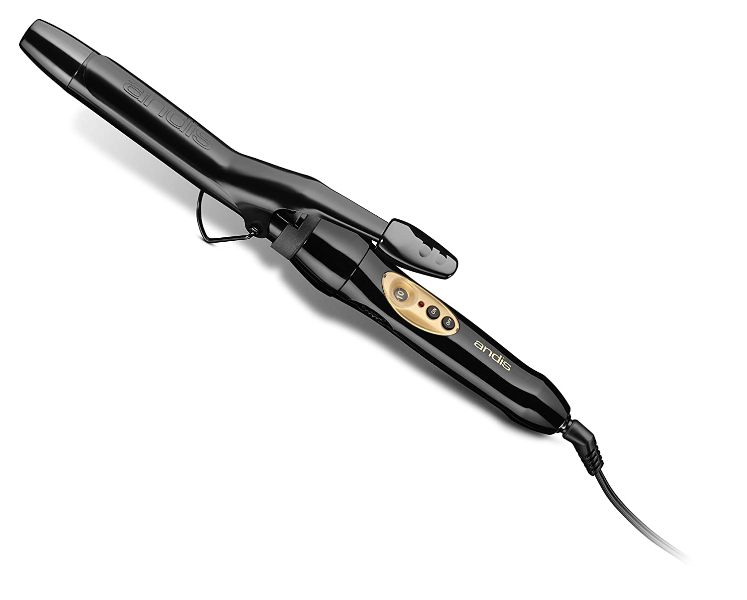 The Gold ceramic curling iron retains high infrared heat that enters the hair strands and delivers long-lasting curls. There are variable heat settings that provide precise temperature control for all suitable hair types.
The instant heat up technology offers maximum heat without breaking any hair strands. You are in search of a curling iron that's easy to use and maneuver while heating up quickly to curl your hair fast.
Then Andis Ceramic Curling Iron would be the best choice as it reaches a high temperature to set curls without damaging your hair that is also affordable in range. This curling iron can also be used to straighten hair, while the other specific models can be used as wands by wrapping hair over the clip for more relaxed curls and waves.
The easy auto shut off feature and the unique technology used in Andis curling iron make it suitable for all hair types and lead in the market.
Material
Ceramic is the most common curling iron material used by Andis because it spreads heat evenly and flattens your hair nicely. These curling irons are suitable even for thin hair types that can't withstand high temperatures.
Plates
Ceramic technology is the most popular kind used in Andis hair straightening brushes. It works by delivering negative ions into your hair to neutralize the excess of positive ions that make your hair smoother and brighter.
This type of technology also enables your brush to heat up quicker, allowing styling your hair faster and not having to expose to heat for a long time.
Barrel Size
The 3/4″ High Heat Curling Iron is a fashionable way to create tight and loose curls at your convenience quickly. The barrel size is mainly chosen by considering the length of your hair.
Handle
Your hand can get tired quickly because of holding the tool for a long time. But, Andis ceramic curling iron does not impose these problems as they come with a comfortable handle to reduce the strain while holding it. They also come with cushioned handles while clamping all its barrels together and without exerting much pressure to do the job.
Temperature Settings
Most of the Andis styling tools come with adjustable temperature settings for users to choose a suitable range for their hair. The curling iron also comes with 20 different sheat settings with maximum heat up to 450°F for long-lasting curling styles.
Related Posts:
Verdict
Andis Company has now grown largely to its production capability with its new products entering the market. Most of the products are useful to both consumers and professional stylists as they give the desired results instantly.
The brand also develops special grooming products for both men and women like hair dryers, electric curling irons, electric clippers, and trimmers. The home grooming kits provide everything a user demanded with an instructional video to illustrate the entire process.
The Adjustable Blade Pet Clipper Kit includes six attachment combs, clipper blade oil, a video on primary grooming of leg and body clipping, etc.
New technology is at the core of this brand that ultimately leads to the development of new products. They are mainly designed to minimize heat during operation and not lead to any hair damage or breakage.
What is the technology used in Andis Hairdryers?
Andis Company produces tools with Ceramic blades rather than steel blades in normal electric clippers. In hair dryers, ceramic parts are designed so that infrared heat is maintained at an even temperature, moderately than increasingly the heat or airflow that may damage your hair. The infrared heat withered hair from the interior area helps hair preserve moisture and prevent split ends and curly hair.
Is it safe to use Andis hair styling tools?
Andis brand uses ionic technology in its hair styling tools dispersed water molecule that gathers into fine particles allowing it to be absorbed by the hair shaft. This protects the essential oils required for healthy and beautiful hair. The company is also known for its exceptional combined ceramic and ionic technology in a high wattage and professional hairdryer. Hence, it is very convenient and safe to use Andis hair styling tools.
How is the performance of these hair styling tools?
The novel technology, along with the pivot motor, is responsible for all Andis styling tools' performance and durability. These devices also need minimal maintenance compared to the magnetic motor that powered most of the brand's electric clippers. The swivel motor does not require oiling or power screw adjustments, with four times the magnetic motor's power. The company aims to deliver the best performance to its customers that come available separately or in a combination package.