Let's start by telling you what exactly is hair rinse. A hair rinse basically refers to a solution that is applied to the hair immediately after shampooing and conditioning. When your hair gets affected by factors like pollution, heat, and chemical treatments, the damage becomes very difficult.
One of the things that could help you have a foolproof hair care routine is a 'hair rinse.' It is easy to use and makes your hair healthy along with providing multiple other benefits and uses. A complete hair care routine is incomplete without a hair rinse.
Benefits of Using a Hair Rinse: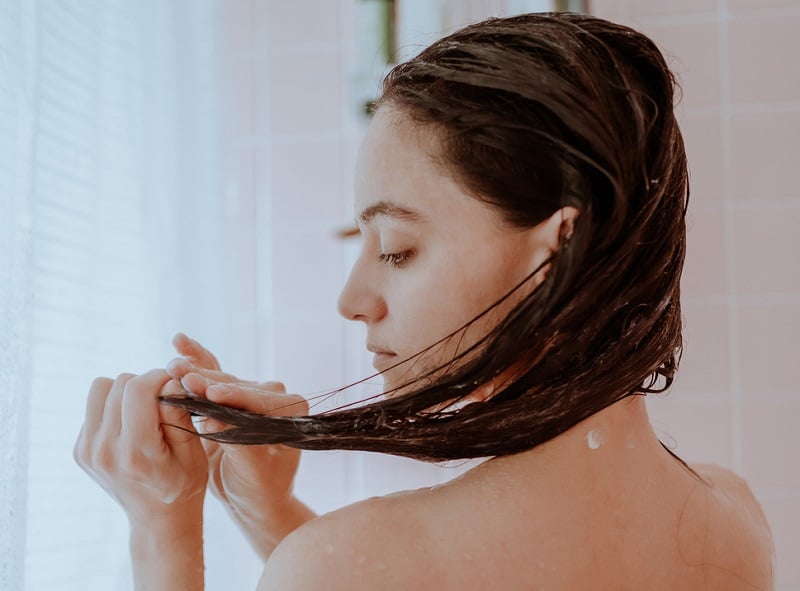 Hair rinses help nourish your hair because they are rich in nutrients.
They calm the frizz, and minimize flyaways by adding moisture to the hair shaft,
Hair rinses can sometimes also help balance the pH levels of your scalp.
They also help tackle issues like oiliness, dandruff, and hair fall. This is done because they balance oil production.
Hair rinses make your hair smooth, strong, and silky. They clarify your hair and unclog your follicles.
Hair rinse is sometimes also formulated to form a hair color.
How to Use A Hair Rinse?
A hair rinse is the last step of washing your hair. It's very simple and hardly takes a couple of extra minutes. So all you need is a shampoo, a conditioner and a hair rinse to make your hair look perfect. The approx Processing Time for most of the hair rinse is 15 minutes
Process:
Shampoo your hair with your favorite shampoo
Use your regular conditioner. It will deal with your dry hair.
Rinse thoroughly the shampoo and conditioner out of your hair.
Pour the rinse over your hair and keep it for the required time.
Types of Hair Rinses
1. Coloring Hair Rinse
A hair rinse solution is sometimes also formulated to form a hair color. Yes, you heard it right. A hair color! This falls into the classification of temporary hair color. Through these Rinses, the color coats the hair shaft and rests entirely on the surface of the hair.
You will find many variations in color rinses, and these are used for different purposes. These could be as follows:
Opaque hair colors are mainly used to cover gray hair. It also gives a bold change to your hair color.
Translucent hair color, which only tints the base of the hair, is used for a small percentage of gray hair.
Hair rinse for permanent colored hair. They tone-done the color results of permanent color service.
Hair rinse to enhance and brighten the gray hair.
Hair rinses fashion accessories used to dye hair in pastel colors such as robin's egg blue, sunlight yellow, etc.
Hair rinses to enhance the natural tone of the hair and to combat brassiness and dullness.
Homemade Color Rinses
Coffee

Coffee works as a great hair rinse if you're looking to go darker, cover gray hairs, or add dimension to dark tresses. You can use a Simple brew coffee (espresso works well).
Mix it with hot water and let it cool. Then mix one cup with a leave-in conditioner and 2 tablespoons of coffee grounds.
Tea

Just Like coffee, black tea also helps you go darker, and can also help cover gray hairs. You can choose various types of teas for different hair types. Chamomile is recommended for blondes, while rooibos is recommended for redheads.
Beet and Carrot Juice

These two juices are used to add natural red tints to your current color. You can use both of them alone, or mix them together.
Depending on what shade you want. Beet juice will give you a more reddish tinge like strawberry blonde, deeper red, or auburn. Whereas Carrot will produce a quieter reddish-orange.
Walnut Shells

Walnuts are a natural way to go for dyeing If you want to secure a dark brown color. Simply, crush the walnut shells and boil for about half an hour. Let them cool and then strain. Apply to hair.
If you want to cover just the grays, and don't want to color all your hair, use a cotton ball to apply the mix on those areas where it's needed. Again, take precautions and be careful as this dye will stain everything.
The only that makes us like the idea of temporary colors and color rinses a little less is simply that they only last until the next shampoo. So if you shampoo daily, consideration must be made daily to include the color into the routine.
The considerations also include gloves to be worn, and dripping must be controlled because the color stains the skin thins and nails if exposed. But if you don't want to add this to your daily hair care routine, you can keep it for special occasions. It works best if you want to cover some gray on the big day. It also helps you in adding a little vibrancy to your hair.
2. Apple Cider Vinegar Hair Rinse

One of the simplest hair rinses you can make is apple cider. For this, Simply dilute 2 tablespoons of apple cider vinegar with 2 cups of water. You have to use this hair rinse only 1-2 times a month.
Apple cider vinegar removes unnecessary grease and product build-up from your hair. It also helps in balancing pH and oil production.
Rinsing your hair with diluted ACV is said to remove product buildup; therefore, it makes your hair super-shiny and promotes growth. It is also claimed that it makes your hair curlier. The only drawback is its smell. So If you're not exactly a fan of the smell, it can be a challenge. It is said that it doesn't smell once your hair dries, but we remain skeptical.
3. Aloe Vera Juice Hair Rinse

For another hair rinse, mix well the aloe vera gel and the water until you get a consistent liquid and store the mix in a bowl or jar to apply to your hair. You can use natural aloe vera extract from plants or artificial gels that are available in the market. Use this rinse at least once a week.
Aloe vera acts as an additional conditioner and helps condition your hair, making them smooth and silky. It also has antimicrobial properties that will help boost your scalp health.
4. Lemon Juice Hair Rinse

This hair rinse is also very simple to make. It is somewhat like the apple cider vinegar rinse. It's simple, mix lemon juice with 2 cups of water to get a diluted mix, as you did with the apple cider. You can use this rinse once every 15days.
Lemon hair rinse helps boost hair growth. It also helps in balancing oil production. Lemon has a high amount of vitamin C which increases collagen production, and further helps in hair growth.
5. Black Tea Hair Rinse

For this type of hair rinse, take 2 cups of water and boil it, then steep the tea bags in it. Keep it like that for a couple of hours and let the tea cool completely. Then, Use this twice in 15 days.
This is an amazing hair rinse as it helps in reducing hair loss as well as boost your healthy hair growth. Black tea is a huge source of caffeine; it helps in blocking DHT production and curbs hair fall. And as we read earlier, It also helps in darkening your hair color by staining it.
If you are looking for tea rinse, which is not similar to your hair color, you can use other teas like chamomile, jasmine, kombucha or green tea.
6. Baking Soda Hair Rinse

To make a baking soda hair rinse, Mix the baking soda and water in a bowl until you get a smooth paste. This is a bit different from other rinses because, unlike other rinses, this one cannot be used as a final rinse.
This baking soda rinse can replace your shampoo, or you can use it after you shampoo and before you condition your hair. Then simply apply and massage the rinse into your scalp and hair length.
Wash it off with cool water and then, if necessary, proceed to condition your hair. Don't use this hair rinse more than once a month for oily hair.
Baking soda is extremely efficient. It helps in removing dirt, grease, and product buildup from your hair. It acts as a clarifying solution; therefore, it could be used as a shampoo. It cleans and boosts scalp health by balancing pH and oil production.
7. Coconut Water Hair Rinse

Unlike your regular rinse, you need to spill this solution onto your hair rather than pour it through.
Pour the ingredients like coconut water into a spray bottle and shake it to mix it properly. Instead of using a lot of it pouring this rinse through your hair, spray it on using a spray bottle before you proceed to style your hair. You can use this anytime you want, probably after every hair wash.
Coconut water is greatly beneficial in nourishing your hair as it contains several vitamins, minerals, and amino acids. It is great to treat dehydrated hair and keeps your hair hydrated. Using it after every wash makes your hair more manageable.
8. Coca-Cola Hair Rinse

This is also like baking soda rinse because You cannot use Coca-Cola rinse as a final hair rinse. Instead, pour the coke through your hair and leave it in for about 5 minutes. Proceed to wash and end the routine with a conditioner for your hair and then style it as you normally would. Use this only once a week.
The coca-cola hair rinse helps add body and texture to fine hair. It is best for people with curly textured hair as it enhances your hair's natural curl. It also helps in tightening the cuticles with it's low pH. This also adds shine and smoothness to your hair.
9. Beer Hair Rinse

You can use only beer as your beer hair rinse, but for better results, pour one cup of beer into a jug and let it out for an overnight or a couple of hours until it goes flat. Now To the flat beer, add one teaspoon of jojoba oil and mix well. You can use this rinse twice every month.
The beer (especially dark beers) have lots of proteins and vitamins which nourish the hair, making it extra shiny. Beer is known best for its conditioning properties. It makes your hair silky and seals in moisture.
The jojoba oil enhances the conditioning effects, which forms a protective layer over your hair shaft and locks moisture in and adding shine. It is also believed that the alcohol in beer is overly drying for hair. The smell of this rinse tends to really stick around.
10. Epsom Salt Hair Rinse

For this rinse, mix equal amounts of your conditioner and Epsom salt. One tablespoon of each should be enough for short hair but if you have long hair, you can increase the quantity.
Apply the mixture to your hair after shampooing. Let it sit for about 15-20 minutes, then wash it off with water. This hair rinse also has to be finished with a final water wash. Use this hair treatment/rinse only once a week.
This Epsom salt conditioning treatment is best to add volume. It also helps in tackling frizz.
11. Honey Hair Rinse

Honey hair rinse is one of the best hair rinses. To make this, pour the water into a jug, add two tablespoons of apple cider vinegar along with two teaspoons of honey. Stir them so that they get mixed well and set them aside. Use this rinse after your shampoo and condition your hair. You can use this hair rinse once every 15 days.
Honey is known for its humectant features. This helps in sealing the moisture in your hair shaft. The other benefits honey offer are boosted when it is combined with apple cider vinegar. They both collectively help to shut the cuticles with its low pH.
12. Champagne

This hair rinse is used Post-shampoo. pour newly-opened champagne over your head. After doing this, comb well through your hair. Let it sit for ten minutes, then wash it well.
This is best for blondes as they may find that champagne brightens their color and adds additional golden tones to their locks. Champagne lovers can also live out all of their Absolutely Fabulous champer's fantasies.
In the end, the only simple way to put this is the products that use chemicals are unhealthy, and organic products are healthy. And homemade hair rinse is completely free of chemicals and therefore very healthy.
One should always avoid using products that introduce potentially harmful chemicals to your body. It is much better when you could go organic. Only using shampoo will only clean your hair. It cants nourish, hydrate, or protect them from other harmful chemicals.
If you want healthier hair that looks gorgeous, it is time for you to get out of your old routine. Add a conditioner and a hair rinse to your routine now and try to remain in the world of organic hair products!