Are you feeling overwhelmed with taking care and styling your kid's curly hair? Can't seem to find the hairstyle that will bring out the beauty of your kid's curls? We got you!
Caring for your child's curly hair is already consuming too much of your time, we know. That's why we're here to help you save time on finding the perfect curly hairstyle for your little one.
We've rounded up some of the best curly hairstyles for kids that you should try. Read on to find out!
How to Properly Care for Your Kid's Curly Hair
Knowing how to care for your child's curly hair is far more important than just finding the right curly hairstyle. Her hair health will serve as a foundation for a beautiful hairstyle, so you must ensure that it is at its best. Here are some tips on how you can do that:
Use the right hair products
This all starts at the ingredients label. You must familiarize yourself with which ingredients to look for and which to avoid.
Since curly hair is prone to dryness, you must avoid alcohol-based hair products. Instead, go for ones that contain moisturizing ingredients like natural butter (cocoa/ shea butter) and natural oils (argan/ coconut/ jojoba oil).
If your child's hair is already damaged, look for either silk or wheat protein products, as these can promote recovery and repair.
Detangle the right way
Your goal should not be just to remove the tangles and knots from your child's hair. Instead, it's more vital that you make sure that you detangle your child's hair with minimal damage.
You can do this by using only a wide-tooth comb or your fingers to detangle your child's hair. Also, detangle while the hair is still wet since detangling dry hair will lead to hair breakage.
Condition and refresh your child's curls.
This is the best way to deliver moisture to your thirsty curls. A cream conditioner can be an excellent idea for children with low porous curls, while a more lightweight conditioner is recommended for high porous hair.
30 of The Most Beautiful Curly Hairstyles for Kids
Are you excited to find the perfect curly hairstyle for your little one? If so, here are the hairstyles you should check out:
1. Curly Waves For Long Hair
This curly style is best for those little girls who have really long hair. It just includes tucking up your hair on the front with enough pins so that it stays secure enough.
It keeps the messy look of the hair very intact while also being quite manageable at the same time. Try adding hairpins of many different colors to get a cooler look.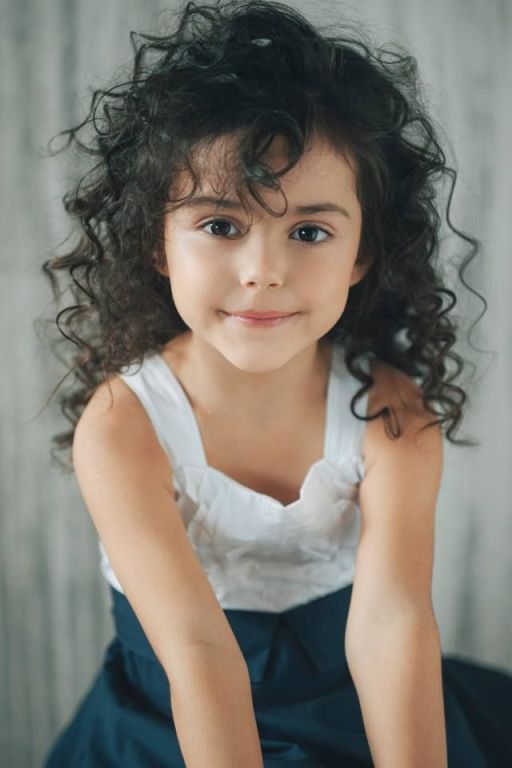 2. Side Tucked Hairstyle
A side tuck style manages your child's hair comfortably and stylishly. Your little girl can look very playful with this hairstyle. It is best suited when you have medium length hair or even long hair.
A section of the hair has been parted to the sides and tucked in with hairpins while the rest of the hair has simply been let out hanging in the form of a side ponytail.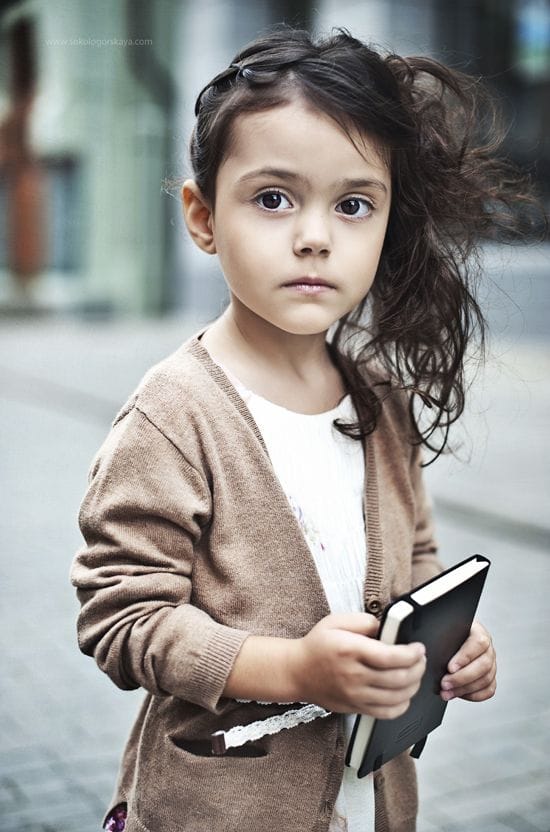 3. Short Curly Bob Style
Some kids may not like having long hair and it always seems to be a task for their parents. Let your kid breathe and have fun so do not force long hair on them if they are extremely uncomfortable with it. Instead, you can try out a short bobbed curly hairstyle, as you can see here.
The length of the hair has been cropped to the length of the ears and this is a manageable hairstyle, especially on very young kids.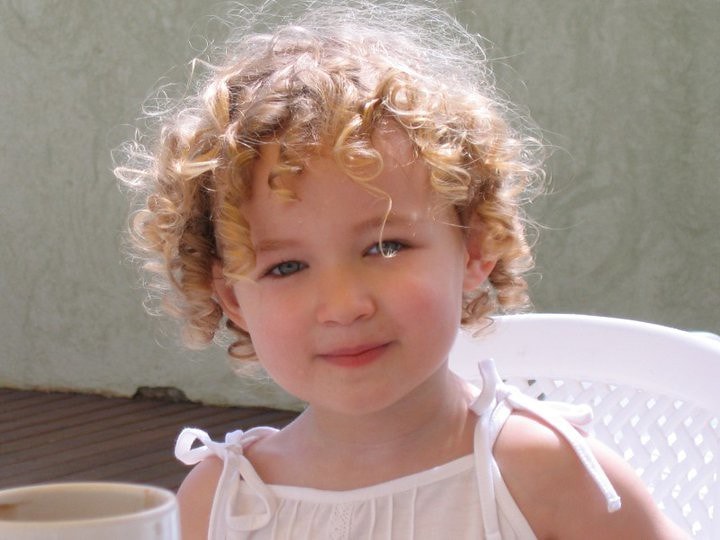 4. Long Natural Hair
The kind of hair that you see on dolls and toys, might be a dream look for little girls out there. Just maintain the hair at a medium length and let it be.
Additional layering or anything else is not required here as the hair is naturally beautiful even without much styling. So this is good for those girls who want to keep their hair long, and their mothers don't need to go on worrying about all the extra stuff when you have a hairstyle like this.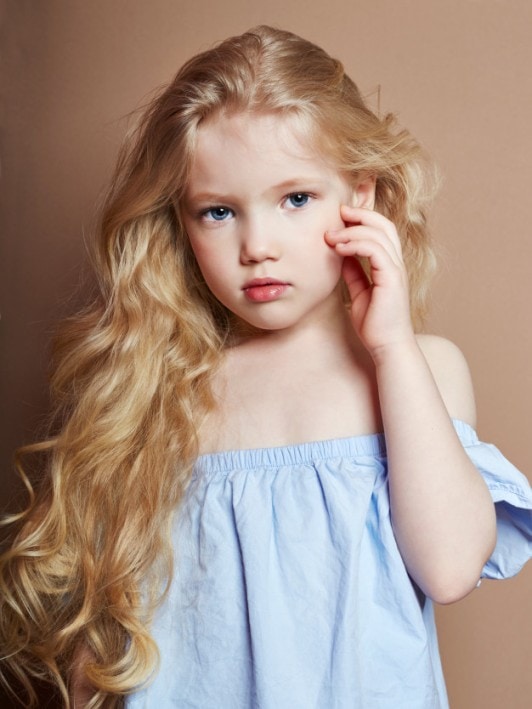 5. Curly Ringlets
The best way to style your curly hair is not by tying it up but by letting it breathe. Show off your hair in its natural state, be it straight hair or curly hair.
In this picture, this little girl has many coil-like ringlets and the hair has been entirely let down in an attempt to bring out the beauty of the curls.
If your hair has too much frizz or anything, then you can try out this hairstyle by using a setting spray. It will keep your hair intact while you go and flaunt those gorgeous ringlets.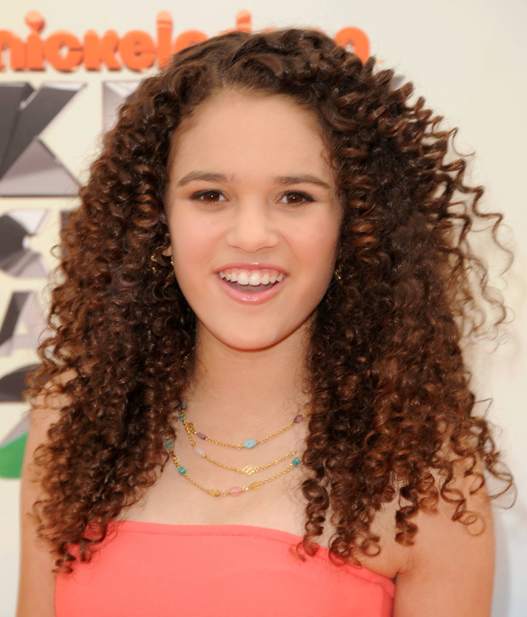 6. A Braided Style For Long Hair
Does your little girl have really long and really curly afro-style hair? Well, then check out this hairstyle that features cornrow braids on the top and a ponytail for the bottom section of the hair.
Just like the many braided hairstyles that are present for adults, this can also be used by little kids also. Such long hair may seem too daunting a task to manage for little girls so a protective and stylish hairstyle will do the work for you.
7. Short Princess Hair
Want to get that princess-style haircut for your little princess? Then give this one a try. The hairstyle is very creative and can be used on hair of all lengths, be it short, small or long. Simply tie the hair up into a high ponytail.
The hair that falls below the ponytail can then be styled by curling it into medium-sized waves. The waves help to add volume to the look without looking too dramatic for a child.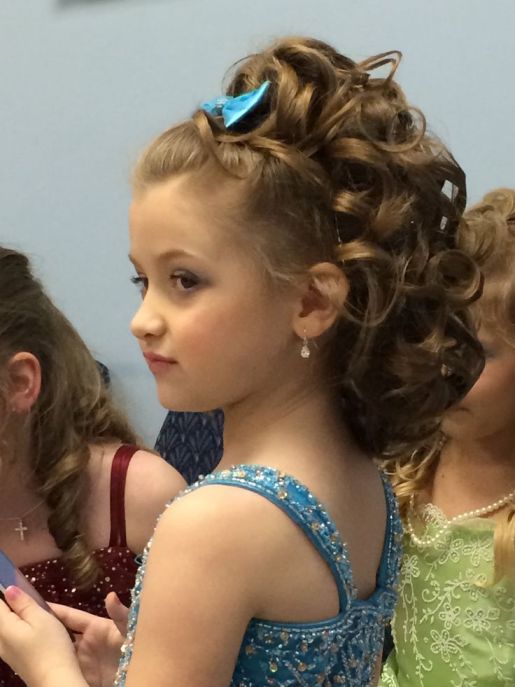 8. Messy Up-Do
This messy combination of curly golden blonde hair simply looks adorable. It will surely make your girl look like a little princess. This hairstyle also looks very natural, and that's what makes everyone be attracted to it.
Much styling is not required here since the hair has been maintained as messy as it can get, while also looking good at the same time. It's a relaxed and effortless hairstyle for young girls
9. Soft Curls On Golden Hair
The golden blonde hairstyle is one that looks exceptionally good on anyone, no matter what their age is.
This little girl here looks absolutely cute in this curly blonde hairstyle where the hair has been maintained in short and soft curls.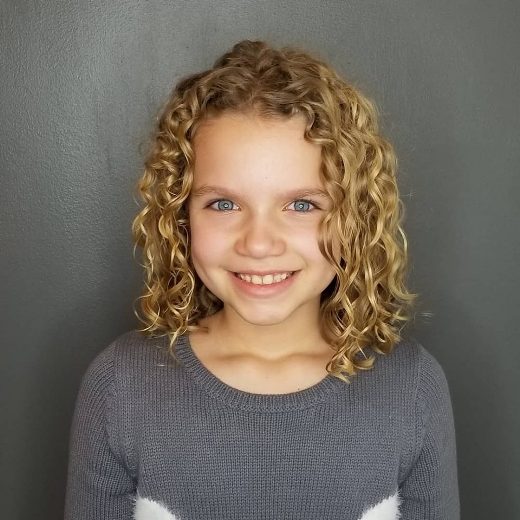 10. Curly Hair With Bangs
This is another hairstyle that you can try out if your little girls have long layers of hair. On the front, that is the forehead; the hair can be cropped short so that it can be done in the style of long and curly bangs. The rest of the hair has then been maintained in its curly texture itself.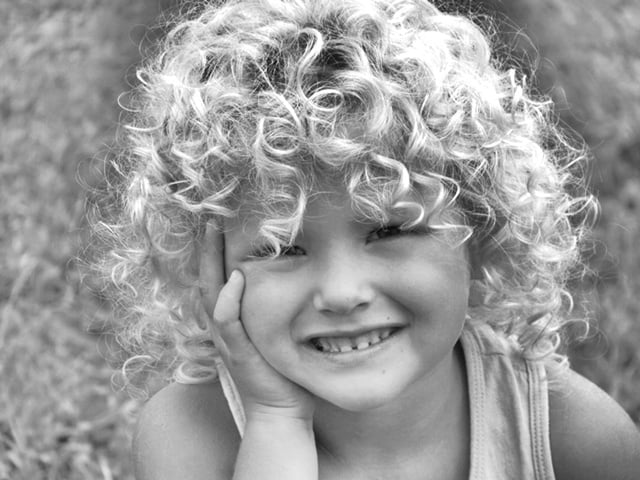 11. Simple Curly Hairstyle
This simple hairstyle is good enough for all those people who do not want to go all extravagant on their hairstyle and would like to keep it as low-key as possible.
Just take the hair and middle part it to both sides very neatly. You can use a hairpin if you need to tuck the hair in and make it stay in place.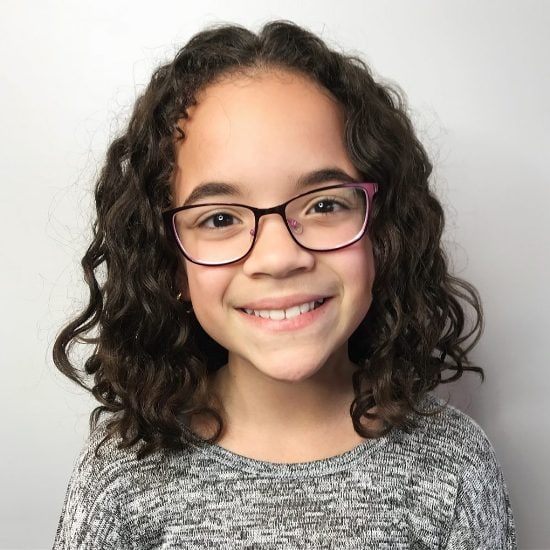 12. Soft Wavy Hair
Golden hair makes this girl look really golden and shining. The hair is maintained at shoulder length and has been cut in many layers. This makes the fine strands of hair appear more full of volume and structure.
Simply part the hair to the side or leave it as it is. This hairstyle won't create too much of a mess since the hair strands are thin.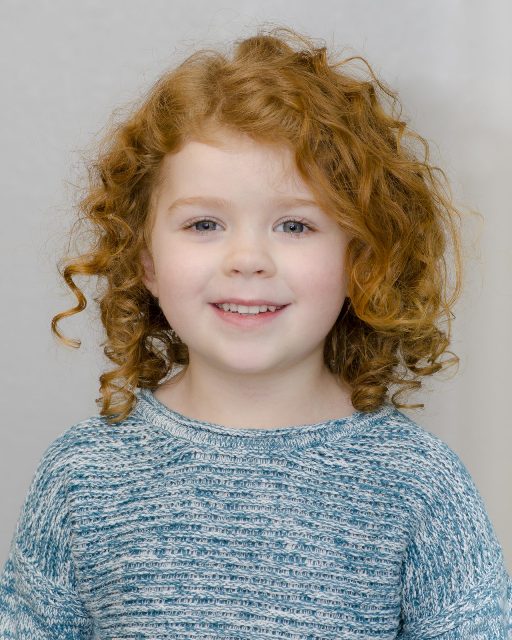 13. Half Up Half Down Hairstyle
In this half up half down style, which is best suitable for those little girls with long hair, we can see that the upper part of the hair has been tied up into a high bun, while the rest of the hair has simply been let down as it is.
This hairstyle is perfect for curly hair, especially since it will help to manage the frizz quite smoothly.
14. Curly Medium Length Hair
Here is another curly hairstyle where the hair has been maintained in its natural texture itself. The only styling that has been done would include parting the hair onto both sides and twisting and tying up the hair on the longer side.
A cool and fun way to add a little twist to your hairstyle with the help of a few twists and turns. Use a hairpin to tuck the hair properly, if required.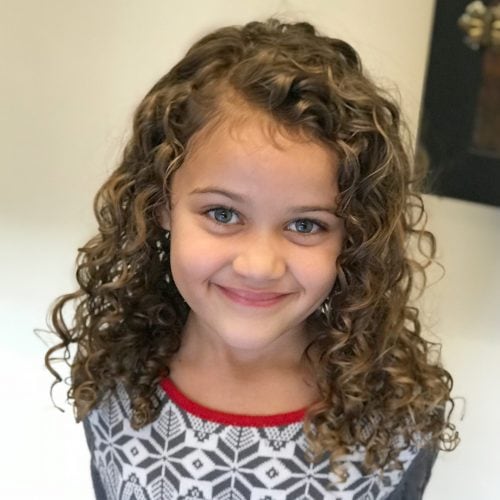 15. Dark Brown Hair And Golden Highlights
Hair coloring is not something that is limited only to elderly women. Even little children can have their hair colored and have fun with it.
This little girl here has dark brown roots and the hair has been highlighted all over in a golden shade, thus making it a beautiful contrast against the brown hue.
Surely an adult-inspired hairstyle, it will look amazing on little kids also. Give this hairstyle a try and see for yourself how beautiful it can actually look.
16. Cute And Messy Bun Up-Do
A properly tied bun hairstyle can make you look gorgeous and classy, while a messy bun style will make you look very playful. This is exactly why a bun hairstyle will look absolutely lovely on little girls with curly hair.
Just pull back all of the hair and tie into a little bun. After that, pull out a few strands of hair to create that messy look.
It is also a super comfortable hairstyle for little children with long hair since they do not need to worry about always pulling back your hair so that it doesn't fall to the face.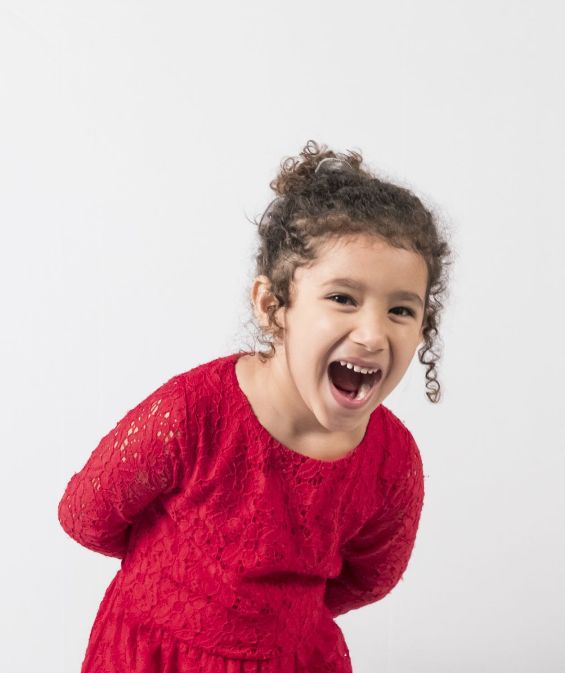 17. Curly Ringlet Hair
You might be reminded of those noodle packs you have when you see this style. But that's okay, it's nothing ugly. In fact this style is something that is quite an innovative one, to say the least. The hair is in the form of very tiny and curly ringlets that only add beauty to this look.
Just tuck in some hair with few pins and the rest of the hair is good to go. Curly hair like this is not easily achievable no matter how much curls you add to your hair by styling so make sure to make the most out of it.
18. Bun Ponytail Style
A cute and adorable hairstyle for curly haired girls out there, this bun styled high ponytail style is good for managing all that frizz and thickness of the hair.
It has simply been tied up into a very high ponytail on the top itself and then left hanging to both sides. Which makes this style manageable as well as stylish. The bun ensures that the hair is protected and that it also stays in place.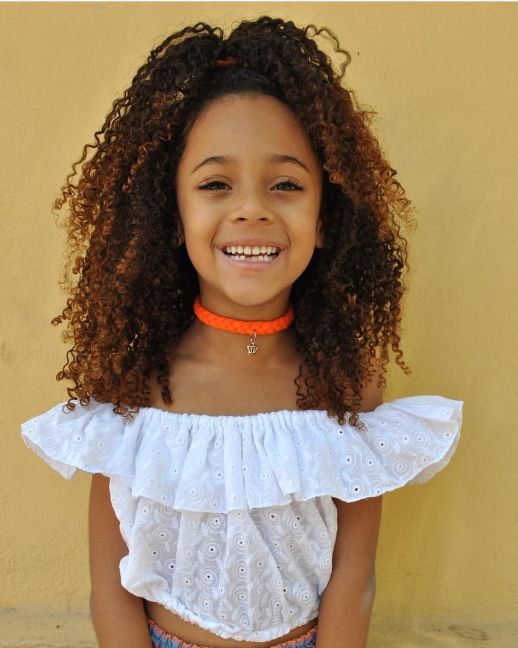 19. Cute Headband Style
All you need is a hairband to create this simple look. The hair has been pulled back and let down flowing freely, while on the front it has been adjusted and placed in neatly with the help of a hairband.
This hairstyle is great when you have no time for tying up the hair and all that stuff and yet you want the hair to be in place. It takes the hair off the face of your child and restricts any movement strictly to the area behind the hair band.
20. Classy Headband Up-Do
This is also another hairstyle in which the headband is put into use. Instead of the plastic hairband, here you can notice that a cloth headband is used here. A cloth headband also looks more elegant and sophisticated than the one which is made of plastic.
The hair has been messily pulled back and tied up in a shaggy style. Only the hair on the front seems to be lying in some neatness thanks to the headband.
This simple up-do is a great hairstyle that you can try out when you are sending your little girl out for birthday parties, school events, etc.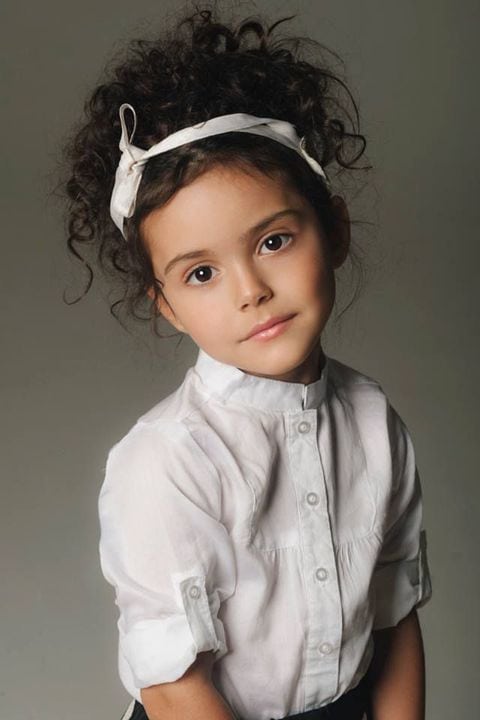 21. Mid-Length Golden Curls
Letting down their beautiful golden curls is the best way to give your kid a fresh and playful look.
The medium-length hair is easy to manage so that parents don't have to spend time styling their kid's hair and their natural curls will allow them to embody their best self. This carefree, youthful hairstyle is ideal for the summertime.
22. Short Wild Bob
A messy hairstyle is the safest option for kids, as they don't care much about prepping or maintaining their hair.
This short bob frames the face beautifully and gives a fresh and playful look that is perfect for adorable little girls while allowing them to move around carelessly without worrying about tangling their hair too much.
23. Thick and Curly Haired Ponytail
Tying your little girl's naturally thick, long, and curly hair into a ponytail is one of the classiest curly hairstyles for kids for many reasons.
This will help keep the hair out of their face so that they can enjoy their playtime carelessly while also maintaining a chic and innocent look.
24. Long Mid-Parted Natural Waves
To give your girl her dream Rapunzel look, this hairstyle is the perfect way to achieve that royal innocence.
Her loose, golden brown waves, center-parted in medium length, will give your girl an angelic look that fits kids this age the most.
25. Fluffy Afro Pigtails
There's no better way to style your afro curls than the classic center part. Make your little girl's naturally voluminous hair more manageable by pulling it back into two fluffy pigtails for an adorable look that she will surely love.
26. Voluminous Heat Styled Curls
For an elegant look to dress your kid up for a special occasion, these heat-styled curls will surely do the job. Dirty blonde, backcombed curls in medium length are the simplest way to achieve a little more sophistication that your kid will adore.
27. Tied-Up Dark Coils
Pulling your kid's thick afro back into a neat ponytail that crowns behind her head will help keep the hair out of her face so she can enjoy her playtime with no hassle.
Plus, it's chic and will give her the adorable chicness that looks best on her.
28. Long and High Ponytail
A high ponytail is the easiest hairstyle for daily wear, especially for school girls as it makes their long hair more manageable and comfortable.
Whether your hair is straight or curly, the high ponytail is a simple way to let your little girl experiment with her hair.
29. Natural Afro Ponytail
Styling up her coils into an updo placed on the crown of your kid's head is the simplest way to help her embrace her voluminous, thick hair.
Not only is this hairstyle practical and manageable, it's also the easiest way to show off the god-gifted beauty in her hair.
30. Center Parted Dark Brown Curls
Keep her curly hair looking fresh by brushing out your little girl's hair and parting them down the middle. This will keep her look hassle-free and easy to achieve while also showing off her gorgeous curls.
And with that, we have come to the end of this list of 30 different hairstyle for kids with curly hair. Almost all of the hairstyles listed above are very simple ones too, so mothers will find that it isn't much of a task, maintain these little girls' curly hair.
You can also try switching up between these hairstyles every other day so that your little princess will have a new look on each day.