Do you want to sport a hairstyle that adheres to your company's strict dress code but doesn't want to lose your sense of style and personality? That's understandable.
However, we have to be honest with you. Finding the right business hairstyle for men isn't as easy as most people think. This is most especially true if your hairstyles choices tend to be flashy and eye-catching.
But of course, this is not at all impossible. Sure, there will be compromises here and there, but finding the right business hairstyle can help make you feel confident in the boardroom without stepping on any workplace restrictions– definitely worth the effort!
The great news is we've rounded up some of the best business hairstyles for men in this article, so you'll have plenty of options! So what are you waiting for? Check them out below!
Elements to Look for When Choosing a Business Hairstyles for Men
Not all men's hairstyles can be considered suitable for the workspace or the business industry. To look professional and formal, a business hairstyle must be:
Clean
By clean, we mean that the hairstyle won't conceal any of your major facial features, especially your eyes and ears. Additionally, the haircut must have even length and properly trimmed edges. With that said, avoid any haircut that looks shabby, unevenly trimmed, or chopped improperly.
Conservative
We're not saying that your hair should be boring. When we say conservative, we're talking about classic yet stylish haircuts. Along with that, you should avoid hairstyles that will make you stand out like a sore thumb (i.e. long hair, spiky styles, unusual colors, and many more).
Versatile
Of course, the business or professional world is not the only world you live in. Because of this, you should opt for a hairstyle that is versatile enough to suit formal occasions (business meetings, seminars, and presentations) but also suitable for casual events (family dinners, hangouts, and parties).
25 Best Business Hairstyles for Men
There are some hairstyles that look great on men of any age while some are particularly suited for a certain age bracket. Here is a list of seventeen hairstyles that will catch the eye of both young and seasoned businessmen. So, take your pick and carry it off with élan.
Vintage Side Part Hairstyle
This is the style that will make you look really suave and handsome. Make a parting on the right side of your hair and neatly brush the hair on both sides.
This look has found favors in men for a long time as it creates a really dapper style that has always been well appreciated. You can carry this one off with all your suits and coats, and it will look just amazing.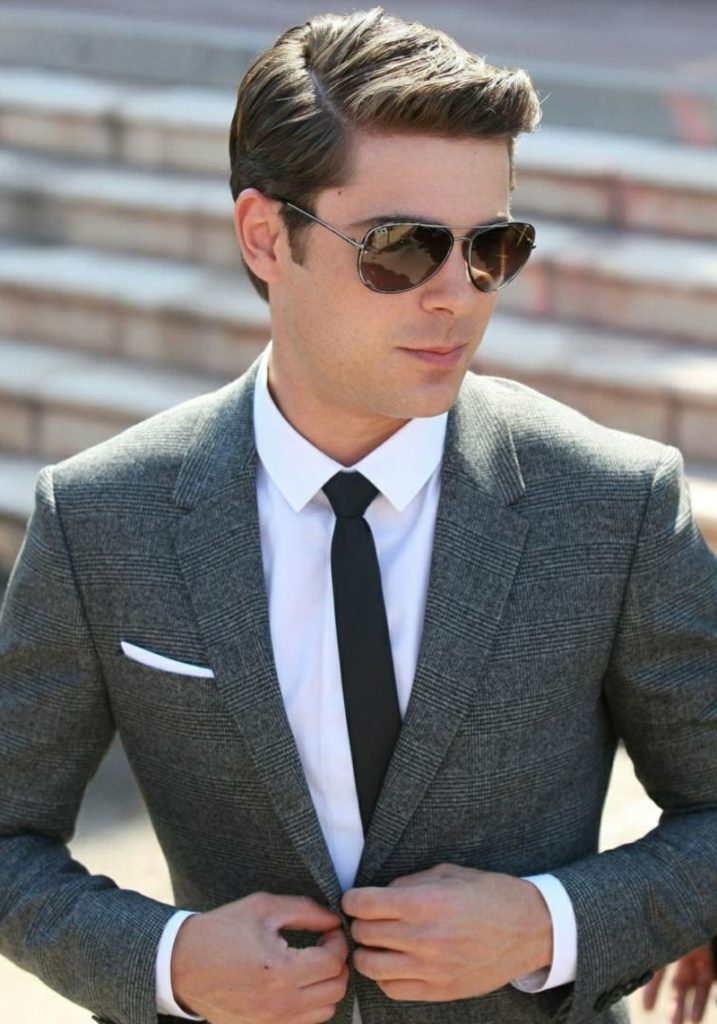 Slick Back Short Hair
It is the hairstyle to go for if you have thin hair and are looking for a style that is safe for the office. Cut the length of your hair to make it short and sweep it backward.
There should be a parting on the left side of your hair. The hair is puffed up, so it looks more voluminous than it actually is. It will only work if you have straight hair and are not wavy or curly.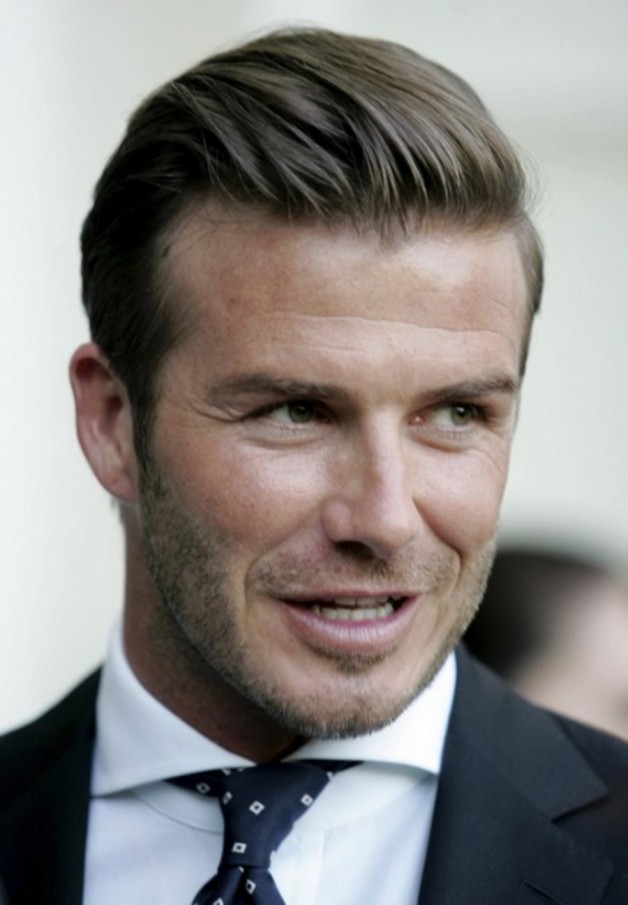 Medium Back Swept Haircut
This one is for men who have a medium length of hair. You do not need to make a prominent parting in this hairstyle as you did in the previous ones.
The hair just needs to be combed backward to complete the look. It can be tried by both straight-haired and curly-haired men, and it will look equally well on both kinds of hair.
Short Side Part Blonde Hairstyle
This popular hairstyle has been tried by the famous Holly actor and the heartthrob of millions- Ryan Gosling. So, whether or not you are a fan of the star, this style is a must-try for how cool it looks.
It is tailor-made for all the blonde hair men out there. Here the parting is near the center but not exactly in the middle of the head. The length of hair should be short for this one.
Side Part Slick Back
Take a look at this one if you are thinking about what hairstyle will look perfect with the solid-colored formal shirts that you have got.
Create a parting on any one side that you prefer and brush back the hair to get the look. This hairstyle suits all kinds of facial shapes, but it is especially recommended for round-faced men as it brings an elongated effect to the face.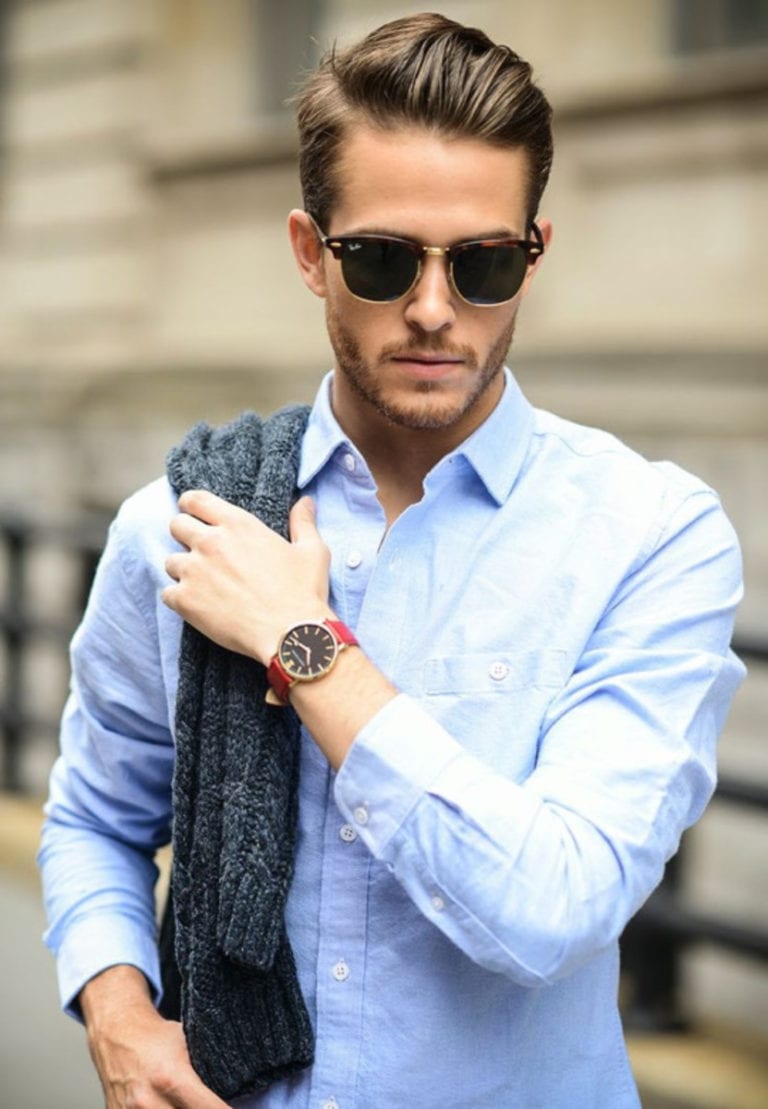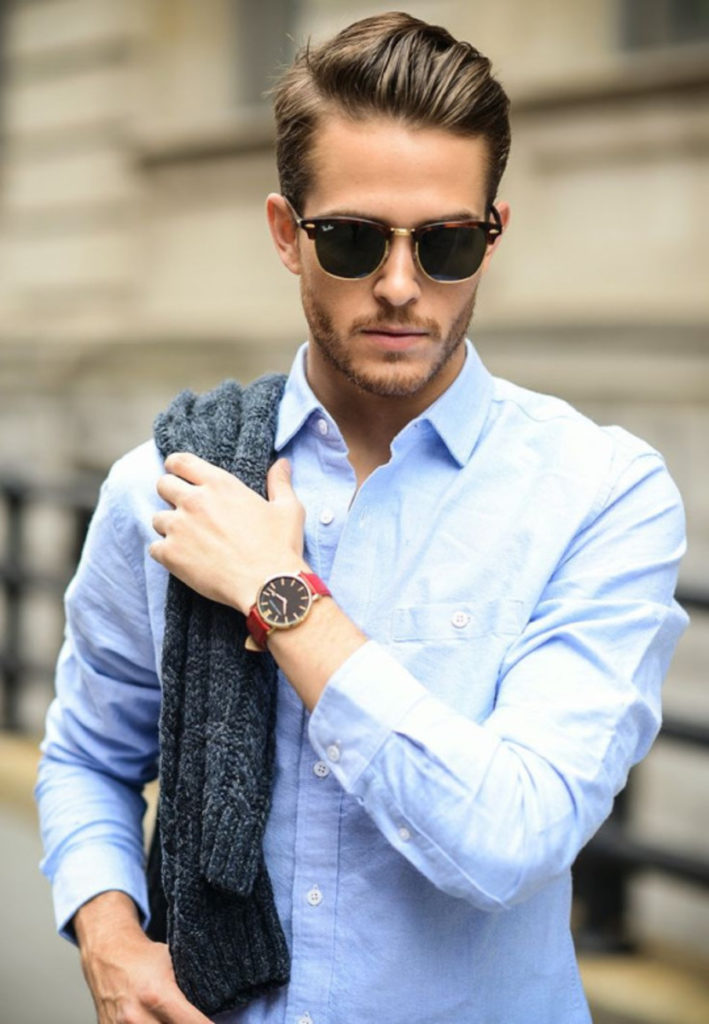 Short Pompadour
Pompadour has more than one advantage which makes it so popular among men. First, it is the hairstyle that can be effortlessly carried from office to the parties after office.
Second, it looks great no matter what your age is. You need to keep it simple with this pompadour as it is for the office. So, no Fade or undercut should accompany this hairstyle; just go for the simple puffed-up look.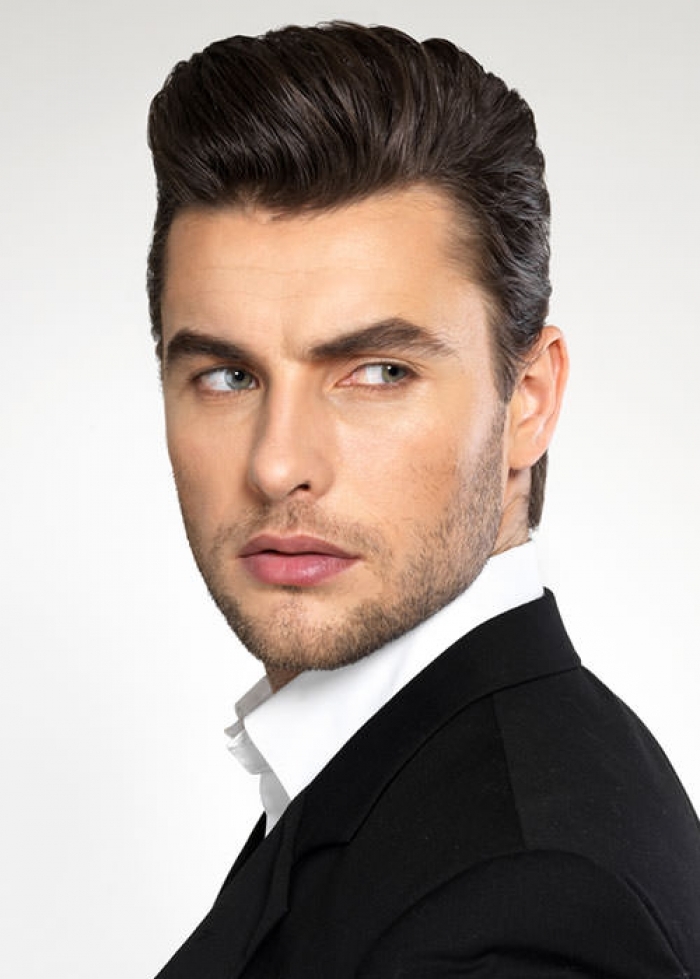 Medium Slick Back Hair with Small Beard
Chris Hemsworth has sported this look on several occasions, and there is no reason why you should not too. This one gives such maturity and sophistication that you are bound to love it.
It is ideal for brunettes and dark-haired men. You need to apply some hair gel and slick back your hair, and you are ready to take on the world. Complete this look by keeping a small stubble to go with it.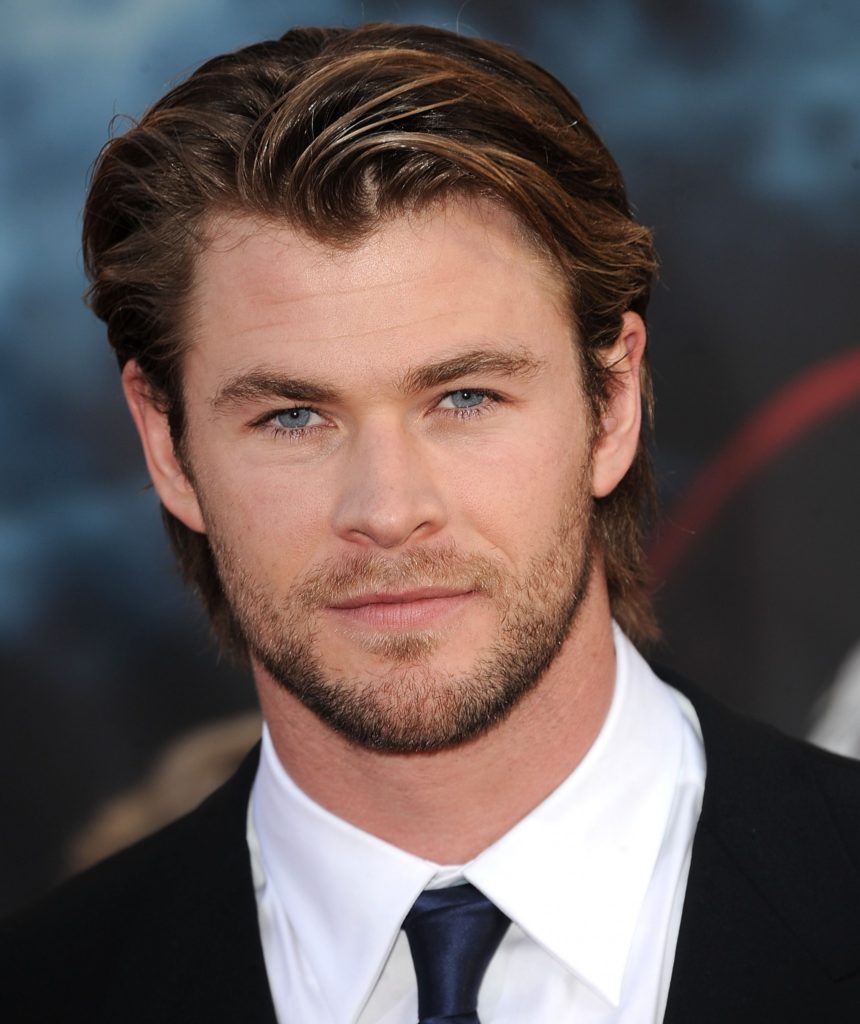 Medium Thick Hair with Undercut
This one is made for you if you are a fan of the trendy undercut hairstyle but are not sure whether to try it for office restrictions. Just do not cut the undercut portion of the sides and the back too short than the central longer portion of hair.
The longer hair at the center must get cut in layers and combed backward. The look will only work if you are naturally blessed with a thick mane.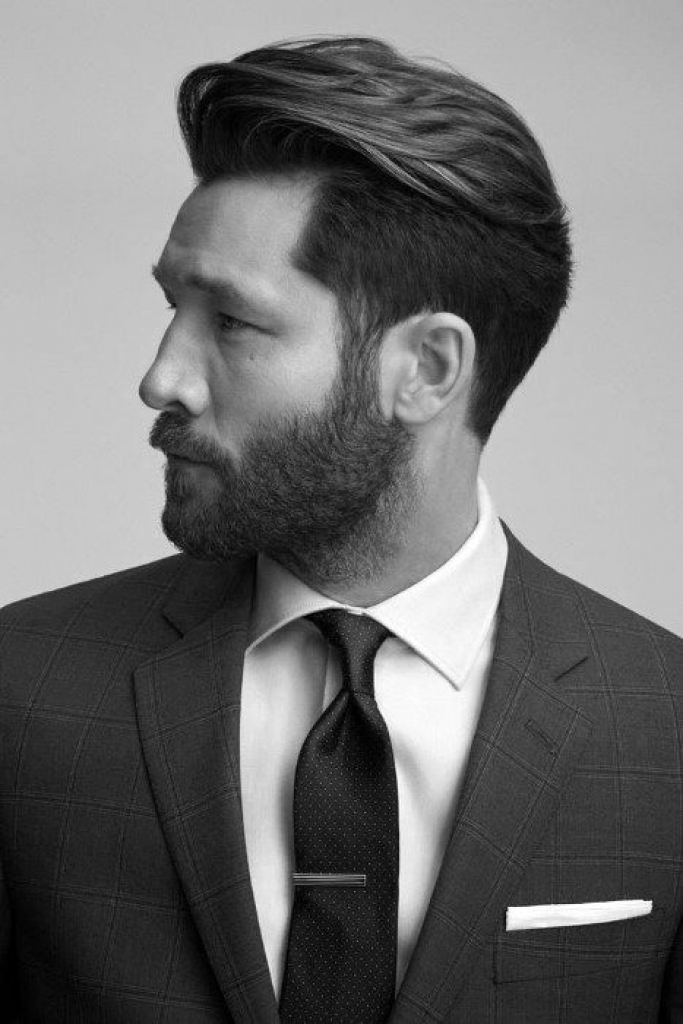 Undercut for Receding Hairline
A receding hairline can be a natural outcome of all the stress and pressure that you have to handle daily. But you can intelligently cover that up with this hairstyle.
The sides are kept in a low Fade style while the hair at the center of your head is long. Take the help of your hairstylist to pump up the hair and sweep it to one side.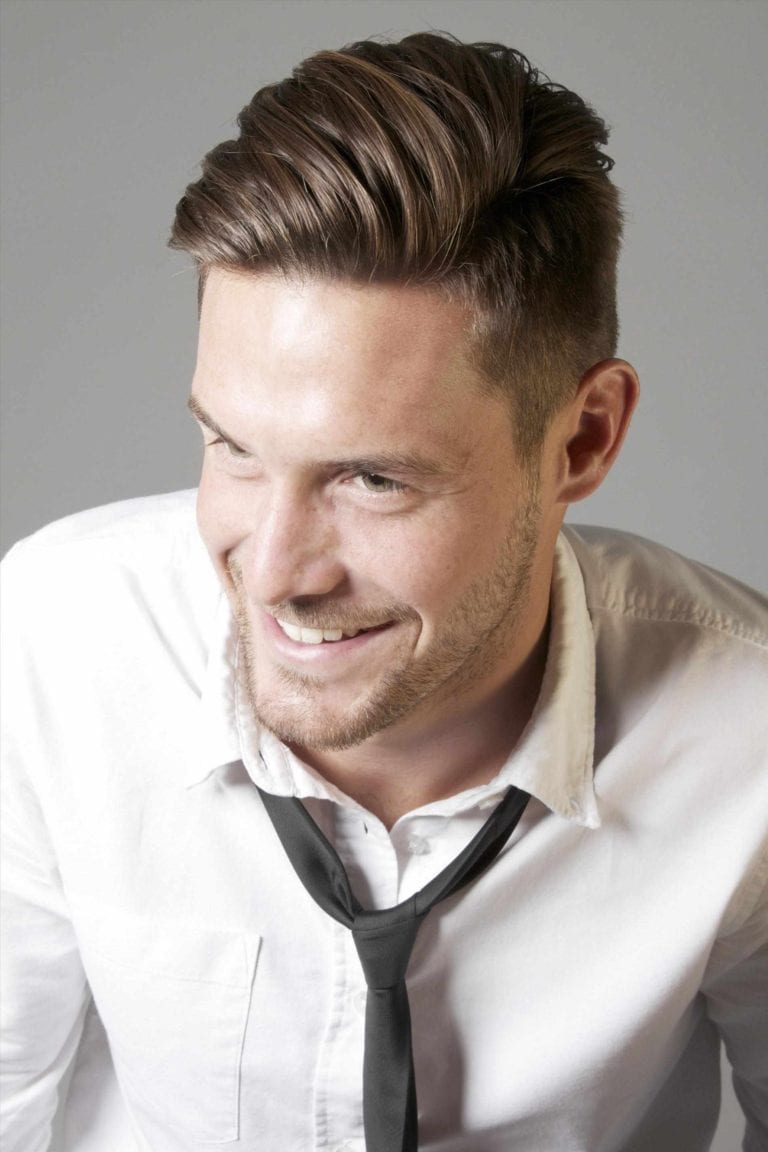 Dapper Side Part
Looking for a hairstyle that is low in maintenance but high on the style quotient? Yes, your search ends at this look right here. To begin with, keep the hair on the sides really short to resemble a Fade haircut.
Secondly, make a parting on the left side and puff up your hair before you comb it back. Make sure to use a fine-toothed comb for this one.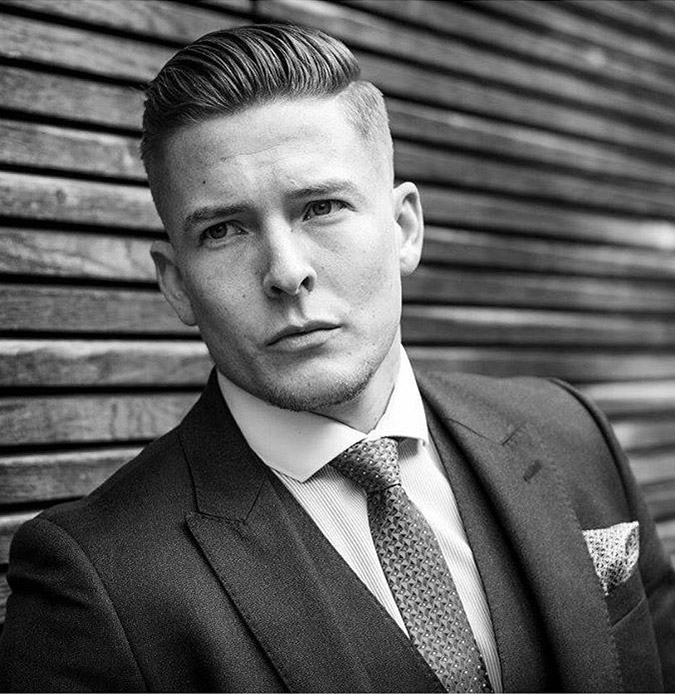 Short Grey Hair with Beard
Grey hair is no longer a mark of age as the daily work pressure leads to premature greying of hair in many men. But you need not worry as the salt-and-pepper look is always in.
So, cut your hair short and comb it well without making any parting. Grow a full beard to go with this look. This is the ultimate look for the man of experience and class.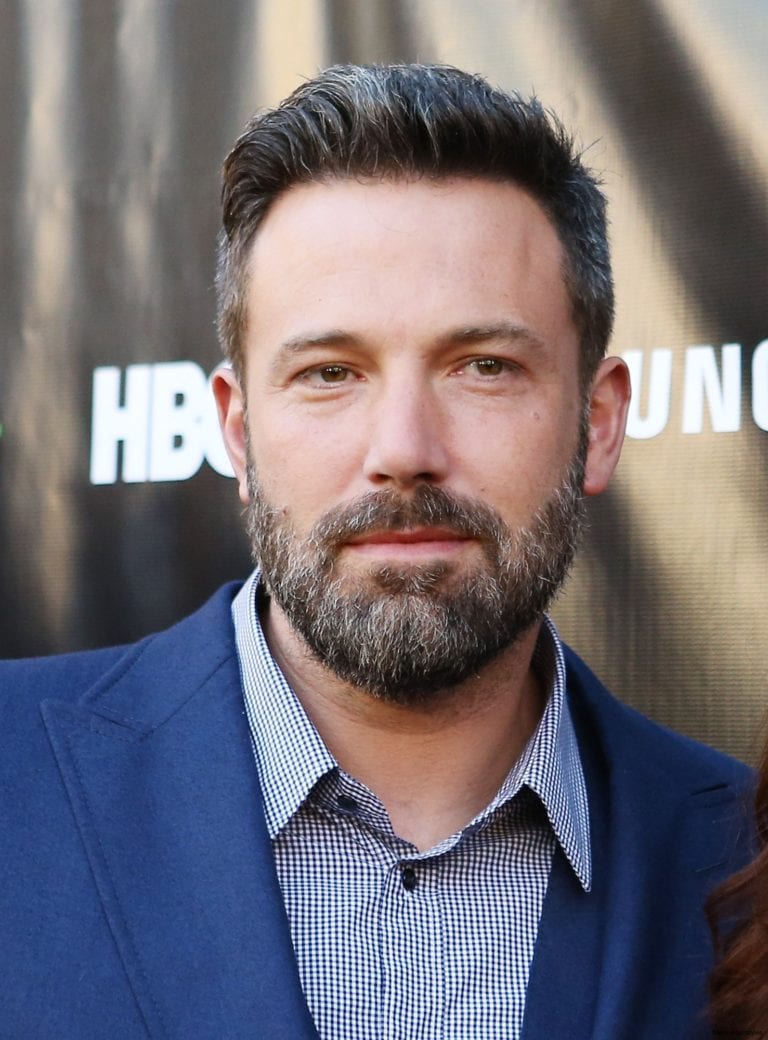 Natural Loose Slick Back
Attempt this one for the next big party at the office and you will surely earn a lot of compliments from everyone. The biggest draw for this style is that it looks absolutely natural and effortless.
All you need to do for this is to sweep back your hair loosely. Do not apply too much pressure while combing and use a thick-toothed comb for this style.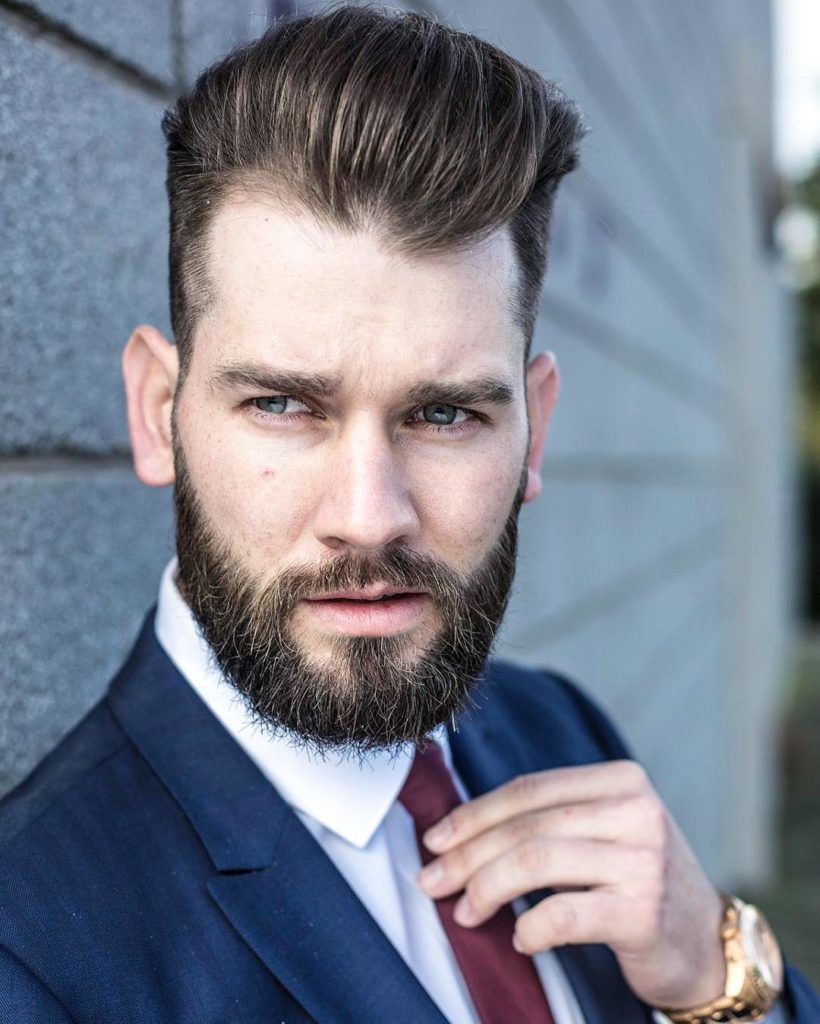 Grey Haircut for Older Men
You are nothing short of a style veteran in your age and this hairstyle will fit perfectly with your carefully curated sense of fashion. The grey hair is the symbol of the years of wisdom that you have and that in itself is a style statement.
Get your hair cut to shorten the length and then brush it sideways along the left parting. A full beard looks great with this style too.
Crew Cut with Small Beard
Are you someone who is always in the rush to reach the office? Do not have too much time to spend on setting your hair in the morning? Get this hairstyle that addresses all those problems while giving you a really fashionable look.
Just simple combing sets the look for the day. This is the hairstyle that you can go for on a daily basis. All you need is a small beard to match it.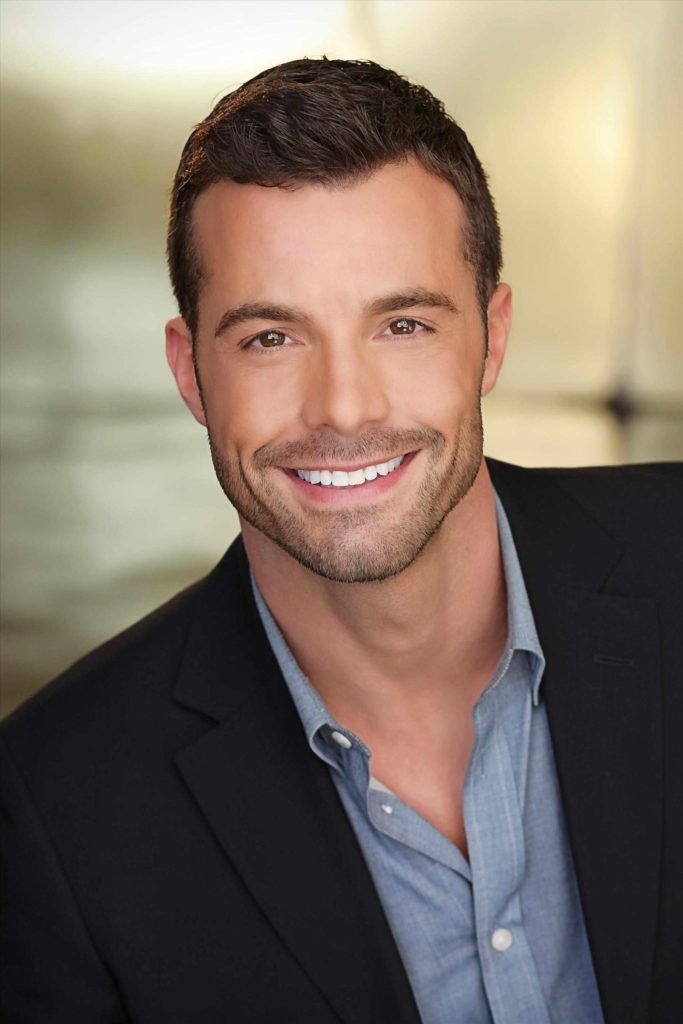 Casual Long Haircut
This one is for men who like to keep their hair long. Just comb it sideways without any parting to get this look.
Though you can carry off this style with any kind of clothes, it looks best when paired with a button-down shirt. This look has a comforting and casual look about it that is perfect for office parties.
Hard Slick Back Haircut
This is it if you need a special hairstyle for the big occasions at the office like a promotion announcement, award ceremonies or important business meetings.
This looks like a variation of the classic undercut to make it more presentable for the office. The longer hair needs to be slicked back using hairstylist products and a fine-toothed comb.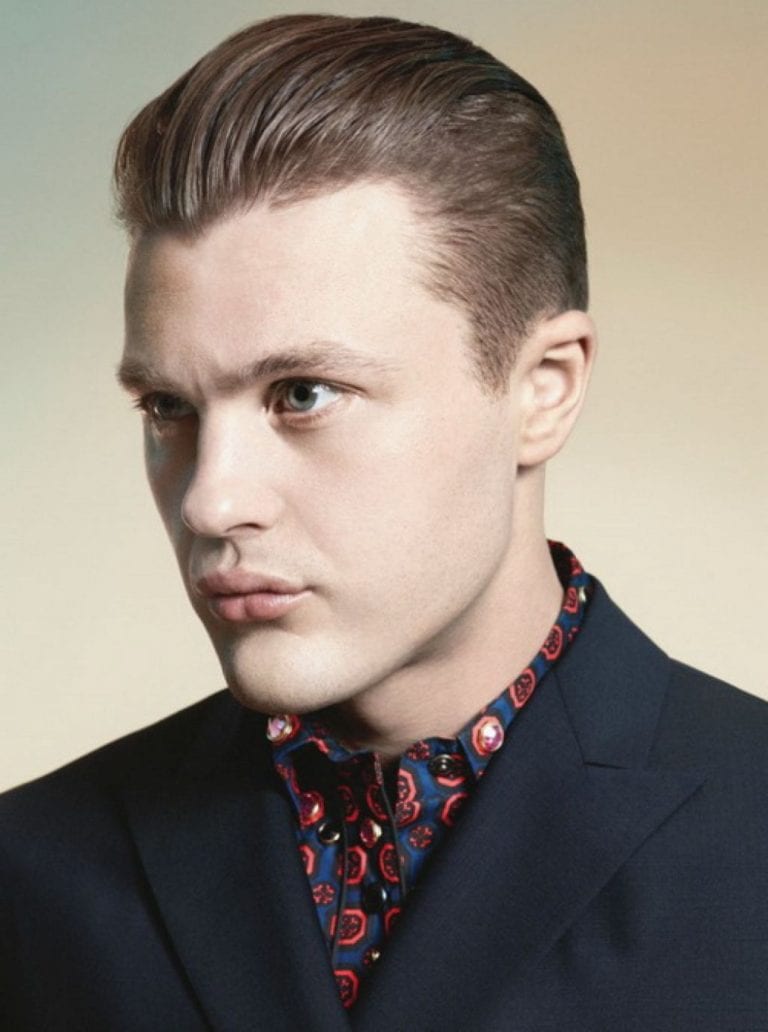 Natural Medium Side Parting
It is the hairstyle for men who have dark or brunette medium-length of hair. Get your hair cut in layers to add texture and volume to it.
Make a parting on one side and brush it well. It looks really elegant and sophisticated which makes it just the style that you need for your office. Get ready to earn praises for your sense of style with this look.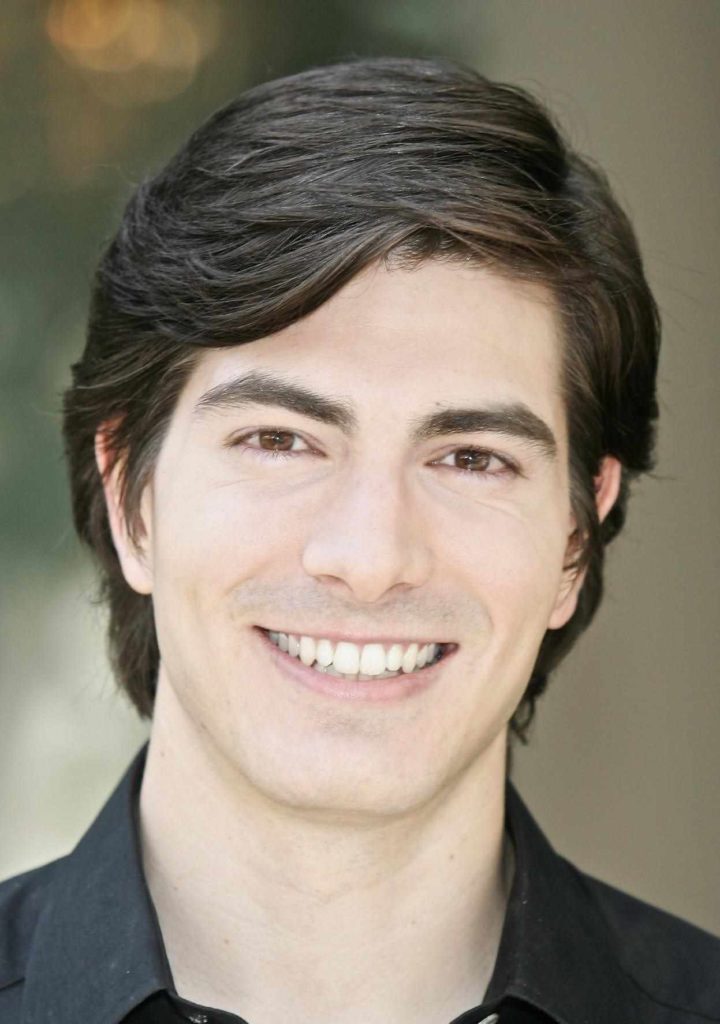 Undercut Quiff
This hairstyle is perfect for sophisticated businessmen that want to get a straightforward haircut.
This high quiff is enough of a statement on its own, while the undercut enhances your haircut and adds further charm to your look. The dull blonde shade will make your hair appear glossier and more voluminous.
Short Quiff with Low Fade
This is one of the most youthful business hairstyles for men for a masculine and attractive look. This short quiff with a low fade on the sides is the perfect option for those with a rectangular face shape.
The low fade gives more definition to the hair on your head and elevates your messy, short quiff into something classier. With short natural brown hair and a beard, you can make the best of this simple haircut.
Wavy Side Swoop
This hairstyle will work like magic if you're looking forward to add a sexy touch to your professional side. If you're blessed with naturally highlighted, brown, wavy hair, you can simply swoop your hair onto the side and get the chicest look effortlessly.
What makes this hairstyle even more alluring is the natural brown beard, which works as the perfect cherry on top.
Classic Man Bun
If you're a man who wants a bold hairstyle that is longer than just a quiff, this short ponytail or manbun might be a great pick.
This bold yet sassy hairdo is the perfect combo of alluring yet practical, as it keeps the hair out of your face while maintaining a bossy look.
Neat Afro with Low Fade
A little styling is the preference for every man who wants to look sophisticated, and that's all your afro needs.
This short afro with a low fade on the sides is the most decent way to embrace your natural coils, while also being a great option for businessmen that prefer to look more subtle and laid back.
Classic Side Part
This has to be one of the most traditional business hairstyles for men on our list. This side-swept, short haircut that doesn't take much time to style up every day, as is preferred by every work-swamped businessman.
The best part is that this hairstyle is a classic, which means it never goes out of style and works ideally for more than just a professional setting.
Disconnected Slick Back
If you have fine hair, this hairstyle might be the best haircut idea for you.
Thin hair looks best when slicked back as it gives an illusion of a fuller and more voluminous look, while the natural brown highlights add further texture to your hairdo. The fade on each sides will keep the attention on your waves at the top
Tapered Haircut With Fringe
Having thick black hair means you can rock any hairstyle with confidence. This side-swept haircut gives you a simple and manageable look, which is perfect for businessmen as their preferences are mostly subtle.
The tapering locks on the sides makes this haircut even more attractive and easy-to-maintain.