Men spend a lot of their time wondering what haircut would be best suited to match their outfits and personality. No one spares a moment to stop and think about matching the cool hairstyles with cooler eyeglasses.
Men of today's age believe in standing out from the crowd with their own unique sense of style. Presently, there are as many fashion glasses out there as there are Men's Hairstyles with Glasses.
Popular Men's Hairstyles With Glasses
The good thing about hairstyles with glasses is that you can ramp up the look by jazzing up the glasses or keep it simple by using classy frames.
No matter which way of style that you choose, there is no denying the fact that there is something deeply attractive about a man with his glasses on.
The people in any social gathering will turn to look at such a man and praise his sense of style that comes through his glasses and hairstyle.
Side Comb Hairstyle
Everyone has heard the saying that simplicity is the ultimate sophistication. This hairstyle proves the saying. One of the sides is kept a bit shorter than the rest of the hair.
Make no parting and just brush the hair to the sides. This is one of those hairstyles that are perfect to be flaunted for both party and formal gatherings.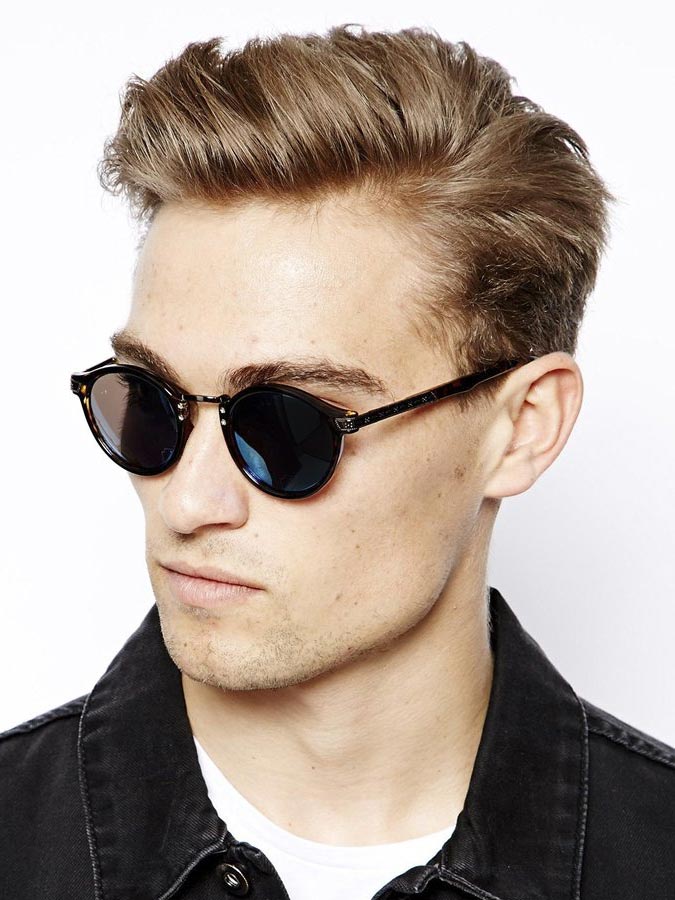 Comb Over Hairstyle
There are so many hairstyles that men want to try but the office restrictions stop them. Now, with this hairstyle, you can look stylish without worry about office constraints.
The hair on the sides is kept short while the hair at the center is long and is combed over backward. Spritz some hair-setting spray before stepping out.
Side Part Hairstyle
The thin-rimmed glasses and this hairstyle are all that you need to look super sexy. Create a deep side parting to any one side according to your wish.
Now apply oodles of hair gel and begin brushing the hair. Sweep your hair to both sides of the parting but make sure you puff up the side that has more hair.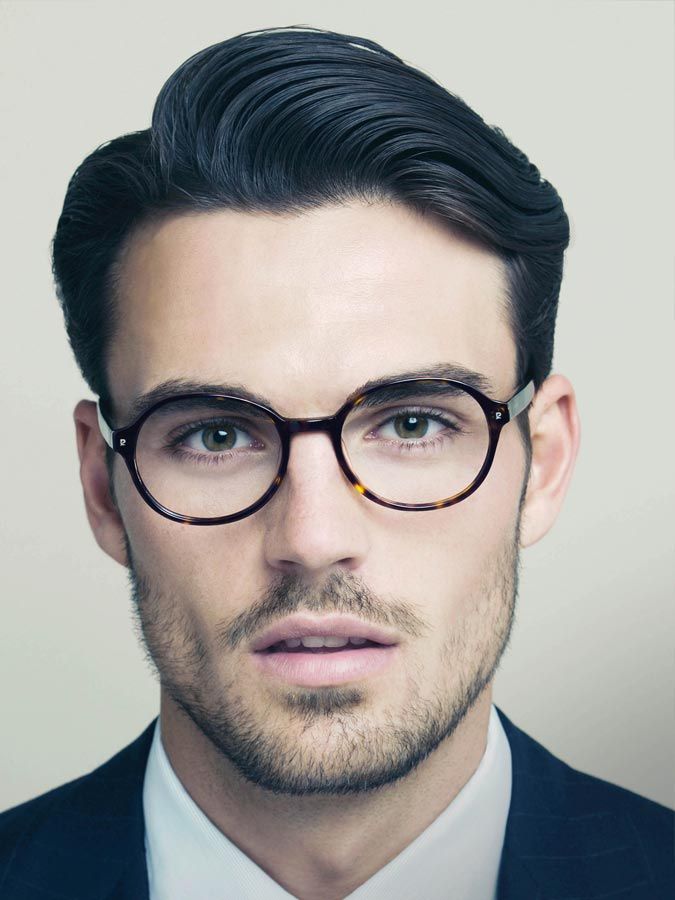 Undercut High Quiff Hairstyle
A funky pair of glasses and a funkier quiff are the top two elements of looking cool.
There is no question of going understated with this look so begin by getting a sky-high quiff. You need not have a quiff that is too neat. Let it be a bit on the messier side as you want a carefree vibe to the look.
Side Fade Slicked Back Hairstyle
This one is for men who like to keep their hair short and free from fuss. Give your hair a good dose of hair wax or gel. Use your hairbrush to slick back your hair but keep it puffed up a little.
There is also a slight side fade made to the hair. The rectangular glasses are just the right finishing touch that this look needs.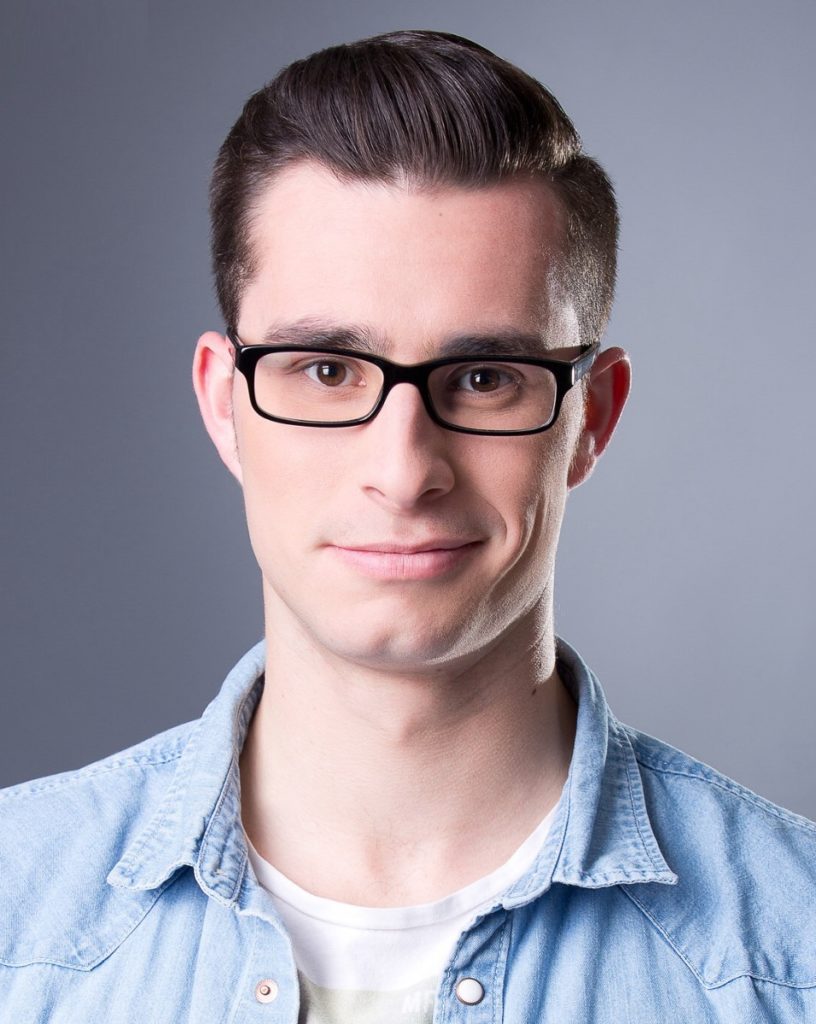 Faded Spiky Hairstyle
The salt and pepper look is a major draw for this hairstyle but it will look equally good on any color of hair.
The hair is cut short for this hairstyle as well and the sides showcase the very popular faded haircut. The hair in the middle is raised up to give it a spiky look.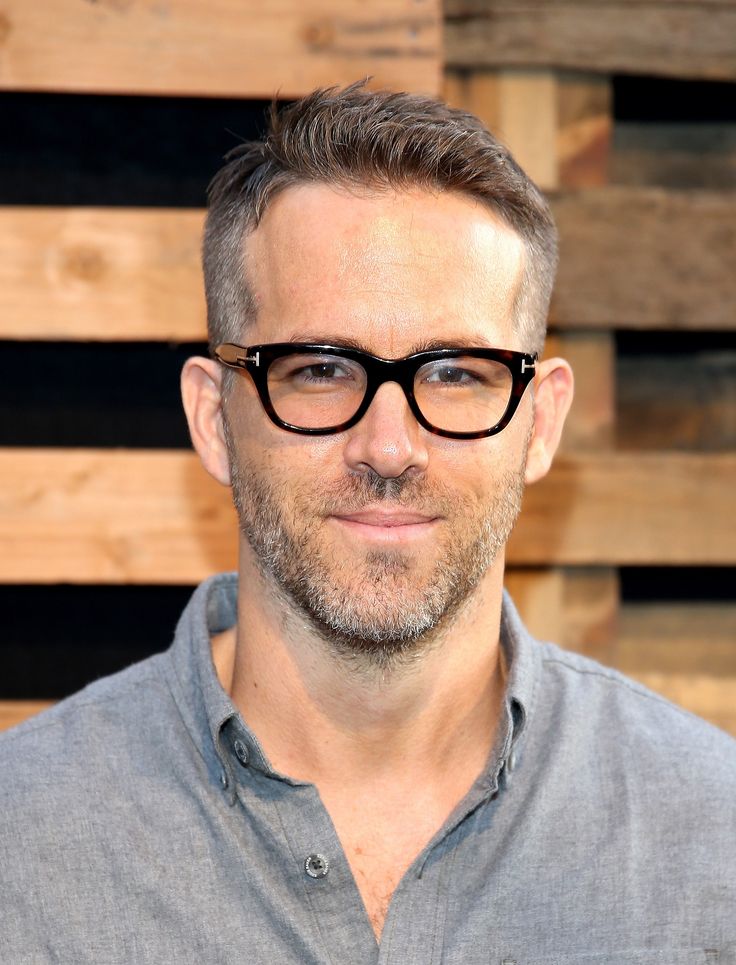 Razor Cut Long Hairstyle
The dark aviators and the dark hair amp up the style game for this hairstyle. The hair looks all tousled in here. There is a central parting but it is not made to look too prominent.
The simple way of getting this look is, to begin with the application of some hair pomade. Then, use your hairbrush and fingers to ruffle up the hair.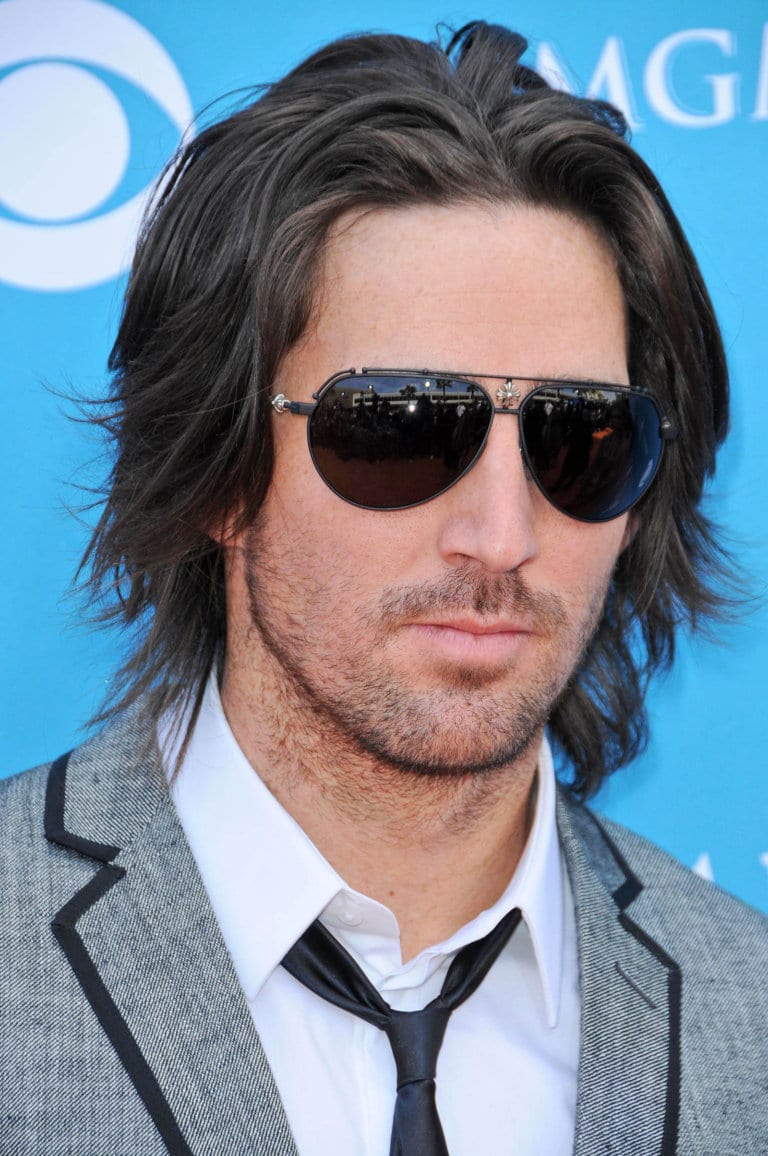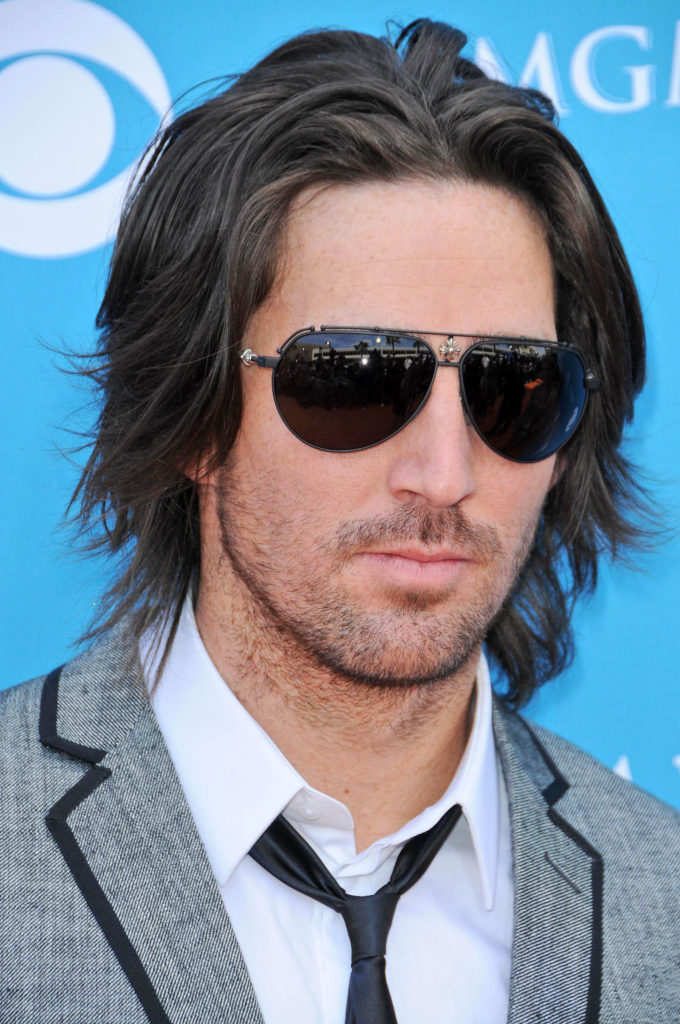 Swept Back Long Hairstyle
The long wavy hair and the black-rimmed glasses bring a somberness to the whole look. Get light blonde highlights done against your brunette hair and sweep the hair backward.
Make sure there is no parting made to the hair. The length of the hair must end right above your shoulders. Let your hair be and do not tuck any strand behind the ears.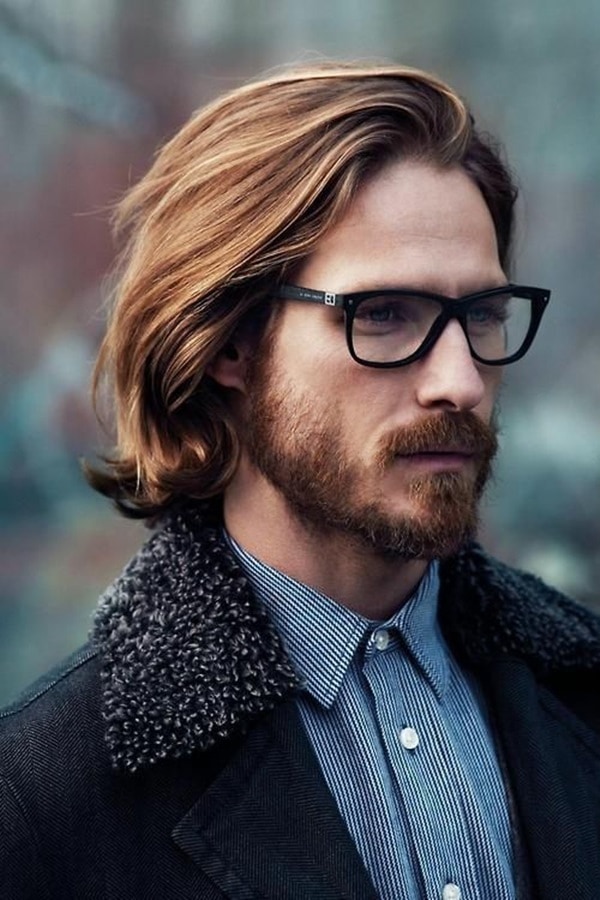 Skin Fade Quiff Hairstyle
Two popular hairstyles come together in this look. Add to that the style quotient of the simple black glasses and you get the perfect package of a handsome look.
The skin fade of the sides and back start not so high up. The quiff is kept high in length and it is swept in one direction to complete the look.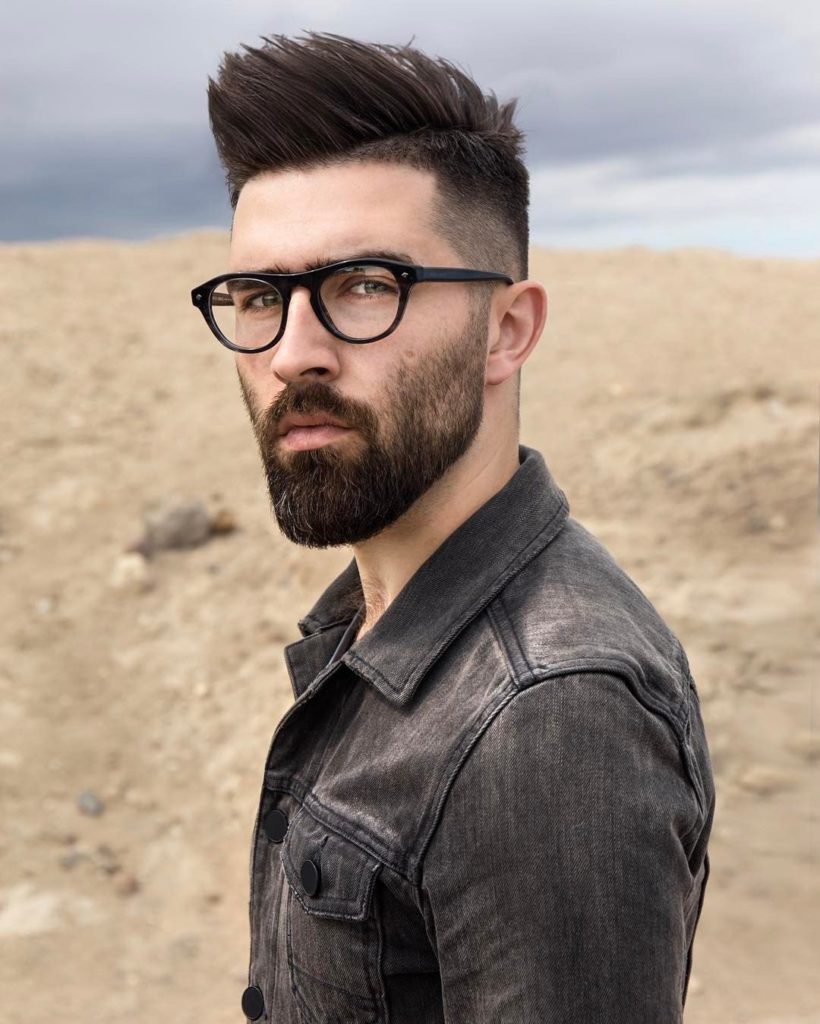 Thick Wavy Hairstyle
The mirror aviators suit this hairstyle really well. The length of hair needs to be medium to long with a natural thickness present in the hair.
The waviness, if present naturally is a plus, or else you can ask your hairstylist to help you with it. Bring the hair towards the front but keep it from falling on the forehead.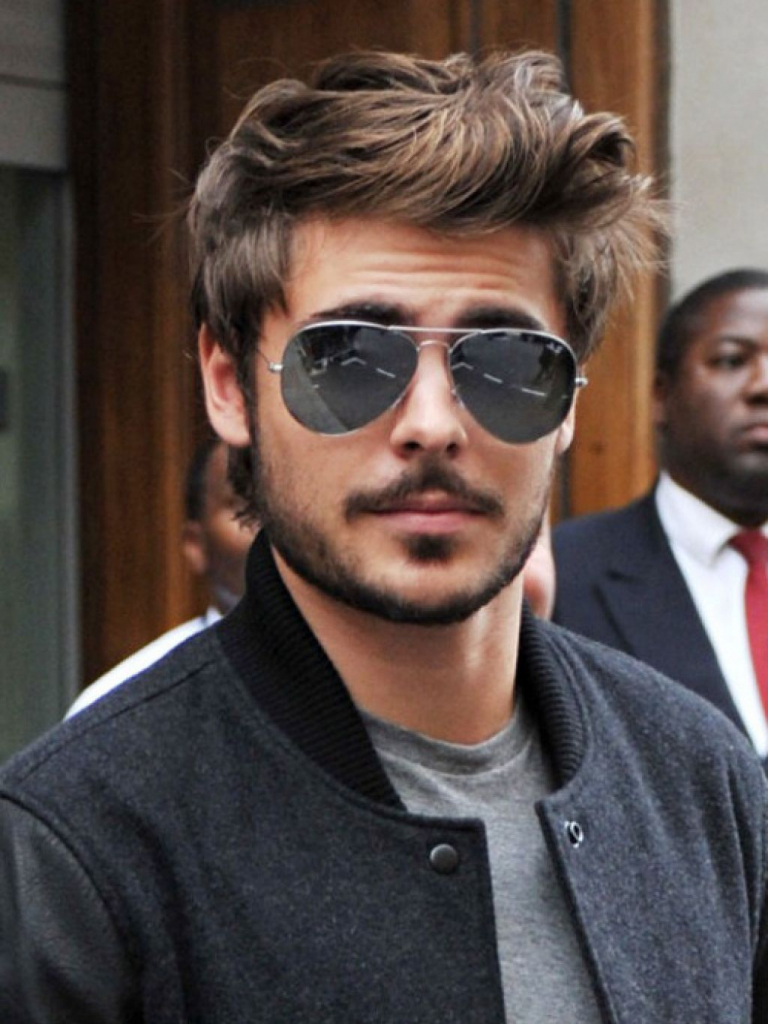 Full Fringe Hairstyle
Fringes can be your savior if you have a really broad forehead or a receding hairline. You will forget about these two issues if the fringes are done right.
Just cut the hair short in front to give it the appearance of fringes and then cover the entire forehead with these fringes. The rest of the hair you can brush normally.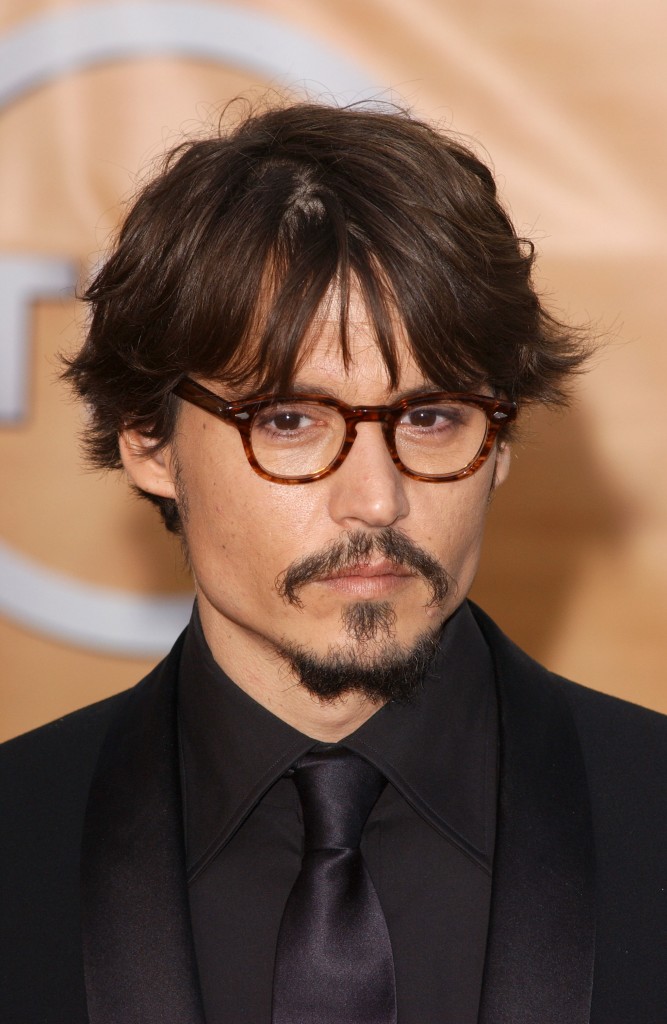 Messy Haircut with Beard
Grow a full beard, get a round-rimmed pair of glasses, and do the right hairstyle. These three elements will make sure that all eyes are on you wherever you head to.
The hair is kept short for this particular hairstyle. Use your fingers to mess up the hair completely. Trim your beard to give it a neat look.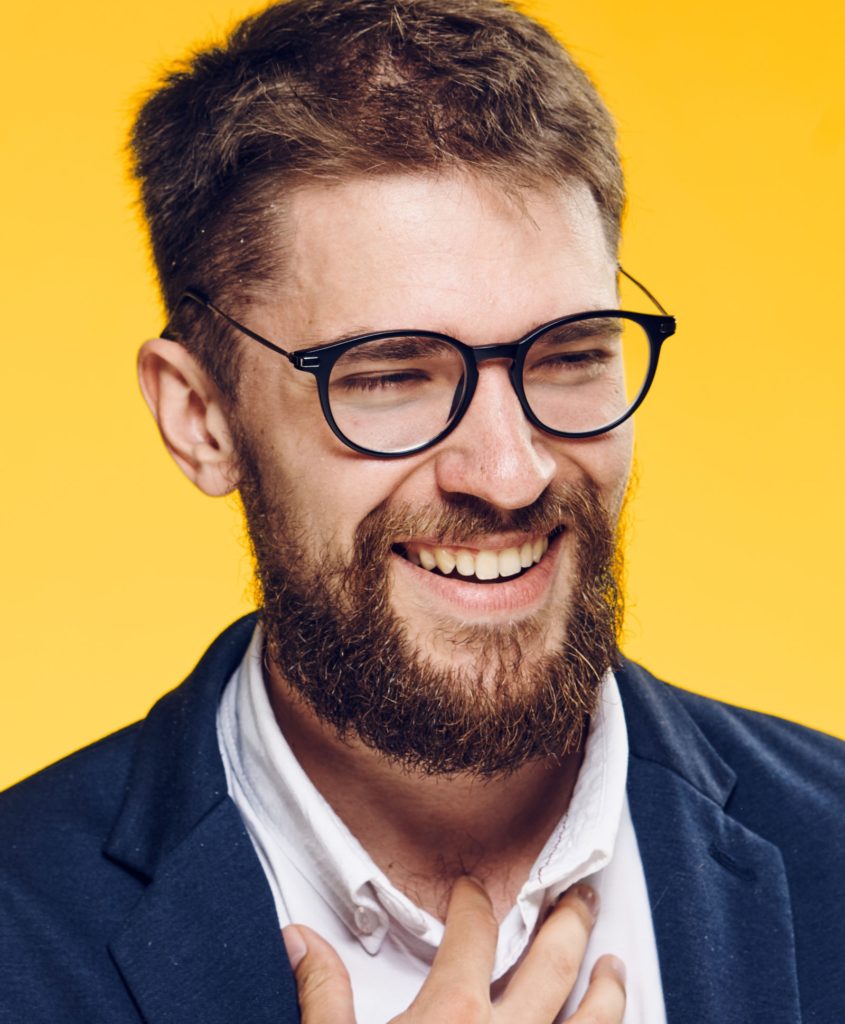 Side Part Spiky Haircut
The cool quotient of the spikes is so high that it is definitely liked by young men around the world.
Keep the parting on the right side and the spikes should be concentrated only on the left side of the parting. Brush it sideward for the hair to the right side of the parting. The spikes point in one direction and it is not kept messy.
Drop Fade Swept Back Haircut
The drop fade is a new age variation of the classic taper fade haircut. It is called drop fade because the fade drops down low to the nape of the neck and behind the ears.
The long hair that you have left in the center just has to be brushed and swept back to get this really trendy look.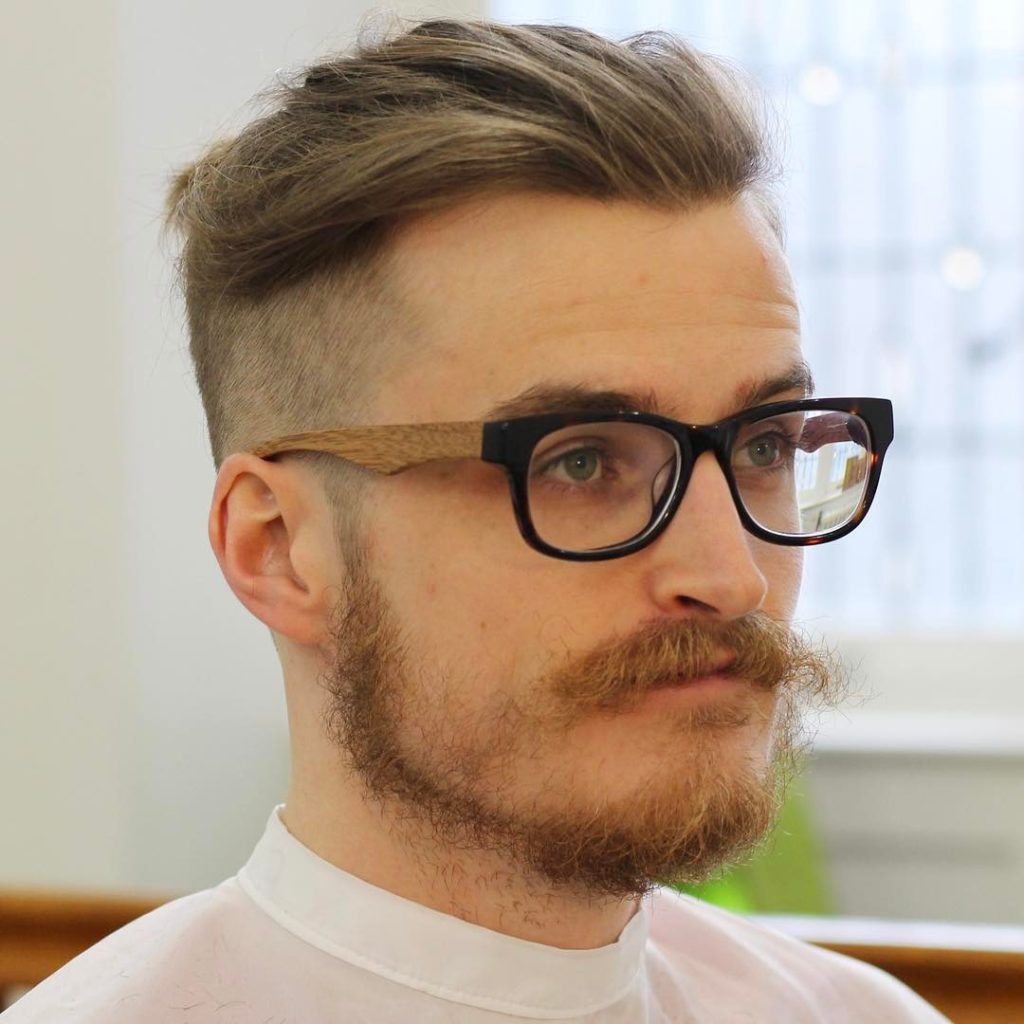 Slick Back Haircut with Full Beard
Own up to your widow's peak and make it look stylish by donning this hairstyle. This is one of those hairstyles that look extra nice when you get a beard to go with it.
Grow out your beard and get a full-length beard. While trimming the beard, keep the ducktail effect by keeping the central portion longer. Use pomade and sweep back your hair.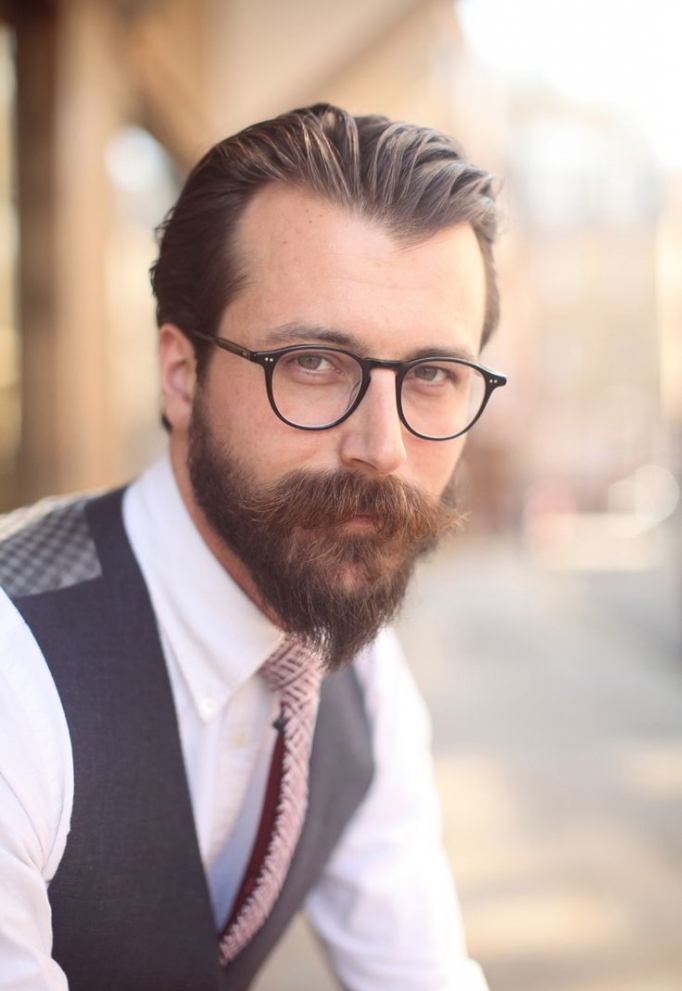 Formal Side Part Hairstyle
Bring out your sharpest suits and your classy aviators. Get this hairstyle to give the complete touch to the look. The hair is kept neat and side-parted.
The side of the parting with more hair has a slight raised upfront to prevent the look from looking too flat. This one looks great from meetings to office parties.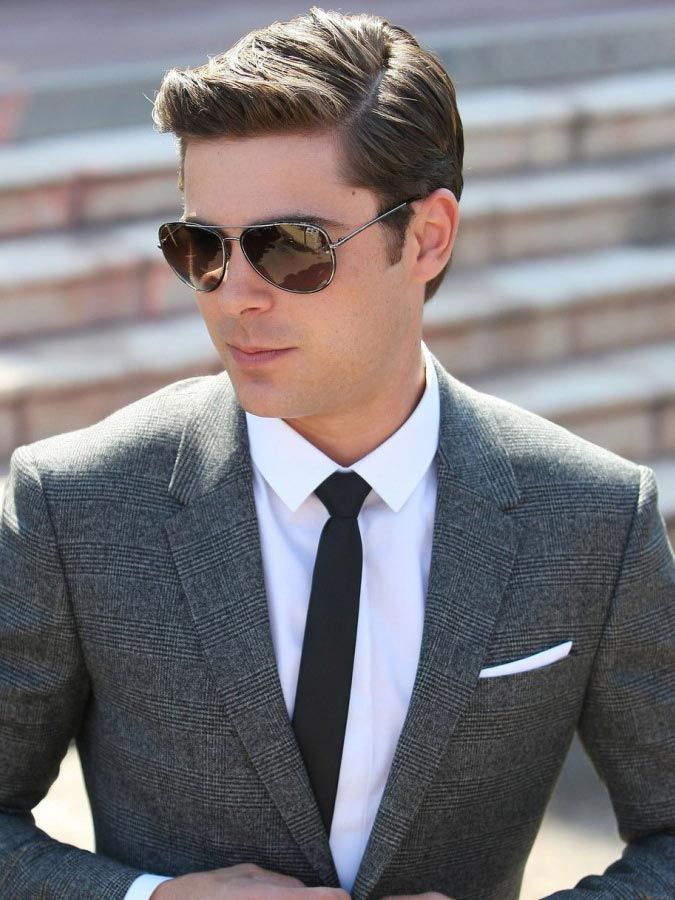 Loose Side Part Hairstyle
The young and carefree vibe of the hairstyle is further accentuated by the cheetah-printed glasses. Create a side part but puff up the hair so much on both sides of the parting that the parting gets completely hidden.
This gives the appearance of voluminous hair and hides any thinness present in the hair texture.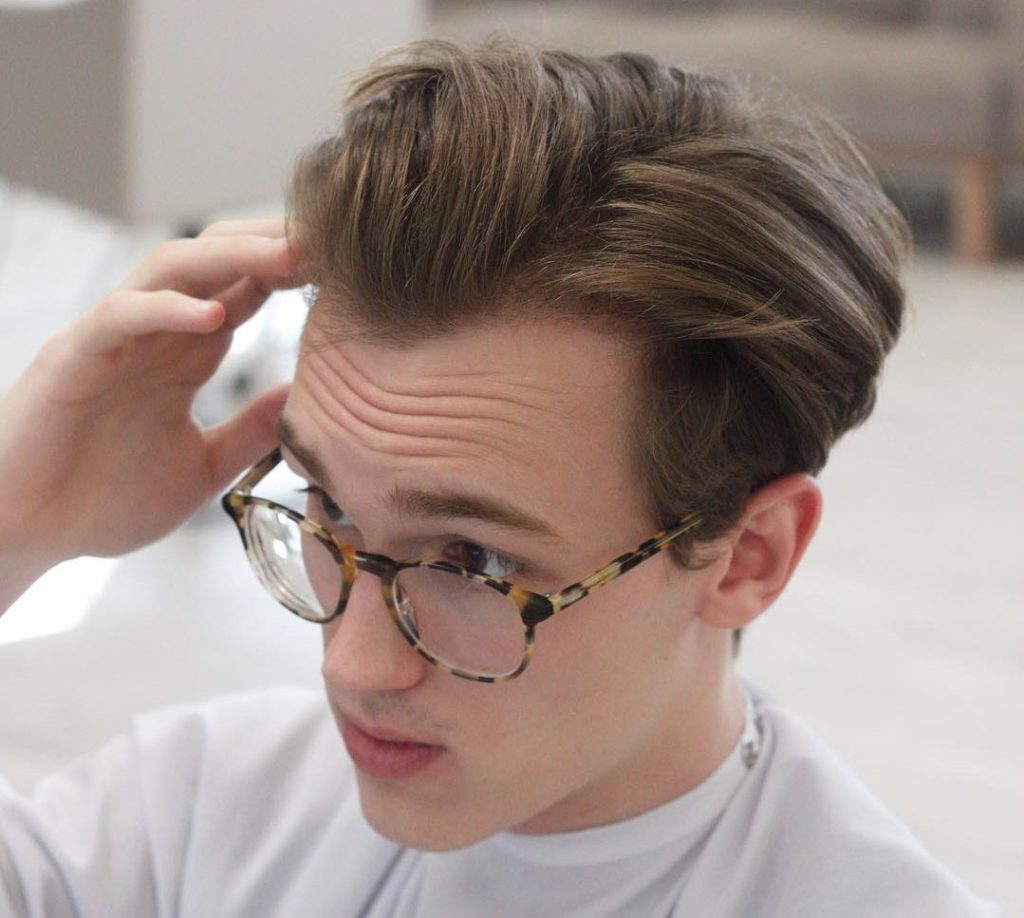 Hard Slick Side Part Hairstyle
The two most important things that you need for this hairstyle are good quality hair wax and a thin-toothed comb.
First, go through the entire hair using ample amounts of wax and then make a side parting. Now, brush the hair with a bit of pressure to bring that hard-slicked look to it.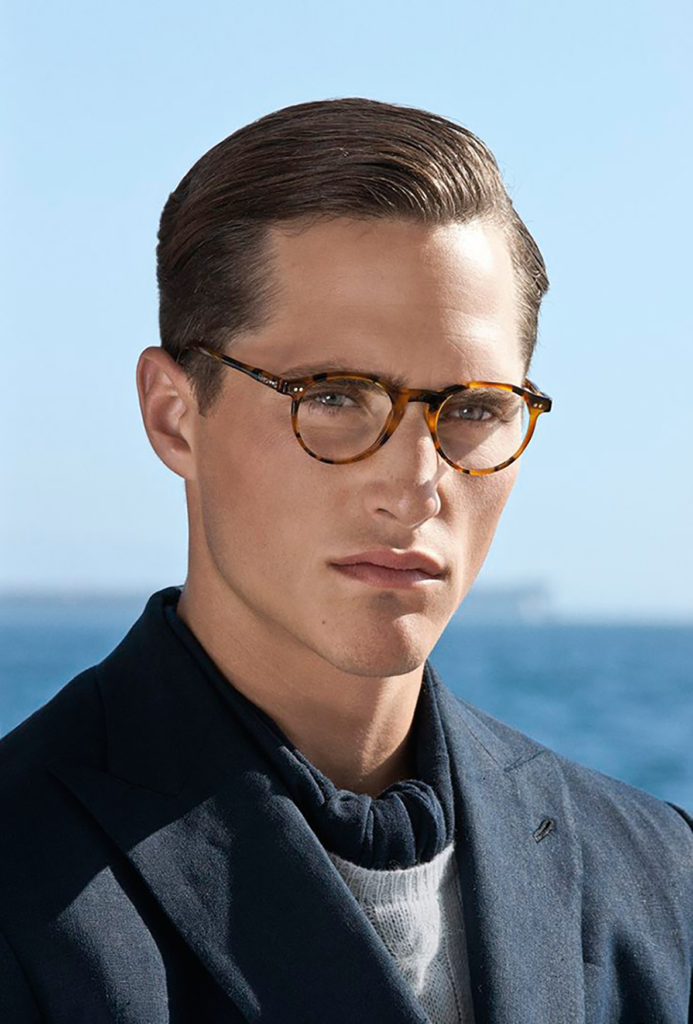 Undercut Fringe Hairstyle
Undercut and fringe rank among the top two trending hairstyles for this year. The undercut is made to the back and the sides.
Now, the hair at the middle is brushed and brought forward to cover up the entire forehead. You must have a naturally wavy texture of hair to try out this unique and fashionable hairstyle.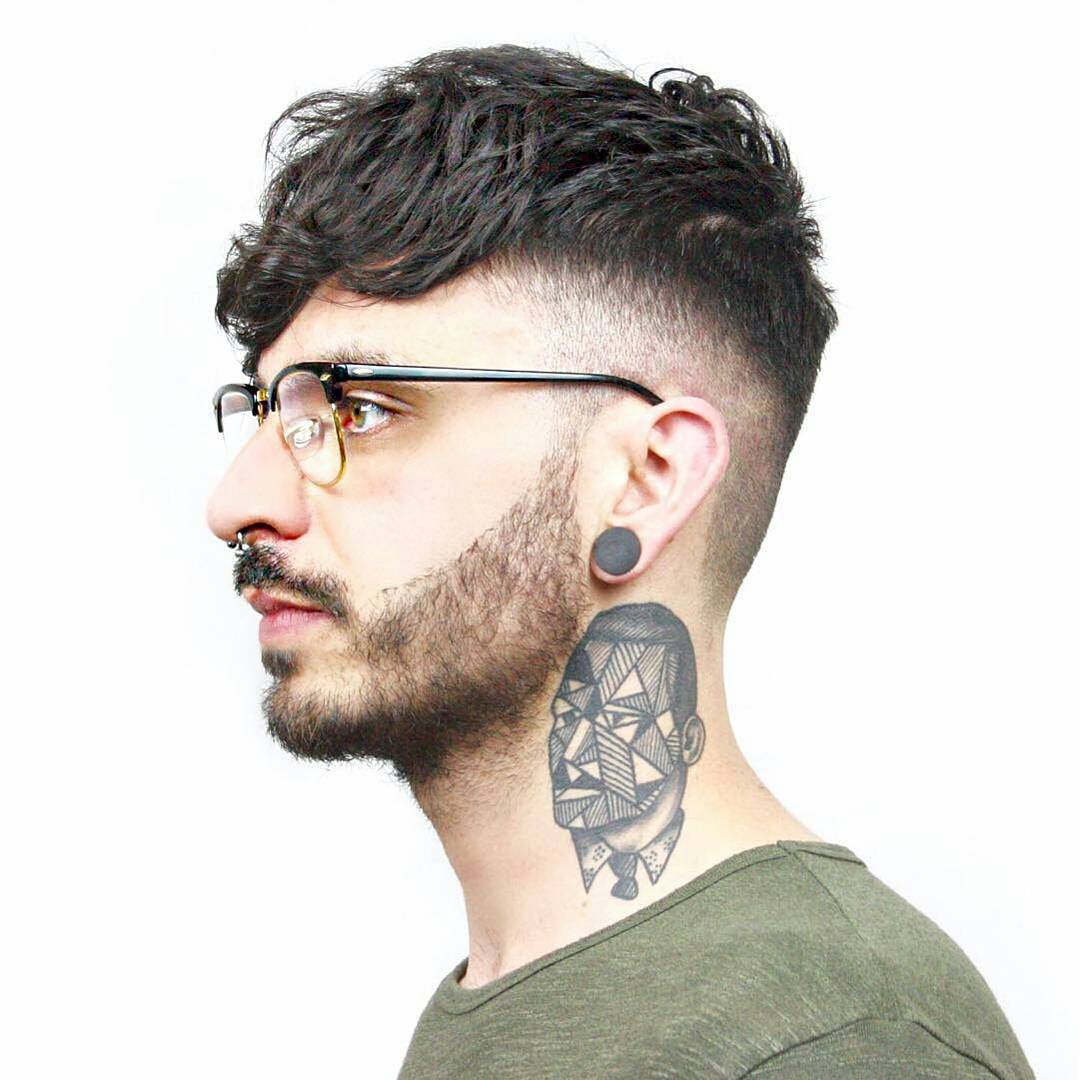 Swept Back Long Hairstyle
Though the hair is kept long for this hairstyle, it is prevented from getting all over your face by tucking the hairs behind the ears. The length of the hair touches your shoulders for this hairstyle.
Brush your hair backward and neatly put the strands behind your ears to finish up this stunning look.
American Crew Cut Hairstyle
This is a classic kind of crew cut that men of the world have loved trying out for ages. You can see the back and sides have been given a skin fade look.
It is the hairstyle that is really low on maintenance. You would not even need to brush the hair properly as the length of the hair is too short.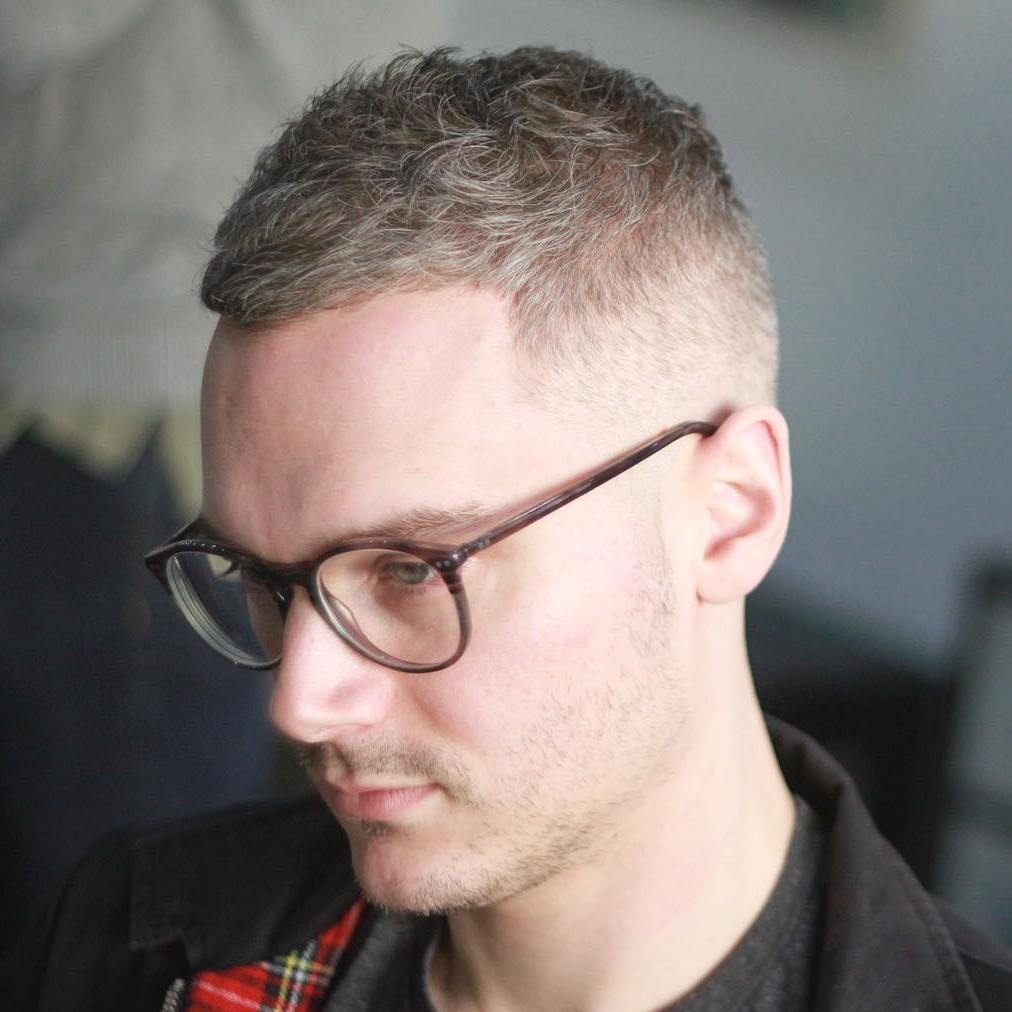 The Undercut
This simple and trendy haircut can be styled in many ways. Based on the short side and long top hair concept, this classy look leaves a strong impression.
Whether a professional meeting or a casual get-together, this style will make a statement. It will even make your face look slim and long.
Wavy Side Swept
Being striking and effortless, this style has been popular for a long time. Hair is parted and swept on the sides with a wide-tooth comb to create volume and flow.
Keep the hair at the back and above the ears short to get an even better-swept look. This style will add a subtle charm to your overall look, whether your hair is thick, thin, curly, or wavy.
Swept-back
Classy yet simple, this style has stood the test of time and has been around for many years. The idea is particularly versatile and goes with any face shape. Here the hair is brushed backward, keeping the front hair a little spikey.
For curly, unruly hair, use a hair spray or cream to hold the style for longer. It's the most prevalent hairstyle for professional men with glasses.
Voluminous Curly Waves
Curly hair has had its share of bad press, but not anymore. This look is unique, which will make you stand out and let you leave your mark.
A hair spray adds volume to the hair to get those waves and then rolled back. Be ready to get noticed by all. Leave your nerdy look and get a more happening look by trying this hairstyle.
Cool Mid Fade
This stylish cut is classy and perfectly balanced as it is neither too high nor too short. It works with any hair type with a short length. Ask your stylist for the option of clippers, as you can choose how short to cut and how much to fade.
This is most popular among teenagers as it is easy to style and gives a fresh and flexible look suitable for every juncture.
Classic Side Quiff
Flaunted by most celebs, this style is in trend these days. From youngsters to adults, men want to try this to look fashionable, charming, and adorable.
The back is faded, and the sides are trimmed paired with a pompadour to get this look. It can be worn to the office, casual outings, or date nights, making it one of the best hairstyles for men with glasses.
Wavy Asymmetrical Side Swept
Time to end the obsession with symmetry since asymmetry is the new trend. The hair is trimmed at one side, keeping one side longer, blown out over the forehead to give a funky look.
Asymmetrical haircuts add volume and height and give a casual, easygoing look much preferred by youngsters. If you wear glasses, then this look can totally change your overall look.

Carefree Butch
Hassle-free and low maintenance but still has a distinctive appeal. This hairstyle is common among athletes and military men.
If you have thin hair or a broad forehead, this style will suit you the best. Men of any age can have this look, even if they wear glasses, making them look more passionate and ambitious.
Messy Brushed Hair
Stylish and edgy, another hairstyle for men with glasses that layers every strand giving a pattern or a texture to the hair, yet it looks messy and casual. Thus, it maintains a proper balance between both formal and everyday styles.
The front hair is kept long and swept sidewards. Use a hair gel to get an uneven feel. Most IT guys love this look to hide out their nerdiness and to look cool.
Messy Wavy Hair
An all seasonal look suited for every occasion, this hairstyle is timeless. It can go with any hair texture and face shape.
Use your fingers or a wide-tooth comb to brush your hair backward, letting few strands blow on your forehead. This style looks great on men across ages and requires no maintenance or a lot of time to set it.
Man Bun
Want to keep your long hair off your face and achieve a sophisticated look at the same time? A bun is an answer for you, then. It gives a tough fight to pompadour and undercut and is in a class of its own.
The hair should be medium to long, brush all the hair backward and tie it in a un using a hairband. It's one of the most trendy hairstyles for men with glasses.
Afro Curly Fade
This is a unique and contrasting style for thick curly, coily hair. With the side closely shaved, keep the hair straight upwards and get a smart and fashionable look.
FAQs
Does short hair look good with glasses?
Short hair can look good with glasses – it just depends on how you style your hair. Short hairstyles that pair well with glasses include bobs, pixie cuts, mohawk cuts, and shaved hairstyles. Choosing the right hairstyle for the shape of your face can make a big difference.
Short hair can add a fresh look and showcase your eyeglasses in a way longer hair probably would not. When styling your short hair, particularly when you wear glasses, you can get creative with different styles that you may have never thought of before.
Do bald guys look better with glasses?
Glasses can look great on anyone, and bald guys are no exception. As with any style, though, a bald head may look better with certain types of glasses.
Square glasses work particularly well as the sharp angles create a nice contrast with the round shape of the head. The rounded square corners can soften the contrast to a certain degree.
Can I wear glasses while getting a haircut?
Some people prefer to wear their glasses while getting a haircut because it makes them feel more comfortable -which is only natural.
Wearing glasses could affect the final look because the hairstylist may not be able to cut or style the hair properly. It is always best to communicate with your hairstylist about what you want to avoid issues.
Is it better to wear glasses with straight or curly hair?
Glasses can look great with both straight and curly hair. To make most of your look, it's best to wear smaller frames if you have big curls, so the frames don't overpower your look. Using thin frames will probably work best.
When it comes to straight hair, larger frames with bold colors will definitely accentuate your look and bring out your hairstyle.
What glasses are good for men with long hair?
The best glasses for men with long hair are thick frames. They can be in just about any shape, whether rounded, square, or rectangular. The thick frames will pair well with long hair and add definition to the face.
This is a list of 33 Men's Hairstyles with Glasses that are combinations of classy and cool. So, make sure you choose the style according to your personal style.