The Coachella Valley Music and Arts Festival, also known as Coachella is an annual music and arts festival held at the Empire Polo Club, California. The event features musical artists from many genres of music, including rock, indie, hip hop, and electronic dance music, as well as art installations and sculptures. Now this sort of music festival is the perfect one to experiment with hairstyles. All you need to do is to sport a unique hairdo. Now, you can try that hairstyles what you dreamed of but never tried.
Coachella Hairstyles For 2023
The hairstyle must not be a problem for you as you'll be spending all day out in the hot sun, and all-night dancing. It may seem to be weird to someone but as you know, music festivals are not the time to be shy! You'll flaunt your imaginative style with your hair confidently. When you'll be grooving into the music of your favourite rock band, you are not going to be thinking how you are looking! Relax fellow music lovers; here is a guide for the cool and attractive Coachella hairstyles all across the globe. Just go through it to get the vibe and the technical titbits for the experimenting yet attractive hairstyles.
Also Check : 20 Coachella Hairstyles Inspired by Vanessa Hudgens
Blonde Wavy Hairstyle with Scarf
This hairstyle is absolutely simple yet glamorous. If you have medium or lengthy hair then you can try this look to rock the world. For the betterment of your look you can dye your hair with the colour of blonde. If you have straight hair gives it a treatment of wavy to look the best. For the ultimate appearance wear a scarf.
Glitter Fishtail Braid
Fishtail braid no doubt gives a pretty look to draw everyone's attraction. Moreover, it helps to increase the volume of hair. You have to start to make a little fishtail braid from the front part and pull off the whole fishtail braid with the longer hair. Wear very little earrings to look perfect. If you can add some hair soothing glitter at the side of front part of your hair that will emphasize the look for sure.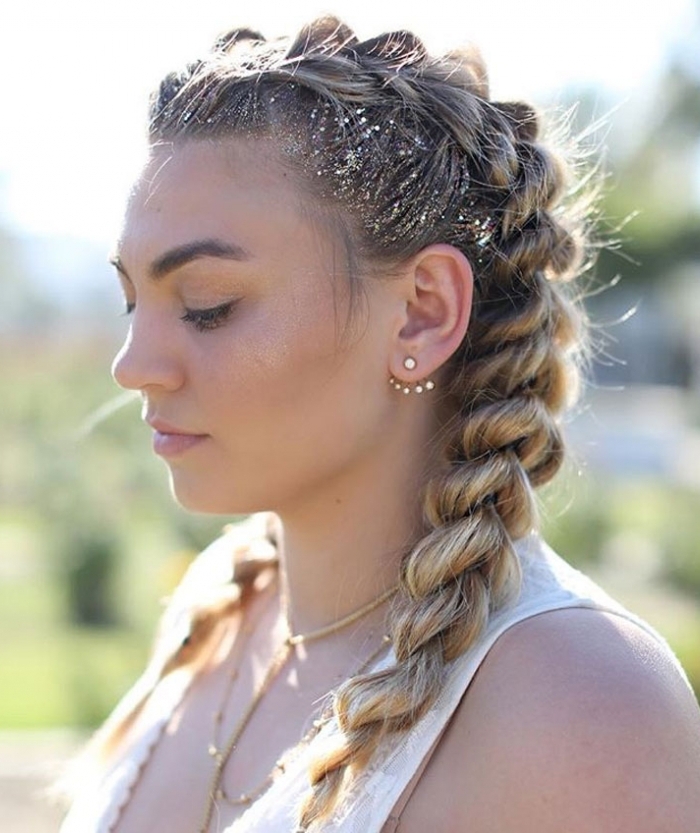 Pastel Rainbow Fishtail Braid
This look will make you extremely unique than any other in a crowd. From the beginning part of your hair start to make a braid and mix it with longer hair with which you will pull of the fishtail braid. In the bottom part add some colouring strands to give it a completely different look. You can also add some pastel rainbow glitter for the ultimate look.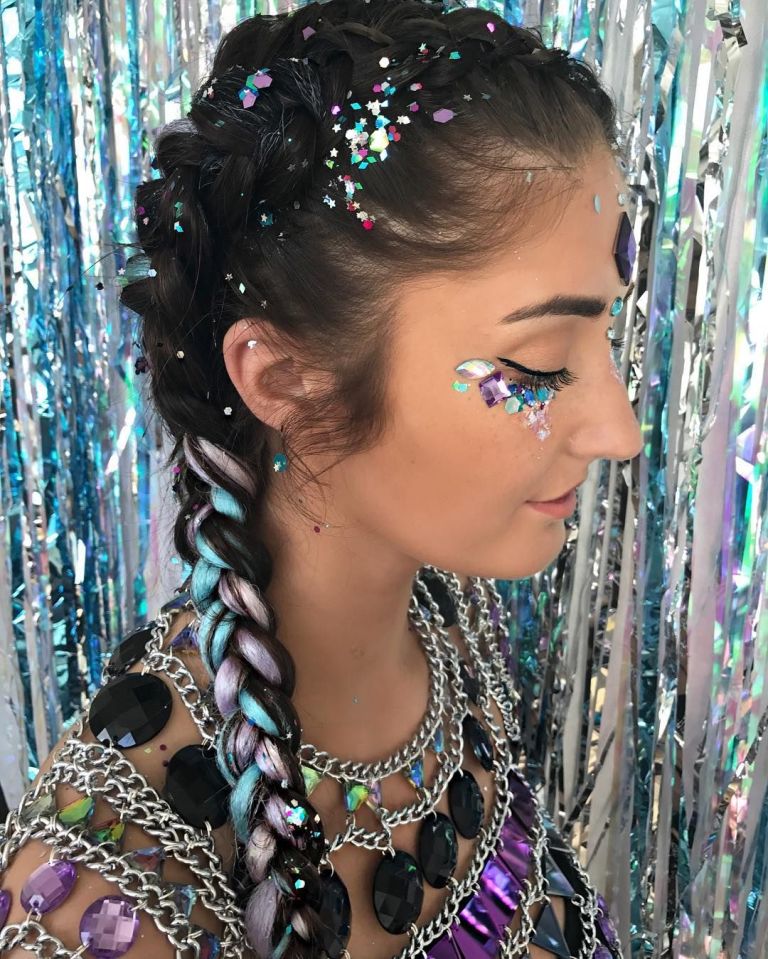 Pastel Green Long Layered Hair
If you are bold enough to do some experiment with your hair, then try this look. Having long hair will be bliss for this. Give your hair some layer cut to justify this appearance. If you can go for dyeing your hair with pastel green, then you will be the one who will slay the world of fashion.
Dutch Braid with Twisted Bun
This hair style will surely give a hair goal to every girl who are obsessed with various hairstyle. To get this exact look, you have to make a middle parting. Then, from both of the sides take a medium part of hair which will create a "v" shape there. Make a beautiful Dutch braid with that and prepare a beautiful twisted bun on the top. At the end just make little waves in the bottom part of your left-over hair.
Pastel Blue Double Braid
If you have long or medium length of hair then this hairstyle is only for you. But everyone cannot have this, as it always provides a very funky and bold look. At first make a partition at the centre of your head. Then from the both sides take some hair strands and make braids in both of the sides towards backside. Leave the rest of hair open to get the exact look. Add some pastel blue colour in the hair and in the root, add some glitter to hold up the whole look beautifully.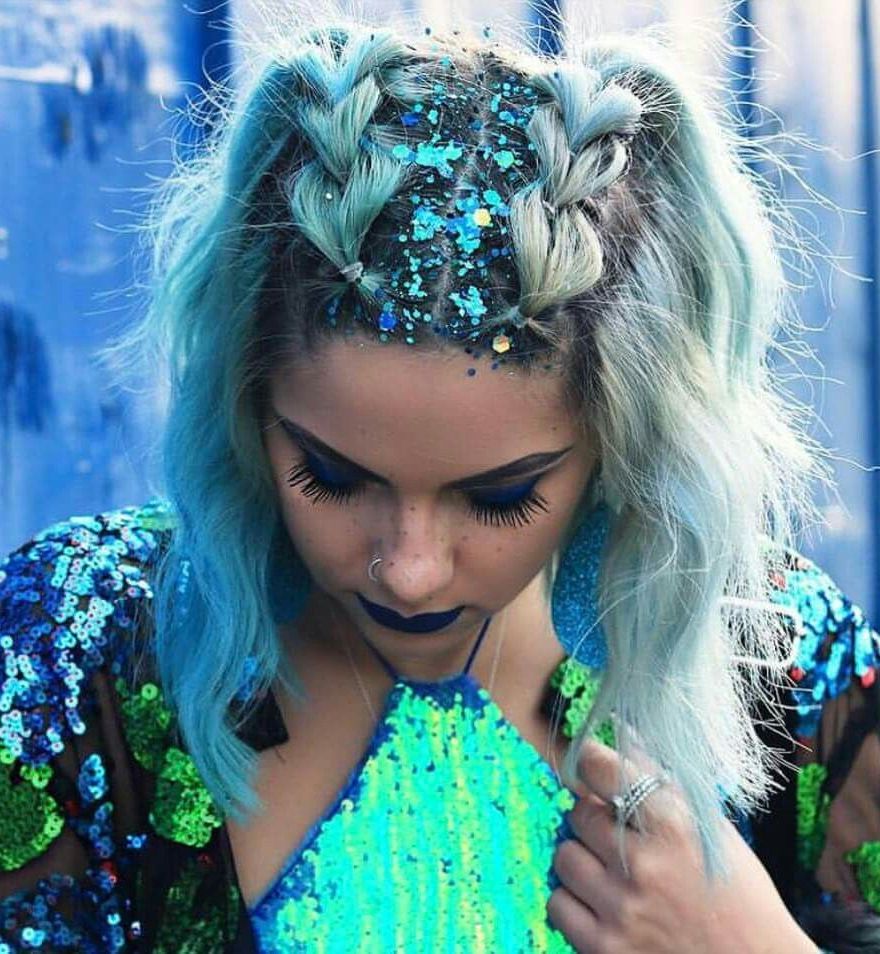 Double Twist Buns with Tiny Fishtail
This super cool hairstyle will give you hair goals all the time. In this hairstyle you have to create a middle parting with which you will make two twisted buns at the side. And with all the left-over hair of the middle portion make some tiny fishtail braid for the ultimate look.
Black Wavy Hair with Stars
This beautiful hairstyle will no doubt offer you a sensual look to astonish everyone. To get this unique look, keep your hair open. Mostly on the long and wavy hair, it looks perfect. Add some beautiful golden stars on your black hair will provide you a gorgeous look.
Triple Dutch Braid
This hairstyle is extremely different from the other ones. This will provide you a hot yet stunning look. Create three parts in your head and make three different braids with it. At the end, mix two of them together and lay the two braids on both of the shoulders. Add some rings on the braids to get the ultimate look.
Blonde Wavy Hair With Bandana
This simple hairstyle will add some more prettiness in you which will look you cuter than ever. To get this look you can have long or medium length of layered hair. Make a centre partition and curl the bottom part of your hair. Wear any colouring or gorgeous bandana to compliment the whole look.
Dark to Light Lob Haircut
This beautiful lob cut will help you to stay free all the time. It is appropriate for those women who stay extremely busy for their hectic schedule. Women with short hair will look beautiful in this. Make a middle partition and keep your hair open for the betterment of your look.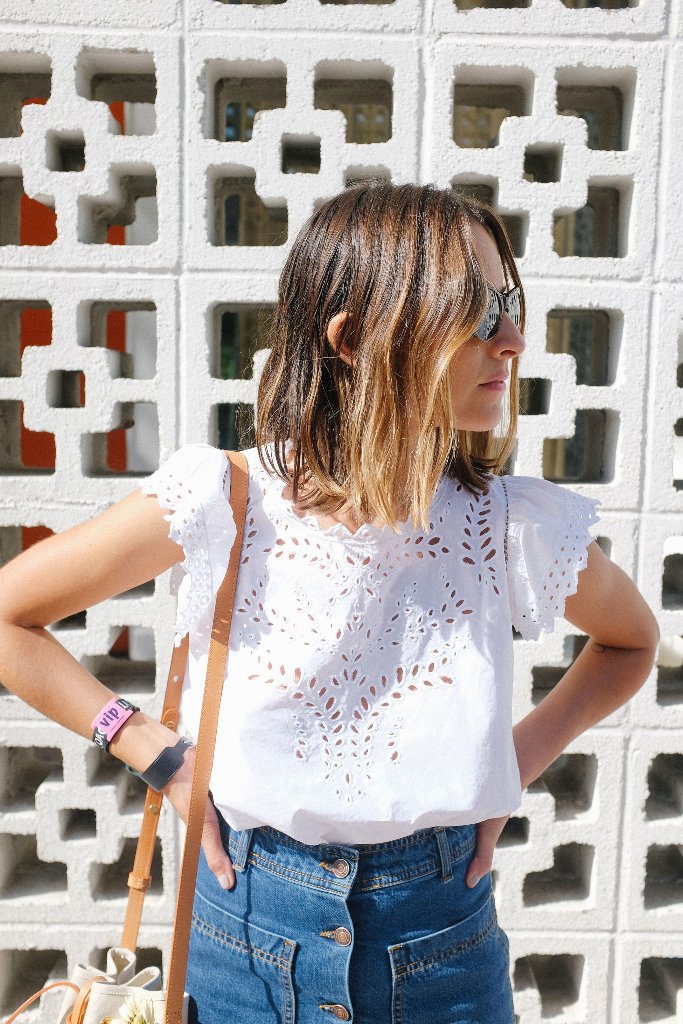 Waterfall Hairstyle With Twisted Flower Bun
To add beauty in your hair, try to make the waterfall hairstyle to emphasize your look. After making this style creates a pretty and twisted flower bun. It will make you look much better than ever. Leave your left-over hair open to bring out the best of it.
Messy Layered Hair With tiny Braid
This pretty hairstyle is one of the simplest styles to rock the world. Even in this style you will not have to spend more times. To get this exact look, take some hair from the side of front part and clip it at the back. Keep the rest of hair open and make some tiny braids. It will look better on the women with layered hair of medium or longer length.
Pinned Back Straight Hair
If you are extremely bold, only then you will be applicable for this look. It will not provide usual prettiness to look you charming, but it will give you the look a hot and chic look to draw the attraction of fashion world. To have this style, you have to make a side parting and with both the part make two big braids towards the back and pin it. Women who have straight hair will look the best with this. For getting the proper finishing apply some prominent colour to dye your hair.
Dreadlocks Hairstyle
This Afropunk hairstyle is mostly popular in South Africa. Dreadlocks which are known as 'jata' in Sanskrit is very much trendy in the fashion world of rock concert festivals. This style can be formed by the technique 'twist and rip' along with back combing and rolling. Most of the time this hairstyle can be created with the technique called 'neglect' and also 'free forming' which provide the look of mats and tangles. But if you want evenly sized or proper dreadlocks then it needs true maintenance and planning.
Space Bun Hairstyle
This cool hairstyle will help you to slay the fashion world of rock concerts. This is very simple to create but gives you a chic look. Wear this style with proper confidence. Make a middle partition in your head. With the hair of front part in both of the sides create two buns. Leave your rest of the hair open as it is to look the best.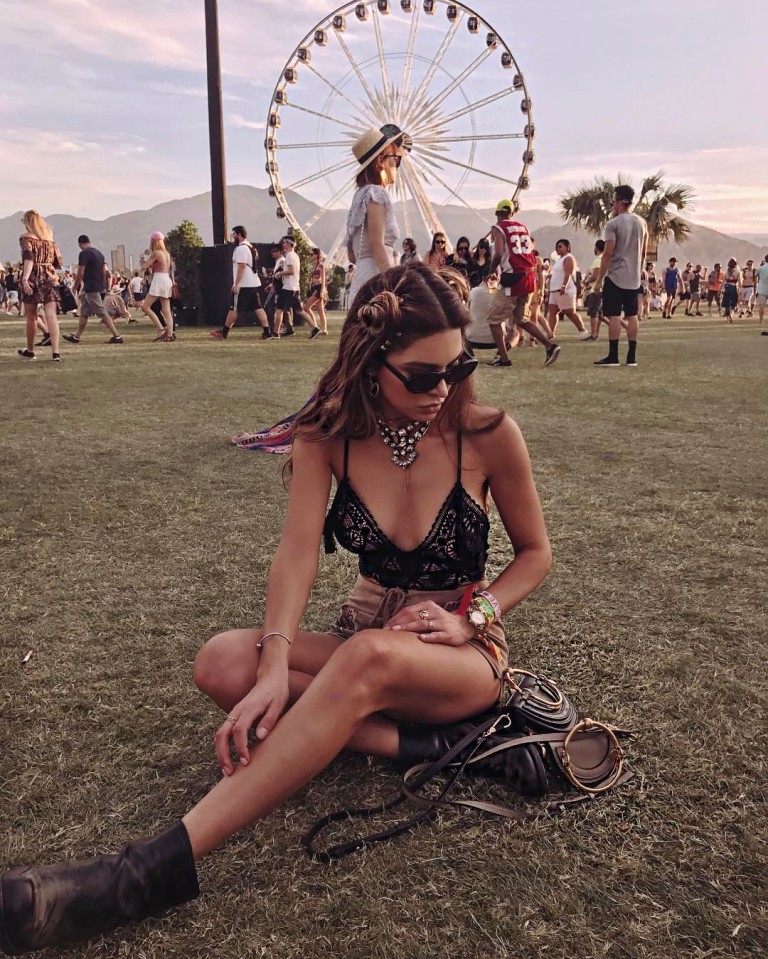 Short Blonde Hair with Bandana
If you have shorter hair and you are always afraid of going out of fashion then this hairstyle is exclusively for you. You will not need to do a lot to get the perfect look, just get any bandana with vibrant colour and tie it. This simple look will help you to slay.
Long Wavy Hair with Two Dutch Braid Bun
This beautiful hairstyle will make you look more beautiful than ever. Make a centre partition and create two beautiful Dutch braids in both of the sides by taking a minimum amount of hair. After the braiding, make a topknot bun with that at the top centre of your head. Leave the rest of your wavy hair to flaunt the gorgeousness.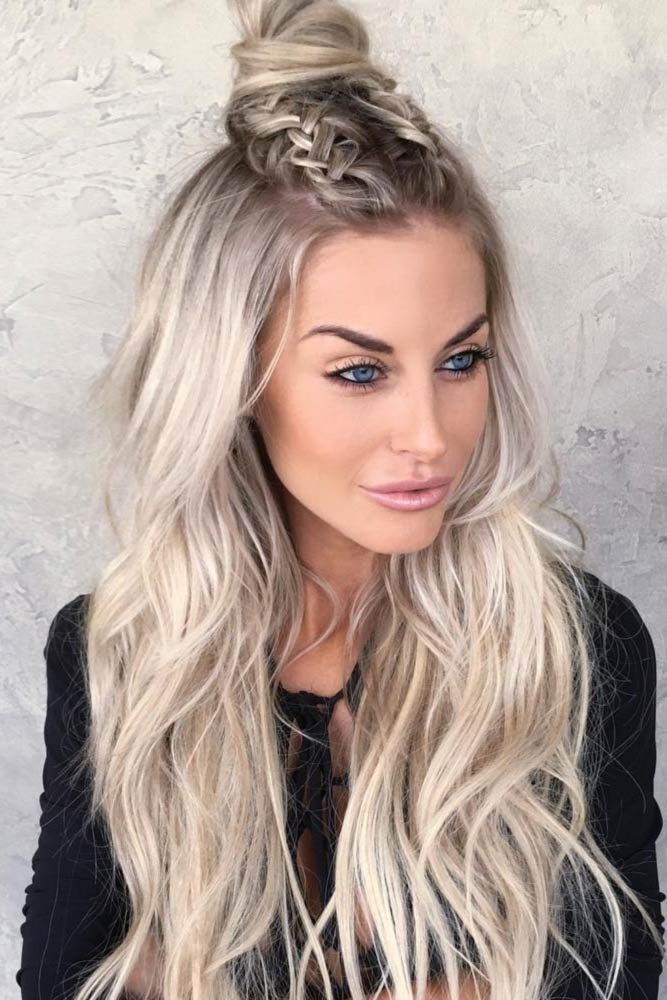 Side Swept Blonde Bob
Bob cut is one of the most popular haircuts among the women of all age. You can carry this look wherever you want and it will not disappoint you. To get this look, make a side parting and sweep it. You can dye your hair with the blonde colour to bring out the real beauty of this look. Do not have a lot of makeup along with it. Just wear a shade to slay the fashion world.
Long Wavy Hair with Tiny Braid
This hairstyle will not only give you the look of super cool but it also makes you look prettier. Look exactly same like this make a middle partition and keep your hair open as it is. Just make some little braids in your long and wavy hair to emphasize your look. You also can add some colour strings in between the braids to make it look more prominent.