While having body hair is perfectly alright, sometimes we all want to go for that shave and have smooth skin. A major part of maintaining personal hygiene is shaving and trimming the intimate areas and keeping them clean. Thus women need razors as much as men do.
Finding a good razor can be tough as women have a variety of requirements- facial, body, and pubic hair removal. An electric razor that covers it all is not a myth!
Such razors are made by many esteemed brands in the market and come in a variety of shapes, sizes, colors, and attachments. Products that are trimmers and shavers in one are also available in the market, and hence a holistic need is fulfilled.
Therefore, based on women's requirements, we have compiled a well-researched list of 9 of the best electric razors in that market that are available for women. Getting your hands on these is a must according to your shaving needs and requirements.
1. Brori Electric Razor for Women
Get rid of all that unwanted hair, hassle-free with this electric razor from Brori. With low noise emission, your shaving experience will be silent and peaceful, and its close-to-skin shaving technology will get rid of hair at the root.
Loaded with 3 high-performance and high-speed razor-sharp blades, you will easily be able to get rid of hair on your arms, legs, back, armpits, and sensitive bikini lines without any residue or fear of cuts and bruises.
Hypoallergenic blades are sensitive on the skin, and its cutting technology makes it absolutely painless to use. Advanced 3D floating foil technology and hypoallergenic stainless steel blades glide on your skin, leaving no room for cuts or bruises.
Waterproof materials make the product suitable for wet and dry use, and detachable shaving heads that come with a cleaning brush make the razor's body easy to maintain.
Equipped with an LED light for blind spot guidance, this built-in illumination light reveals locations to the finest hair spots ensuring a thorough hair removal experience.
The cordless electric razor comes with a USB quick recharge that supports 60 minutes of cordless shaving on a full charge and offers 2 ways of fast USB charging via charging stand or directly connecting to a power source, making it a deal you cannot miss.
Pros:
Cordless and rechargeable with 60 minutes of continuous use on a single charge
Comes with LED light guidance for leftover hairy spots
Perfect for a full-body hair removal
2 ways of charging via USB or charging stand
Advanced 3D floating foil technology glides on the skin and doesn't leave cuts or bruises
The fully waterproof body is easy to maintain and rinse, facilitating use in and out of the shower
3 hypoallergenic stainless steel blades are durable and long-lasting
Cons:
Does not work on coarse facial hair
2. Panasonic Close Curves Electric Razor
If you're looking for precision and safety for hair removal, the Panasonic close curves women's electric shaver is the razor that you're looking for. Three ultra-sharp blades on this razor are combined with an ultra-thin foil that follows body contours close to the skin and removes patches of hair in a single stroke.
Flexible pivoting heads on the shaver help conquer the curves and bumps on your skin, leaving no hair unnoticed. A 2-in-1 product, the electric razor is both a trimmer and a shaver. Get rid of dense and long patches of hair with the trimmer and then get close to the skin with the shaver for a perfect finish.
Three independently floating flexible pivoting heads with ultra-sharp blades glide effortlessly on the skin, leaving no room for bruises or injuries, and the built-in pop-up trimmer comes with different attachments for details on the legs, underarms, and bikini line.
The completely waterproof shaver allows convenient shaving inside or outside the shower, and safety is reassured with its hypoallergenic blades that are soft on sensitive skin and help avoid irritation while shaving and trimming.
With a universal rating charger, the rechargeable battery on the razor charges in 12 hours and delivers up to 20 minutes of peak power shaving and trimming time in a single go. Leaving your skin smoother than before, the razor is compact, portable, and travel friendly.
Pros:
2-in-1 trimmer and shaver for a full-body shave
3 independent floating flexible pivoting and sharp blade shaving heads
Stainless steel hypoallergenic blades good on sensitive skin
Trimmer comes with tailored attachments for arms, legs, and intimate areas
Completely waterproof, making it useable in the shower as well
Universal rating charger
Compact, portable, and travel-friendly
Cons:
Gives only 20 minutes runtime on 12 hours of charge
3. Schick Hydro Silk TrimStyle Moisturizing Razor
The unique technology on the Schick Hydro Silk TrimStyle razor for women includes a hydrating razor and a bikini line trimmer, all in one device.
Combining the unique design of a usual razor with an advanced trimming technology, this razor shaves, trims, and transforms between either mode by simply flipping the handle. Moisturizing your skin up to 2 hours aftershave, the technology gives your skin the utmost care and importance that it needs.
The built-in waterproof trimmer is very easy to rinse clean under a tap and can be used in or out of the shower. Working well on sensitive areas, its hydrating technology keeps the skin moist and avoids any cuts or bruises. With 4 settings for customizing trim lengths, the adjustable combs give you a combination of cleanliness and safety.
As soon as you flip to the razor side of the Schick Hydro Silk TrimStyle razor, you will find 5 curve-sensing blades with unique skin guards that give you smooth skin with every passing stroke, being sharp enough to remove hair in a single stroke, without causing an irritation.
The best feature on the razor is the water-activated hydra-boost serum, formulated with Shea butter that is attached near the blades and is hypoallergenic and clinically proven to provide lasting hydration for up to 2 hours post-shaving and runs on a single AAA battery.
Pros:
Water-activated hydra-boost serum with shea butter keeps the skin moisturized 2 hours aftershave
2-in-1 trimmer and razor
Comes with 4 different hair length adjustment trimming combs
Hypoallergenic blades prevent irritation or cuts
Perfect for shaving intimate areas
No charging hassles or cords with 1 AAA battery usage
5 curve-sensing razor blades with skin guards that cover all the area on the face and body
Cons:
The motor is not very powerful due to less power requirement
4. Wahl Pure Confidence Rechargeable Electric Razor
Power and convenience lie in your hands with the Wahl Pure Confidence Rechargeable Electric Razor for women. The sleek body, along with its powerful motor, is the signature of a brand that has been part of the grooming industry for decades at a stretch.
With a rechargeable battery, this ladies trimmer features 3 interchangeable heads, a rotary facial shaver head, an eyebrow detailing head, and a trimmer head.
An all-in-one solution to all grooming requirements of a woman, the razor is gentle on the skin. It delivers irritation-free grooming that is ideal for shaping eyebrows, smoothing bikini lines, trimming underarms, dealing with peach fuzz, and removing facial hair. The handy guide combs included with the product allow different and uniform trimming lengths.
It comes with an included 5-position guide comb for the trimming head and a 2-position head for the detail trimmer. It also comes with a plugin charger and storage pouch making it portable and travel-friendly.
The blades are low maintenance self-sharpening, and leave no hassle in terms of cleaning by being waterproof. With a decent battery life of 1 hour on a full charge, this clipper is all you need in one.
Pros:
Trimmer and shaver in one product
Suitable for eyebrows, intimate areas, face, and other body parts
Trimmer has a 5-part attachment for hair length and type and 2-position guide combs for details around the eyebrows
Waterproof materials are easy to wash and maintain
Gives a 1-hour runtime on a single full charge
Self-sharpening stainless steel blades
Hypoallergenic materials that don't cause irritation on the skin
Powerful motor
Compact and travel-friendly
Cons:
Not very suitable for arms and legs
5. Philips SatinShave Essential Women's Electric Shaver
Shave quicker and smarter with the Philips SatinShave Essential Women's Electric Shaver that has a good grip in the hands and works as smooth as butter.
Use the product wet or dry; it will cause no hassle thanks to its anti-slip grip design and waterproof materials that facilitate easy use in the shower or tub. Sharp blades that remove hair in one stroke leave the skin softer than before and help shave quicker with less irritation.
Experience a cut and bruise-free shave on your arms and legs as compared to your manual regular razor blade with the hypoallergenic foil that protects the skin from razor burns, shaving bumps, and rashes.
Take the razor along wherever you go as it's cordless and compact ergonomic design makes it perfect for travel. Shave anywhere with this cordless battery-powered lady shaver. Operated withs simple AA batteries, the shaver leaves no hassle for cords or charging plus.
Pros:
Ergonomic and anti-slip design
Compact and travel-friendly
The hypoallergenic foil protects the skin from irritation or cuts
Fully waterproof materials make it easy to clean and maintain
Sharp blades remove dense hair patches in a single stroke
Cons:
Not suitable for face hair
6. ElectriBrite Razor for Women
Get 2-in-1 benefits with the ElectriBrite Razor for Women that makes hair removal for women on the face, arms, legs, body, armpits, and bikini lines done and dusted in minutes without any residue hair patches. Featuring multi-functional hair removal, including both facial and body hair removal, this razor does it all effectively.
Electric bikini trimmer for women uses hypoallergenic stainless-steel blades and floating foil technology that helps achieve close-to-skin safe shaving with no pain or irritation, even on sensitive skin. The waterproof design makes the body hair trimmer for women safe to use in the bath or shower.
The detachable razor head design and long cleaning brush make this easy to clean. Avoid any nicks, cuts, and irritation with this perfectly curated razor.
Cordless and rechargeable, the shaver has a built-in Lithium battery with 2 hours of fast charging delivering 50 minutes of shaving time. Portable and convenient for travel, the charger easily connects to a PC, power bank or direct power connection, etc. In delivering efficiency, this razor never disappoints.
Pros:
2-in-1 razor and trimmer
Suited for overall body hair removal
Hypoallergenic blades remove the possibility for irritation or bumps
Foil shaver allows close-to-skin shaving
Waterproof materials help in easy maintenance
Delivers 50 minutes of runtime on 2 hours of charge
Portable and convenient for travel
Cons:
The device may clog if not cleaned after every 4-5 strokes
7. Hatteker Electric Razor for Women
Equipped with all you need, the Hatteker Electric Razor for Women has 2 replaceable heads, a large body shaver head, and a small face shaver head. It helps customize hair shaving on your face, arms, legs, armpits, and bikini line in few minutes without any residue hair patches.
Made with high-quality electric hair removal blades, it has hypoallergenic stainless-steel blades that won't sting while using this electric hair remover.
Being a waterproof razor, it is entirely safe to use in the bathroom and easy to disassemble. Delivering a super long lifespan, you don't need to charge the device frequently.
A fast 1.5 hours of charging allows 60 minutes of shaving time. Owing to its small size and handle, this epilator for women is ideal for travel. Now you can easily shave longer hair with the straight blades at a 45-degree angle and shave short residual hair with the floating foil.
Pros:
Comes with two replaceable heads for a body shaver and a face shaver
Perfect for a full-body cleanup
Leaves your skin softer than before
Hypoallergenic stainless steel blades
Completely waterproof razor hence is easy to clean
Fast 1.5 hours of full charge delivers 60 minutes of shaving time
Foil shaver for short hair removal
45-degree blade for longer hair
Cons:
Cleaning after every 4-5 strokes is required
8. Remington WSF4810US Smooth & Silky On the Go Shaver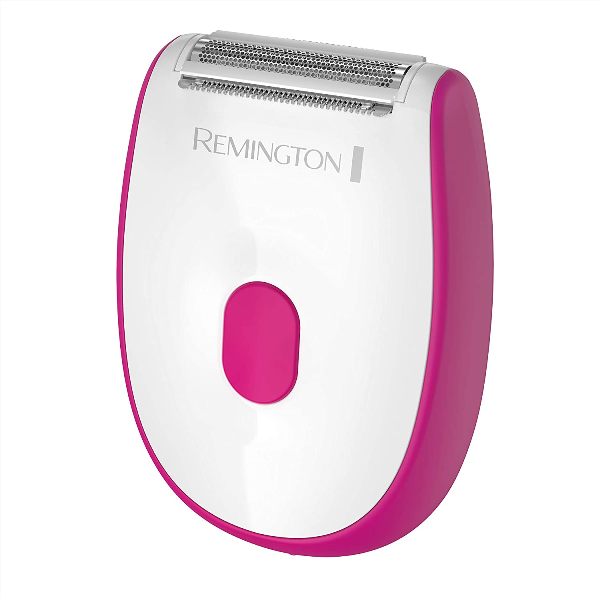 Make your shaving experience all about comfort and convenience with this razor from Remington. A combination of shaving blades that can capture hair at all angles get close to the skin while preventing nicks and cuts, and leave your skin silky smooth pos-shave. The 3 blade shaver is battery operated and runs on 2 AAA batteries that are not included with the product.
With 3 blades, the shaver is fast and gives stunning and smooth results in a short period. Compact in size, the trimmer is very portable without the hassles of cords and adapters, making it extremely travel-friendly.
The waterproof properties of the trimmer make it easy-to-clean and safe to use in the shower as well. The dual trimmer and shaver are optimum to cover the sensitive and intimate areas on your body as well.
An updated and ergonomic shaver design includes three blades that capture hair at all angles and cover all the curves to give you the perfect cut. The special design lifts, guides, and cuts flat-lying hair for smooth and silky results, including the hair in the bikini area, leaving softer skin with every stroke.
Pros:
2-in-1 trimmer and shaver
Compact and portable, no need for chargers or cords
Updated and ergonomic design make it easy to hold
Blades can cut at all angles
Hypoallergenic materials cause no irritation
Special design lifts and cuts flat hair without trouble
Waterproof and optimum to use in the shower as well
Cons:
Not appropriate for the face shaving
9. Liberex Electric Razor for Women
This 2-in-1 shaver and trimmer from Liberex is designed for grooming body and facial hair smoothly and safely. Causing zero skin irritation and is perfectly suited to all skin types, and you can use the device with both shaving cream and without. Use the shaver without soap, cream, and water and get the smooth and easy shave that you have always dreamed of.
Forget about using multiple tools with this one as the ergonomic handle on the device delivers effortless control. Adopting a dual-sided hypoallergenic blade head technology, one side of the razor can be used for the face and one side for the body. The sides of the razor have protective tape for better gliding, especially on sensitive areas, maintaining close contact with the skin for an even shave without any cuts or bruises. The high-speed motor operates at 6500 RPM and allows each hair strand to be captured, giving you a shave that's both efficient and comfortable.
It runs on a single AA battery, which is included and delivers 60~180 minutes of continuous use with each battery—no hassles of adaptors or cords. The product is compact enough to take it anywhere you like. Simply clean the device with a small brush provided along, and the detachable cutter head is washable under a running tap and can be dried easily. It is recommended to drip oils after each cleaning. The Liberex Electric Trimmer is also a perfect gift for the summer.
Pros:
No hassle of cords or adaptors as it runs on a single AA battery
2-in-1 trimmer and shaver
3 blades on the shaver give a smooth and even cut
Has a face shaver and a body shave rin one product
Compact enough for travel
Is fully waterproof and easy to clean under a running tap
A perfect gift for the summer
Works well on sensitive areas and has a protective tape around the shaver
Cons:
Batteries are not rechargeable
Thus, we wrap up the 9 best electric razors for women in the market so far. But before you jump straight to buying a razor for yourself, we have answered a few frequently asked questions about women's razors:
What To Look For In A Perfect Electric Razor?
One of the most common questions, before buying a razor, it's important to know your requirements. Here's what to look for in a perfect razor:
1. Trimmer or Shaver
Not everyone is a fan of shaving, and some women like to trim their hair instead. Thus if you like a combination of trimming and shaving on different parts of the body, go for a product that includes a trimmer and a shaver both. If you have a simple shaving requirement, go for a shaver only as that will be easier to maintain as well.
2. Battery Life
It is important to have good battery life in women's razors. As most women use a shaver or trimmer for full body hair removal, the area becomes very large to cover, and hence a good motor and battery life of an electric razor is a must. Thus look for a fast charging or replaceable battery razor.
3. Protection
Working on sensitive areas can be tough and if the right razor is not used. Sensitive areas need special attention; thus, you need to make sure that the product is waterproof and the blades are hypoallergenic so that they don't react with the skin and cause irritation or bumps. Check the packaging or specifications on whether the razor is good for intimate areas or not if you wish to use them for that purpose.
4. Maintenance
Lastly, but most importantly, the razor should be easy to maintain. As the hair can often get stuck in a trimmer or razor, a simple brush or rinsing under the tap should do the job for cleaning. An easy to maintain razor is important, especially if you're going for a full-body shave and will need to keep cleaning the device.
How Are Electric Razors Better Than Regular Razors Or Waxing?
If you are equipped with a certain budget, you should prefer an electric razor over a regular one. This is because electric razors have many pros over regular razors, such as:
They make shaving faster and more efficient. Since they already attract hair before shaving them, the razors are better than regulars and remove all the hair in a single stroke.
They are painless- unlike waxing. No hot wax or pain is required while using electric razors.
They can be used anywhere- they are portable, and one device can offer help in both trimming and shaving. Its always better to keep one handy during travel.
They work on both dry and wet skin. This is a major pro as it removes the need for soaps, foams, creams, etc.
They reduce the nicks and cuts that shavers may cause as they don't cut extremely close to the skin.
Lastly, they offer a variety of options for all body parts as compared to regular shavers that work only on the arms and legs.
How Do You Use An Electric Razor?
Here's how to use an electric shaver in a few simple steps:
Charge: Ensure that your razor is fully charged once you begin to use it. Most razors are cordless, hence should be fully charged.
Use: Simply go ahead and run the razor. Put it over the area where you wish to shave and simply move in strokes in the direction o the growth of the hair like in a regular razor.
Clean: Finally, rinse the razor under a tap to remove all the hair to prevent it from getting stuck in the razor for the future. If used dry, clean it with a brush. This a major part of hygiene and must be taken care of while shaving.
Conclusion
Women's razors have heavy usage and thus should be chosen accordingly. Monitor your requirements and grab the razor that is perfectly suited for you!