Salt and pepper are among the most desirable hues for women whose upkeep varies. All of it depends upon your natural hair color. For instance, if you naturally have salt and pepper hair, it may not call for high maintenance. However, if you have darker hair with not these shades, it might demand higher upkeep.
The hairstyle offers you a great way to showcase your hair with the coming of age. As a result, it became one of the hottest trends in 2023. It is a great mix of black, gray, and silver that looks attractive and elegant.
Try These Chic Salt and Pepper Hairstyles
Let's look at our collection of outstanding salt and pepper hair color ideas. Do check them out before your next hair color appointment.
1. Blonde Hair With Highlights
Women having naturally blonde hair can go for this hairstyle. This look is super funky and adds contrast and individually to your hair. With this look, you can go for loose curls and bring the curly strands around the face to accentuate your facial features.
For women with fair skin tones who want a formal look, go for this look. It will add shine and sparkle to your natural hair and is a subtle way to embrace your grays. Just get a short layered cut and middle part of the hair to get the exact look.
3. Pixie Bob for Older Women
Another simple look for women over 40s with medium to thick hair is the bob cut with grey hair. This color will perfectly complement your natural hair color and is best for women wanting to blend in their natural gray locks.
4. Long Lustrous Hair
If you have long, healthy locks and want to look for a stunning unique look, this is the perfect option. These salt and pepper highlights blend naturally with your hair and give a great look, suitable for any special occasion.
5. Straight Long Hair
This dark salt and pepper hair is another statement-making popular hair color. While growing out and embracing grey, it is best to move out naturally and bleach your locks. However, you can get regular haircuts to make your locks look the best.
6. Coily Bob
For black women with naturally curly hair, this is a great option. This shade gives great contrast and depth to your hair. It will require more maintenance using the right hair care products.
7. Ombre Bob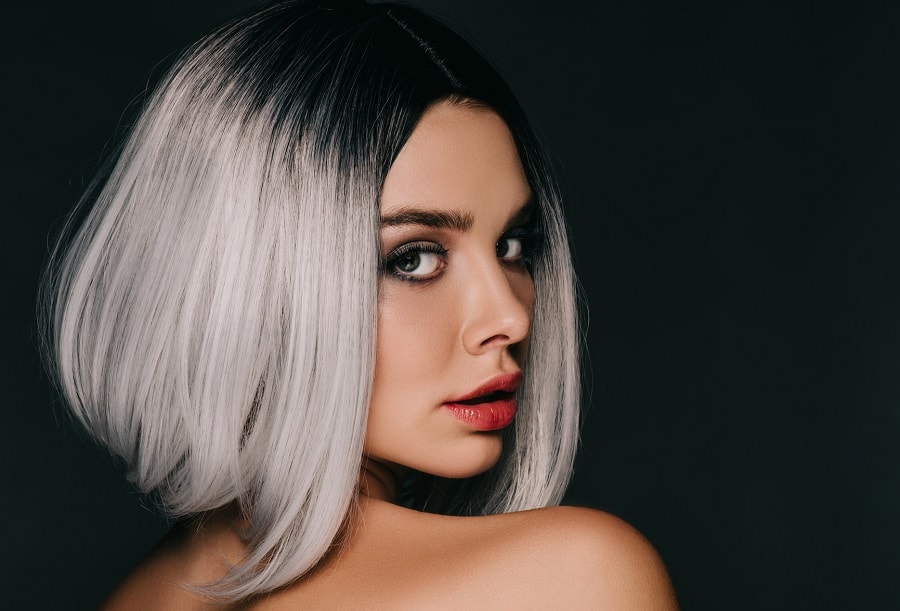 Want to get a stylish and classy look with grey hair? Go for this ombre shade, paired with a bob cut. This is an amazing way to style your locks. Put on some makeup and make the look ideal for a date night.
8. Bold Pixie Cut
For women over 30s, who want to embrace their natural grays, while going all the more stylish, this is the perfect hairdo. You can get a short pixie cut, which will be easy to style and maintain while getting a ready-to-go look.
9. Curly Pixie Cut
This hairdo is most likely to go well with women over their 40s. This salt and pepper shade with black undertones allows you to get a youthful look while sporting a trendy haircut at the same time. Women with any skin tone can go ahead with this look.
10. Low Loose Braid
The braided silver-grey hair with dark undertones is another hairdo for women in their early twenties. It will give you a unique look and go well with medium length, straight and thick locks, and fair skin tones.
11. Asymmetric Bob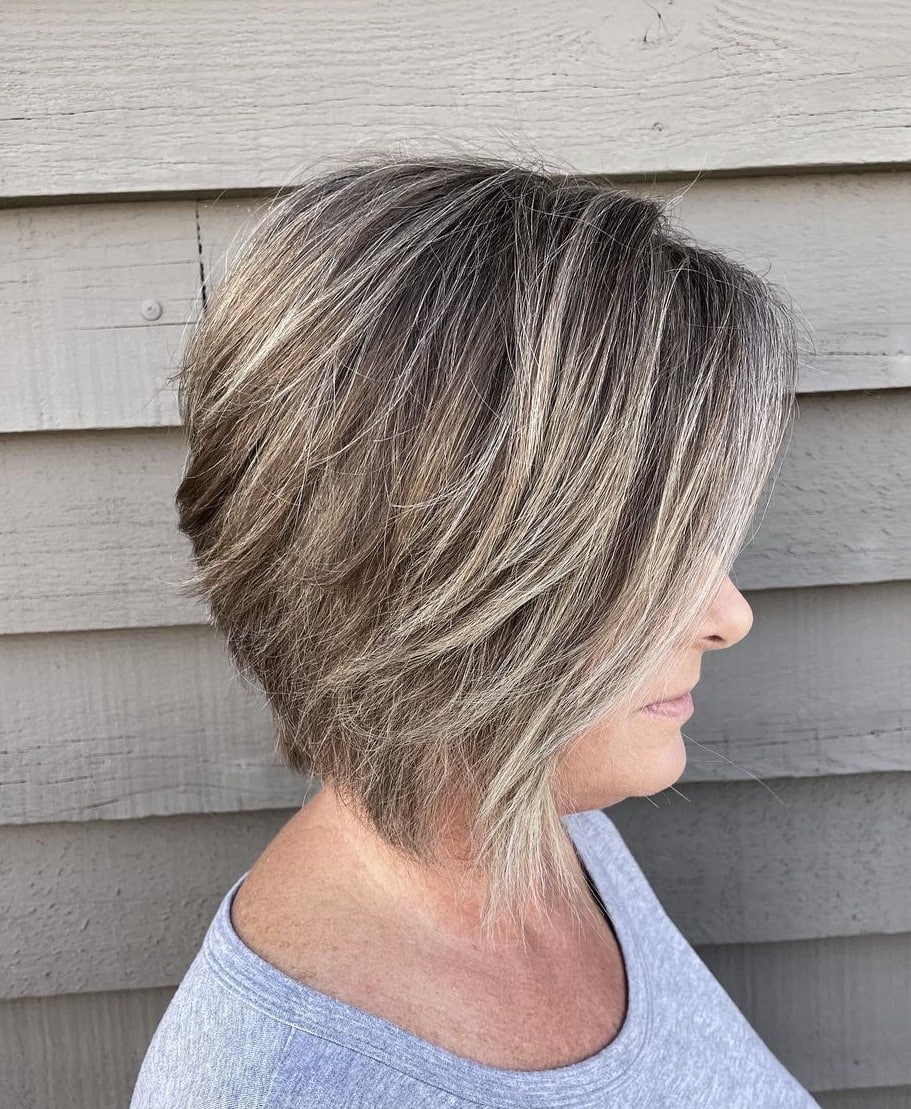 Silver hair color with brown undertones, paired with a bob cut, is another easy-to-style look. Women over 30s and 40s can definitely try this look and make themselves appear younger. This look makes styling easy and allows for a wash-and-go hairdo.
12. Wavy Salt And Pepper Highlights
A great hairdo, suitable for any occasion for women in their early twenties, is the wavy gray highlights with a golden touch. This is an ideal hairdo for women with fair skin tones and thin grey hair as the waves create a voluminous look that can be worn to any event.
13. Inverted Bob
For women with round faces and short grey hair, this is the best option. This shade will blend in with your hair color, giving a natural look. Moreover, short hair is a great way of incorporating gray hair with a textured style.
14. Ombre Box Braids
Women with dark skin tones who want to try a different shade that is not too vibrant can begin by dyeing the locks at the ends. This will change your look and save you from getting regular touch-ups. Moreover, the long box braids will make the look ideal for any occasion.
15. Curly Ombre Hair
Salt and pepper are a natural way to blend your grey locks. Since grey hair grows in small pieces, it will typically have different levels throughout your tresses. Going with this hue will repeat this pattern, creating a seamless finish.
16. Edgy Haircut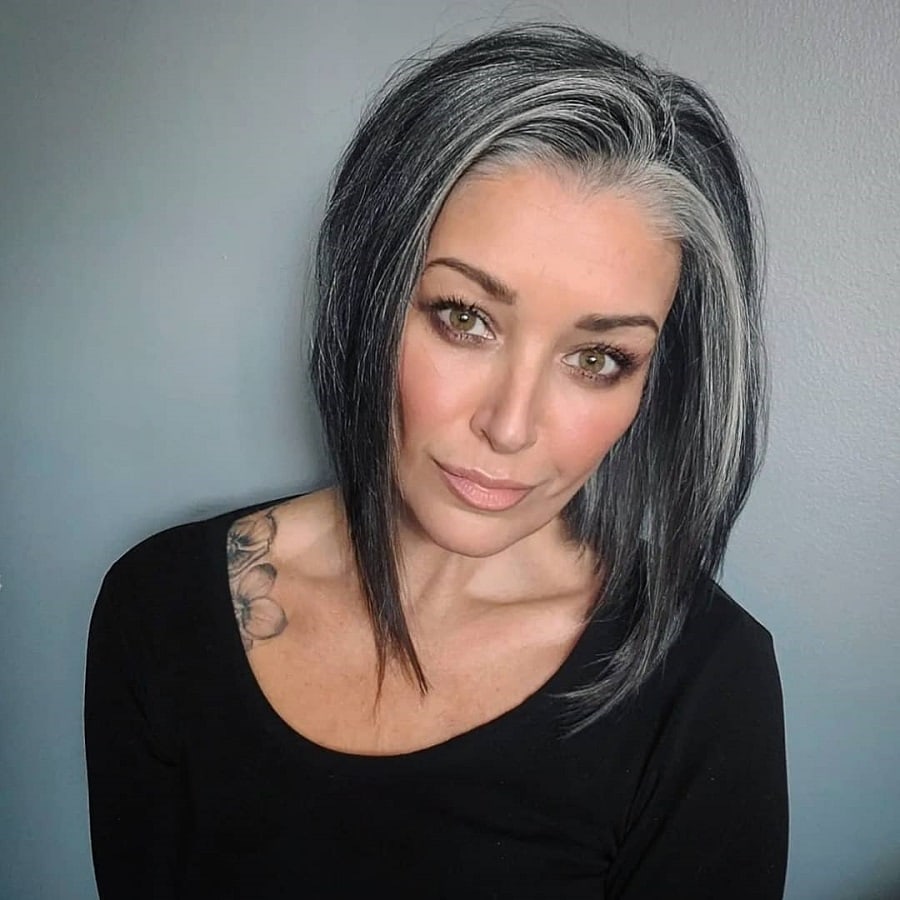 Go for these grey highlights with black undertones to add contrast to your hair without worrying about high maintenance. The natural color at the base and the statement color on some strands will give your hair a seamless look.
17. Wavy Greyish Ends
The hairstyle is flattering for women of any age. As for the elderly, it offers a youthful-looking glow and gives movement to the hair. It is an easy way to give your locks a fuller appearance.
18. Chic Silver Highlights
In order to get a simple highlighted look that will elevate your style, opt for these salt and pepper highlights with a dark base. It is a great choice to get a natural yet bold look that will brighten up your skin's complexion.
19. Long Sleek Straight Hair
The silky straight locks with silver shades are great for women with darker skin tones. It gives your hair a bright, shiny appearance. However, it might take more than one color appointment to achieve this look if you have naturally dark hair.
20. Wispy Bangs
Women over 40s with a fair skin tone can go ahead with this look. This salt and pepper shade will add a dimension to your hair and give you a beautiful look. Moreover, the loose curls and bangs elevate the style, making it ideal for any occasion.
Although gray hair used to be something we all wanted to hide but has become a trend today. According to several hairstylists, patience is crucial in attaining the salt and pepper hair color. It involves close contact with your stylists, frequent salon visits, and the use of high-quality hair care products.