There is no one else other than the hottest popstar in Tinseltown – Rihanna, serving up the best fashion and beauty looks without fail. Even though we have got to be patient for Rihanna to drop her new album, she is never late to experiment with the latest hairstyling trends.
We often find the singer stepping out of her comfort zone and changing her hair like a chameleon. Be it a sharp and demure style or something flashy and exciting, you can rely on Rihanna's short hairstyles for your next hair inspiration.
Trendiest Short Hairstyles by Rihanna
Here is an exclusive list of the 16 top Rihanna short hairstyles that will steal your heart.
Modern Pixie Cut
After more than ten years, Rihanna stunned netizens by returning to the super short modern pixie cut.
The trimmed cuts incorporated within the pixie present a unique edginess to this simple cropped hairstyle. Worn with red lipstick, the feminine charm of this updo still stays intact.
Short Curly Bob
Next on our list is the all-jet black short asymmetrical bob that looks the right amount of dressy.
In contrast, a side part sets the stage for the bob to fall beautifully. The small curly ringlets hanging from the side of her face add dimension and depth to the bob.
Two-Toned Layered Bangs
If you want to make a bold statement, this ombre side-swept bob is the perfect hairdo. The caramel blonde blends seamlessly with the black tone to create a high contrasting color palette.
The bangs draping over the eyes give this style an understated elegance. This hairstyle is best suited to heart-shaped and angular face shapes.
Sleek Straight Bob
A sleek straight bob is one of the short hairstyles by Rihanna that never seems to disappoint. We can notice that the edges of this classic hairdo lightly graze the chin. This style imbibes both a minimalist and striking aesthetic.
Bright Red Layers
If you love bright colors, you must give a try to this fiery layered bob.
This hairstyle gets its much-needed volume from the short outward curving layers that cut through all the sides. Go light on the makeup to let the flaming red tones pop out.
Black Wrap Hairstyle
Rihanna paid tribute to the African and Latin American women by sporting the famous protective doobie wrap style.
Use a circular comb or brush to neatly wrap your hair around the head like a thick headband to make this hairstyle. For securing the hair, use the medium to big-sized bobby pins at equal distances.
Tousled Bob with Bangs
Are you looking for unique short hairstyles of Rihanna's that feel carefree and fun?
Your search ends with this tousled chin-length bob with beachy waves. The slightly separated bangs in the front look very adorable, especially if you have a more prominent forehead that you wish to cover up.
Wispy Pixie Cut
This wavy fauxhawk hairdo is ideal for the touch of drama in any formal event.
The style has a taper in the back that goes up to graduate with the showy curl sitting on the temple. Good styling products such as a texturizing spray or mousse will help you to ensure that the hairstyle holds well in any condition.
Brunette Pinned Updo
A fantastic way to deal with your long tresses would be to pin them up at the top of your head with a roll in the front.
The lovely golden brown shades compliment her skin tone to give a sunkissed glow. This hairdo is great for women with sharper facial features since all the hair is swept off the face.
Super Asymmetrical Bob
The possibilities for experimenting with a bob are endless. This chic concave bob provides an exciting framing to your face. If you know how to work your way around a hair straightener, these types of hairstyles are for you.
Angled Curly Bob
Rihanna gave a distinctive aesthetic look due to the short black curls. The rather messy look of the pinned updo well complements the nude lips.
Half-Shaved Colored Hairstyle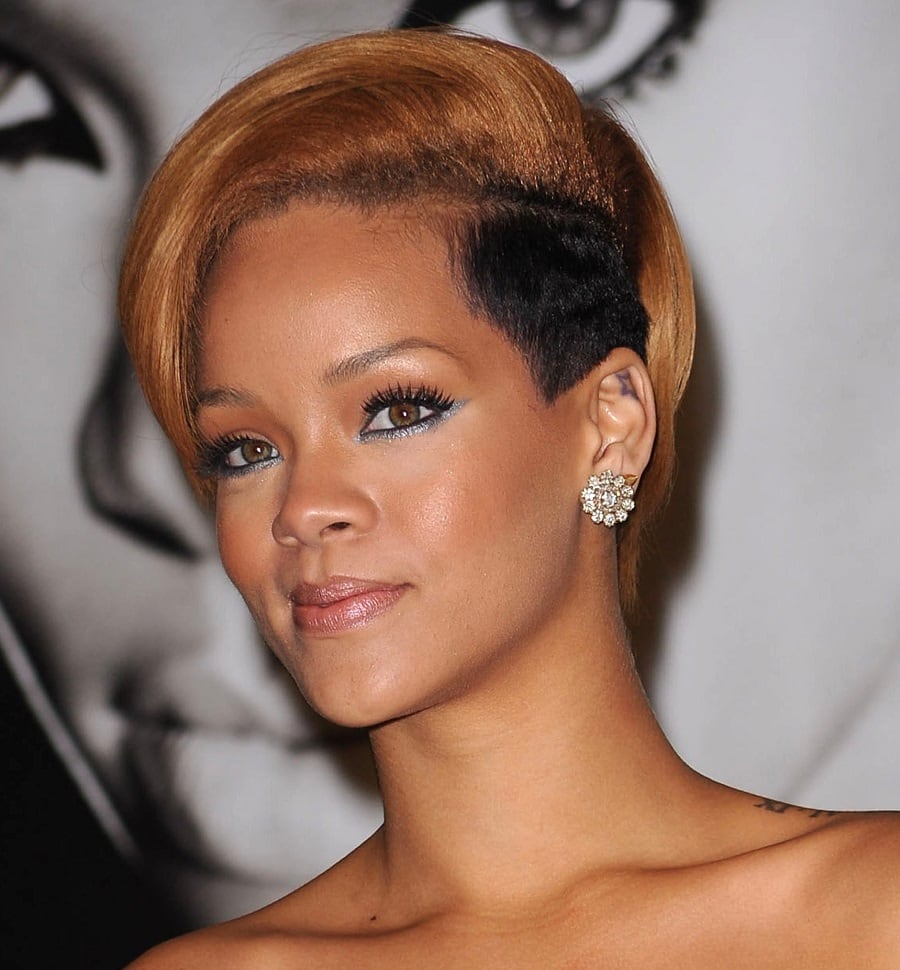 For all the women wanting to explore the punk and grunge rock side of the world of hairstyles, look no further than this undercut. This perky shaved style features a warm light brown and black shade.
Side Fringed Short Hair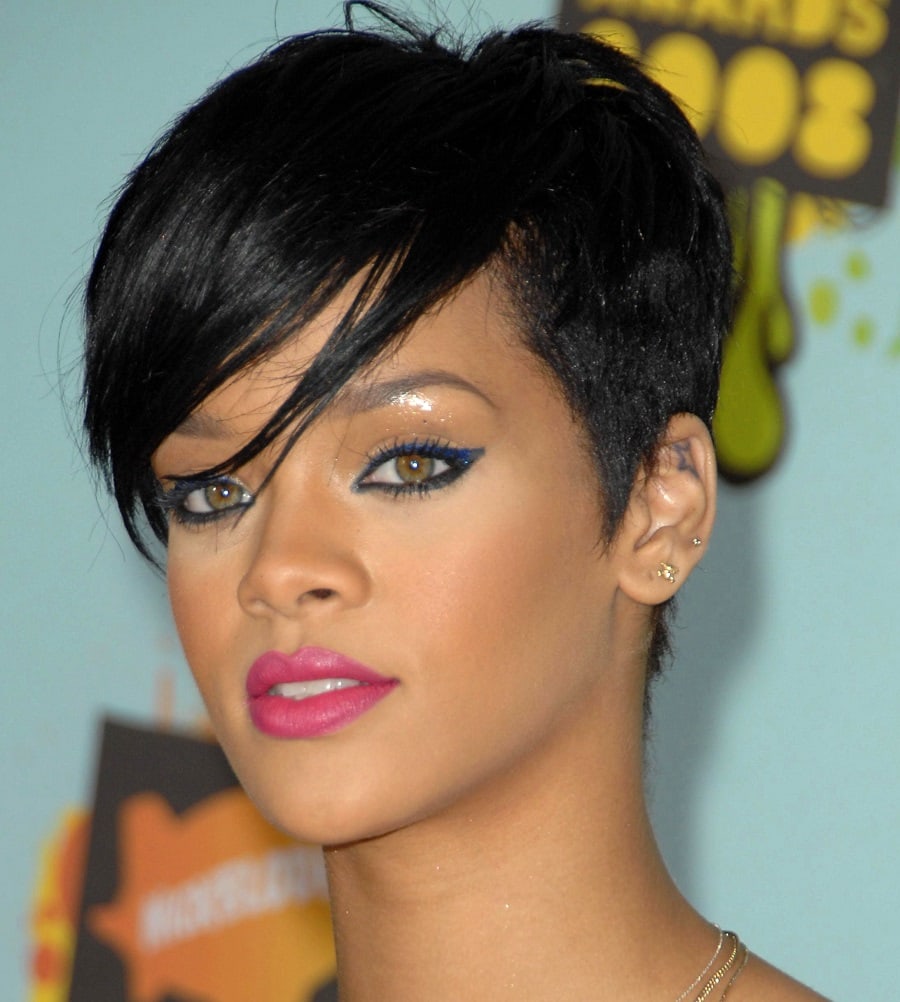 Rihanna is the queen of carrying off short pixie cut styles with panache. Teamed up with full side bangs, this pixie-cut bob makes for a very youthful hairstyle.
Blunt Bob with Bangs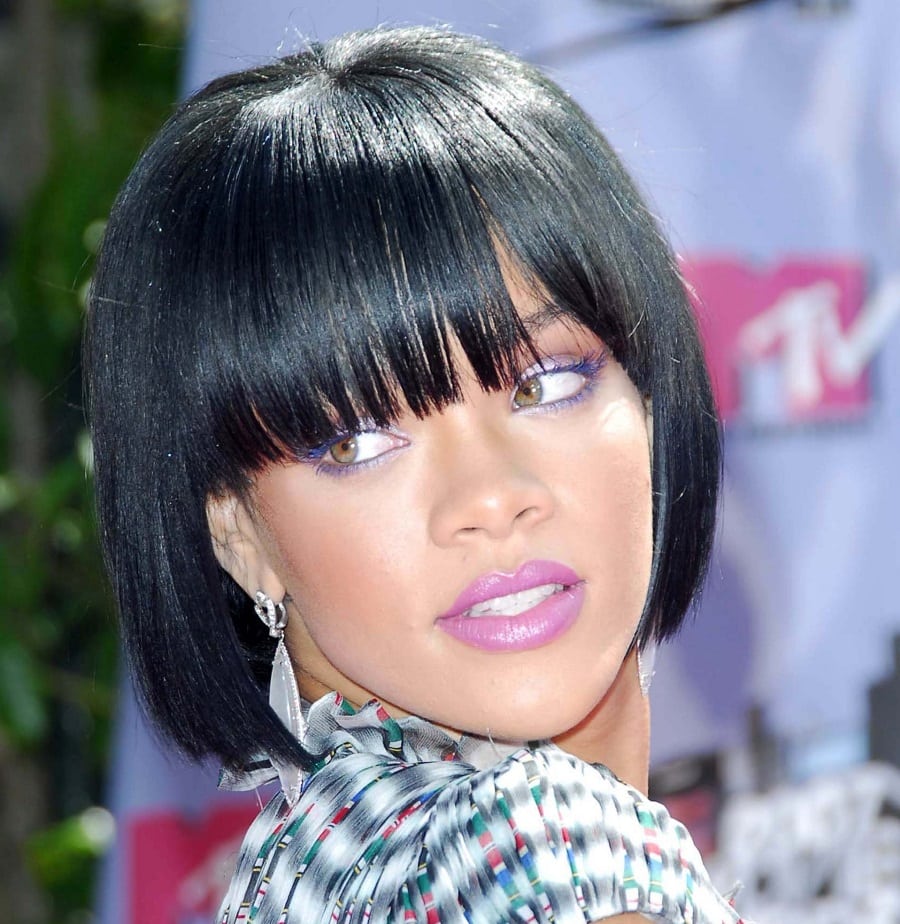 The short blunt bob is the stylish hairstyle that suits oval shape faces the most. This polished hairdo with full block bangs is excellent for the day and evening looks.
Spiky Bouffant Hairstyle
Twist up the typical pixie hairdo with an extravagant focus of volume at the top front portion of the head.
The bouffant is colored in shades of a honey auburn that looks pleasing to the eye. You can easily maintain this style by creating a regular trimming routine for the sides.
Cherry Red Curly Hair
This is one of the short colored hairstyles by Rihanna that helps you channel the glam diva look. The wild curls in this afro-style hairdo are dyed in a cherry-red color for an eye-catching effect.
There has often been a strong contention that Rihanna looks better in short hair than in long hair, and now you have seen the looks which prove that it's all a hundred percent true. If you also prefer to keep your locks shortened, turn to Rihanna's short hairstyles featured above.