Girls who don't want to change their hair texture can look for pineapple hairstyles since they keep hair frizz-free and protect curly hair. With just some little twists and tricks, you'll have these creative ways of styling your natural hair.
These pineapple hairstyles were mainly done by tying your natural hair loosely on the top while going to sleep. It can be styled on all sorts of hair lengths; let's see how it can be done stylishly.
Stunning Pineapple Hairstyles for Natural Hair
Let's explore easy and most convenient ways of preserving your style while going to sleep.
Brown Highlights with Coily Hair
Highlighting your hair brings a unique glow to your hair. Brown highlights will be a great color to start with. It's warm, subtle, and looks great with black hair.
Your beautiful curls will look double beautiful in these highlights. Tie your hair to show the highlights clearly.
Messy Updo for Long Hair
Why bother making any tough hairstyles when you can just make a messy updo of your hair.
This will look very beautiful on long hair as your hair will fall on your forehead. Simply tuck your hair upwards and let the curls flow on every side.
Crown Bun
Another pineapple hairstyle idea for medium-length natural hair is simply to go for a crown bun. The tight curls will spread all over your head, making it look like a bouquet of curls. Properly moisturize your hair before this so that your hair doesn't hurt while styling.
Updo with Headscarf
A headscarf can be a magic accessory as you can style your hair in any way using it.
To make a really cute hairdo, take the scarf and cover your hair from the back. Then, all your hair will come on the front giving you a great hairstyle.
Classy Top Knot with Tendrils
A crown bun can save you from a bad hair day. All you need to do is oil your hair a little to settle the frizziness.
Then, grab your long hair and make a fine bun exactly in the middle. Remember to leave the short curls on the back for a cute finishing touch. This can become your quick hairdo for daily chores.
Curly Bangs
Looking for pineapple natural hair ideas with bangs? Don't bother to get a haircut because we've got a simple trick.
Grab your hair from the back and press it forwards. Hold with some hairpins. Now you'll be able to see your curly hair flowing on your forehead just like bangs do.
Long Blonde Bangs
Here's another way to get artificial bags if you have long hair. Wear a black cloth headband. This will divide your hair horizontally.
Tie the hair in the back in a low updo and let the curls in the front flow on the sides. You'll get the appearance of long side bangs.
Textured High Bun
Curls can also be frizzy, but that doesn't mean you can't style them. A high and neat bun can be a great way to hide the frizziness of your hair. This can only be done if you have long hair, as short curls will fall here and there.
Pastel Purple Weave Hairdo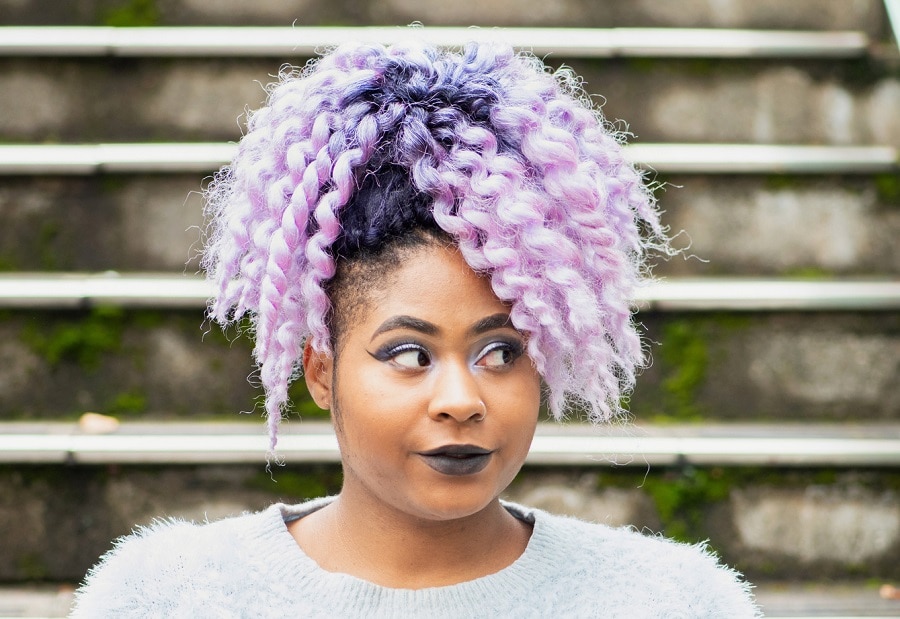 Another one of the pineapple natural hair ideas for long hair is to make a weave ponytail. The weaved hairstyle looks very unique and stylish.
To increase the level of uniqueness, color your hair in a lavender shade. The weaves will flow beautifully in this unique shade.
Pineapple Hair for Wedding
Why get a haircut or damage your hair for the wedding when you can easily make an awesome hairdo yourself. Gel your hair and make a neat ponytail. Press it on the front to create a nice wedding pineapple updo. Wear big earrings as the hair is in an updo.
Hairstyle for Women over 40
Don't be afraid to show your face's natural beauty, especially when you are 40. Make a nice donut bun with your long hair for a cute office hairstyle. A bright-colored outfit will increase the glow of your face.
Blonde Highlights
We are telling you, get blonde highlights for your short hair now. As you can see, it looks so pretty with black hair. So just let your curls flow in this beautiful shade.
These pineapple hairstyles for natural hair must've brought a smile to your face. Now, you don't have to worry about which hairstyle to make any more in the morning. Any of these hairstyles will look beautiful on you.
From now on, whenever you'll look in the mirror, you'll think about trying a new hairdo because all of them are so beautiful. Even your partner will keep looking at your gorgeous hairstyles. So start your day with our list, and you'll be happy forever.