You can't deny it, braids are a classic look. There are so many different ways to wear them that you'll never get bored. If you're looking for something unique, then you've come to the right place, because we're going to explore milkmaid braid hairstyles today.
The concept behind this style of plait is simple. It's usually a dutch braid that wraps around the head in the style of a crown. Once you start adding different stylistic elements, though, that's when things get more fun.
There are dozens of different ways you can tweak this milkmaid braid style to fit your aesthetic.
Best Classic Milkmaid Braids
Some of the styles below can look intimidating at first glance, but they're pretty easy to achieve. Let's start browsing!
Braided Updo
The purest form of this milkmaid braided style is an updo where the only focal point is the braiding around your head. Form several medium braids and wrap them around the front of the hairline.
Make sure the rest of the tresses are pinned up or tucked in and nowhere to be seen at the back of the head.
Single Thick Plait
Here's a look that's similar to the first one, except this one has a single braid forming the focus element of the style. It's made of all the hair and wraps the whole way around the head.
Leave a few loose strands to fall by your face to ensure you don't look too neat.
Youthful Braid
Milkmaid braid hairstyles always look good on younger girls and they help retain a youthful aura. Form the braid a little further back from the hairline.
Make sure there's a middle part visible underneath the braid and leave a few flyaway hairs at the back of the head.
Vintage Look
Looks like this were very popular in the early 20th century and even before that. Part your hair to the side and form the plait a few inches from the hairline.
Pull the rest of your locks into a loose updo at the back of the head.
Messy Tresses
Every modern hairstyle has a messy version of it that some women opt to wear. There's just something so carefree about having a lot of flyaways sticking out of your large braid.
Leave a couple of strands to frame the face and get highlights on one of these strands for an extra pop of color.
Beehive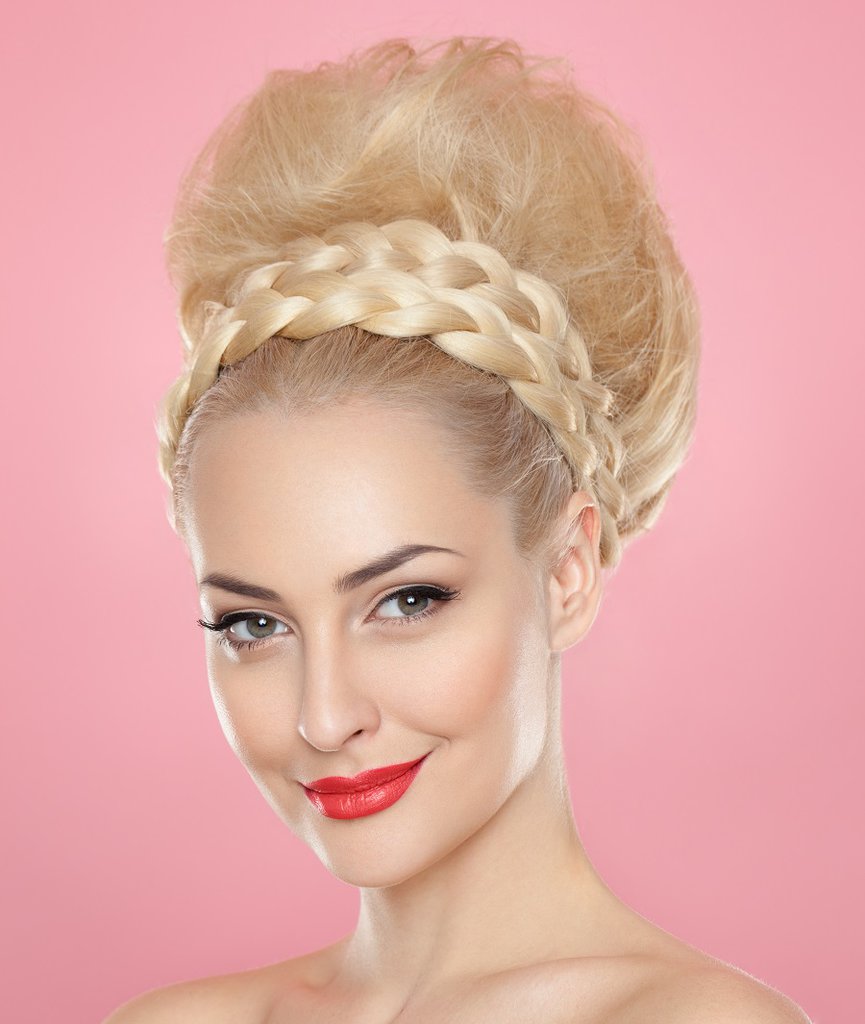 Do you want a retro milkmaid braid? Form a messy beehive and wrap your plait around in front of it. Keep all the back of your hair pinned up and secured in the voluminous section of your hair.
Half Up
Not every braid of this style has to be a full updo. This is a perfect look for a wedding. Create the braid a few inches back from your hairline and leave the rest of your tresses loose.
Let the loose tresses form a wavy texture and secure some of them at the back of your head.
Long Bangs
Some women don't like having a bare forehead with milkmaid braid hairstyles. In this case, get some long bangs that cover one side of the forehead.
Keep the rest of your hair up in an updo so the plait is the most highlighted point in your look.
Decorated Braid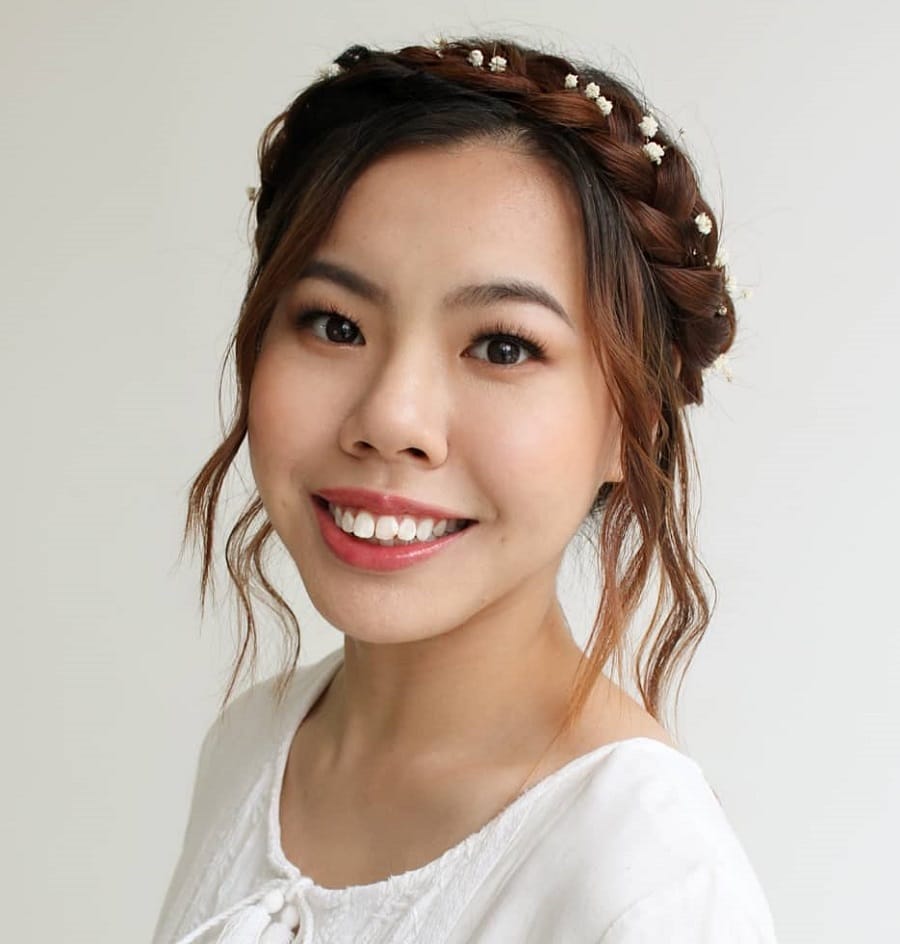 If you want to spruce up your look, consider adding a couple of flower clips to your braid. It'll set you apart from the crowd.
Leave several wavy strands loose to help frame your face also.
Dark Roots
Looking for a way to make the plait stand out even more? Consider dying it a light shade and letting your dark roots grow back heavily.
Root regrowth creates a very natural two-tone look that also creates a lot of contrast depending on the color you dye the rest of your locks.
Two Tone Look
Women with very thick hair might like to spice things up by adopting a two-tone look. Wear the lower layers of your hair a darker color than the rest.
Form the braid right along the hairline and use it to keep those thick tresses out of your face.
Thick Brown Tresses
Wearing this style in brown hair easily gives you a look of innocence. Let the plaits go all the way to the back of your head with just a few strands loose at the front.
Fishtail Milkmaid Braid
Here's a unique look that will set you apart from the crowd. This style is usually made with Dutch braids. Here, however, there's a pair of fishtail braids wrapped around the head.
Leave a single curly strand by the face to help offset the rest of the look.
Braids with Full Bangs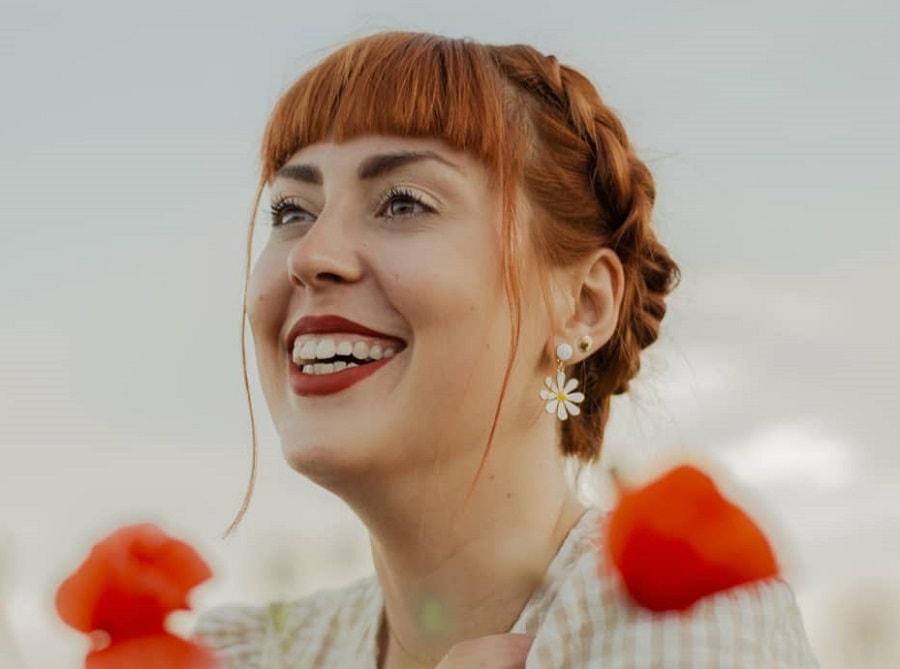 Some women don't like how they look with all their hair pushed out of their face. You can get bangs with braid to combat this.
Leave two slightly longer strands on either side of your bangs. These will do wonders to make your look far more dynamic.
Low Braided Updo
Wearing your milkmaid braid hairstyle low on your head is classic. It's usually worn like this for formal events such as weddings.
Leaving a few curly strands out by your face makes sure the look doesn't become boring or too plain for a special occasion.
Pearl Decorated Plait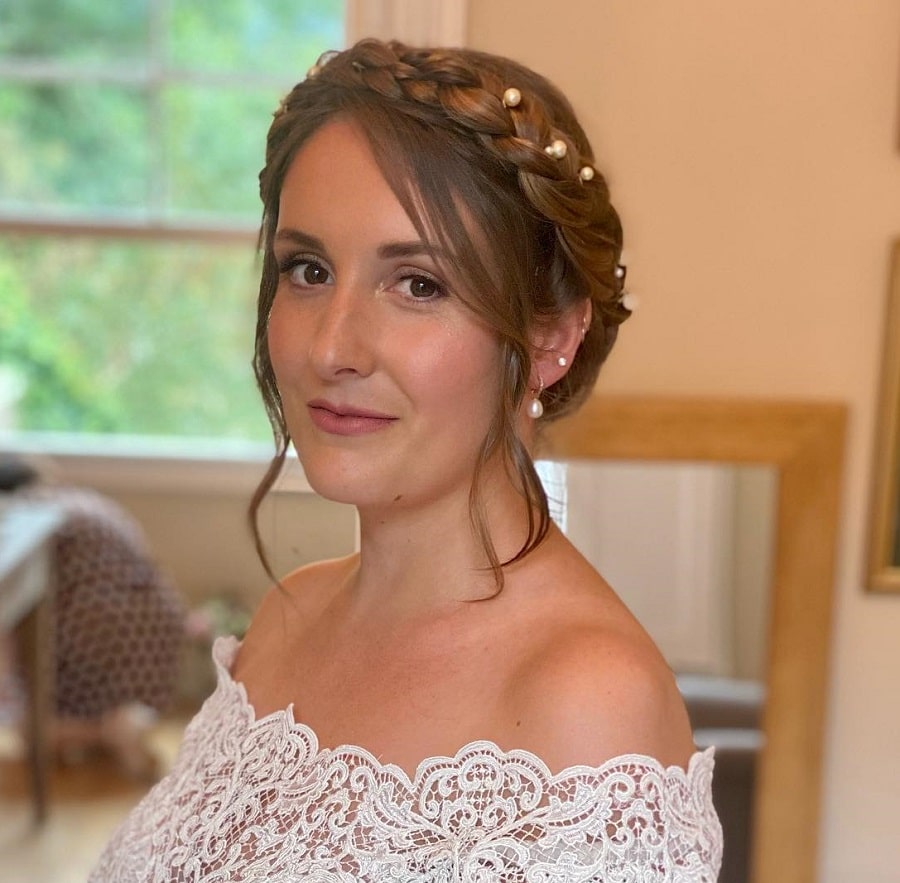 Here's another version of the look that will work perfectly at a wedding or another special occasion. Add some pearls to your plait to make sure you look extra fabulous.
Leave several bits of hair loose to frame your face and gently brush across your forehead.
Dark Tresses
You mostly see this style on blonde or light brown tresses. Wearing it on really dark hair creates a mysterious vibe that's perfect for fall and winter.
The style starts a few inches back from the hairline and fully wraps around the head. Leave a side parting visible.
Colorful Wrapped Braid
Many milkmaid braid hairstyles only wrap partially around the head. Other ones only have some of the hair braided. This style has all of the hair in plaits that wrap the entire way around the skull.
The red and yellow hair colors will set you apart from everyone else you typically see wearing this style.
Loose Milkmaid Braids
Most of the time the braids are formed tight and thick as they wrap around the head. Here the plaiting is much looser and the braid thickens as it gets lower on the head.
Accessorize with a large hair clip to help turn this vintage-inspired style into an everyday look.
Purple Locks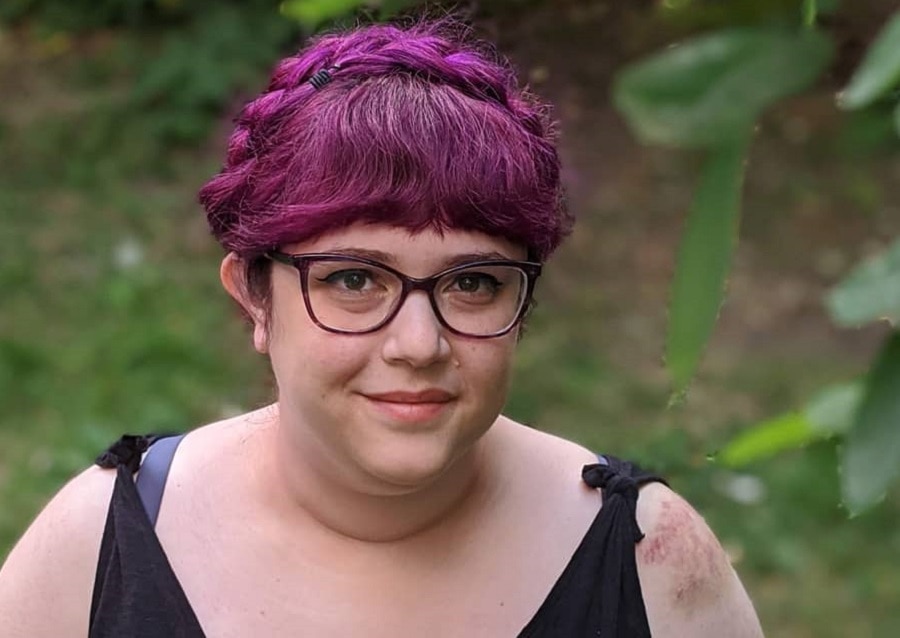 Do you love spooky or unexpected hair colors? Consider going purple. Wear bangs so you can maximize your color. Form a simple braid starting on top of your head then pull it all the way around.
Secure the braid just behind your bangs so the end of the plait is visible from the front of the style.
There are a surprising number of ways you can mix and match style elements to form a milkmaid braid hairstyle that's unique to you.
Choose a hair color that matches your vibe and skin tone then select how tight or loose you want your braid to be. You don't have to stick to the Dutch braid, either. Try out a fishtail braid, French braid, or something else, and see how it looks.