Choosing the right hat to enhance your look, you need to consider  different types of hats, the shape of your face, and the hairstyle you want to keep
You can use varieties of items to compliment your dress and go well with your looks. One such popular accessory is the hat. Hats have been used since the Middle Ages as a symbol of class, dignity, and standard. So it is pretty obvious that people even today use hats as a symbol of fashion.
But there are some minor tweaks in the fashion scene using hats. There is a wide selection of hats designed to fit different people.
And before you choose one, you will also have to consider the shape of your face. It's easy to choose a hat but to complement your attire,  you will have to be a bit pickier.
But don't you worry, to help you make the right choice, we are going to talk about all the different hats available, and the one you should go for.
1. Hats For Round Shaped Faces
If your face is symmetrical, it is likely that your face is round. You will notice that with a round face the cheekbones are not visible, your face will have a round appearance with no angle or edges.
With a round face, a round hat will not look good. You need something asymmetrical, a hat that has sharp lines or slanted rims. This will reduce the roundness of your face.
The hat needs to be wider than the face so that it appears slender. The perfect type of hats for a round face would be a fedora.
Round tall hats should be avoided. Otherwise, you will look awkward. For some more amazing round hat options you can check out the hat guide on hairstylecamp.com.
2. Hats For Diamond Shaped Faces
Diamond-shaped faces have some unique features. Typically, a person who has a diamond-shaped face will have thinner jaws and a small chin. Their cheekbones will be the widest part of their face. The forehead will be much narrower compared to others.
Since the people with diamond-shaped faces have thinner jaws and a small chin, they need to adjust the thinness with their hat. This is why a hat with a flat surface will be good for them.
Flat caps and beret are very well suited for people who have diamond-shaped faces. The types to avoid are long hats, which will make your face appear longer.
3. Hats For Square Shaped Faces
It is very easy to spot a square-shaped face. If the jawline has minimal curves, is slightly angled and the sides of your face are quite straight then you have a square face.
Now, as mentioned before, square-shaped faces have strong jawlines and the cheekbones have sharp edges. That is why a hat that can make the face appear much softer is suitable for you. Beret hats, bowler hats, and classic baseball hats are perfect choices for the square-shaped face.
But you might want to stay away from hats that are edged or have thin box-like features. Hats like Newsboy and Cloche would be a very bad choice for a square-shaped face.
4. Hats For Heart-Shaped Faces
Heart-shaped faces have wider foreheads. But the chin gradually gets thinner. Your jawline will be slender. The jawline and cheekbones will be the widest part of your face.
Heart-shaped faces have much wider and larger foreheads compared to the other face shapes. You must avoid any hats that are wide or large.
A big hat will make the forehead appear even wider and bigger while making your chin thinner.
So, the perfect choice of hat for a heart-shaped face would be something that has medium or slanted brims. This will make the chin appear wider and give the face a balanced shape. Cloche and Pillbox-style hats are a great choice for this type of face shape as well.
5. Hats For Oval Shaped Faces
Oval-shaped faces are the longer version of a round-shaped one. The jaw and the cheekbone are slightly longer instead of being wider. Hence, they will have an oval-like appearance. The forehead will be much wider than the jaws and cheekbones.
Oval-shaped faces are not very wide, and are also not as symmetrical as round-shaped faces. That is why you can consider them as almost perfect. So, almost all types of hats go very well with an oval-shaped face.
Even though most hats look good on someone with an oval face, it is wise to avoid wearing hats that are thinner than the cheekbones.
6. Hats For Long And Rectangular Faces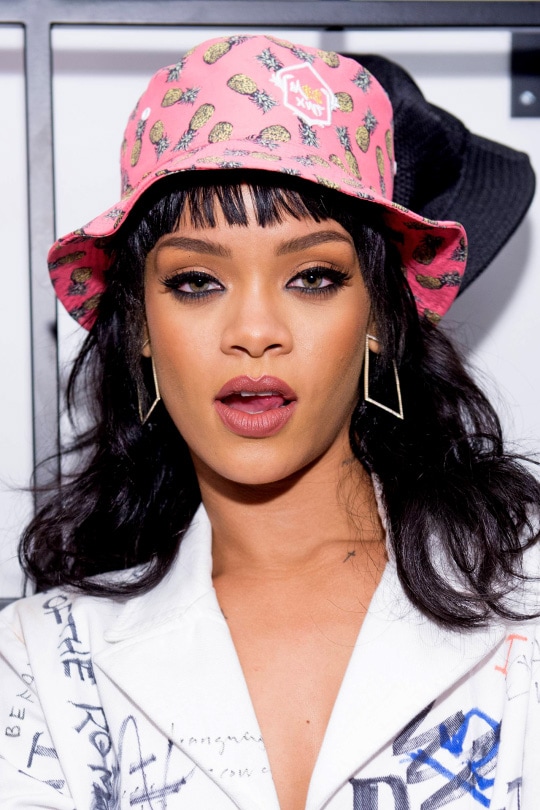 Rectangular-shaped faces are a mix of long-shaped and square-shaped faces. Instead of the rounder jaw and cheekbones of long-shaped faces, a person will have edged jawlines like a square-shaped face, but not as wide as a square-shaped face, instead, it is longer.
Those who have a longer and a much rectangular-shaped face, are somewhat similar to square faces, but a bit longer, making them a mix of oval and square-shaped faces.
But since the face is much longer, it should be obvious that you cannot wear long hats that add to your height.
Instead, you need to wear a hat that has a much wider brim. This will complement your long face. Like a cowboy hat that has wide brims. So it will be perfect for someone with a rectangular-shaped face.
Different Hairstyles And Hats
Hairstyles also impact what type of hat you should wear. Because if you wear a hat that does not go well with your hairstyle, you will either have messy hair or a clumsy look.
Now, let us look at different types of hairstyles and the hat you should wear with them.
1. For Curly Hairs
If you have curly hairs, then you should get hats that will allow your curls to let loose. If the curly hairs feel too much pressure, they will make your scalp uncomfortable and itchy. That is why you need large hats so that your curly hair could feel relaxed.
But if you wish to bind your hair, then a relatively smaller hat should do the trick. The two great options for curly hairs are a sun hat and a fascinator hat.
Sun hats are quite large, while the fascinator hat is small in comparison. But even so, they are spacious enough for your hair to stay cool and loose. You can even choose what type of curly hair you want. For instance, you can have curly waves if you have long hair, a curly bob style for short hair, or even a side-tuckered hairstyle.
2. For Short Hairs
If you have short hair, then you do not need to worry about whether to bind them like curly hairs and also bring you a much wider choice of hats.
Some amazing choices of hats for short hairstyles include cloche hats, riding caps, knit hats, or hats with a short brim. This will allow you to show your small hairs from the sides.
3. For Pulled Back Hairs
Now there are a lot of pulled-back hairstyles. The simple back brush, ponytails, low side bun are very popular pulled back hairstyles. Generally, these types of hairstyles are the best for wearing hats.
A fedora with a low side bun or a newsboy hat with a ponytail will make you appear magnificent and beautiful. Even beret hats and conductor hats are very good choices for someone who has long pulled-back hairs. Long hair and hats complement each other nicely.
Final Thoughts
Hats are an amazing choice of accessories if you want to accentuate your style. That is why many people prefer a hat over other accessories or jewelry. But not all hats are suited for everyone. Hats largely depend on the hairstyle and the shape of your face. In case you were confused about choosing a hat for yourself going through this article has helped to remove that.